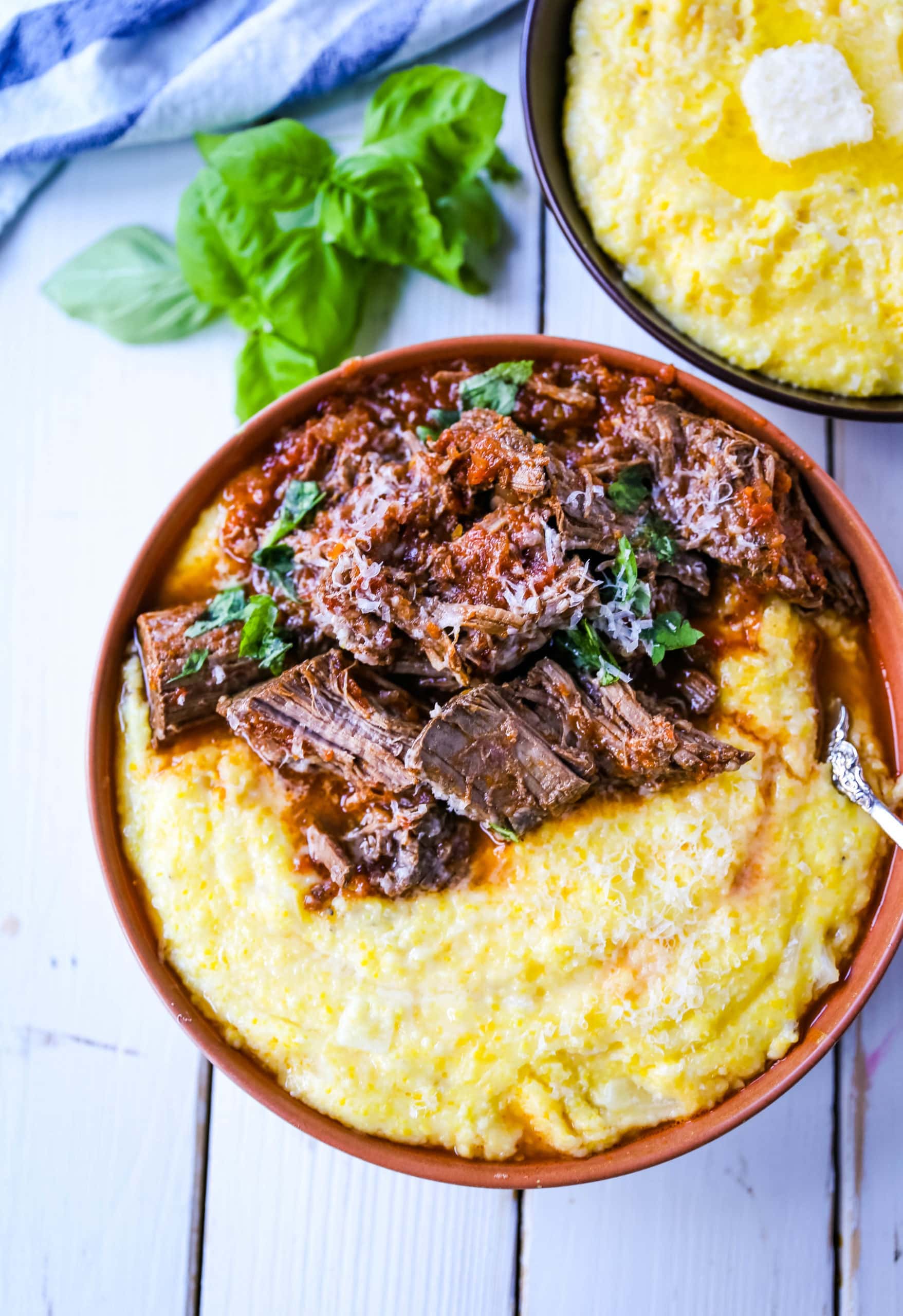 Italian Braised Beef Ragu with Parmesan Polenta
Slow-cooked braised beef in a hearty homemade Italian tomato garlic sauce on top of creamy parmesan polenta. A true comfort food!
I crave comfort food on Sundays. Growing up, we always gathered around our large dining room table and would eat a meal usually centered around a beef roast, some type of potato, vegetables, and rolls. We bantered, we laughed, we teased, and we caught up with one another. It was time to slow down and to connect with family and I loved it.
So when I think of Sundays, I think of family, church, and comfort food. I think of gathering together and food does just that -- it can bring people together. So my kids get excited when they see I am cooking a roast because that means we are having a "big meal" and they love that.
My son, who is 18, and will be leaving on a church mission this summer, is my one kid who craves that family dinner time. He works most nights but always has Sundays off so it is his one day at home with the family. So I make sure to feed him well! A beef roast is always top of his favorites list.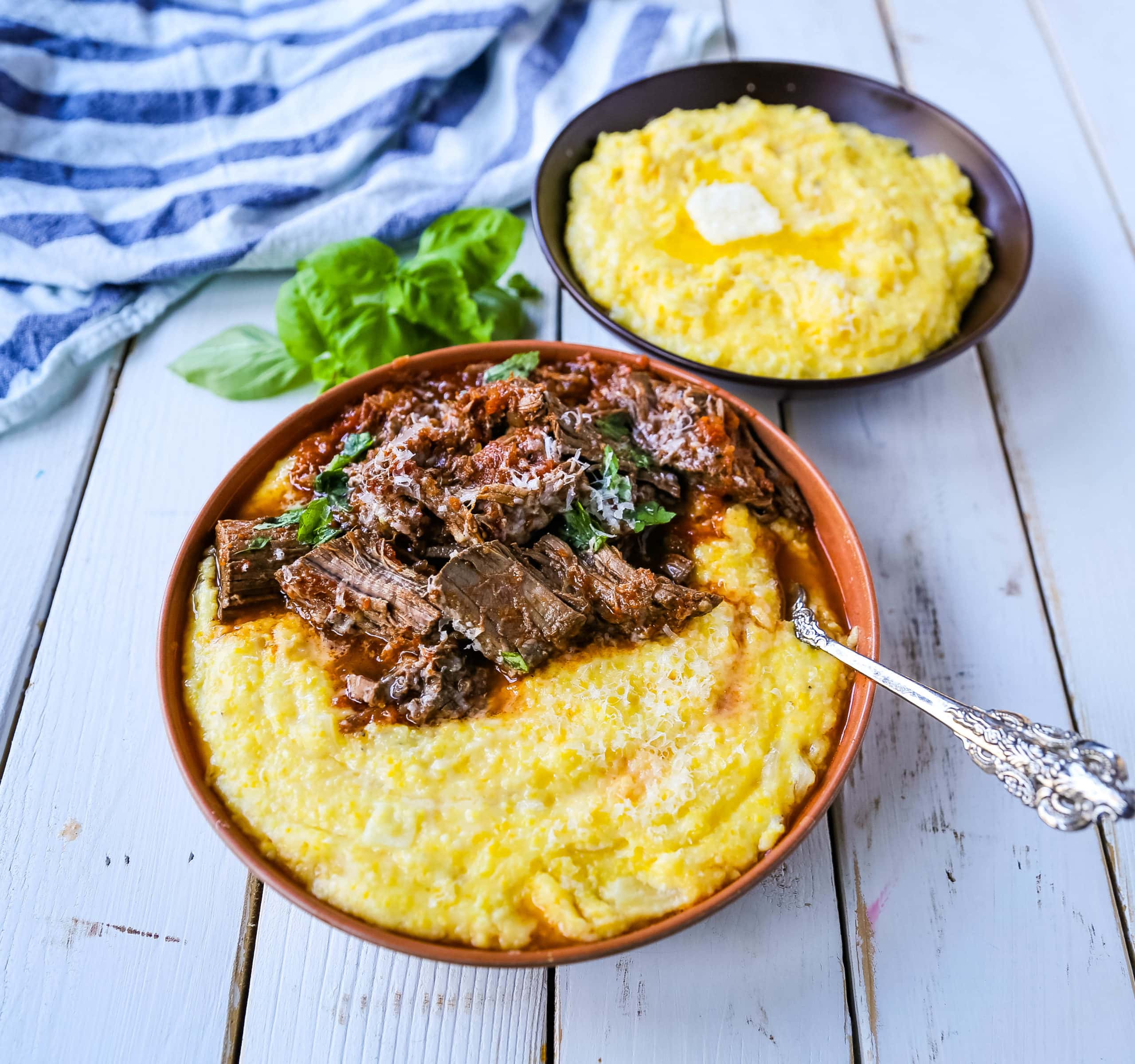 This Italian Braised Beef Ragu is something I love to order at Italian restaurants. I started making it at home a few years ago and it is such a different and yummy way to cook a beef roast. It is tender, it is flavorful, it melts in your mouth. I am so hooked that I made it twice this week!
When you pair it with creamy polenta mixed with churned butter and nutty parmesan cheese, it is comfort food at its finest. If you are wondering what polenta is...it is cornmeal and it is cooked with some type of liquid (water, chicken broth, milk, cream) until cooked through. Then you add butter and cheese to make it extra rich and delicious.
This Italian Braised Beef Ragu is made with a lean beef roast and cooked with canned San Marzano tomatoes, fresh garlic and basil, onions, a touch of carrot, tomato paste, red chili flakes, and spices. It is cooked low and slow until it is so tender that you can easily shred it with two forks. Then you serve it with a hefty amount of grated parmesan cheese.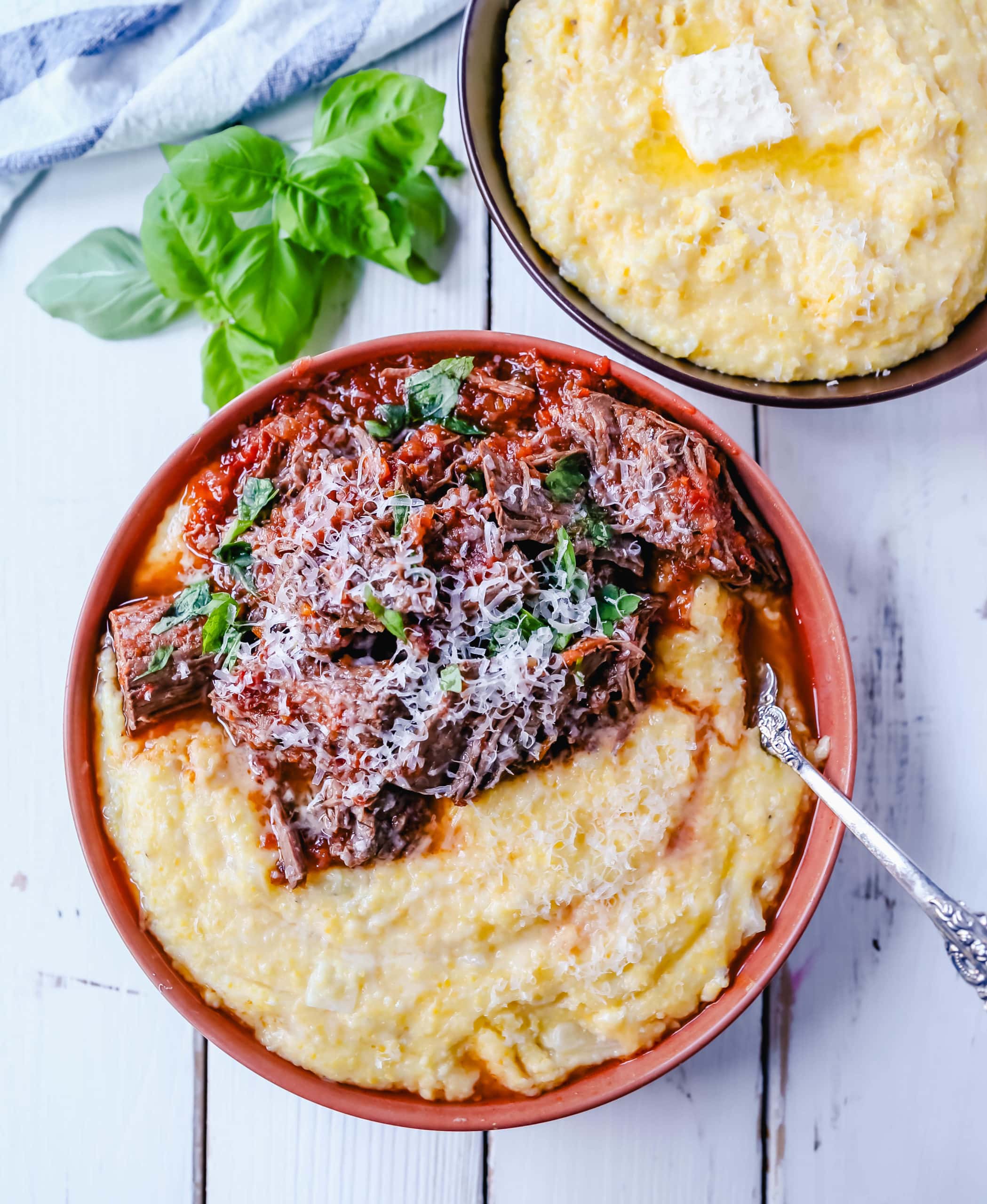 How to make Italian Braised Beef Ragu with Parmesan Polenta:
Heat a large skillet or pot over medium-high heat. Add oil and then carefully place roast in skillet. If the oil becomes too hot, it can splatter, so be cautious. Sear on both sides for about 2-3 minutes.

Place the beef roast into the slow cooker or crockpot. Generously season with salt and pepper. Finely chop the onion, carrot, and garlic. Add the garlic, onion, carrots, tomatoes, tomato paste, beef broth, basil, and red chili flakes on top of the roast.

Cook on low for 8 hours. Once it is tender, shred meat with two forks. Taste for seasoning and add more salt and pepper as needed.

While meat is cooking, cook polenta 30 minutes before ready to serve. Toss with shredded beef Ragu. Serve and top with freshly grated parmesan cheese and fresh basil.