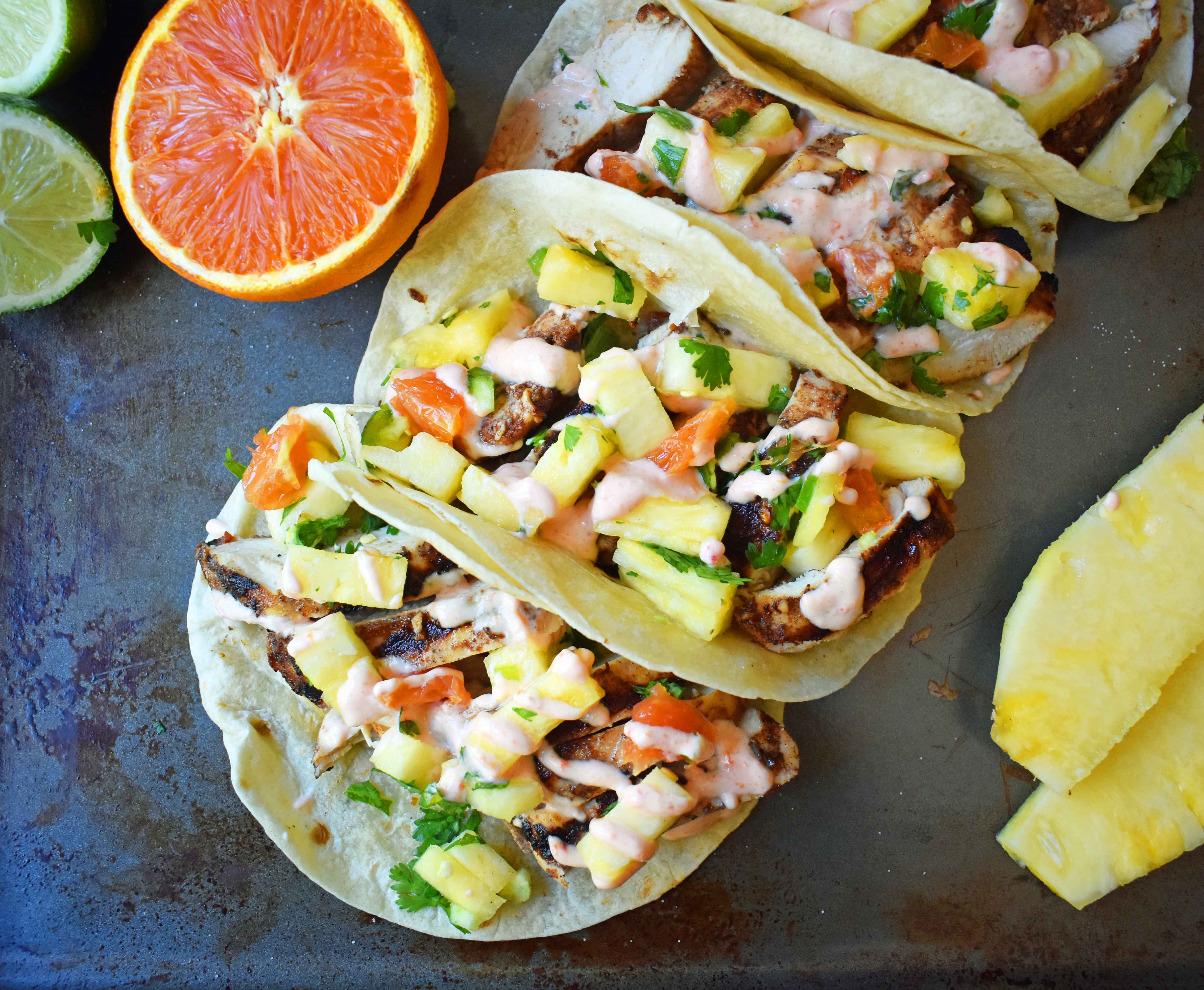 A few months ago I was able to take a Caribbean cruise with my mother-in-law and five sister-in-laws. One of the stops was Jamaica and I fell in love with their beautiful country and loving people.  We were able to hike the famous Dunn's River Falls and swim with sting rays.  Have you ever visited Jamaica? If so, what did you do and what did you eat?
One of the highlights had to learning more about their culture and having them cook an authentic meal for us which included jerk chicken. It was full of rich spices and a touch of citrus and I couldn't get enough of it.
I wanted to make it at home but in the form of a taco because hello....tacos are everything. Years ago, I ate something similar at Torchy's Tacos in Austin and devoured it in 5.2 seconds because it was oh so good! So let me introduce to you Jamaican Jerk Chicken Tacos with Pineapple Salsa and Spicy Cream.
To make these Jamaican Jerk Chicken Tacos you start with chicken breast and marinate it in lime or orange juice, jerk seasoning, and a touch of oil.  It is grilled to perfection. It's important to let your chicken rest after it comes off the grill for at least 5 minutes to let the juices soak into the meat.
The jerk chicken is filled in between a small flour or corn tortilla and topped with a sweet pineapple orange salsa and drizzled with spicy cream.  The spicy cream is a combination of sour cream and your favorite hot sauce. I used a habanero hot sauce that we bought when visiting Belize. You could also use sriracha hot sauce to give a subtle heat to the sour cream.
I hope you love these spiced Jamaican Jerk Chicken Tacos with Pineapple Orange Salsa. PIN this recipe for LATER: