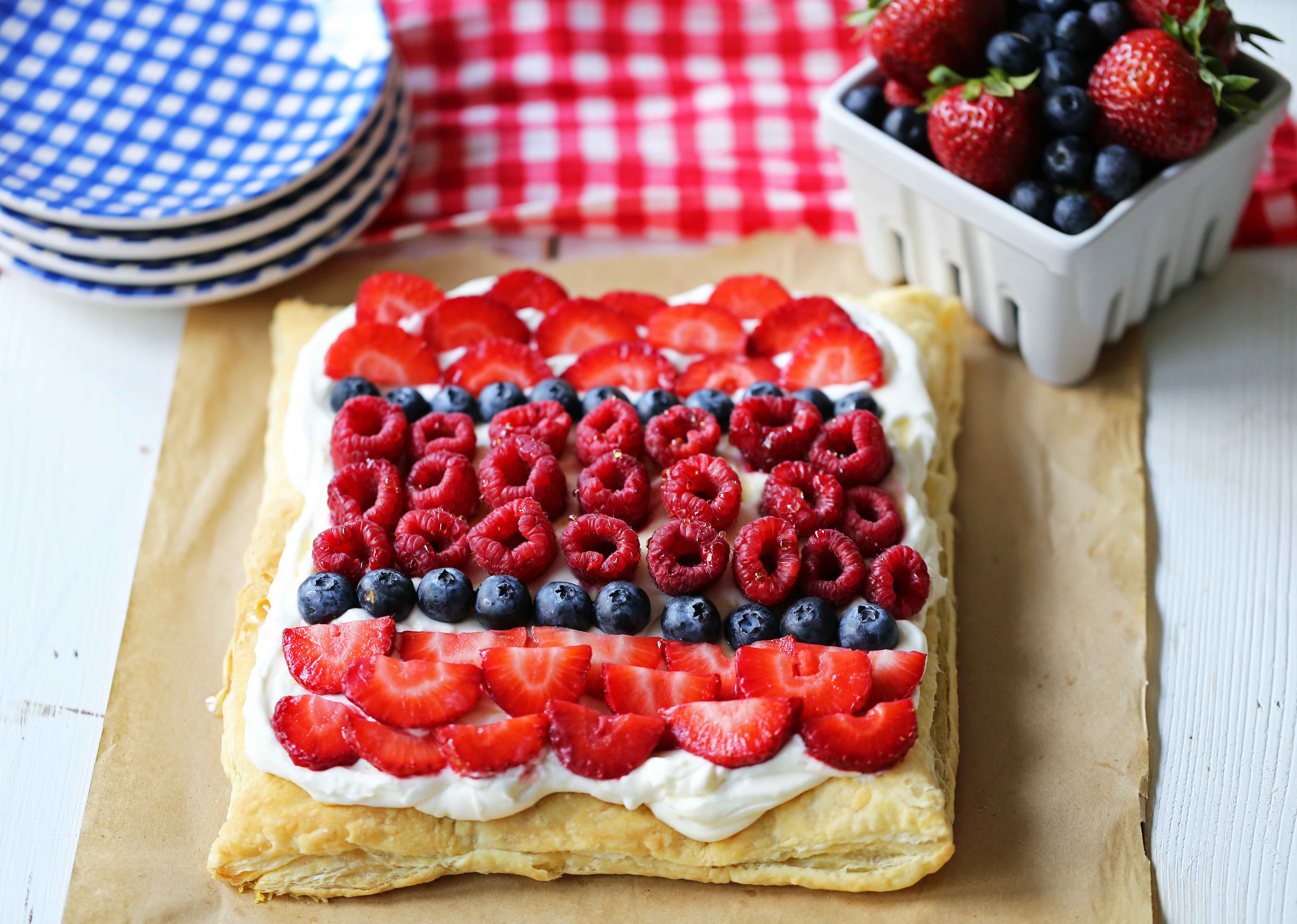 Lemon Berry Cheesecake Puff Pastry
Baked Puff Pastry topped with a Creamy Lemon Cheesecake Filling and Fresh Berries. An easy, beautiful, festive summer dessert.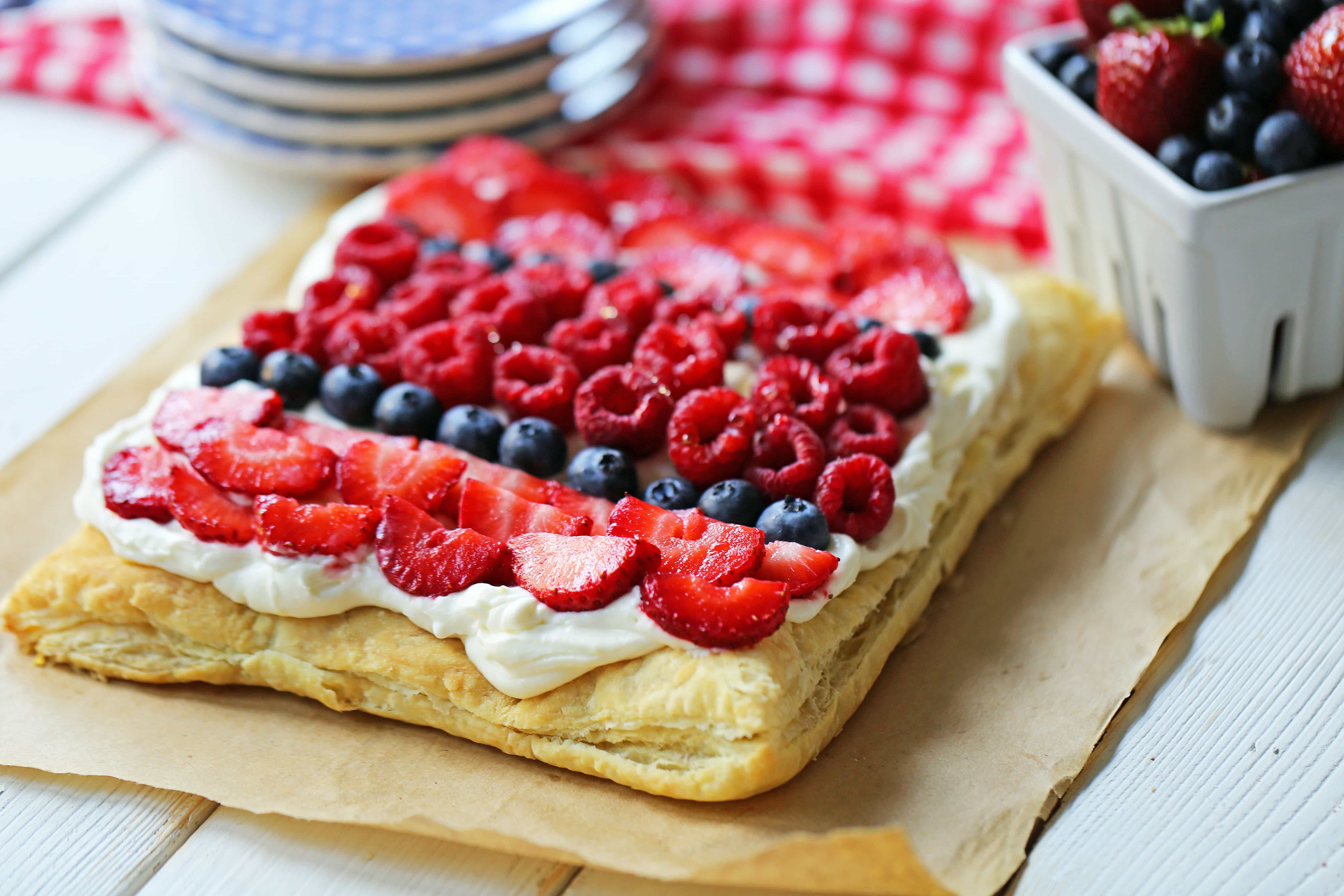 I have the sweetest Mom in the world. She is ALWAYS doing things for others and loves to spend time with her grandkids. Just today she brought over a huge bag of activities and treats for my kids to do in the car as we travel to Colorado. I love her! She is always a fabulous cook. Recently she was over at my house as I was recipe testing this particular recipe. It was literally the first time she had ever used frozen puff pastry dough. How could it be? This is one of the easiest shortcuts to use in making desserts.
This is such a simple dessert since it starts off with frozen puff pastry dough. It is rolled out and baked until puffed up. It couldn't be easier! The lemon cheesecake filling is made with cream cheese, heavy cream, powdered sugar, lemon juice, and lemon zest for that extra bit of lemon flavor. It is a sweet and tart lemon filling that is so amazing, you will want to lick the bowl! A tip for making this dessert is to make the filling ahead of time so it can be chilling in the refrigerator while the puff pastry is baking.
The lemon cheesecake filling is spread upon the baked puff pastry. The Lemon Berry Cheesecake Puff Pastry is topped with fresh berries -- strawberries, blueberries, raspberries, blackberries, or any fruit your heart desires. This can even be a festive patriotic 4th of July dessert.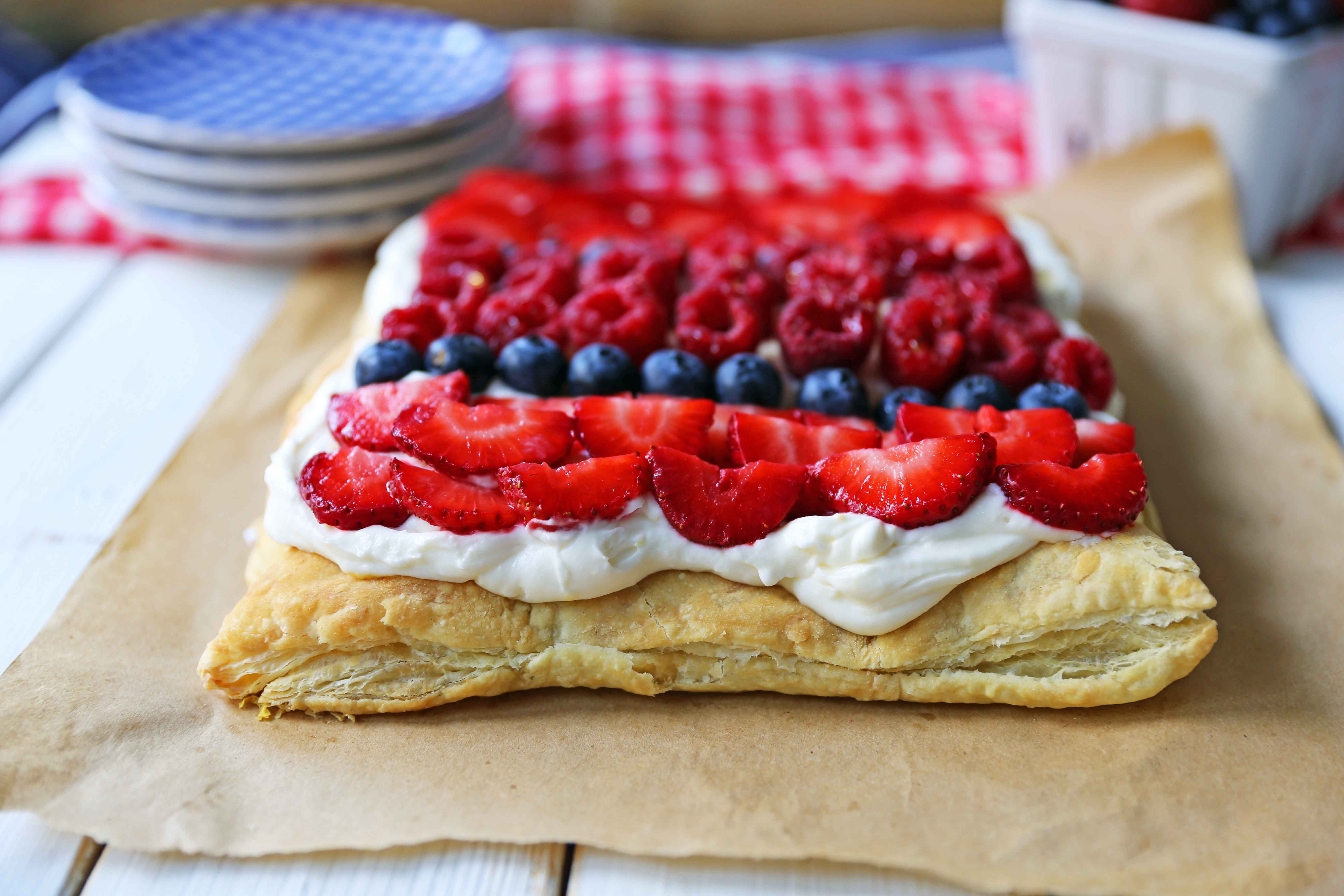 How to make a Puff Pastry with Lemon Cheesecake Filling and Fresh Berries:
Start with Frozen Puff Pastry Dough. Follow the instructions on how to thaw it so it is ready for the oven. You can make this into a large puff pastry tart or the puff pastry can be cut into small individual sized rectangles. If you want the puff pastry to be a little sweet, sprinkle with a little sugar before baking. Bake until a light golden brown color and remove from the oven to cool.
Make the Lemon Cheesecake Filling. The key is to start with softened cream cheese. This makes it so much easier to whip it until it becomes smooth and creamy. Once you whip the cream cheese for 2 minutes, scrape the bowl, and whip for 2 minutes longer. Add the heavy cream and whip for 4 minutes longer or until the cream starts to form soft peaks. Once it forms soft peaks, add powdered sugar, lemon juice, and lemon zest.
Top with Fresh Berries. Be creative! Make a beautiful pattern using different types of berries. I reach for strawberries, raspberries, blueberries, and blackberries.
Eat right away or let chill. This is best served right away as the puff pastry will be the crispiest. The filling and puff pastry may be made ahead of time but put together right before serving.
Happy Baking, my friends!