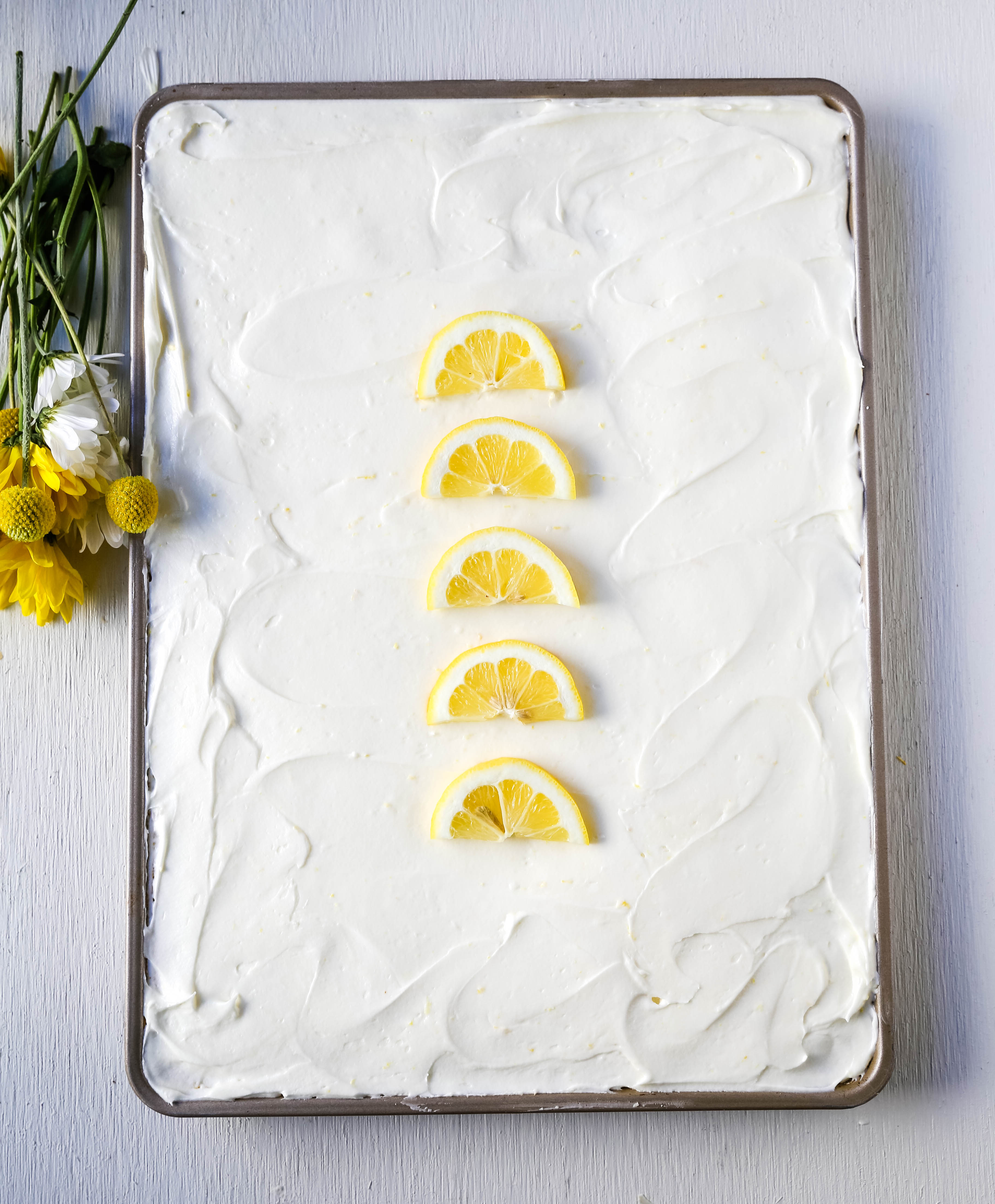 Lemon Sheet Cake Recipe
Moist sour cream lemon sheet cake recipe with a fresh lemon cream cheese frosting.
This is a sponsored conversation written by me on behalf of Shamrock Farms. The opinions and text are all mine.

When you want to serve a crowd of people, there is nothing easier than making a homemade sheet cake. You don't have to worry about getting the cake out of the pan, stacking it and making sure it stays perfectly centered, and then trying to frost it to make it look presentable. A sheet cake takes away all of those time consuming steps and makes life that much easier.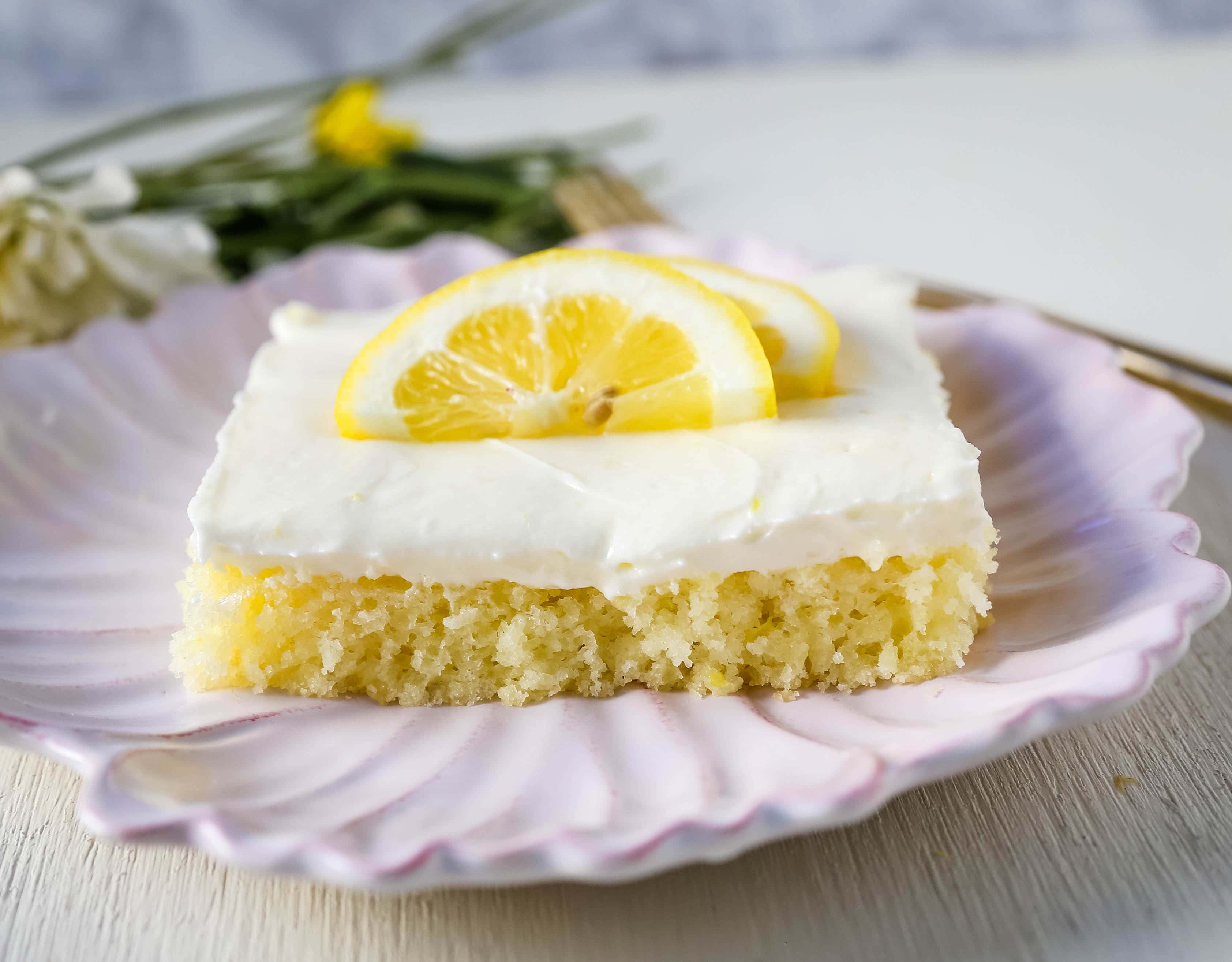 I have been to my fair share of potlucks in my days. I always love to bring a large sheet cake because it is such a crowd pleaser and the first thing to be devoured. It can be cut into small or large pieces so it can feed 24 or even 48! This Lemon Sheet Cake recipe is the perfect summer potluck recipe.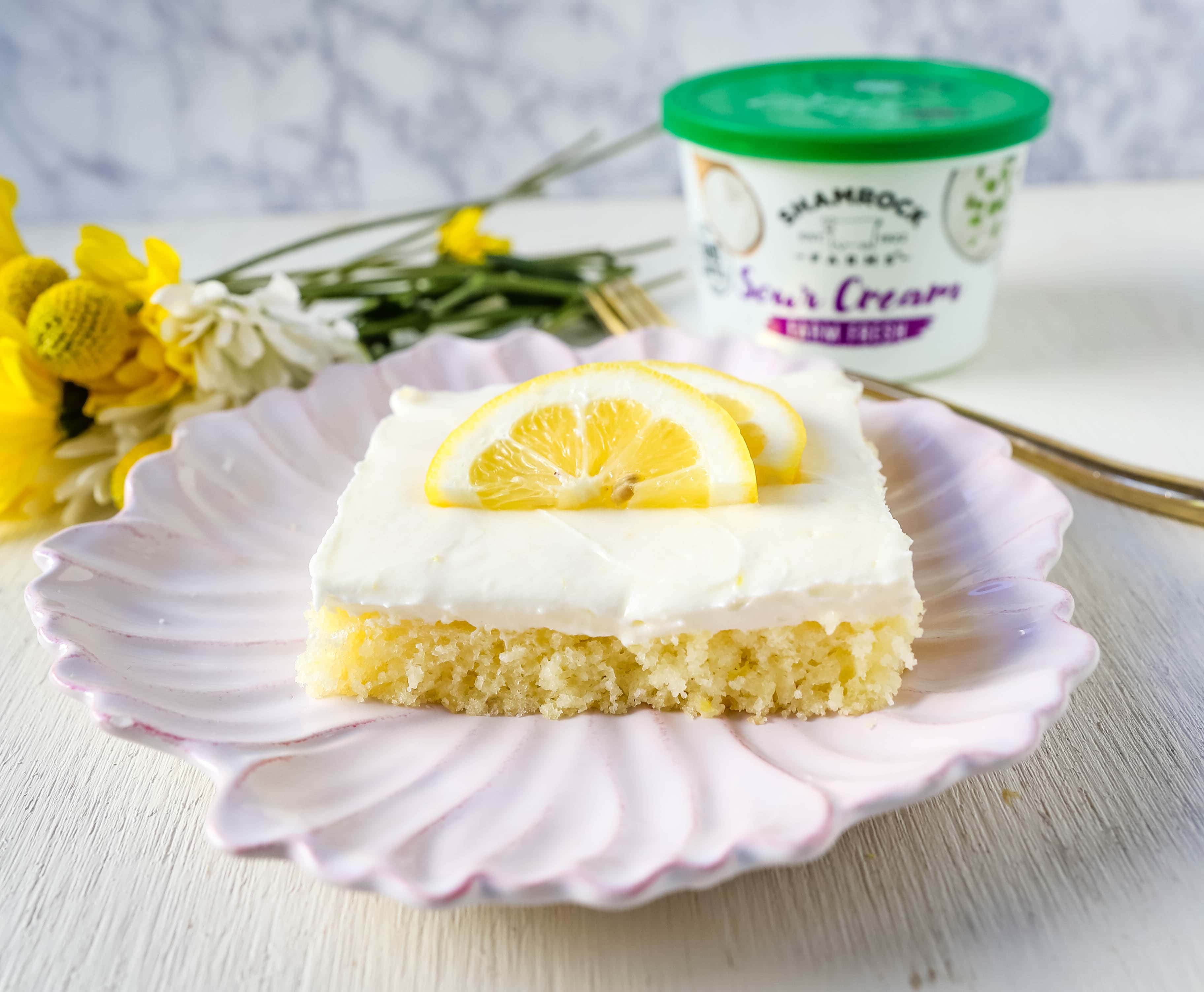 This Lemon Sour Cream Sheet Cake is so moist with such a tender texture. It is made with a combination of oil and Shamrock Farms sour cream, which gives it such a delicate, fluffy texture.
The lemon cream cheese frosting is made with sweet cream butter, cream cheese, powdered sugar, fresh lemon juice, and lemon zest. It has the perfect balance of tang and creamy sweetness.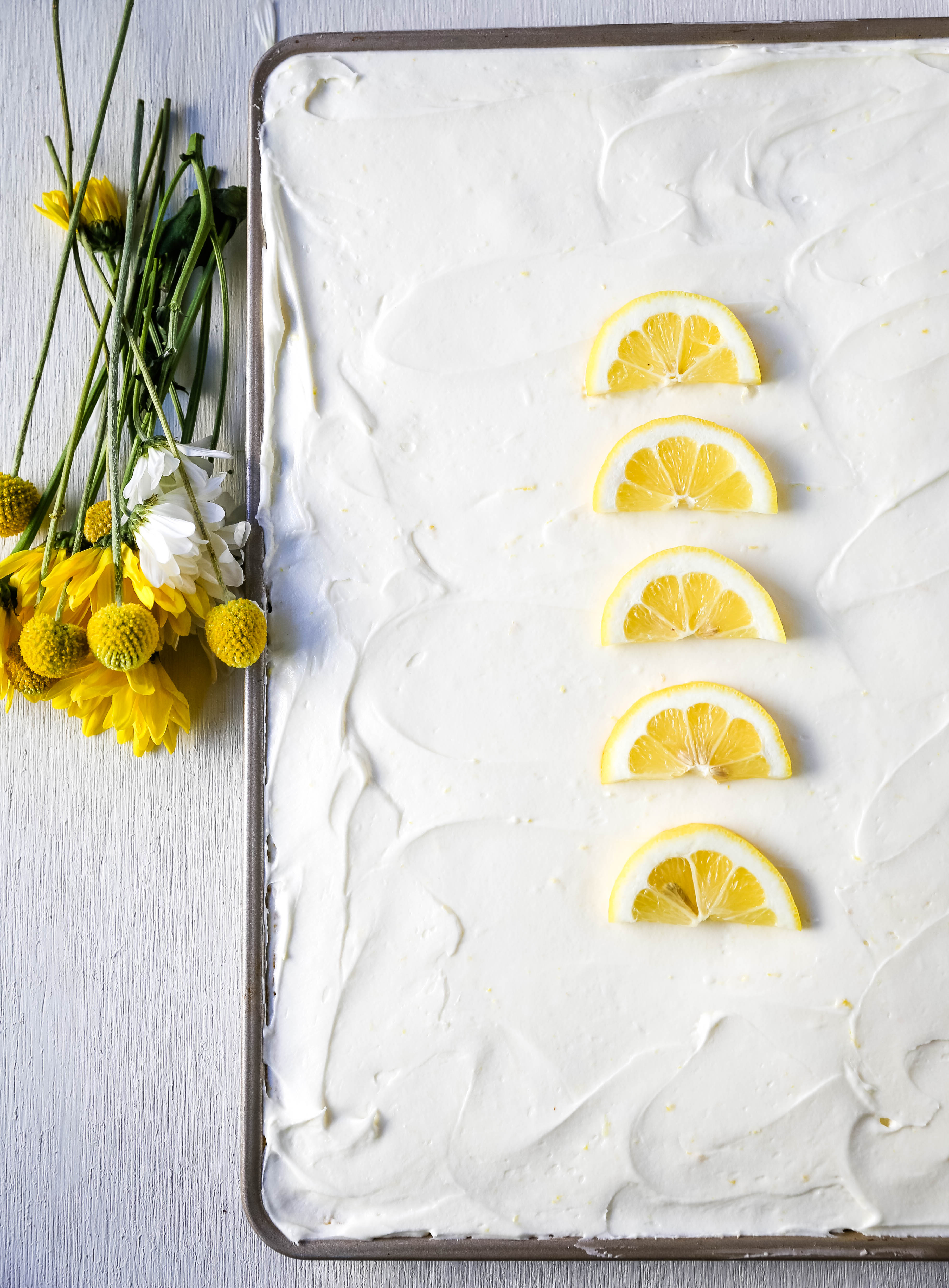 How to make the BEST LEMON SHEET CAKE:
Start with the dry ingredients

. Stir together the flour, sugar, baking soda, baking powder, and salt. The two leavening agents give the lemon sheet cake a nice rise.
Adding Oil makes the lemon sour cream cake extra moist. You can use your favorite type of oil -- extra-virgin olive oil, canola oil, vegetable oil, or coconut oil.
Use Fresh Lemon Juice and Fresh Lemon Zest to impart authentic lemon flavor into the cake. This gives it an all-natural lemon flavor. A zester is an essential tool in the kitchen to ensure you only get the lemon peel, instead of the bitter white rind.
Sour Cream helps to create a perfect texture. By using sour cream, it creates a tender crumb.
Bake just until a toothpick comes out clean in the center of the cake. Don't over-bake the cake.
Once the cake is cool, frost with homemade lemon cream frosting. The frosting is made by whipping butter and cream cheese for 4 minutes until light and fluffy. Add powdered sugar, freshly squeezed lemon juice, and lemon zest.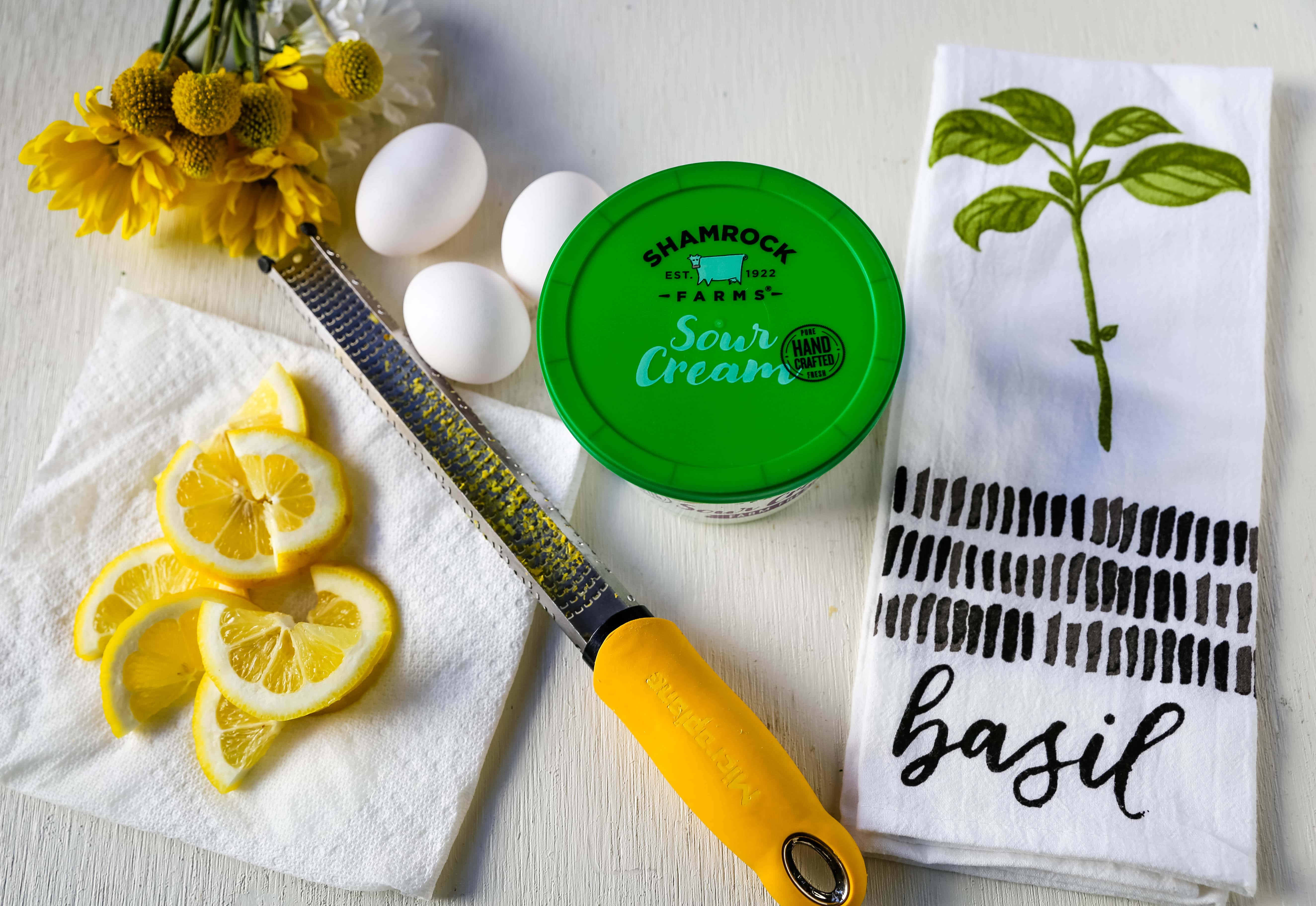 The reason I love to make homemade cakes from scratch instead of reaching for box is that I know what ingredients are going into my cake. I try to buy high-quality, local ingredients and they just taste that much better. I like to know where my ingredients come from and how it's made. I love using sour cream in my cakes since it helps create that moist texture. Since I was a young girl, I have been using Shamrock Farms real, fresh, hand-crafted sour cream. You can taste the difference!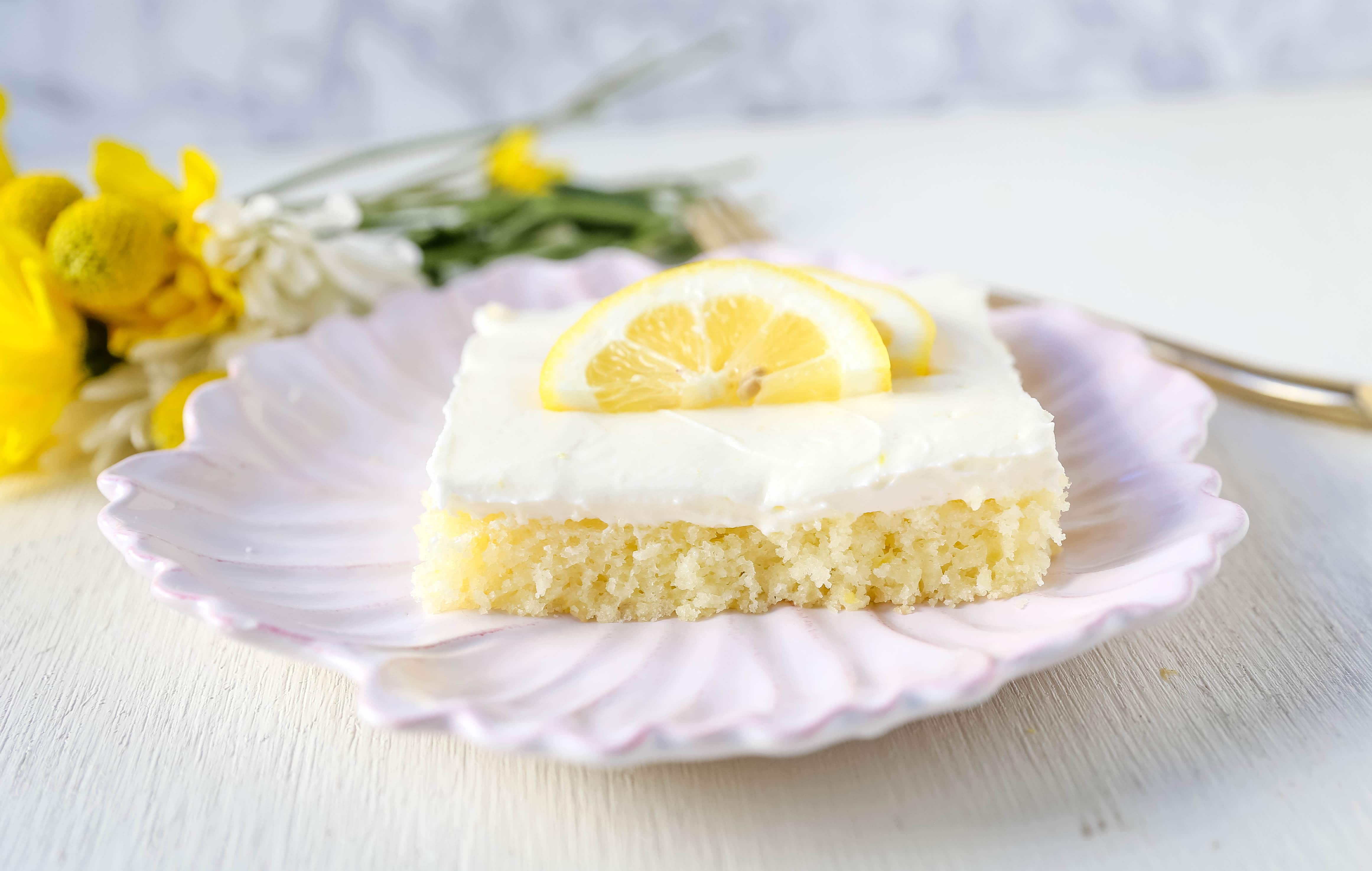 The best sour cream starts with the best milk, and that's why Shamrock Farms Sour Cream is better than the rest – because they begin with pure, wholesome, nutritious milk with no added growth hormones. That is important to my family! Its smooth and creamy texture is perfect for topping or using as a high-quality recipe ingredient.
You can find out more information about Shamrock Farms and their products by visiting here