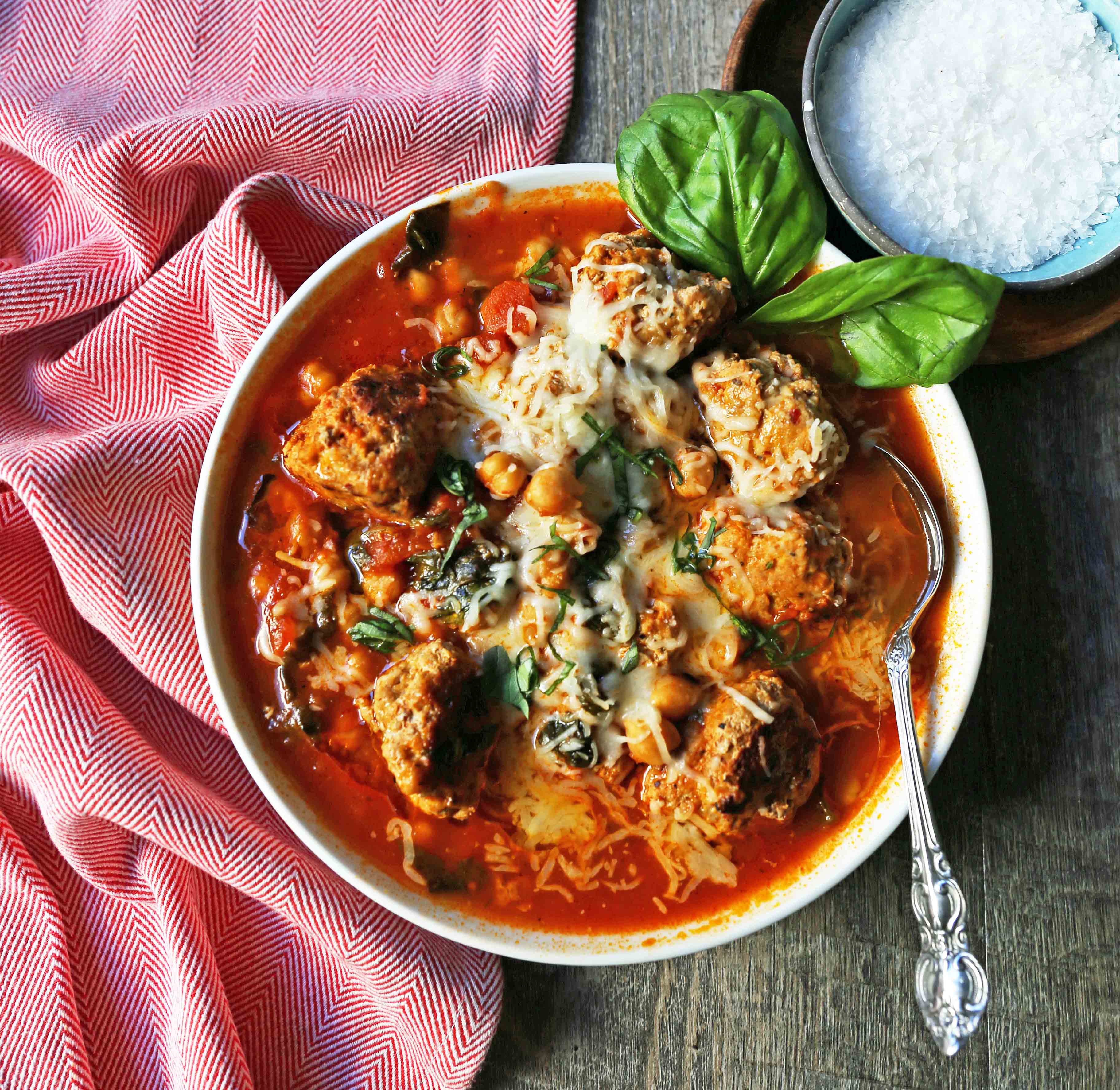 Healthy Spicy Turkey Meatball Soup
A healthy soup made with lean turkey meatballs, spinach, chickpeas, marinara sauce, and parmesan cheese. This is a flavorful gluten-free meatball soup. Healthy food can still taste amazing!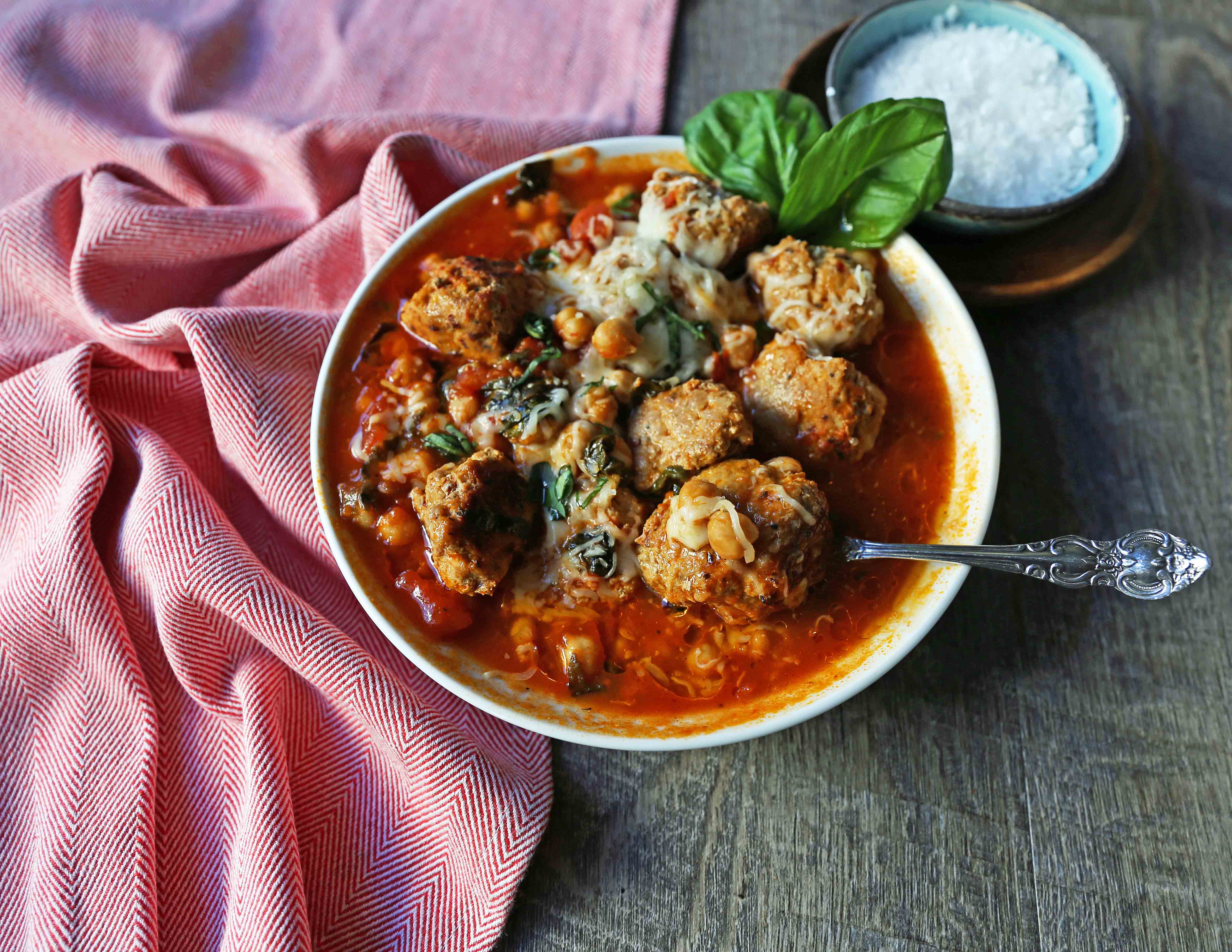 This Mama Mia Spicy Turkey Meatball Soup is so flavorful that you will forget that you are eating something good for you! This Turkey Meatball Soup is filled with protein and good carbs to keep you full and satisfied.
It is made with flavorful turkey meatballs without all of the fillers. Marinara sauce and fresh basil add such fresh flavor. This is a family favorite!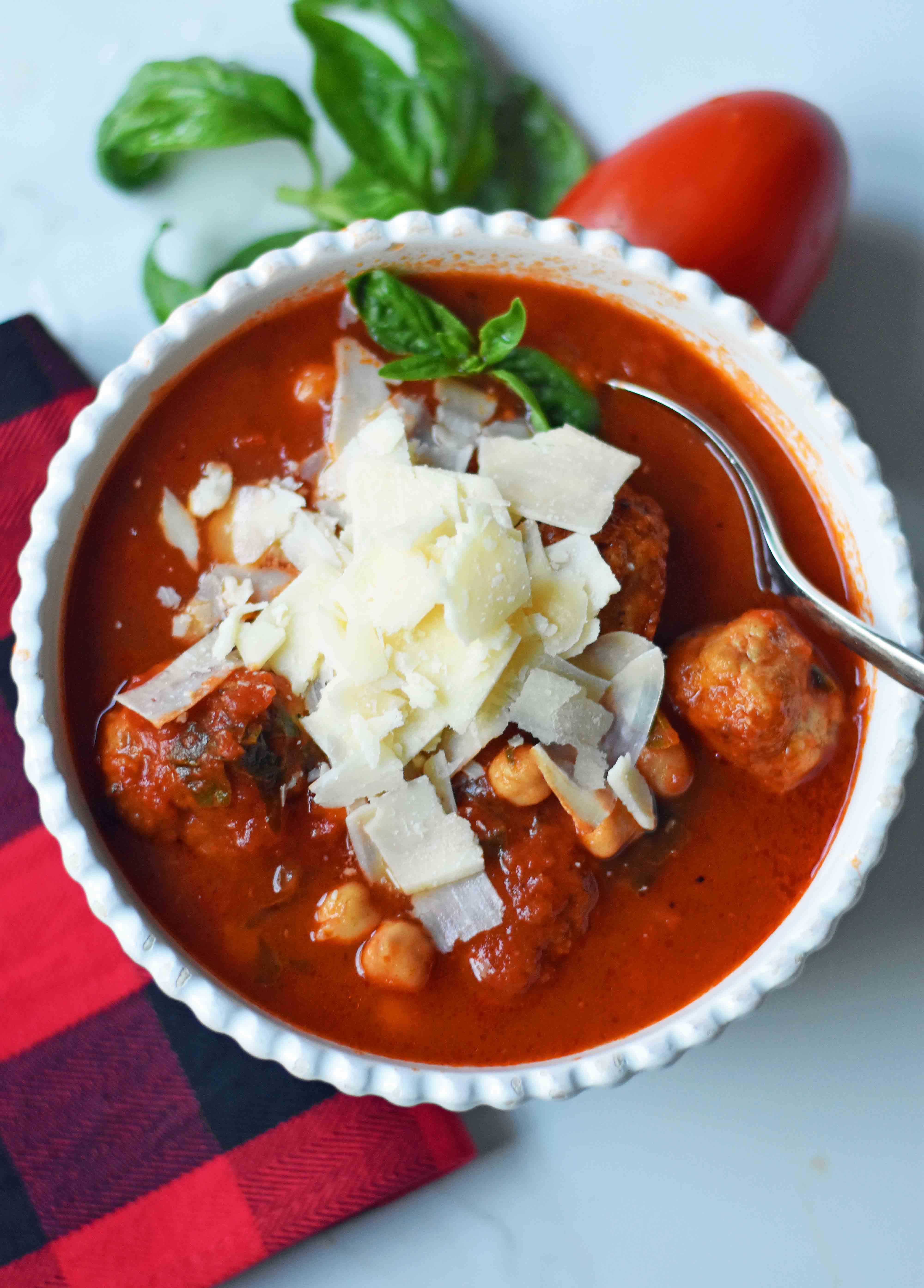 I may live in the middle of the desert in perpetual sunny Arizona but believe it or not, it does get cold here. A big bowl of comforting soup can really warm us up!
The beauty of this Mama Mia Spicy Turkey Meatball Soup is that it's not only healthy but actually tastes incredible. You don't need pasta to enjoy a flavorful, spicy bowl of meatballs.
This soup is full of lean protein because we are using ground turkey, yet it's still packed with flavor because we are adding some spice. Eating healthy can be difficult if it's bland food but making it flavorful keeps you coming back for more.
Most meatballs call for breadcrumbs and egg as binders but this recipe only calls for ground turkey, red chili flakes, and a touch of garlic salt. Flavor at it's best!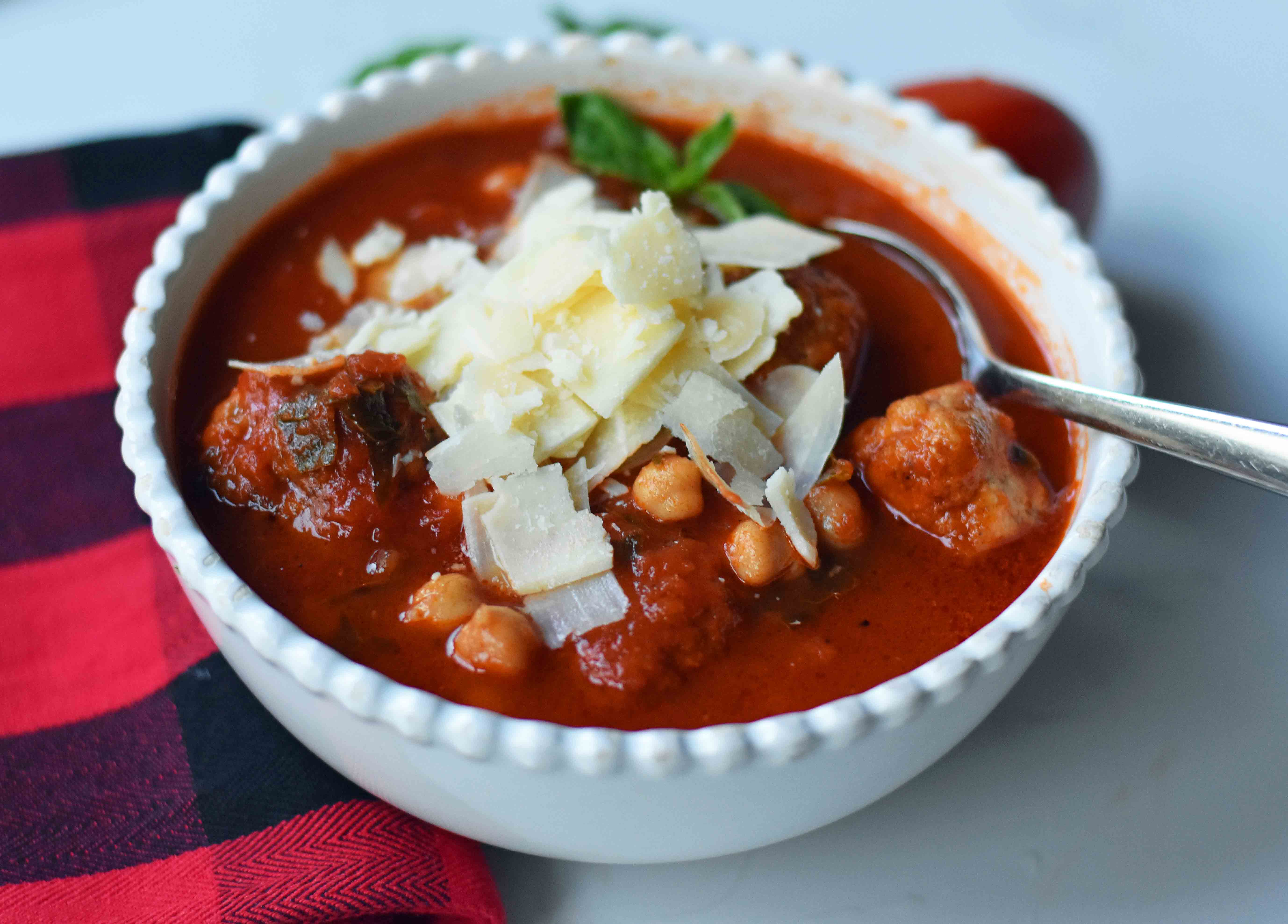 I test every single recipe on my family of six. They are super honest (ask them about my pumpkin soup debacle someday) and they don't pull any punches....especially my husband! So, when I find something that is healthy that they love and even beg for seconds....then we have success in the kitchen!
This Spicy Turkey Meatball Soup is actually so flavorful and delicious that your family will have no idea that it is healthy for them!
I've been making this Turkey Meatball Soup for years, but saw a different version of it on the Biggest Loser (thank you Roco) and have changed it up over the years to make it one of our favorite soups in our home. It's quick and easy without a huge list of ingredients so that's a win-win, right? You gotta love simple dinner recipes.
When making your own homemade meatballs, you usually need bread crumbs and egg to make them stay together but say goodbye to fillers in this soup! The turkey is seasoned up with only red chili flakes and garlic so it's just pure healthy protein.
The base of the soup is marinara sauce + chicken broth. This is what makes it so easy - you just pick up a jar of your marinara sauce and add some broth and the base of the soup is done. You add a can of chickpeas (garbanzo beans), fresh chopped spinach (because we are upping the health factor), and top with grated sharp + salty pecorino romano cheese and fresh torn basil leaves.
A little tip: finely dice up the baby spinach leaves and your kids won't even detect it!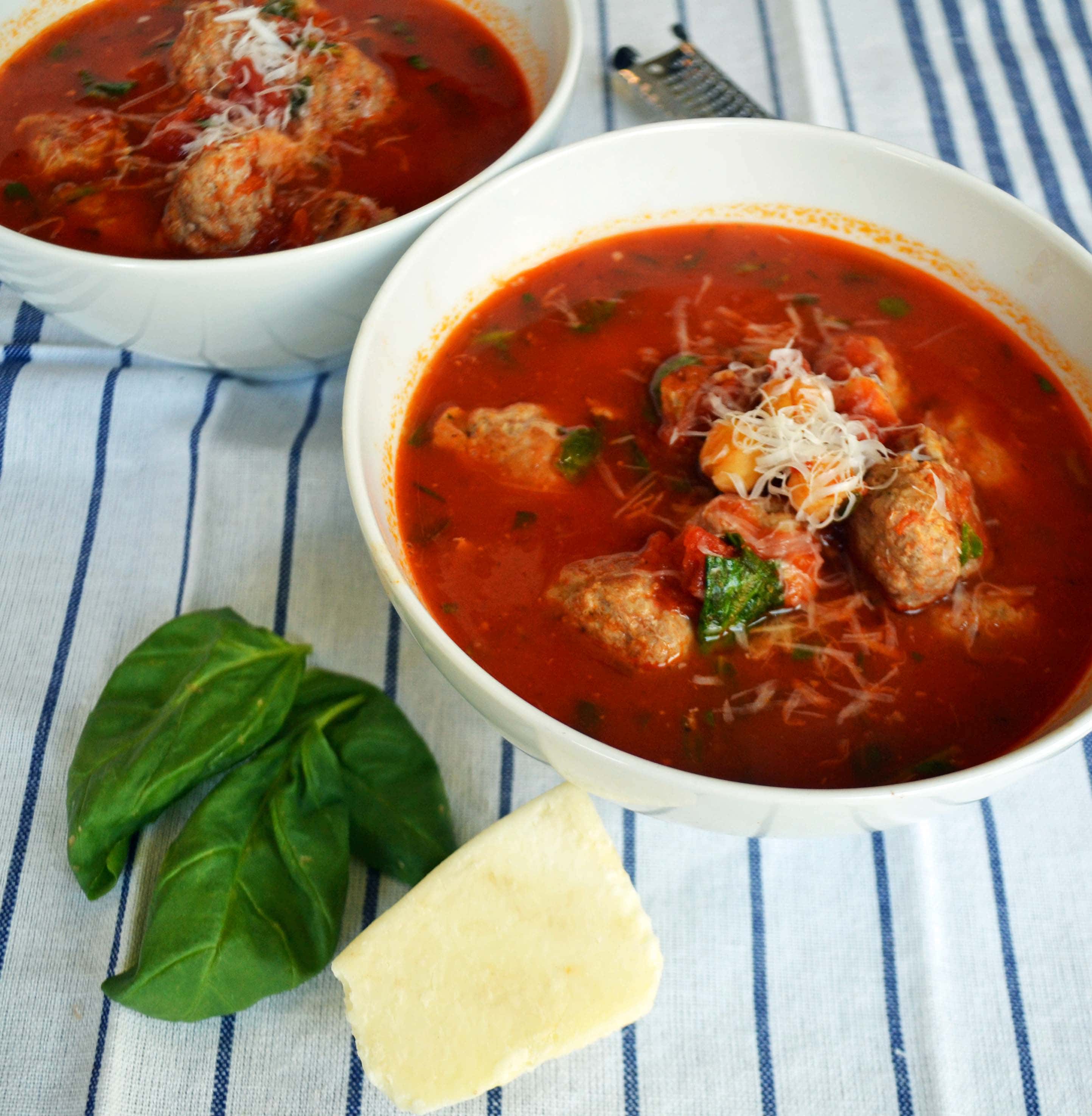 PIN on PINTEREST: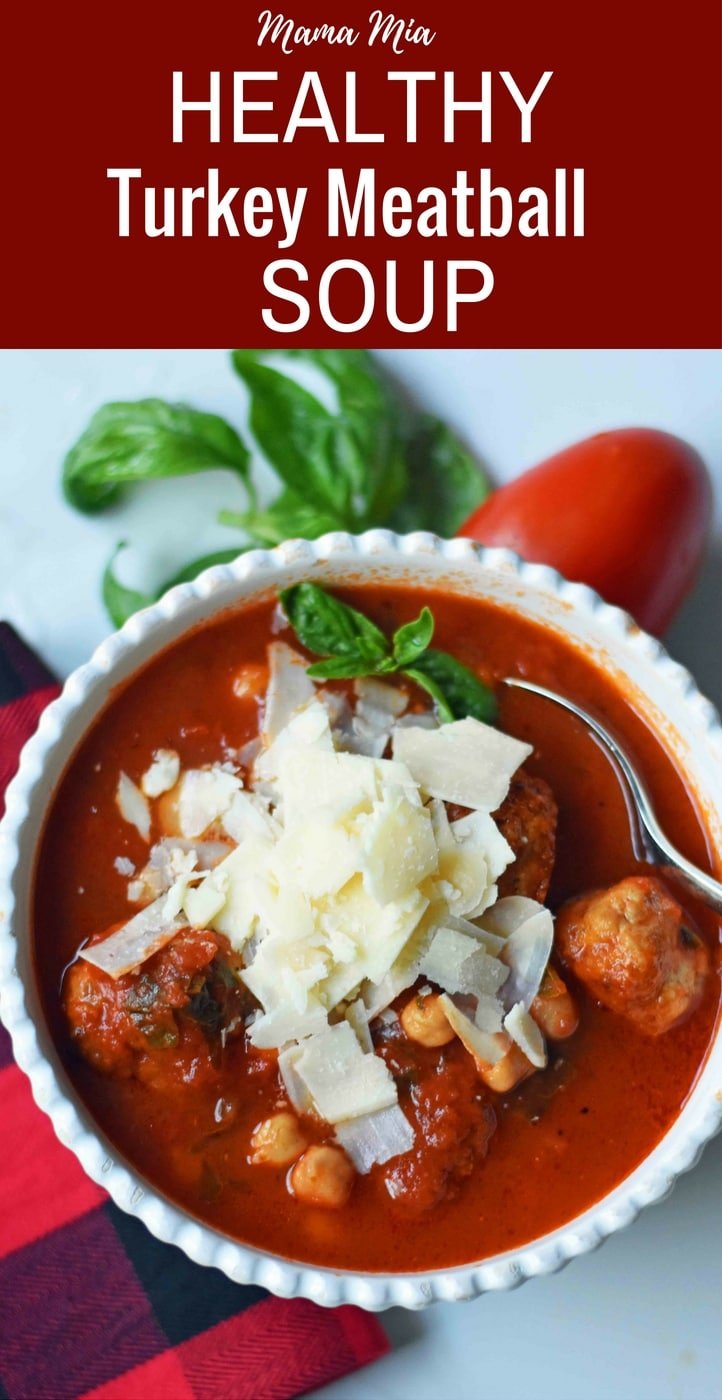 I hope you and your family will love this healthy soup! Thanks for stopping by! xo
Happy "Soup for You!"