Creamy mascarpone cream is the most delicious and luxurious cake filling, dessert filling, or the perfect spread on any dessert. This Mascarpone Frosting is made with heavy cream, mascarpone cheese, powdered sugar, and vanilla or almond extract.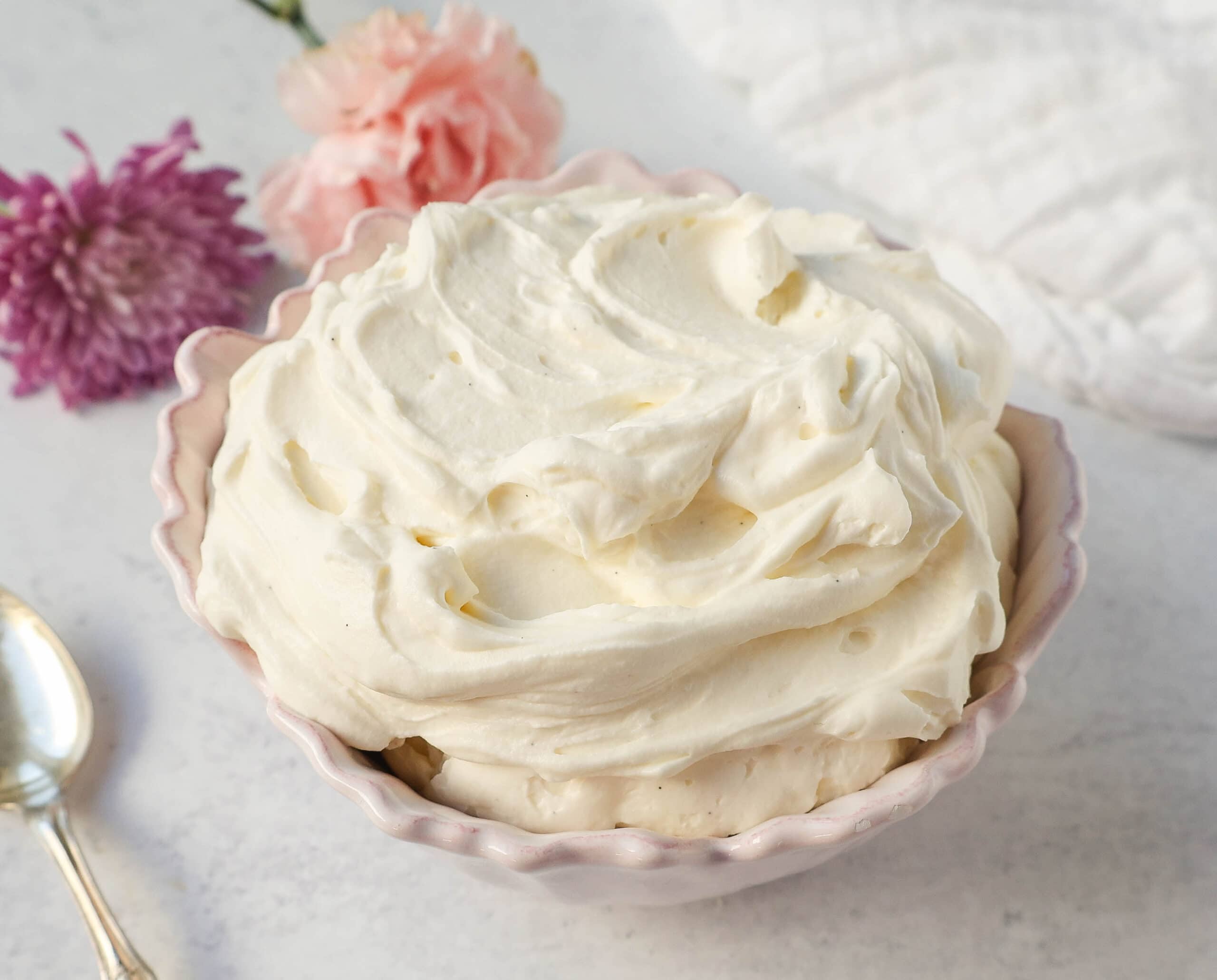 This is my secret to the most decadent desserts and cake fillings. This makes the creamiest and perfectly sweet cream filling for desserts.
I make a version to frost my Berry Chantilly Cake and when I asked the head baker at Whole Foods Bakery what they use in their frosting for their viral cake and it is mascarpone cheese, heavy cream, powdered sugar, and almond extract.
You can even frost cakes with this mascarpone cream frosting and the mascarpone cheese creates the creamiest, fluffiest texture and cuts the sweetness of the sugar.
This can also be called creme miracle and you will want to eat it by the spoonful!
Ingredients
You only need four ingredients to make this mascarpone whipped cream.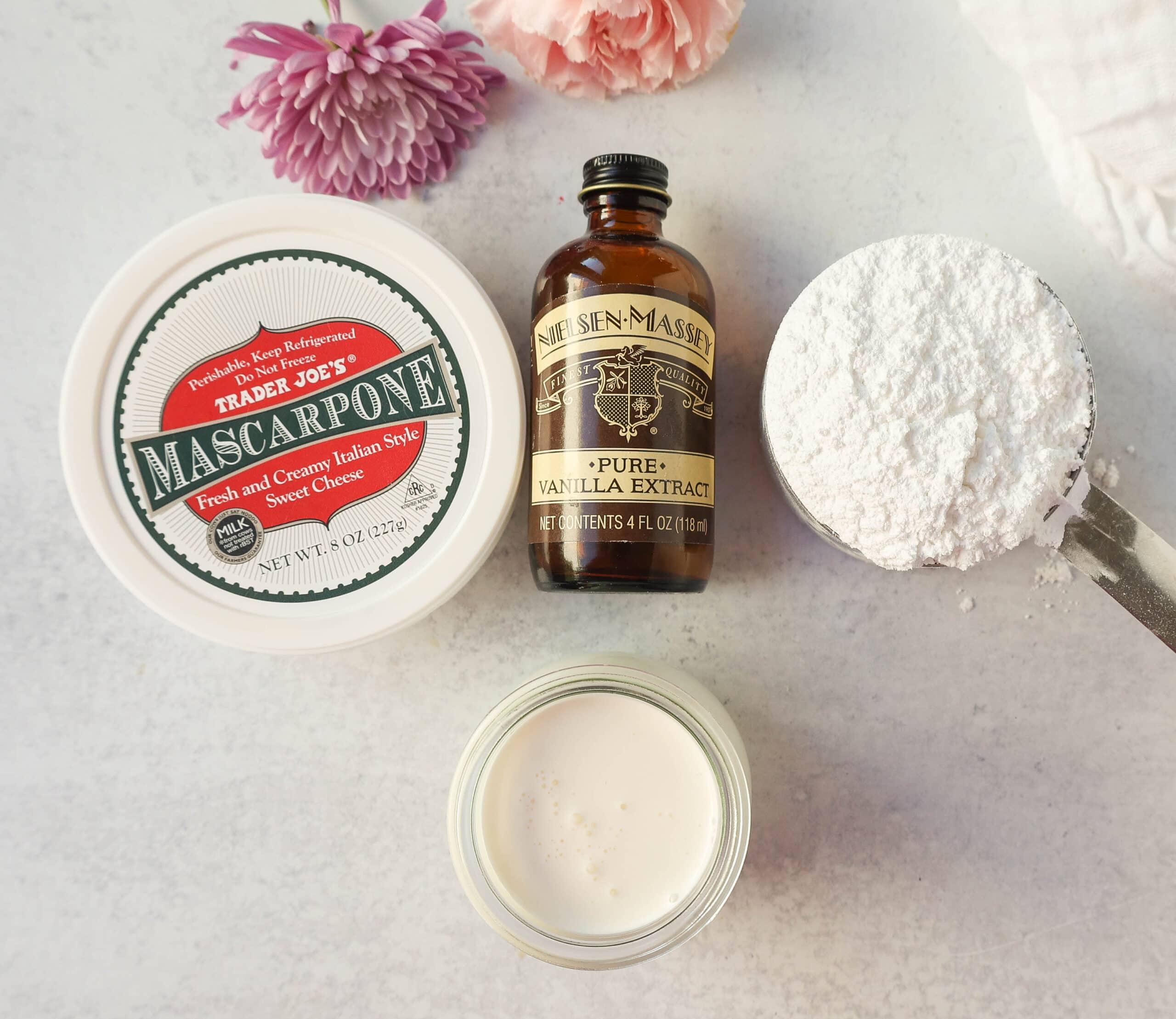 Heavy Cream -- use heavy cream also known as heavy whipping cream for this recipe. I suggest it being very cold, just pulled from the refrigerator.
Mascarpone Cheese -- an Italian cream cheese can be found in the refrigerated section near the Italian section, deli section, or near the cream cheese.
Powdered Sugar -- this helps to sweeten and thicken this frosting made with mascarpone cheese. Add more powdered sugar for extra sweetness and a stiffer filling.
Vanilla or Almond Extract -- I love to use vanilla beans or vanilla bean paste for the most pronounced vanilla flavor. You can also use a high-quality vanilla extract like Nielsen-Massey. If you use almond extract, start off with just a small amount since it has a strong flavor.
See recipe card for quantities.
What is mascarpone cheese?
Mascarpone Cheese is an Italian cream cheese that is exceptionally creamy, and slightly sweet with a buttery smooth texture. It is similar to cream cheese with less tang and has a creamier texture.
It is used widely in Italy and is known to be one of the star ingredients in tiramisu.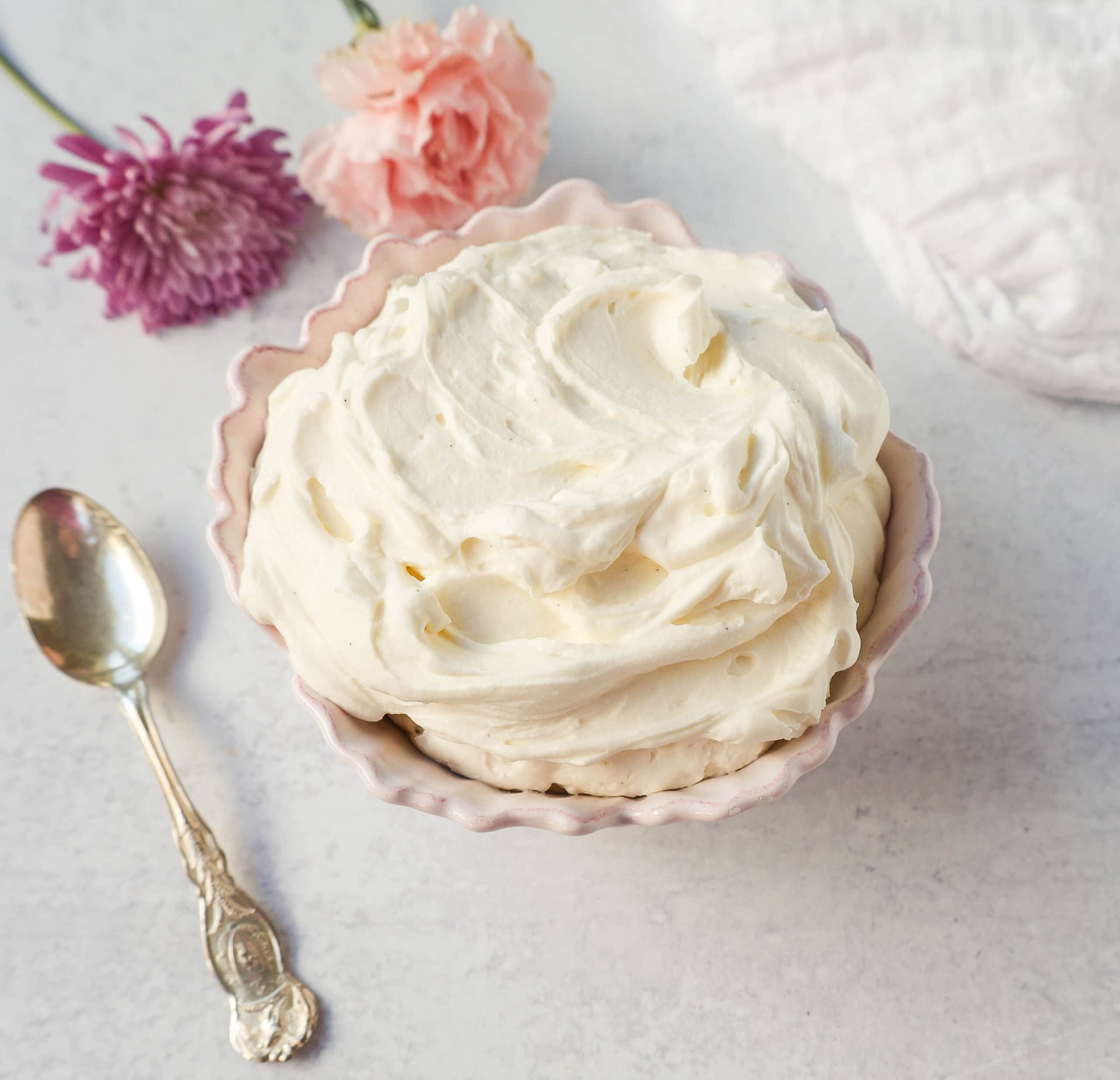 Instructions for Mascarpone Frosting
Make sure the mixing bowl and heavy cream are cold to ensure the proper whipping.
Add the mascarpone or cream cheese into a bowl. Whip for 1 minute, scraping the sides of the bowl. Pour in heavy cream, powdered sugar, and vanilla extract and whip until soft peaks form. If you want a stiffer filling or frosting, whip for longer or add in ¼ cup more powdered sugar.
Taste for sweetness and add more if needed.
Can I use cream cheese instead of mascarpone cheese?

Absolutely! I would suggest bringing the cream cheese to room temperature so it is soft enough to cream together. If not, you may end up with a lumpy cream filling.
What can I use this mascarpone cake filling for?

You can use this mascarpone cream in just about anything! It is perfect as a cake filling, as frosting, as a cream on top of a dessert, to fill a pastry with, in a fruit tart, and so many more.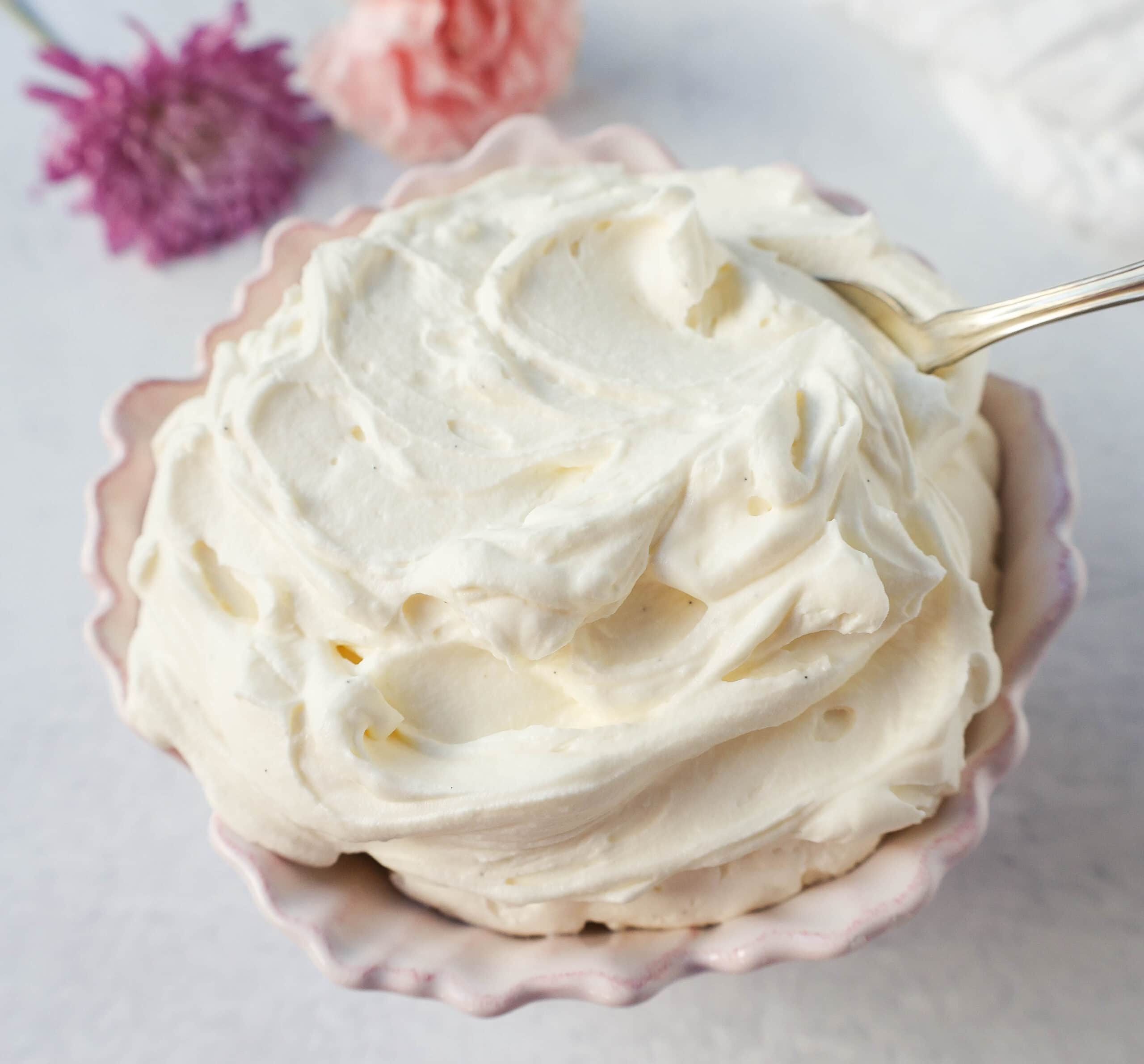 Expert Tips:
I would suggest making sure your mixing bowl is very cold before adding the ingredients. This helps the whipped cream to whip into stiff peaks. A tip is if you don't have extra time, just place a few ice cubes in the mixing bowl and swirl them around until the bowl is cold. Wipe down with a paper towel to remove any moisture before adding the ingredients.
If you want a thicker cream to use as a frosting on a cake, you can add ¼ cup of extra powdered sugar for a stiffer frosting.
Substitutions
You can use cream cheese instead of mascarpone cheese to make a cream cheese whipped cream frosting.
There is no substitute for heavy cream. You need the fat content of heavy whipped cream in order for it to whip into stiff peaks.
I suggest using powdered sugar because it creates a smooth and creamy filling. However, you can use granulated sugar but it may be a tad grainy and I wouldn't suggest it.
You can use your favorite type of flavoring like vanilla or almond extracts. I love to use vanilla bean paste.
Equipment
You will want to use a hand mixer or stand mixer to make this mascarpone whipped cream.
Storage
This can be stored in an air-tight container in the refrigerator. If you use this to fill a cake or frost a cake, I suggest keeping it refrigerated.
Top tip
Since this is only made with four ingredients, use high-quality ingredients for the best mascarpone cream.