Thick, chewy milk chocolate chip cookies have the perfect chewy centers with a lot of melted chocolate and slightly crispy edges. The best milk chocolate chip cookie recipe!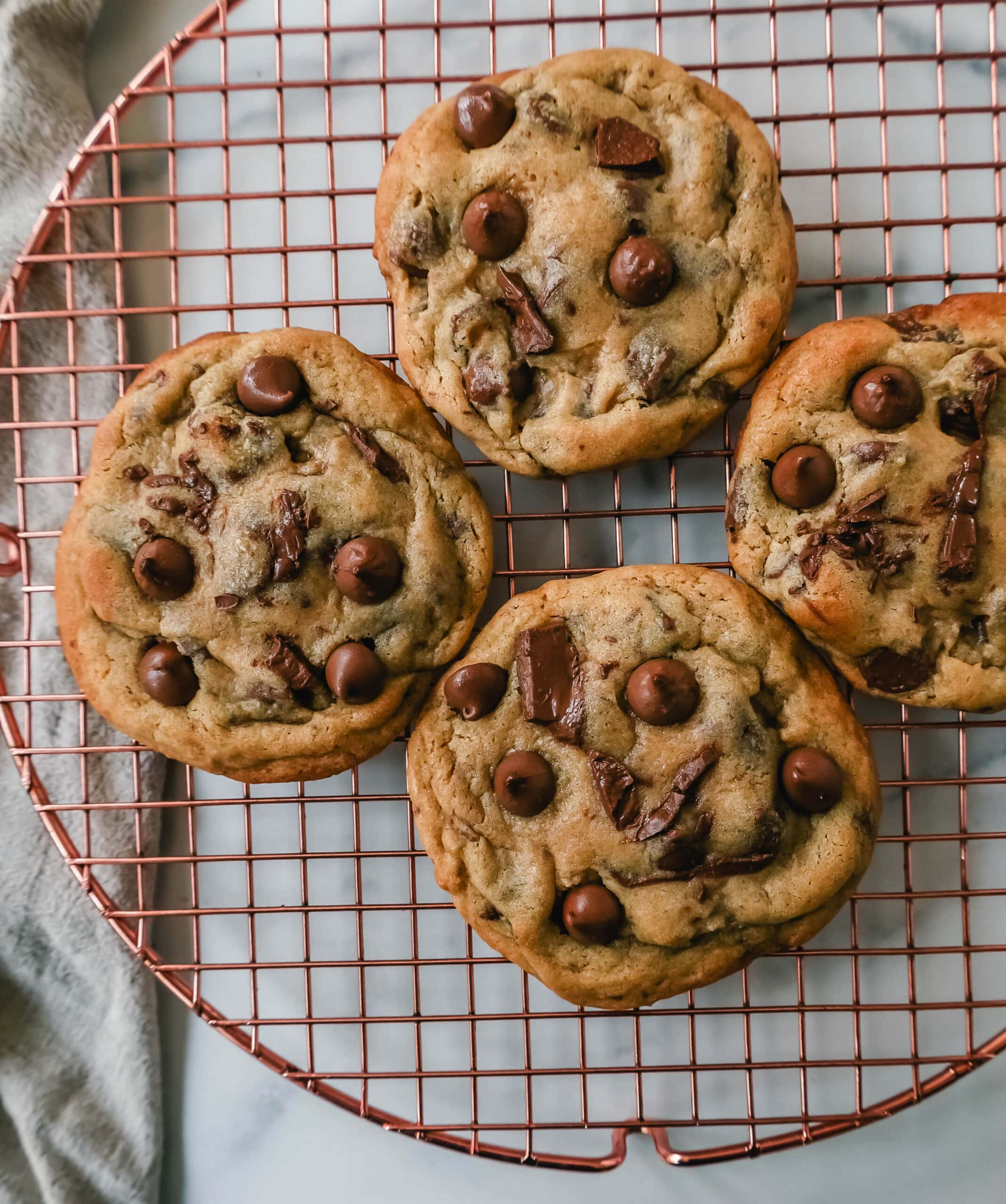 It is National Chocolate Chip Cookie Day today so of course, I need to share a brand new chocolate chip cookie recipe. You know I am always in the kitchen baking up some kind of cookie and chocolate chip cookies will always remain number one in my heart.
So I have figured out that there are all kinds of chocolate chip cookies out there -- you have the thin and crispy chocolate chip cookie recipe, the thick bakery-style chocolate chip cookie recipe, and the classic chocolate chip cookie recipe. One thing that I have found that people are very opinionated on is their chocolate. Some people love dark chocolate or semi-sweet chocolate and some reach for sweeter chocolate, like milk chocolate.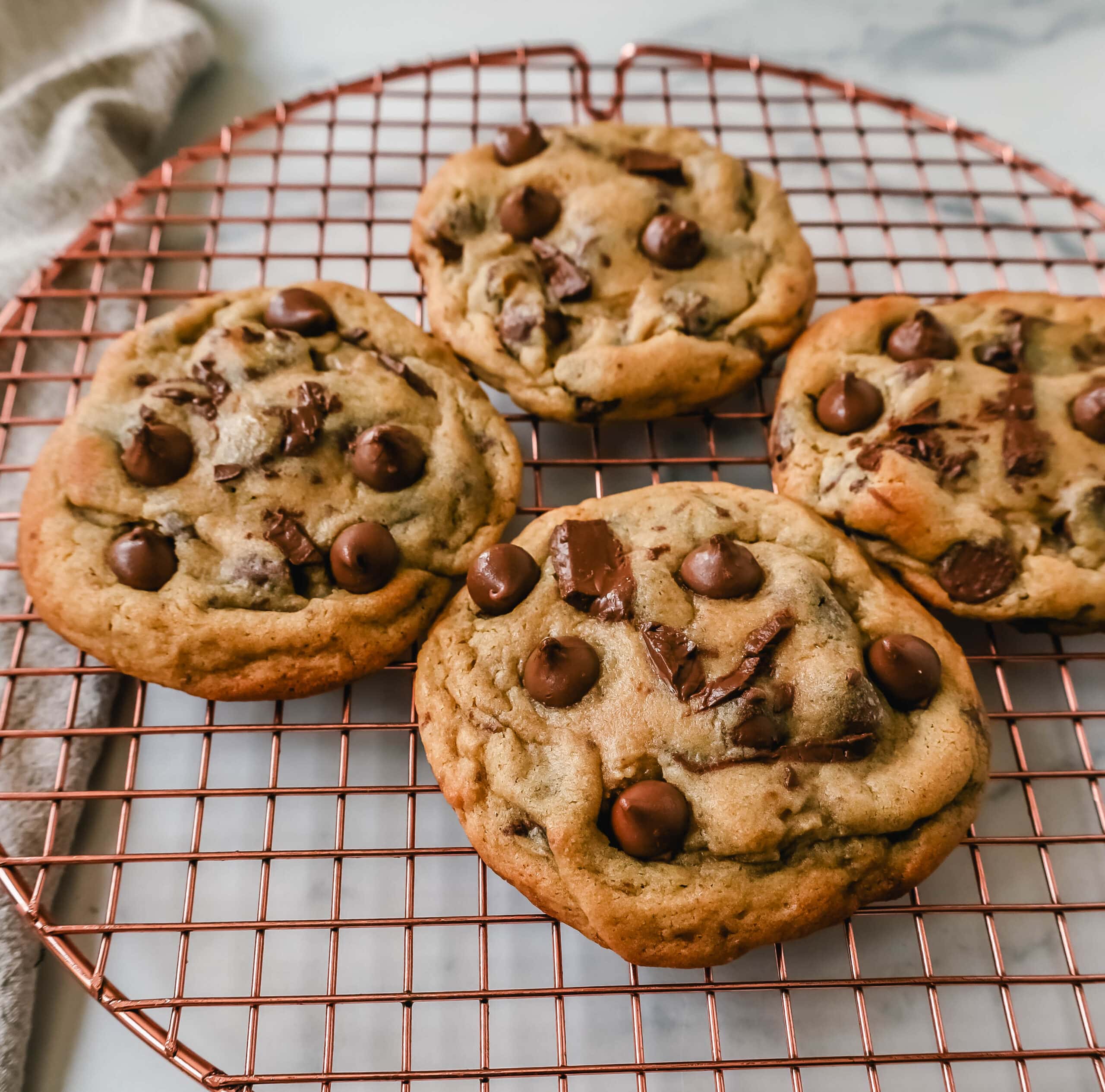 My brother, Ryan, loves straight-up milk chocolate chip cookies so whenever I am making cookies for him, I only add milk chocolate chips. They are sweeter and milder in flavor so they don't overpower the cookie dough. I am sharing the very best milk chocolate chip cookie recipe! Basically, I have been making chocolate chip cookies since I could stir a spoon in a bowl so I am a self-proclaimed connoisseur.
When I am whipping up a batch of chocolate chip cookies with milk chocolate chips, I love to use a mixture of milk chocolate chips and milk chocolate chunks. My favorite brand of milk chocolate chips is Guittard and my favorite brand of milk chocolate bar is the Trader Joe's Pound Plus Bar. Chocolate chips are made to keep their shape, even under high heat. When you use a chocolate bar, it melts so beautifully in the cookie and gives it that ooey gooey melted chocolate all throughout the cookie. It is heavenly!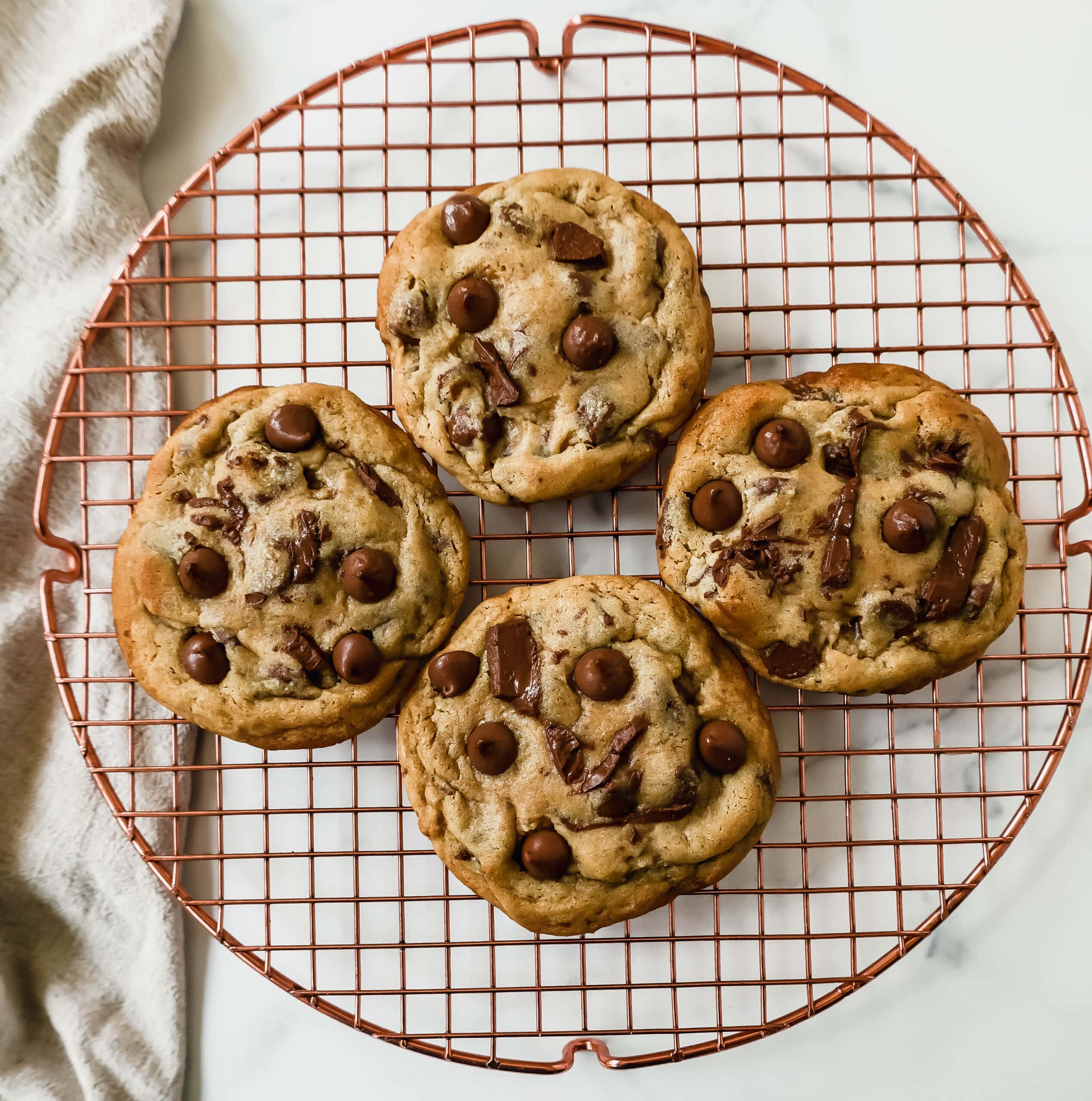 One thing about milk chocolate chip cookies is that they tend to be sweeter than a semi-sweet chocolate chip cookie since there is more sugar in milk chocolate. I love a good salty-sweet combination so after the cookies are removed from the oven, I love to sprinkle them with Maldon's sea salt flakes. You don't need a lot but trust me when I tell you that they elevate the milk chocolate chip cookie and make it gourmet.
So what makes these milk chocolate chip cookies so special? There are techniques and ingredients that set these cookies apart.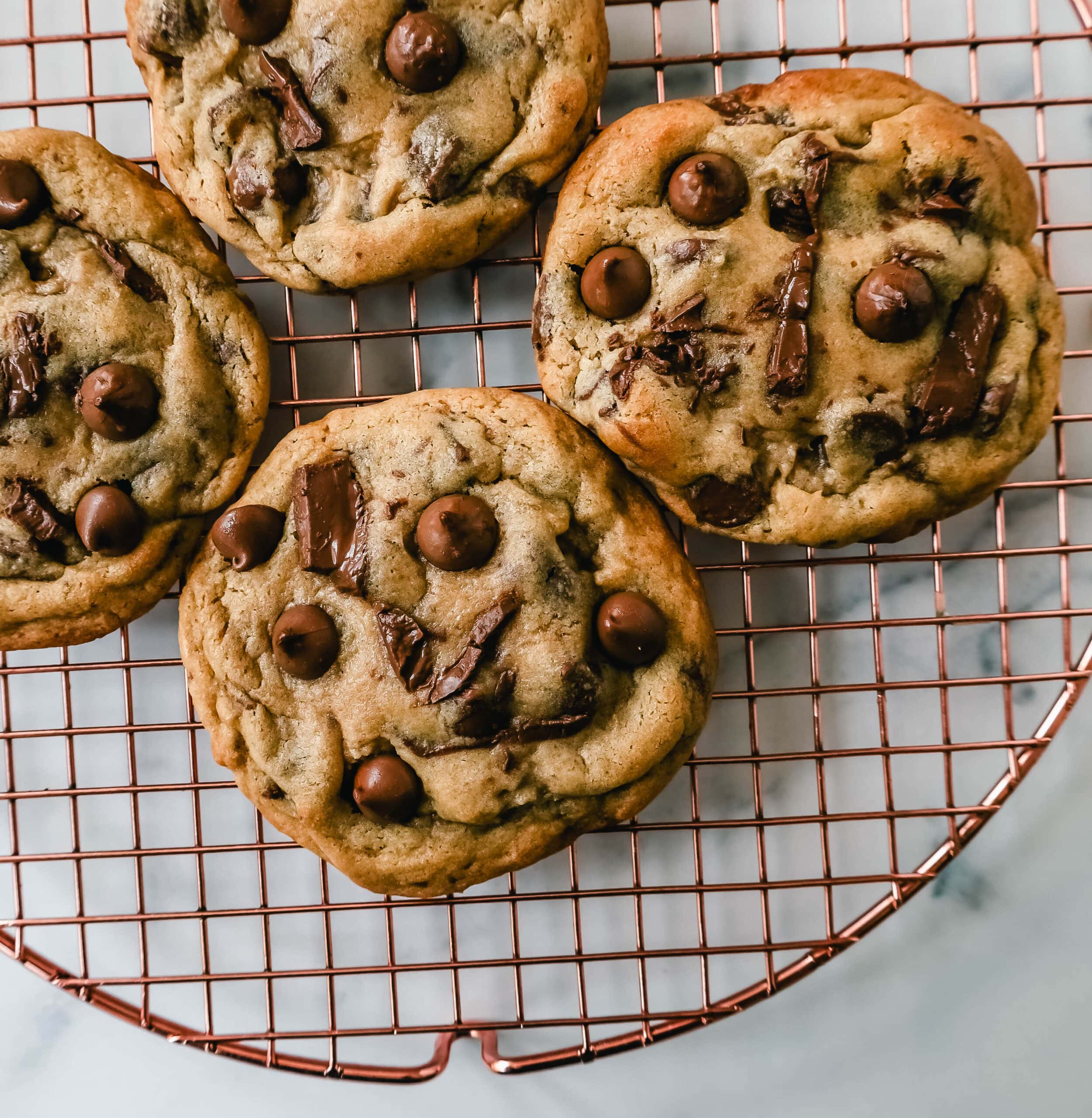 What ingredients are in Milk Chocolate Chip Cookies?
Butter
Brown Sugar
Sugar
Eggs
Vanilla Extract
All-Purpose Flour
Cake Flour
Cornstarch
Baking Soda
Salt
Milk Chocolate Chips and Chunks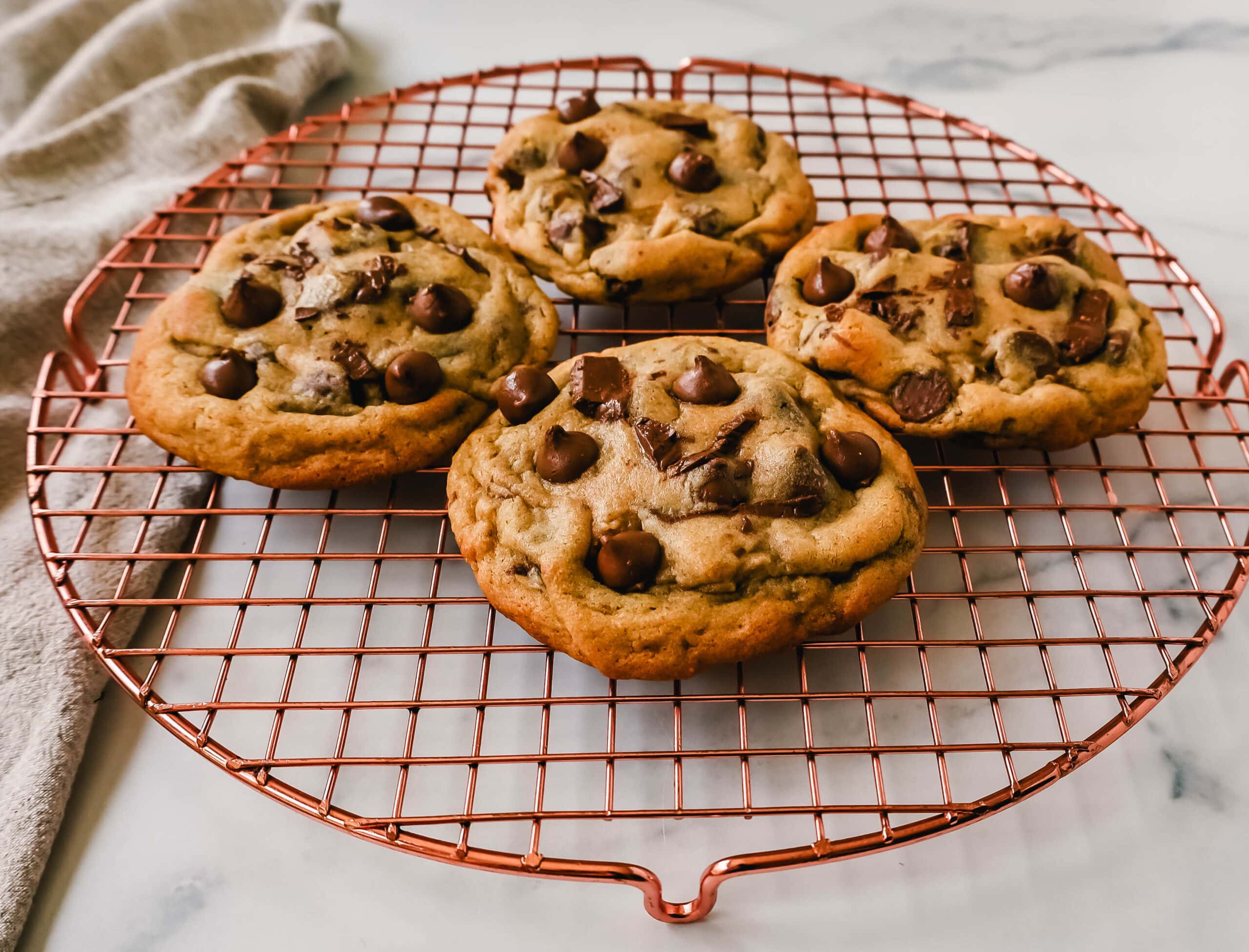 How to make the Best Milk Chocolate Chip Cookies:
Start by creaming together the butter, brown sugar, and sugar together for 3-4 minutes. Make sure to stop the mixer and scrape the sides of the bowl with a spatula to make sure all of the ingredients get incorporated. Add eggs and vanilla and scrape down the sides of the bowl again.
Fold in flour, cake flour, cornstarch, baking soda, and salt. If you don't have cake flour, you can substitute all-purpose flour. The reason I call for cornstarch in these milk chocolate cookies is that it creates a softer, more tender texture and helps to keep the cookies fresher for longer.
Fold in milk chocolate chips and chunks, if possible. I like to use a mixture of both chips and chunks. You can chop up a milk chocolate bar for chunks. Chill the dough if possible. Once you roll the cookies into balls, I suggest placing a few extra chocolate chips on the top.
I suggest using a light-colored baking sheet. A dark-colored baking sheet will attract too much heat and the bottoms can burn.
Bake just until the edges start to become a light golden brown color. You want to underbake cookies rather than overbake cookies so watch the cookies carefully.
When you remove the cookies from the oven, take a spatula and carefully shape the cookies by pressing the irregular edges towards the center to make a uniform circle. Let sit for at least 10 minutes before removing it from the cookie sheet.

Should I chill my cookie dough?
It is such an important step and will elevate the flavor and texture of the cookies. The flavors meld together, the dry ingredients absorb the butter and sugar, and the cookies become richer and more decadent. So if time is on your side, chill the dough for at least 24 hours!
Chilling the dough for at least 24 hours helps the ingredients to incorporate. The gluten which is developed by mixing the dough, is relaxed while the dough rests, which creates a more tender cookie. The moisture in the dough is absorbed by the dry ingredients, which helps to dissolve the sugar, and causes extra caramelization. You end up with a chocolate chip cookie with rich toffee notes, a chewier texture in the center, and buttery, crispy edges.