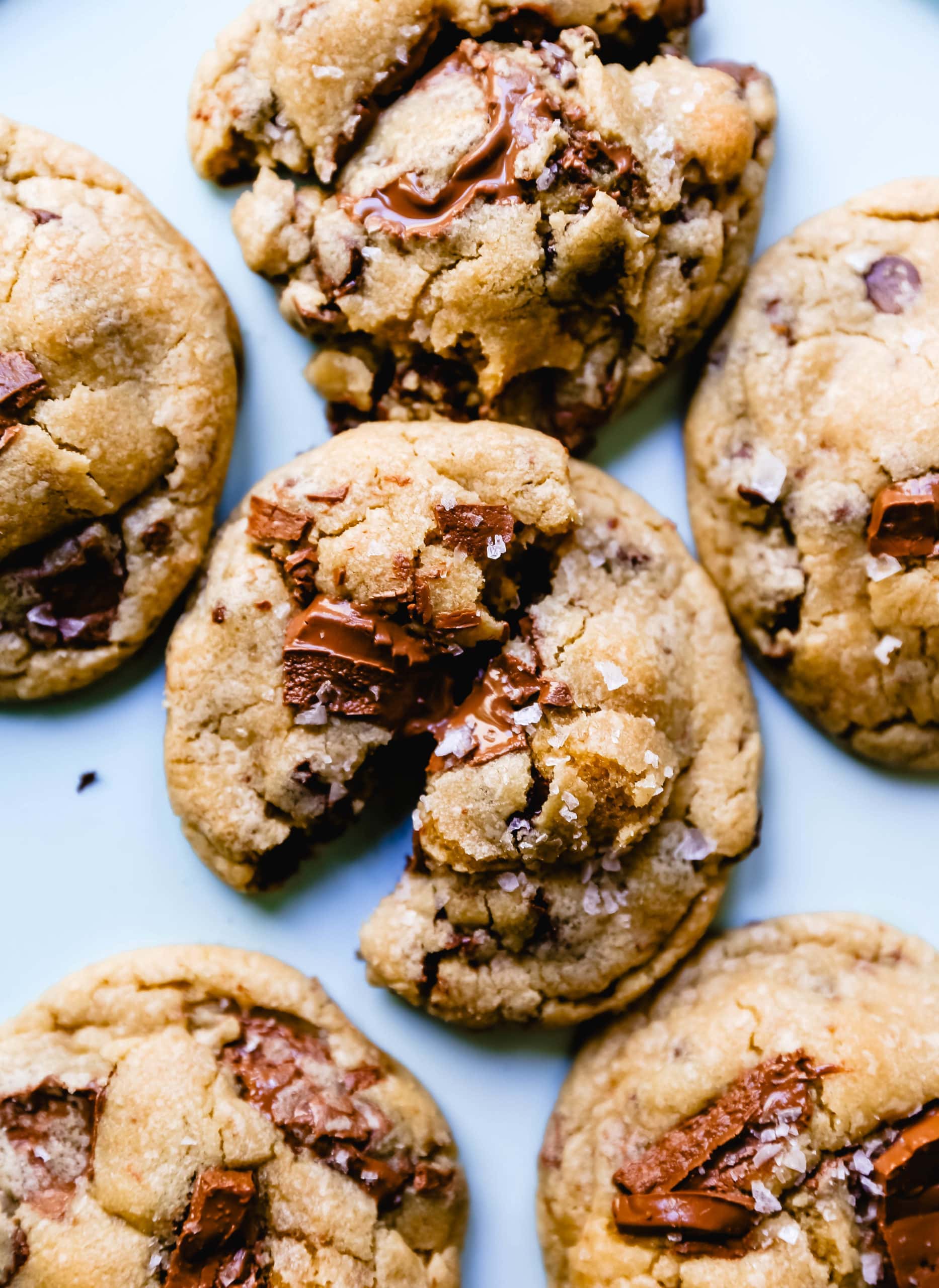 Classic Chocolate Chip Cookies
A classic soft, chewy, chocolate chip cookie recipe. This is such a popular chocolate chip cookie recipe!
My incredible readers here on Modern Honey know I have written a blog post or two (okay...dozens!) about chocolate chip cookies. They are my favorite food to make and I am always on the quest to try new techniques, new ingredients, and to perfect the chocolate chip cookie.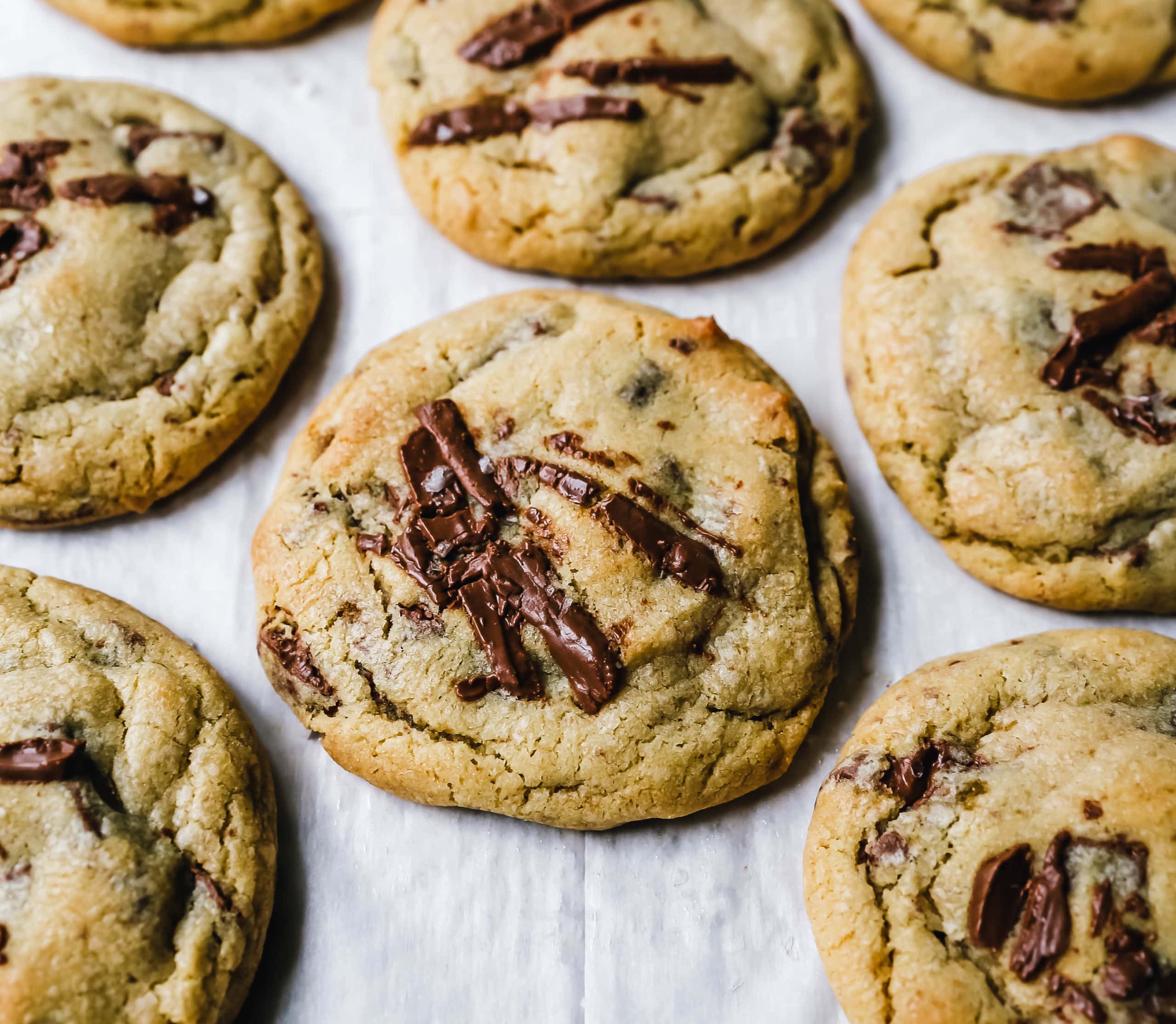 All of this started at a young age when all I wanted for my birthday was a bunch of cookbooks. This was before the internet so I would sit and read cookbooks for hours and be one happy girl about it.
After I was married, my friends would tease me because when I would go over to their house, I would ask to see their cookbooks, and precede to lay on the floor with a stack of cookbooks and just read as much as I could.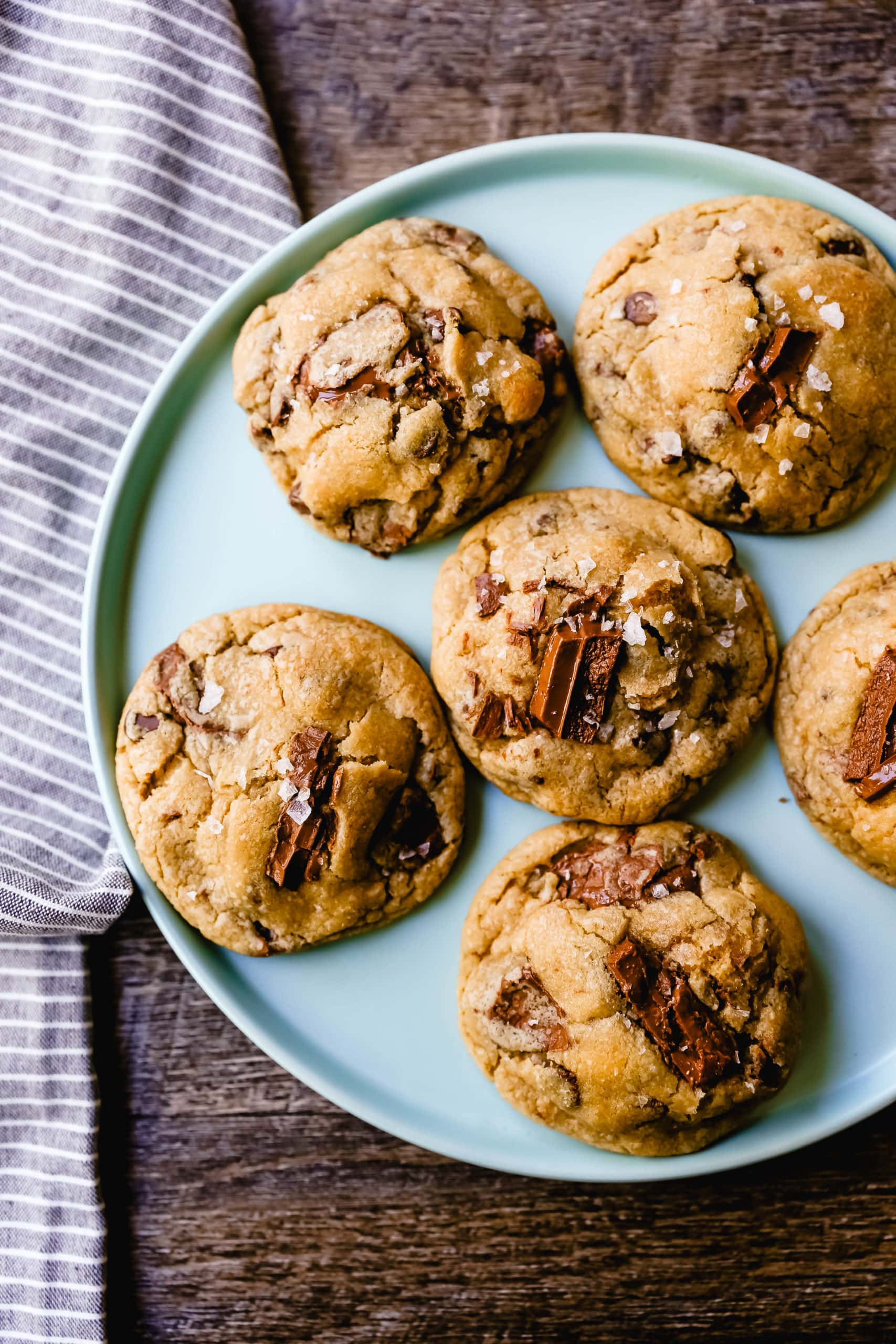 But the first thing I would do when opening a cookbook was to look at their take on a chocolate chip cookie recipe. Most of them became a variation of the classic Nestle Tollhouse chocolate chip cookie. I wanted to switch things up!
So I created recipes like my Levain Bakery Chocolate Chip Cookies which has a unique baking temperature and different types and combinations of ingredients and they have become a hit!
I get readers asking me all of the time for just an easy, classic, simple chocolate chip cookie recipe. This is the recipe for you! I made a few changes to make them extra soft and chewy. I hope you love these classic chocolate chip cookies!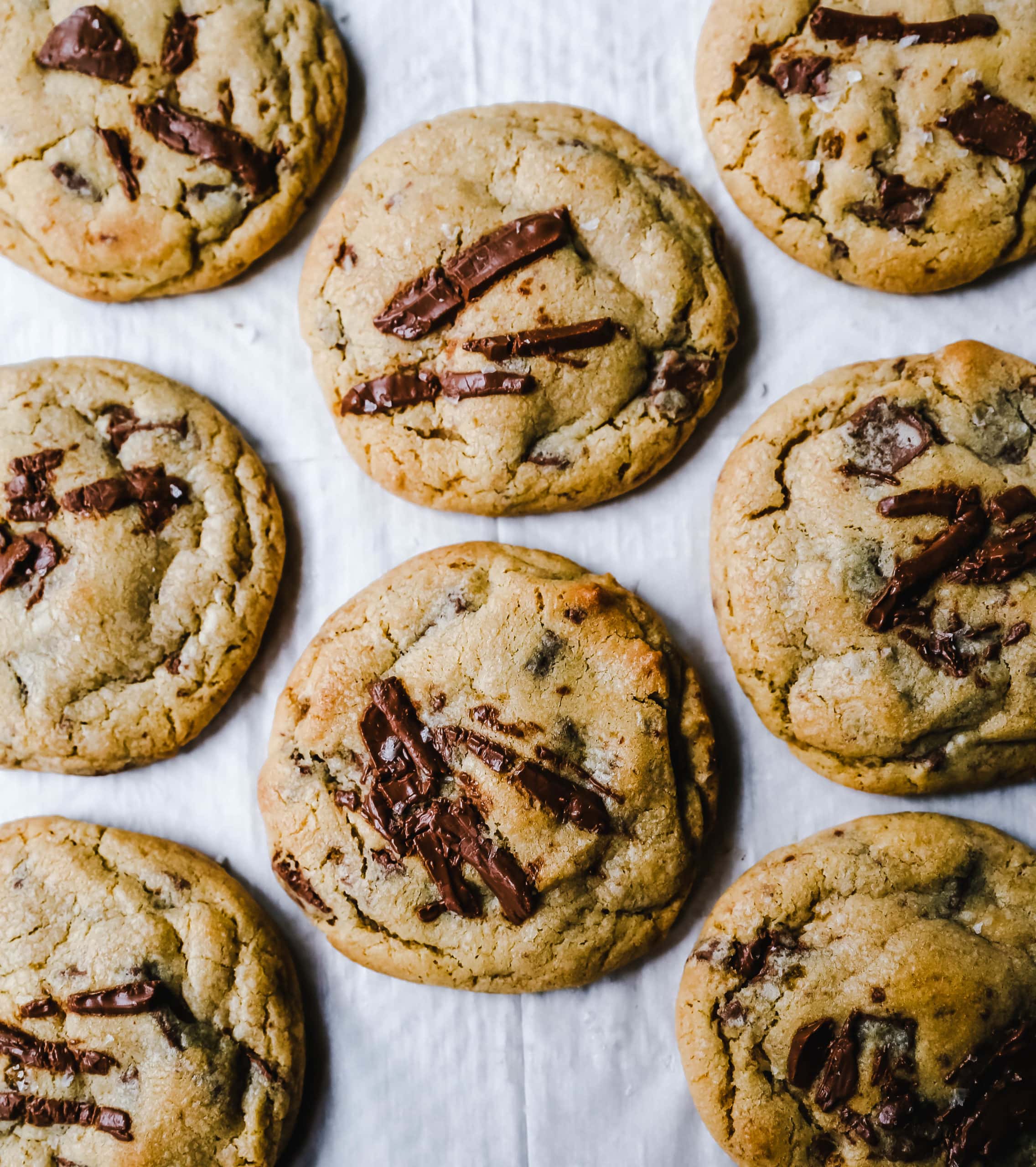 How to make the perfect Classic Chocolate Chip Cookies:
Cream butter and sugars together for 4 minutes. This is an important step as it helps to adds pockets of air that aerate the batter and gift it loft when baked. This air puffs up the cookies as they bake, giving them a lighter texture. It also helps to ensure you don't end up with grainy cookies! I love to use my KitchenAid for all of my baking and you can find them HERE.
Add eggs and vanilla. I use large eggs in all of my baking recipes and pure vanilla extract. I love to use Nielsen-Massey Vanilla or this Mexican vanilla.
Fold in flour, cornstarch, baking soda, and salt. The baking soda gives the cookies a nice rise and the cornstarch helps to keep them nice and soft -- even days later.
Fold in your favorite type of chopped chocolate bars. You can use chocolate chips or chocolate bars. The reason I love to use chocolate bars in my cookies is that they melt beautifully. Chocolate chips are made to keep their shape but sometimes you want some ooey gooey melted chocolate throughout your cookies. I always have at least four Trader Joe's Pound Plus Bars in my kitchen in both Dark Chocolate and Milk Chocolate.
If you want to take an extra step to make your cookies even better, CHILL the dough. Roll into balls and then cover well and place in the refrigerator to chill. It is best to chill for 24 hours, if you can wait that long! I have tested cookie dough and the cookies get even better if you let it chill for 36-48 hours.
Bake on light-colored baking sheets. These baking sheets are my favorite and will last you forever! I also love to use these parchment baking sheets for easy removal of cookies and easy clean-up.
If you love Chocolate Chip Cookies, check out these other Popular Cookie Recipes:
Levain Bakery Chocolate Chip Cookies -- the recipe that started Modern Honey. A large, thick yet soft, and chewy bakery chocolate chip cookie. This is the OG and 5-Star Rated for good reason. It is not your typical chocolate chip cookie recipe.
MJ's Top Secret Chocolate Chip Cookies -- this is a chocolate chip cookie recipe made entirely in a saucepan. This is perfect when you don't want to get out the mixer. This has a slight toffee flavor due to the melting of the butter in the saucepan. It has a less flour ratio so you can really taste the butter and chocolate in this cookie. It is a thinner cookie but still has some loft to it.
Charmina's Chocolate Chip Cookies -- this is a combo recipe using half melted butter and half softened butter. It is a soft, chewy chocolate chip cookie with a medium loft.
One-Bowl Chocolate Chip Cookies -- you don't get much easier than these chocolate chip cookies! No mixer required. This recipe is made in one bowl and the butter is microwaved so it is melted so you don't need to cream the butter and sugar together with a mixer. Kids can easily make this recipe!
Oatmeal Chocolate Chip Cookies -- a hearty, soft, chewy oatmeal chocolate chip cookie recipe with a perfect amount of oats and chocolate.
Follow Modern Honey on Facebook
Follow @modern_honey on Instagram
Follow me @ModernHoney on Pinterest