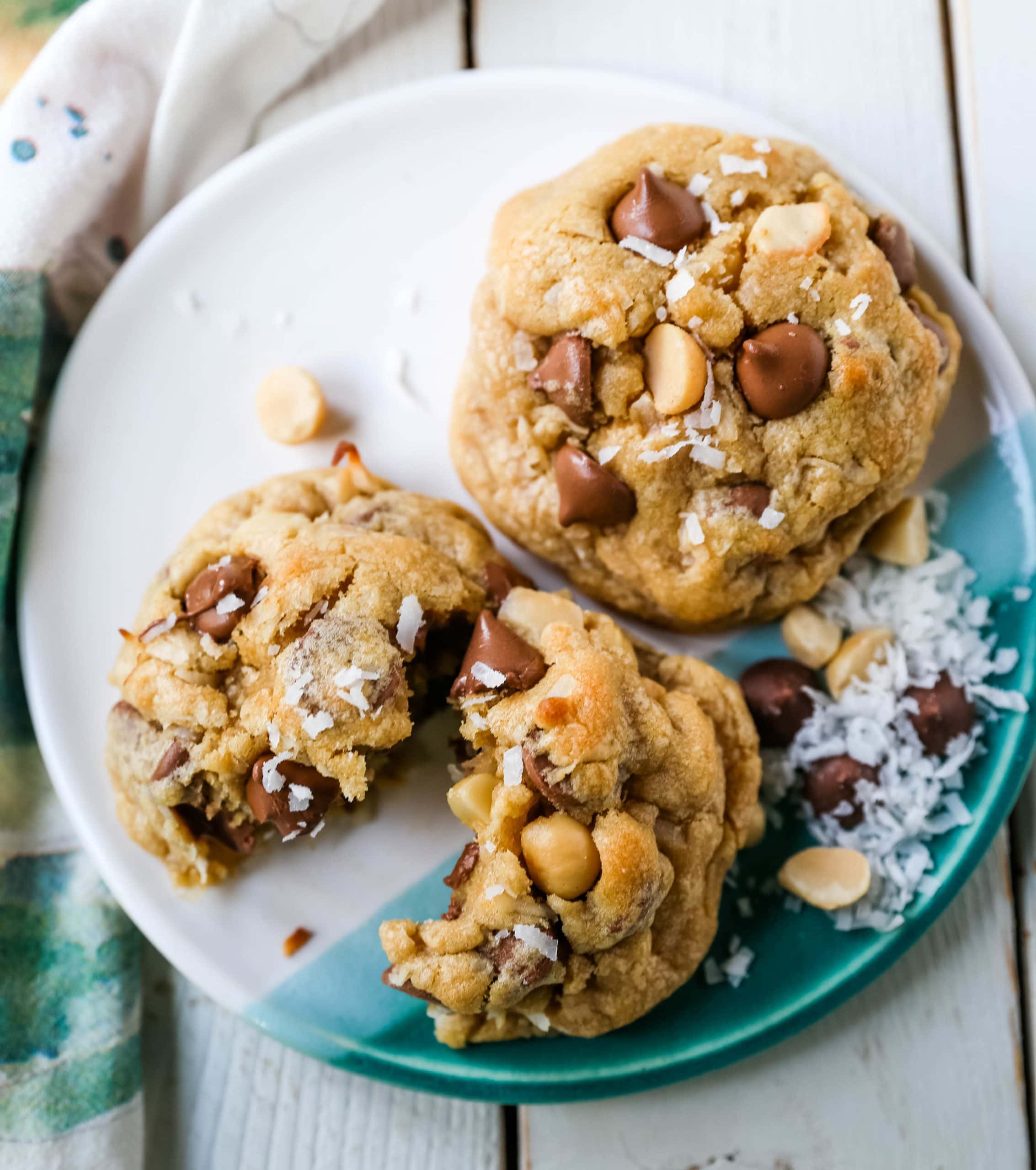 Milk Chocolate Chip Macadamia Nut Coconut Cookies
Thick soft and chewy bakery-style milk chocolate chip macadamia nut coconut cookies are an Island favorite!
When I flew to Hawaii for a mother-daughter girls trip in January with my daughter, Sierra, we ate our weight in macadamia nuts. We were literally driving in our convertible to see a waterfall when we were overcome by the most delicious smell in the air. It was coming from a bakery that specialized in macadamia nuts. We pulled our car to the side of the road, followed the smell to this cookie bakery that specialized in buttery macadamia nut cookies. We bought a huge bag and finished it by the time we made it to the waterfall.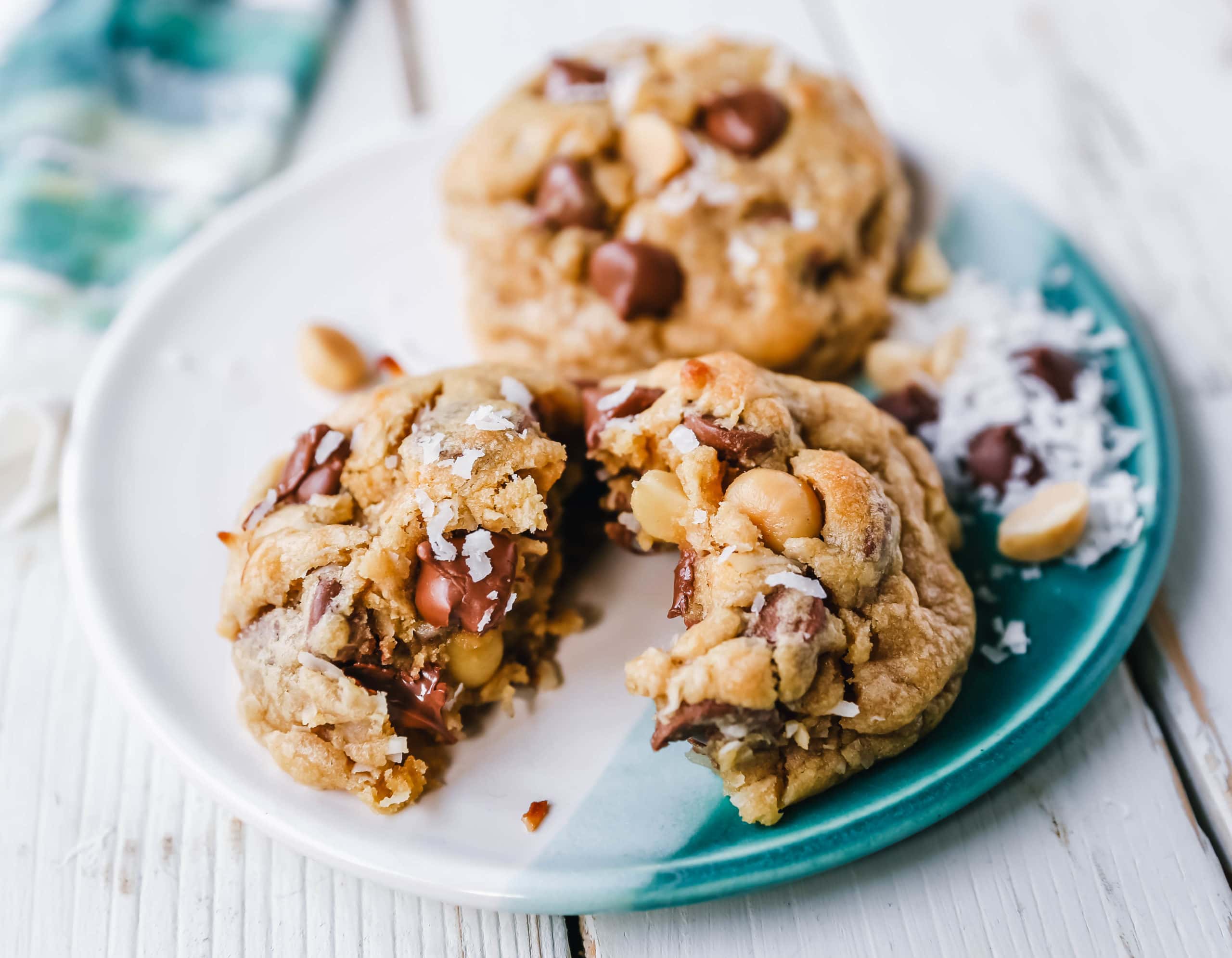 We weren't done consuming macadamia nuts! We ate macadamia crusted chicken for lunch and then for dessert, we had guava and passionfruit shave ice with homemade macadamia nut ice cream. We won't divulge how many milk chocolate caramel macadamia nuts we ate while watching a BYU basketball game in our hotel room. Basically, we couldn't get enough of them! Anyone else a fan?
We tried a milk chocolate macadamia coconut cookie in Hawaii and I vowed to create a copycat recipe to make at home. This has the perfect balance of salty and sweet. The creamy milk chocolate pairs perfectly with the salty, buttery macadamia nuts and the coconut brings the tropical flavors. So if I can't be on a beach in Hawaii, then I am going to eat like I am!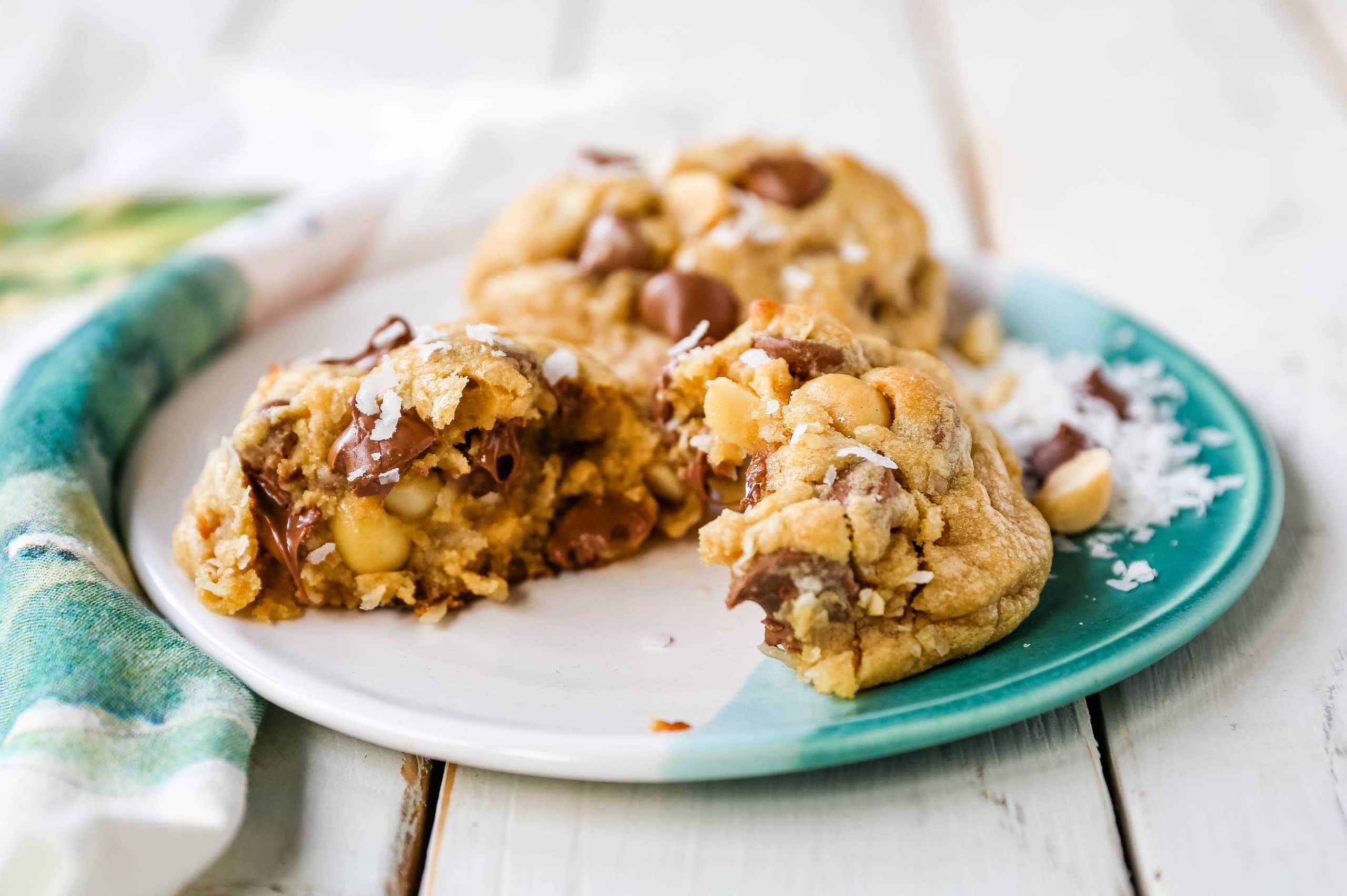 If you have tried my LEVAIN BAKERY CHOCOLATE CHIP COOKIE RECIPE, you know it is possible to have a thick yet chewy cookie recipe. I recently sent out an email to my subscribers asking them what their biggest baking challenge is with cookies. An overwhelming amount of you said your biggest challenge is flat cookies. Well, I am here to tell you that you won't have that problem with these cookies!
Let's get into the baking science. The classic Nestle Tollhouse recipe calls for 1 cup of butter to 2 ¼ cups of flour. This lends itself to a soft, chewy, relatively flat cookie with a slight puff in the center. This recipe calls for 1 cup of butter to 3 cups of flour plus two leavening agents. This gives the cookie the loft and thickness, without making it cakey. I also suggest using ½ cake flour for a more tender cookie, if you have it on hand. Cake flour has less gluten which helps to create a more delicate, tender texture.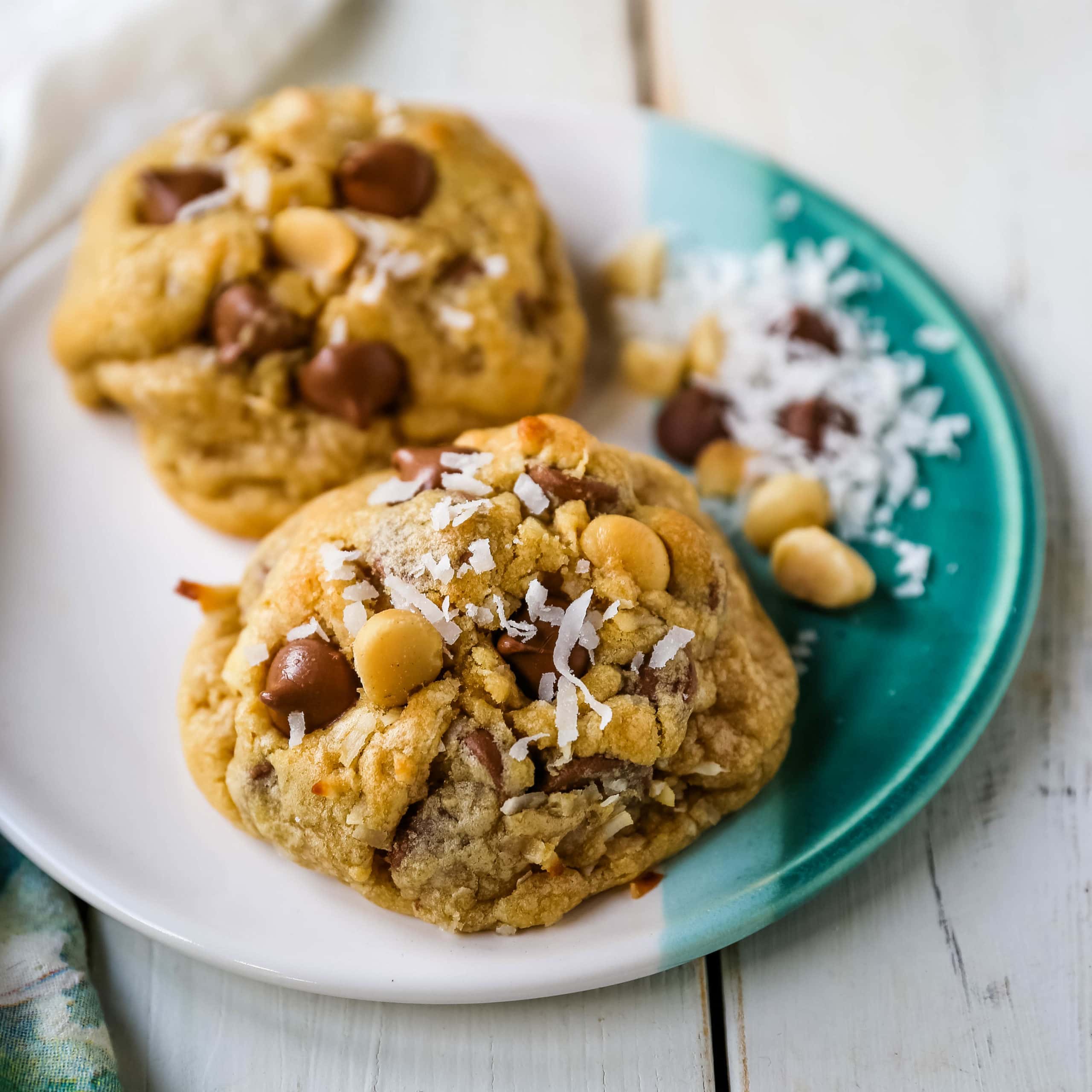 If you don't have macadamia nuts at home or just have kids who can't stand nuts in cookies, then you are welcome to leave them out. You will end up with a decadent milk chocolate chip coconut cookie and it will be wonderful. The cookie will remain thick even without the macadamia nuts.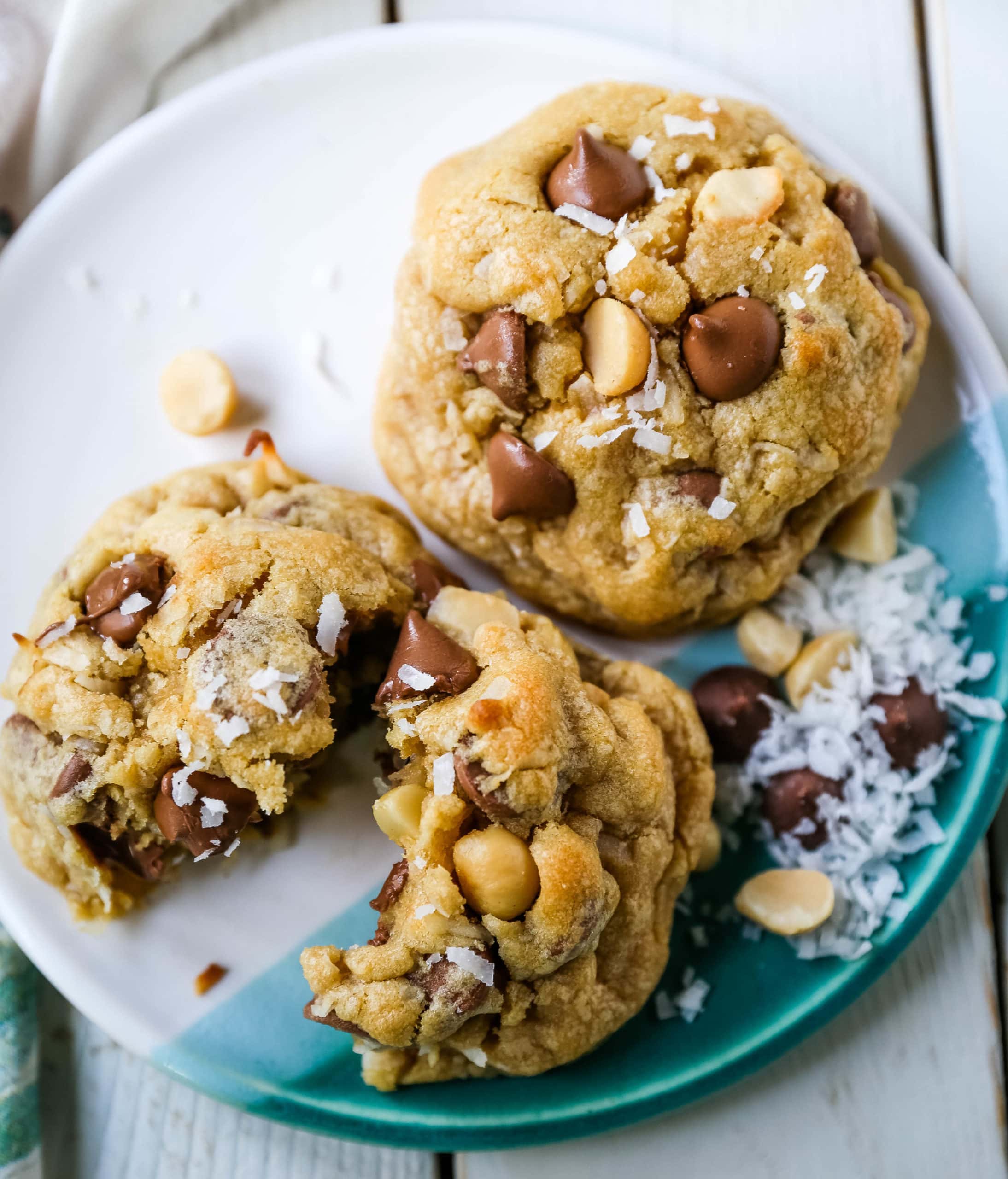 Here are some of my favorite baking tools:
Light Colored Baking Sheets
KitchenAid Mixer
Parchment Paper Sheets
My favorite milk chocolate chips are Guittard.