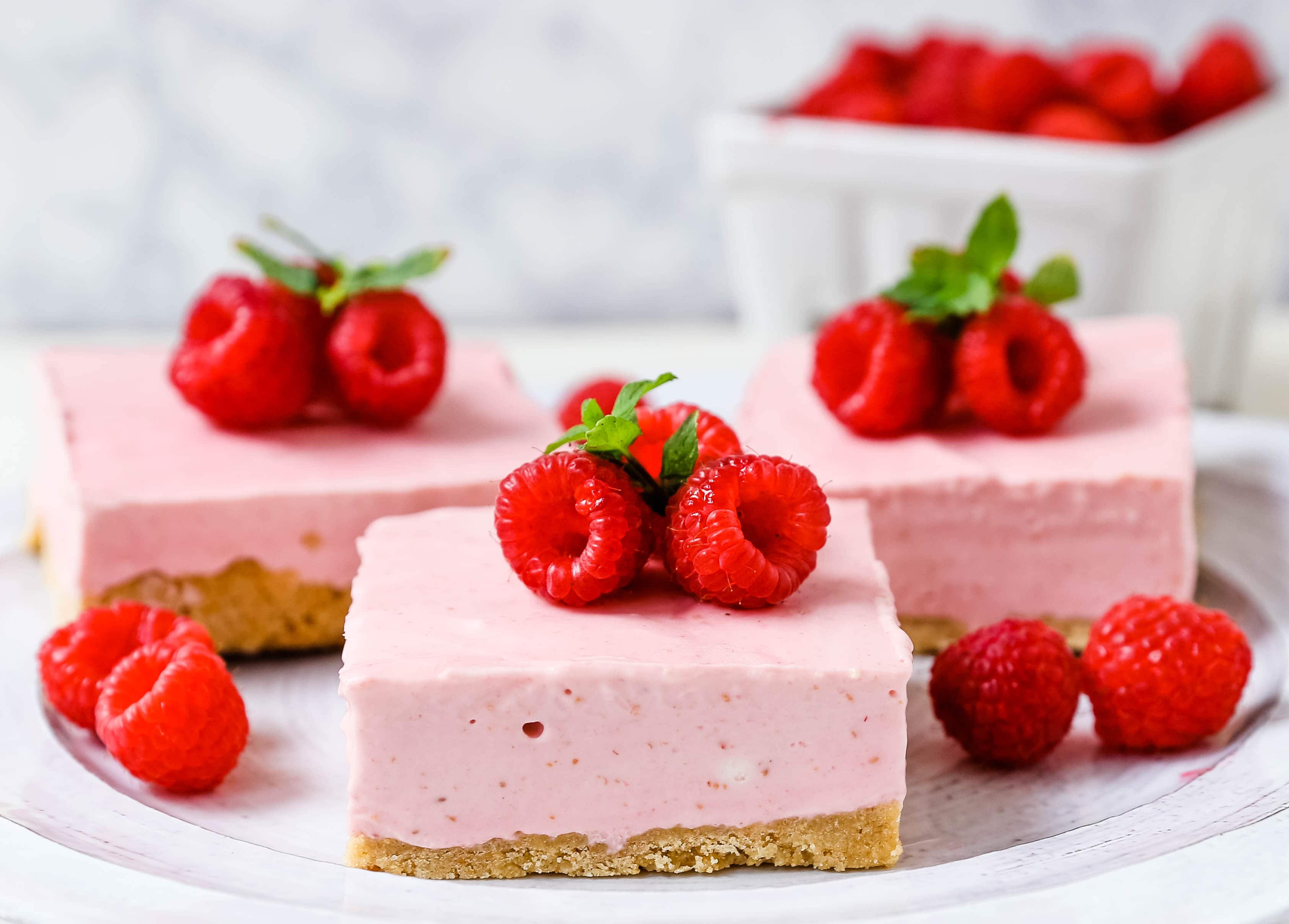 No-Bake Frozen Raspberry Cheesecake Squares
Creamy no-bake raspberry cheesecake filling on top of a shortbread or graham cracker crust topped with fresh raspberries. A creamy no-bake frozen dessert. 
When it hits 110 degrees in Arizona, there is no way I want to crank up the heat on my oven and make my house even hotter! I am looking for no-bake desserts which are quick and easy. This is a creamy, frozen no-bake dessert using fresh berries in season so it is the perfect summer dessert!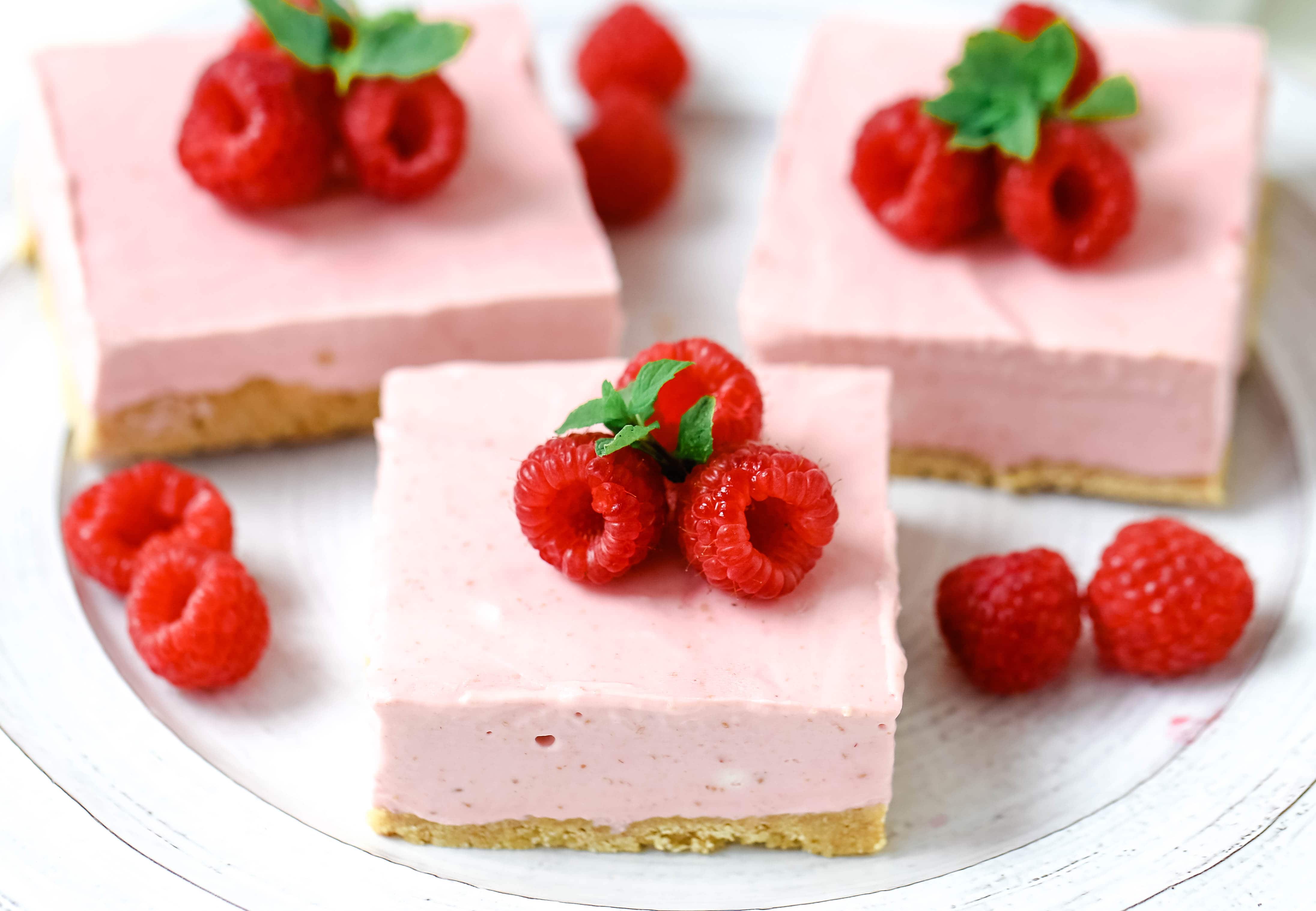 These No-Bake Raspberry Cheesecake Bars start with a homemade buttery shortbread cookie or graham cracker crust. The cookies are crumbled until they are completely fine and mixed with melted butter and a touch of sugar.  Since these are no-bake cheesecake bars, you just press the crust into a pan and put it in the freezer to set-up, while you make the filling.
The frozen berry cheesecake filling is made with softened cream cheese, sugar, fresh raspberries, and homemade whipped cream is folded in. You can even add a touch of fresh lemon juice or mint to give it some extra freshness. The filling is poured over the chilled crust and is placed in the freezer for at least 4 hours or overnight.
When ready to serve, I love to top it with fresh raspberries and freshly whipped sweetened cream.  It just puts it over the top. This is such a beautiful no-bake dessert perfect for any of your summer events.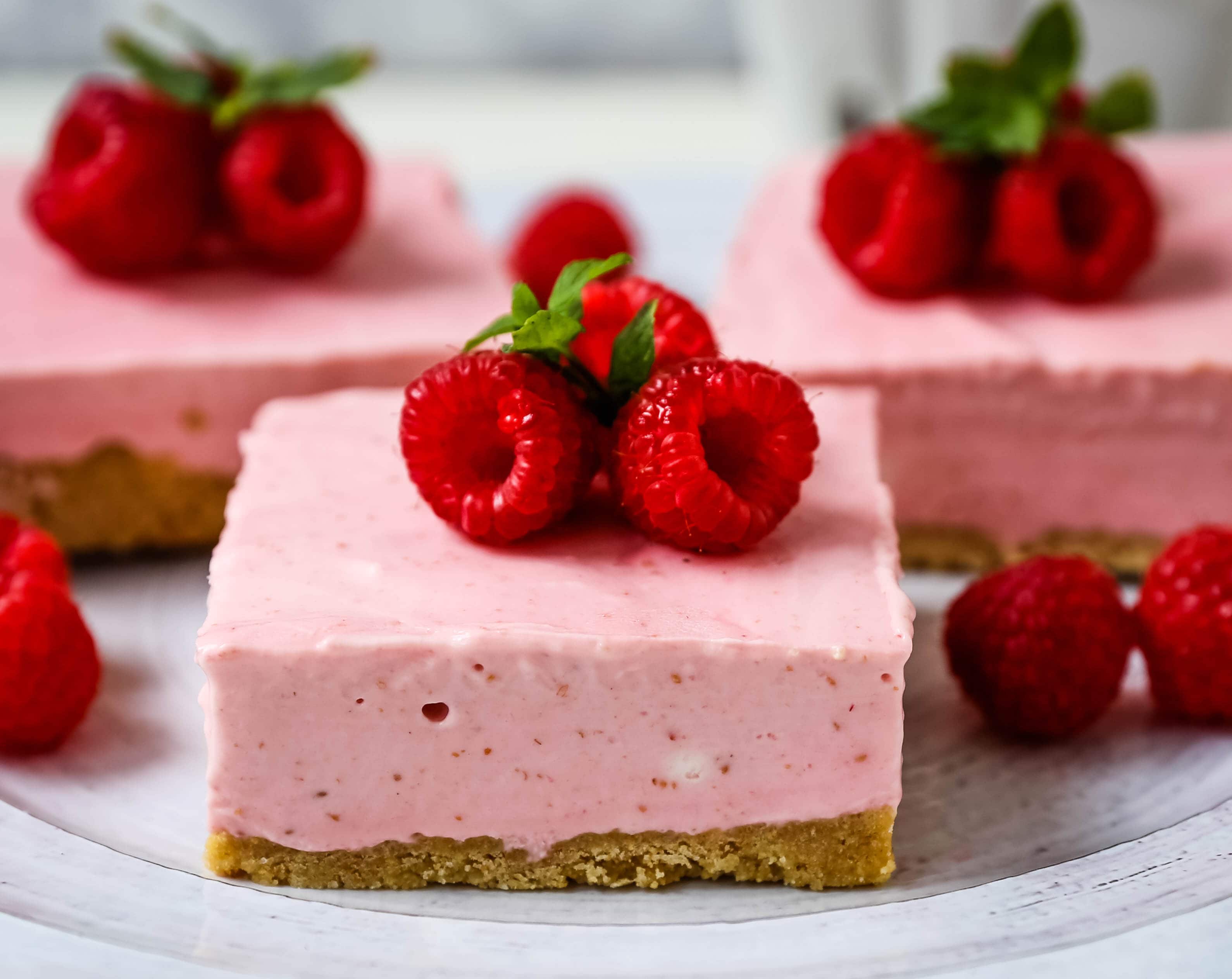 The beauty of this recipe is the versatility. You can make these Frozen Raspberry Cheesecake Bars using any of your favorite berries -- strawberries, blueberries, or blackberries. You could even make Frozen Berry Cheesecake Bars and use a combination of berries!
When I was attending the Everything Food Conference, Jocelyn from Grandbaby Cakes was there demonstrating her Strawberry Cheesecake Bars. I tasted the frozen bars, fell in love with them, and since my daughter is such a raspberry fan, I made it for her using fresh raspberries. It is such a simple recipe and can be used in so many ways!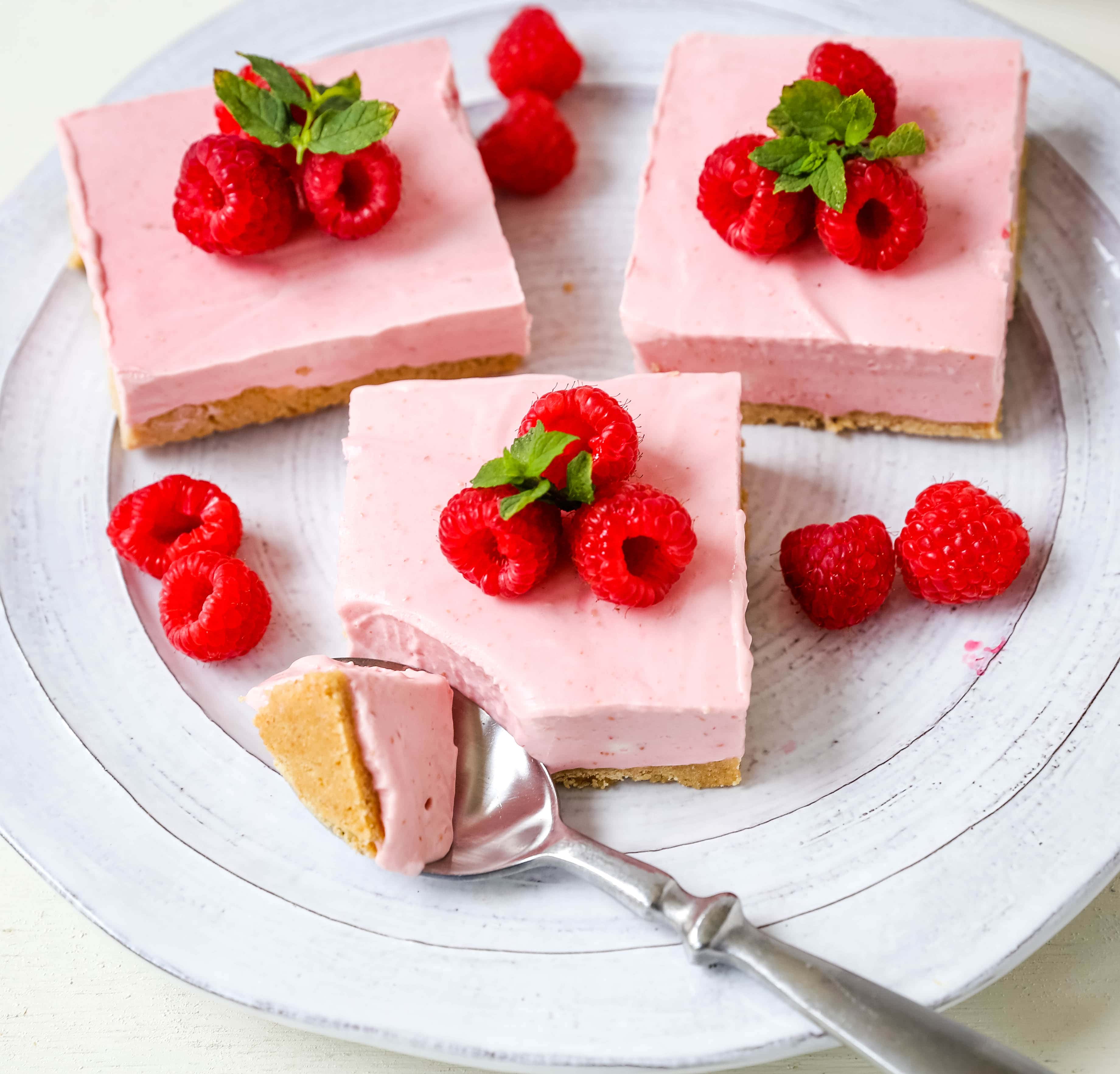 How to make No-Bake Frozen Raspberry Cheesecake Bars:
 Line a 8 x 8 baking pan with parchment or waxed paper and let it overhang over the sides.
In a food processor, pulse shortbread cookies or graham crackers until fine crumbs.  Add melted butter and sugar and mix until combined. If you don't have a food processor, crush the shortbread cookies or graham crackers in a large Ziploc bag until crushed.  In a large bowl, stir together crumbs, melted butter, and sugar.
Press crust into baking pan. Place in the freezer for 15 minutes.
Meanwhile, make the filling in a blender by combining softened cream cheese, sugar, and fresh raspberries. Whip whipping cream until soft peaks form. Fold whipped cream into cheesecake filling. Pour over the chilled crust. Place in the freezer for at least 4 hours or overnight.
When ready to serve, remove from the freezer, cut into slices and top with fresh whipped cream and fresh raspberries.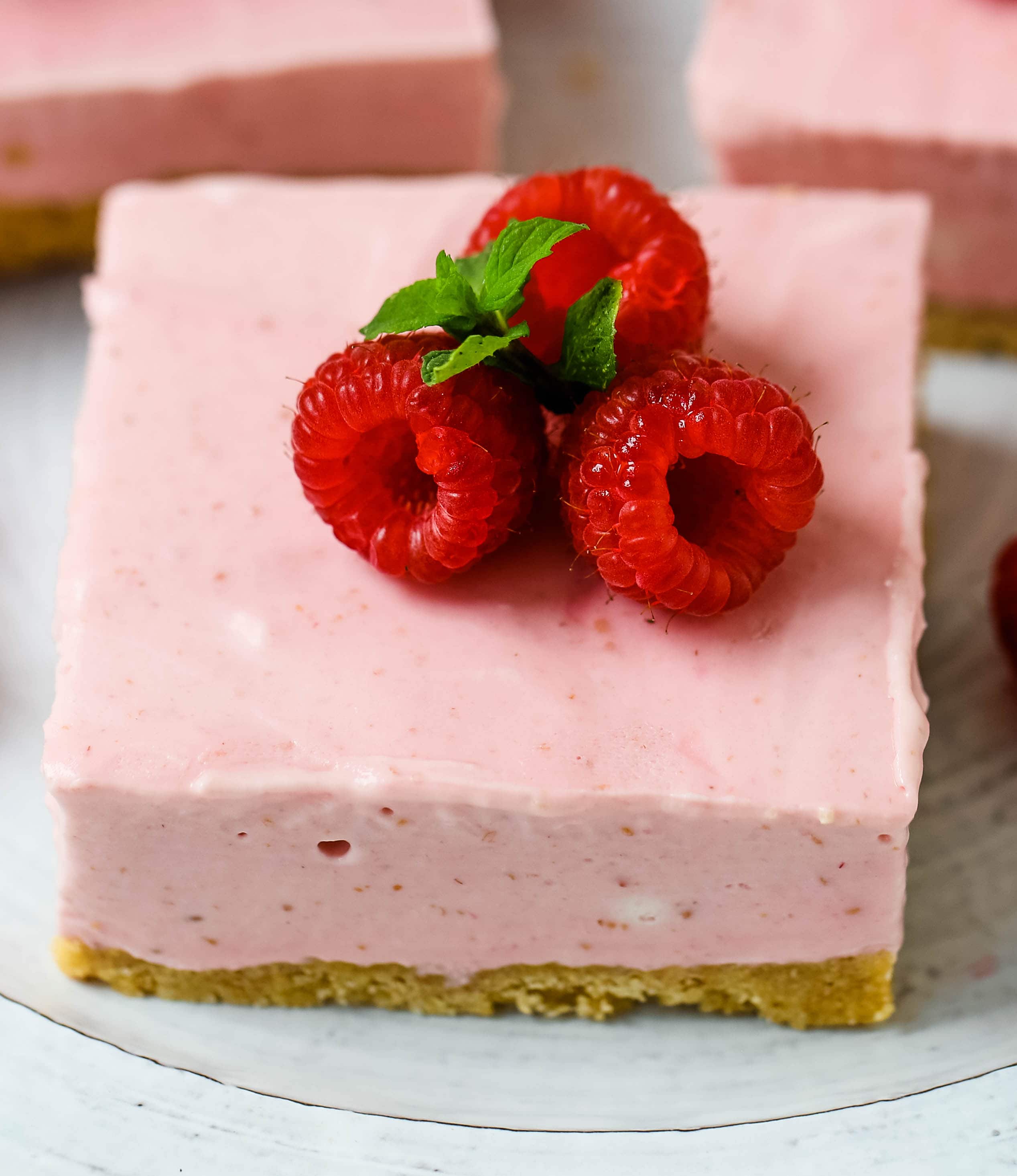 Here are some of my favorite baking tools for these Frozen Cheesecake Squares:
USA 8 x 8 Square Baking Pan
Parchment Paper Sheets
Food Processor
Vitamix Blender
KitchenAid Mixer