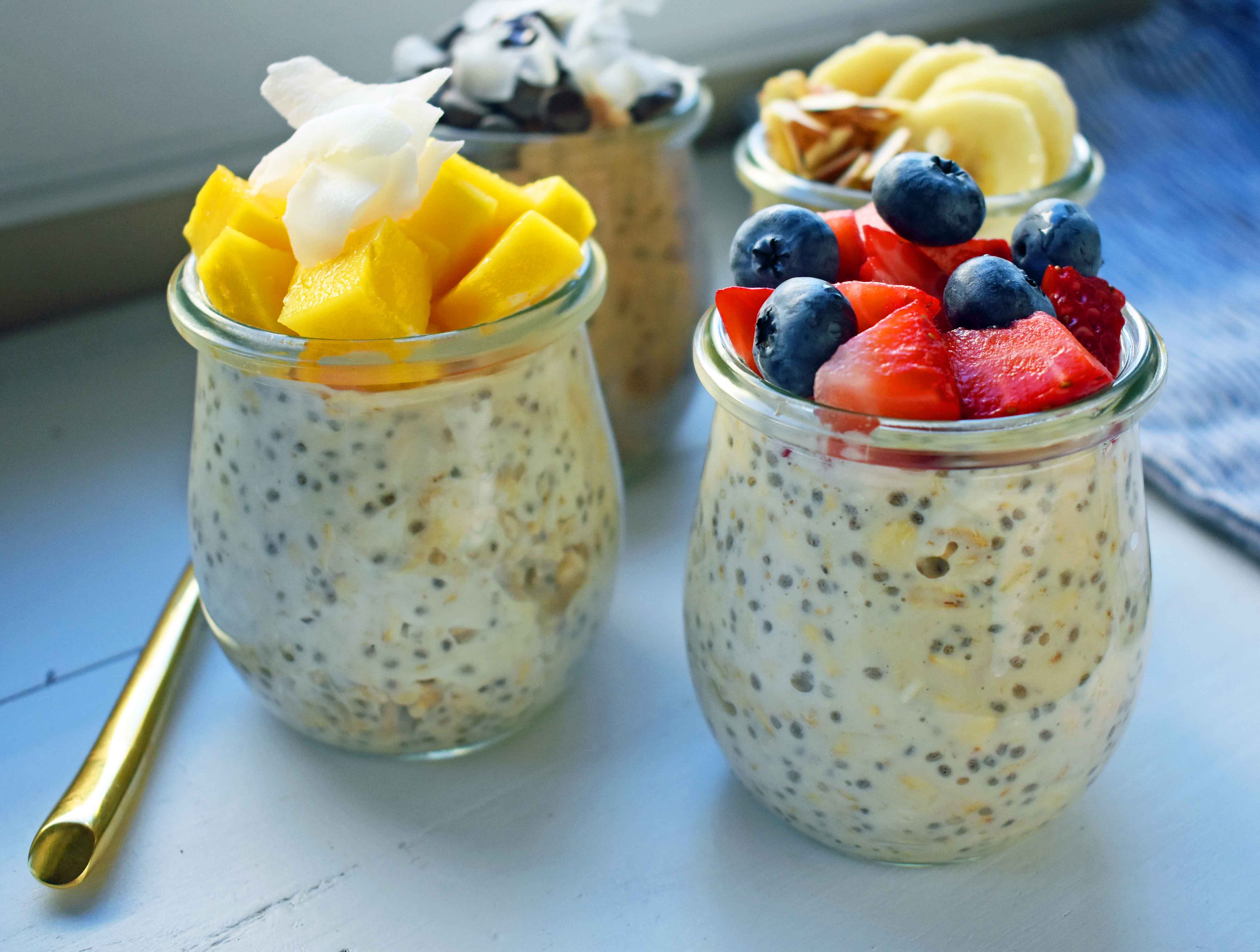 This blog post is sponsored by Almond Breeze. The content and opinions expressed here are my own.
Overnight Oats
a nutritious filling breakfast made with whole grain rolled oats, greek yogurt, and chia seeds. A no-sugar-added breakfast that everyone will love!
Overnight Oats have become super popular because of their ease, portability, nutritional value and great taste.
We took our two oldest to New York City and Boston for the very first time to celebrate my daughter's 16th birthday. We had to fit in all that NYC and Boston has to offer in a short time which meant we consumed a good amount of thin crust pizza and cannolis. By the time we made two trips to Mike's Pastry in Boston for their famous pastry called the lobster tail, I was "all fooded out." I am not even sure that is even a real word or correct grammar but it was true! I needed something healthy stat.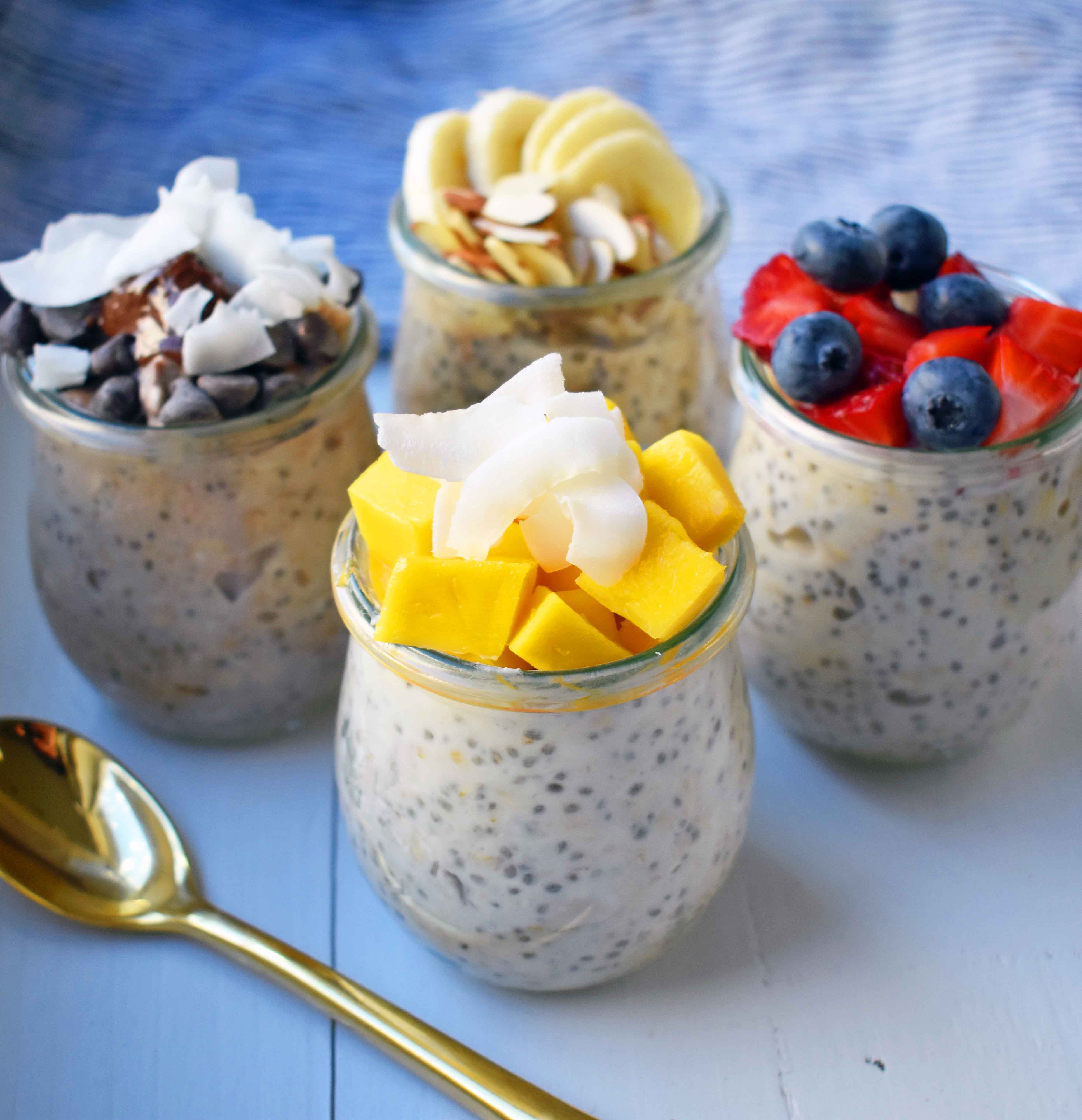 We found this place called Mother Earth. Does that sound healthy or what? There were bins of vibrant fruits and vegetables and it smelled of freshly squeezed wheatgrass juice. I knew we were in the right spot. We asked what the best thing was on the menu and she quickly replied that the overnight oats were a popular favorite. We were sold! It was just what our body needed and since then has become a breakfast staple in our home.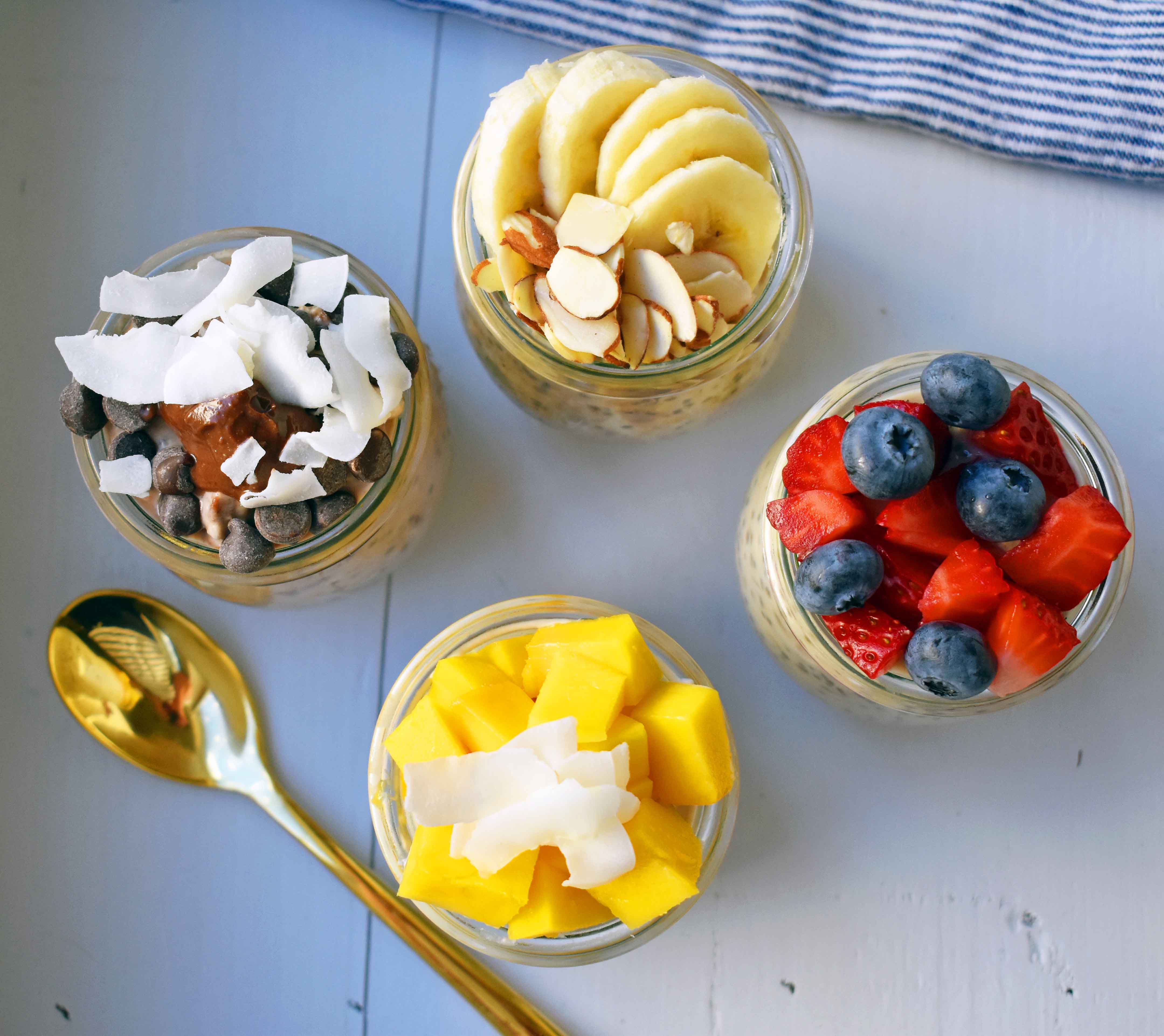 What are overnight oats?
Instead of cooking oatmeal and milk, it is refrigerated overnight to become soft and creamy. The key is to refrigerate the overnight oats for at least 4-5 hours.
After the overnight oats have been chilled, top them with fresh fruits, nuts, coconut, almond butter, or anything your heart desires.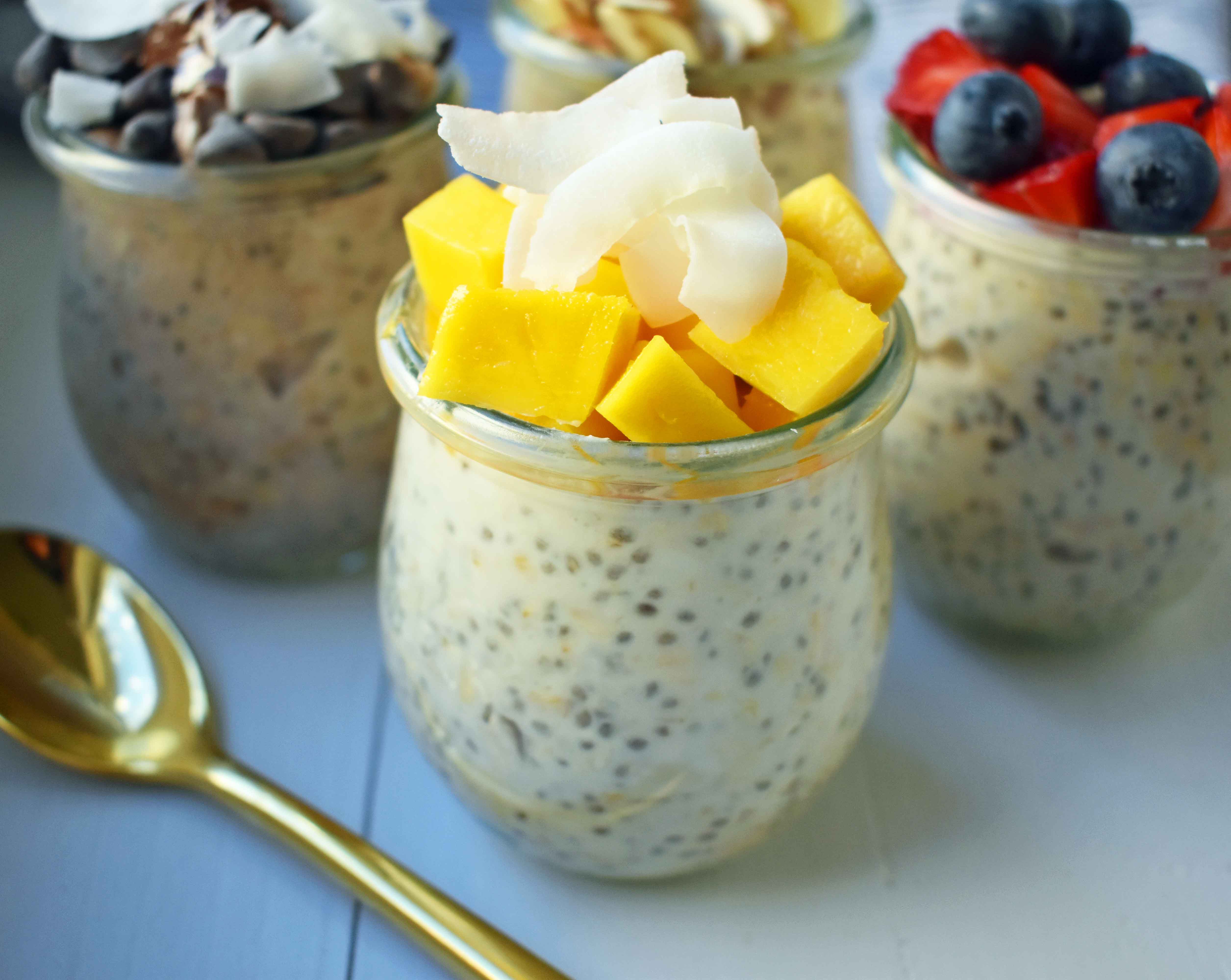 Here are a few key tips for making Overnight Oats:
Start with rolled oats. I used Gluten-Free Rolled Oats from Trader Joe's or

Bob's Red Mill

Rolled

Oats

. You can use any type of Rolled Oats.
Choose your liquid of choice. I used unsweetened almond and coconut milk in these recipes so I could sweeten my overnight oats naturally. Full-fat coconut milk is an option as well but keep in mind that since it is thicker, you may need a little more liquid.
Chia seeds do make a big difference and help to thicken the oats. Chia seeds also provides a good amount of fiber, omega-3's, and protein. You can buy chia seeds HERE.
Greek yogurt makes it rich and creamy. You can use plain or flavored yogurt. If using flavored greek yogurt, you can use less sweetener if desired. A dairy-free recipe is included down below and uses banana instead of yogurt.
Real Maple Syrup is used as a sweetener. Stevia, brown sugar, and even chopped dates can also be used to sweeten the overnight oats.
After the overnight oats have chilled overnight, you may add a little more liquid depending on how you like to eat your oats.
Top with your favorite fruits and nuts.
You can store in a bowl, tupperware, or glass jar. I absolutely fell in love with these Weck glass jars. They are a little on the pricey side but they are supposed to last forever. You can find them

HERE

.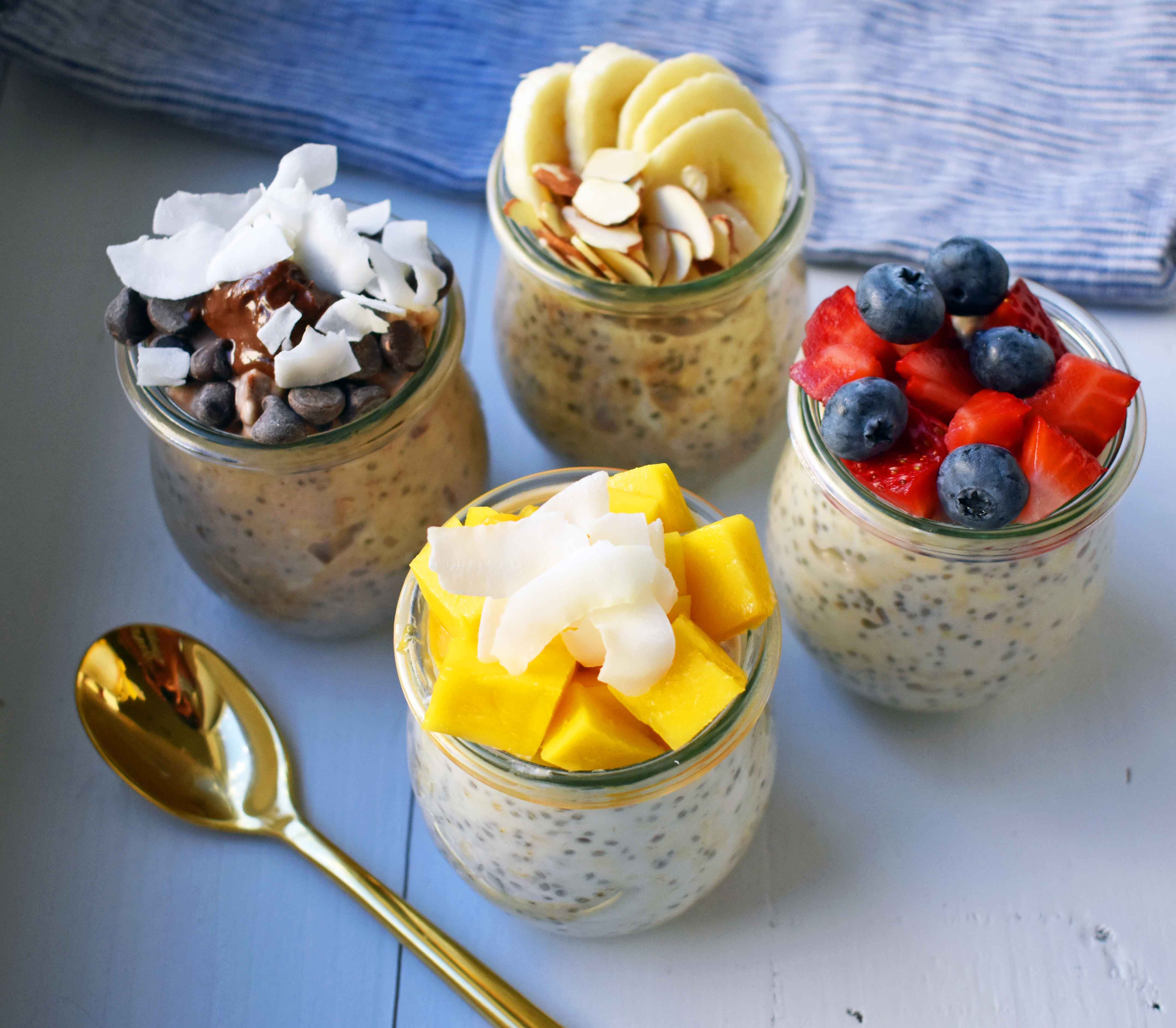 I am including ideas on how to make Overnight Oats 5 Ways to give some variety to your breakfast routine. This will give you just the energy you need to get you started in the morning.