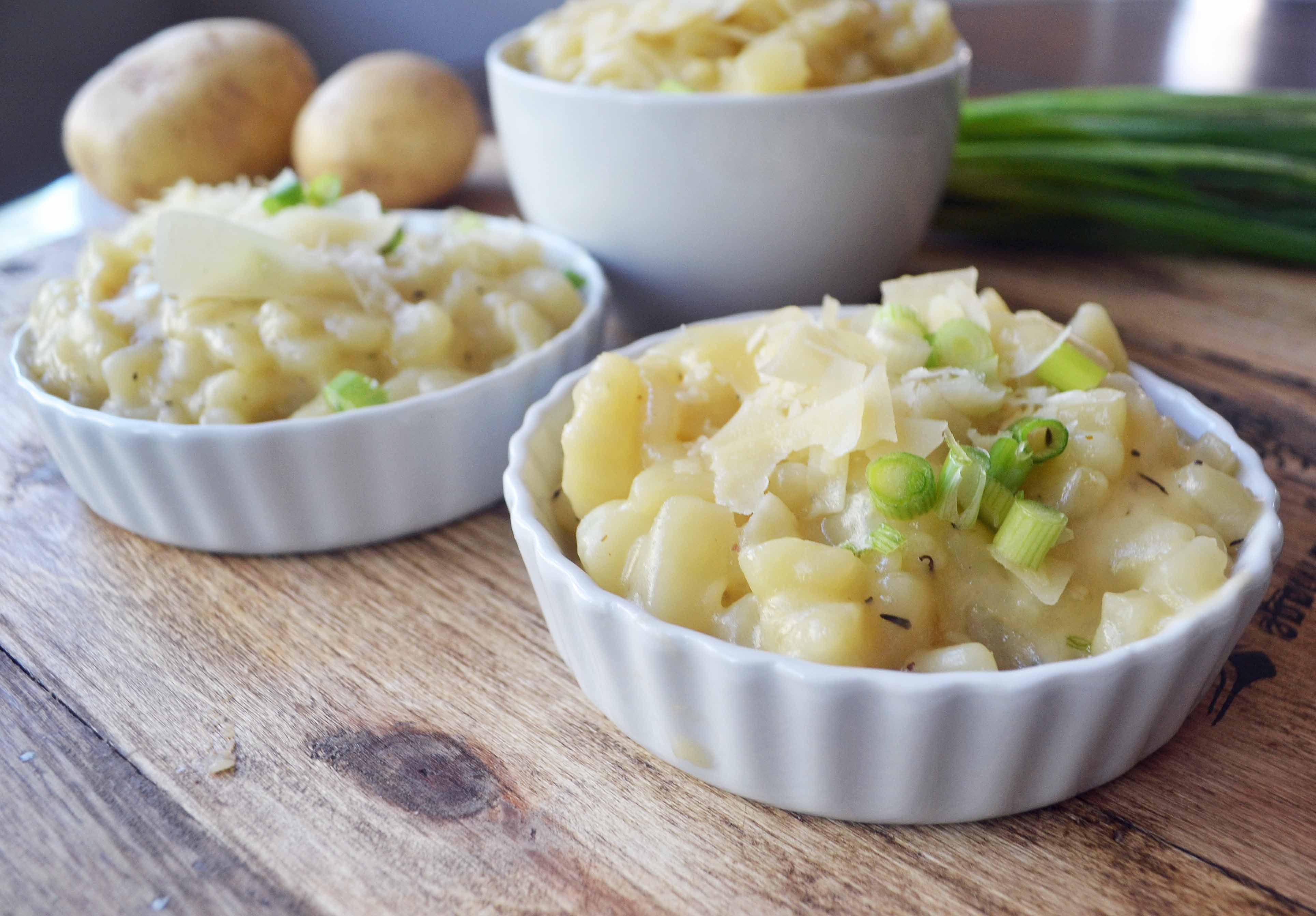 Growing up, Sundays were all about church, a big Sunday dinner and a long nap.  Our meals always included meat and potatoes, which is probably why a nap was always an essential follow-up to our meal.  My Mom would make every variation of potatoes she could think of and was the queen of the cheesy potatoes. I am going to show you how to combine two of the best dishes into one - creamy risotto and cheesy potatoes.
This recipe for Parmesan Potato Risotto is made with Yukon Gold potatoes....not rice. Mind blowing, I know.  So what is risotto? It is a northern Italian rice dish that is cooked to a creamy consistency in broth. This Parmesan Potato Risotto uses the exact same process of slowly simmering the starch into the chicken broth, then seasoning it with a heavy dose of butter and Parmesan cheese but it uses potatoes instead of rice. I mean, how can you go wrong?
Potatoes on their own can be quite bland but by slowly simmering the potatoes with sautéed onions and adding chicken broth slowly, the potatoes are seasoned from the inside. The potatoes literally soak up the chicken broth, which makes them not only tender but incredibly flavorful as well.
After the potatoes are tender, you add in a little more butter because let's be honest -- everything is better with butter. Oh and don't get me started on Parmesan cheese.  It not only adds creaminess but adds a sharp flavor that only Parmesan cheese can do.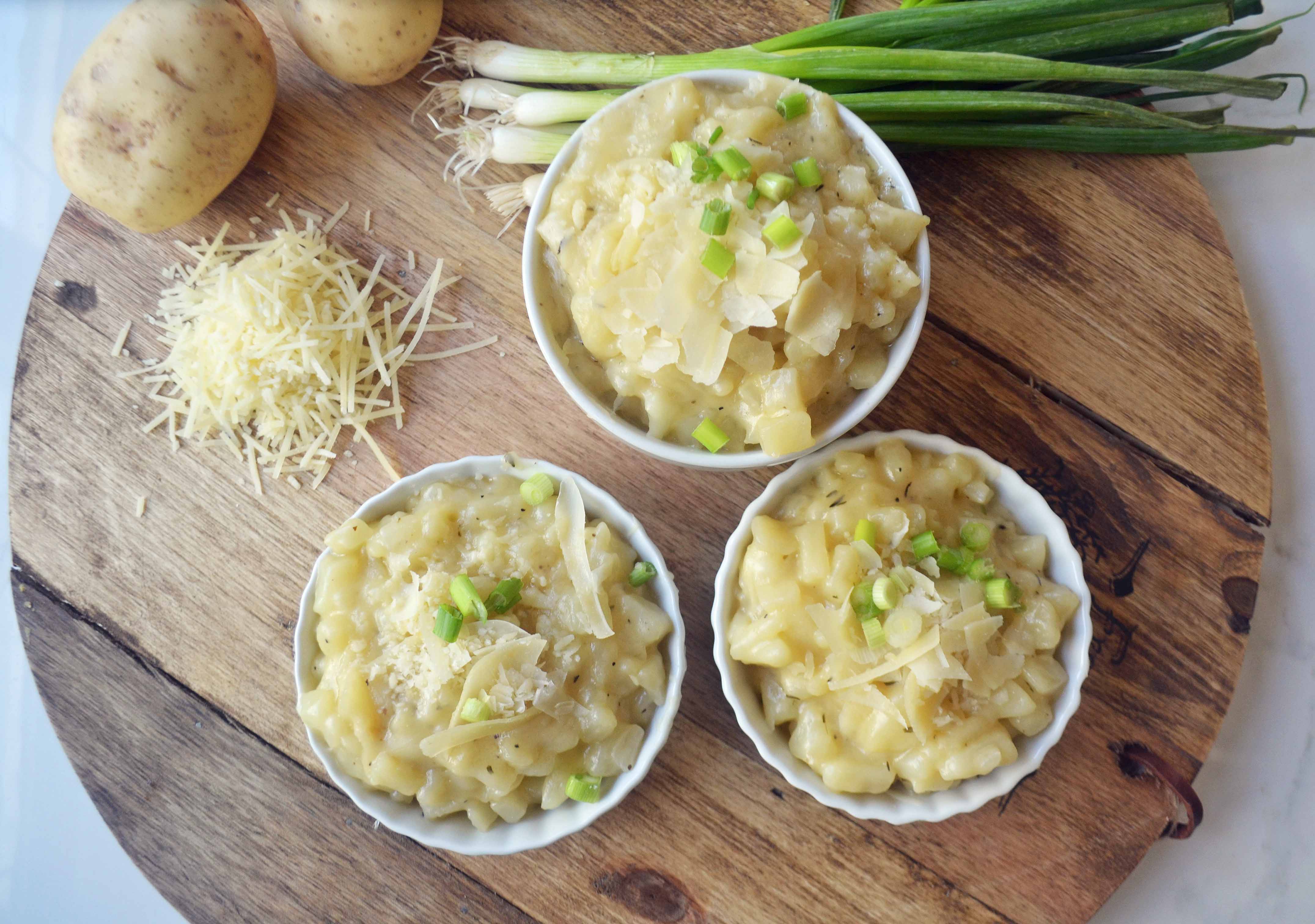 I only share recipes on Modern Honey that my kids devour because they are my biggest taste testers. At a young age, I tried to get them to eat and try everything.  They will tell you they are still traumatized by the pumpkin soup I made them eat years ago, so it isn't always a slam dunk. When I first made this Parmesan Potato Risotto, I wasn't sure how it would turn out. I have made plenty of risotto using rice but wasn't sure how it would work using potatoes.
They literally ate it so quickly that it was gone before my husband could even try it! I ended up making a second batch and it was gone within minutes. Even though we  took a cooking class together at Sur La Table and learned how to make authentic risotto, my husband still prefers the Parmesan Potato Risotto. It's just a warm bowl of comfort food that everyone will love.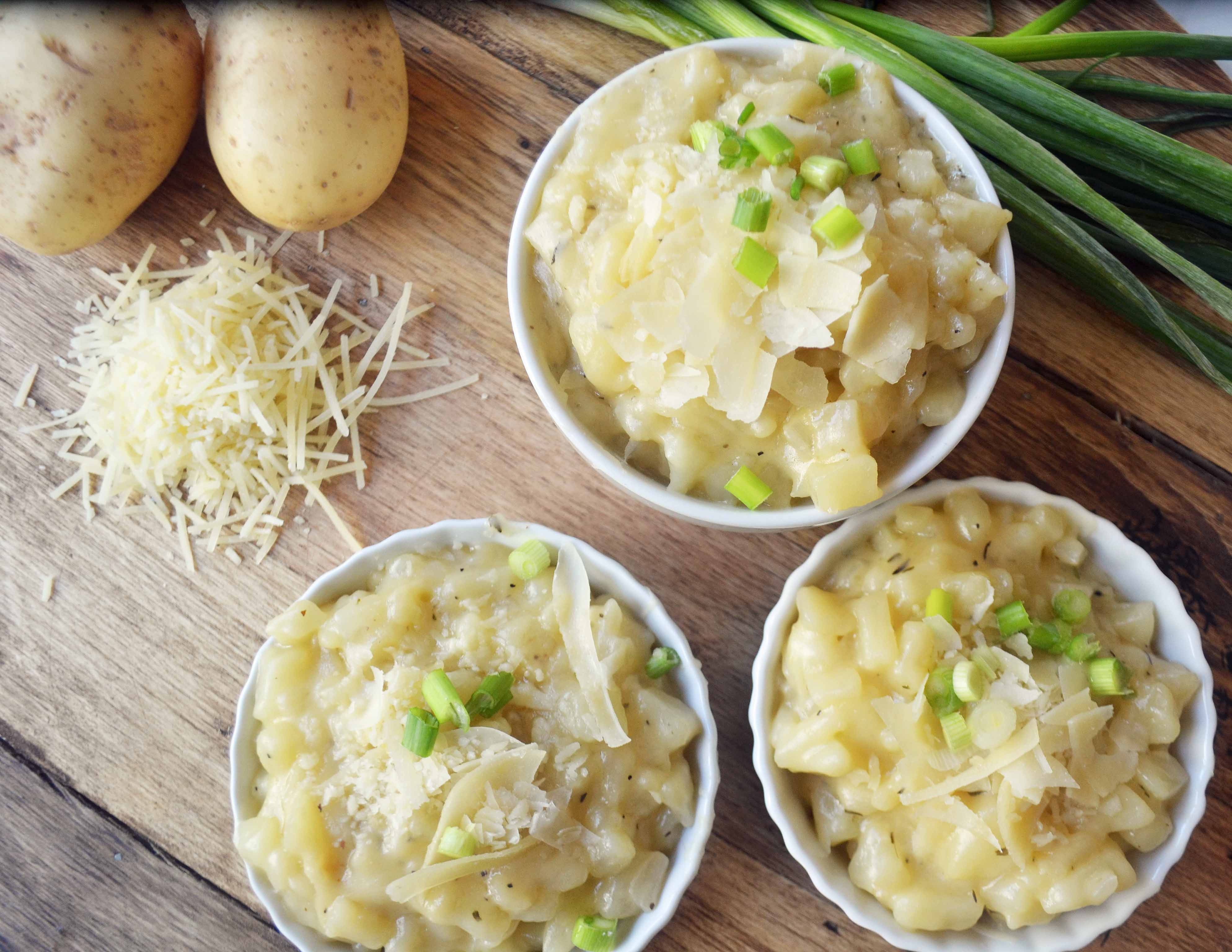 Happy Cooking! xo