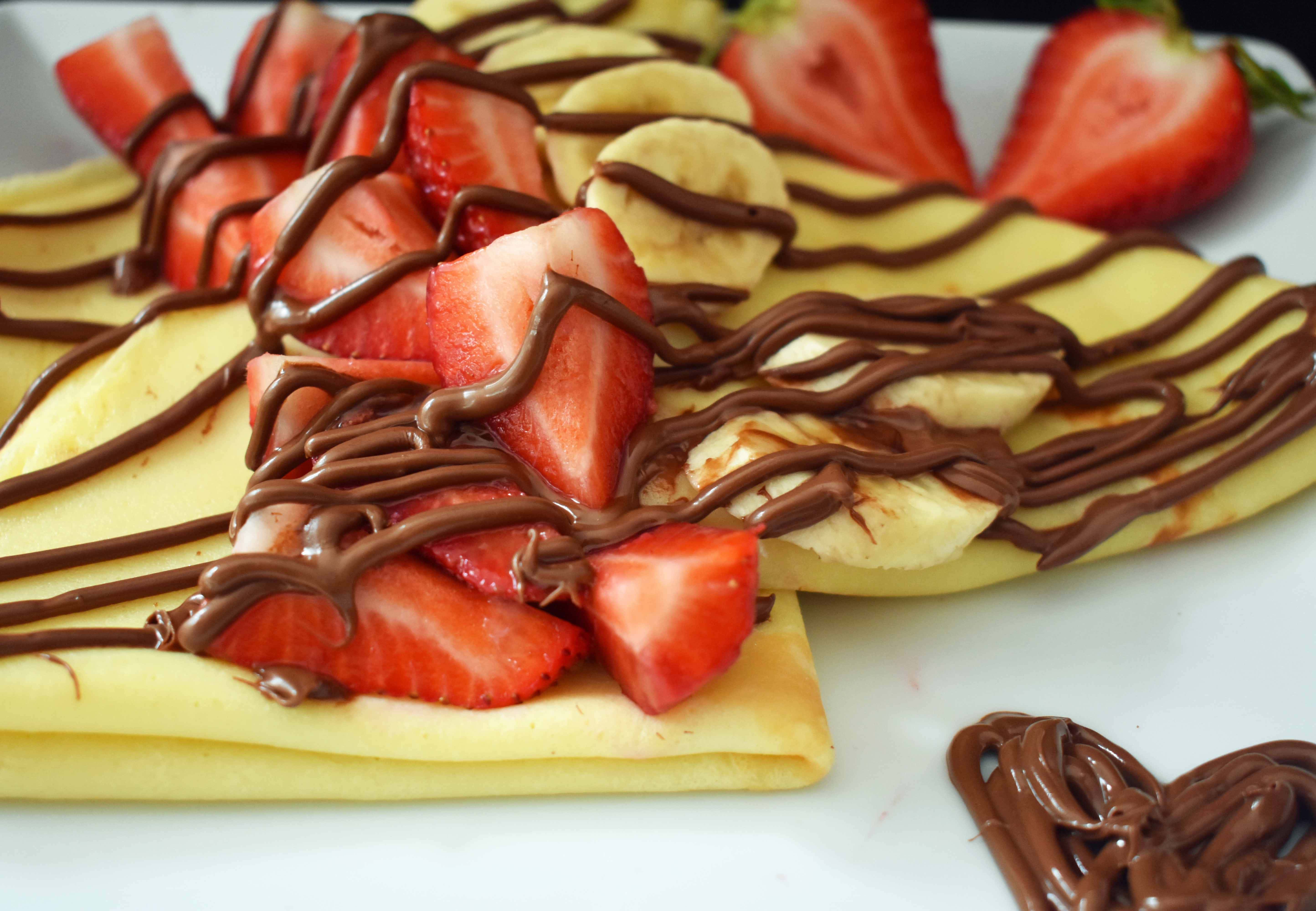 Growing up we lived on pancakes. They were a staple in our home and it was a weekend breakfast ritual. But then we discovered a legit crepe maker and we became hooked. Every time my friends slept over, we would pull out the crepe maker and make homemade crepes topped with sweet cream butter and powdered sugar. To this day, it is one of the most loved breakfasts in our home.
My goal with starting this blog was to find the ultimate recipes to share with my friends and family.  I set out to discover the perfect crepes recipe. There was a lot of recipe testing involved in this process but we discovered the perfect crepe recipe! It is an adaption of a recipe found in the America's Test Kitchen Cookbook(one of my most used cookbooks). You can click HERE to buy it on Amazon for a much cheaper price than the bookstores. I give this as a gift to people all of the time!
Back to the crepes! A perfect crepe needs to be soft, buttery, and have a melt-in-your-mouth texture.  It also needs to have enough structure that it won't tear when it is time to flip it. I sought out to create a recipe that not only tasted amazing but held up as well.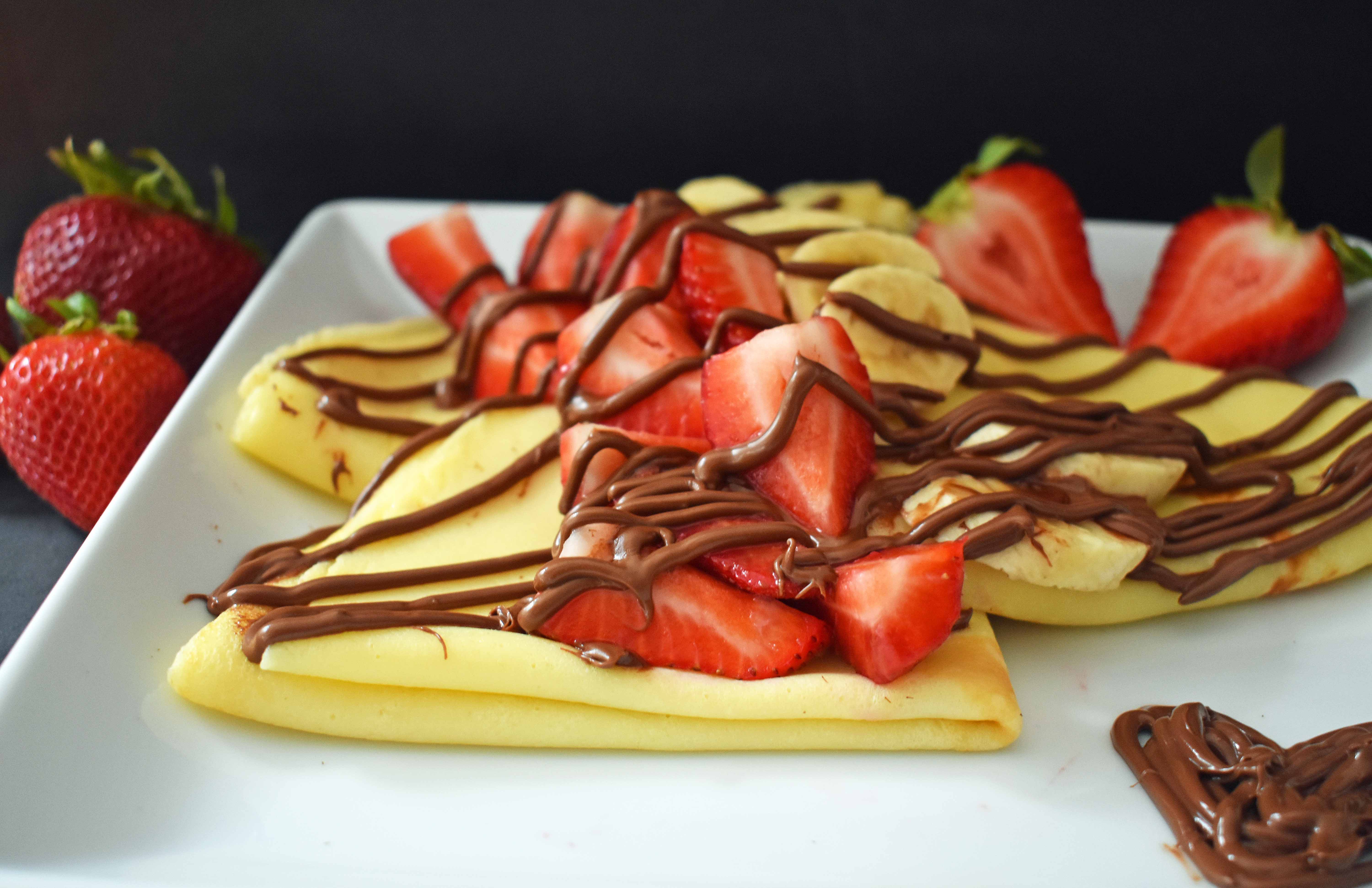 This may be personal preference but I prefer a slightly thicker crepe.  If you prefer a slightly thinner crepe, I have added an option to add 2 more tablespoons of water.  You can also get a thinner crepe by using a larger pan.  If you want to make authentic French crepes that you find at specialty restaurants, here is the pan for you-- Crepe Maker or this is a fantastic crepe skillet pan. I also found an inexpensive crepe pan at Cost Plus World Market. So many options!
I like to coat the pan every time with a little pat of butter so you get a buttery flavor on the outside of the crepe.  Flipping the crepe can be quite intimidating.  You want to make sure that it is cooked enough so that is firm. Cooking it on a medium or medium low heat is key to ensure that it doesn't burn.  I use a spatula and move it along the edges of the pan to loosen the crepe before attempting to flip the crepe.
Making the crepes batter is beyond easy. I throw everything into my blender and blend for 20 seconds.  Super simple! You can preheat your pan for a few minutes. You will know it is ready when you add butter and it starts to sizzle.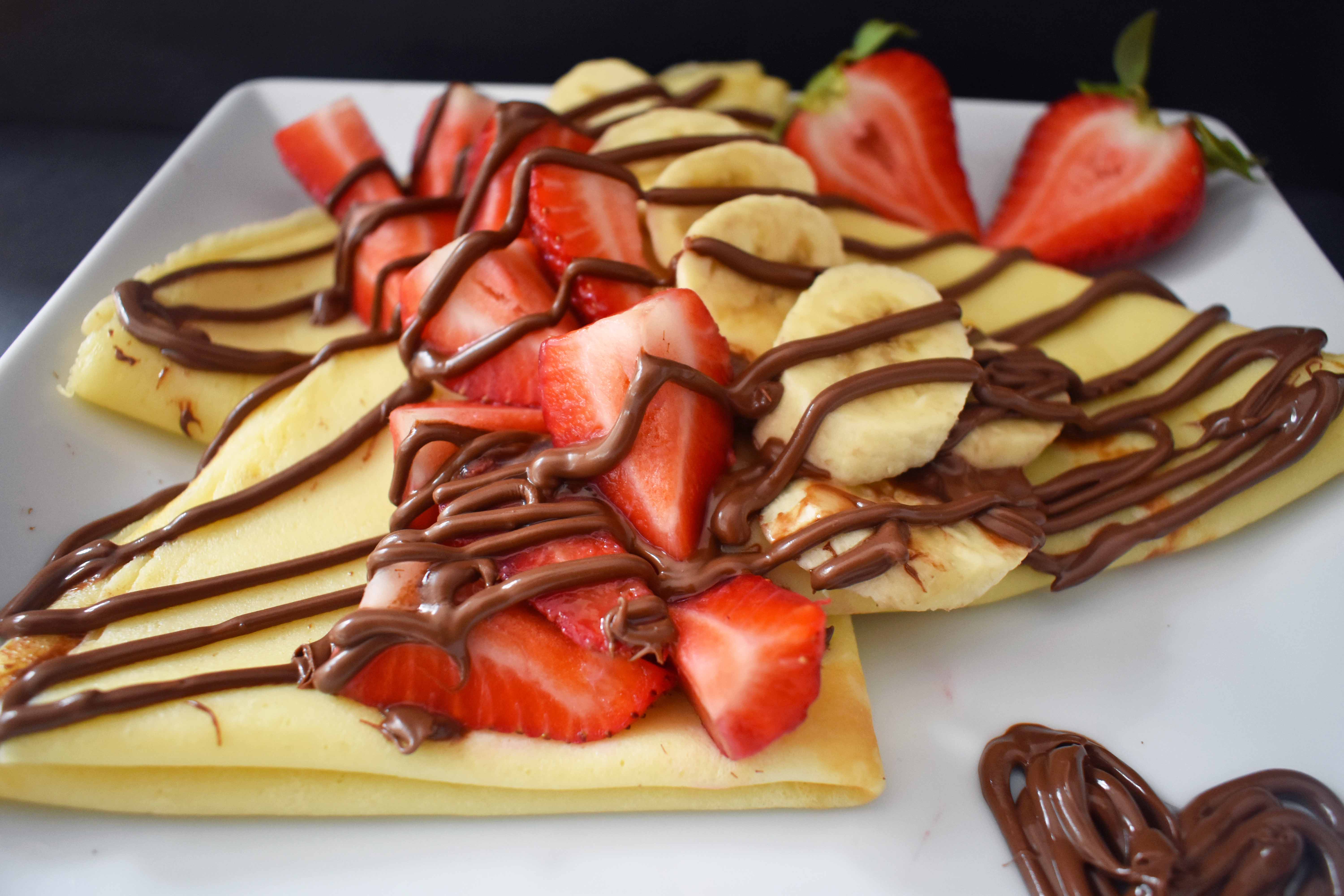 The crepe topping options are endless! Here is a list of the most popular crepe additions --
Strawberries + Nutella 
Bananas + Nutella
Biscoff Cookie Butter + Raspberries + Whipped Cream
Cream Cheese + Berry Jam
Butter + Powdered Sugar
Caramel + Banana + Nuts
Berries + Whipped Cream
Brown Sugar + Cream Cheese + Cinnamon 
Peanut Butter + Bananas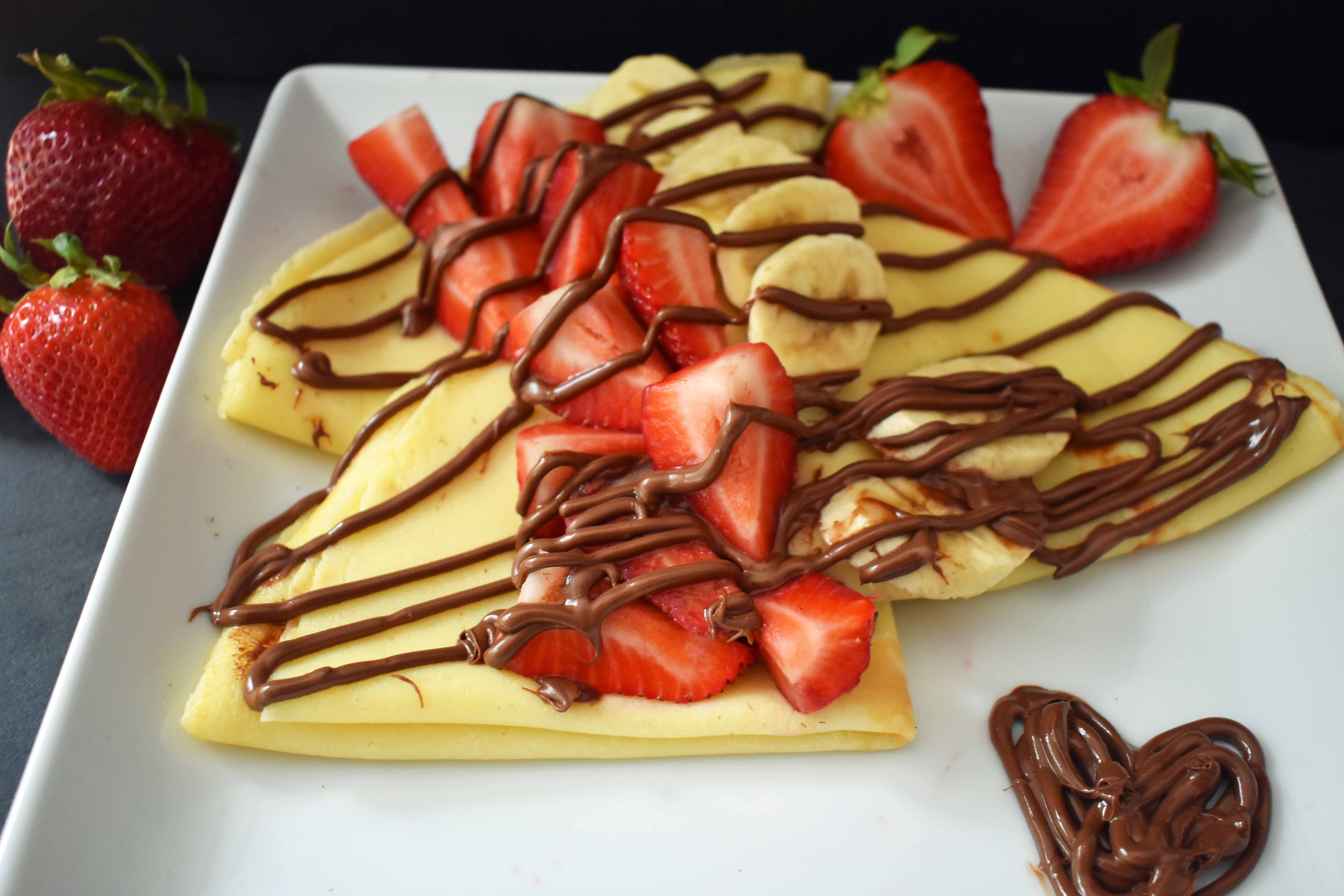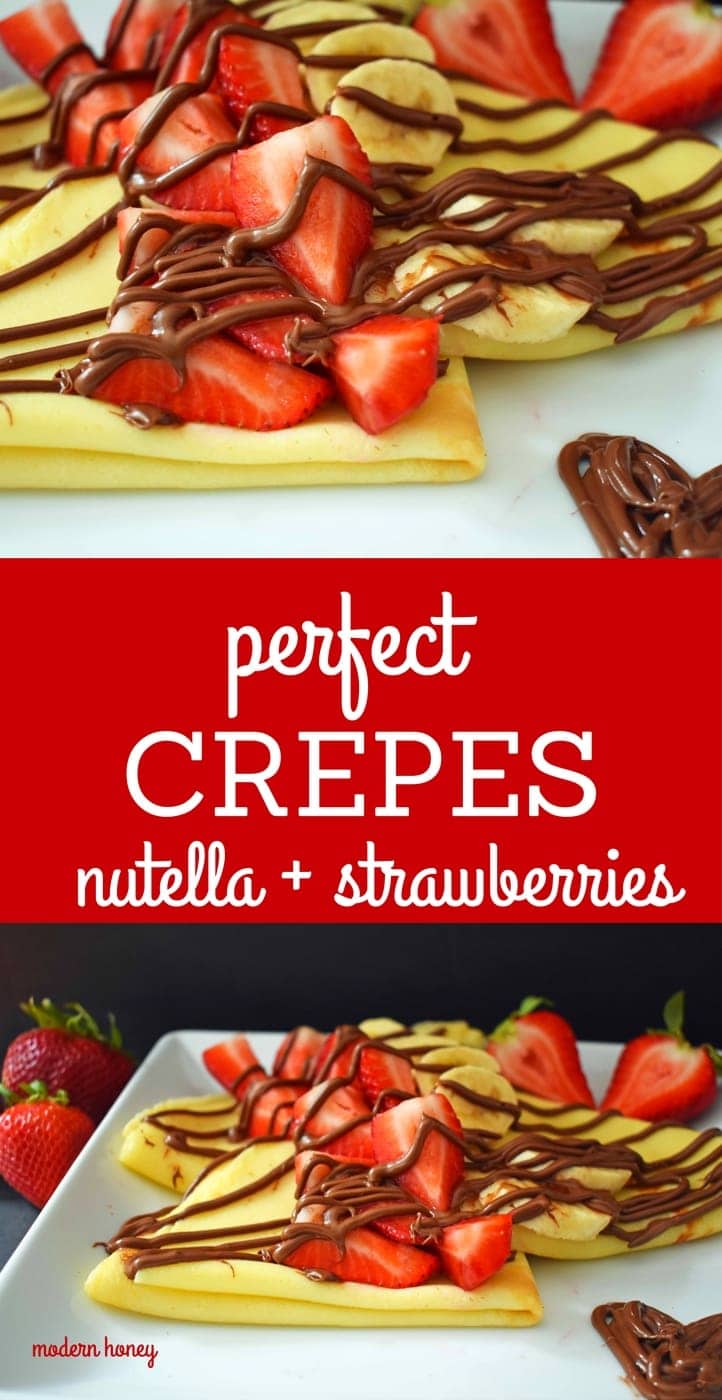 Have a wonderful, relaxing Sunday, my friends! xo