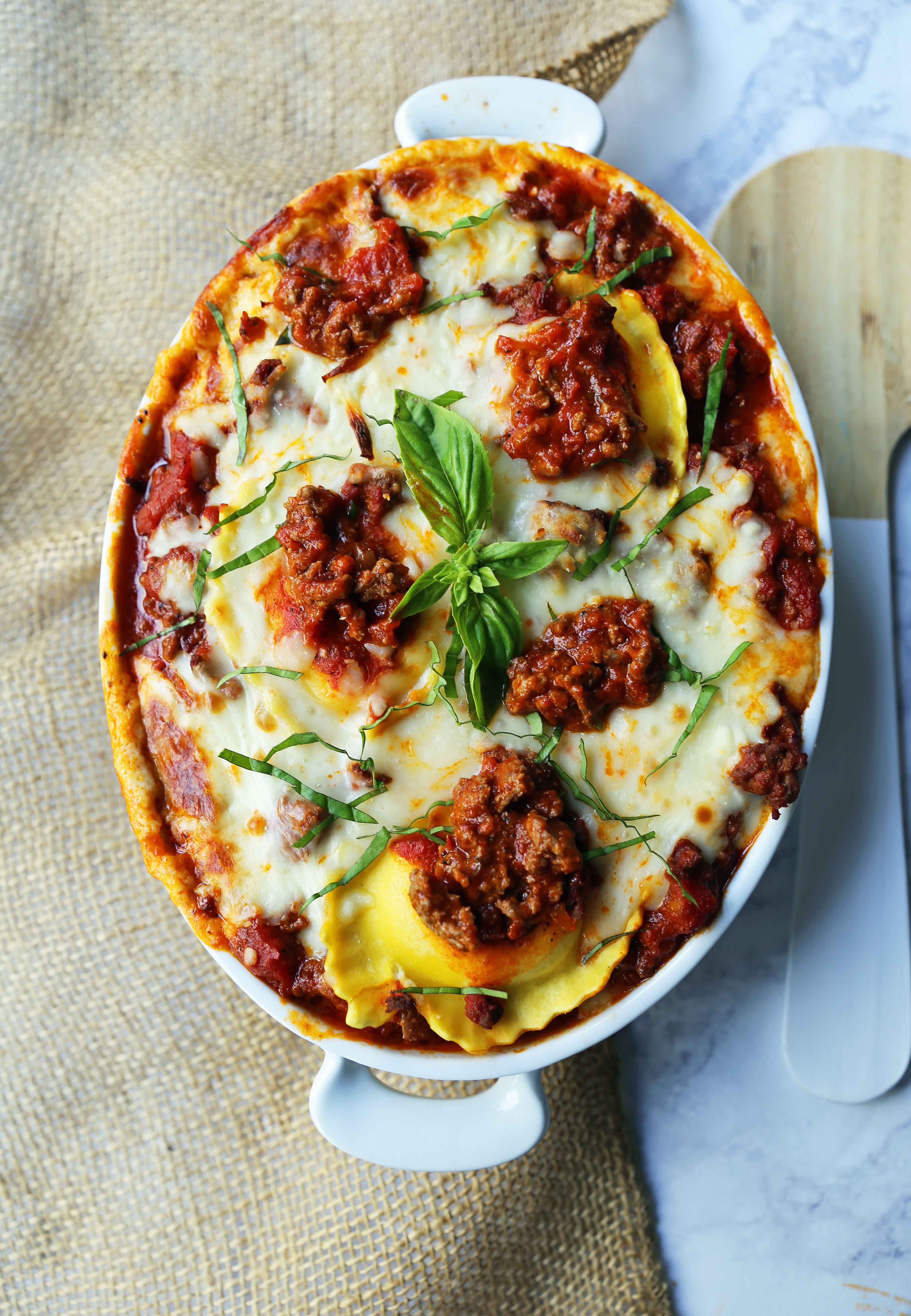 Ravioli Lasagna
A quick and easy lasagna recipe made with cheese ravioli, meat sauce, and melted mozzarella cheese.
When it comes to quick and easy dinners, making a homemade lasagna doesn't come to mind. It is super time consuming with so many steps. I wanted to discover an easier way to get lasagna on the table in no time at all! This is one of my kids' favorite meals!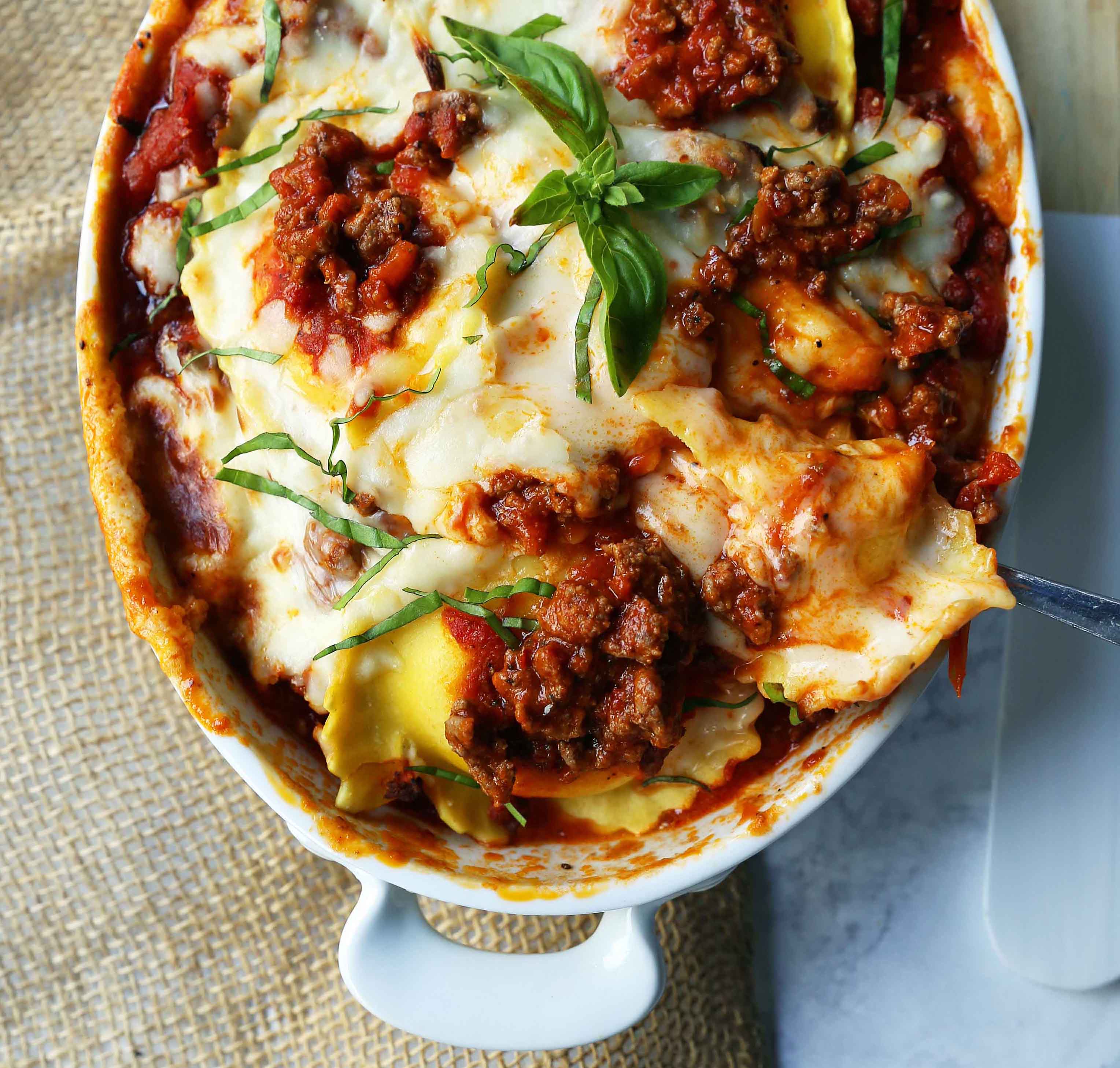 Enter cheese ravioli. This is a huge time saver since it eliminates the need for ricotta cheese or bechamel sauce layers.  No need to make a homemade bechamel sauce or whip up a ricotta cheese, egg, and parmesan mixture since it is already stuffed inside the cheese ravioli.
Also, this recipe calls for jarred marinara sauce. There are so many incredibly fresh and flavorful jarred sauces on the market.  I just saute some ground beef, season it, and then pour on the jarred sauce. It couldn't be easier! No sauteeing onions and garlic either. We are using granulated garlic powder to shave off time in the kitchen.
The ravioli is cooked for 4-5 minutes, or according to the package instructions, and layered with the meat sauce and mozzarella cheese. It is baked until nice and bubbly and can be topped with fresh basil or arugula for a bit of freshness.
How to make Ravioli Lasagna:
Start by browning 1 lb. of ground beef in a skillet drizzled with olive oil.  Season it with salt, pepper, garlic powder, and red pepper chili flakes.  This gives it layers of flavor and ensures that every component in this lasagna is seasoned well. Pour jarred sauce over the beef and simmer.
Cook ravioli according to package instructions. You can use fresh refrigerated or frozen ravioli. Ravioli doesn't take much time at all to cook so it should be done in less than 5 minutes.
Layer sauce, ravioli, and cheese in baking dish.  Cover and bake for about 30 minutes or until cheese and sauce are bubbling.
Top with fresh basil or arugula. This makes incredible leftovers and can be easily reheated.
I love to hear from you! If you make this recipe, please be sure to leave a comment and give this recipe a rating. Sign up for my newsletter below so you never miss a recipe. Thank you for following along! I truly do have the greatest readers. FOLLOW ME ON:   INSTAGRAM --- FACEBOOK --- PINTEREST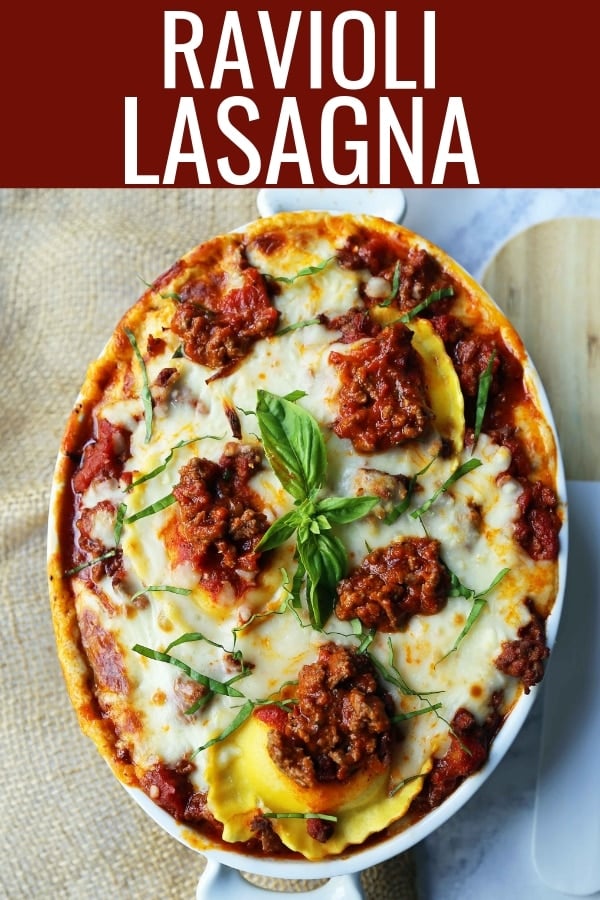 I hope you love this Cheese Ravioli lasagna! Have a great day, my friends!