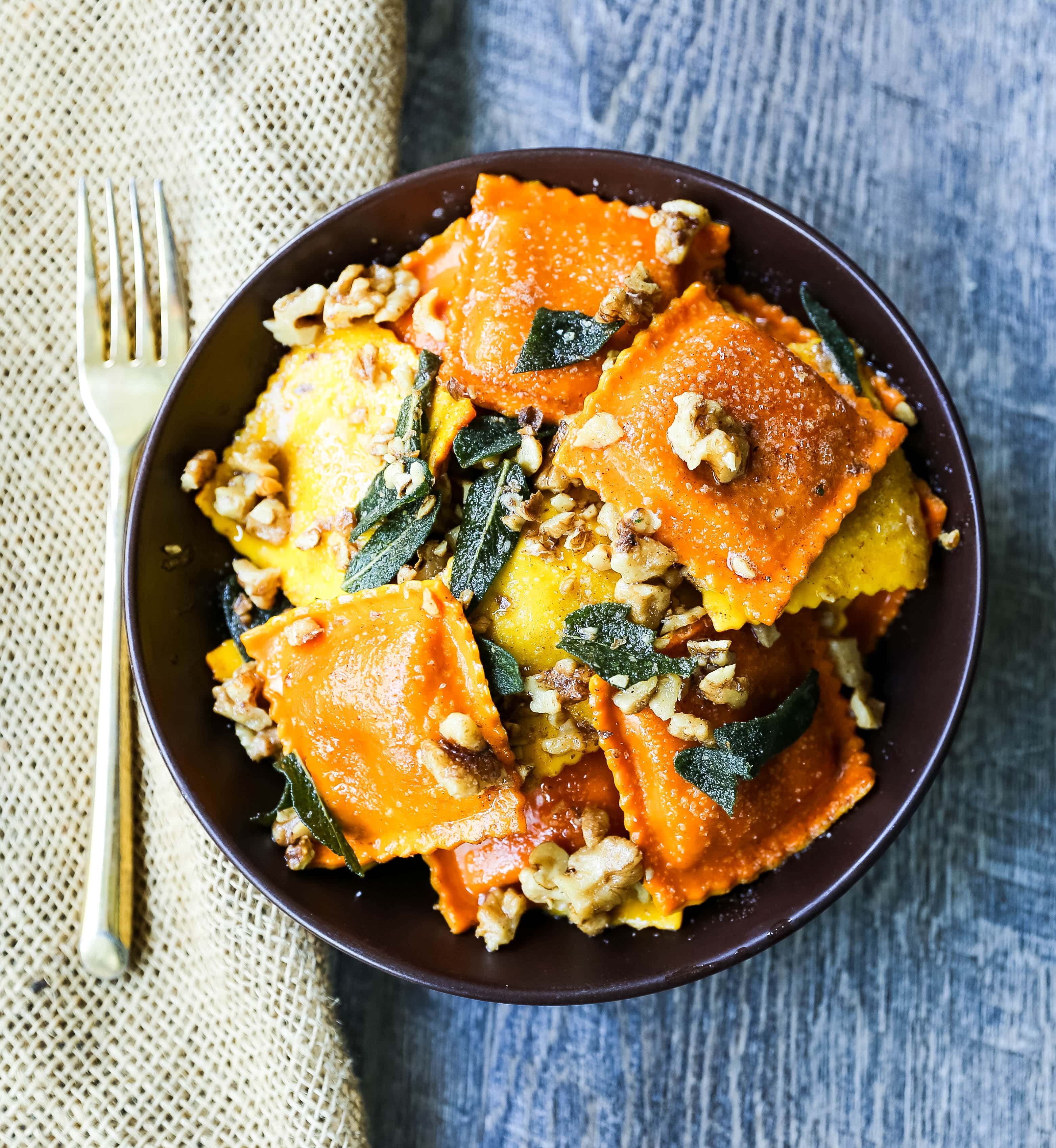 Ravioli with Browned Butter and Sage
Fresh ravioli tossed in a browned butter sauce with crispy sage and toasted walnuts. A bowl of rich, creamy comfort food!
This is one of my favorite Italian dishes of all time. It takes less than 15 minutes to make and it is layered with flavor and always impresses the guests.
I will never forget the first time I tried ravioli tossed in a browned butter sauce. My mind was blown. I was so accustomed to red marinara sauce or creamy alfredo so this was so unique in the best kind of way. I loved it so much that we went back to the exact same restaurant the next night just to get that ravioli with sage and browned butter again.  If you know me well, I love variety so that was a big deal for me!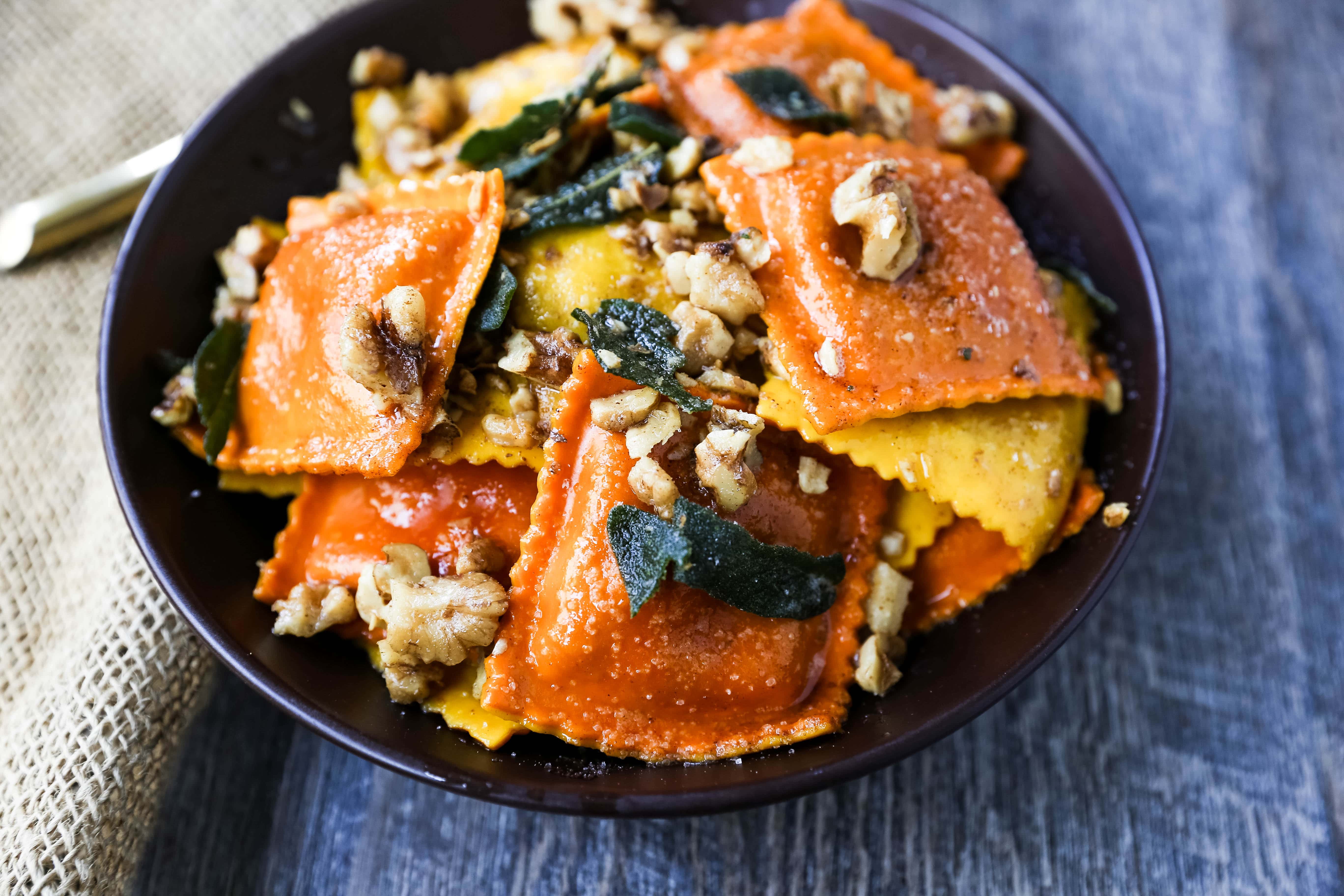 Whenever I find fresh ravioli the store with unique fillings, I can always count on being able to pair it with a simple browned butter sauce. Since it is pumpkin season, I found the most delectable pumpkin filled ravioli at Trader Joe's.  It was downright heavenly and my Dad even asked for 3 servings! The pumpkin ravioli paired perfectly with the browned butter, crispy sage, and toasted walnuts.
This Ravioli with Browned Butter and Sage can be made with any fresh ravioli. You can use cheese ravioli, butternut squash ravioli, mushroom ravioli, pumpkin ravioli, or any of your favorite kinds.
The beauty of this Browned Butter Ravioli is that fresh pasta takes so little time to cook. This fresh pumpkin ravioli takes 2 ½ minutes to cook. It is a piece of cake to brown the butter. You add it to a hot skillet, let it melt, start to foam up, and become a rich golden color. Then you add fresh sage leaves and walnuts to allow them to crisp up in the browned butter. Once that is done, toss the freshly cooked ravioli with the sauce and dinner is done!
This is the perfect Fall comfort food dish and I want it on repeat at my house over and over again. It is that good.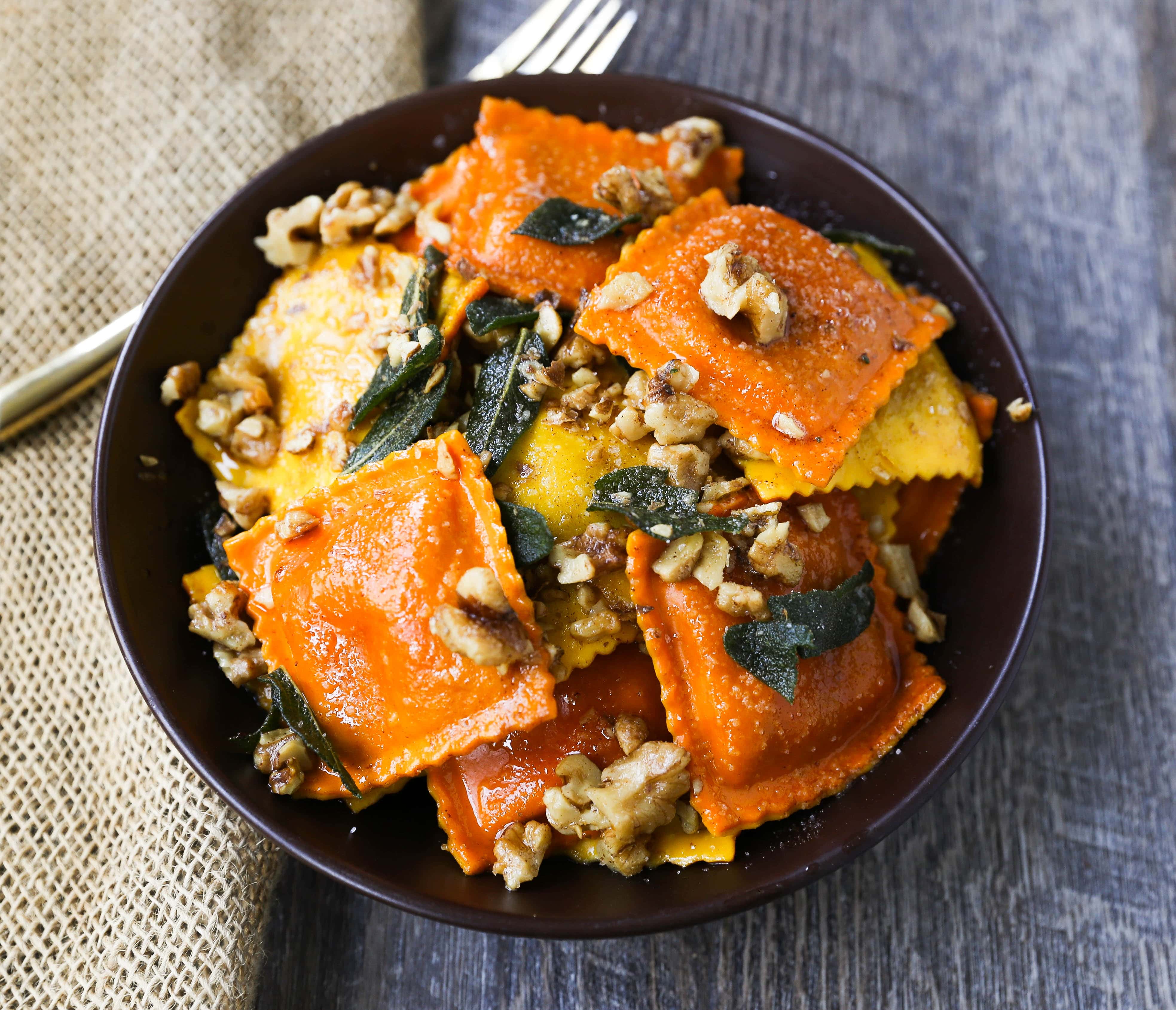 How to make Browned Butter Ravioli with Sage and Toasted Walnuts:
 Bring a large pot of water to a boil. Generously salt the water. Cook fresh ravioli according to package instructions. Once it is cooked, drain the cooking liquid and set aside. I always reach for my favorite flavor of fresh ravioli in the refrigerated section of the grocery store.
While the pasta water is heating up, start by heating skillet over medium heat. Add butter and let it melt and begin to foam. As it starts to become a light golden color, add fresh sage leaves and walnuts. Toss to coat and let sage turn crispy, about 2 minutes. Remove from heat.
Toss the freshly cooked pasta in the browned butter sage sauce. Serve immediately. May top with freshly grated parmesan cheese.
I love to hear from you! If you make this recipe, please be sure to leave a comment and give this recipe a rating. Sign up for my newsletter below so you never miss a recipe. Thank you for following along! I truly do have the greatest readers. FOLLOW ME ON:   INSTAGRAM — FACEBOOK— PINTEREST