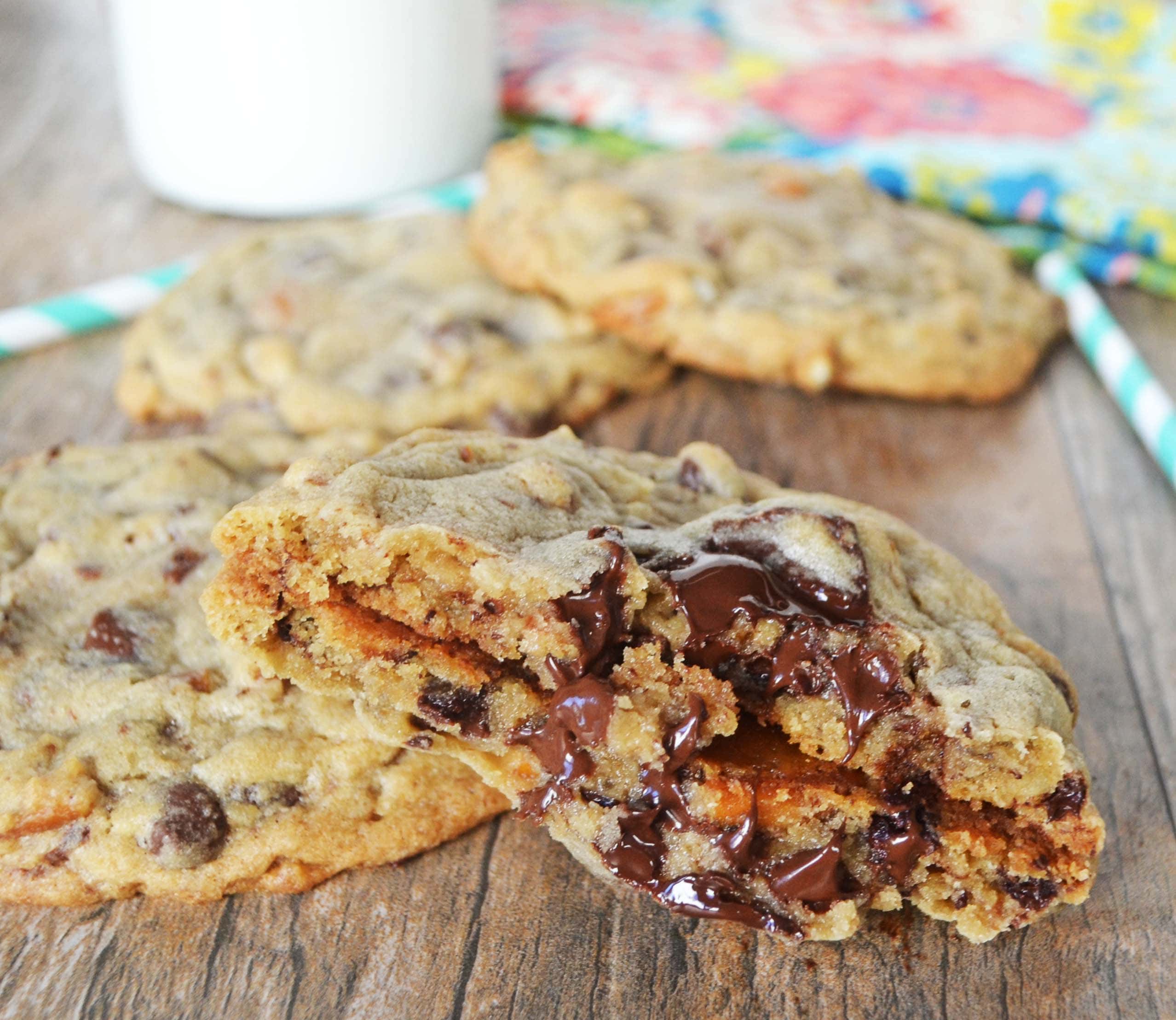 Chocolate Chip Caramel Pretzel Cookies 
Chocolate chip cookies with sweet caramel bits and crunchy salty pretzels.
A chocolate chip cookie may quite possibly be the best thing on the planet and how do you make it even better? I am so glad you asked. It's by adding some sweet caramel bits and salty pretzels to get the perfect sweet + salty combination. These Salty Sweet Caramel Pretzel Cookies are one of my most popular cookie recipes of all time.
Does anyone remember the old school "Parent Trap" sequel made in the 1980's (for sure I am dating myself)? While the parents are gone,  the girls take out a big bowl and started to make cookies by adding everything and anything they could get their hands on - marshmallows, chocolate, M & M's, potato chips, etc? I would rewind that over and over and dream about reenacting that cookie experience....and basically, we are doing just that! We are doing what those smart girls did in that movie and putting delectable ingredients into already perfect chocolate chip cookies.
These Salty Sweet Chocolate Chip Caramel Pretzel Cookies have that coveted buttery, crispy edges and chewy center. You get a little crunch from the pretzels, sweetness from the caramel bits and richness from the semi-sweet chocolate.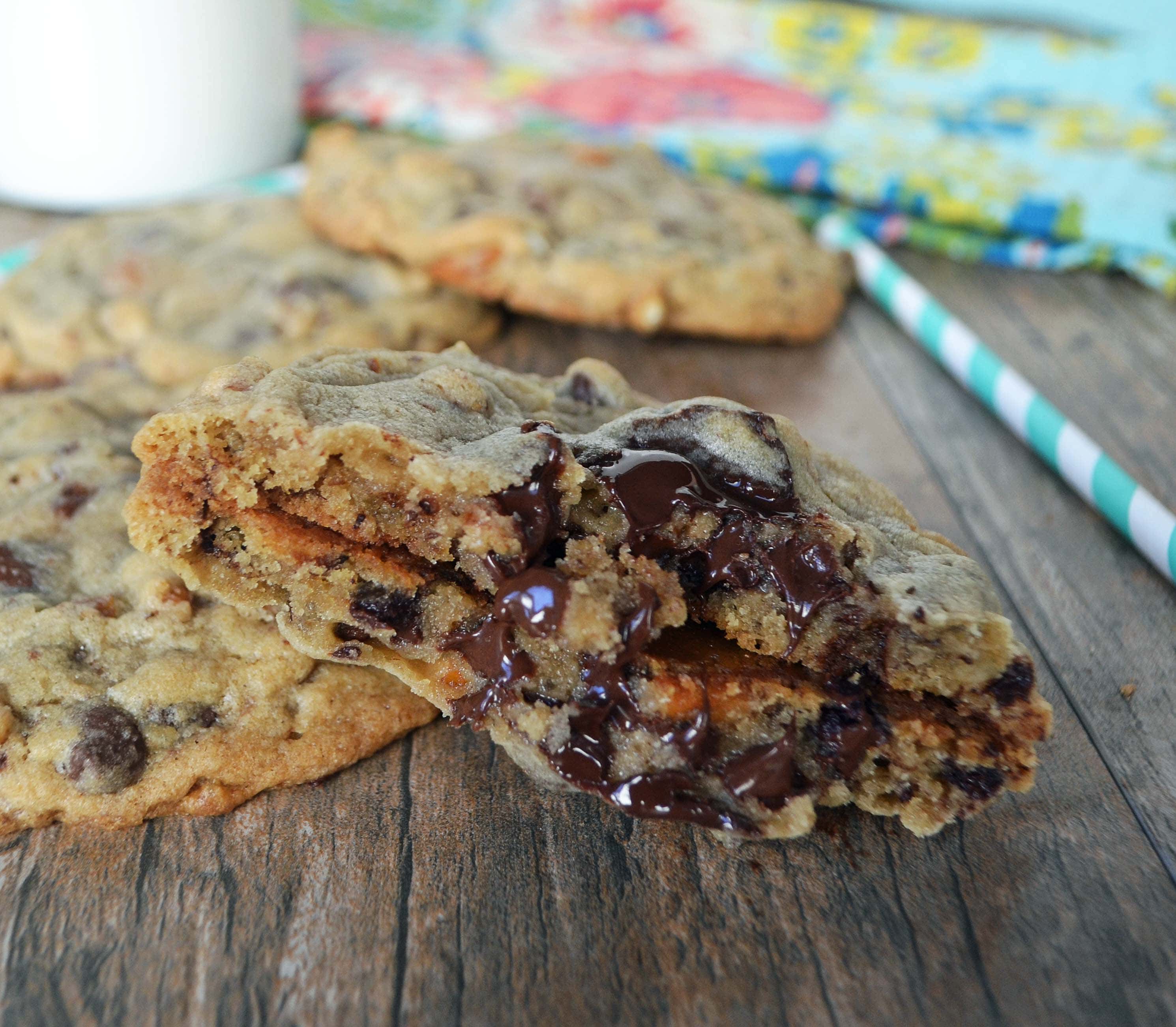 Here are a few tips for making the BEST Salty Sweet Chocolate Chip Caramel Pretzel Cookies:
Cream your butter + sugars for 4 minutes until light and fluffy.
Adding 1 egg and 1 egg yolk changes the cookie. Egg whites are important in baked goods but can dry them out. Using a 1 whole egg + egg yolk creates a rich cookie.
I use a secret ingredient that is completely optional. I've made this recipe with and without it and both turn out amazing. It just changes the texture of the cookie so if you have it on hand - add 1 Tablespoon of powdered milk. It sounds crazy but it adds a creamy texture without adding more liquid.
You can use all milk chocolate chips or a mix of milk and semi-sweet. Actually, you can use any chocolate you want - this is YOUR cookie. If you want your chocolate to melt throughout, chop up a bar or block of chocolate. It's made differently than a chocolate chip so it melts more....and it looks so beautiful!
I used Kraft Caramel Bits for these cookies. I tried Trader Joe's caramel as well but they didn't hold their shape and spread a lot. Caramel bits are very obedient and stay put.
You can use any type of pretzels. I used pretzel sticks and crumbled them in my hand before adding them to the mixer. You can chop them into medium size pieces with a knife as well.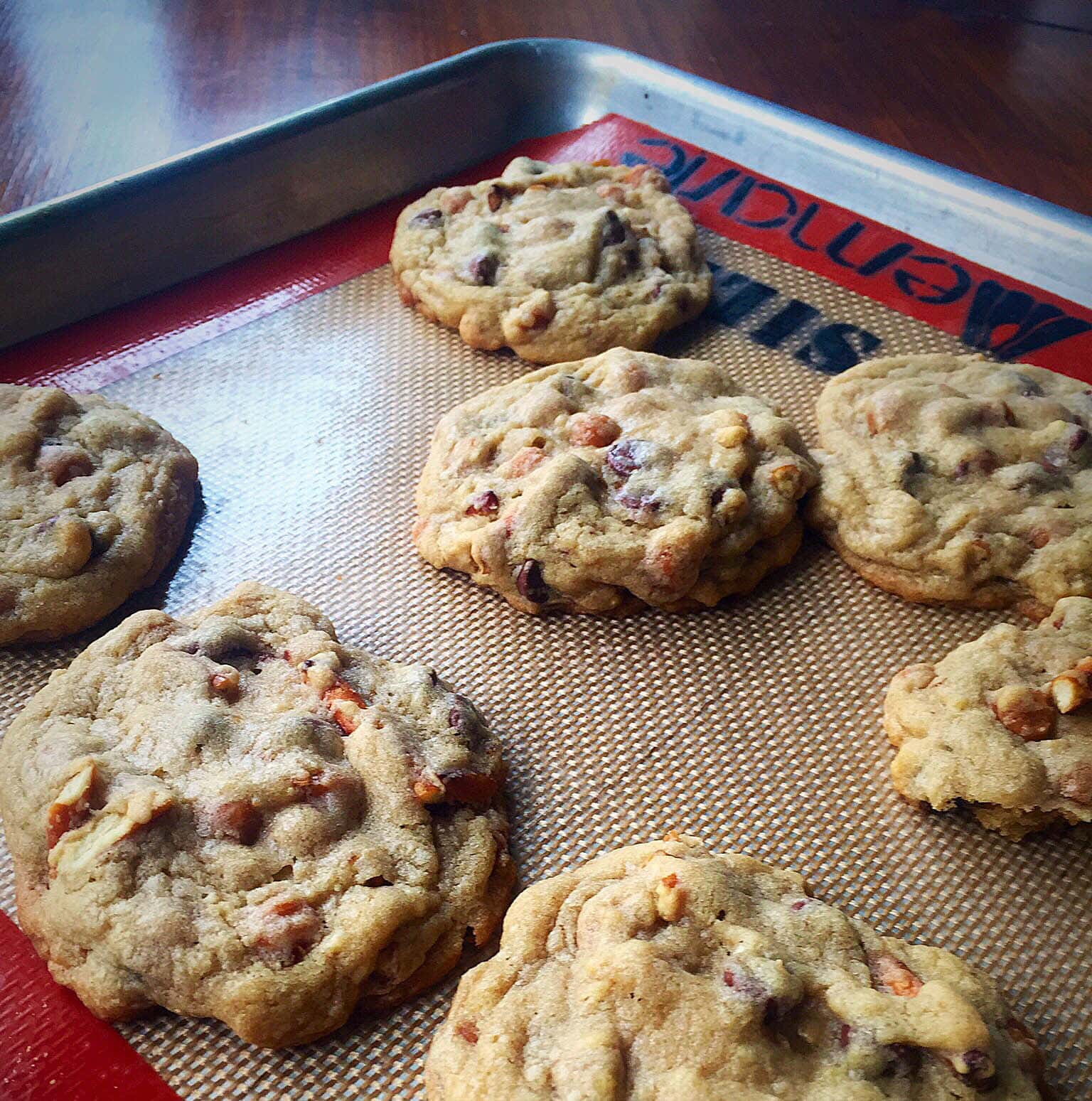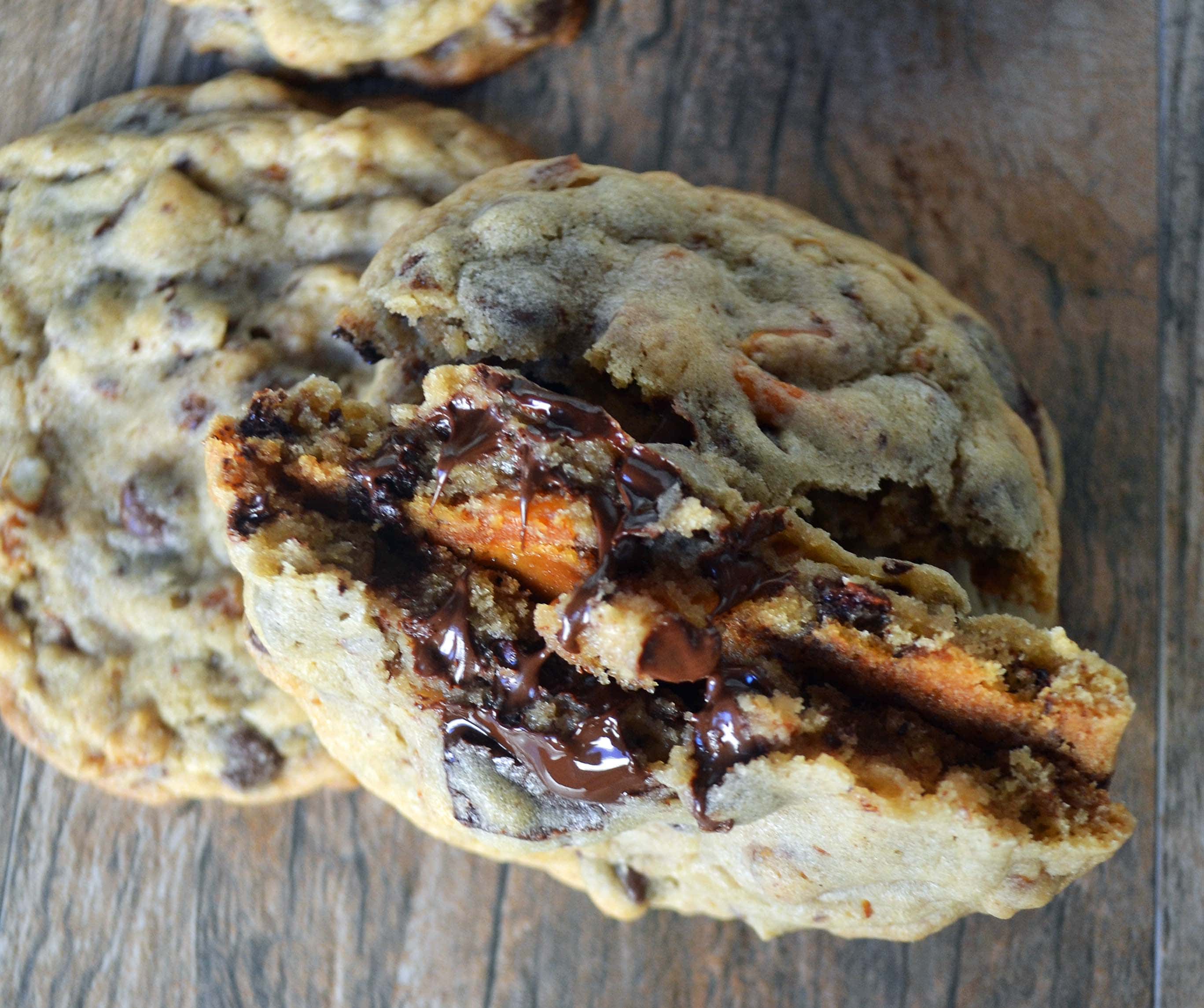 Go ahead and PIN this below and share the LOVE of these Salty Sweet Caramel Pretzel Cookies with your family and friends on Pinterest and Facebook. They will thank you! Follow me on INSTAGRAM HERE.
Thank you for all of your support and love. xoxo
Happy Baking!