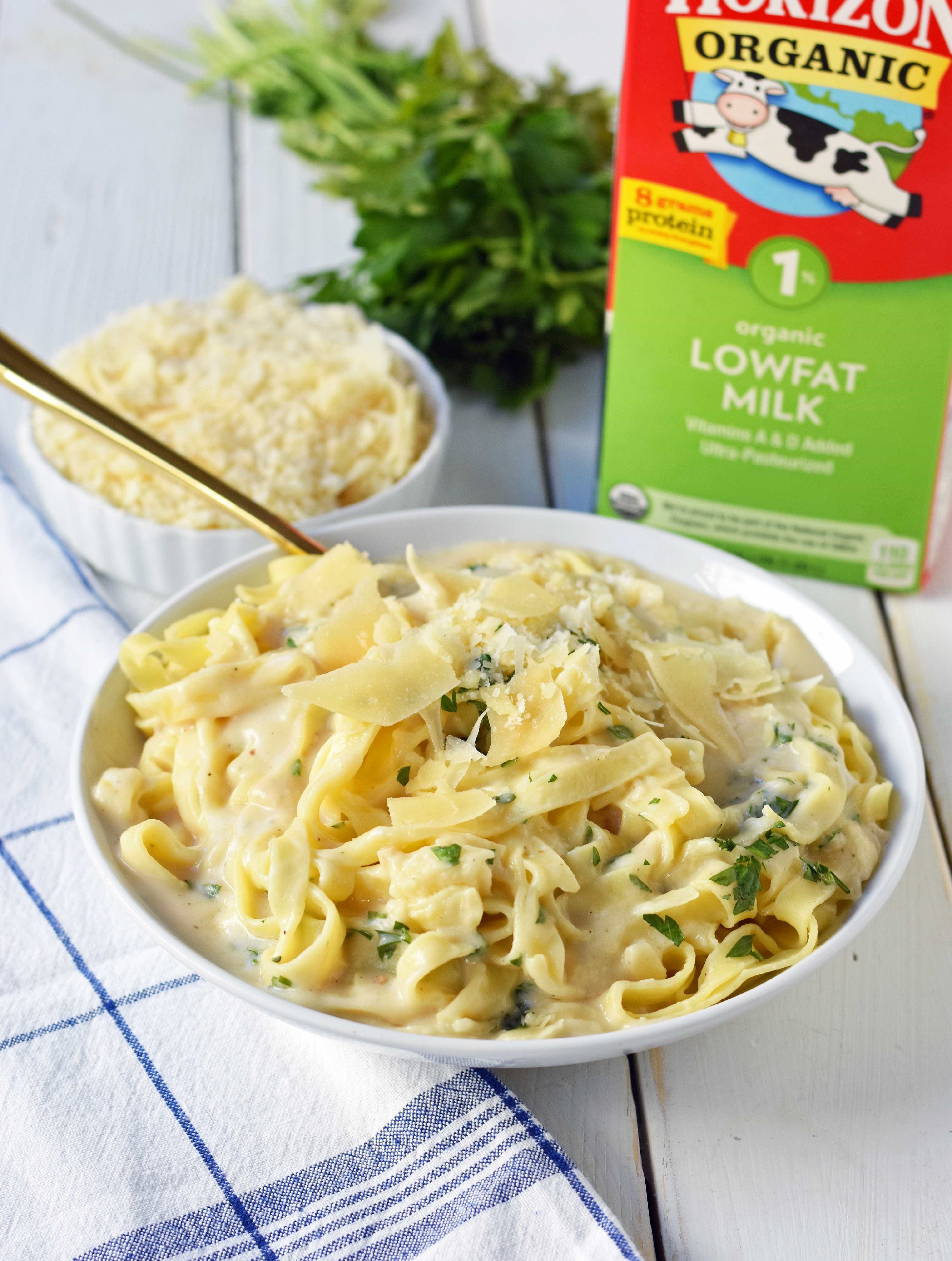 Skinny Lowfat Fettucine Alfredo with 75% less fat and all of the flavor as the original. A skinny version of the popular fettuccine alfredo pasta dish.
We are back in school which means that our nights are extra busy. I am always trying to find quick and healthy dinner recipes to feed my hungry kids before they run out the door to practice. Since my son is swimming these days, his coach wants him to eat pasta the night before a big meet. Since he loves fettuccine alfredo, I wanted to create a low-fat, healthier version of the classic alfredo sauce. He still gets his pasta which gives him the energy he needs without the extra fat that can weigh him down.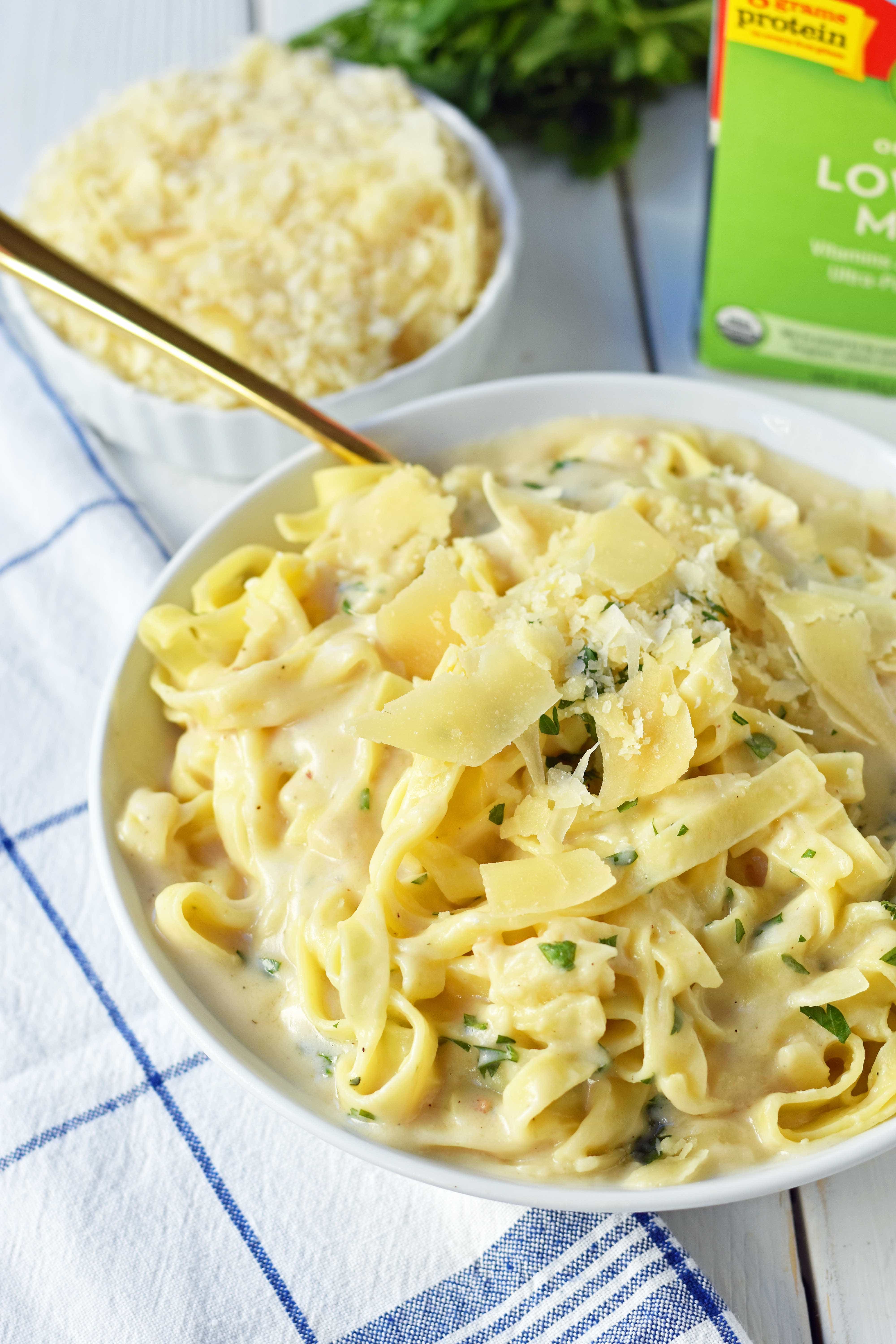 This Skinny Fettucine Alfredo is made with Horizon organic 1% milk instead of heavy cream. This is a huge calorie saver. This Skinny Alfredo Sauce has only a touch of butter, chicken broth for flavor, and parmesan cheese which has a huge bang for the buck.
I have been on the quest to make the ultimate Skinny Lowfat Fettucine Alfredo. I have found that kids seem to love alfredo sauce. When I taught kids cooking classes, my kids went crazy for my homemade alfredo sauce. Since we are trying to eat healthier in our home these days, I had to spend some time experimenting in the kitchen to create the perfect version of skinny fettuccine alfredo.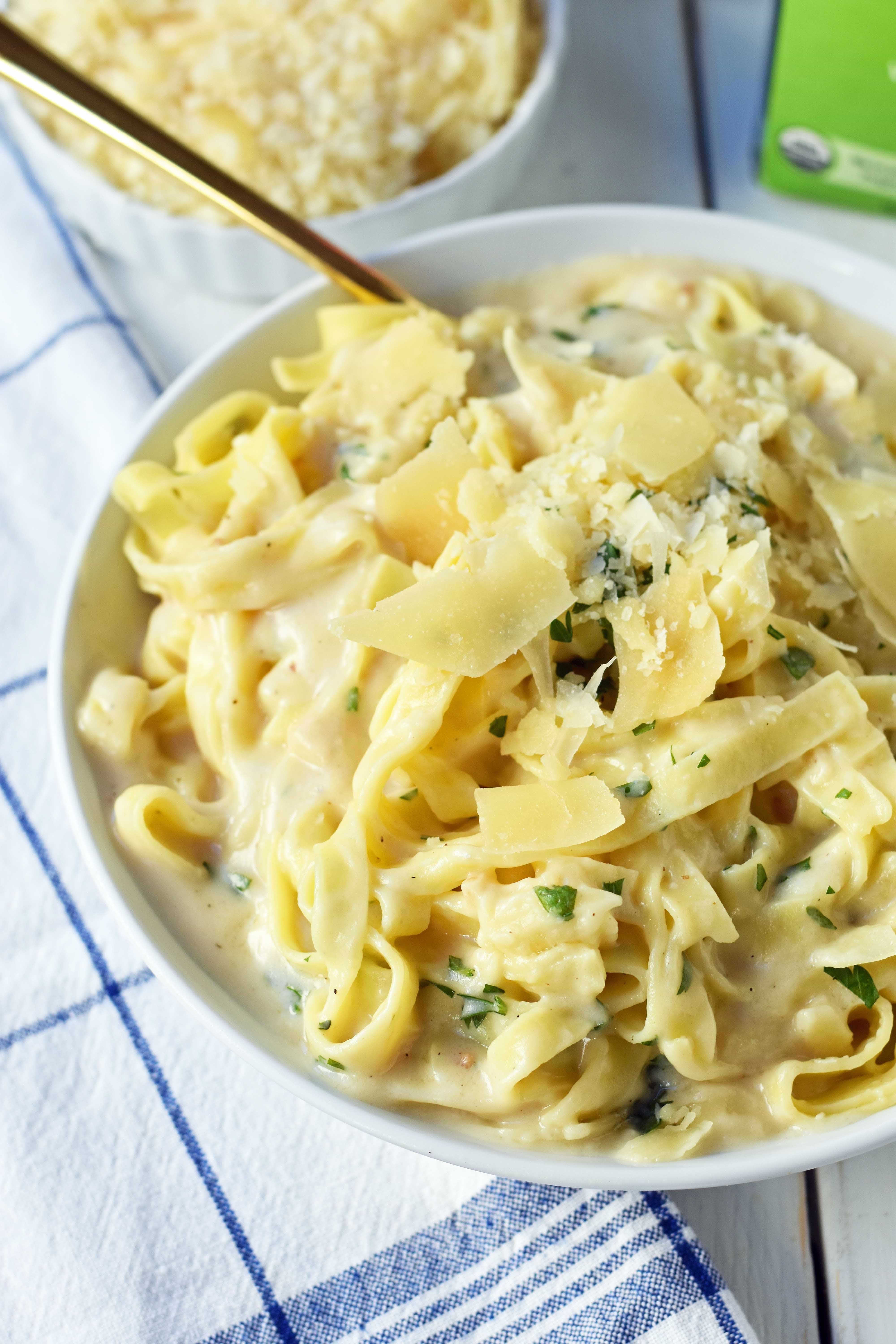 I made four different version of skinny fettucine alfredo sauce and employed 9 taste testers to be my judges. We definitely found a winner when I found all of the boys begging to lick the pan. Here's what we found in the process:
-- The low-fat cream cheese added extra creaminess but the tang from it added a bitter aftertaste.
-- Flour thickens the sauce but when too much is added, it creates a gummy paste and the flour taste is noticeable. We add just enough in this recipe to thicken it without picking up on the flavor.
-- Chicken broth adds depth of flavor and gives it a richness without the fat.
-- One minced garlic clove adds a nutty zing to the sauce without overpowering it. I tried this sauce with 1 clove, 2 cloves, and even 4 cloves and found that 4 cloves of garlic overpowered the sauce and kids could definitely pick up on it. We added one garlic clove but feel free to add a second one if you love garlic flavor.
-- Instead of using heavy cream, we used Horizon organic 1% milk. It made such a creamy sauce while saving a ton of calories and fat.
-- Parmesan cheese is one of my favorite cheeses to use in cooking since a little can go a long way. It is a strong, pungent cheese with a nutty flavor. It is perfect in this low-fat alfredo sauce.
The WINNER of the Skinny Fettuccine Alfredo Sauce competition contained the following ingredients:
Butter, Garlic, Flour, Chicken Broth, Horizon Organic 1% Milk, Salt + Pepper, and Parmesan Cheese. This has 1 tablespoon of butter where my usual alfredo sauce recipe calls for 8 tablespoons. I am already feeling good about myself. Plus no heavy cream! This lowfat alfredo sauce only calls for 1% milk. AMAZING!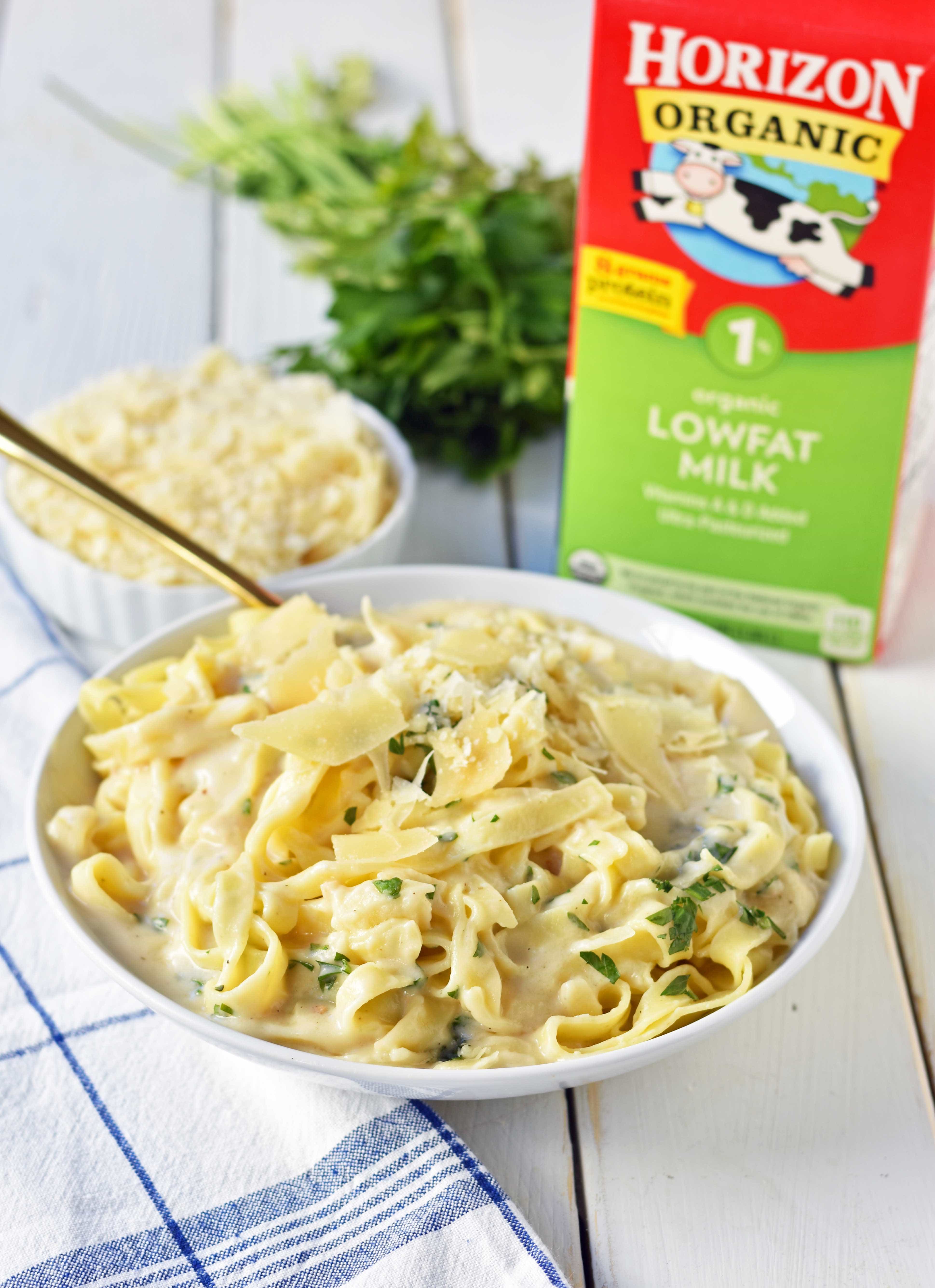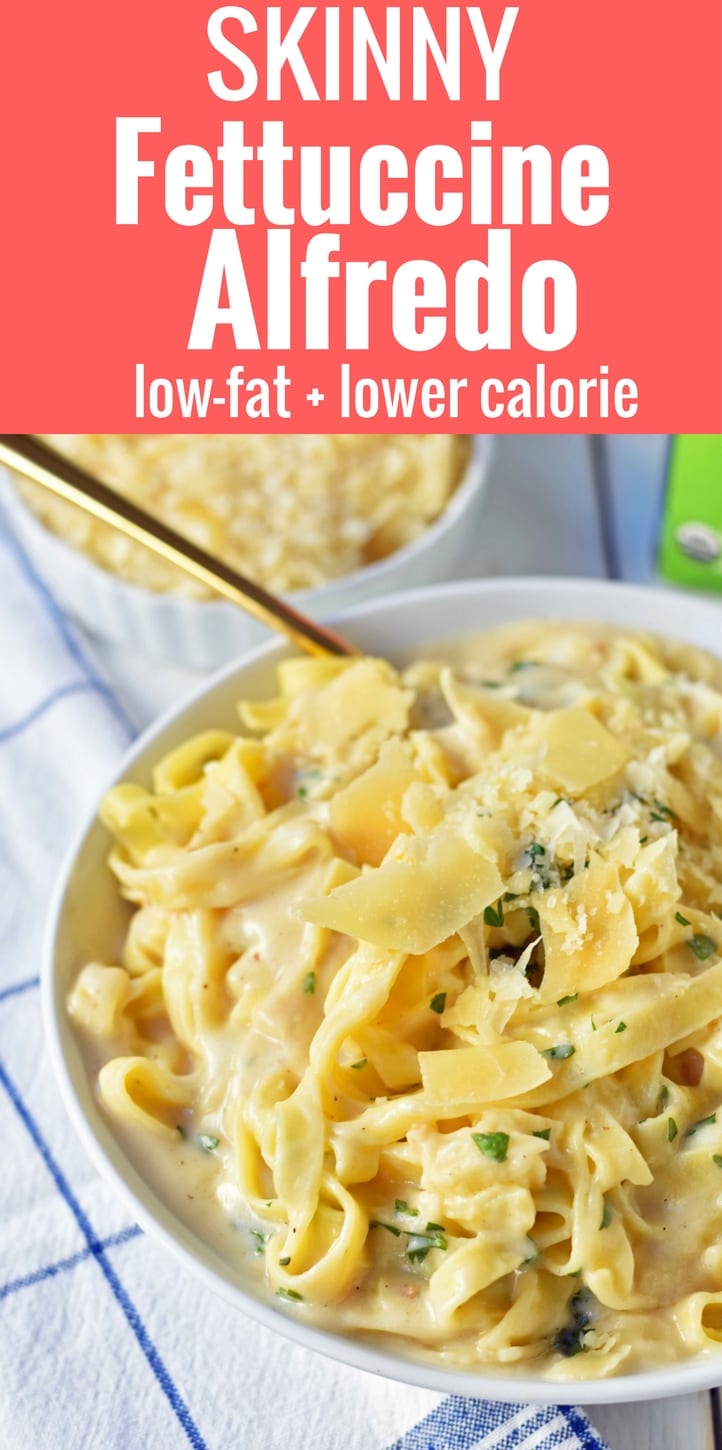 This is a sponsored conversation written by me on behalf of Horizon Organic. The opinions and text are all mine.
I hope you love this Skinny Fettuccine Alfredo pasta as much as my family (and half of the neighborhood) did. Have a wonderful day!