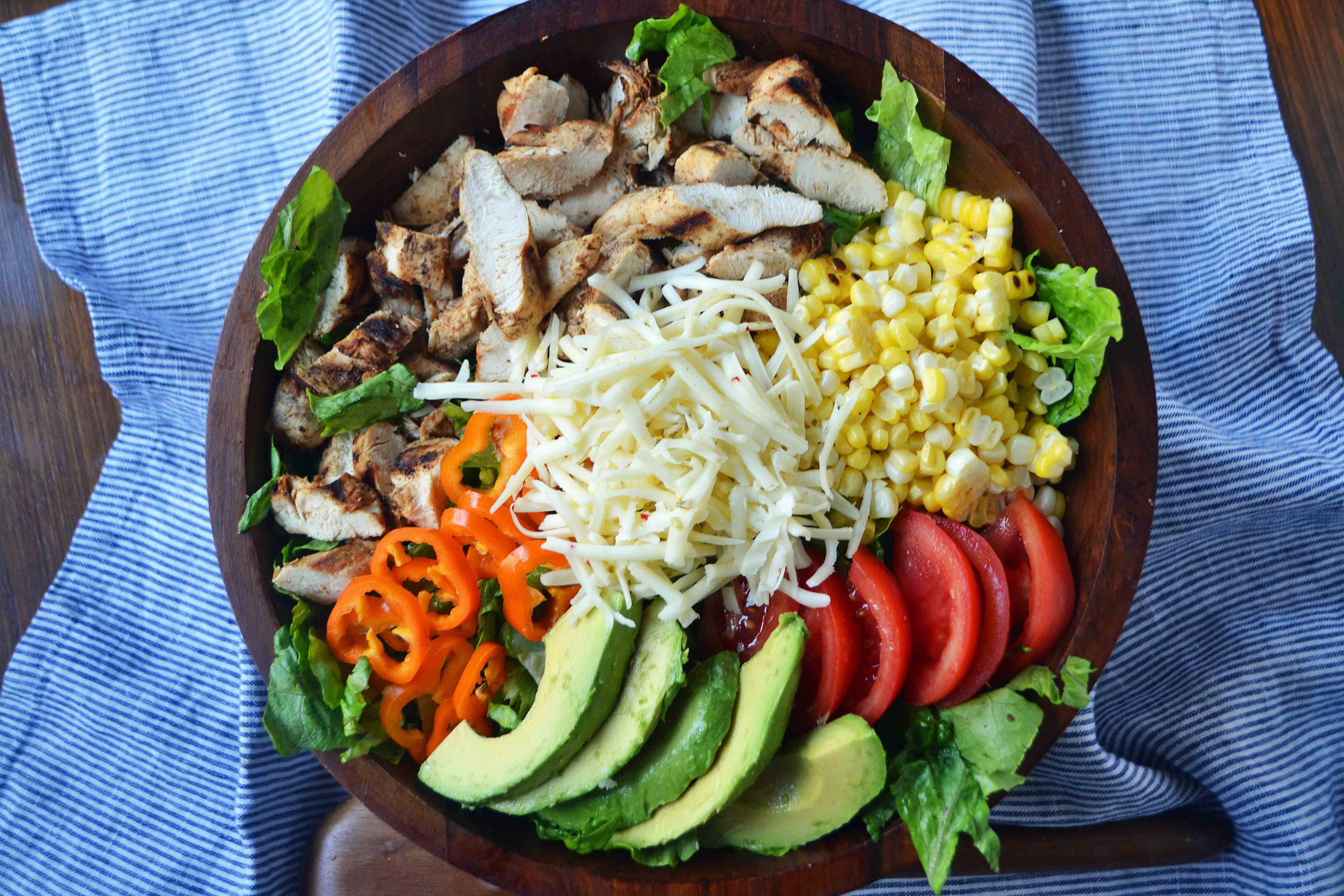 I am trying to diet right now.
If I could insert an emjoi right here, it would be a crying one. No, it wouldn't be the "laughing so hard that I am crying" emoji but would be the ugly crying emoji because I am doing something really hard! I am a food blogger and spend most of my days scrolling through food photos, creating recipe ideas in my mind,  making them in my kitchen, and then eating them! I am basically looking or thinking about cakes and cookies on the daily.
So I decided to go on a diet because my pants don't fit anymore and I can't go EVERYWHERE in sweatpants (it is 105 degrees in AZ so I have no business wearing them anyway)! I will just say that I am just thankful joggers are in style. Please stay in style, joggers. They along with sweatpants and pj's are basically my "uniform." #keepingitreal
In an attempt to give this diet a real shot, I am giving up the sugar and embracing the greens and I will keep you posted how long I stay sane. There are some salads that I literally have to choke down, feeling like I am eating rabbit food.  If you are going to eat a salad, you want it to taste good, right?
Here's a salad that will make you forget that it's even healthy.  This Southwestern Chicken Chopped Salad with Cilantro Lime Ranch is made with chili lime grilled chicken, roasted corn, romaine lettuce, orange peppers, grape tomatoes, pepper jack cheese, and avocado. Let's not forget about the Cilantro Lime Ranch either.  Well, let's just agree....Ranch Dressing just makes everything better.
Although, this salad is way good even without dressing. I kid you not. "Diet girl" here has tested it out.
The key to this Southwestern Chicken Chopped Salad is making the star ingredient -- grilled chicken -- juicy and flavorful. A simple marinade of olive oil, lime juice, and spices can really transform chicken. Letting it sit for at least 30 minutes to 1 hour gives the marinade time to do its magic. It makes the chicken more tender, juicy, and flavorful. The chicken can be grilled on in outdoor grill or even in a skillet on the stovetop. Let it rest for at least 5 minutes before slicing.
This Southwestern Chicken Chopped Salad with Cilantro Lime Ranch is the ultimate summer salad, using corn straight from the cob and ripe tomatoes plucked from the vine. A good timesaver is to throw a few ears of corn on the cob on the grill at the same time you grill the chicken. Grilling corn on the cob really brings out the flavors.
Avocados turn brown easily so a simple solution is to sprinkle them with a little fresh lime juice and salt. It keeps them from browning and brings out their natural flavor.
It's summer....let's not heat up the kitchen with a hot meal. Let the outdoor grill do most of the work. You are going to LOVE this Southwestern Chicken Chopped Salad with Cilantro Lime Ranch. Come eat salad with me!
Happy Cooking! xo