Summer Berry Trifle
The Best Berry Trifle made with Cream Cheese Pound Cake layered with Sweet Vanilla Pudding, Fresh Berries, and Whipped Cream 
Years ago I went through a "trifle" stage. Every time I was asked to bring a dessert to a party or get together, it was some kind of trifle dessert. I received a trifle dish as a present and you better believe I got some serious use out of it! The beauty of a trifle is that it is rustic in nature so you can layer it anything your heart desires.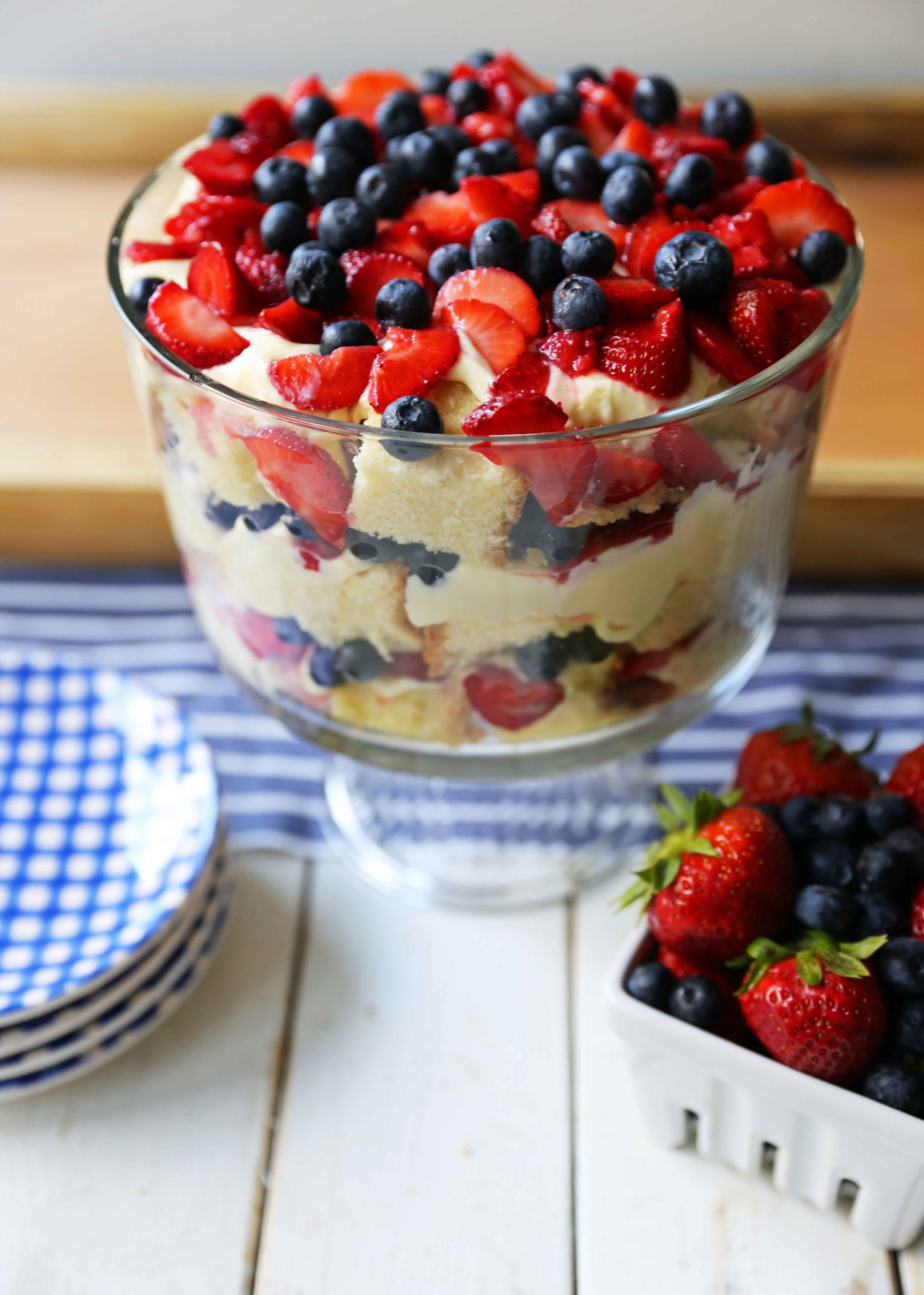 What is a trifle?
It is a chilled dessert of sponge cake layered with fruit, custard, and whipped cream
This is such a beautiful patriotic 4th of July dessert. The strawberries are red, the blueberries are blue, and the whipped cream is white. It is perfect for a potluck as it can serve a lot of people and it is so easy to serve -- you just scoop desired serving amount into bowls.
Let's talk about what goes into this Summer Berry Trifle. I wanted to create a trifle where every layer is perfection. It all starts with a sweet cream cheese pound cake recipe. I shared this recipe yesterday because it is hands down, my favorite pound cake recipe!
Next, we are creating a custard filling by adding vanilla pudding, milk, sweetened condensed milk, cream cheese, and whipped cream. On a scale of 1-10, it is a 12. I can sit and watch Southern Charm on Bravo with a big bowl of this homemade sweet custard and be one happy girl. It is silky smooth, creamy, and sweet.
The strawberries and blueberries are tossed with some sugar to bring out their sweetness and create some natural juices.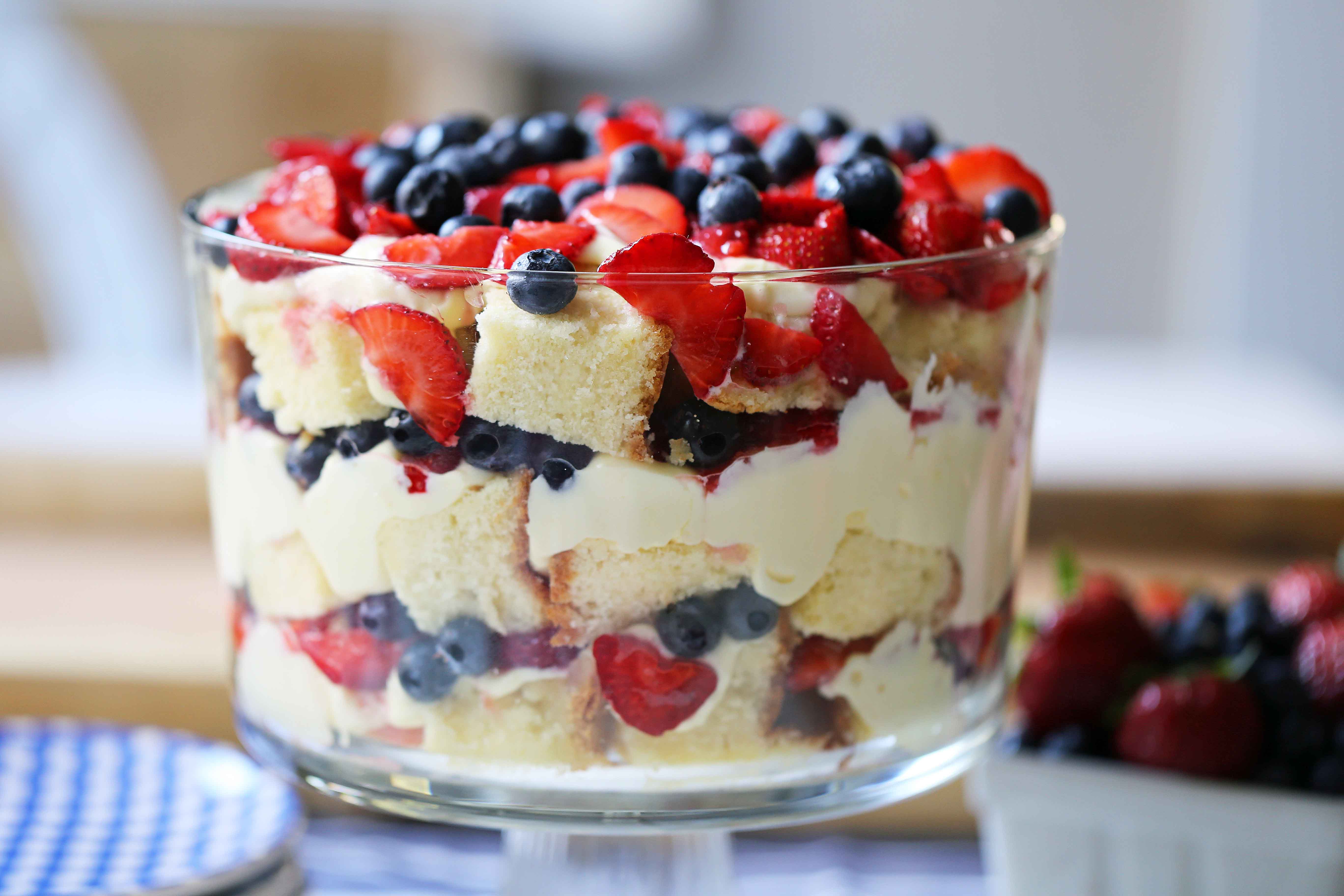 How to make the Perfect Berry Trifle:
 

Start with the Perfect Cake

. I use my cream cheese pound cake recipe because it holds up beautifully in a trifle dessert. It is heavy enough to hold its own when the cream and fruit are layered. If you want to save a few steps, you can use a cake mix or buy an angel food cake at the store.
Make your own sweet custard layer. This starts with vanilla pudding mix and milk. Sweetened condensed milk, cream cheese, and heavy cream are whipped together until light and fluffy. The key is to make sure the cream cheese is softened so it is smooth and creamy when whipped with the sweetened condensed milk.

Sprinkle Strawberries and Blueberries with Sugar

. This is a key step as it helps to create natural juices which help to keep the cake extra moist.

This Trifle Dessert can be showcased in a Glass Trifle Bow

l. Here's a

traditional glass trifle dish for about $17 bucks

and here is an

embossed glass trifle dish

if you want something more unique.
Chill and Refrigerate until ready to serve. This is a chilled dessert so it needs to be refrigerated until ready to serve. This helps the pudding to set up.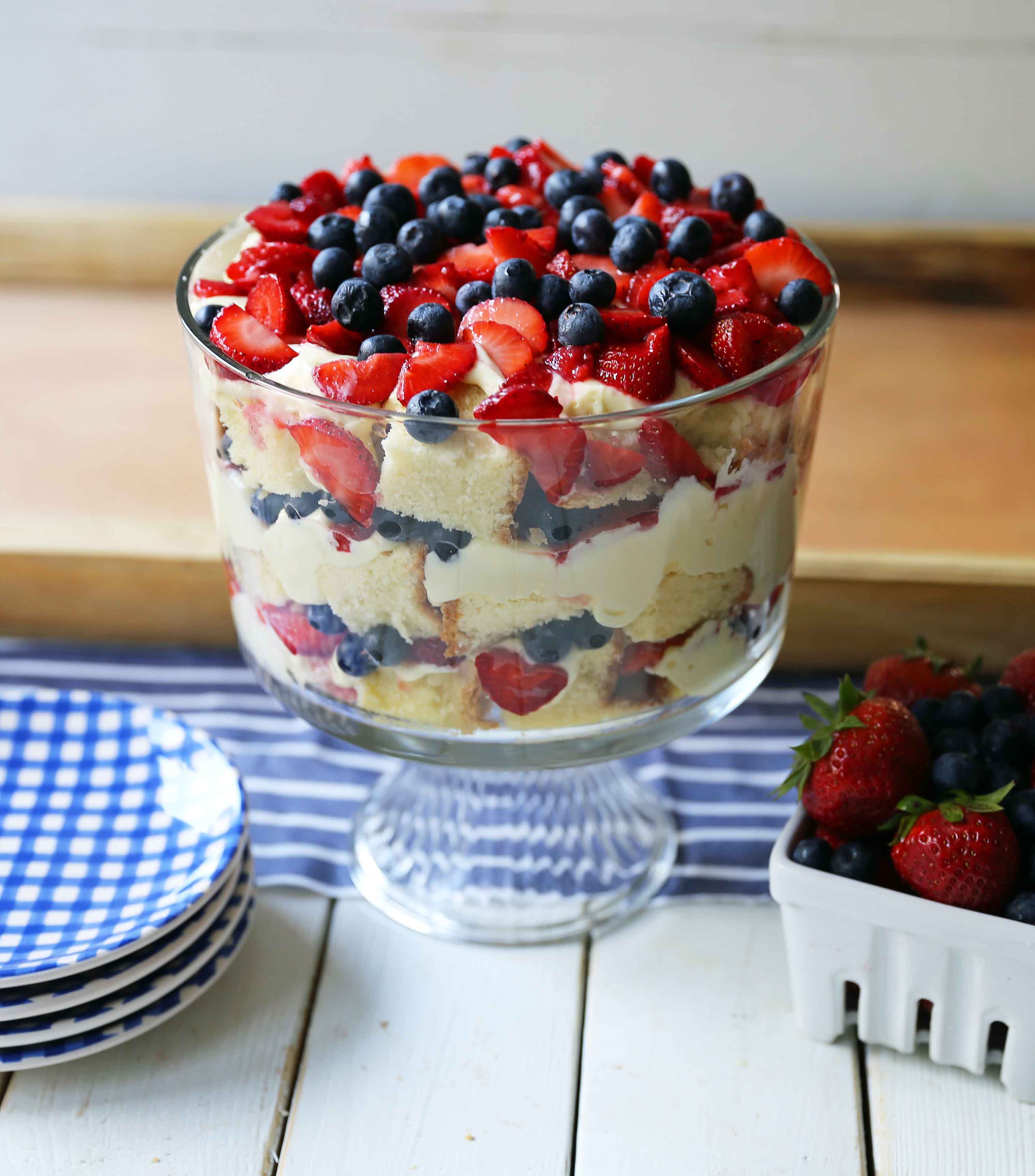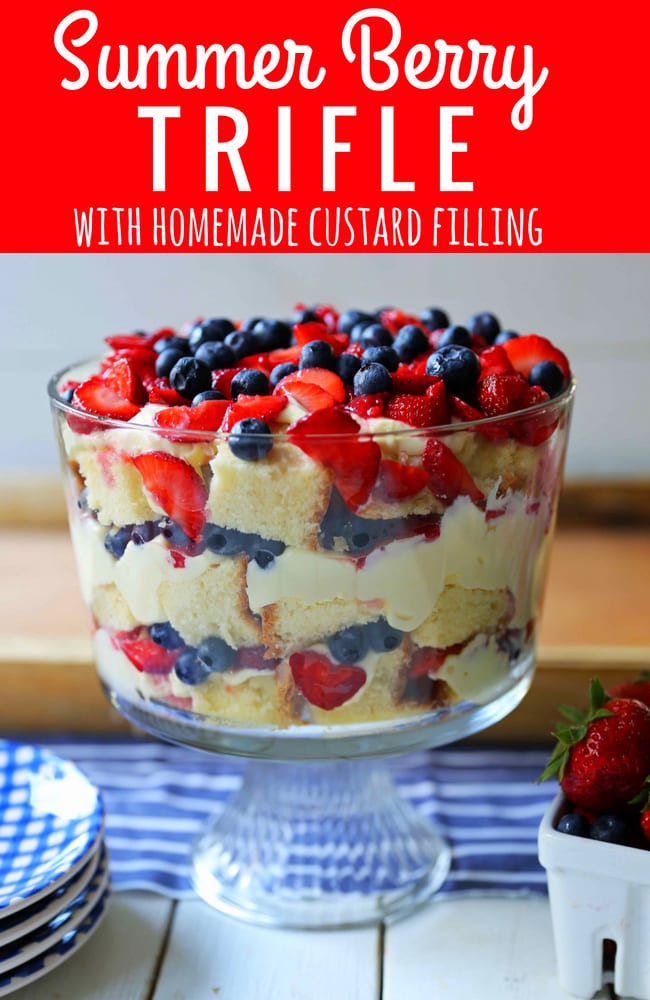 I hope you love this patriotic 4th of July dessert! Happy Baking, my friends!