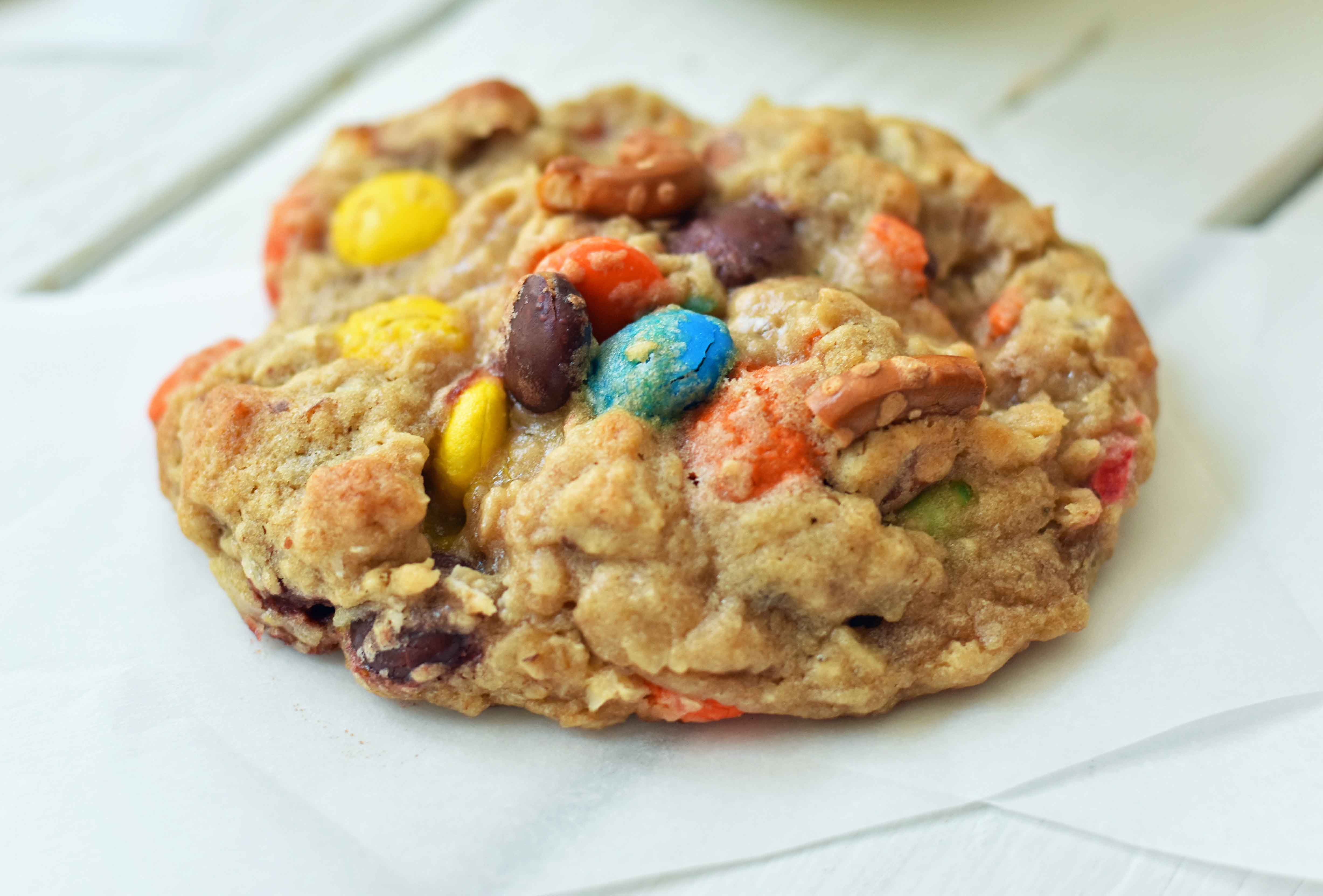 My friend Tiff and I share an insane love for cookies. She actually despises cake (which I can't understand for the life of me) and requests a large cookie cake for her birthday. Tiff and I may have the same adoration for cookies but her ability to take two bites of a cookie and put it down is something I can't wrap my mind around. I eat two WHOLE cookies before I even think of putting one down! When we go to lunch together, I am always finishing up her cookie leftovers. 🙂 We are a good team!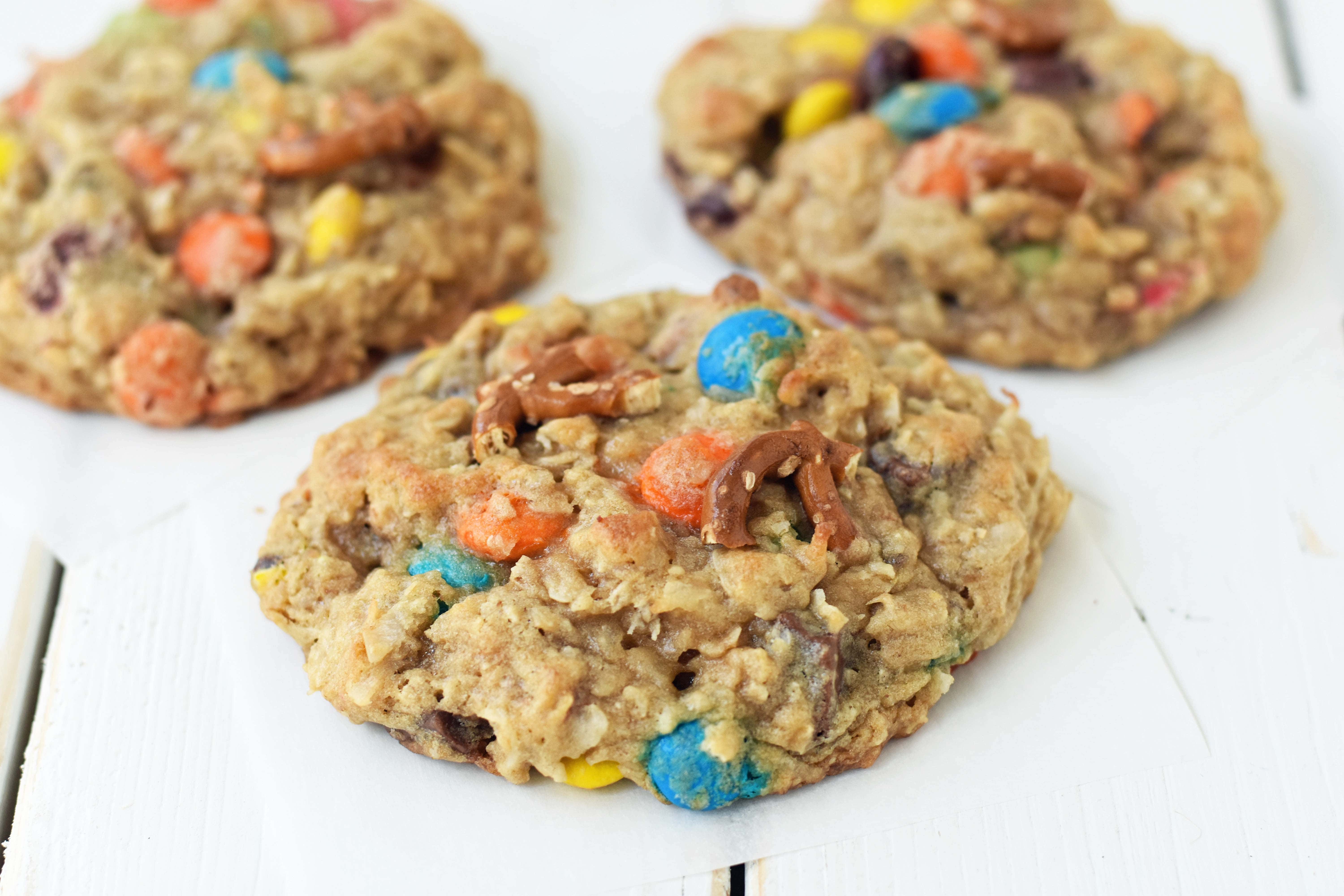 Several months ago she called me to let me know that she discovered a fabulous cookie at a local bakery. Since she is a cookie connoisseur, I knew that I must investigate. I drove over to the bakery and ordered the Overachiever Cookie. It was a chewy oatmeal cookie with crunchy pretzels, sweet coconut, and M & M's. The cookie had crisp buttery edges but had a melt-in-your-mouth center. I knew that it was time to make a similar version at home.
The Overachiever Cookie made with a sweet oatmeal cookie dough with shredded coconut, salty pretzels and chocolate M & M's.
Here is the keys to making perfect Overachiever Oatmeal M & M Pretzel Cookies:
Use Cold Butter

. Make sure you cut butter into small pieces so it can easily incorporate with the sugars. Cream for at least 4 minutes or until light and fluffy. This ensures that the dough is creamy not grainy.
A mix of flour and oatmeal makes this a hearty cookie. I use rolled oats in the Overachiever Cookie.

Pretzels add a salty crunch to these cookies

. Break them up with your hands before adding to the mixer. Mix for 1 minute to further break up the pretzels.
Sweetened Flaked Coconut adds a chewy sweetness to the cookie without being overpowering.
Choose your favorite M & M's -- plain or mini's. They just put this cookie over the top!

Bake just until golden brown on the outside

. You want crispy outer edges and chewy centers.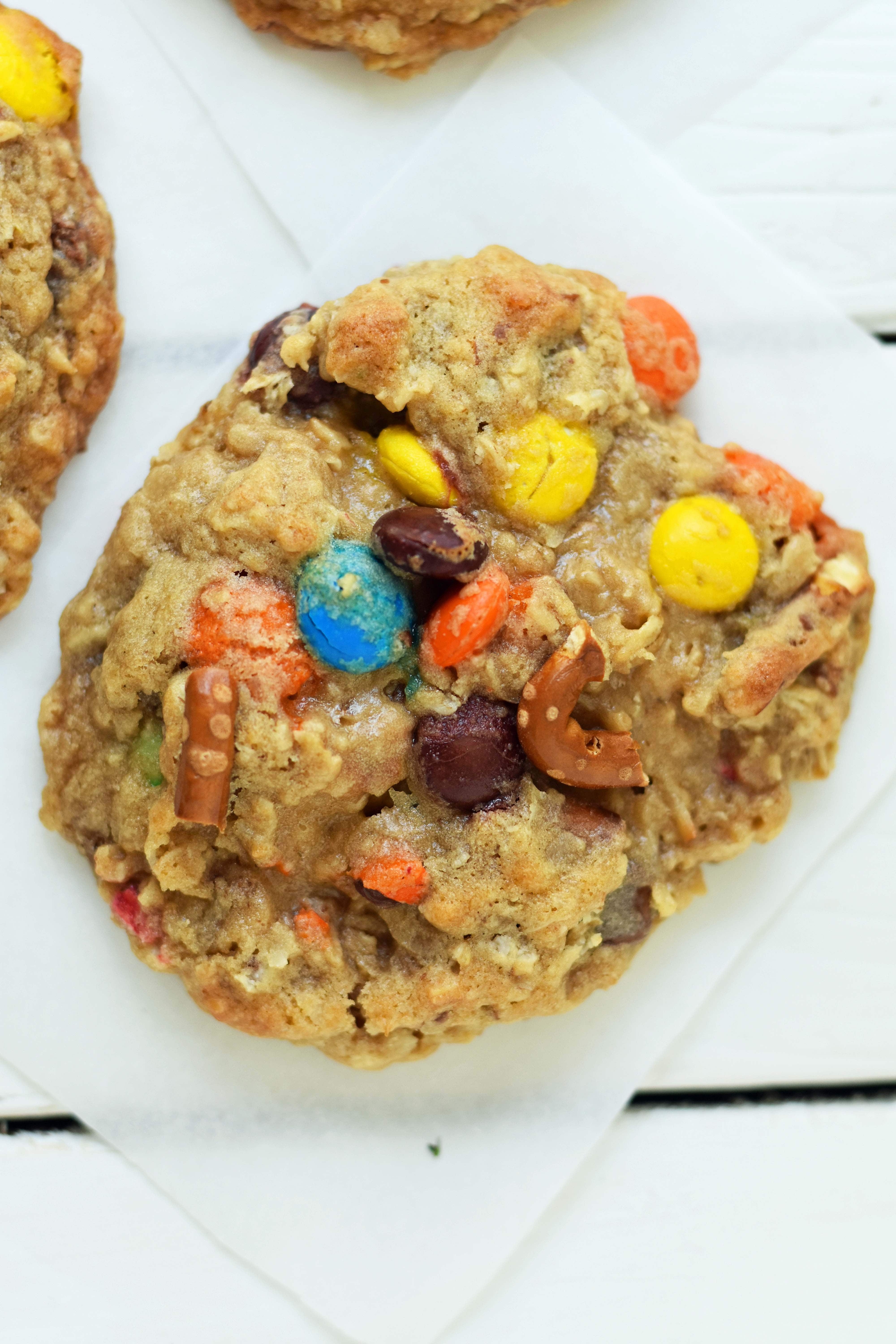 PIN on PINTEREST:
I hope you love this Oatmeal M & M Pretzel Cookie. Happy Baking, my friends!