Toasted Coconut Macadamia Pancakes with Coconut Syrup
Sweet tropical pancakes topped with a creamy coconut syrup and crunchy macadamia nuts.  
Light and fluffy buttermilk pancakes studded with toasted coconut and topped with macadamia nuts, bananas, and a drizzle of homemade sweet coconut syrup. You will feel like you are sitting on a tropical island eating these pancakes!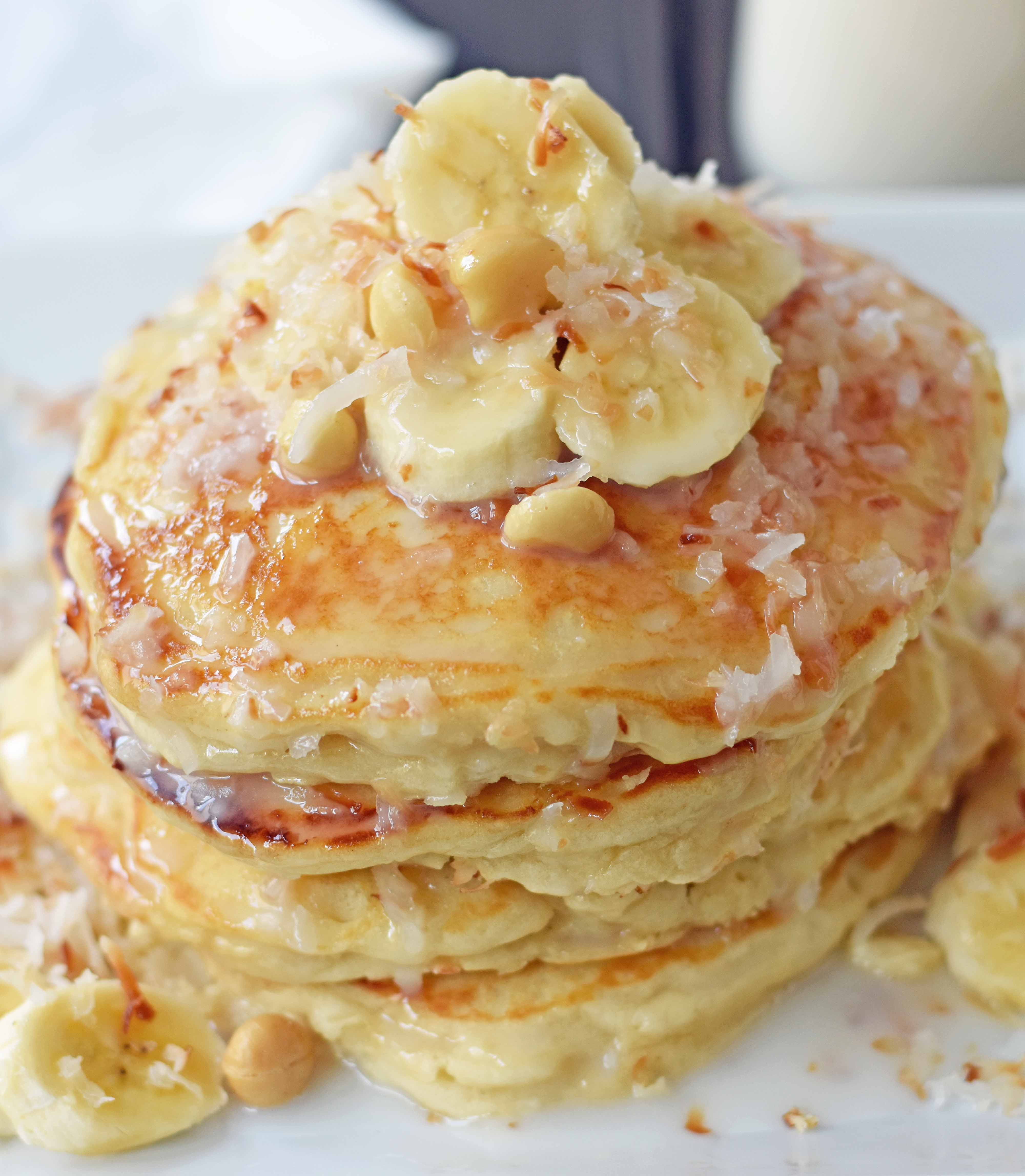 It's been quite the week in our home! We decided to take a last minute trip to California since my kids and husband can't go too long without going to the beach.  I may have expressed this before but all four of my children and husband are completely fearless. Nothing scares them! I blame every single gray hair on the top of my head on these types of activities.  Haha! I love their adventurous sides because it makes life so much fun but my mama worry radar goes on high alert in those situations.
My little 9-year-old girl has been fearless since the day she was born. We used to call her monkey because she could climb out of and over everything. She has loved boogie boarding since she was in diapers!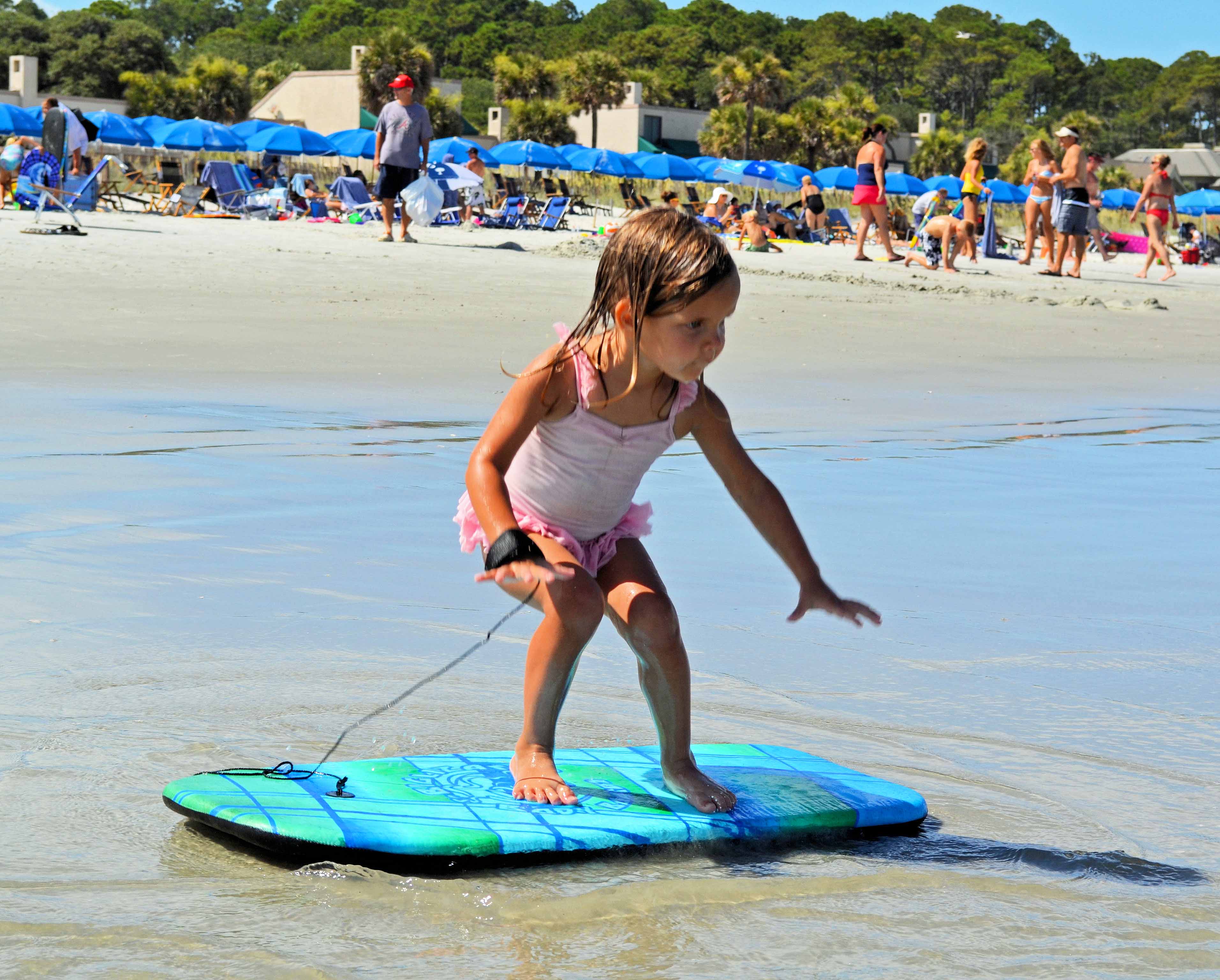 Well, those big waves finally caught up with her on Monday and she came out crying and holding her arm which is never a good sign. The lifeguards came and checked her out and told us we needed an x-ray.
She got to ride in the big lifeguard truck even though it wasn't what she quite imagined it to be.  We drove to urgent care, covered in sand and received word that she received a supracondylar fracture, which is something I am very familiar with.
Both of my boys have had surgery on their arms so when I heard this type of fracture, I went into mama panic mode. The radiologist report didn't look good and after reading the report, our orthopedic surgeon back home was worried that she would have to get surgery in California that night.
We had already checked out of our hotel and were still covered in sand so the thought of my sweet little girl going into surgery in California made my heart sink.
Thankfully, after studying the x-rays, we were given the go-ahead to head home. Hallelujah! It looks like she may just have a cast for a few weeks which after witnessing a few broken arm surgeries, sounds like a piece of cake! It's been an eventful one, to say the least.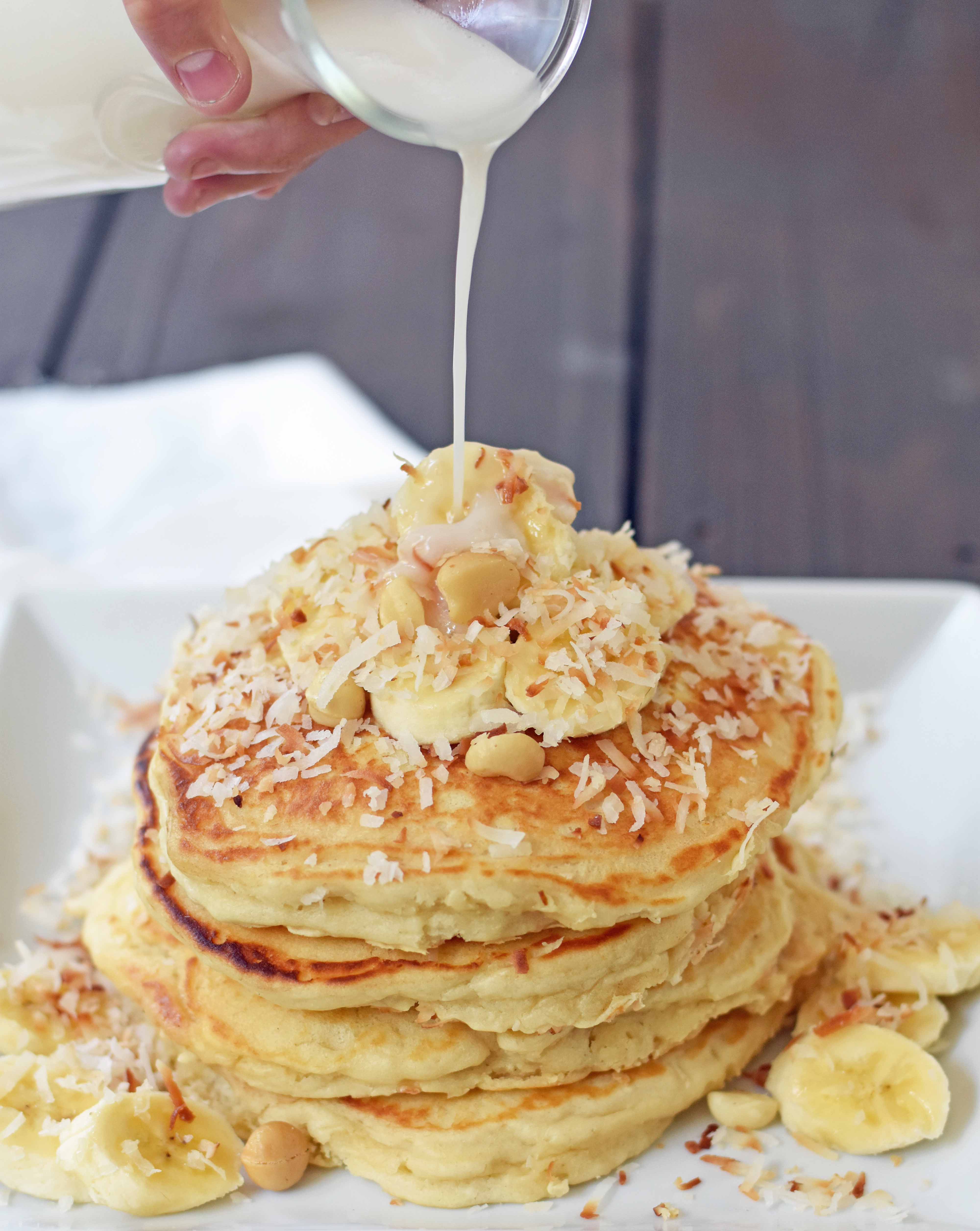 Let's get back to pancakes! Oh, my word. These Toasted Coconut Macadamia Pancakes with Coconut Syrup remind me of sitting on a Caribbean island eating breakfast and overlooking the ocean.  These pancakes are light and fluffy studded with toasted coconut, which really brings out the coconut flavor.
The homemade coconut syrup takes these pancakes to a whole another level and is so easy to make. Add some fresh sliced bananas and macadamia nuts and you are eating tropical pancakes.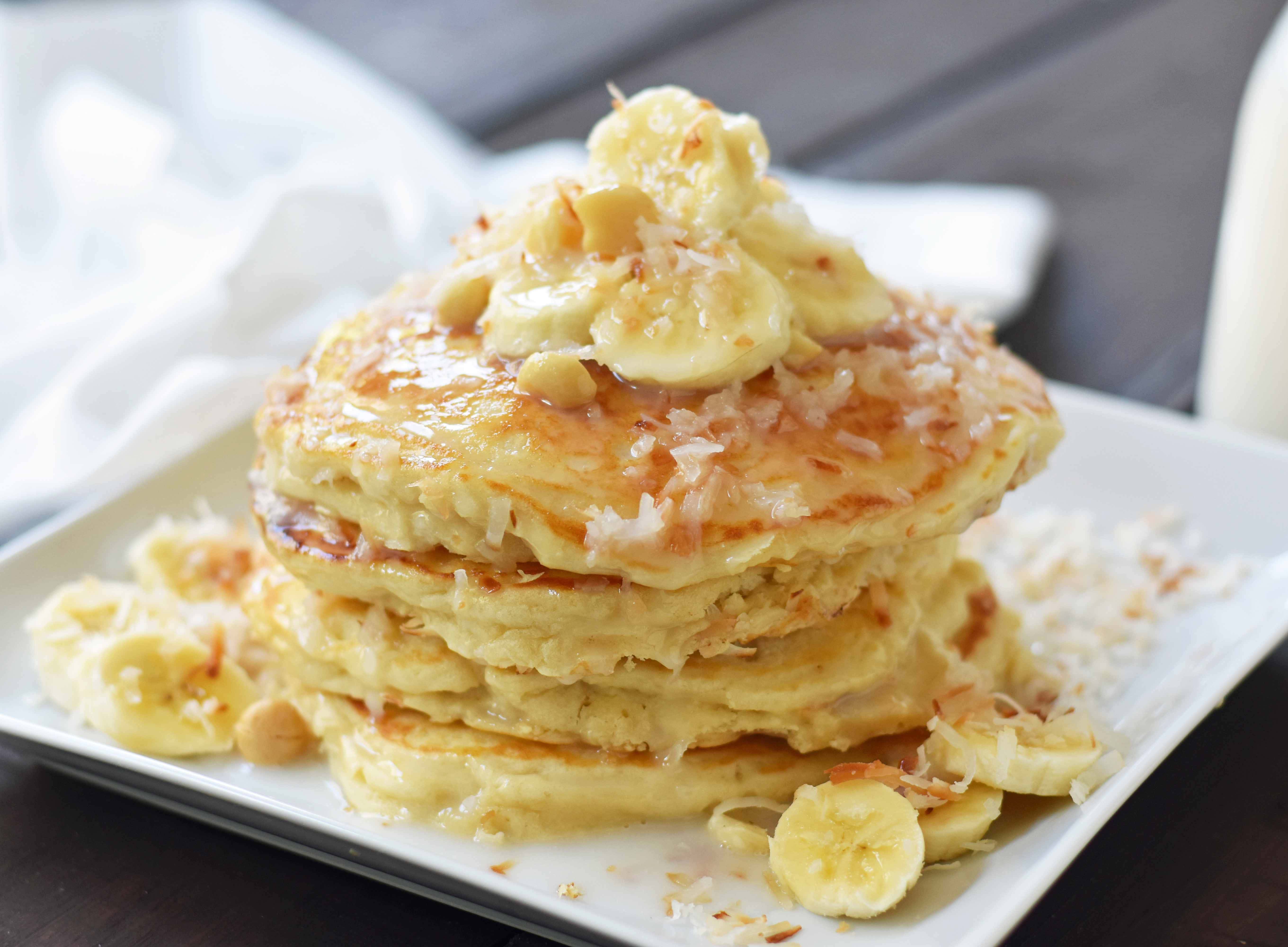 The key to these Toasted Coconut Macadamia Pancakes with Coconut Syrup is to toast the coconut ahead of time and to sprinkle it on while the pancakes are cooking. This allows the coconut to keep its texture.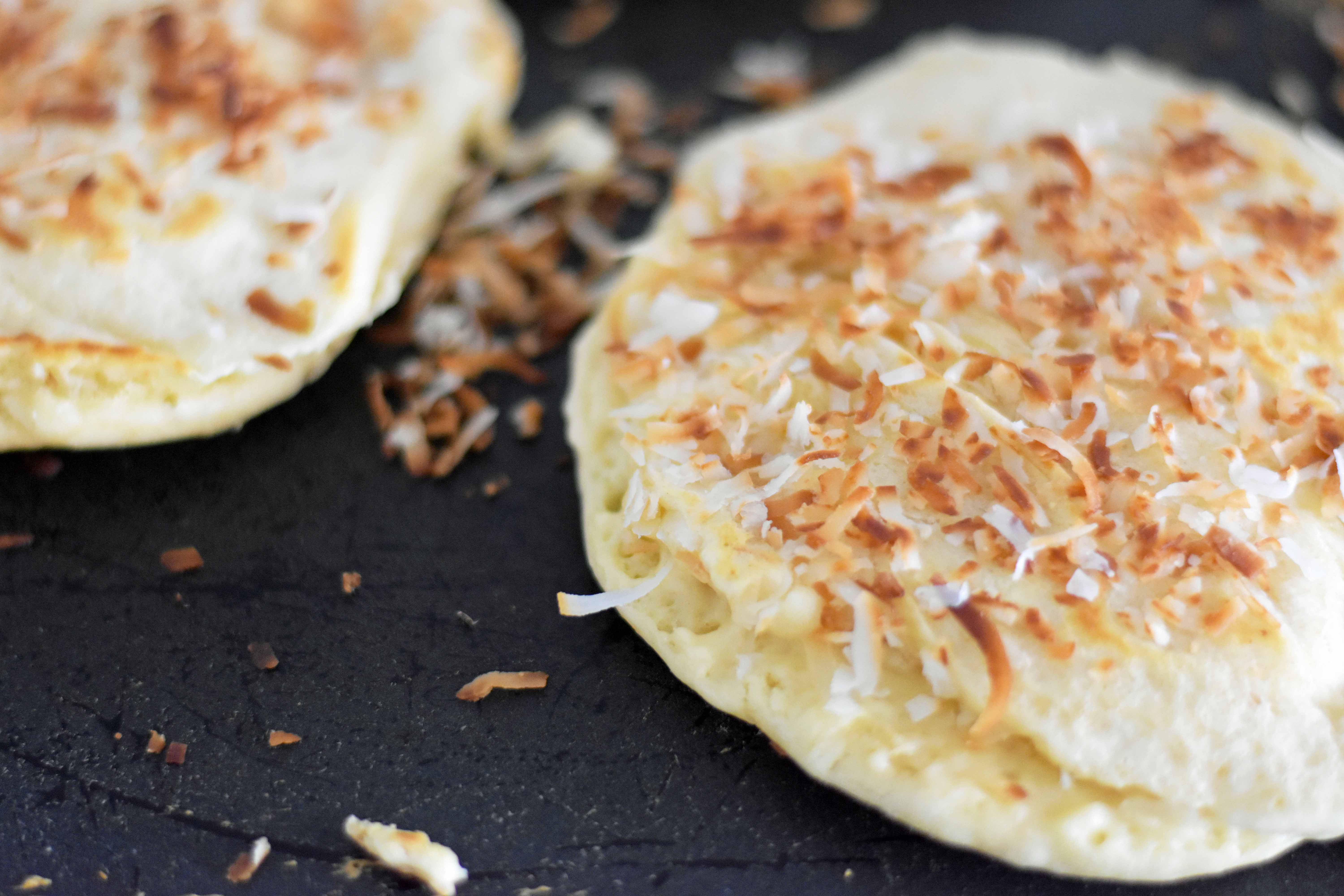 How to make Coconut Syrup:
What is coconut syrup? So glad you asked. The homemade coconut syrup is made with only 4 ingredients -- canned coconut milk, sugar, a touch of karo syrup, and a pinch of salt. It is such a simple recipe to make but elevates these pancakes to another level.  I found one of my kids drinking the syrup! Man alive, our dentist bill is going to be huge! 🙂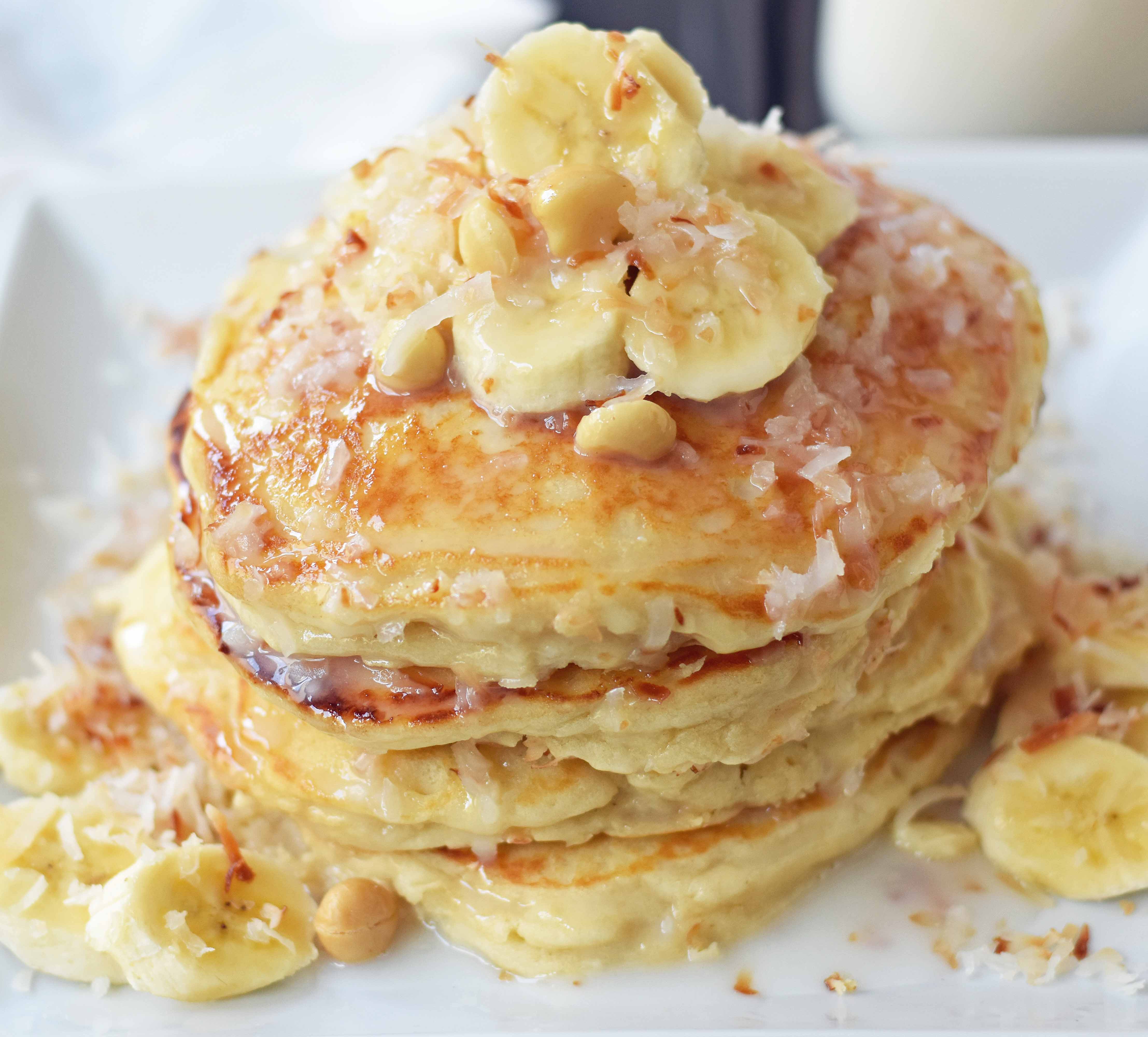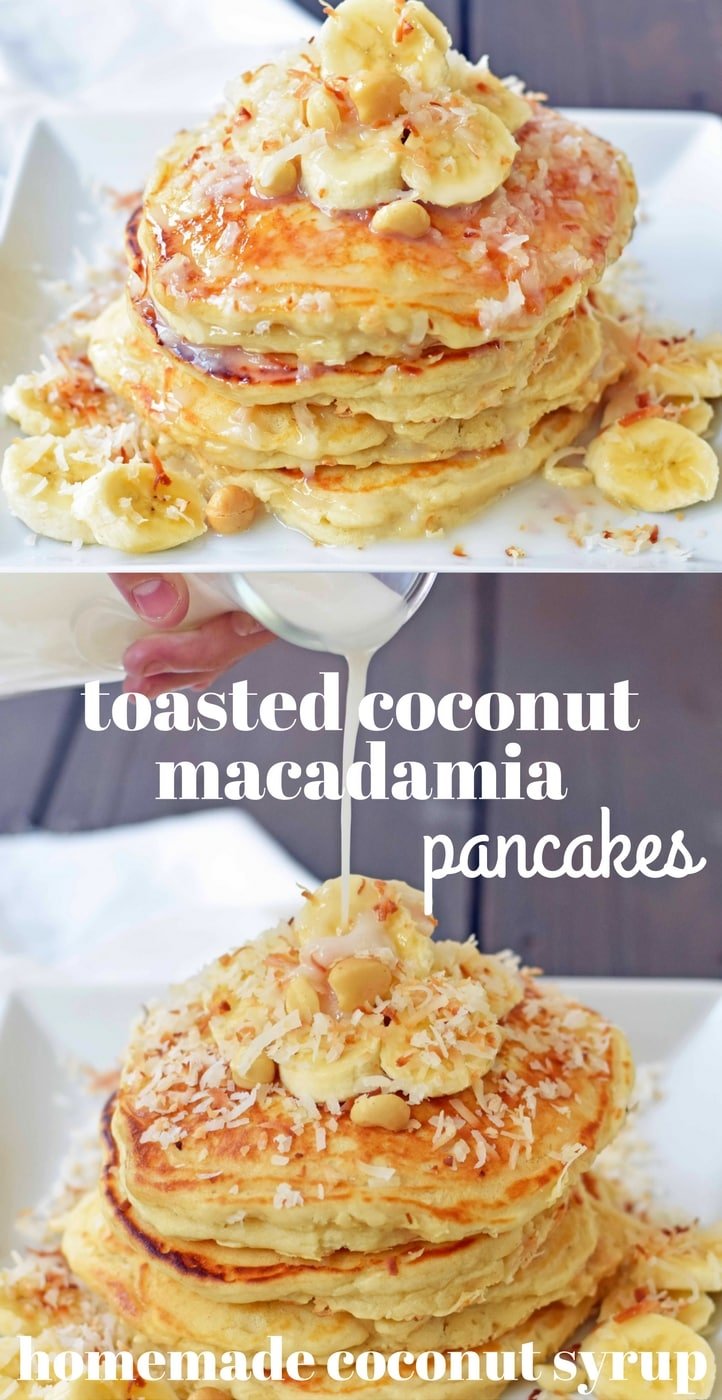 I can't wait to hear what you think about these Toasted Coconut Macadamia Pancakes with Coconut Syrup! Happy Cooking, my friends! xo