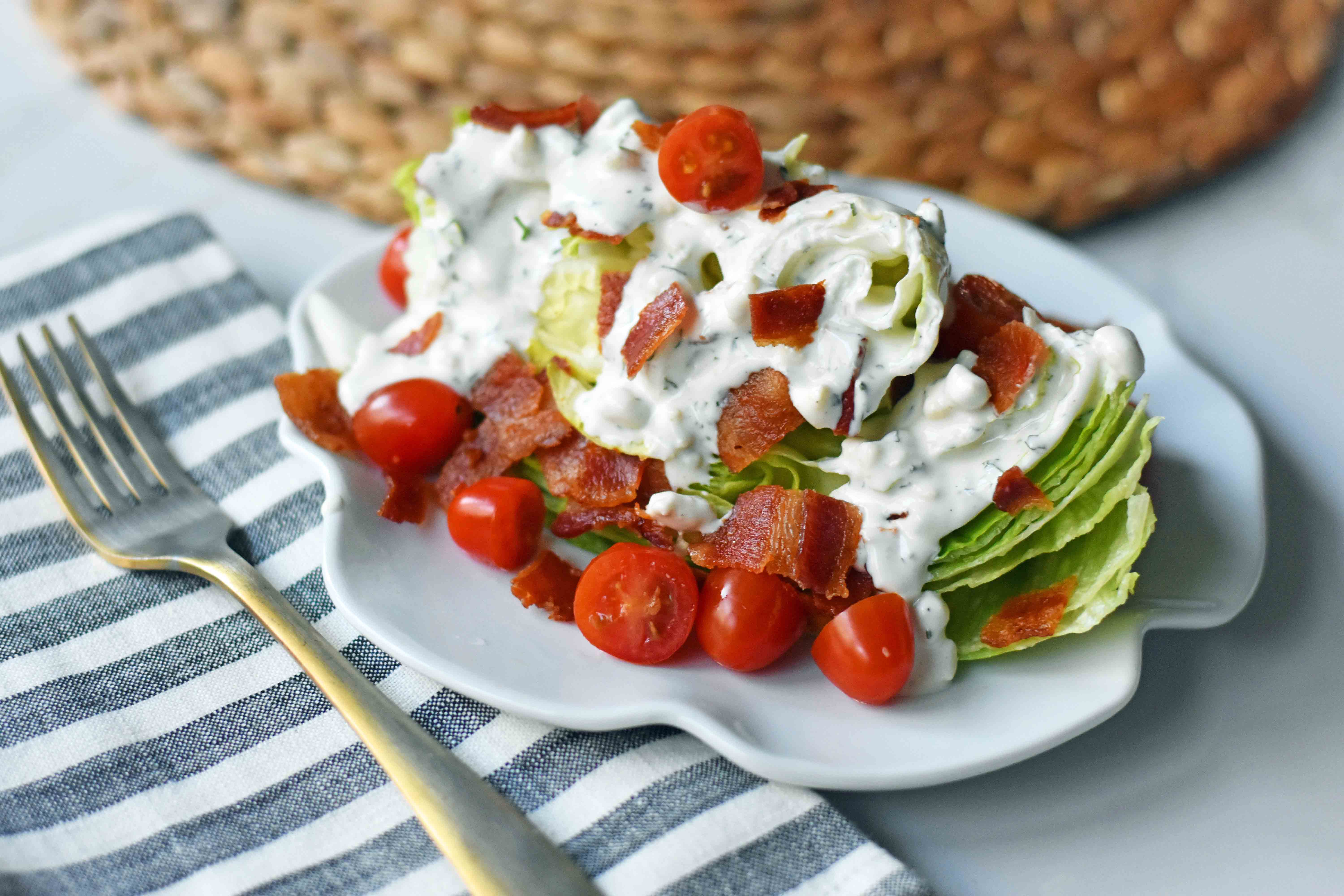 The Ultimate BLT Wedge Salad made with crisp iceberg lettuce, crispy bacon, fresh cherry tomatoes, all drizzled with a creamy homemade ranch or blue cheese dressing. A drizzle of balsamic glaze puts it over the top! This is the easiest and most flavorful salad.
Whenever we get that special opportunity to go to a nice steakhouse, we always have to order the wedge salad.  There is just something about the crisp, salty, and creamy combination that you even forget you are eating salad! I wanted to figure out how to create a steakhouse quality iceberg BLT wedge salad at home.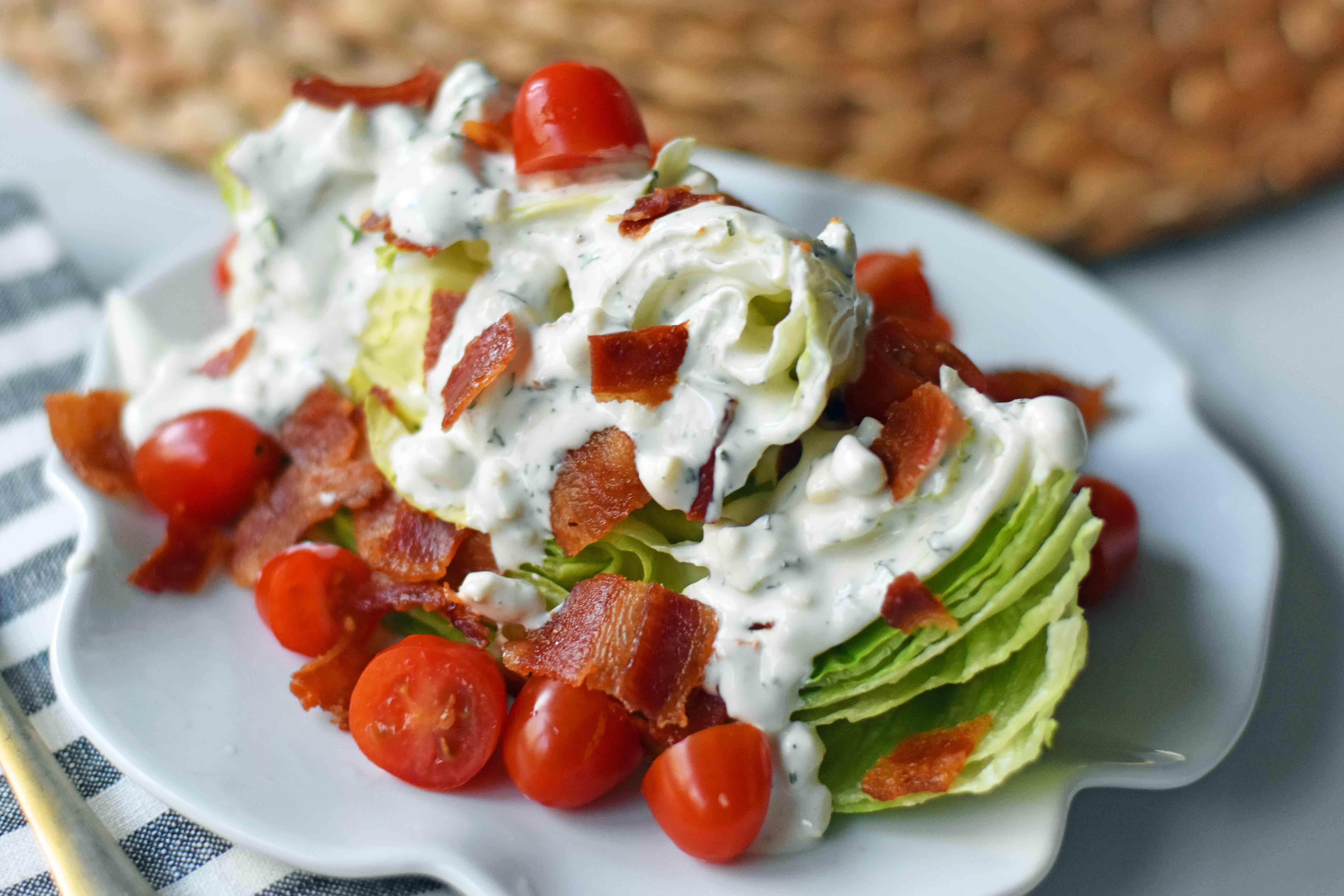 There is a local pizza joint right by our house called Local Eats and they serve an incredible wedge salad.  They drizzle their wedge salad with a balsamic glaze and we have been hooked ever since. It's optional but if you love balsamic vinegar, you will love a rich, thick balsamic glaze for a punch of flavor.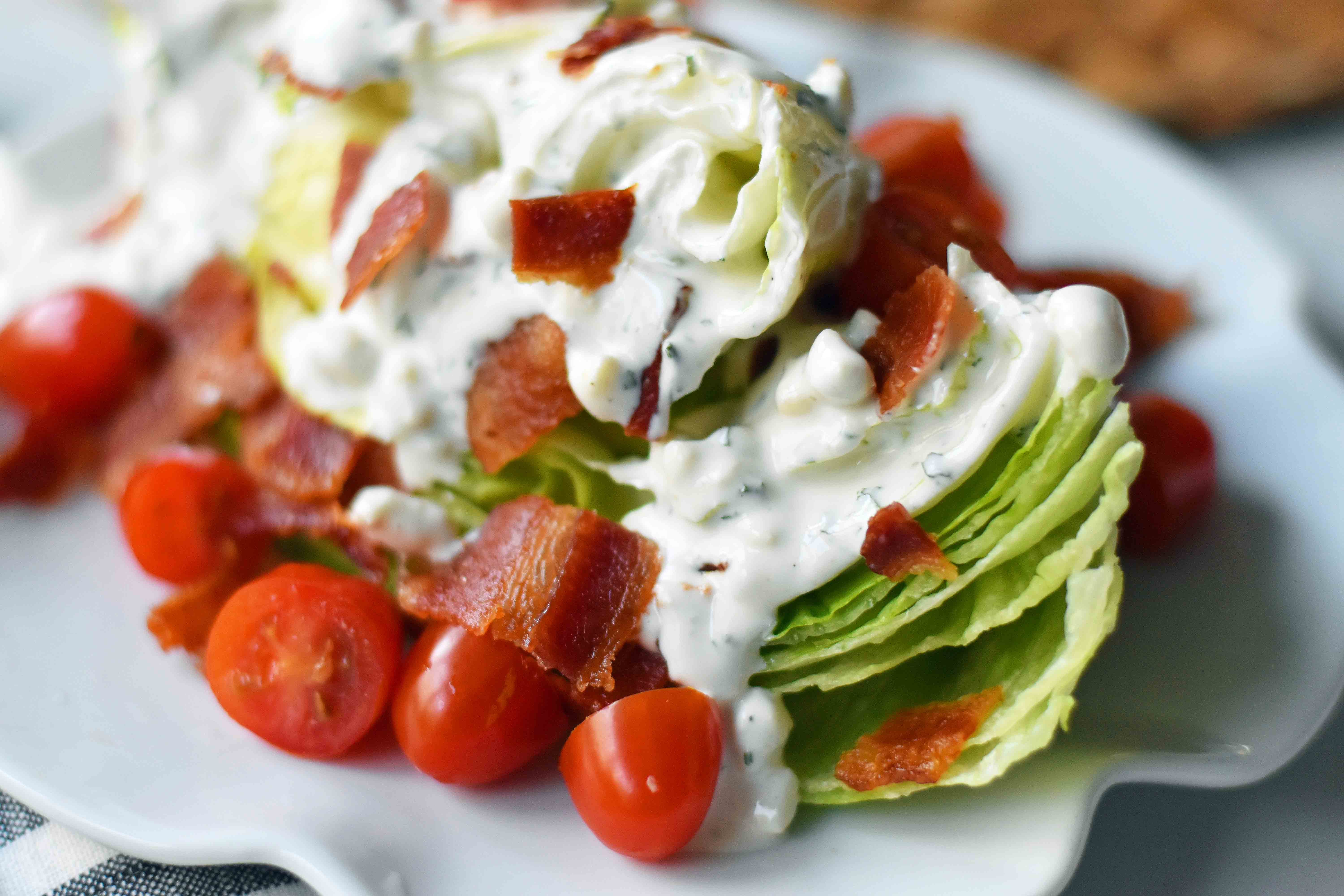 HOW TO MAKE the ULTIMATE BLT WEDGE SALAD:
 Start with iceberg lettuce.  This is the best lettuce to use as you need something that will stand up once it is quartered. It is also crisp so it holds up to a creamy dressing.

Use small cherry or grape tomatoes

.  These are so easy to cut in half and give a robust fresh tomato flavor. Sprinkle the tomato halves with a touch of salt before adding to salad.

Use high-quality bacon and cook until crispy

.  No soft, wilted bacon here! Cook bacon in a skillet until crispy or in an oven at 400 degrees for 20-22 minutes.  The oven method is so easy and a much easier clean-up.
Drizzle with homemade ranch dressing or blue cheese dressing. My kids prefer homemade ranch dressing on their wedge salad.  If you like blue cheese, stir in 1/2 – 1 cup of high-quality blue cheese to my homemade ranch dressing recipe.

If you love to add a bit more flavor, drizzle salad with a balsamic glaze

. It is amazing!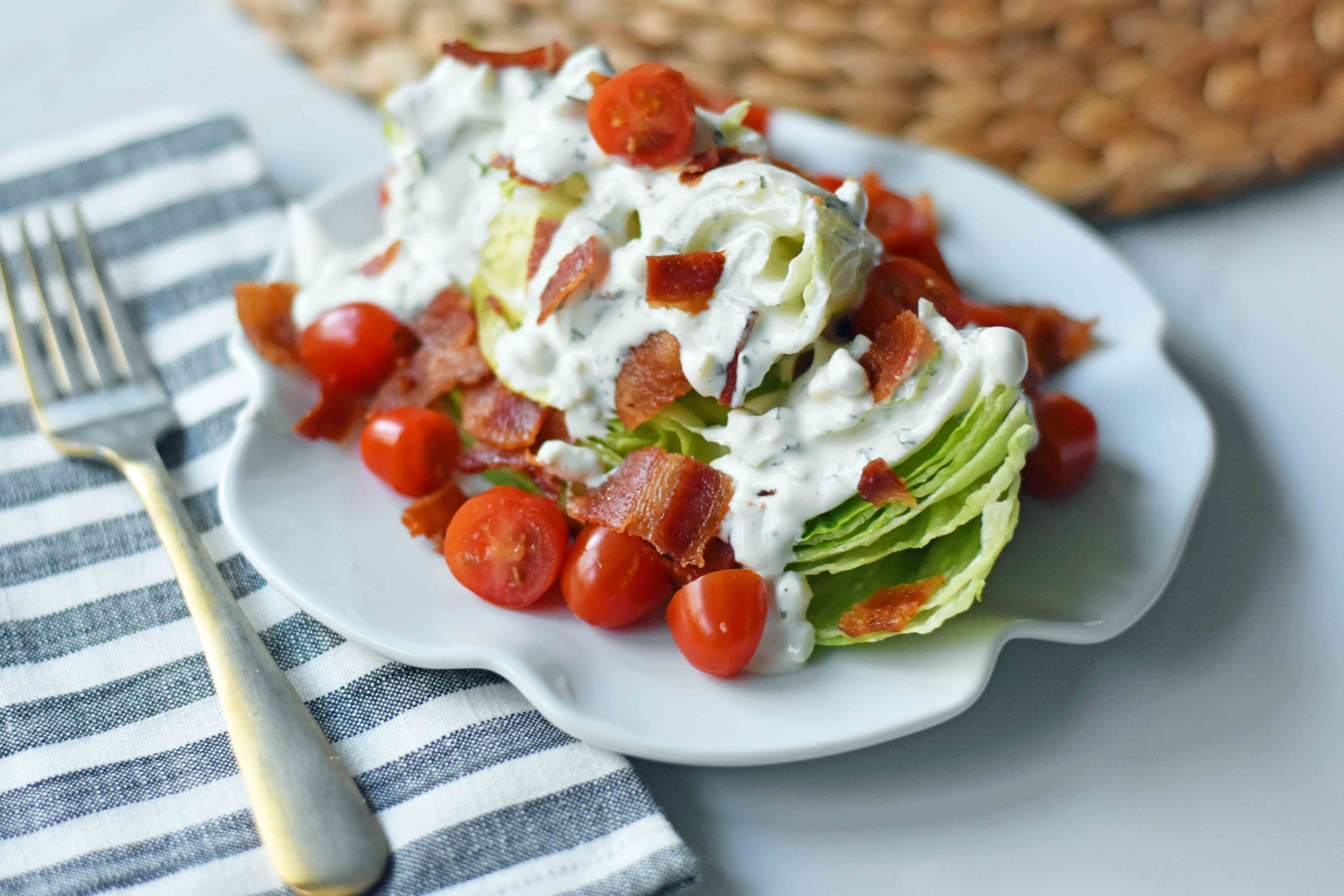 Pin this now to find it later
Pin It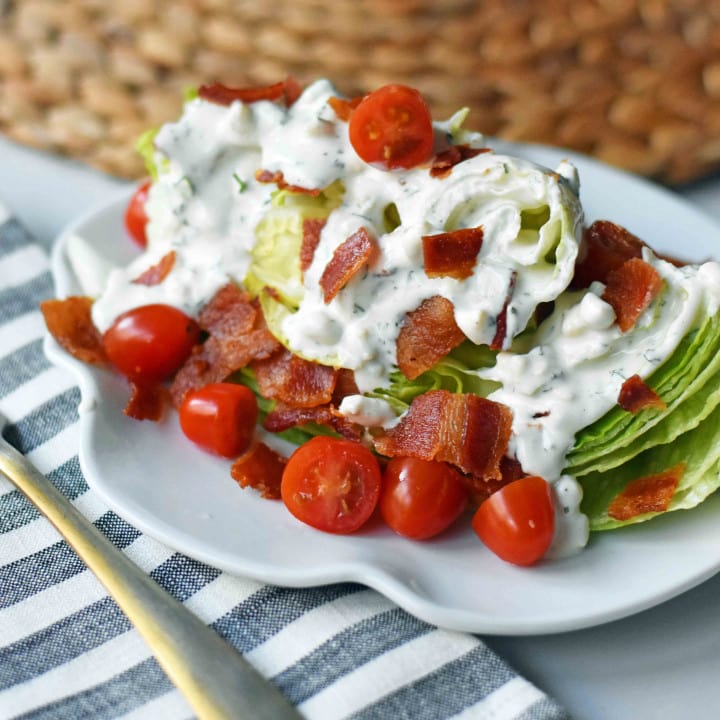 Ultimate BLT Wedge Salad
Ultimate BLT Wedge Salad made with crisp iceberg lettuce, fresh cherry tomatoes, crispy bacon, with a homemade creamy ranch or blue cheese dressing. A classic, crowd-favorite salad.
Ingredients
1 - 2

Heads Iceberg Lettuce

each lettuce cuts into 4 wedges

2

cups

Cherry Tomatoes

halved

8

Slices

Bacon

cooked until crispy

1/2 - 1

cup

Blue Cheese

crumbled (optional)

Balsamic Glaze

optional

Homemade Ranch Dressing:

https://www.modernhoney.com/homemade-ranch-dressing/
Instructions
Cook bacon until crispy. If using a skillet, cook according to package instructions. To cook in the oven, heat the oven to 400 degrees. Line baking sheet with foil. Cook bacon for 20-22 minutes or until desired crispiness. Drain on a paper towel-lined plate. Cut into bite-sized pieces.

Quarter each head of iceberg lettuce into 4 wedges.

Top with halved cherry tomatoes, crispy bacon, and blue cheese, if using. You can also stir blue cheese into the dressing.

Drizzle with ranch or blue cheese dressing.

Drizzle with balsamic glaze, if so desired.
Nutrition information is automatically calculated, so should only be used as an approximation.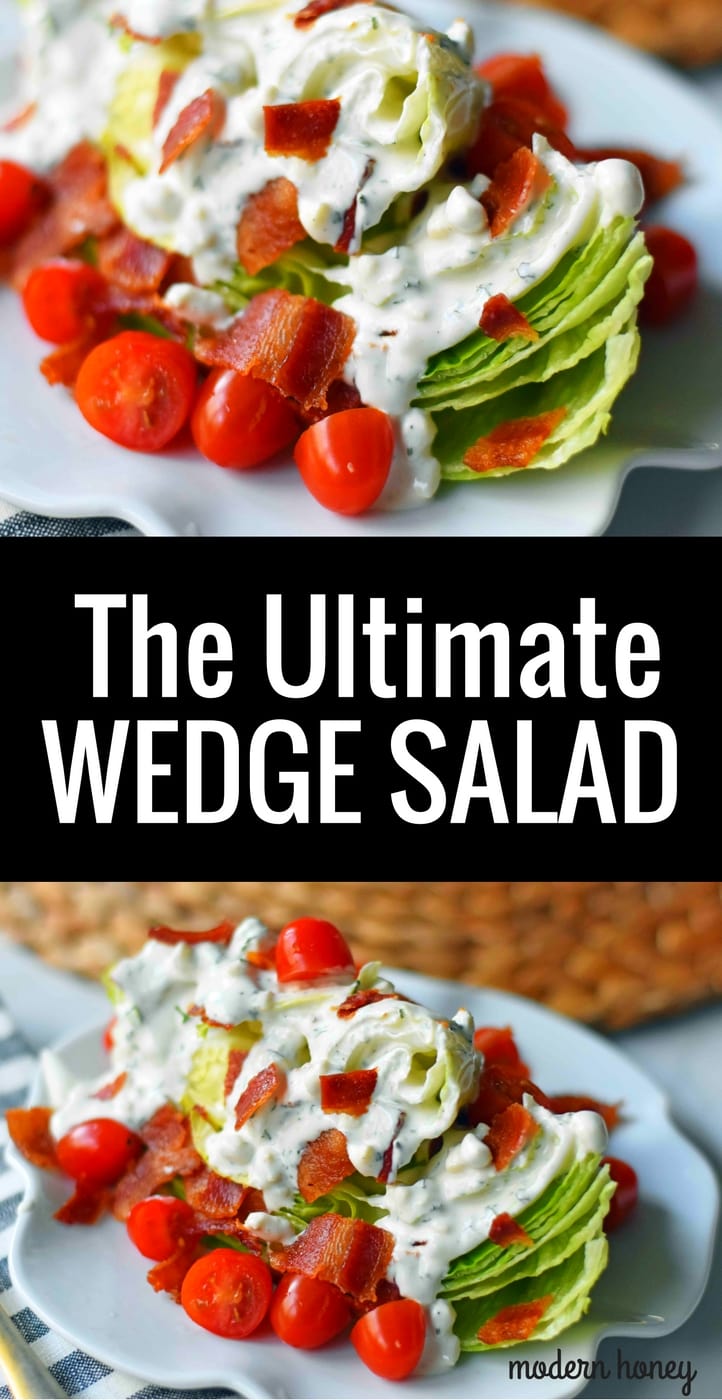 Who is a BLT Wedge Salad fan? I hope that I am not alone in my love of this classic salad.  Have a great weekend, my friends!