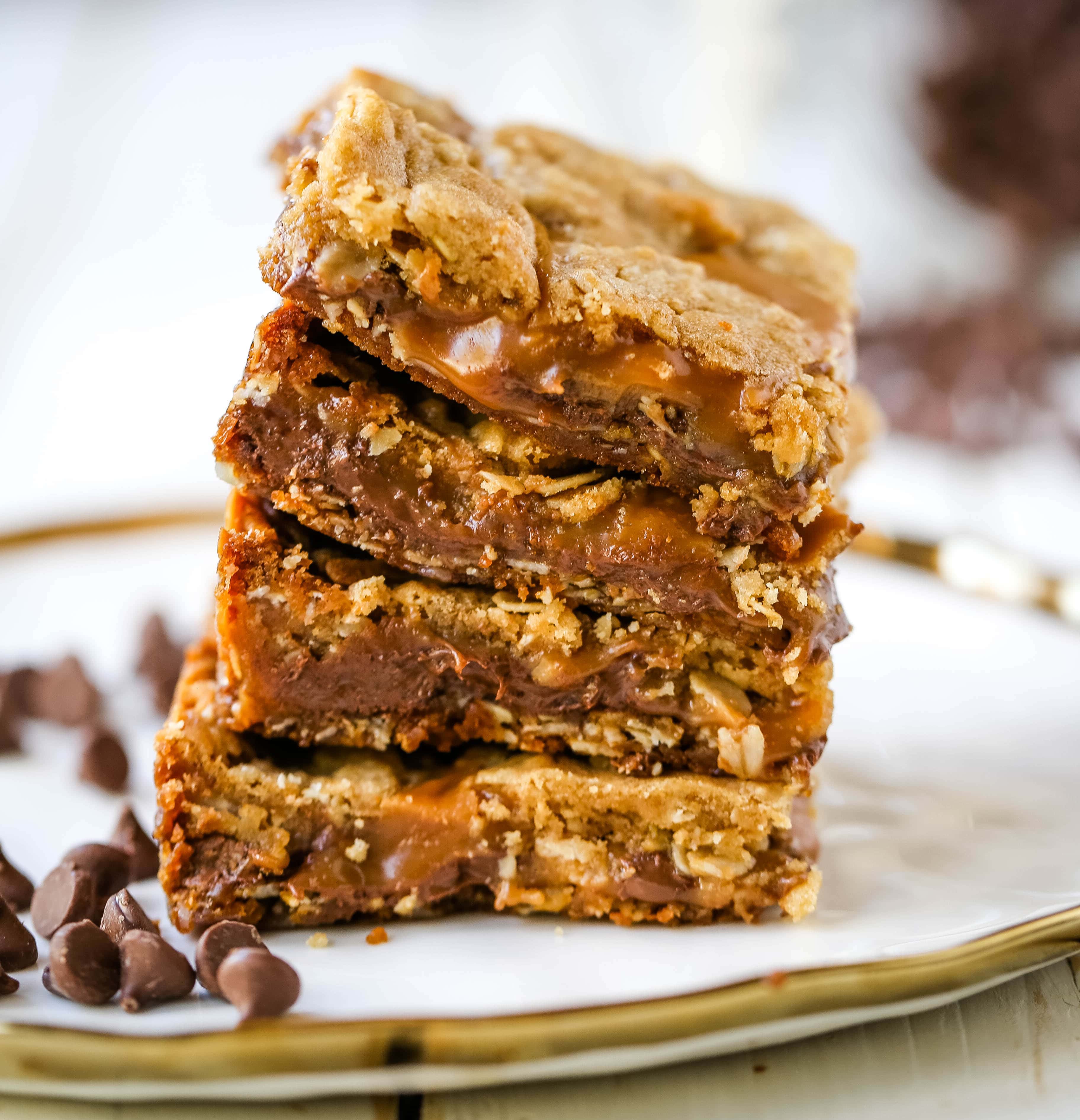 Caramelitas Chocolate Caramel Oatmeal Bars
Buttery oatmeal cookie layer with gooey sweet caramel and rich milk chocolate.  The perfect caramelita bar recipe!
Let's just put some of the best ingredients in the world into one bar -- CHOCOLATE, CARAMEL, and a SWEET BUTTERY OATMEAL CRUST.  You literally can't go wrong with this caramelita bar. There's a reason why it's such a beloved dessert bar.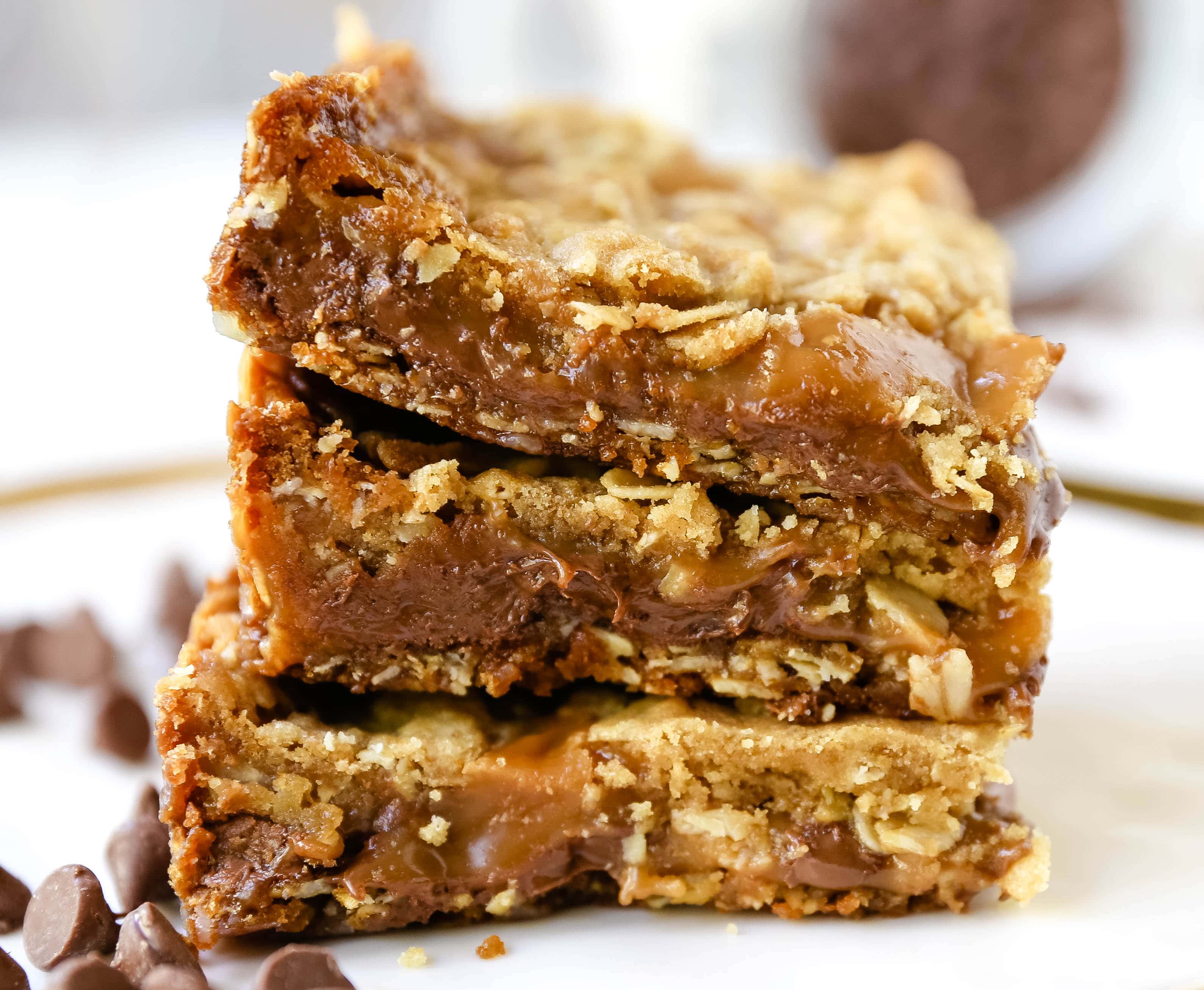 The first time I tried one of these bars, I immediately texted the friend who brought them to me and begged her for the recipe. They were the quintessential balance of buttery goodness with the rich caramel and creamy milk chocolate. The chewy, buttery oatmeal crust pairs perfectly with the sweet caramel.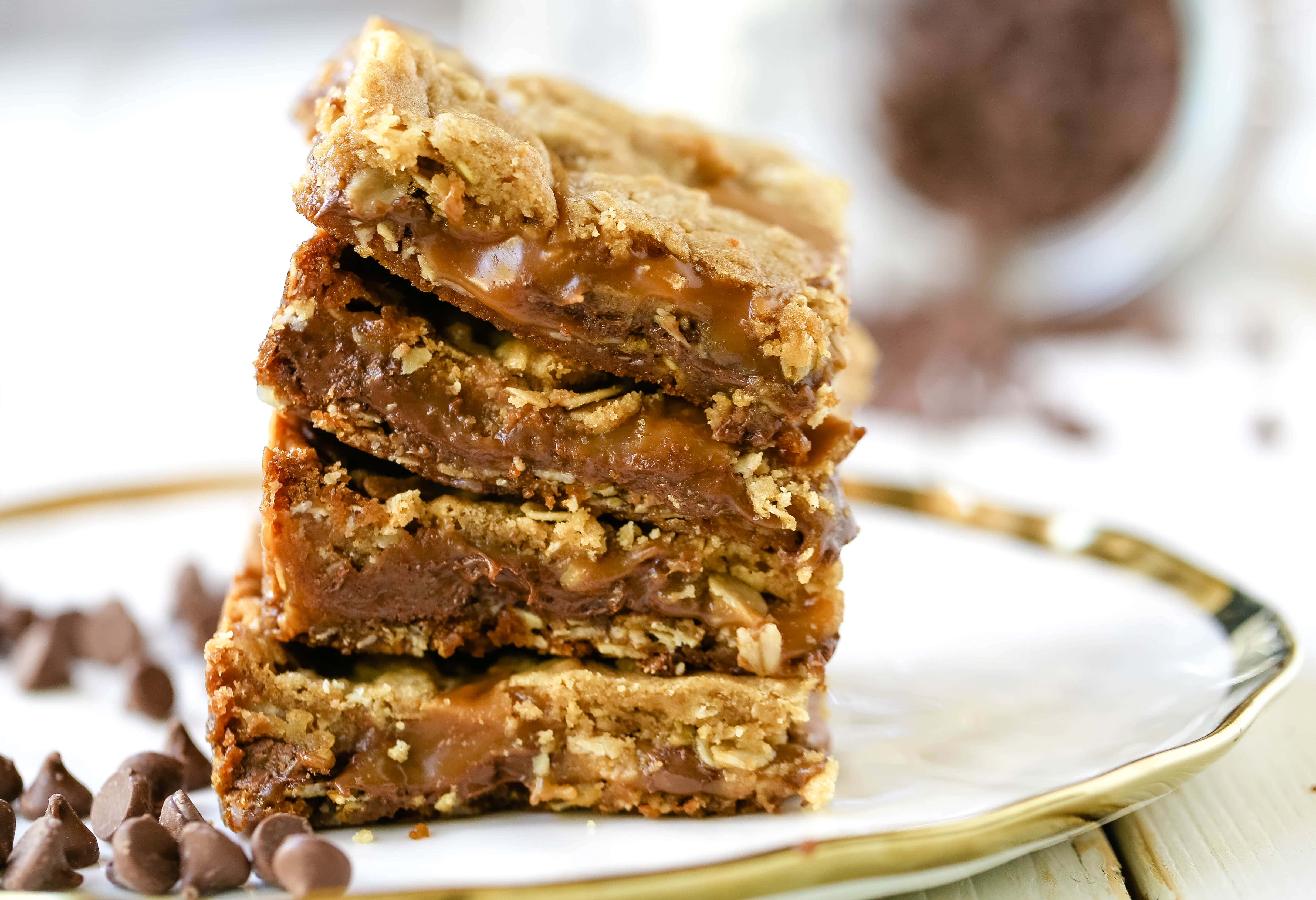 I love me some chocolate. My 16-year old son doesn't miss an opportunity to roast me about my love of chocolate. I own every bit of it though!
When I make these chocolate caramel oatmeal bars, I always reach for milk chocolate. Since it is more mild in flavor, it doesn't overshadow the caramel and lets it shine. Sometimes if you use a semi-sweet  or dark chocolate, it can take over the show. I call it the "show stealer" and I believe every ingredient should have a day in the sun. My favorite milk chocolate brands are Guittard and Ghirardelli. I also love to pick up the Pound Plus Milk Chocolate Bar from Trader Joe's.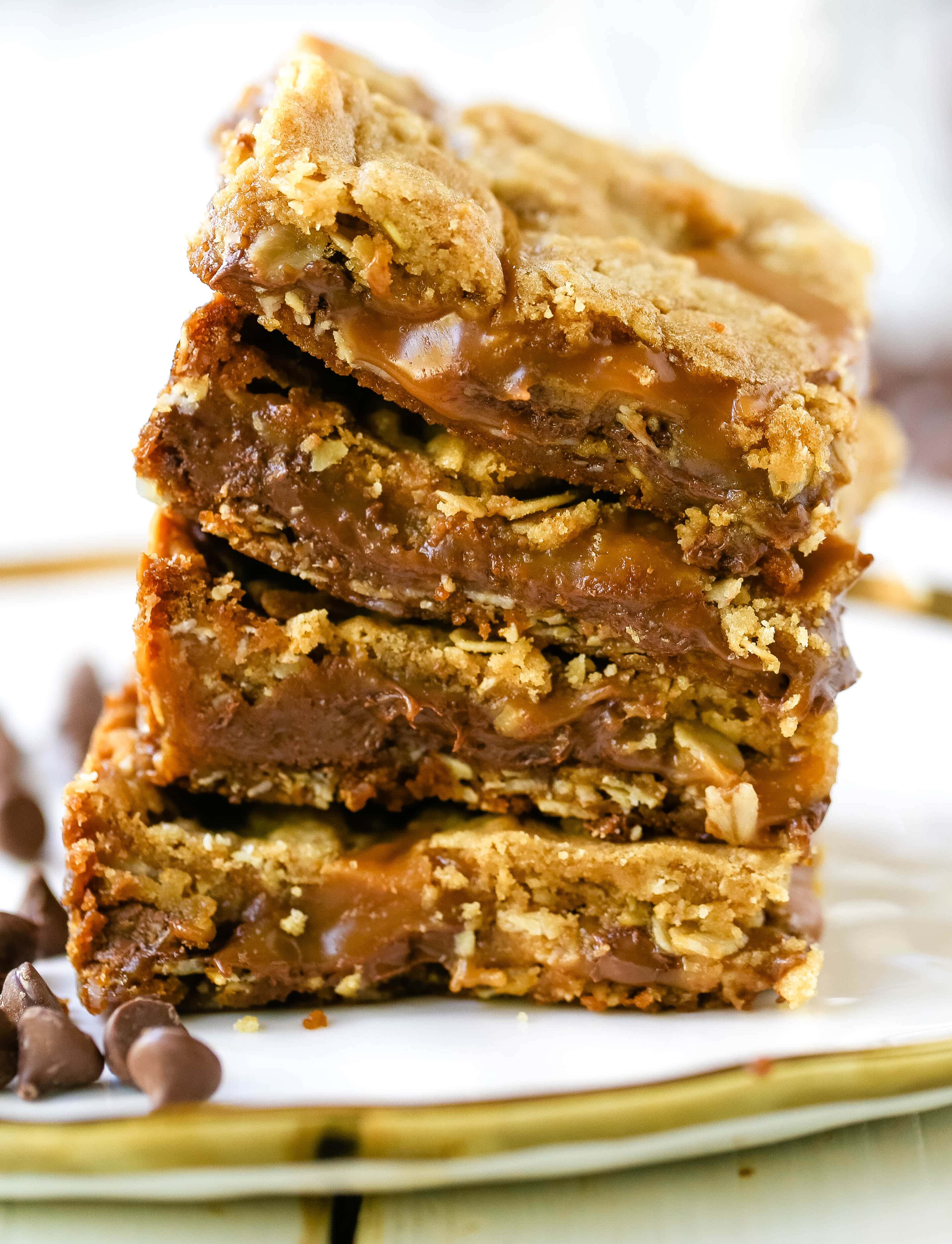 Sometimes I make homemade caramel but let's be real here...some days I am just lazy. I look for the shortcut that still tastes amazing. I reach for Werther's soft caramels because they taste the most like homemade. They are melted with a touch of heavy cream to make the perfect caramel consistency for these milk chocolate caramel bars.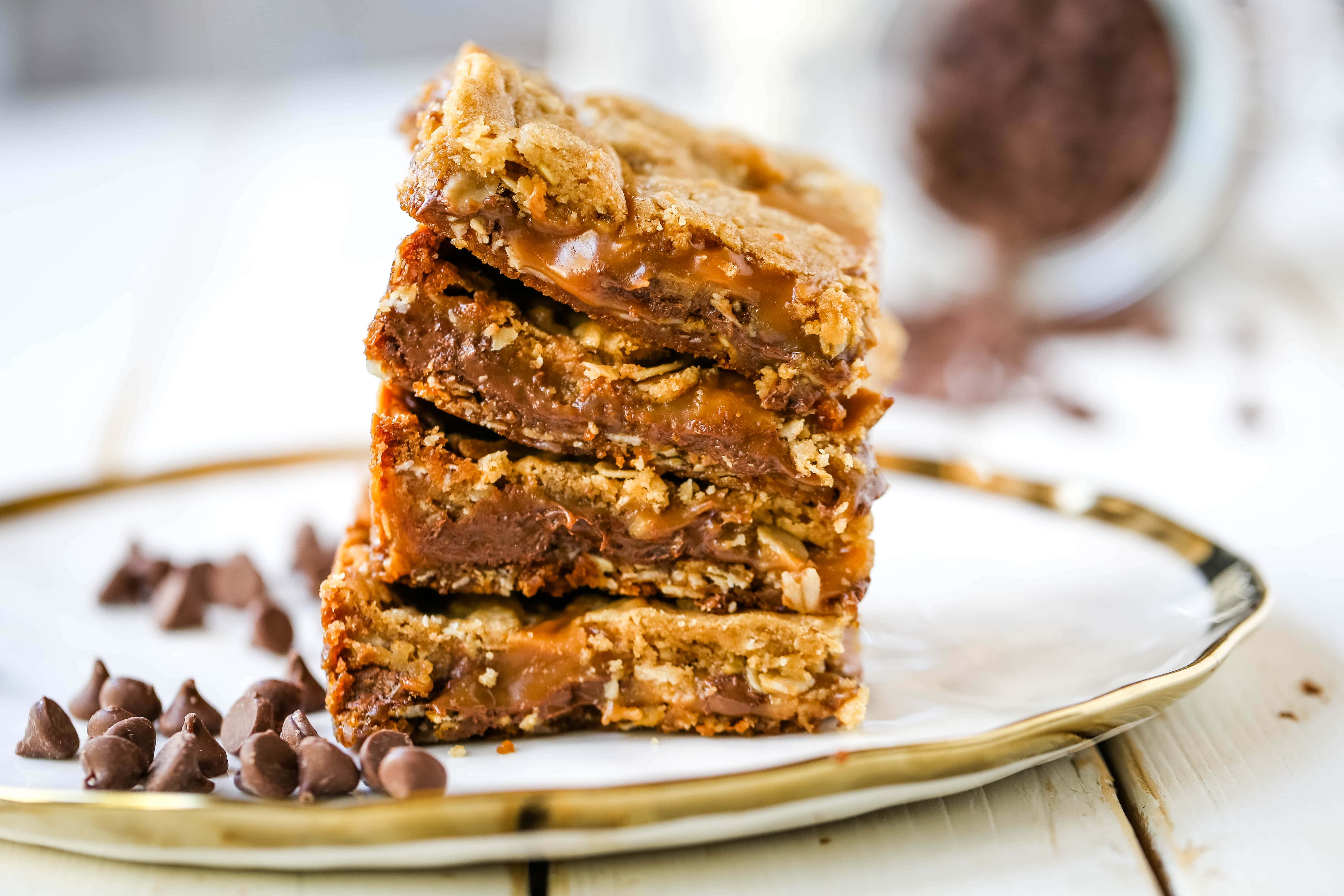 These caramelitas are amazing served at room temperature or cold straight out of the refrigerator. Just make sure to give them a few hours to set up to allow the caramel too cool. This will be an exercise in patience. I am pretty sure I fail this test every single time. 🙂
One thing I know for sure is that you need to be prepared to fall in love with these Caramelitas. You are going to fall hook, line, and sinker.