Easy chocolate brownies topped with creamy mint filling and chocolate ganache. The perfect mint chocolate brownie recipe!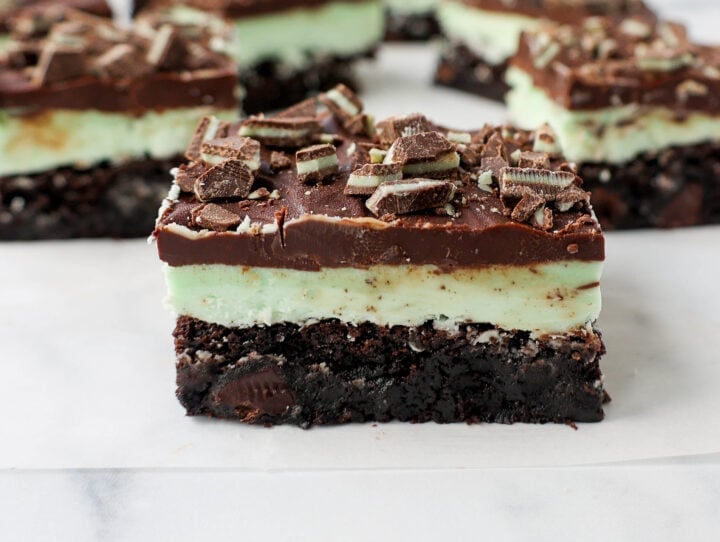 Since St. Patrick's Day is right around the corner, I wanted share to share the perfect green dessert --Chocolate Mint Brownies. If you haven't tried these frosted mint chocolate brownies, then you are in for a real treat!
These Frosted Mint Brownies start off with a chocolate brownie layer and are topped with a creamy mint frosting layer and then coated with a rich chocolate layer. If you love chocolate and mint together, you will love these mint brownies!
Plus these mint chocolate brownies are super simple to make. You can start off with a boxed brownie mix. Years ago, I conducted a big boxed brownie bake-off and had dozens of people come taste all of the different kinds of brownie mixes. You can find out here which brownie mix reigned supreme.
If you love mint chocolate desserts, I have shared some yummy mint cookie recipes so check out my Frosted Mint Chocolate Brownie Cookies , my decadent Chocolate Mint Chip Cookie Recipe and easy Chocolate Chip Cookies with Mint Chips.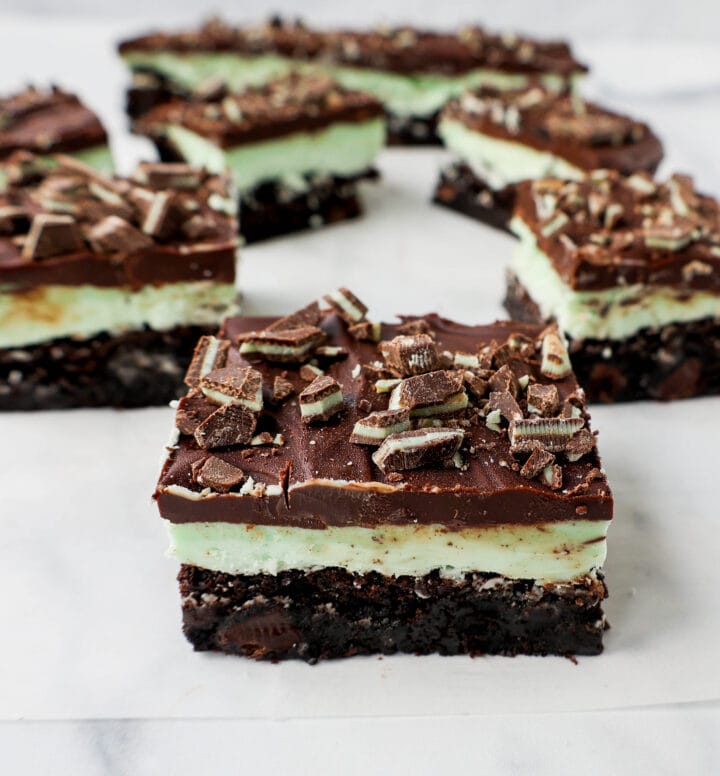 Frosted Mint Chocolate Brownies Ingredients:
Chocolate Brownie Mix -- I suggest using Ghirardelli or Hershey's Chocolate Chunk Brownie Mix. You can also make brownies from scratch using this recipe.
Oil -- this helps to make the brownies super moist. You can use any type of oil from canola to vegetable to olive oil.
Butter -- this is the base for the mint frosting layer. You can use salted or unsalted butter in this recipe. If you use unsalted butter, add a pinch of salt to balance the sweetness.
Peppermint Extract -- I suggest using a good quality peppermint extract and starting off with just a small amount. I prefer to use the Nielsen-Massey Peppermint Extract.
Chocolate Chips -- this is for the decadent chocolate layer on top of the mint cream frosting. I would suggest using semi-sweet chocolate but you can also use dark chocolate or milk chocolate. My favorite chocolate is Ghirardelli, Guittard, and Callebaut.
Butter -- this is to be melted with the chocolate to create the perfect chocolate layer.
Green Food Coloring
Powdered Sugar
Milk
Eggs
Water
See the recipe card below for full instructions and recipe ingredients.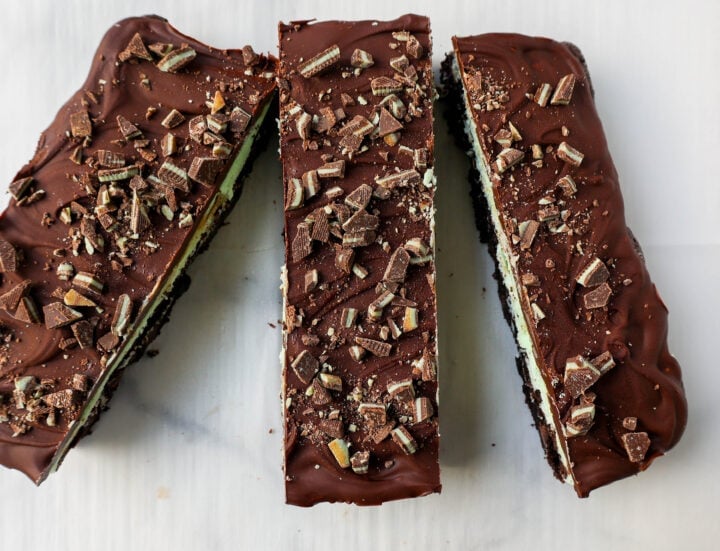 How to make Frosted Mint Brownies:
Start by placing parchment paper in an 8-inch baking pan and press into the sides. If you don't have parchment paper, you can just lightly spray the baking pan with non-stick cooking spray.
Make the brownie batter according to the package instructions or if you are using my homemade brownie recipe, make a batch. If you want a thinner brownie layer, you can ½ the recipe. Pour the brownie batter into the pan and bake for about 25 minutes or until a toothpick comes out clean. Let the brownies cool completely.
Make the mint cream layer by whipping the butter, powdered sugar, milk, and mint extract together until light and fluffy. Since mint extract has a very strong flavor, start with just a small amount and you can always add more. Stir in the green food coloring.
Make the chocolate layer by melting in the microwave the butter and chocolate chips at 50% power in 45-second increments until the chocolate and butter are melted. Stir until smooth.
Once the brownies have cooled, frost them with the mint frosting, and then pour on the chocolate mixture. Let set up at room temperature or you may cover it and chill it in the refrigerator.
If you used parchment paper, carefully lift up the sides and remove the brownies from the pan to cut them into small squares. For extra smooth cuts, I suggest using a sharp knife dipped in hot water and wiped off with a paper towel.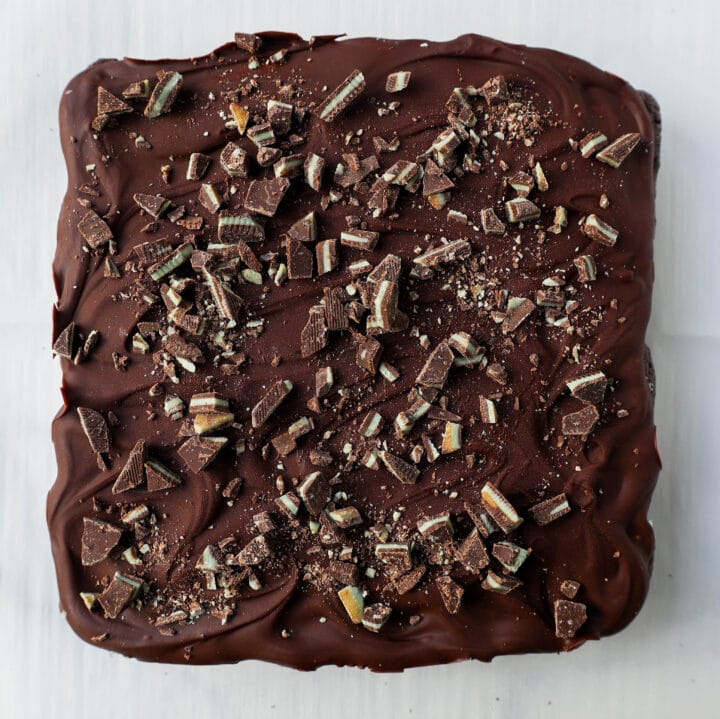 BAKING TOOLS:
Here are some baking tools I love to use in my kitchen...
I love to hear from you! If you make this recipe, please be sure to leave a comment and give this recipe a rating. Sign up for my newsletter below so you never miss a recipe. Thank you for following along! I truly do have the greatest readers. FOLLOW ME ON: INSTAGRAM — FACEBOOK— PINTEREST