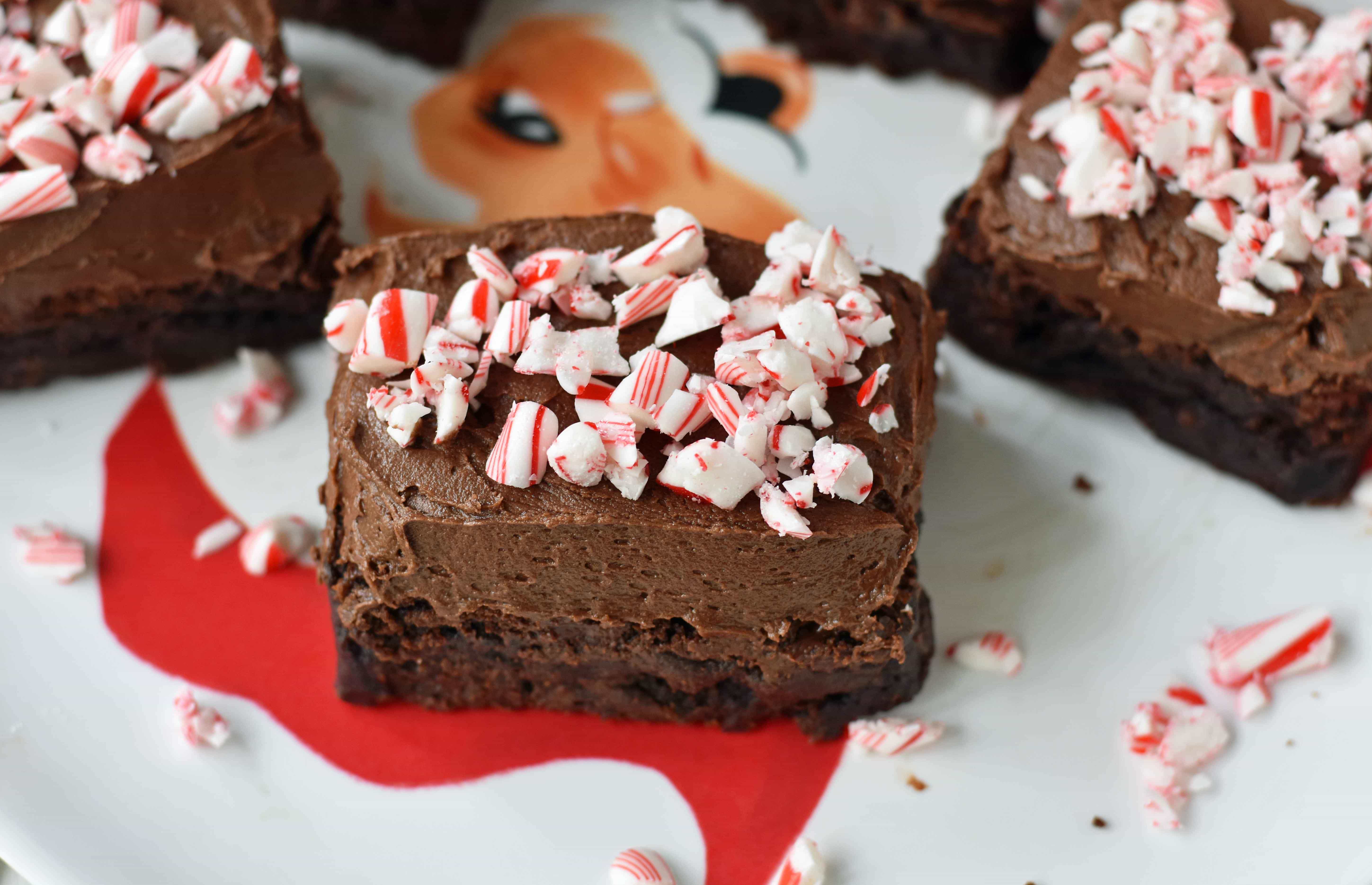 Peppermint Frosted Chocolate Brownies are made with a decadent homemade chocolate brownie with creamy chocolate frosting topped with crushed candy canes. A festive chocolate peppermint brownie!
It's officially DAY #11 of my 12 Days of Christmas Cookies and I am sharing a recipe for killer Peppermint Frosted Chocolate Brownies. It's technically not a cookie but seriously when it is a brownie, there is no apology needed. 🙂 Find all of the cookie recipes down below.
I am a total window shopper. I was born into a family of five brothers so my Mom loved to finally have a shopping buddy. We spent hours and hours shopping and eating waffles cones filled with frozen yogurt. I didn't have to buy anything to have a good time with my Mom. I just loved the whole experience.
Some of my favorite stores are Williams Sonoma and Sur La Table. I rarely buy things, except when I have my husband along with me, who encourages me to actually buy something nice. I will walk around, peruse, test out kitchen tools, and thoroughly enjoy being in my element, surrounded by things I love. I recently saw a food photo from Williams-Sonoma of the most decadent peppermint chocolate brownies. I looked at the price tag and thought...I will definitely make these at home!
I went home and by the next day, I made a fresh batch of Peppermint Frosted Chocolate Brownies. They were everything a good brownie should be -- rich, decadent, and chocolatey. The silky smooth chocolate frosting put them over the top and the crushed candy canes made the brownies look so festive.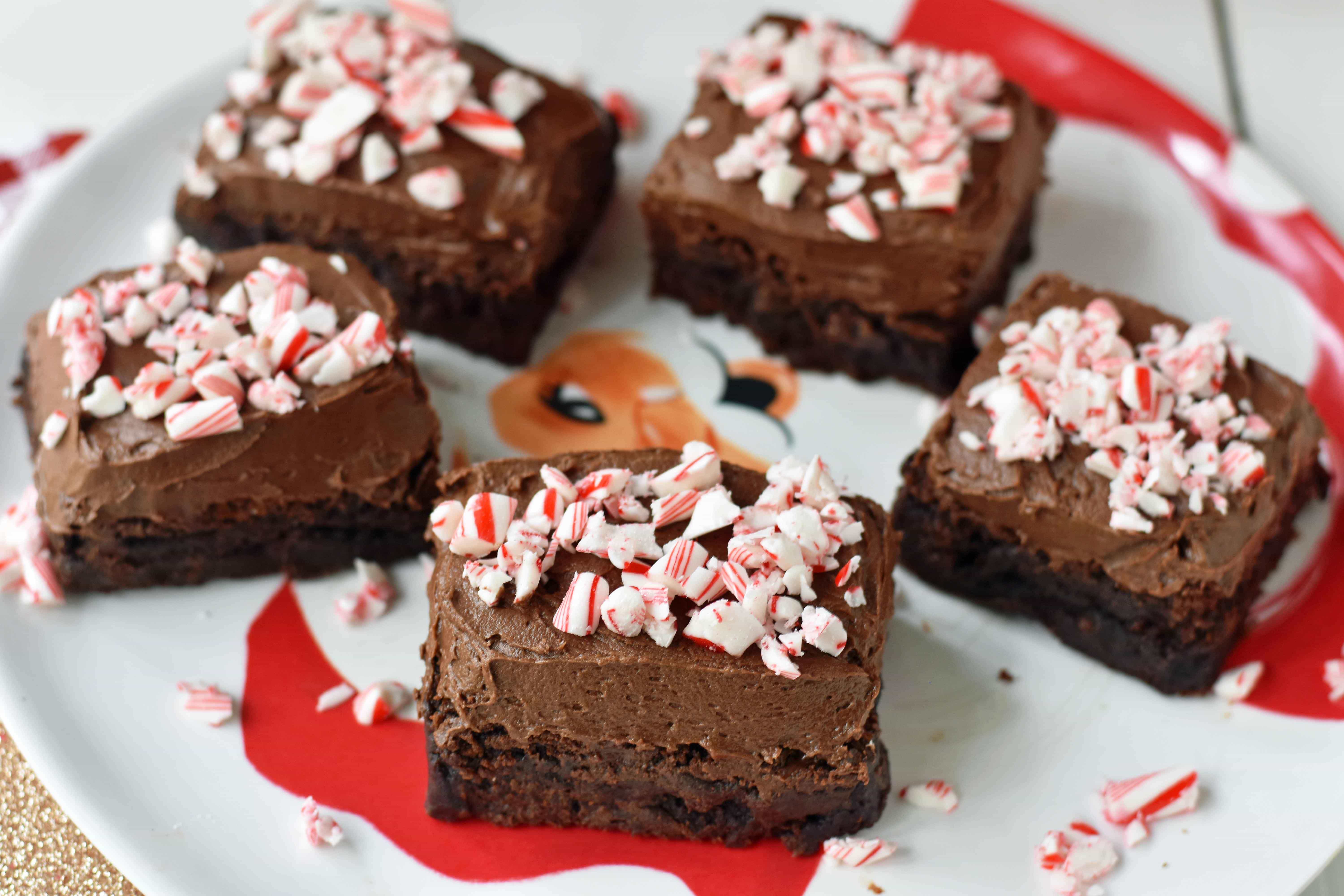 How to make perfect Peppermint Frosted Chocolate Brownies:
Don't overbake. Holy cow this is a big one. Ask my kids how crazy it makes me when I see the cooking times listed on a brownie mix or cake mix box and it's such a long baking time listed that you'll end up with hockey pucks! No wonder people think they are bad cooks when really we can just chalk it up to bad directions. Can we do that? Yes, we can. Anytime you are baking up a cookie, cake or brownie....watch those precious gems like a hawk. You want laser beam focus because a few minutes can be a difference maker. Here is my favorite pan -- USA 8 inch Bakeware Square Cake Pan
Cream butter + sugar for 4 minutes to ensure you don't end up with grainy brownies. Creaming works wonders in baked goods as it helps to dissolve sugar crystals and it creates little pockets of air. The butter wraps around the sugar as it coats it and helps say goodbye to the grainy texture.
Don't overmix your flour. You know how kneading bread makes it better....well it's the opposite with baked goods. If you overmix your batter, it creates more gluten which can leave you with a tougher brownie. We want a tender one! Mix until just combined or even turn off your mixer and fold in your flour.
Use high-quality cocoa. It's the star ingredient and it's integral to the overall success of the brownies. I buy Callebaut cocoa powder in bulk at Winco and even though it's high-quality stuff, it is actually less expensive than buying one of the other popular brands in the store. It makes a huge difference in the depth of flavor.
Add chocolate chunks or chips. Because if you are going to eat chocolate, you want to really eat chocolate. Adding semi-sweet chocolate adds a richness to it and another depth of flavor. Guittard and Ghiradelli are some of my favorite brands of chocolate. Trader Joe's makes a killer chocolate bar and it melts beautifully.
PIN on PINTEREST:
12 DAYS of COOKIE CHRISTMAS:
DAY #1 -- Soft Chewy Sugar Cookies
DAY #2 -- Cranberry Orange White Chocolate Cookies
DAY #3 -- Red Velvet Crinkle Cookies
DAY #4 -- Caramel Filled Chocolate Crinkle Cookies
DAY #5 -- Chocolate Caramel Slice
DAY #6 -- Grandma Geri's Gingersnaps
DAY #7 -- Dulce de Leche Cinnamon Sugar Sandwich Cookies
DAY #8 -- Ghirardelli Sea Salt Caramel Chocolate Cookies
DAY #9 -- Chocolate Mint Chip Cookies
DAY #10 -- Mrs. Claus Peppermint Bark Chocolate Cookies
Happy Baking, my friends! xo