Dulce de Leche Cinnamon Sandwich Cookies are soft cinnamon sugar snickerdoodle cookies filled with dulce de leche caramel.
I am a sucker for all things caramel. I am also a sucker for soft, chewy cinnamon sugar snickerdoodles. So why not marry the two together? This was a no-brainer, of course. It was a marriage that was meant to be because these sandwich cookies taste amazing!
It's DAY #7 of Modern Honey's 12 Days of Cookie Christmas. I wish it could even be longer! See below for links to ALL of the Christmas cookie recipes thus far. I have a ridiculous amount of recipes to share with you and need 1,458,932 hours in the day to get everything done that my mind wants to do.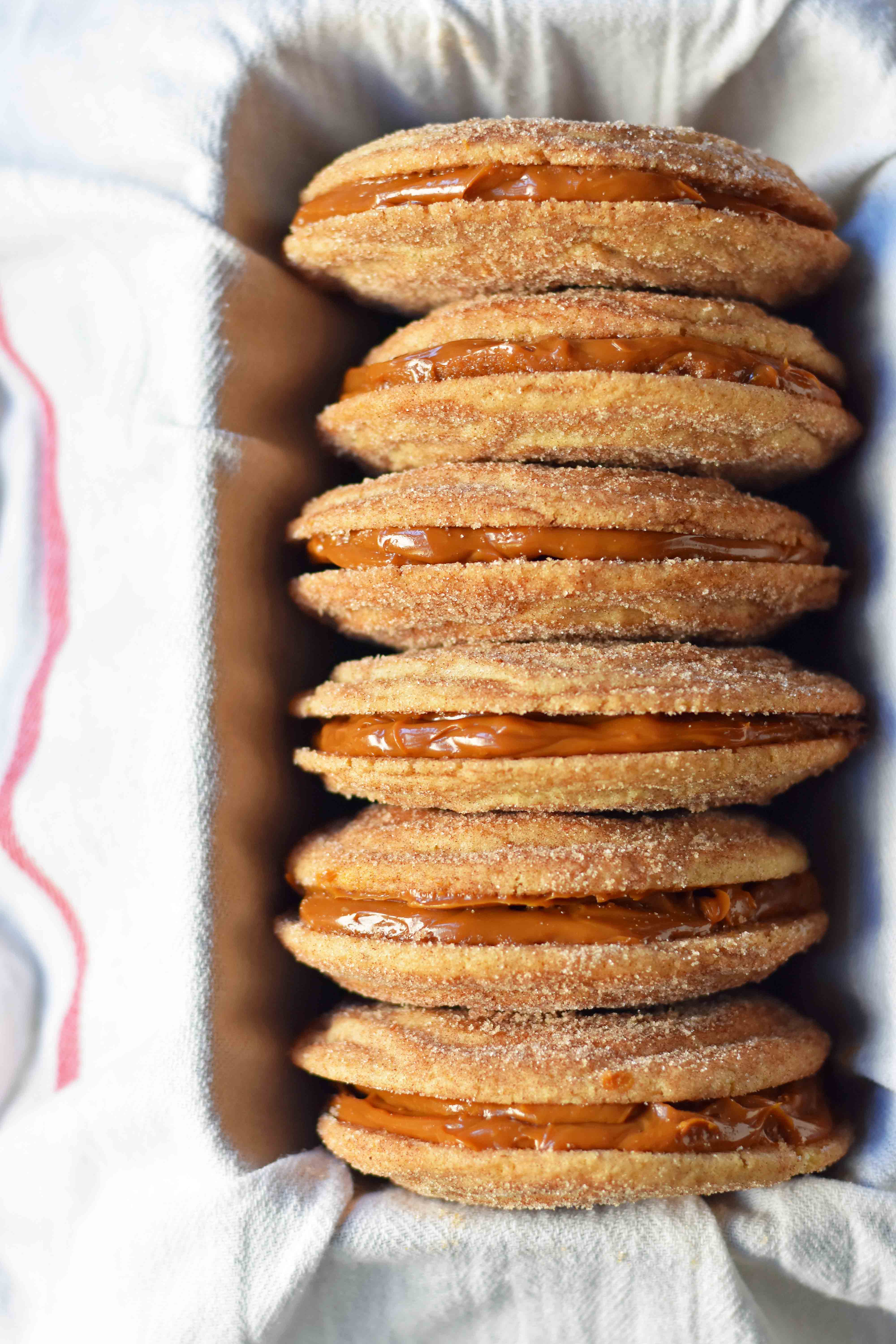 So what is dulce de leche? So glad you asked. Dulce de leche is a South American caramel made by slowly cooking sweetened condensed milk until it reaches a warm amber color. It is smooth, creamy, and has a rich buttery flavor. It is very popular in Mexico and can be found in many desserts. Where to find dulce de leche? It can be found in grocery stores in the baking aisle near the sweetened condensed milk or in the international aisle. I love how convenient it is and the creamy texture lends itself perfectly to these cookies.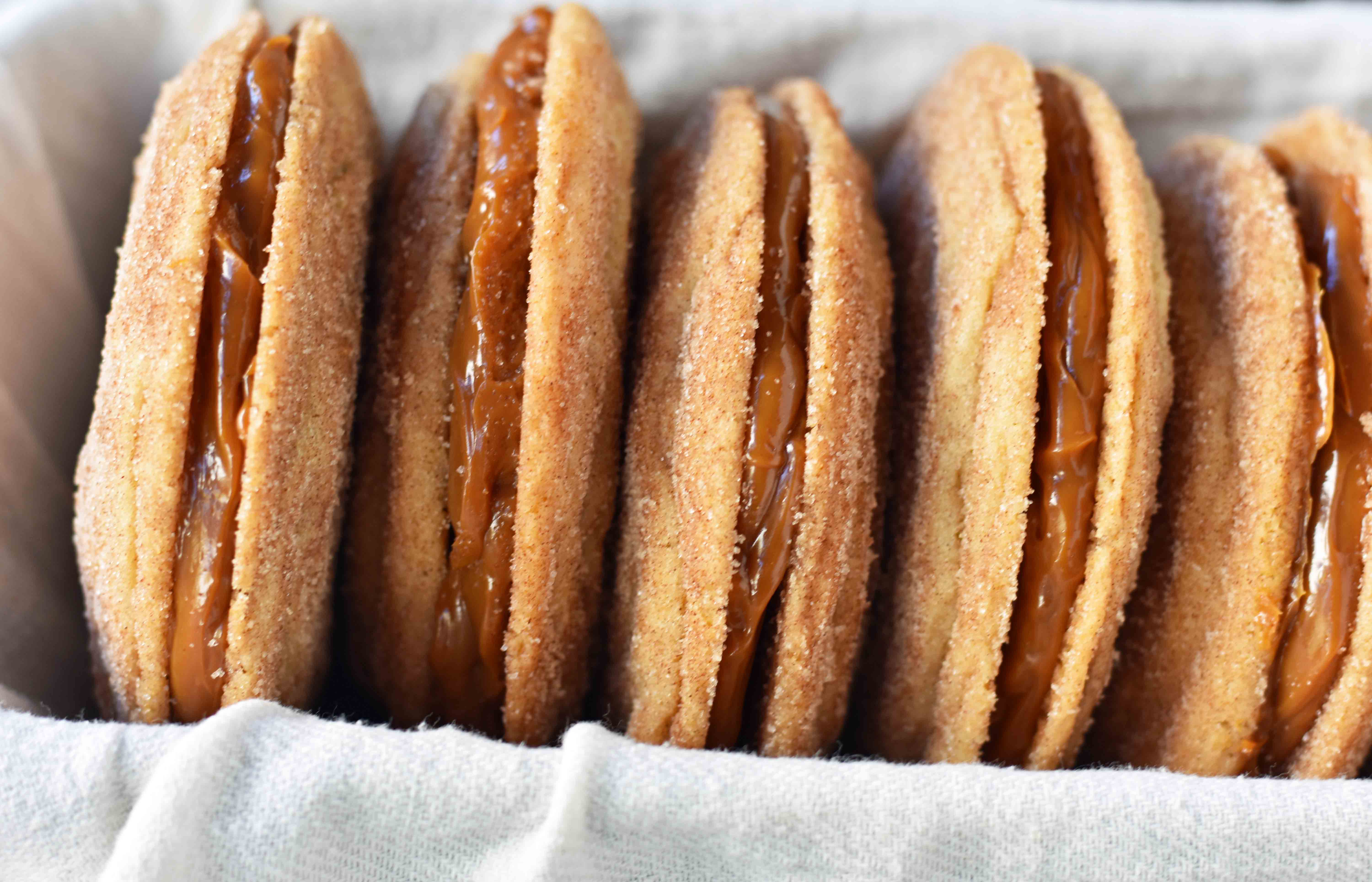 As many of you know, I have loved cookbooks since I was a little girl. Shocker, I am sure. I am also a very picky cookbook shopper. I study them for a long time before I even buy them. There are certain ones that I trust and will usually shell out the money for when they come out. America's Test Kitchen cookbooks are generally always good. I am so impressed with the time and effort they put into testing and re-testing their recipes.
America's Test Kitchen recently came out with a cookie cookbook and I was all over it. I found these Dulce de Leche Cinnamon Sandwich Cookies in their cookbook and had to play around with the recipe. I made a few changes to it and had to share it with you, my friends! If you are looking for a gift for any of your foodie friends -- this is of my favorite cookbooks -- Best of America's Test Kitchen Cookbook.
Let's get back to these Dulce de Leche Cinnamon Sandwich Cookies. This recipe starts off with making a soft, chewy cinnamon sugar snickerdoodle cookie. The key is to double roll the cookie dough into the cinnamon-sugar mixture to make sure it is completely coated. I am a big fan of soft snickerdoodle cookies so I usually pull them out of the oven when the edges start to turn lightly golden brown and the center is still puffy.
Let the cookies cool and then slather on the dulce de leche. The canned dulce de leche is heated up with a touch of butter to make it even easier to spread and a touch of cinnamon. Be generous with the dulce. People love the dulce de leche.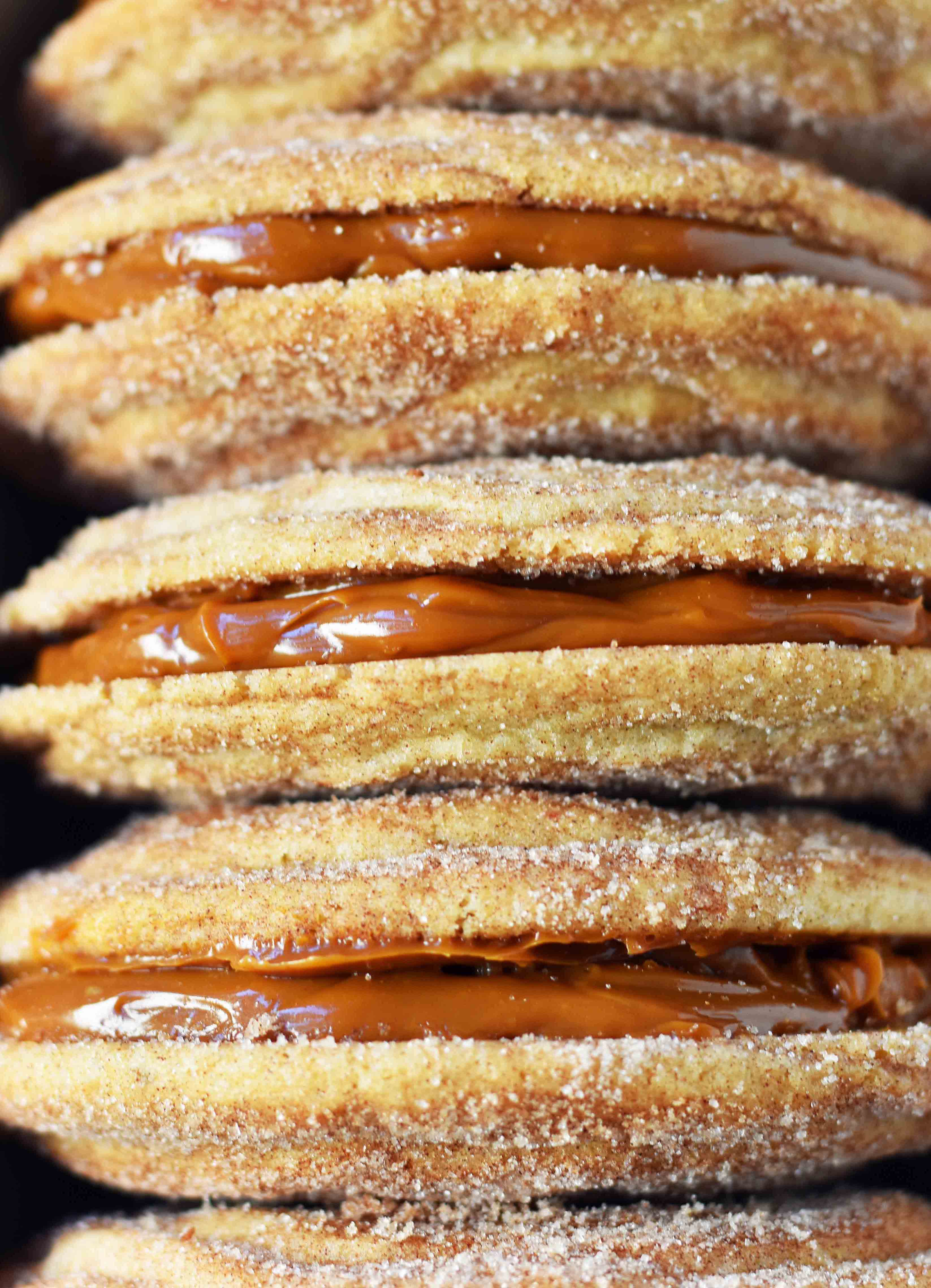 12 DAYS of COOKIE CHRISTMAS:
DAY #1 -- Soft Chewy Sugar Cookies
DAY #2 -- Cranberry Orange White Chocolate Cookies
DAY #3 -- Red Velvet Crinkle Cookies
DAY #4 -- Caramel Filled Chocolate Crinkle Cookies
DAY #5 -- Chocolate Caramel Slice
DAY #6 -- Grandma Geri's Gingersnaps
PIN on PINTEREST: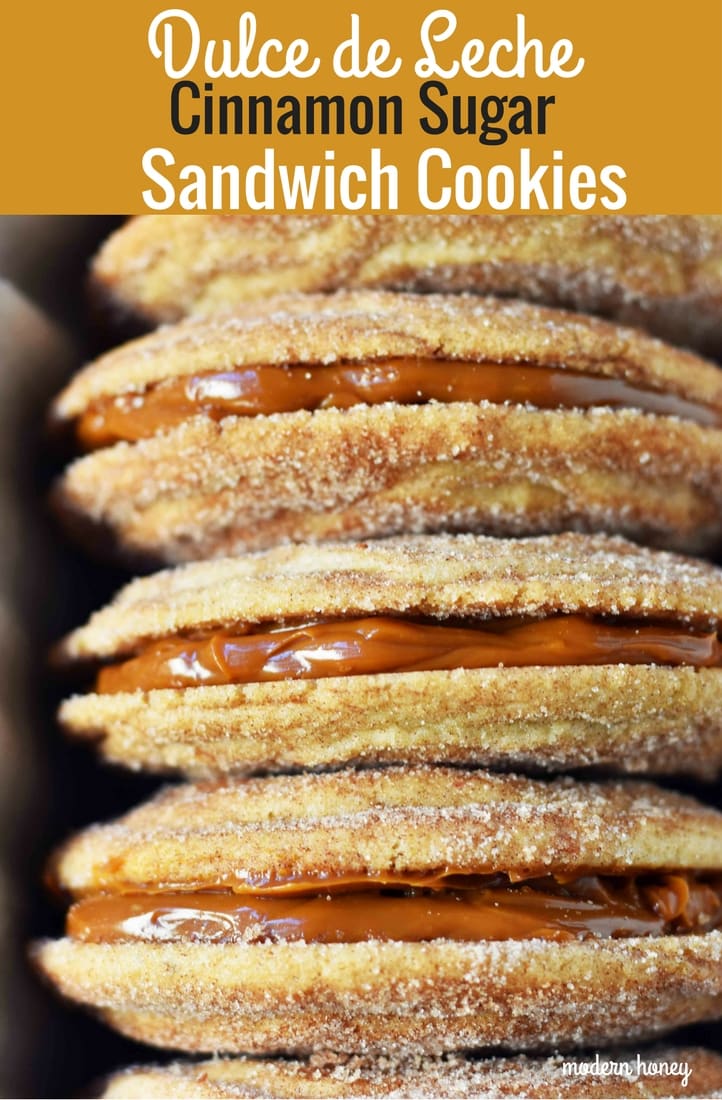 Happy Baking, my friends! xo