Chocolate Caramel Slice is a dessert with a buttery shortbread crust, creamy handcrafted caramel, and a silky smooth chocolate glaze. A gourmet Twix candy bar!
It's DAY #5 of Modern Honey's 12 Days of Cookie Christmas. We are keeping with the chocolate caramel theme and bringing you an out-of-this-world Chocolate Caramel Bar.
A "slice" is a decadent dessert popular in Australia.  It's basically a slice of heaven. Am I right?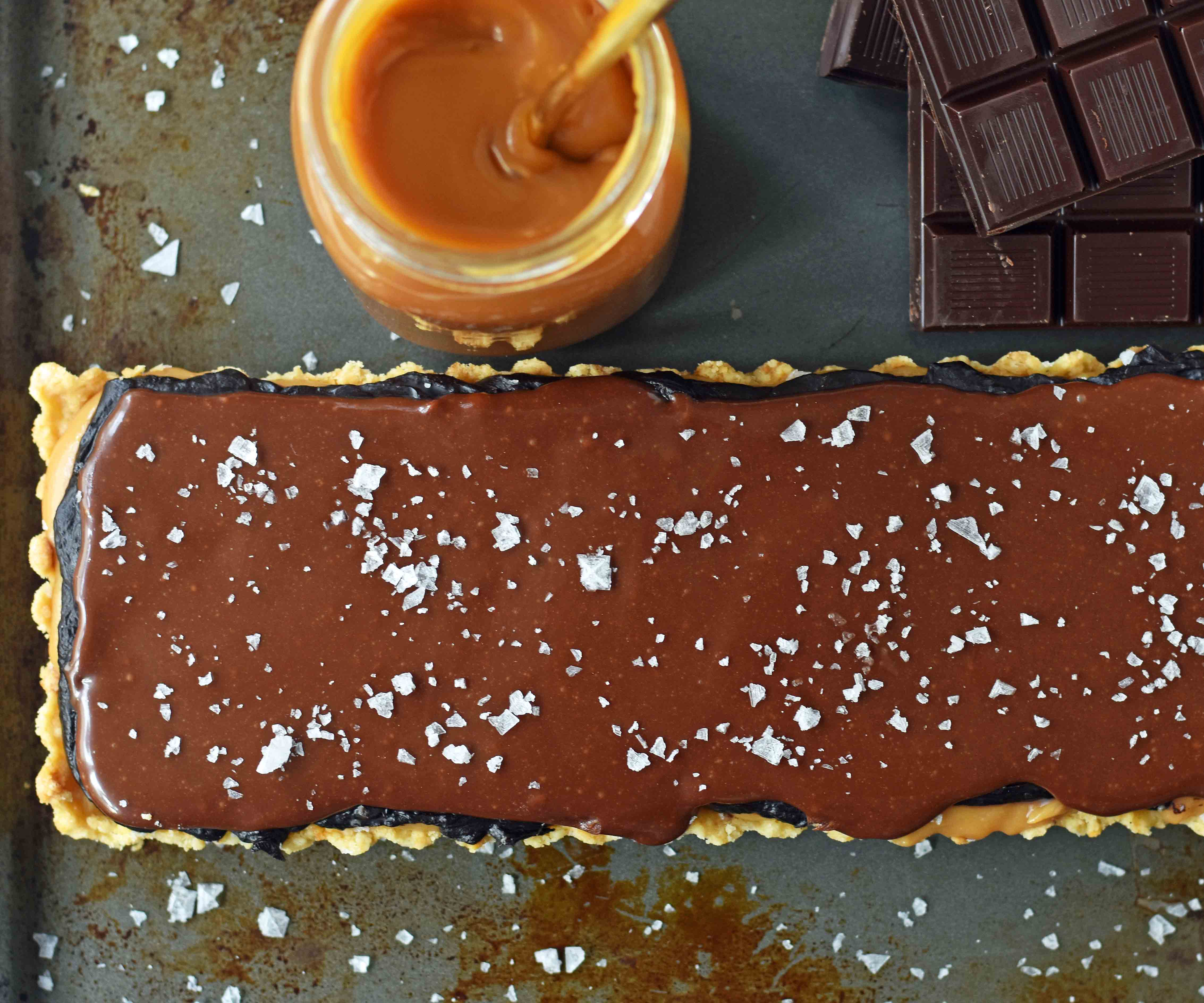 This Chocolate Caramel Slice is made up of three layers -- a shortbread crust, caramel, and chocolate ganache. The buttery shortbread is made up of a few simple ingredients -- butter, brown sugar, egg yolk, flour, and cornstarch baked until lightly golden brown. It has such a pronounced rich buttery flavor in a cookie crust. It is the perfect base for handcrafted caramel and silky chocolate.
The homemade caramel is super simple to make and is made up of sweetened condensed milk, brown sugar, butter, dark corn syrup, and vanilla. I am going to break down how to make a perfect caramel.
The chocolate glaze is a smooth ganache made up of chocolate and heavy cream. I am amazed at the beauty of ganache in desserts. This Chocolate Caramel Slice can be made with semisweet chocolate or milk chocolate, depending on taste. I used both just because I love the contrast of color and flavor.
If you love Twix candy bars, you will go crazy over this Homemade Chocolate Sea Salt Caramel Candy Bar. If you want to make a copycat Twix Candy Bar version, drizzle milk chocolate ganache all over the top.
I used a rectangle fluted tart pan with a removable bottom to make these bars. I prefer to use pans with removable bottoms since these tarts can be slightly fragile.  This is a reasonable tart pan and costs about $13. You can also use a 8 x 8 or 9 x 9 square pan to make these bars.
How to make Chocolate Caramel Slice Bars:
 Bake the crust until light golden brown. This helps to bring out the rich buttery flavor. Bake for 18-22 minutes until you start to see some color on the crust.
To make the homemade caramel: cook sweetened condensed milk, sugar, butter, dark corn syrup, and vanilla in the medium saucepan over medium heat. It is helpful to use a candy thermometer to know when the caramel is done. Bring to a gentle boil and watch for the thermometer to reach 225 degrees. It is imperative to whisk constantly to evenly distribute the heat. Once the caramel is done, pour it over crust.
Melt the chocolate and cream in the microwave in 20-30 second intervals until smooth. Spread chocolate over caramel. Sprinkle with sea salt flakes. You can find Maldon Sea Salt Flakes HERE. Let chill for at least 1 hour.
DAY #1 -- Soft Chewy Sugar Cookies
DAY #2  -- Cranberry Orange White Chocolate Cookies
DAY #3 -- Red Velvet Crinkle Cookies
DAY #4 -- Caramel Filled Chocolate Crinkle Cookies
Christmas Bucket List -- list of ideas and traditions to help feel the Christmas Spirit
PIN on PINTEREST:
Happy Baking, my friends! xo