Caramel-Filled Chocolate Crinkle Cookies are chewy chocolate cookies filled with ooey-gooey caramel.
It's DAY #4 of Modern Honey's 12 Days of Christmas Cookies. As I was creating a very long list of Christmas cookies I wanted to bake and share with you, I was inspired by some handcrafted soft caramels from Mrs. Call's Candy Company in Heber City, Utah. I am full-on obsessed with crinkle cookies during the holidays. A soft caramel was wrapped inside chocolate crinkle cookie dough, baked, and my Caramel Filled Chocolate Crinkle Cookies were born.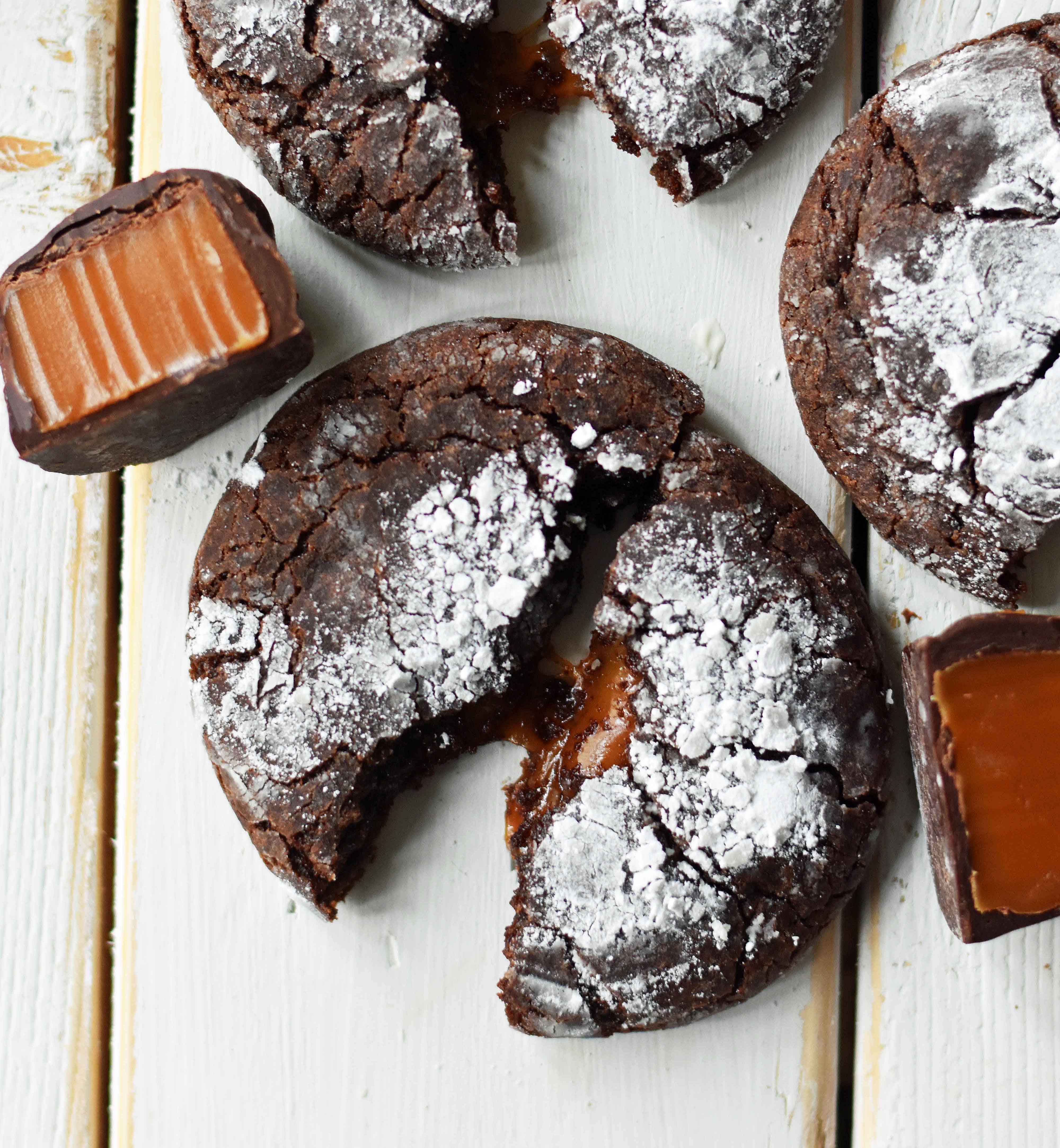 Years ago I watched a movie about a man who was known as the "Candy Bomber." It all started in Berlin, which had become a divided country after the war. A pilot named Gail Halvorsen watched as children in Berlin became so excited about sharing two pieces of Wrigley gum. They didn't have much, especially not candy, and he promised the children he would drop candy on his next flight. The kids asked how they would know which of the huge airplanes was his, and he said he would "wiggle his wings" as he approached. He became known as "Uncle Wiggly Wings."
He lived up to his promise, getting other pilots to donate their candy rations. More children started to show up to catch his candy drops. As newspapers got wind of what was happening, chocolate and candy donations began to pour in from the United States. These German children were so appreciative of something as small as a piece of gum. A small act of service by ONE man became a full-fledged humanitarian effort by the Air Force. Wow! It's amazing to me what one person can do to make a difference in so many lives.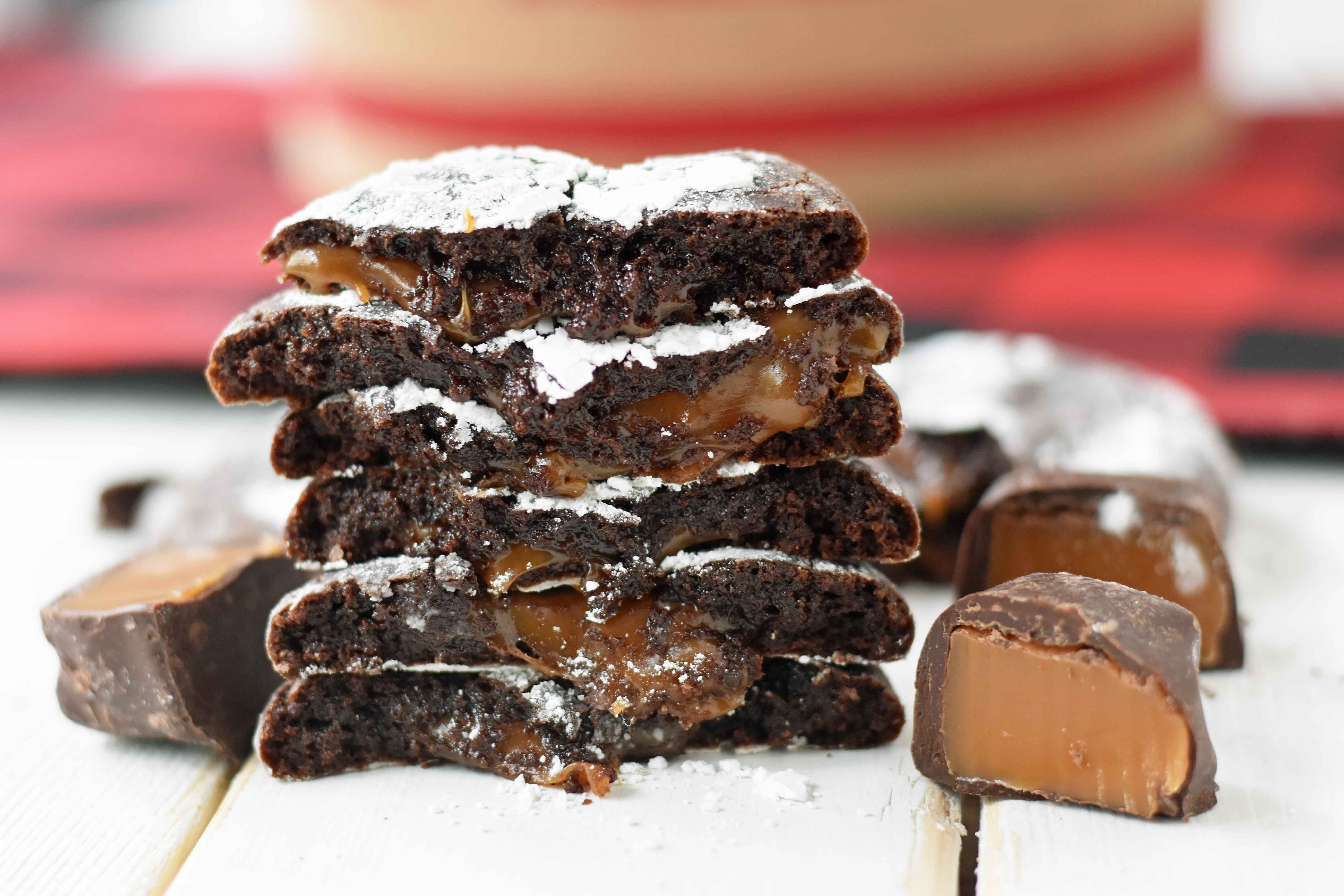 After my family left the movie theatre, my kids couldn't stop talking about how cool it was what he did for those children. My son, Mason, said that he wanted to do something like that. We became brainstorming and thought since we love to bake, we could become "Cookie Droppers." Obviously, we don't have an airplane but we started to think of other ways we could make it work.
We spent two days baking up a storm, loading up Christmas bags full of cookies, and began driving around neighborhoods. We started with a quiet senior citizen neighborhood, filled with people who may not get many visitors or plates of Christmas cookies. The kids would set the bag of Christmas cookies down on their front porch, knock, and run. They would peer around the corner and see their faces.
It has become one of our family's favorite Christmas traditions. It doesn't take much time or effort but hopefully, it brings some happiness into someone's life. Last year I shared some of our favorite family traditions to help feel the Christmas spirit. You can read the CHRISTMAS BUCKET LIST POST HERE. These Caramel Filled Chocolate Crinkle Cookies will definitely be in our cookie bag this year!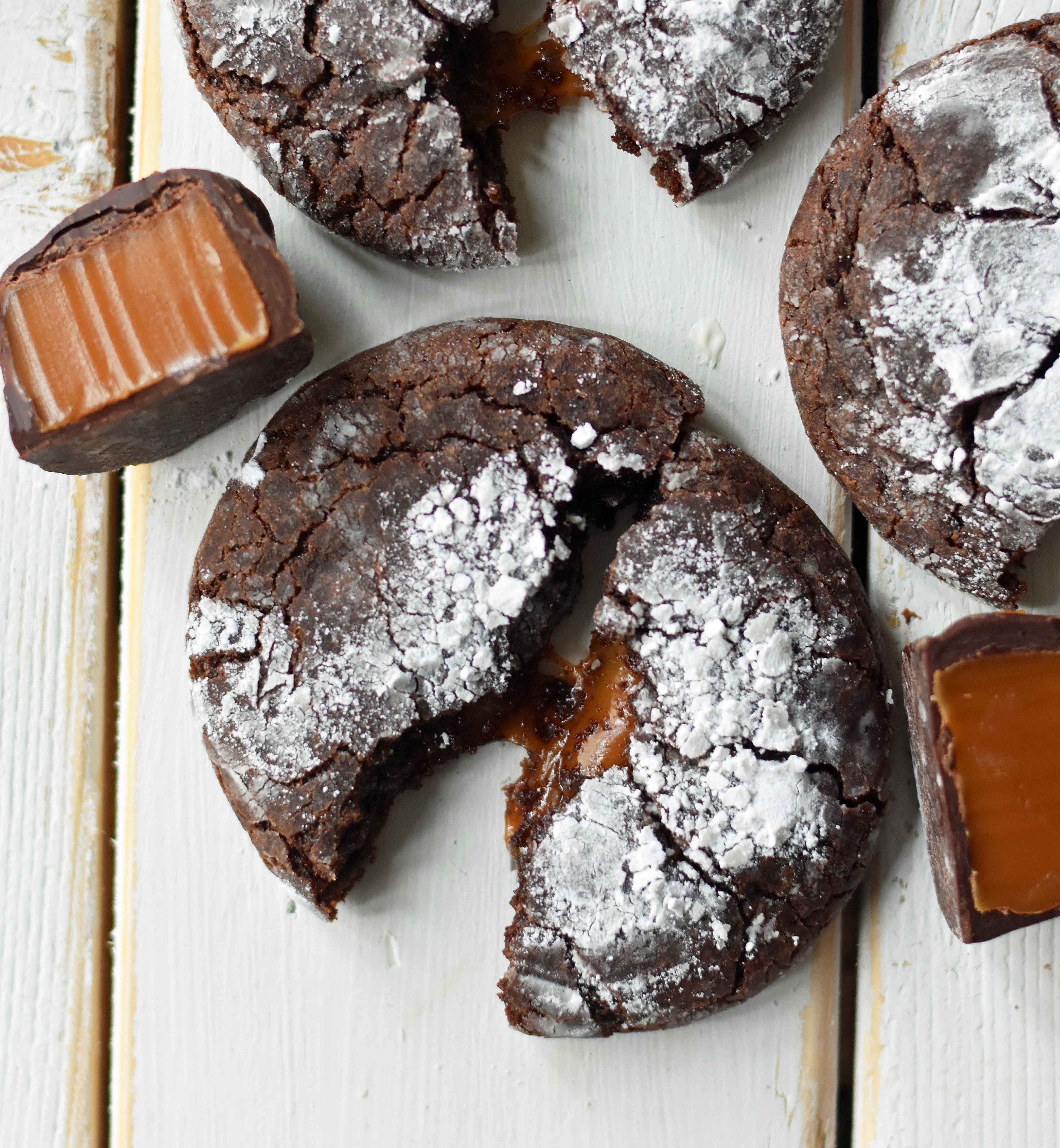 Let's get back to these Caramel-Filled Chocolate Crinkle Cookies! These are made with a simple chocolate cookie dough made with cocoa powder. The dough is chilled and then a soft caramel is placed in the center of a ball. The chocolate crinkle cookie dough is wrapped around the caramel, rolled into powdered sugar, and baked. The caramel melts inside the cookie and becomes ooey-gooey. A chocolate caramel cookie masterpiece!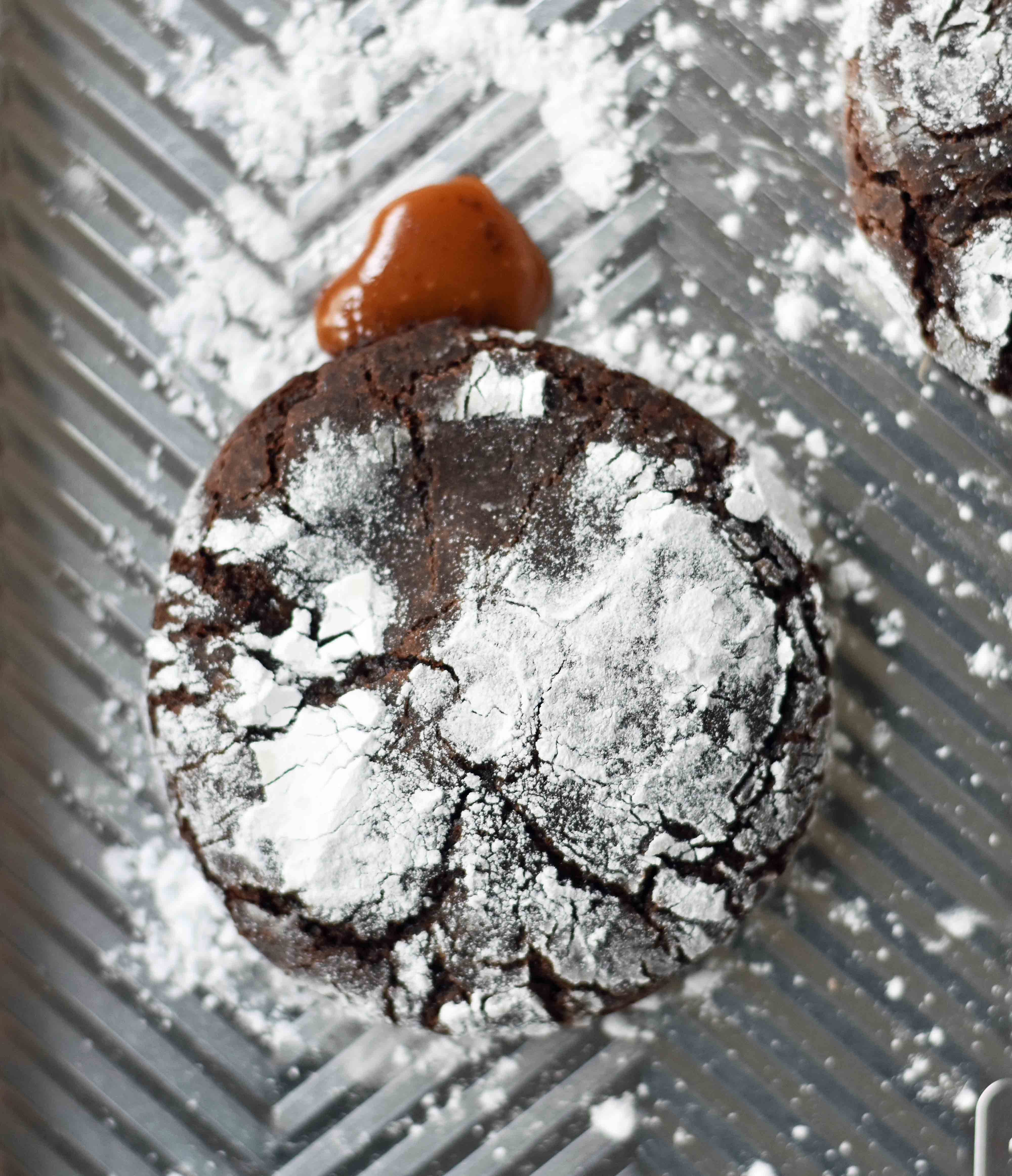 What type of caramels should you use in these Caramel Filled Chocolate Crinkle Cookies?
I have tried all kinds of caramels in these cookies and these work well -- Werther's Original Soft Chewy Caramels (found in grocery stores), Mrs. Call's caramels (found online), Sanders Dark Chocolate Sea Salt Caramels (found at Costco), Rolos or even homemade caramels.
I started off cutting the caramel in half and realized that using a full-sized caramel is better. Just make sure that you roll the dough into a ball, flatten it out slightly with your thumb, place the caramel in the center, and wrap the cookie all around it. Make sure the caramel is completely covered!
Use parchment paper or Silpat so that if the caramel begins to ooze out the sides that it won't stick to the cookie baking sheet. Find the original SILPAT HEREor Amazon Brand silicone baking sheets HERE. As you can tell from the pictures above, I didn't use a Silpat and regretted it. Learn from my mistakes! 🙂
Use a light colored baking cookie sheet. I found new Nordicware baking sheets at Costco and I am loving them. You can find them at Amazon HERE.
Recipe adapted from Baker's Royale Cookbook. Gorgeous cookbook!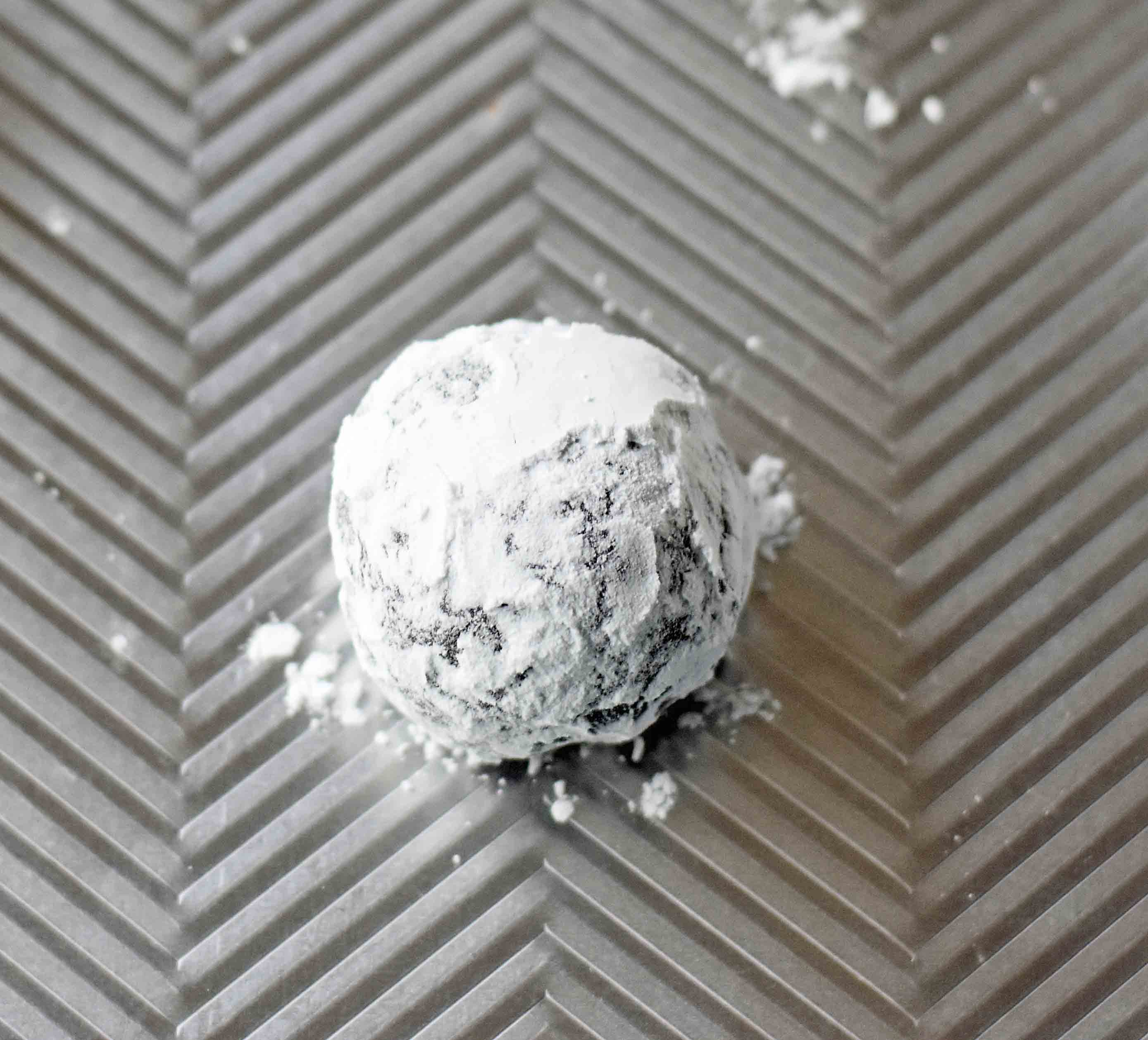 DAY #1 -- Soft Chewy Sugar Cookies
DAY #2 -- Cranberry Orange White Chocolate Cookies
DAY #3 -- Red Velvet Crinkle Cookies
Christmas Bucket List -- list of ideas and traditions to help feel the Christmas Spirit
PIN on PINTEREST: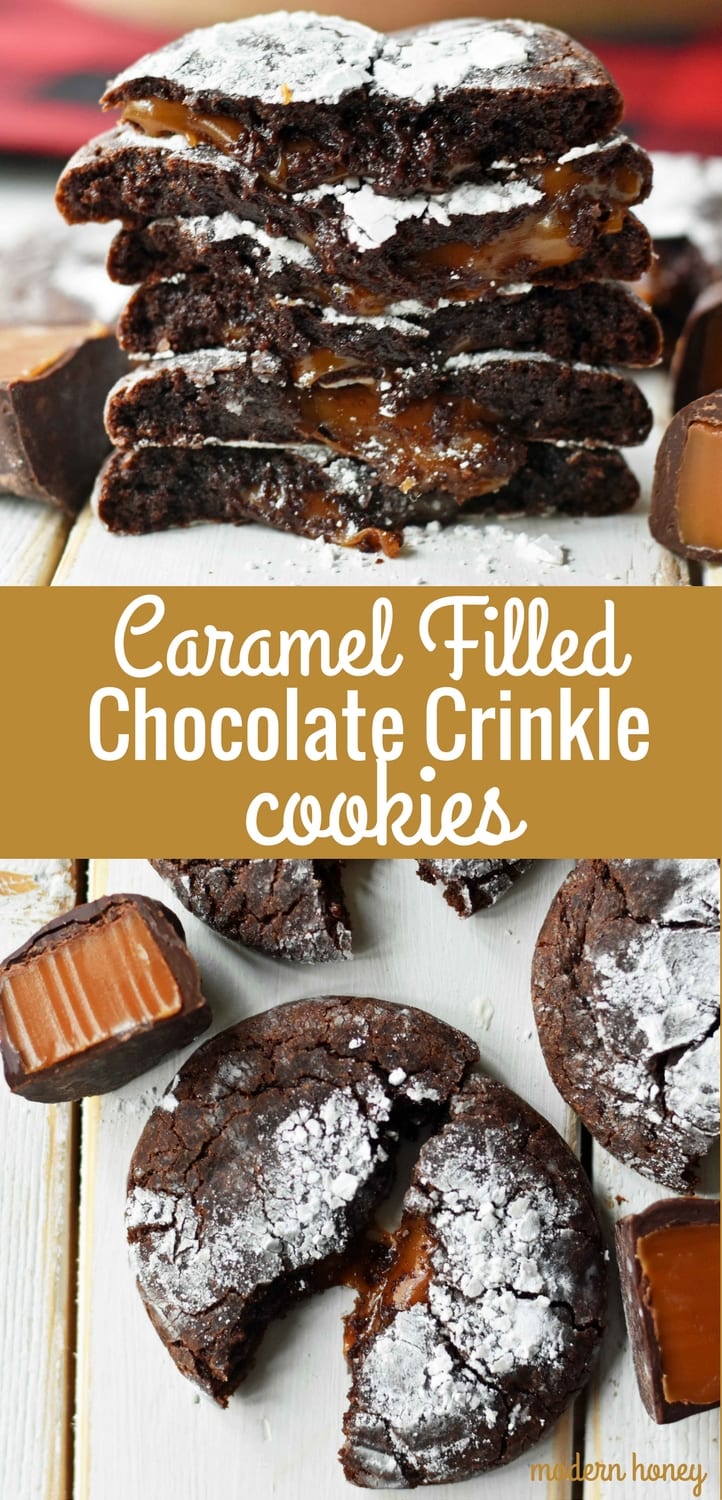 Happy Baking, my friends!