Soft, Chewy Mint Chocolate Chip Cookies are a classic chocolate chip cookie filled with mint chips, semi-sweet chocolate chips, and Andes chocolate mint chocolates. This is the best mint chocolate chip cookie recipe!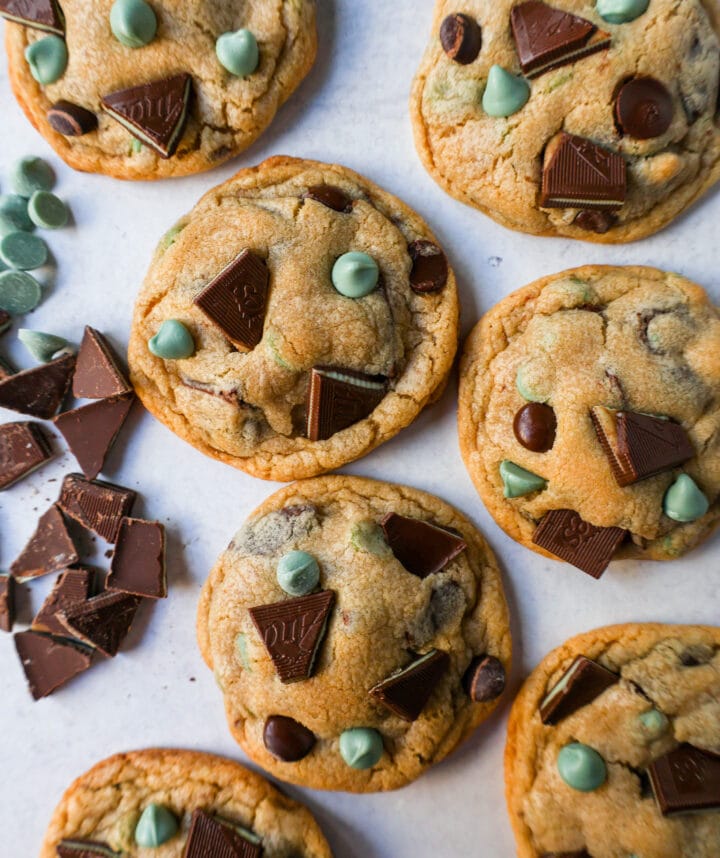 Welcome to Day #10 of my 12 Days of Christmas Cookies. These Mint Chocolate Chip Cookies are for all of my chocolate mint lovers out there! I wanted to create an easy mint chocolate cookie recipe that's basically a Christmas-inspired chocolate chip cookie. I wanted to create a recipe that was beyond easy -- just throw all of the ingredients in a bowl, no chilling required and can be made in less than 30 minutes.
This is a vanilla chocolate chip cookie base. If you are looking for a double chocolate cookie base, check out my Chocolate Mint Chip Cookie Recipe.
What do I love about these Chocolate Cookies with Peppermint Frosting?
The mix of semi-sweet chocolate and mint chips that give a smooth, cool mint flavor is the perfect combination.
Super quick and easy and can be made in less than 30 minutes!
These are crowd-pleasers because they are classic chocolate chip cookie, just elevated for the holidays.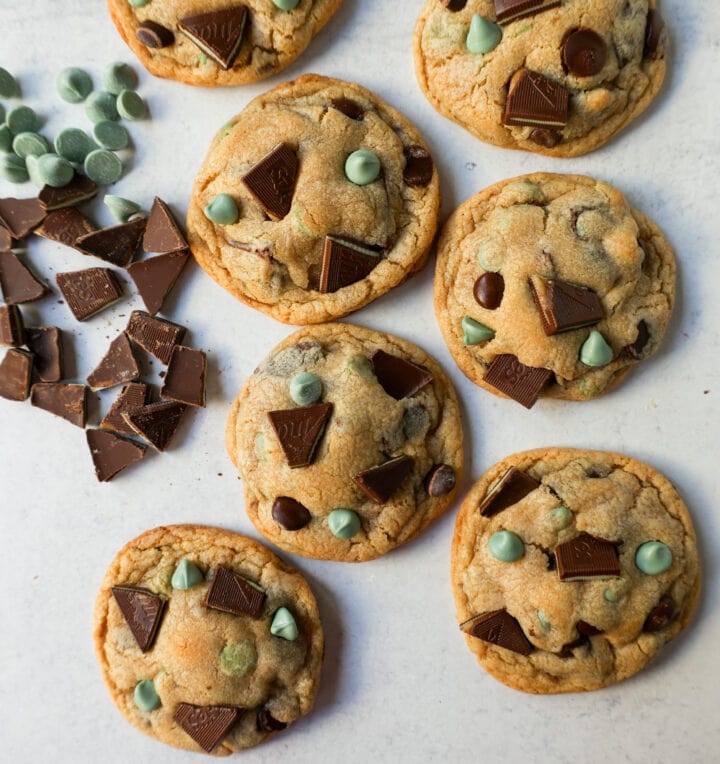 What ingredients are in Mint Chocolate Chip Cookies?
This is a soft-baked, chewy chocolate chip cookie with mint chips, chocolate chips, and Andes mint chocolates.
Butter -- use salted or unsalted butter in this cookie recipe. If you use salted butter, reduce the salt by ¼ teaspoon.
Brown Sugar -- use light golden brown sugar.
Sugar -- this recipe calls for granulated sugar.
Eggs -- this recipe calls for large eggs.
Vanilla Extract -- my favorite pure vanilla extract is made byNielsen-Massey or true authentic Mexican vanilla.
Flour -- use all-purpose flour in these cookies.
Baking Soda -- this is what gives the cookies the perfect rise.
Salt -- the flavor enhancer and integral ingredient in baking.
Semi-Sweet Chocolate Chips -- I suggest using quality semi-sweet chocolate chips from brands like Guittard and Ghirardelli.
Mint Chips -- I suggest using Guittard Mint Chips (I found them for about $3.27 at Winco) or Nestle offers a mix of semi-sweet and mint chips. Walmart also sells its Great Value Mint Chips. If you can't find mint chips, you can use chopped mint chocolate Andes.
Andes Creme de Menthe Thins or Andes Mint Baking Chunks -- I love to cut these into triangles and put them inside the cookie plus after baking, immediately gently press some pieces on the top to make them look extra gourmet.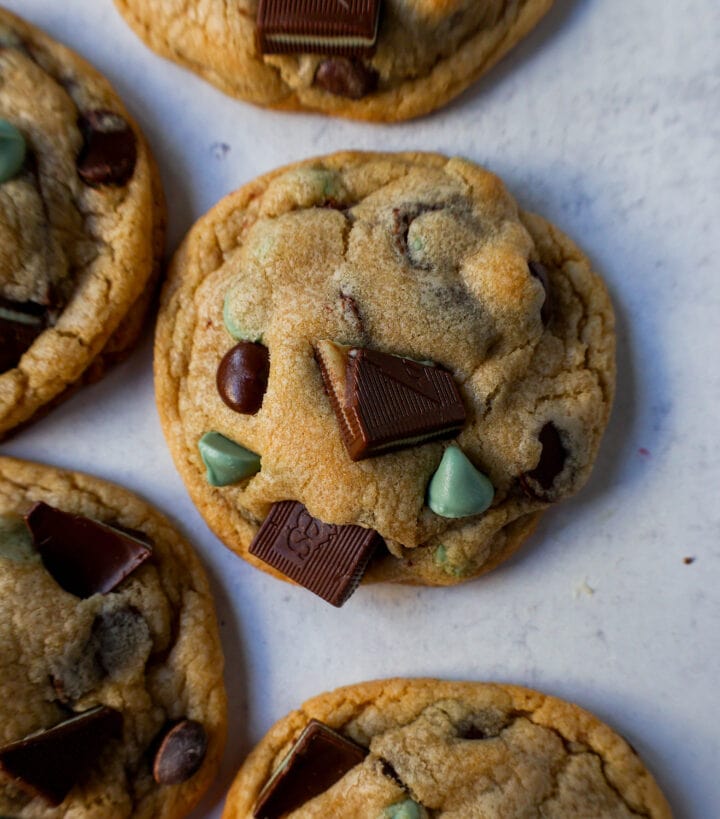 Tips for making Mint Chip Chocolate Chip Cookies:
Cream your butter and sugars for 4 minutes! This helps to create a smooth texture and whip air into the cookie dough which gives the cookies the perfect amount of loft.
Don't overbake! These are soft-baked mint chip cookies and are meant to be soft and chewy. The cookies will continue to bake once you remove them from the oven.
Use light-colored baking sheets. I love to use thick, light-colored baking sheets because they bake the cookies evenly. If you use dark-colored baking sheets, the bottoms of the cookies may burn before the cookies are fully baked.
If your cookies lose their shape in the oven, take a small spatula and press the edges toward the center to make a circle. You can also use a glass and move it around the cookie in a circular motion to make them into the perfect round circle. To make the cookies look more gourmet, lightly press extra mint chips, chocolate chips, and chopped Andes mint chocolates onto the top of the cookies.

HERE ARE THE THE 12 DAYS OF CHRISTMAS COOKIE RECIPES THUS FAR:
If you are looking for Christmas Desserts, check out my 60 Best Christmas Desserts.
BAKING TOOLS:
Here are some baking tools I love to use in my kitchen...
I love to hear from you! If you make this recipe, please be sure to leave a comment and give this recipe a rating. Sign up for my newsletter below so you never miss a recipe. Thank you for following along! I truly do have the greatest readers. FOLLOW ME ON: INSTAGRAM — FACEBOOK— PINTEREST