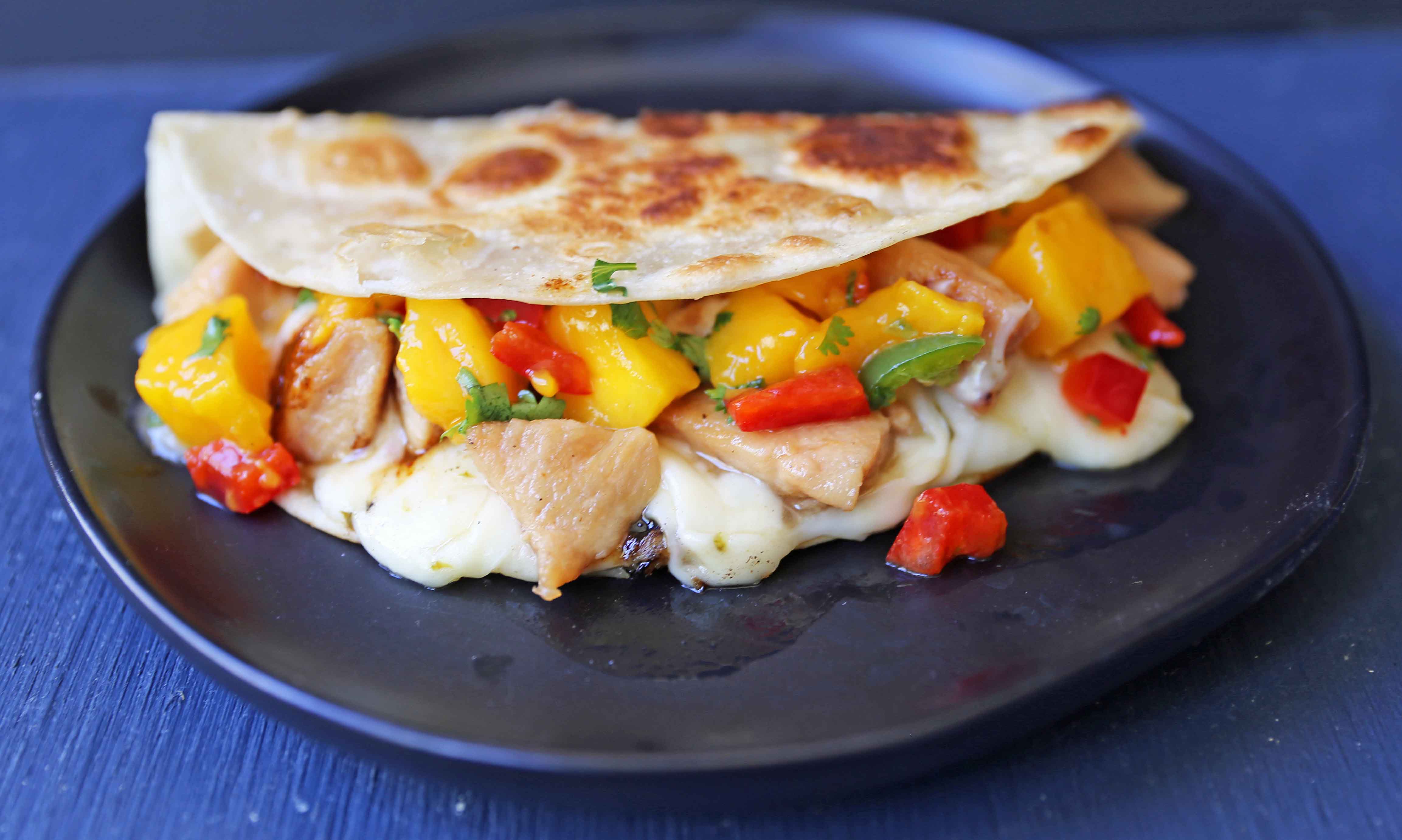 Chicken Quesadilla with Mango Salsa
The perfect Mexican chicken quesadilla with melted cheese, fresh mango salsa, and jalapeno cream cheese.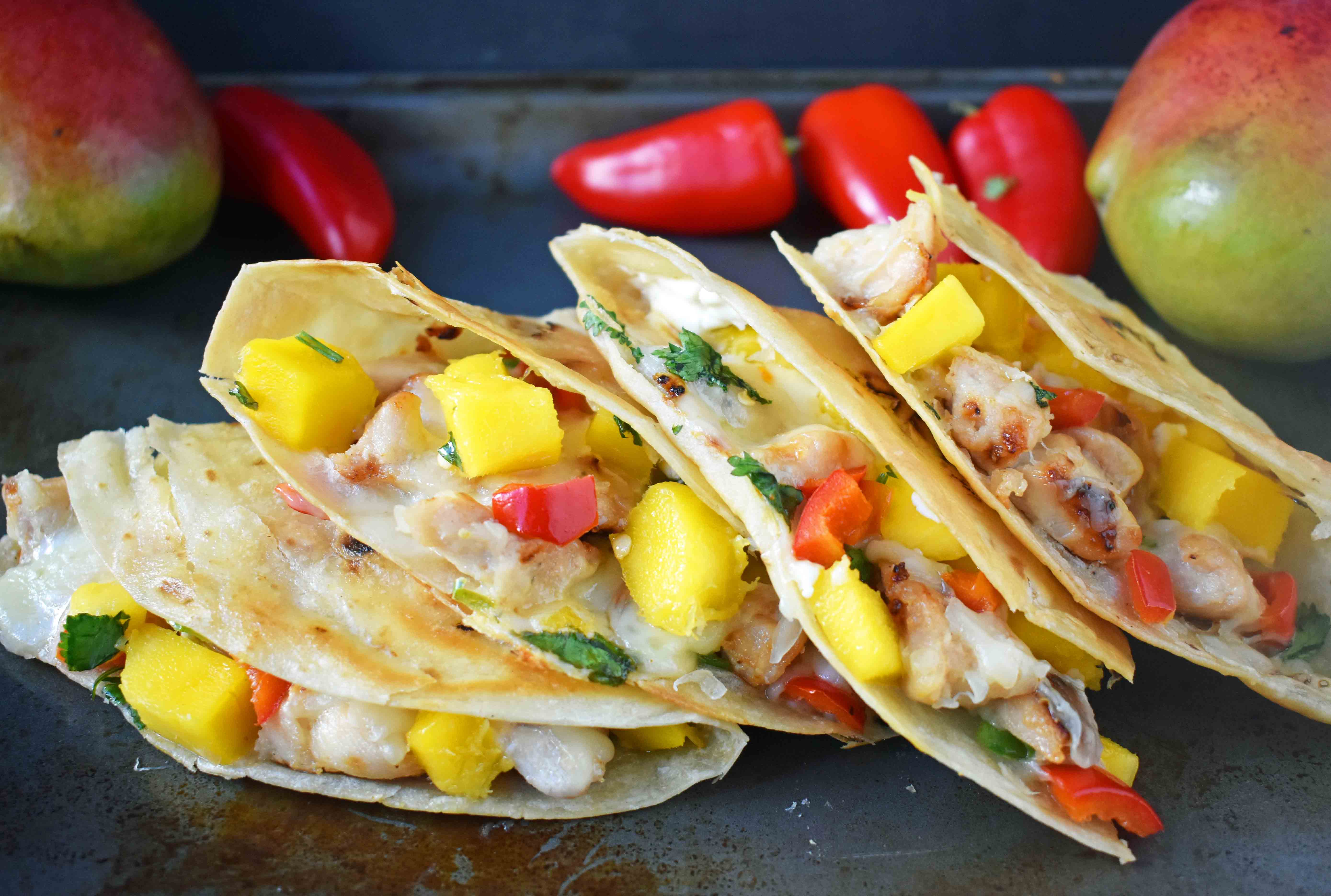 Stuffed Chicken Mango Quesadillas are made with honey lime chicken, fresh mango salsa, pepper jack cheese, and jalapeno cream cheese all melted together in a buttery flour tortilla. A fresh and flavorful twist on the quesadilla.
This Chicken Quesadilla with mango salsa has a history.  It was 2010 and I was preparing to compete in my first Pillsbury Bake-Off.  Each of the contestants was assigned a PR person to coordinate media events to promote the event. Hello, live TV! The first time on TV was on a morning show and it lasted about 5 minutes. It was super fun and nerve wracking at the same time!
I received an email from our NBC affiliate about a 30-minute LIVE cooking show called the Valley Dish.  They wanted me to come on and demonstrate on live TV how to make my PBO sandwich. Now that's some serious pressure! I prepped for days getting all of the ingredients ready, outfit picked out, apron sewed, and I was ready to go.  The host was Tram Mai, who I just clicked with immediately and we became instant friends.
I remember excusing myself right before I went on live to go to the restroom. I stood in the bathroom stall and just prayed so hard that I would be able to calm my nerves. Thank heavens the prayer worked and I was able to relax, have fun, and enjoy the experience. As my family re-watched it in the family room, I ran into the bedroom to hide and ensure that I didn't have to watch myself on TV!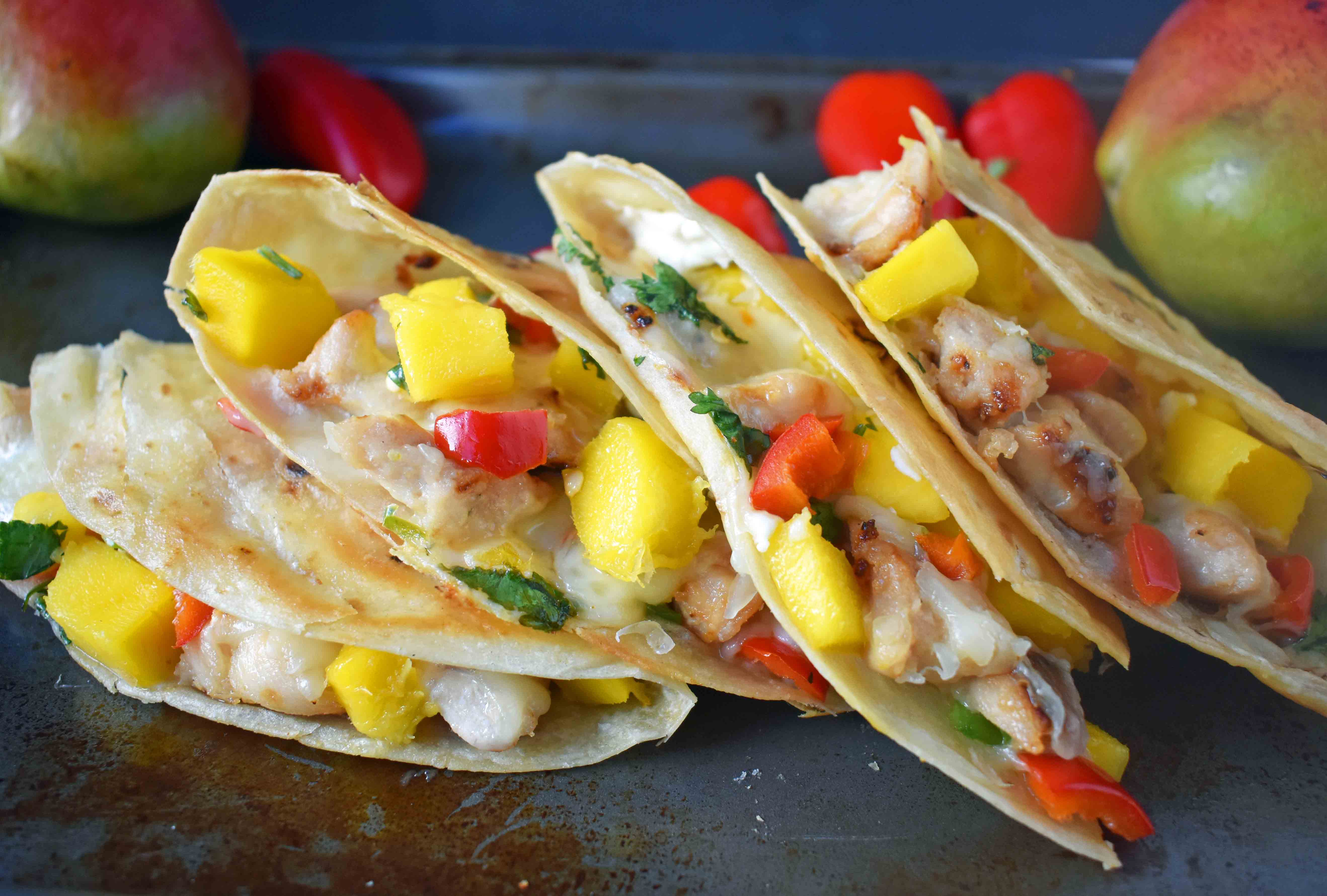 Since I didn't watch it, I started to receive feedback from a few ladies who watched it together and reported that I said Tram's name an abundance of times -- 22 times in total! I was invited back to the show as one of their regulars and this time I was determined not to say her name 22 times so I ended up not saying it all. I would stop and catch myself so then I started stuttering. I was a hot mess! I  needed a happy medium! Haha!
They wanted me to share family-friendly meals that could be made in less than 30 minutes. I wanted to create a unique Mexican dish that kids would love. I was inspired by a dish we order at our local Mexican restaurant, Moreno's, called the stuffed chicken mango salsa quesadilla. It was time to create a copycat version! It became a huge hit, thankfully, so I shared it on the Valley Dish. It's been a family favorite ever since and my daughter declares it her favorite meal of all time.
How to make the Best Chicken Quesadilla with Mango Salsa:
Start with a good quality flour tortilla. It is the foundation of the quesadilla so it's pretty darn important!
Saute chicken breast with honey, lime juice, and salt and pepper until nice and golden.
Make a fresh mango salsa using diced fresh mango, diced red peppers, cilantro, and jalapeno. The red pepper and jalapeno add a nice crunch and a little bit of heat to offset the sweetness from the mango.
Use pepper jack cheese, monterey jack cheese, or a

mexican blend of cheeses

to fill the quesadilla.
Spread tortilla with an optional

jalapeno cream cheese

made with softened cream cheese and finely diced jalapenos. It adds an extra level of creaminess but is completely optional.
Saute quesadilla in a little bit of

butter

to make a golden crust on the outside. Everything is better with butter!
Happy Cooking, my friends! xo