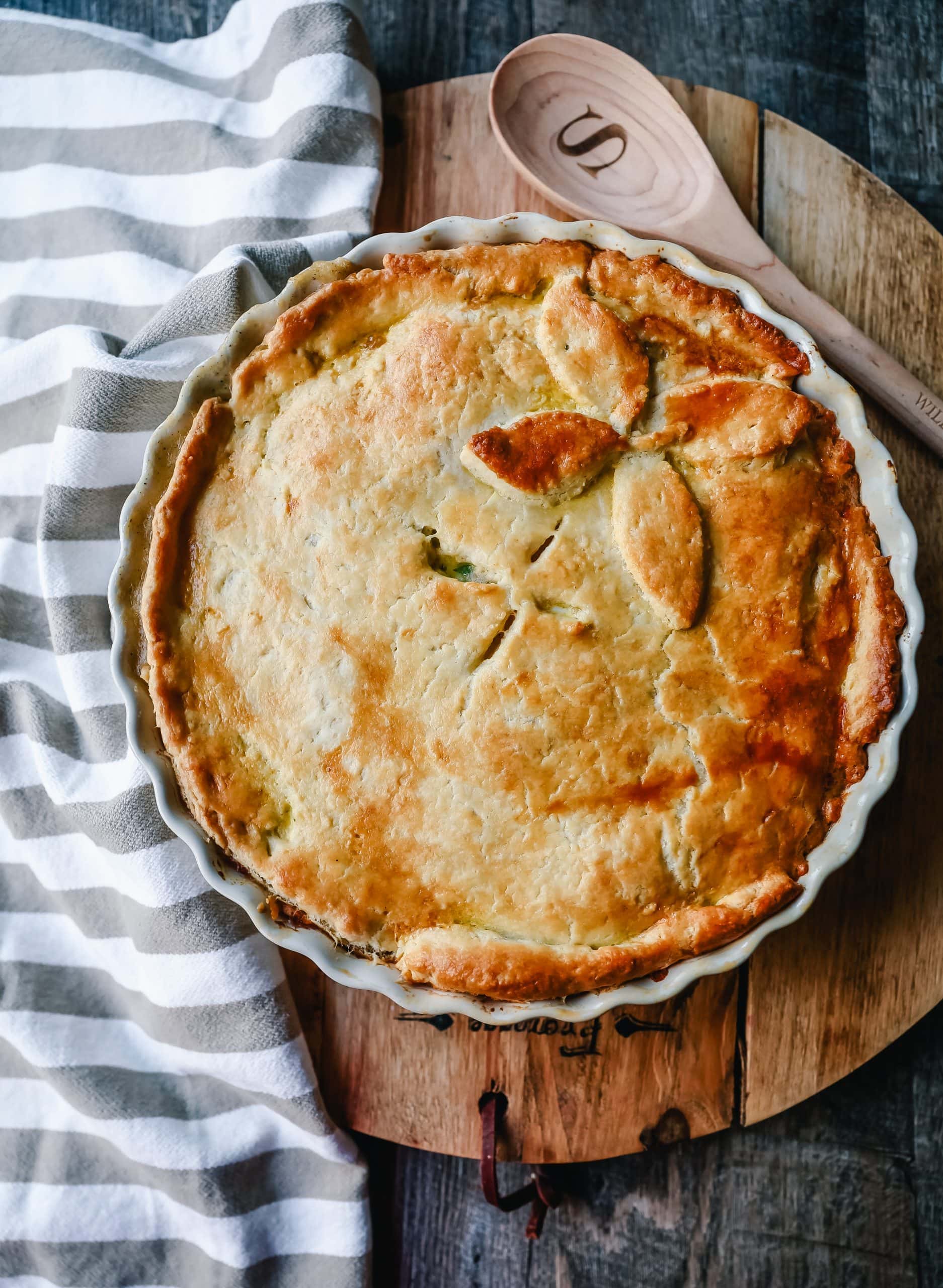 Chicken Pot Pie
Homemade Chicken Pot Pie made with a buttery, flaky homemade pie crust filled with a rich, creamy sauce filled with vegetables and tender chicken. The best comfort food dinner!
This has been one of the most highly requested recipes on Modern Honey...and it has all come from men! Now, I am not going to try to stereotype here but I have noticed a trend. It seems as though men have strong feelings about chicken pot pie. They love it! My boys and husband get so excited when I say that I am making a homemade chicken pot pie. They run home so fast!
My daughter who is in college said that every guy that she knows has frozen chicken pot pies in their freezer. It must be the comfort food factor. Have you seen this too?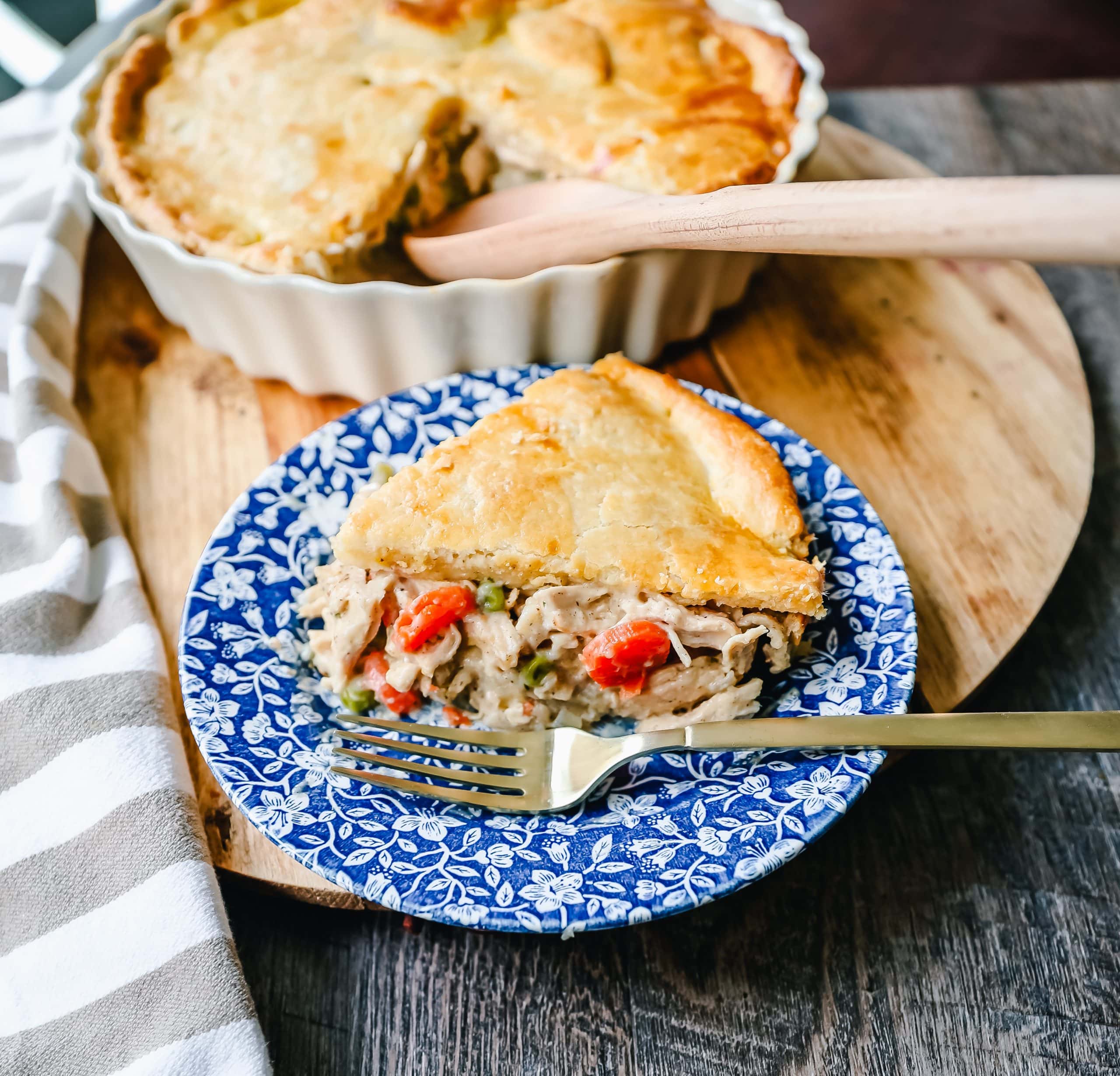 I do have to say that chicken pot pie does feel like the ultimate comfort food meal with the homemade, buttery, flaky pie crust filled with tender chicken and vegetables in a homemade cream sauce. It sounds pretty decadent to me and anytime I. make this, it is devoured in no time at all.
I think it comes down to making a killer pie crust. I am so picky about my pie crusts! For so many years, I would eat the frozen pie crusts from the store and the lack of flavor or flakiness just didn't do anything for me. I set out to create the most perfect buttery pie crust recipe and it isn't complicated! Actually, it is so easy. I literally throw all of the ingredients into the food processor and within 1 minute, you have pie crust dough.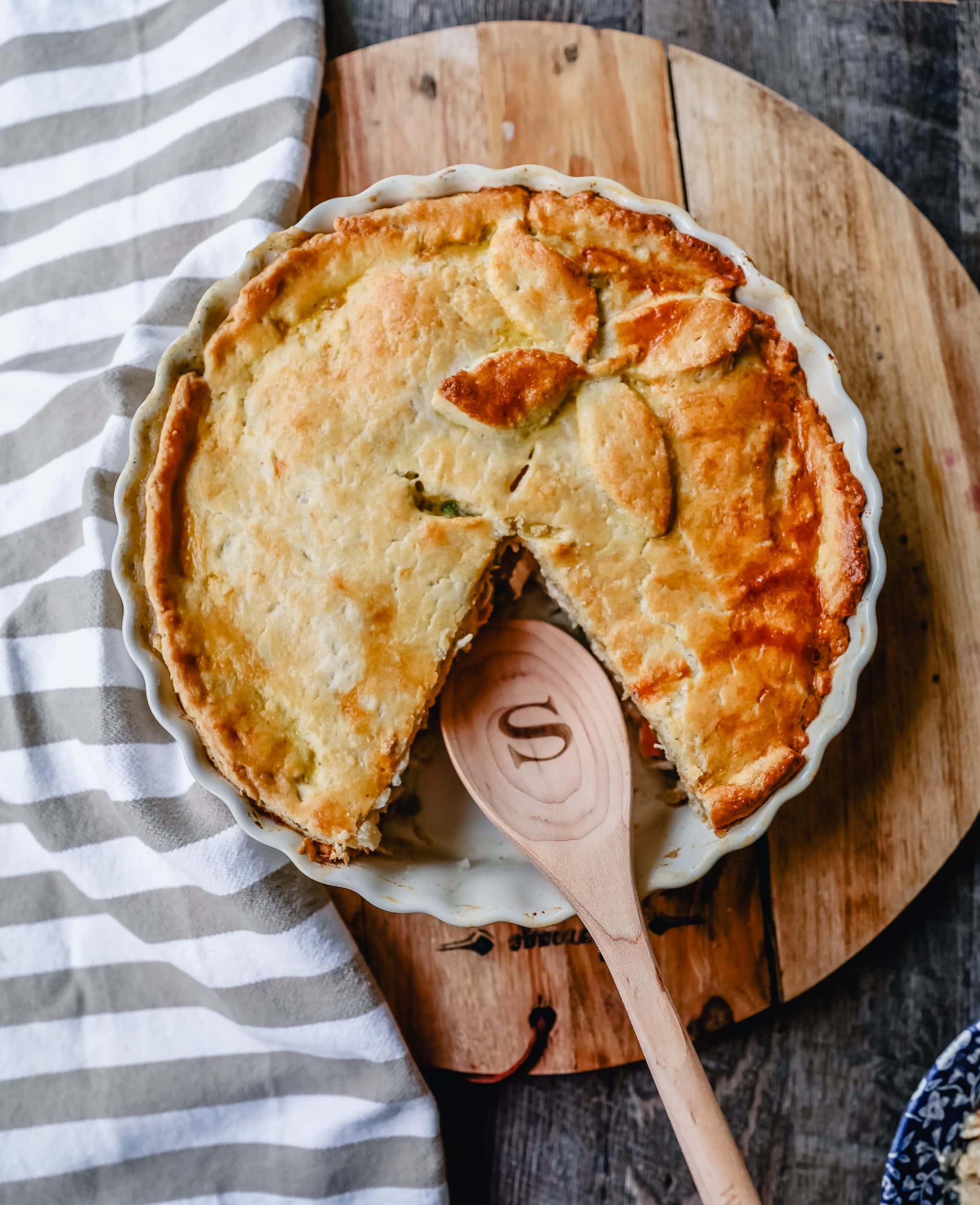 To make a solid homemade pie crust, I use just flour, salt, cold butter, and buttermilk. That's it! Both the butter and buttermilk create the most tender, flakiest, and buttery pie crust. My Grandma always swore by using milk in her pie crust so just elevated it with the buttermilk. The cold butter creates little pockets of flakiness throughout the crust when it bakes and it is just heavenly. The pie crust is essential to a phenomenal chicken pot pie so you want to ensure it is out of this world good!
The chicken pot pie filling is made with a simple mix of vegetables -- onions, celery, carrots, and peas -- sauteed in butter and spices until softened. Then you make a simple roux with flour, heavy cream, and chicken broth. The velvety cream sauce pairs perfectly with the earthy vegetables and tender chicken.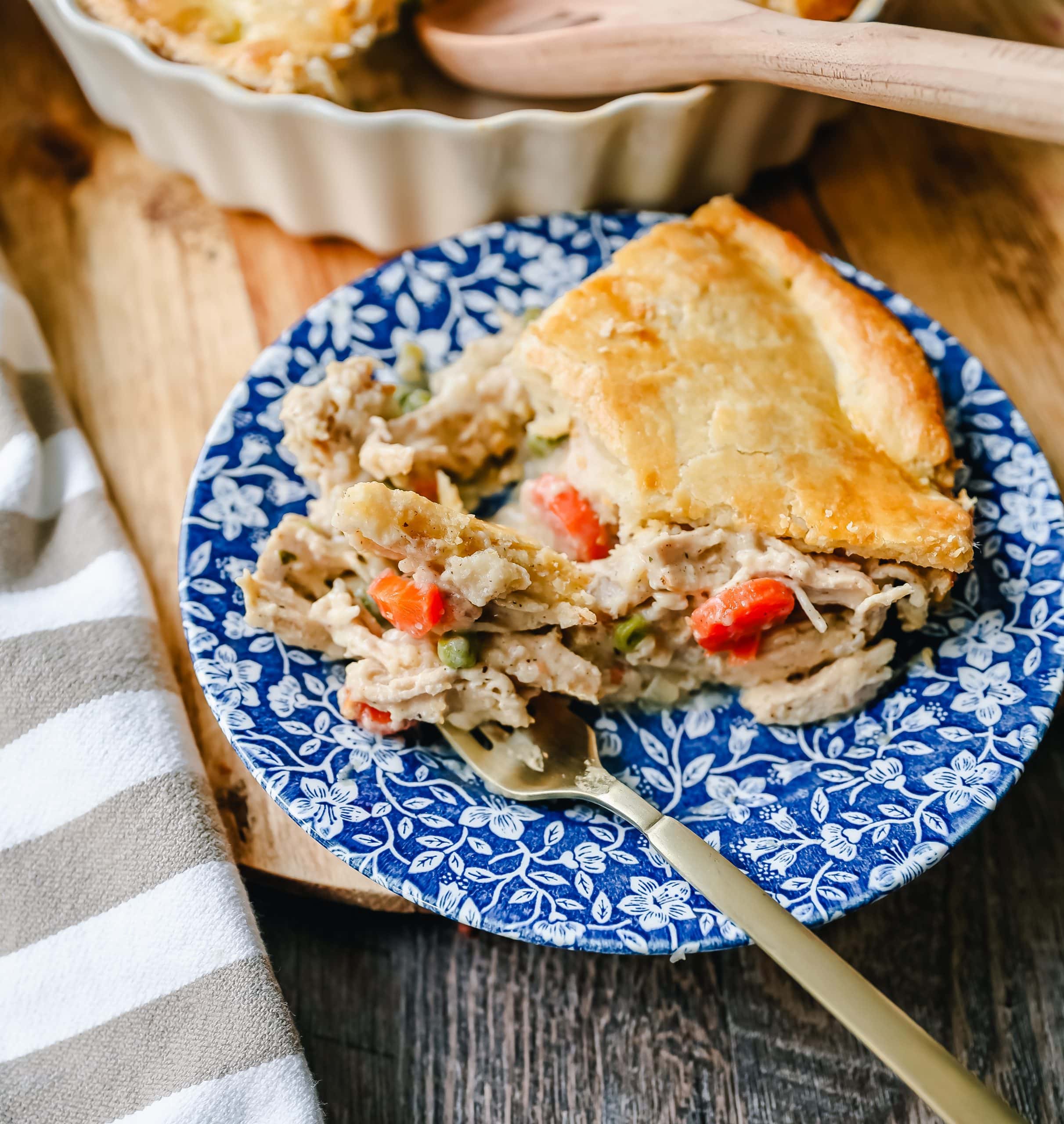 The shredded chicken can come from a store-bought rotisserie chicken or you can poach chicken breasts in some water and until cooked through, season with salt, shred it, and add it to the sauce.
The homemade chicken pot pie filling is added into the bottom pie crust and then topped with another pie crust and baked until golden, bubbling, and buttery. I let it sit for about 10 minutes which takes some restraint to let it slightly set up and then serve it warm. My family loves this homemade chicken pot pie recipe!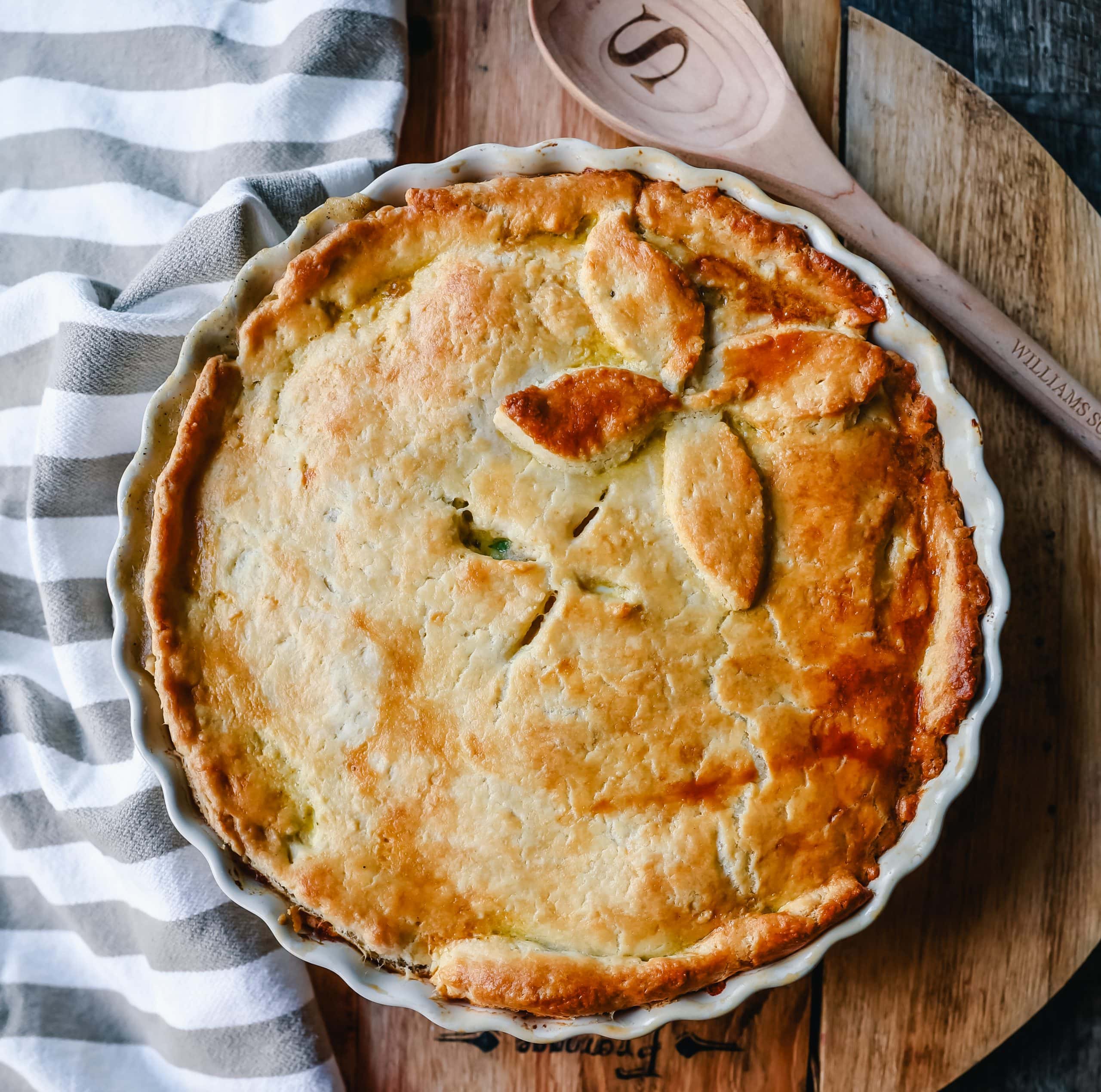 How to make the Best Chicken Pot Pie:
Start by making a homemade pie crust with flour, salt, cold butter cut into cubes, and buttermilk. I make mine in a food processor and it takes about 30 seconds. It is so easy!
Shred your chicken. You can use a seasoned rotisserie chicken from the grocery store or cook your own chicken breasts. I would suggest salting the water if you are poaching your chicken breast and also sprinkling it with salt and pepper after shredding it. This just ensures that the chicken isn't dependent on the sauce for flavor and has flavor on its own.
Make sure to whisk your sauce to avoid lumps. A whisk is a miracle worker in the kitchen and ensure a smooth, creamy sauce so use it to ensure there are no flour lumps in your sauce.
Bake just until golden. I always like to lightly cover the chicken pot pie about halfway through baking time to ensure the crust doesn't get too brown before the filling is bubbly and thickened.
Here are some of my favorite cooking tools: