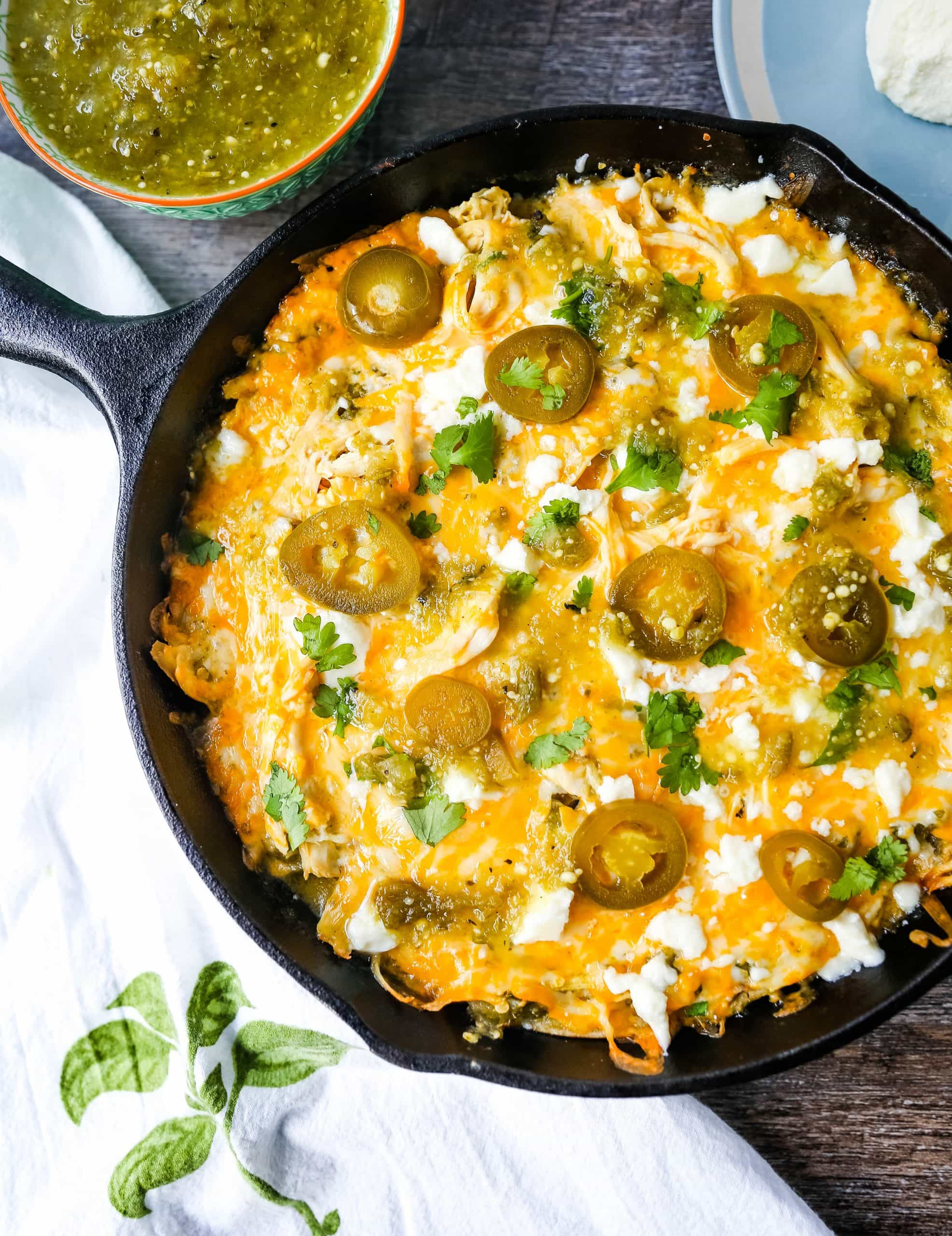 Chicken Stacked Enchiladas
Quick and easy stacked chicken enchiladas with salsa verde and Mexican cheeses. Authentic Mexican chicken enchiladas that can be thrown together in a snap!
It's January 10th and I am still trying to get with it. We are in full-on organization mode in our home getting rid of a ridiculous amount of stuff (this is what makes me husband very happy). It is the perfect time of year to do it yet I am trying to squeeze in some work. I have been cooking up a storm in the kitchen but need to carve out the time to share these amazing recipes with you.
Since the lazy holiday days of wearing sweats all day and watching Hallmark movies are a thing of the past, I am back to shuttling kids to practices and whipping up dinner for my hungry kids. I want to make quick and easy meals that my kids can even re-heat as they come in and out of the house.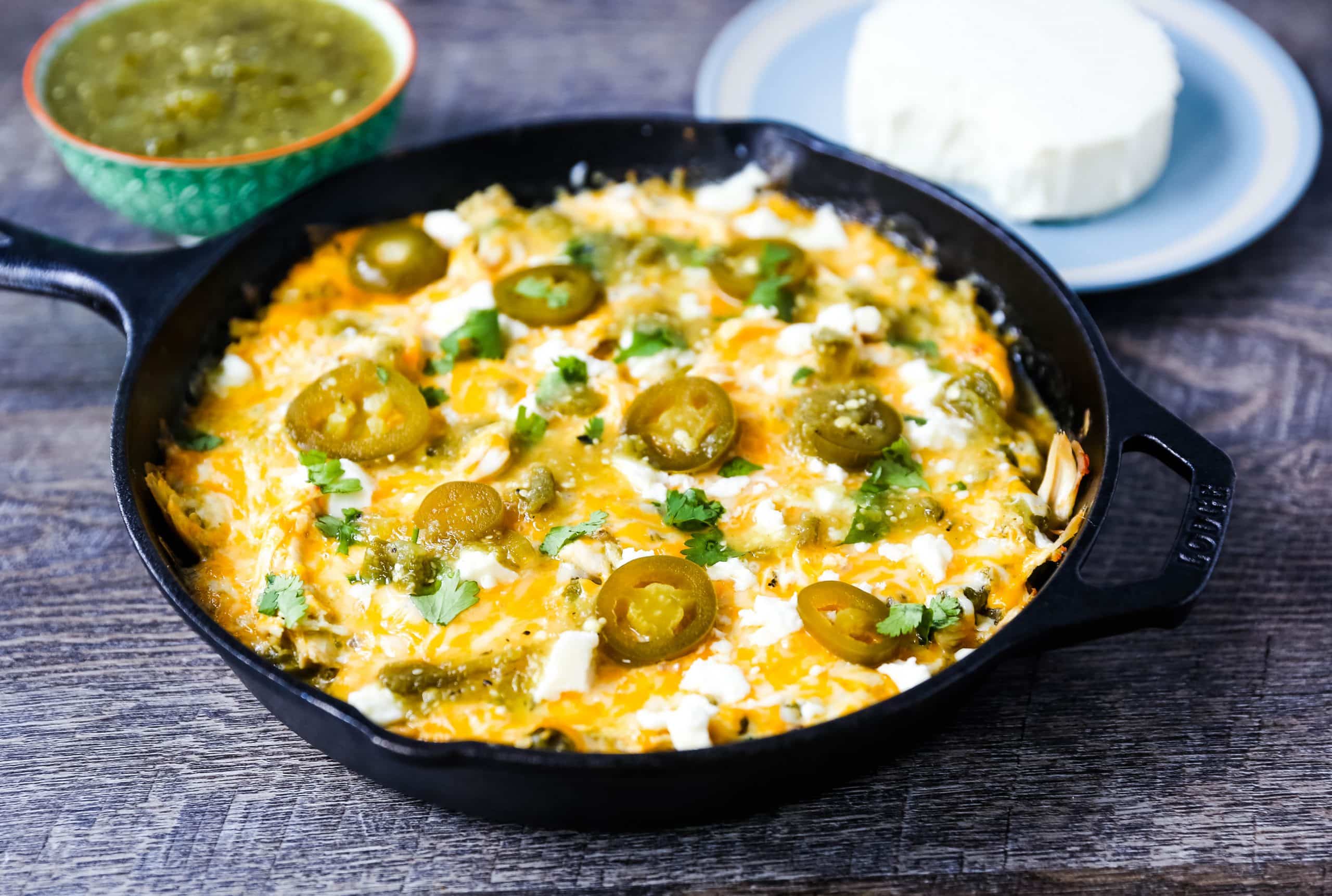 We have a new goal of doing dinner together as a family on Monday, Tuesday, and Wednesday nights with Thursday being an optional night. Friday night is either date night or pizza night but we have some family dinner nights on the calendar to get together and catch up. My oldest 17-year old son has told me that he has missed regular family dinner nights so I thought I needed to step up my game.
When the kids were younger, we used to go around the table and ask their "happy" and "sad" or "highs" and "lows" of their day. They were so entertaining! Man alive, I miss those days. But we are bringing it back and I am amazed how much information you can get from such a simple question. It makes me so happy when I get my teenagers to talk and share!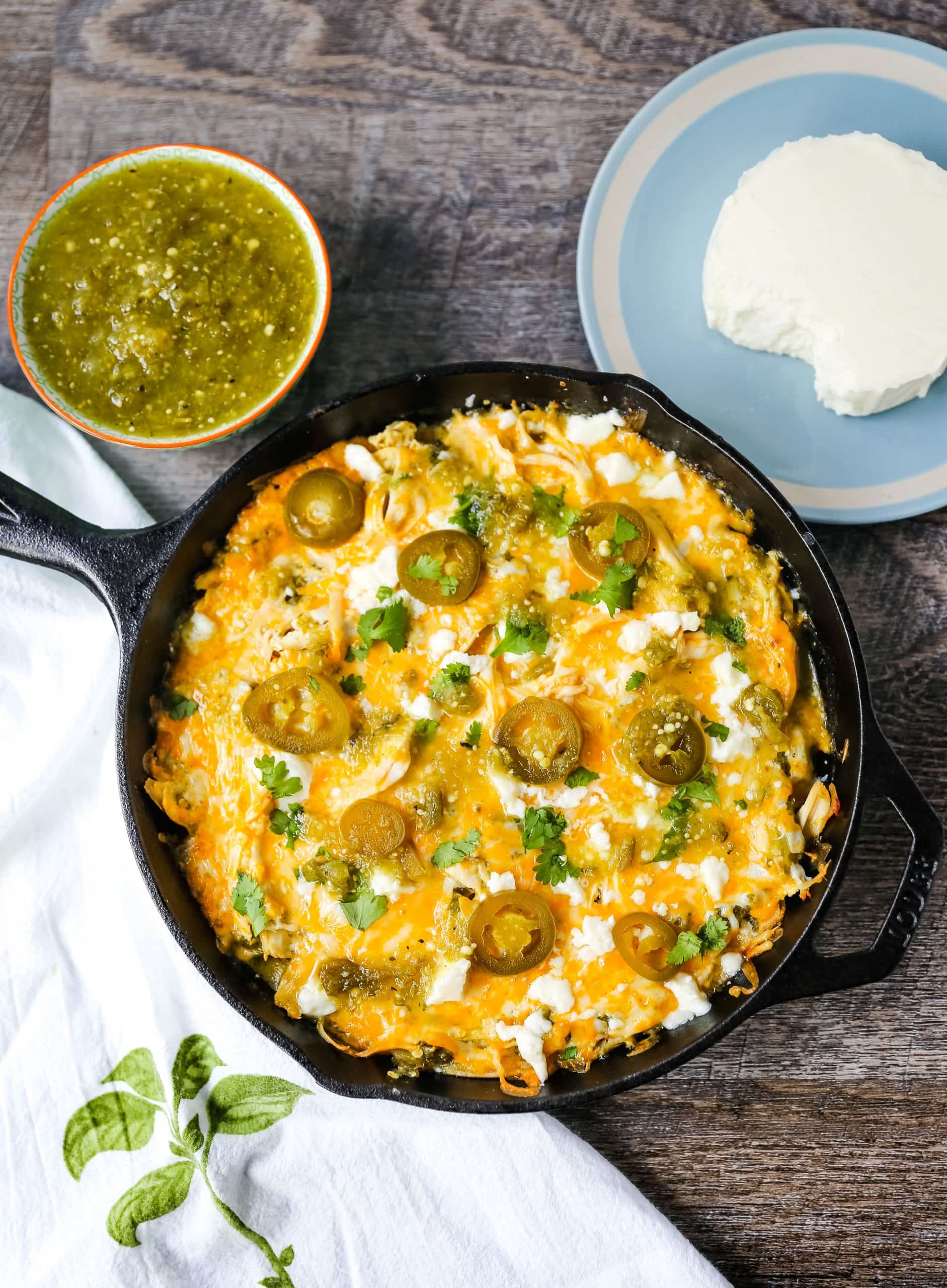 So in an effort to make more meaningful family dinners, I am planning out my meals. Since one of our favorite foods is definitely enchiladas, they were at the top of my list. However, they can be time consuming so I like to simplify the process. Stacked enchiladas are an easy way to get the taste of enchiladas without individually rolling each one.
These Chicken Stacked Enchiladas are made with very few ingredients -- corn tortillas, rotisserie chicken, roasted salsa verde, Mexican cheese, and topped with your favorite toppings such as avocado, jalapeños, sour cream, queso fresco, and fresh cilantro. They are packed with flavor without the work! I like to take a few shortcuts and pick up a rotisserie chicken from Costco to use in these stacked chicken enchiladas. You can also cook up some chicken at home and shred it to use in these enchiladas. Also, I pick up my favorite roasted salsa verde from the grocery store to save an extra step too.
I have a tip for making sure you never have soggy enchiladas. Since this recipe calls for corn tortillas, they can notoriously soak up the enchilada sauce and sometimes fall apart and become soggy. That's no bueno! To make authentic enchiladas and how my brother learned how to do it when he lived in Mexico, is to quickly dip each tortilla in oil to soften it. It helps to create a barrier to keep the corn tortillas from falling apart. It also gives the corn tortillas some flavor.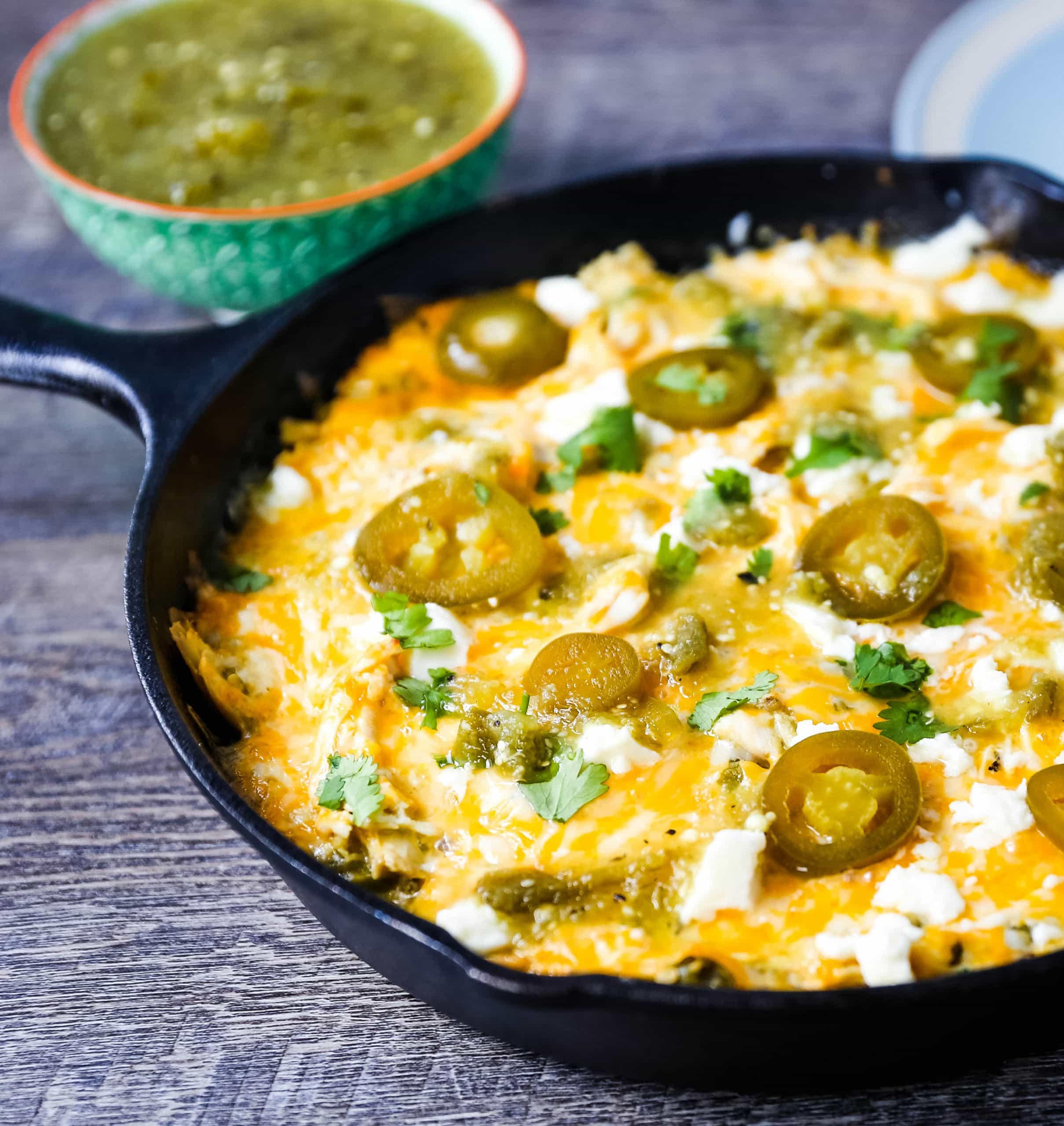 How to make the Best Chicken Stacked Enchiladas:
Start by heating some oil in a pan over medium-high heat. Using tongs, quickly dip the tortilla in the oil for about 8-10 seconds. Remove from the oil and let drain on a paper-towel lined plate to soak up any excess oil. Repeat.
Cut each corn tortilla in half. This will help when you are stacking the corn tortillas in a pan. You may use a cast-iron skillet or a 9 x 13 baking pan.
Spread some salsa verde in the bottom of the pan. You may make your own homemade salsa verde or use a refrigerated salsa verde from the grocery store.
Use A LOT of cheese! Be generous with your favorite blend of Mexican cheeses. Monterey or Pepper Jack melt beautifully and is so creamy. I love to grate a block of cheese but you can use pre-shredded cheese as well.
Cover and bake for at least 30 minutes. It is important to cover to allow the cheese to melt without the sauce drying out. Remove the foil for the last 5-10 minutes to allow the cheese to get nice and bubbly.
Top with your favorite toppings -- avocado, jalapeño, queso fresco, sour cream, fresh cilantro, and more.