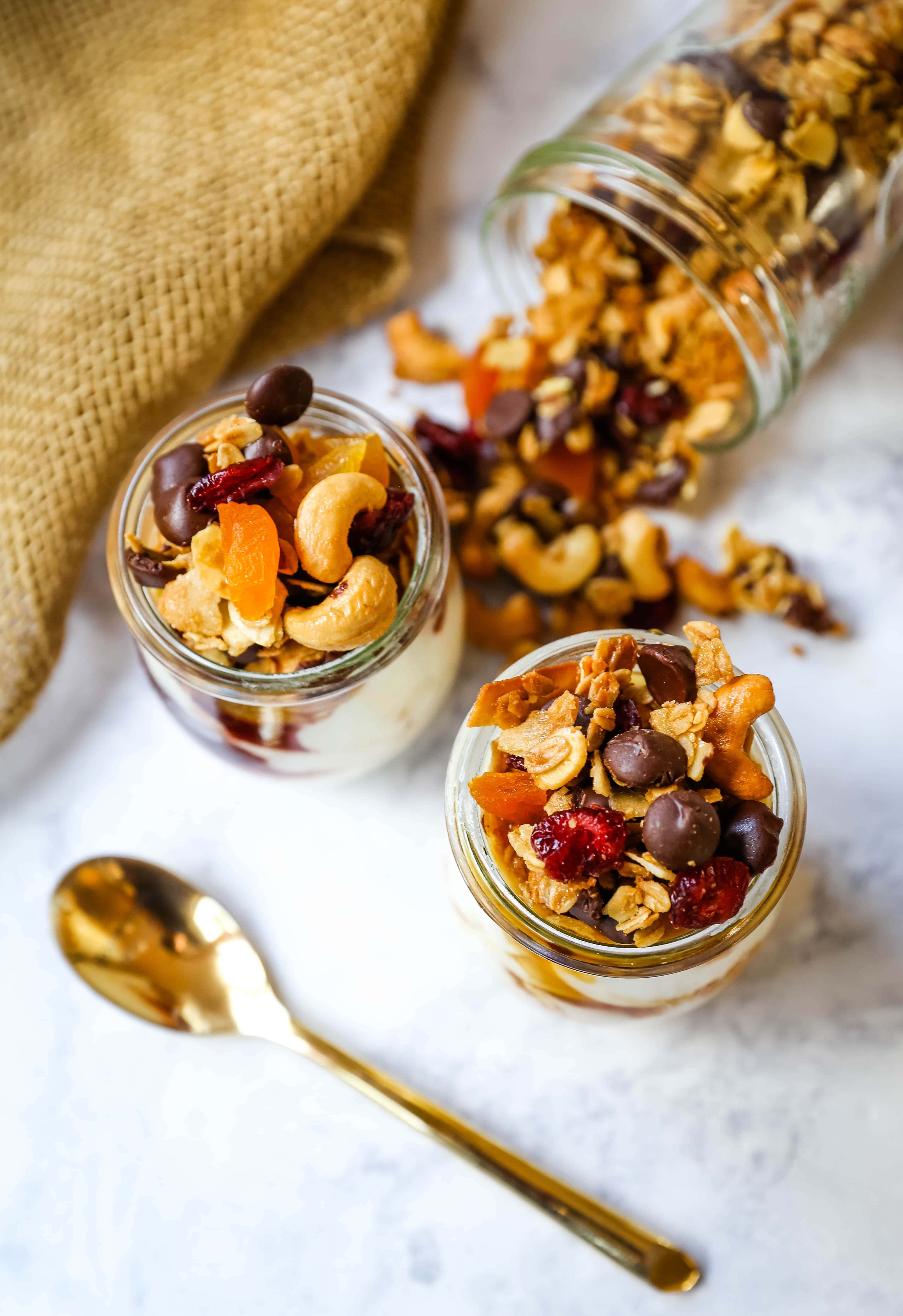 Chocolate Coconut Granola
A decadent chocolate coconut granola with cashews, dried cranberries, apricots, almonds, coconut flakes, and chocolate chips. 
We are nearing the home stretch! There's only a few weeks left of school and I am trying to find quick and easy breakfasts that require little to no effort in the morning. I start off so strong in August but by May, I am exhausted. 🙂 I love making this Chocolate Chip Granola ahead of time so my kids can sprinkle it on top of their yogurt and they have a filling breakfast in no time at all.
Whenever I make homemade granola, pack it into jars and store it in my pantry to pull out at breakfast time, I feel very domestic. It is one of my favorite things to grab when I need a quick snack or to add some crunch to my creamy Greek yogurt. I wanted to add two of my favorite ingredients of all time -- coconut and chocolate to up the granola game.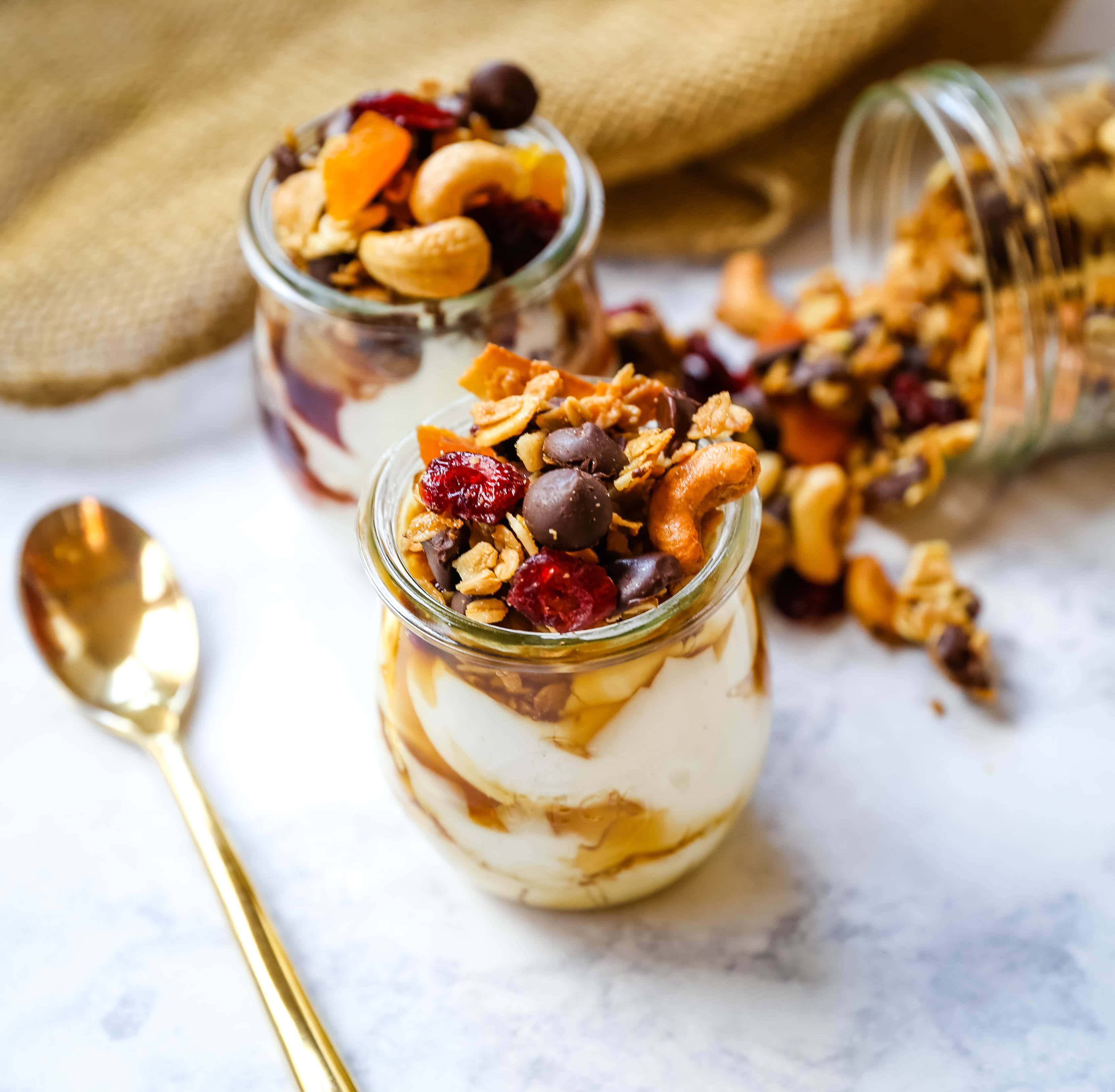 This Chocolate Coconut Granola is not your average run-of-the-mill granola. It is special. It reminds me of a Chocolate Chip Oatmeal Cookie made into granola. So if I am craving cookies and don't want to spend the time to make them, I just grab a handful of this chocolate chip granola and it satisfies my cravings!
This Coconut Chocolate Chip Granola is made with rolled oats covered in a brown sugar butter mixture to give it a sweet and nutty flavor. It is baked with unsweetened coconut flakes which become nice and toasted, which brings out the flavor of the coconut.  It is topped with cashews, almonds, dried cranberries, dried apricots, dark chocolate chips, and coconut flakes. It is heavenly granola!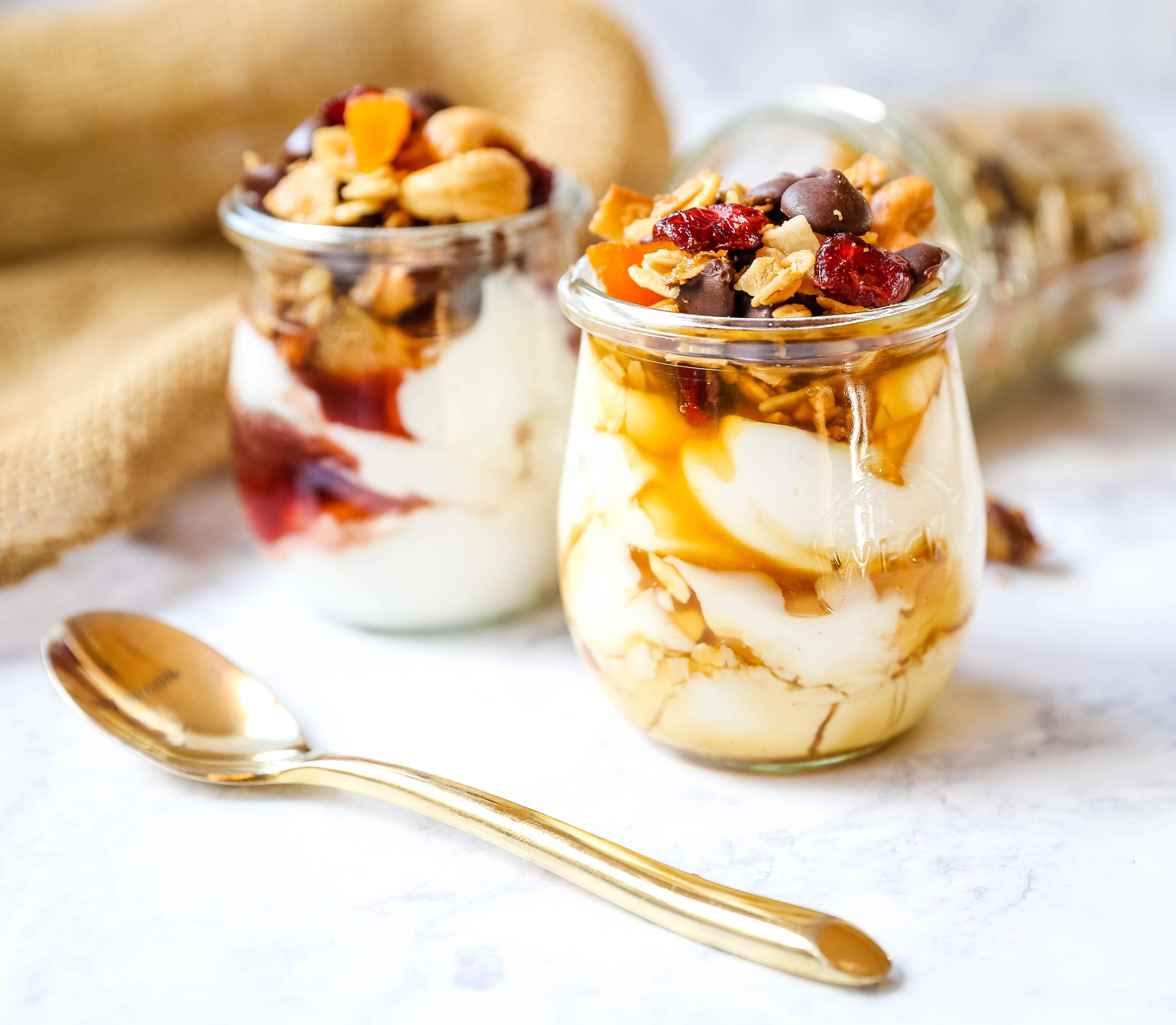 When I make homemade granola, I always use old-fashioned rolled oats.  You can also use gluten-free rolled oats and I use Bob's Red Mill or Trader Joe's GF oats.
I always melt the butter with the brown sugar and maple syrup (or honey) to dissolve the sugar and to give the butter and toasted flavor before pouring over the oats. I prefer to use brown sugar instead of sugar as it adds more depth of flavor thanks to the molasses!
This can be stored for weeks and put on top of greek yogurt or just eaten plain straight out of the jar as a snack. I add extra chocolate chips for extra decadence. It's our little secret!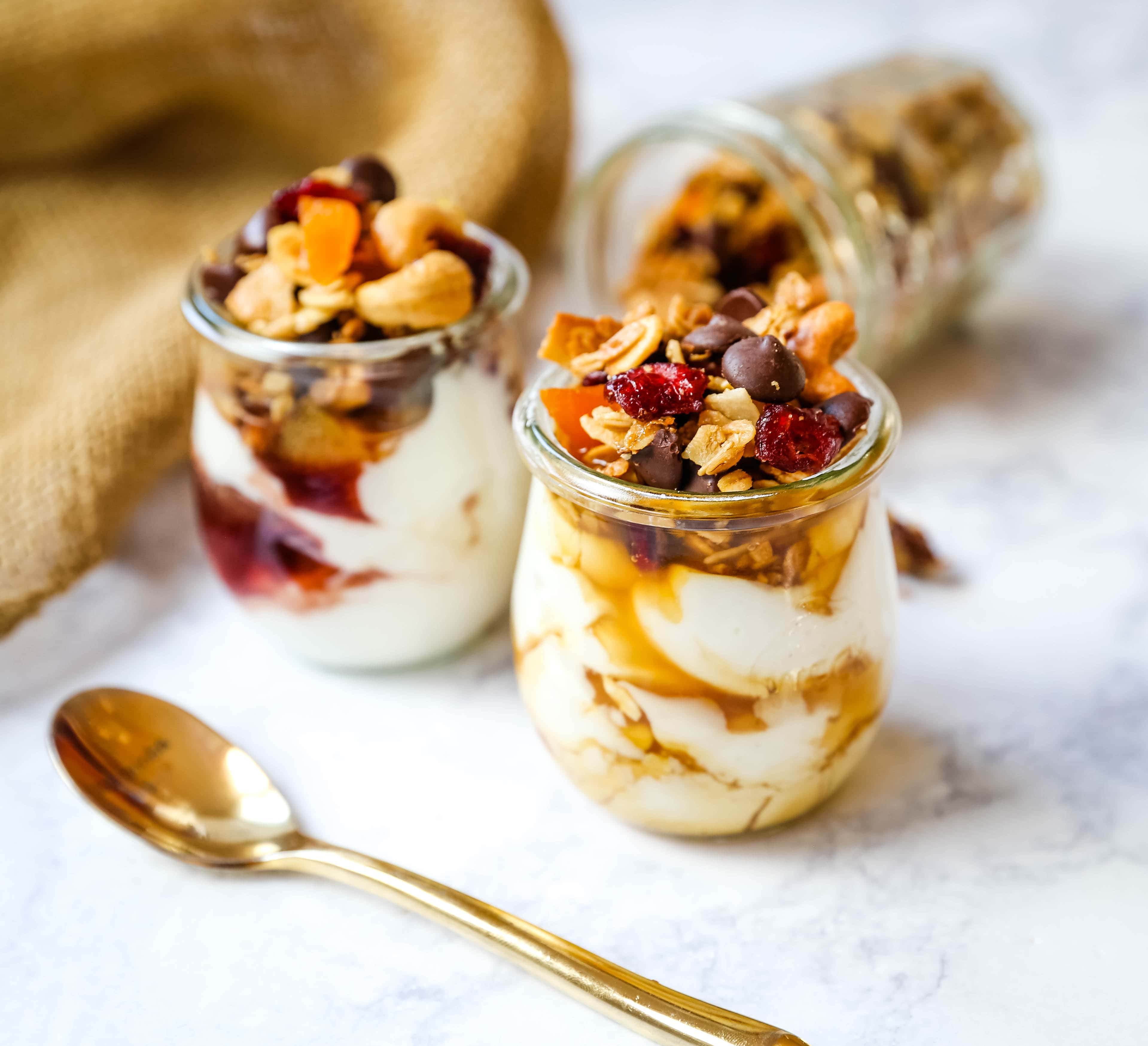 How to make Homemade Chocolate Coconut Granola:
 Start with Old-Fashioned Rolled Oats. This isn't the time to use the 5-minute quick oats...you need to use the real thing. You can use gluten-free rolled oats as well.
Melt the butter, brown sugar, and maple syrup in a saucepan until completely melted. Remove from heat and stir in vanilla. Pour over rolled oats and toss to coat.
Bake with the oats, cashews, almonds, coconut, and a touch of salt. Bake until desired crunchiness. If you like your granola softer, reduce the baking time. If you like it crunchy, bake it for the allotted baking time.
Let the granola cool completely before tossing in the chocolate chips, dried cranberries, and dried apricots.
Pack the granola into mason jars or Ziploc bags. Keep in the refrigerator or pantry. It will keep longer in the refrigerator!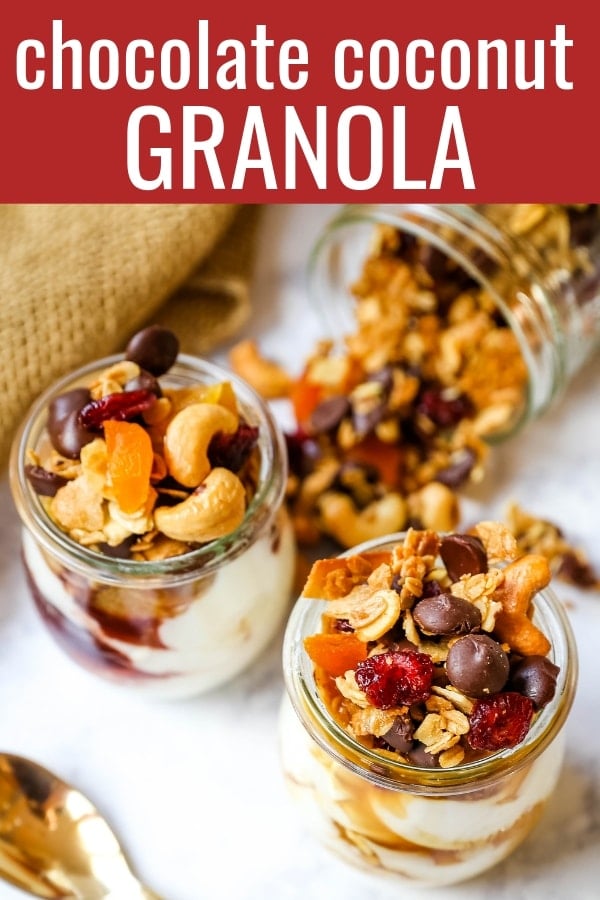 I love to hear from you! If you make this recipe, please be sure to leave a comment and give this recipe a rating. Sign up for my newsletter below so you never miss a recipe. Thank you for following along! I truly do have the greatest readers. FOLLOW ME ON:   INSTAGRAM — FACEBOOK— PINTEREST