This is the Best Cannoli Dip Recipe made with ricotta cheese, mascarpone or cream cheese, powdered sugar, brown sugar, vanilla, and mini chocolate chips.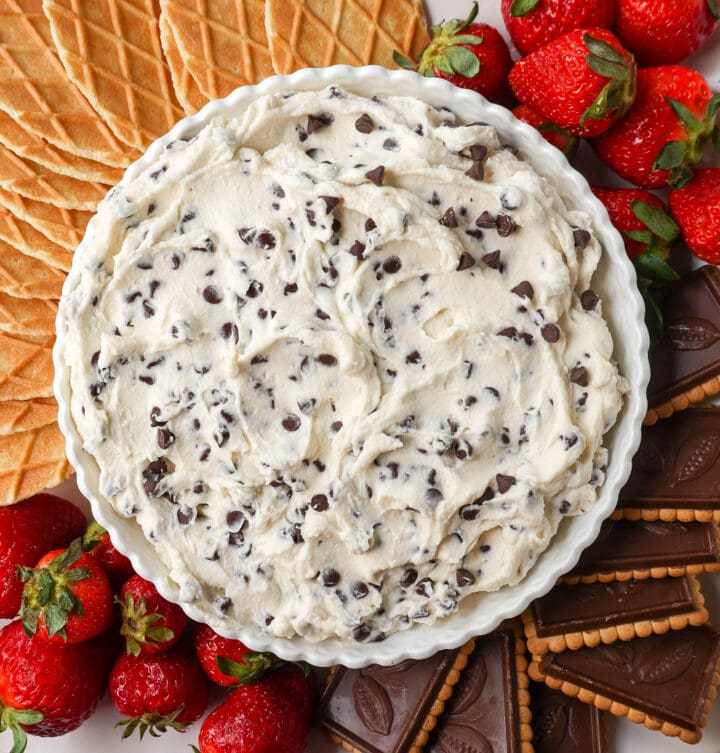 I have been hearing so much about the viral Trader Joe's cannoli dip and I knew I had to try it.
I drove to my nearest Trader Joe's, secured the cannoli dip and their butter waffle cone cookies, and couldn't even wait until I arrived home to try them.
They were absolutely delicious but I wanted to create a homemade cannoli dip with chocolate chips that tasted like a classic cannoli filling.
I wanted to ensure the cannoli dip was extra creamy so I used equal parts ricotta and mascarpone cheese with the perfect amount of sweetness. It turned out to be the best cannoli dip!
The Trader Joe's Cannoli Dip is mainly made with cream cheese, ricotta cheese, sugar, and sour cream. It is a thinner consistency and has a little tang due to the sour cream. If you want to add a little tang to this cannoli dip recipe, I suggest adding 1 Tablespoon of sour cream. You can also tailor-make the sweetness according to your taste preference. The Trader Joe's version is quite sweet so add more sugar, if you desire a sweeter cannoli dip.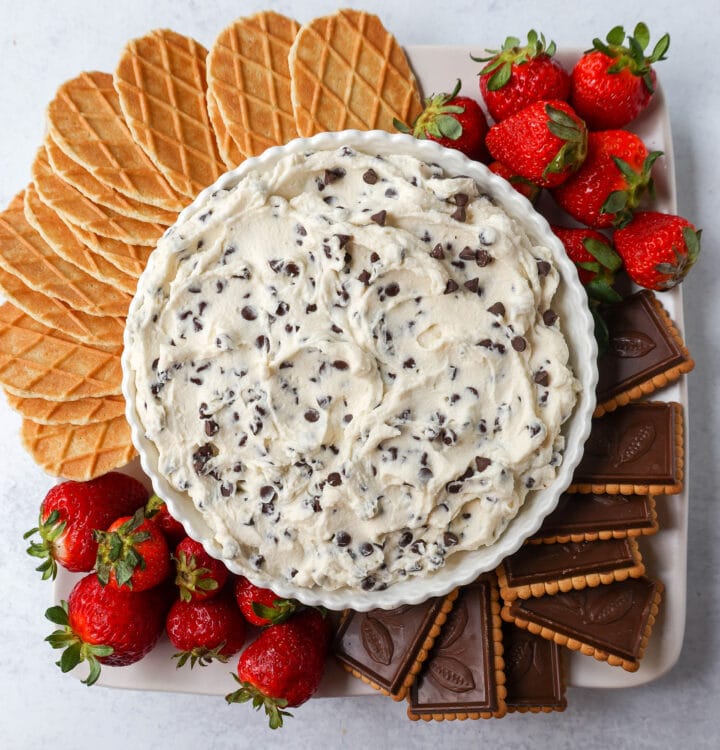 Cannoli Dip Ingredients:
This Homemade Cannoli Dip can be made in less than 5 minutes with only six ingredients.
Ricotta Cheese -- use full-fat ricotta cheese and drain the ricotta cheese if there is any liquid to ensure a creamy texture.
Mascarpone Cheese or Cream Cheese -- mascarpone cheese is an Italian cream cheese that is very creamy. You can also substitute cream cheese but make sure it is room temperature so it blends into a smooth texture.
Powdered Sugar -- this helps to create a smooth creamy dip and adds the perfect amount of sweetness.
Brown Sugar -- adds some extra sweetness, warmth, and depth of flavor.
Vanilla Extract -- I suggest using pure vanilla extract. My favorite is Nielsen-Massey vanilla.
Mini Chocolate Chips -- I suggest using mini semi-sweet chocolate chips or you can use regular-sized chocolate chips.
May add fresh orange zest, a touch of cinnamon, or pistachios for an authentic cannoli flavor.
If you use cream cheese instead of mascarpone cheese, I suggest only using full-fat cream cheese.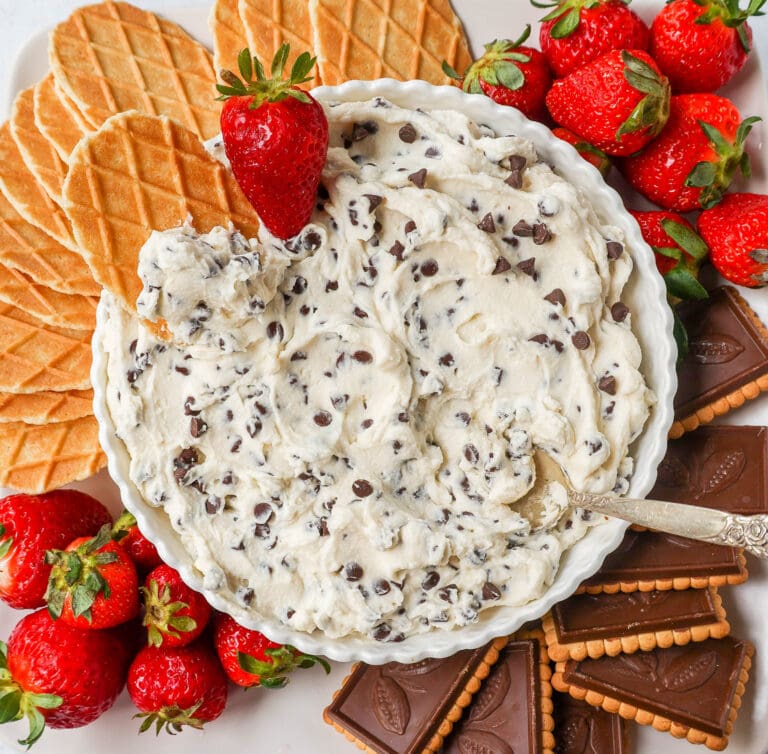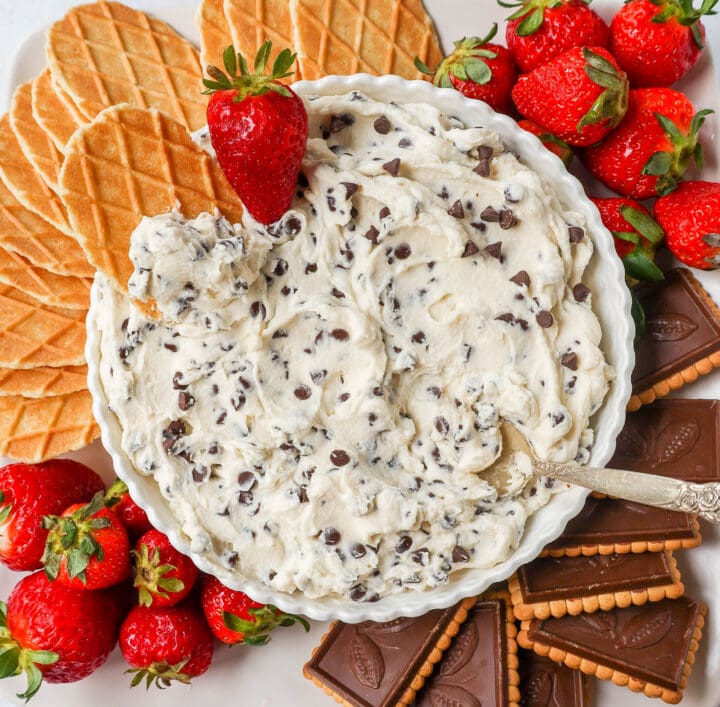 How to make Cannoli Dip (better than Trader Joe's):
In a mixing bowl, cream together ricotta cheese and mascarpone cheese. Make sure to drain any liquid off of the ricotta cheese before adding it to the bowl! Add powdered sugar, brown sugar, and vanilla.
Whip for 2-3 minutes, or until light, fluffy, and perfectly creamy. Add more powdered sugar for a sweeter cannoli dip.
Fold in mini chocolate chips.
Serve with waffle cone cookies, butter cookies, shortbread cookies, strawberries, apples, and fresh fruits.
Sweet Dip Recipes:
Chocolate Chip Cookie Dough Dip -- a sweet cream cheese dip with chocolate chips and chocolate-covered toffee bits.
Caramel Toffee Dip -- 5-ingredient Caramel Apple Dip made with cream cheese, brown sugar, vanilla, caramel sauce, and Heath Bar toffee pieces. This is the perfect dip for fresh apples!
If you love cannolis, check out my popular Cannoli Pie Recipe.