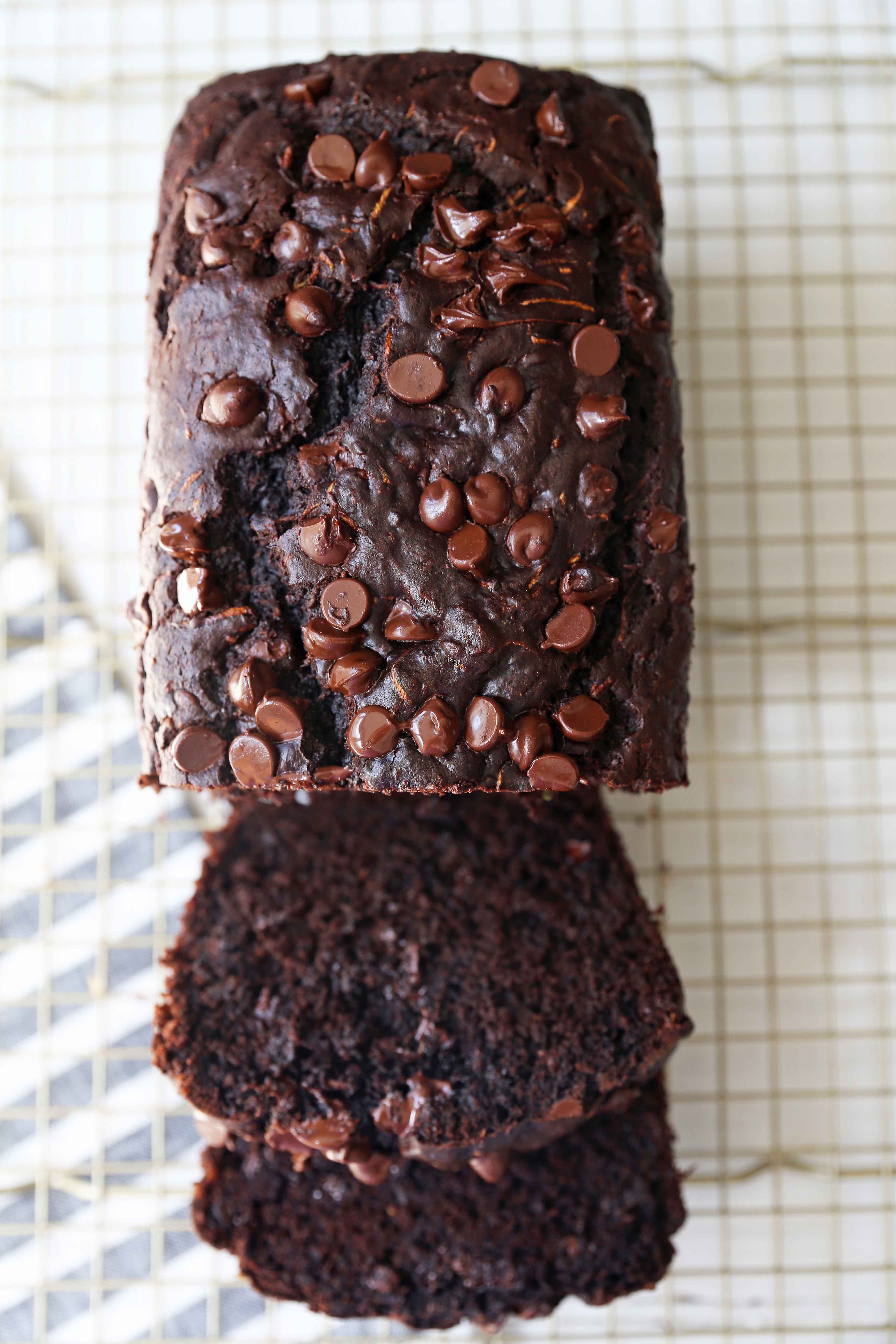 Chocolate Zucchini Bread
Moist double chocolate zucchini bread with chocolate chips. You won't even know there is zucchini in this decadent chocolate bread!
Let's make a pact to keep a secret? The kids will never know there is zucchini in this bread. As far as they know, this is double chocolate bread or dark chocolate chocolate chip bread. I mean what they don't know can't hurt them so let's bring on the zucchini...and hide it!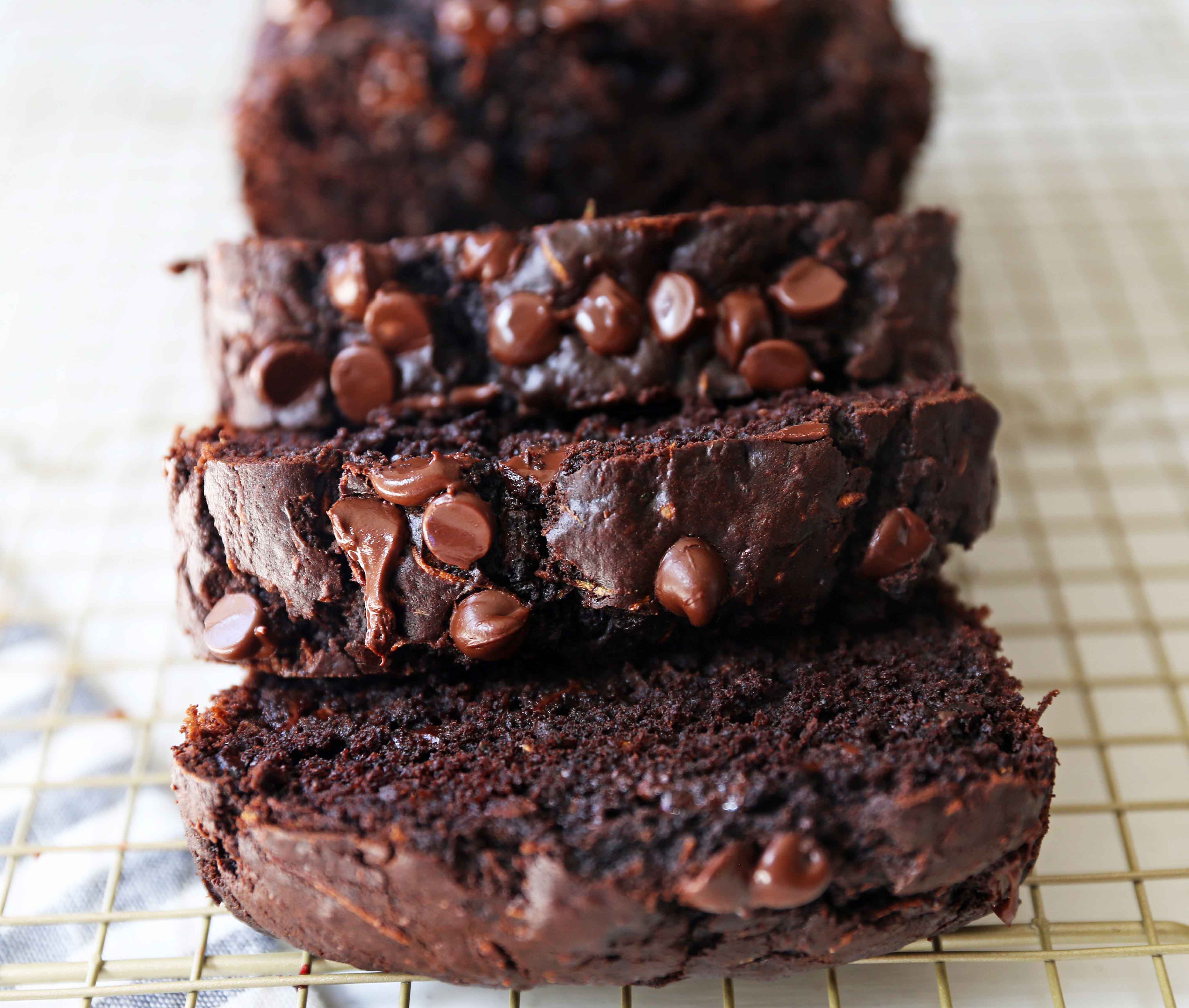 This is the time of year when zucchini is growing like crazy. My Mom talked about the years she had a huge garden in our Scottsdale home. She would try so hard to get certain fruits and vegetables to grow but there was one "steady Eddie" in the bunch -- the zucchini.  It would grow so big and so fast that she had zucchini coming out of her ears!
She would get out her cookbooks, thumb through and find every single zucchini recipe known to man, and make it.  This is where the sneaking in the veggies came from. She was the master at it! We had no idea what she had up her sleeve.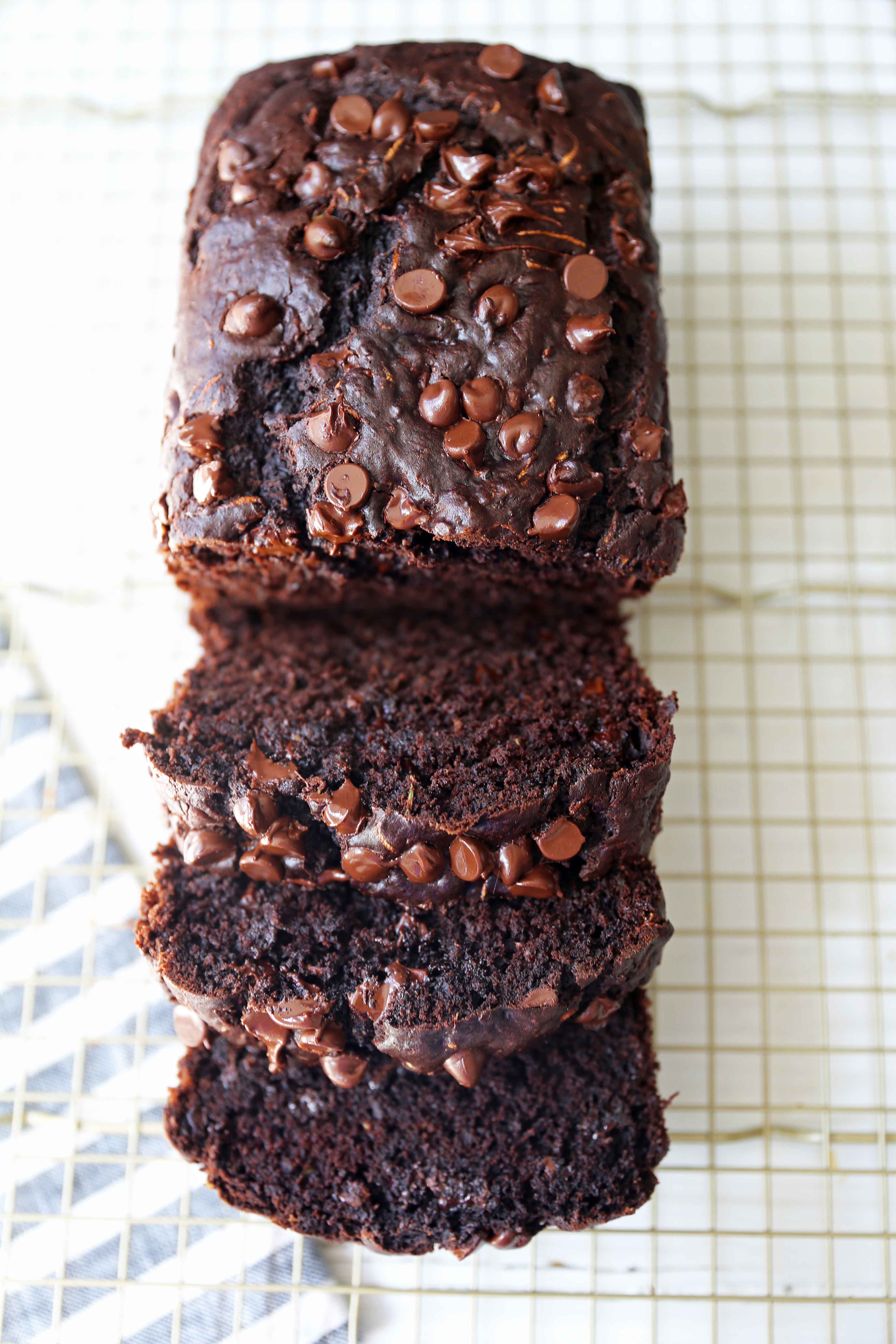 How to make moist chocolate zucchini bread:
This Chocolate Zucchini Bread is the epitome of a decadent baked good that actually has some health benefits! Who knew? The zucchini not only brings a healthy factor, but it also helps to make it moist.  Now that is a vegetable which deserves some accolades! They key is to FINELY shred the zucchini. When I use my box grater, I use the fine grater option. The zucchini magically disappears when it is baked.
This double chocolate bread is so moist because it has a combination of both butter and oil. It is the perfect marriage as the butter brings the rich flavor and the oil creates a moist texture.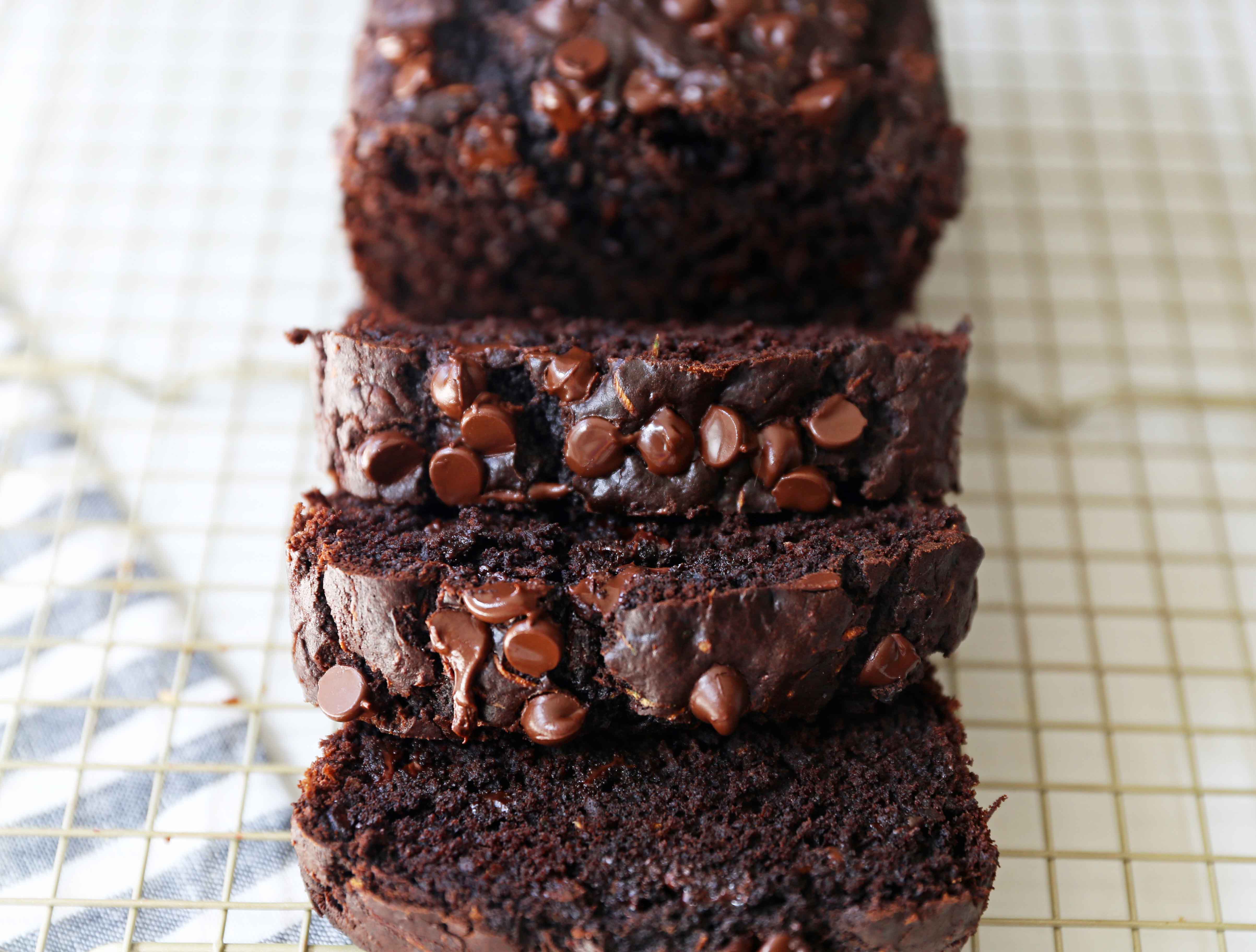 This chocolate bread recipe calls for a mix of both brown sugar and sugar. They both sweeten the bread but the addition of the molasses in the brown sugar creates a chewy texture.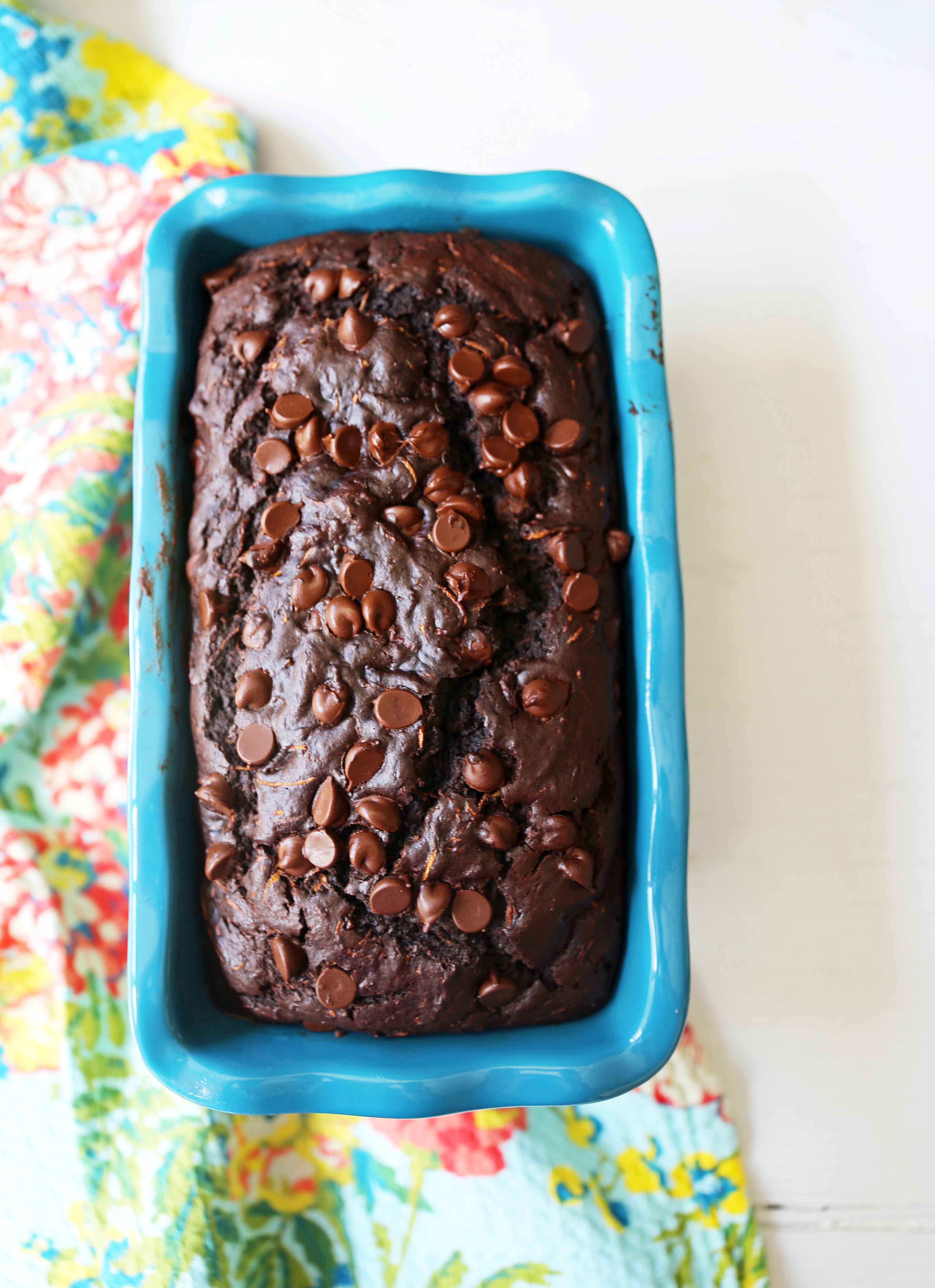 The chocolate chips are a must in this chocolate zucchini bread recipe! It is what brings the extra dual layer chocolate flavor which makes it so rich and decadent.  By folding the majority of the chocolate chips into the batter and then sprinkling the top of the bread with the remaining chocolate chips, you get creamy chocolate in every bite! I usually reach for semi-sweet chocolate chips but if you want a sweeter bread, use milk chocolate chips.
To ensure the double chocolate zucchini bread is fully cooked in the center, insert a toothpick in the center to check for doneness. Since oven temperatures can vary, I would suggest checking the bread at the minimum time listed (40 minutes), and put a toothpick in to check for doneness.
So here's to sneaking veggies into a decadent chocolate bread without our kids even noticing! This bread can be served with some sweet cream butter or even a spread of Nutella, chocolate hazelnut spread. Now, we are talking!
FOLLOW ME ON:   INSTAGRAM --- FACEBOOK --- PINTEREST
Pin on Pinterest: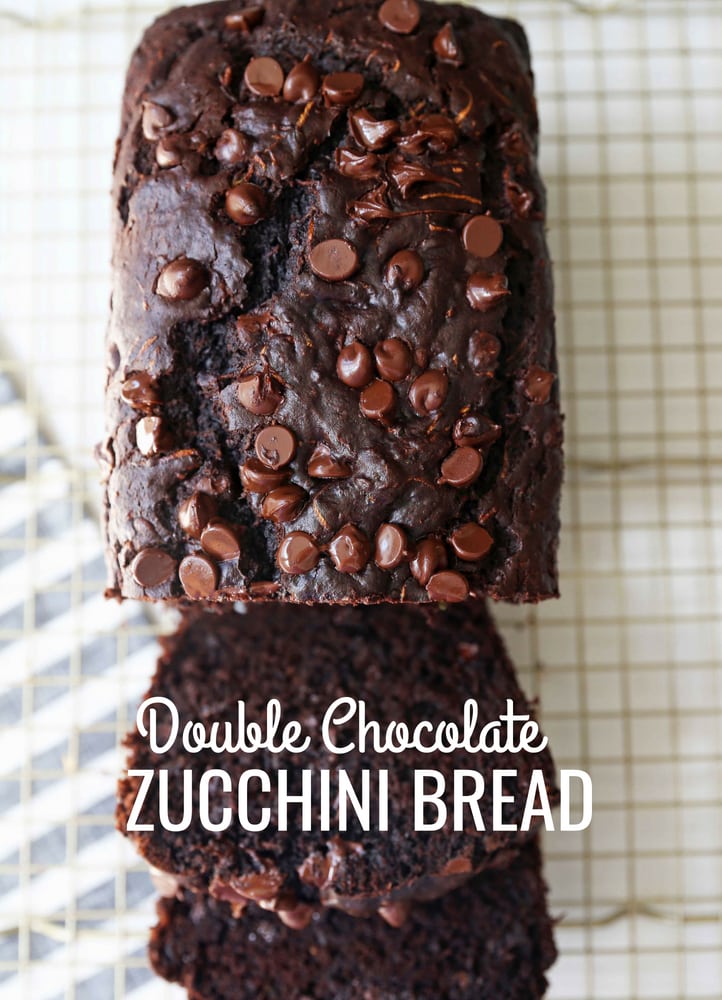 Bake up a loaf of this chocolate zucchini bread and share with a neighbor or friend! They will LOVE it!