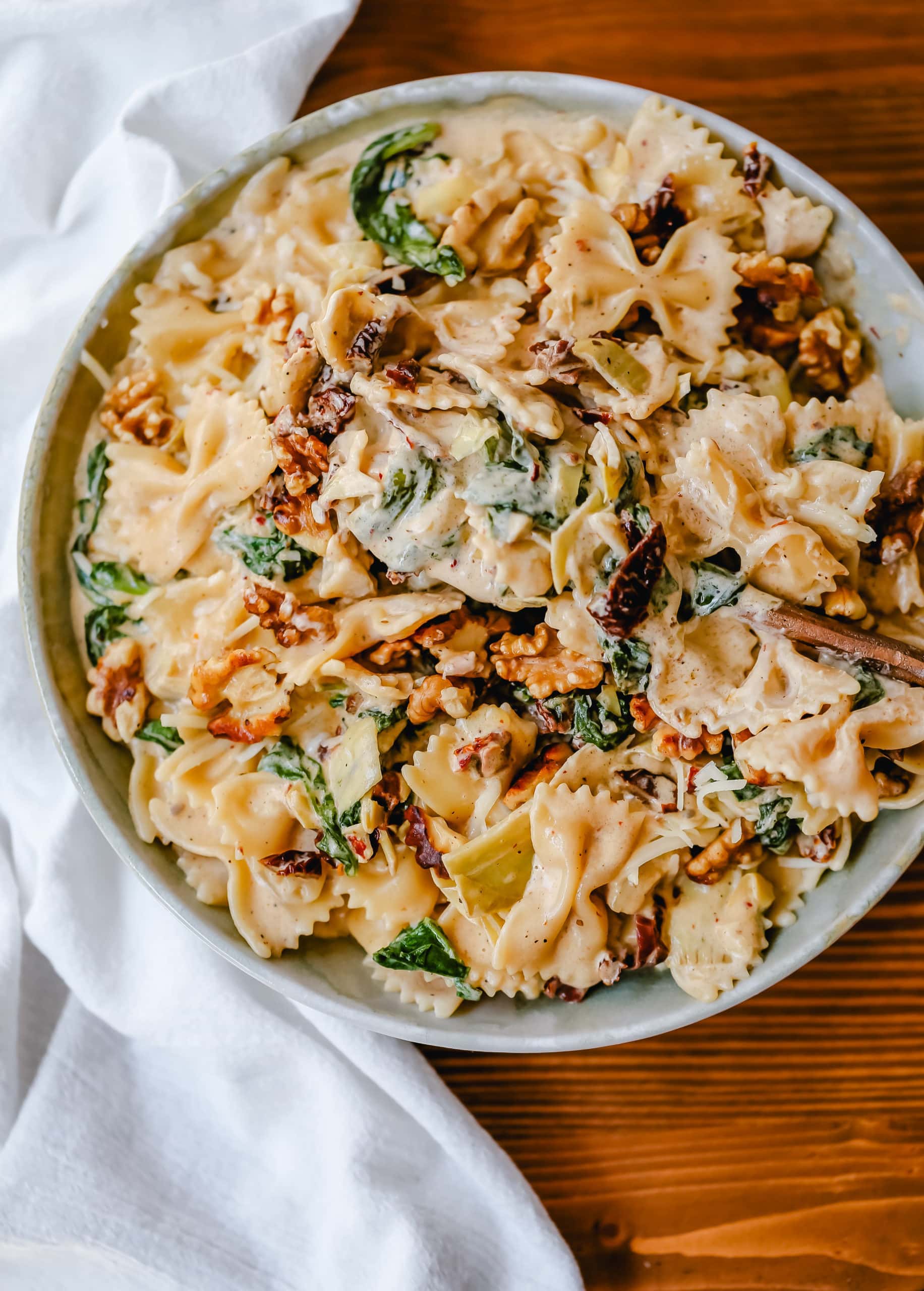 Creamy Bowtie Pasta with Sundried Tomatoes
Bowtie Pasta tossed with a garlic sundried tomato cream sauce with artichoke hearts and parmesan cheese and crunchy toasted walnuts. A quick 20-minute weeknight meal.
School is back in session around here and for some reason, my kids ask me what is for dinner every single night. My go-to easy dinner usually revolves around some type of quick pasta dish. I am looking for 20-30 minutes or less in the kitchen and I am a happy mama.
This Creamy Bowtie Pasta is literally made in less than 20 minutes. It is a rich parmesan cream sauce with sundried tomatoes and artichoke hearts tossed with bowtie pasta. I am telling you what...you will want to lick the bowl.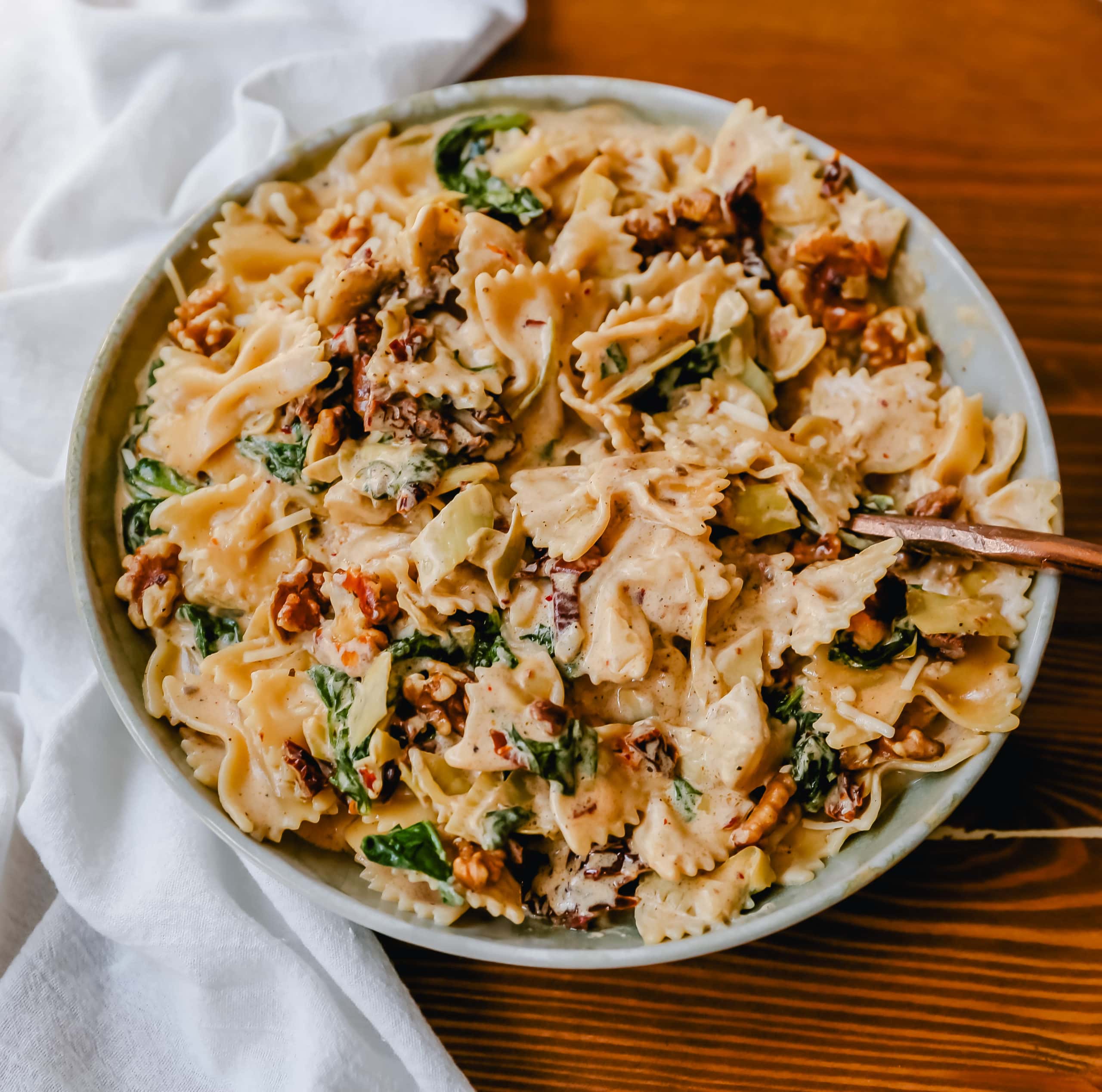 It is packed with flavor and we are even sneaking in some spinach so that is always a plus! This Creamy Bowtie Pasta is made by sauteing garlic in olive oil and adding heavy cream and cream cheese for the base of the sauce. Parmesan cheese is added in to give it a nutty richness. To give it an extra depth of flavor, chicken broth is added. Then you throw in marinated sundried tomatoes, artichoke hearts, and spinach to give the sauce an amazing fresh flavor. A little sprinkle of red pepper flakes for a subtle spice and toss with bowtie pasta. You can top it with a little crunch by adding toasted walnuts.
This is such a versatile recipe and you can even throw in some grilled or sauteed chicken for some extra protein. You could also serve this alongside some marinated grilled chicken or steak which would be fabulous.
This recipe was inspired by Joanna Gaines Magnolia Table Cookbook. I just changed up some of the ingredients and amounts by adding chicken broth, reducing some of the heavy cream, adding red pepper flakes for spice, added more garlic, using spinach instead of kale, and omitted the chives.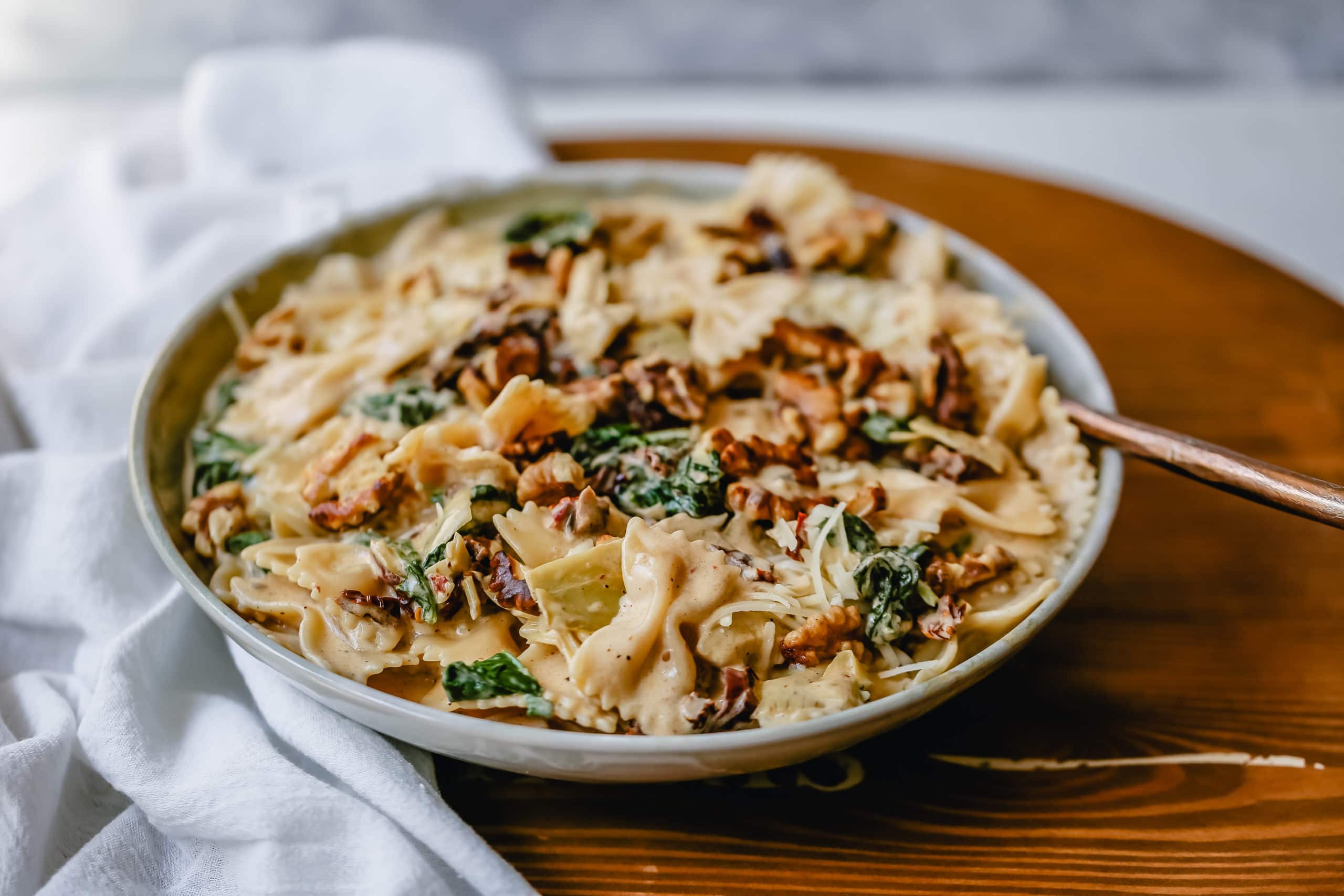 How to make 20-Minute Creamy Bowtie Pasta:
Start by boiling water in a large pot. Add a generous amount of salt. Add bowtie pasta, also known as farfalle pasta. Cook according to package instructions. Drain and add to the sauce (below).
While the water is getting ready to boil, saute the garlic in olive oil. Add heavy cream, cream cheese, and chicken broth and stir together. I prefer to use full-fat cream cheese in this recipe for extra creaminess. Let the cream cheese completely melt and stir often.
Use high-quality parmesan cheese. Add the parmesan cheese only ½ cup at a time. This allows it to fully melt into the sauce without seizing up. Add in spices. I love to use dried red pepper flakes for flavor and subtle spice. You can always reduce the amount in half.
Add marinated sundried tomatoes and artichoke hearts. You can do a rough chop on them or finely dice depending on preference. Add in baby spinach. If you want smaller pieces, tear apart the spinach with your hands before adding it to the sauce.
Toss with drained pasta. Serve with extra parmesan cheese and toasted walnuts for crunch.