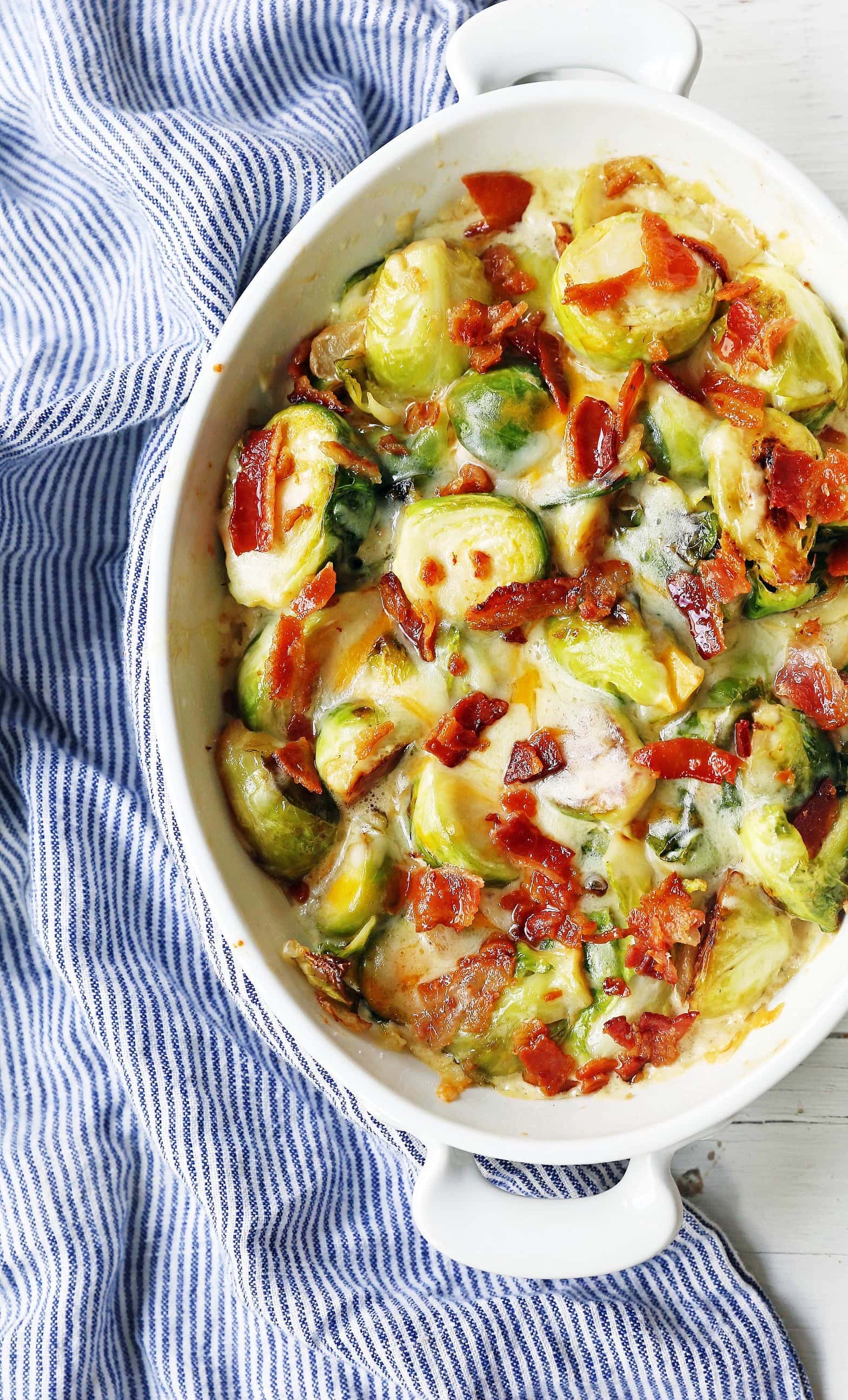 Creamy Cheesy Brussels Sprouts with Bacon
Roasted brussels sprouts with crispy bacon, a creamy sauce, and melted cheese 
Brussels sprouts have finally been thrust into the spotlight.  Man alive, you can find them on almost every restaurant menu, prepared all kinds of ways. If I am going to eat brussels sprouts, cover them in cheese, cream, and crispy bacon and call it good. That's the way to devour vegetables!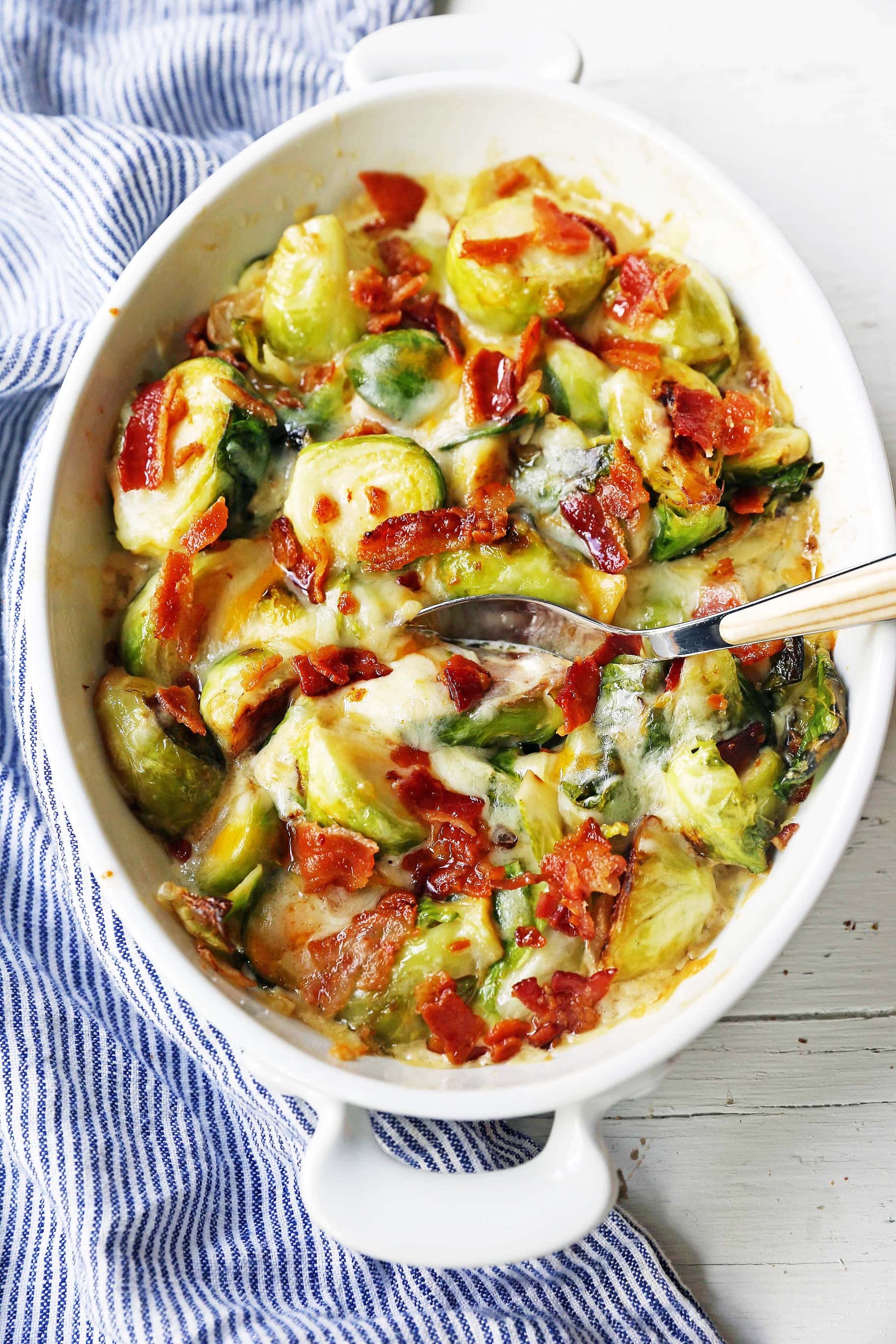 These brussels sprouts are sauteed in butter and onions and then roasted in the oven with heavy cream and sharp cheddar cheese. I mean, come on?! I am all over eating vegetables covered in melty cheddar cheese and crispy bacon! You might just even get vegetable haters to actually try vegetables! Cross fingers.
How to make Creamy Cheesy Brussels Sprouts with Bacon:
 Cook bacon until crispy and set aside to drain on a paper towel-lined plate. Remove from pan and then saute onions in butter. This is what develops the flavor in the onions.
Cut the brussels sprouts in half and cut off the ends.  Add to the skillet and cook for 10 minutes, stirring often. Sprinkle with salt.
If you are using an ovenproof skillet, you can place it straight in the oven or can transfer the brussels sprouts to a baking dish.
Pour heavy cream all over the brussels sprouts and sprinkle with cheese.
Cover and bake for 12-15 minutes. Remove the foil and cook until cheese is bubbly.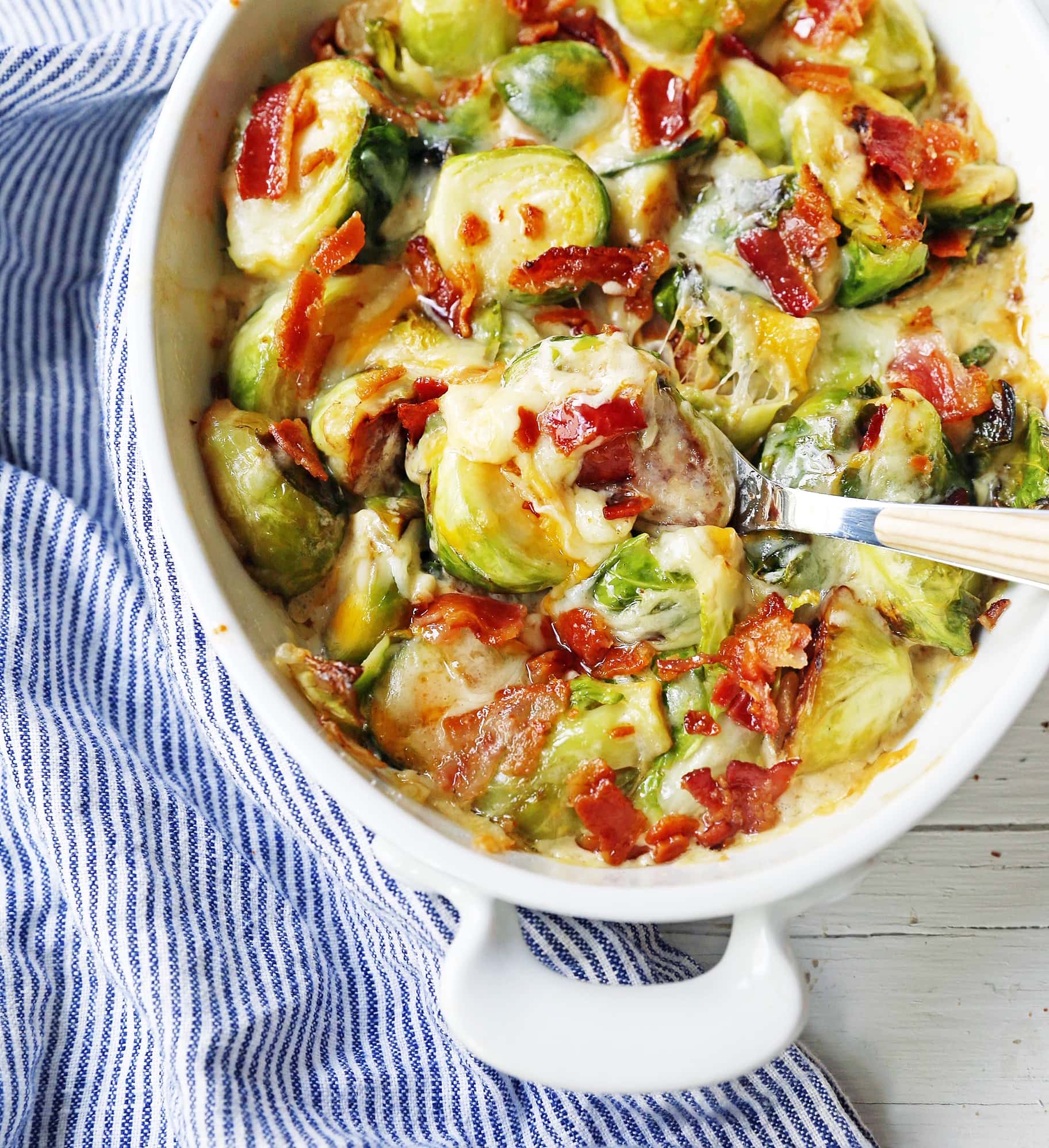 I love to hear from you! If you make this recipe, please be sure to leave a comment and give this recipe a rating. Sign up for my newsletter below so you never miss a recipe. Thank you for following along! I truly do have the greatest readers. FOLLOW ME ON:   INSTAGRAM --- FACEBOOK --- PINTEREST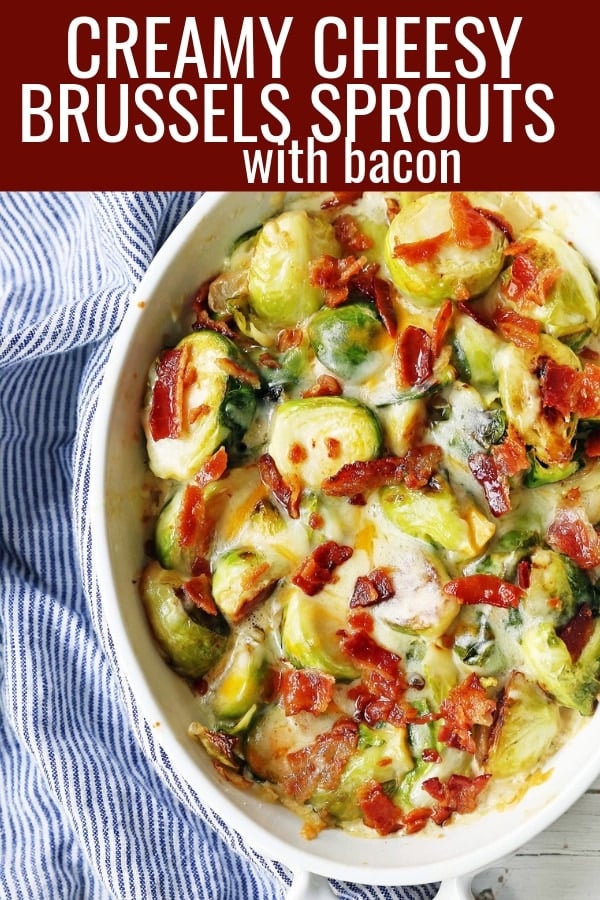 Creamy Cheesy Brussels Sprouts with Bacon
Roasted brussels sprouts in a creamy sauce topped with melted cheese and crispy bacon
Ingredients
4

Bacon Slices

(cooked until crispy)

2

Tablespoons

Butter

1/2

Sweet Onion

(finely diced)

1 1/2

lbs.

Brussels Sprouts

(halved and stems cut off)

1

teaspoon

Salt

1/2

cup

Heavy Cream

1 - 1 1/2

cups

Sharp White Cheddar Cheese

1/4

teaspoon

Garlic Powder or 2 Garlic Cloves, minced

(optional)
Instructions
Preheat oven to 375 degrees. In a large skillet, cook bacon until crispy. Remove bacon and set on a paper towel-lined plate.

In the same skillet (may leave bacon grease in the pan or remove it), melt butter over medium heat. Add onion and cook for 4 minutes, stirring often. Add brussels sprouts and cook for 8-10 minutes. If using garlic, add it now. Sprinkle with salt.

Remove from heat. If using a baking dish, transfer brussels sprouts to the dish. If using the ovenproof skillet, leave them in the pan. Add heavy cream and toss with brussels sprouts. Top with sharp cheddar cheese.

Cover and let bake for 13-15 minutes. Remove foil and let cook for 2-4 minutes or until cheese is melted and bubbly and brussels sprouts are cooked to your desired doneness.

Top with crumbled crispy bacon on top.