Dark Chocolate Chunk Olive Oil Cookies
A rich chewy chocolate chunk cookie made with both extra-virgin olive oil and butter. It has perfectly crispy edges and a chewy center with chunks of dark chocolate and sea salt flakes.
Hold up. Wait a minute. Are you telling me you can make chocolate chip cookies with olive oil? Oh yes, you can! They are downright divine and now my little "secret" ingredient.
Back in the day, I used to come home from school and plop myself down on the family room floor, and peruse my Mom's large stack of cookbooks. Of course, I would thumb through and go straight to the cookie section. Since I was a kid, sugar was all I was focused on. There were cookies using everything from butter to shortening to oil. I remember thinking how do you make cookies with oil? I was about to find out.
As you may have discovered, I find it thoroughly enjoying whipping up new and creative chocolate chip cookie recipes. I have created quite the collection on Modern Honey --
Levain Bakery Copycat Chocolate Chip Cookies
Charmina's Chocolate Chip Cookies
Doubletree Hotel Copycat Chocolate Chip Cookies
MJ's Top Secret Chocolate Chip Cookies
Thin and Crispy Chocolate Chip Cookies and SO many more.
This is my first chocolate chip cookie made with olive oil and I am wondering what in the world took me so long?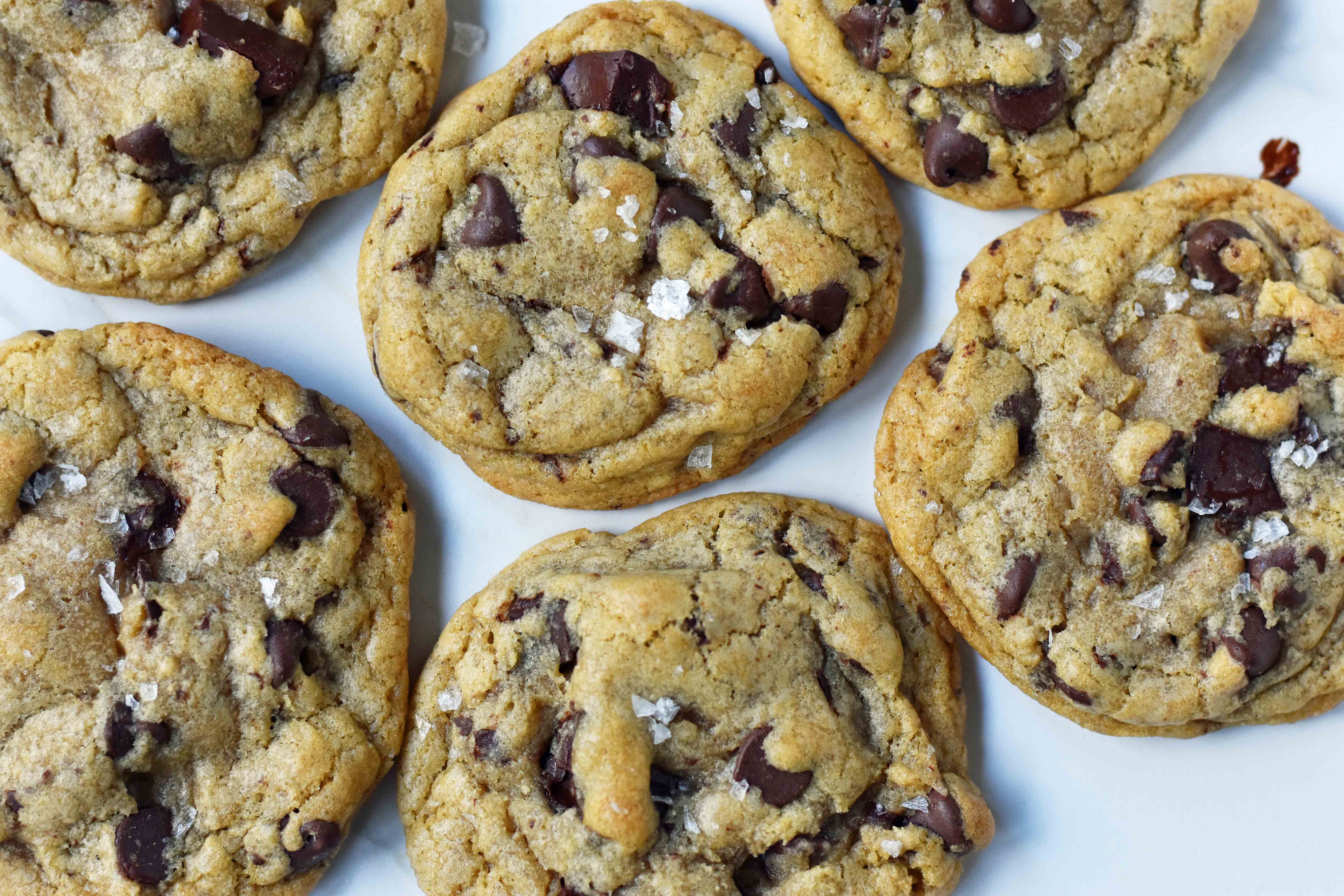 These Chocolate Chip Olive Oil Cookies are what dreams are made of -- chewy center, crisp edges, a touch of sea salt, and richness from the dark chocolate. These cookies keep you on your toes in the very best way!
I live in Gilbert, Arizona and one of our favorite spots to go out-to-eat is at one of our local spots, called the Queen Creek Olive Mill. The food, the ambiance, the olive OILS are all simply amazing. I was there a few months ago and picked up some of their famous olive oils. They have some unique flavors!
I picked up their chocolate-infused olive oil and couldn't wait to use it in these Dark Chocolate Chunk Olive Oil Cookies! If you want to see what the fuss is all about, jump over to their Queen Creek Olive Mill website to check out their products. You can use any flavor of olive oil in these cookies.
How to make Chocolate Chip Olive Oil Cookies:
Start with Olive Oil. This can be the typical extra-virgin olive oil or you can use unique flavors such as chocolate infused or vanilla bean infused olive oil. The sky is the limit!
Melt the Butter. Melting can be done in a skillet on the stove over medium-low heat or it can be melted in the microwave. I prefer to melt the butter in a skillet so it starts to become a nice golden color. Don't melt it too long or the liquid will start to evaporate.
Cream Olive Oil, Butter, Brown Sugar, and Sugar for 4-5 minutes, or until the graininess from the sugar begins to dissolve. This recipe calls for an abundance of brown sugar which gives the cookies the perfect chewy texture.
Add Dark Chocolate. You can use dark chocolate chunks, dark chocolate chips, or chopped up chocolate bars. You can even use semi-sweet chocolate chips.
Chill the dough. Since the butter is melted, it is important to wrap or cover the dough and let it CHILL for at least 30 minutes. Cookie dough becomes better with time so if you can wait, let it chill for several hours or even overnight.
Bake at 385 degrees. It is a unique temperature but it helps to give the cookies the crisp edges. Open the oven with about 1-2 minutes of baking time remaining, and sprinkle with sea salt flakes to make them Sea Salt Dark Chocolate Chunk Cookies. You can find

Maldon Sea Salt Flakes HERE

. If at all possible, use a

light colored baking sheet like this one

.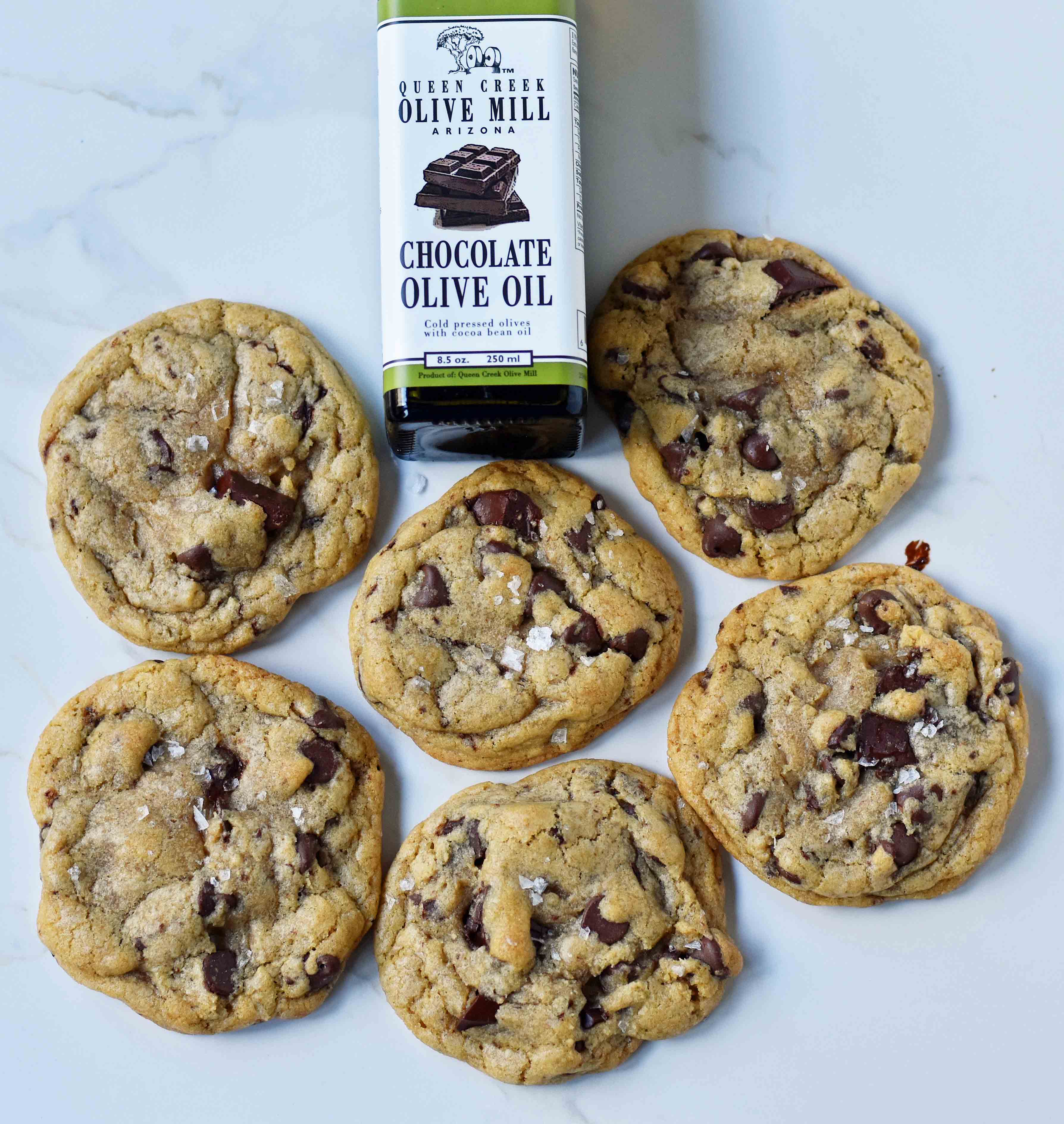 You can find all of these amazing olive oils at the Queen Creek Olive Mill website. If you live in or are planning to visit Arizona, it is a must visit! Go for breakfast, lunch, or dinner and you will love their food and their gorgeous setting. I hope you LOVE these olive oil cookies and see why they make such an incredible difference in getting those crisp edges in Dark Chocolate Chunk Olive Oil Cookies!
Happy Baking, my friends!