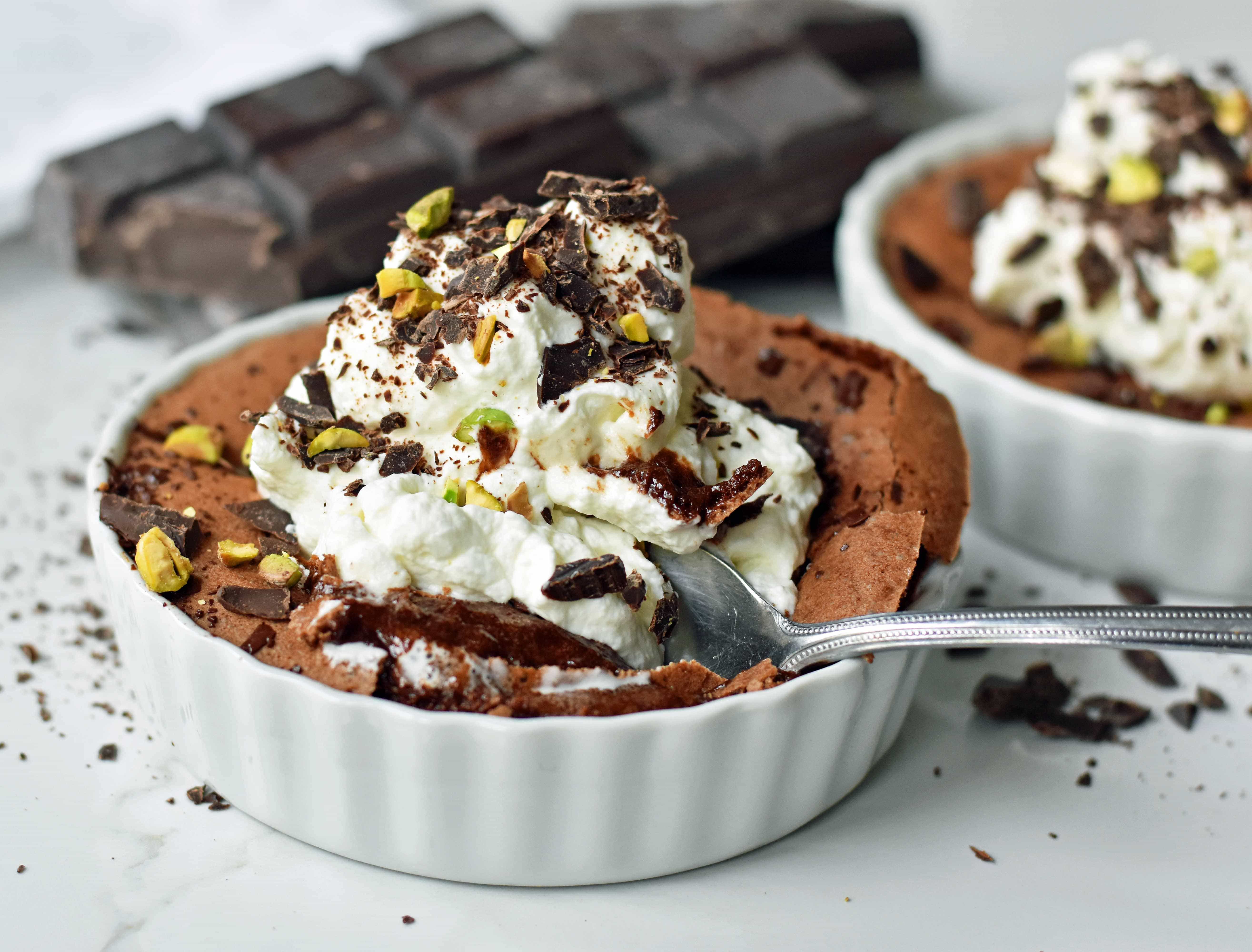 Flourless Chocolate Molten Lava Cake is a naturally gluten-free cake made with five simple ingredients — butter, chocolate, eggs, sugar, and sea salt. It is a popular, rich, sinful chocolate dessert.
This Flourless Chocolate Molten Lava Cake is downright divine.
I have been making this decadent chocolate dessert for years and it is a family favorite.  Since Valentine's Day is around the corner and we are celebrating chocolate week, I want to share this heavenly chocolate dessert.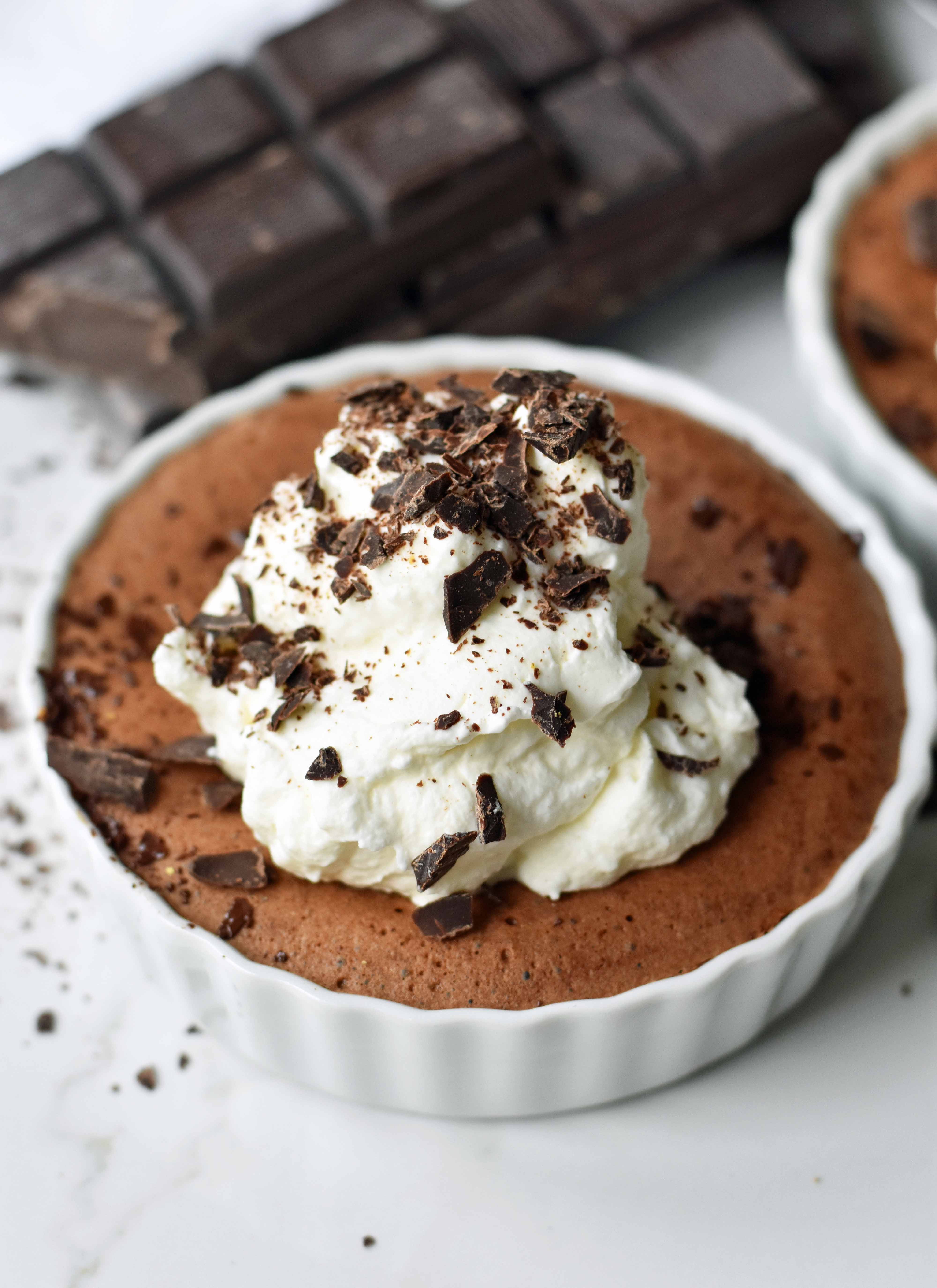 If you have read my post about my Love at First Sight Chocolate Cake, you may know that I make my husband his very own chocolate cake every Valentine's Day.  Well…this year may be a tad different. He is currently on a gluten-free diet for 2 weeks so this naturally gluten-free chocolate cake is on the menu.
My teenage daughter is hosting a Bachelor night with her girlfriends tonight. On a side note…how is it possible that I have a daughter old enough to watch the show? I started watching it when she was 1 year old! Ok back to the dessert…she wanted a gluten-free dessert since one of her friends can't eat gluten. This came to mind as the perfect single-serving dessert that is actually gluten-free, since it contains no flour and satisfies any sweet tooth and chocolate lover.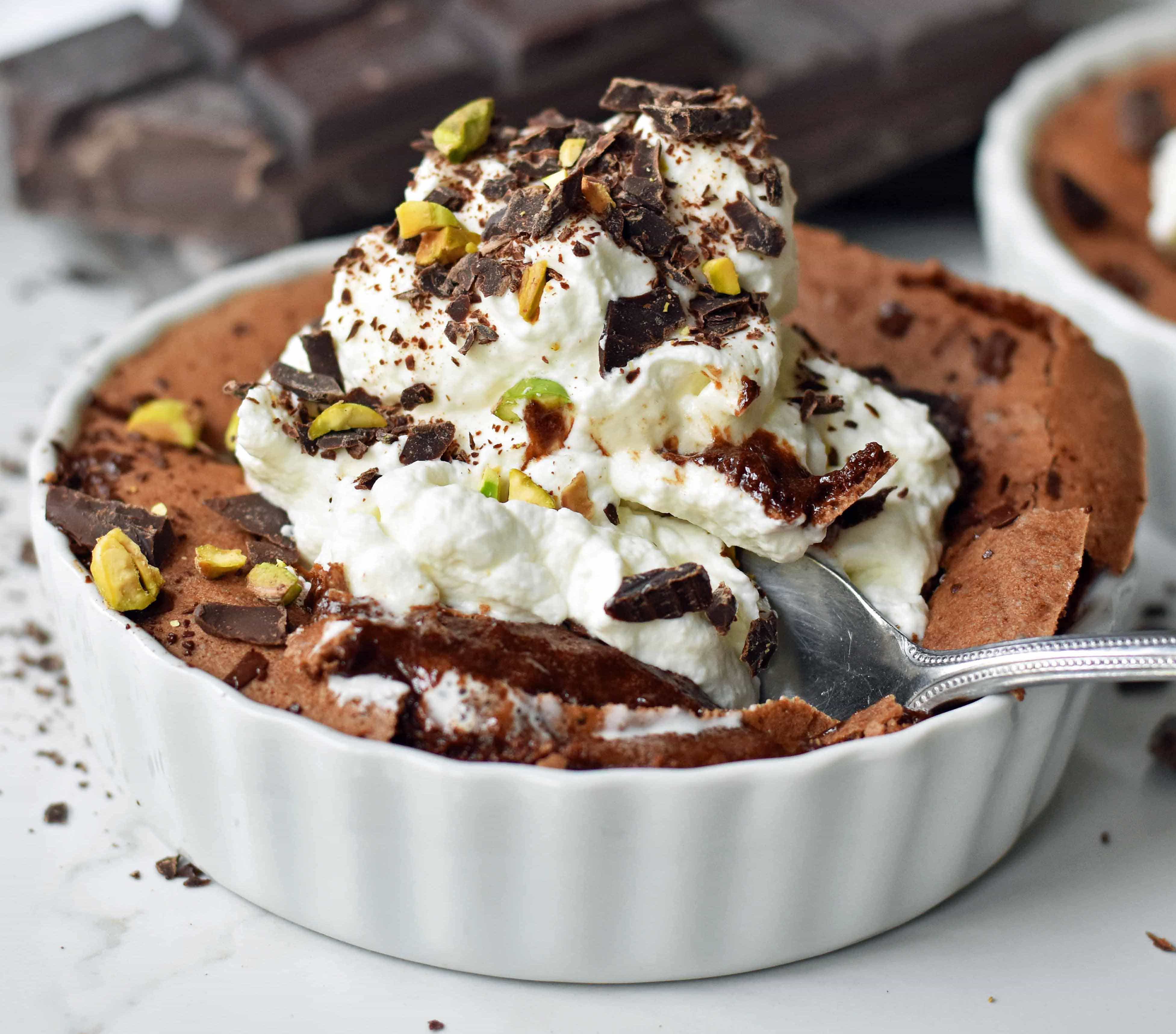 What is a Flourless Chocolate Molten Lava Cake?
The beauty of this cake is the simplicity of ingredients.  It is made with melted butter, chocolate, eggs, sugar, and a touch of sea salt.  It is usually baked in ramekins, which are small dishes used for baking.  The baked chocolate molten cakes are usually topped with fresh whipped cream or vanilla ice cream.  Chocolate lava cakes are known for their ooey gooey center which is full of melted chocolate.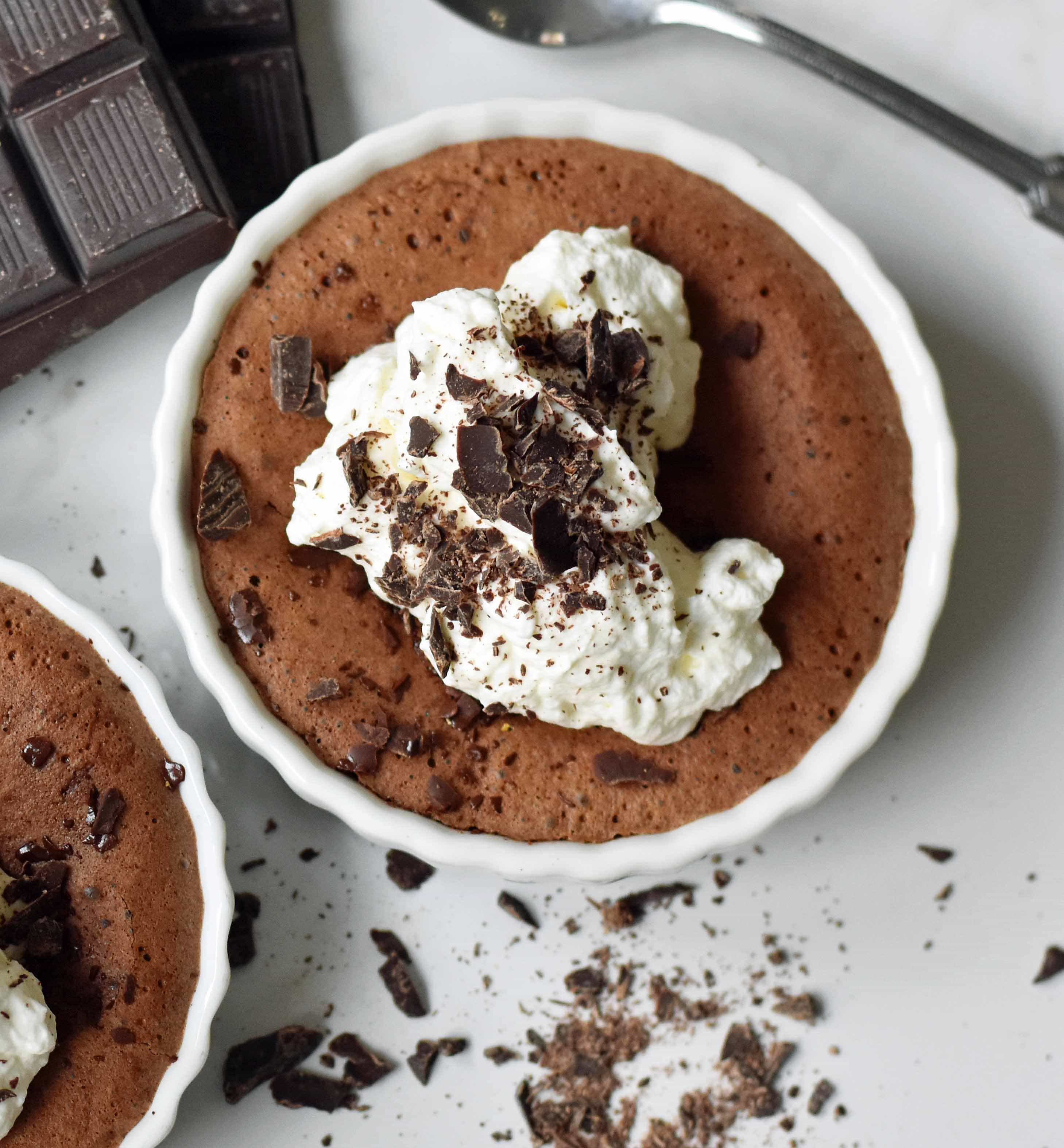 How to make Flourless Chocolate Molten Lava Cake?
 Start with melting butter. This can be done in a saucepan over medium-low heat or even in the microwave in a microwave-safe bowl until completely melted.
Remove from heat and stir in chocolate until melted. This is where it gets fun because you can tailor make your molten lava cakes, depending on your chocolate preference. My kids prefer a sweeter chocolate so I use a dark chocolate bar (the Trader Joe's Dark Chocolate Pound Plus Bar) and add sugar. If you like your chocolate lava cake a tad darker, use bittersweet chocolate.  You can even use a semi-sweet chocolate bar. This recipe was tested with chocolate bars and not chocolate chips. Let cool to room temperature.
Beat eggs and sugar with a mixer for 4 minutes or until light and fluffy. This creates a good amount of air which will give some texture and air to the chocolate cakes.
Carefully fold in chocolate in three increments.  This helps to incorporate the ingredients and ensure it gets completely folded together.
If you desire it to have more structure, add a small amount of almond meal. This is optional but it gives a more cake-like consistency.
Butter bottom and sides of ramekins. Pour in chocolate batter until a tad more than 3/4 full.  Place ramekins on a baking sheet and place in preheated oven. Bake until top is set and dry to touch. Here are some beautiful white ramekins — 

Bellemain Porcelain Ramekins

,   Square Shaped Porcelain Ramekins,     White Porcelain Round Ruffled Edges Ramekins
Let cool for at least 30 minutes. This gives the cake time to set up.  Top with fresh whipped cream or vanilla ice cream.
*These Flourless Chocolate Molten Lava Cakes are the perfect texture and consistency once the cakes cool. I love to top them off with homemade vanilla whipped cream or vanilla bean ice cream with fresh raspberries or pistachios.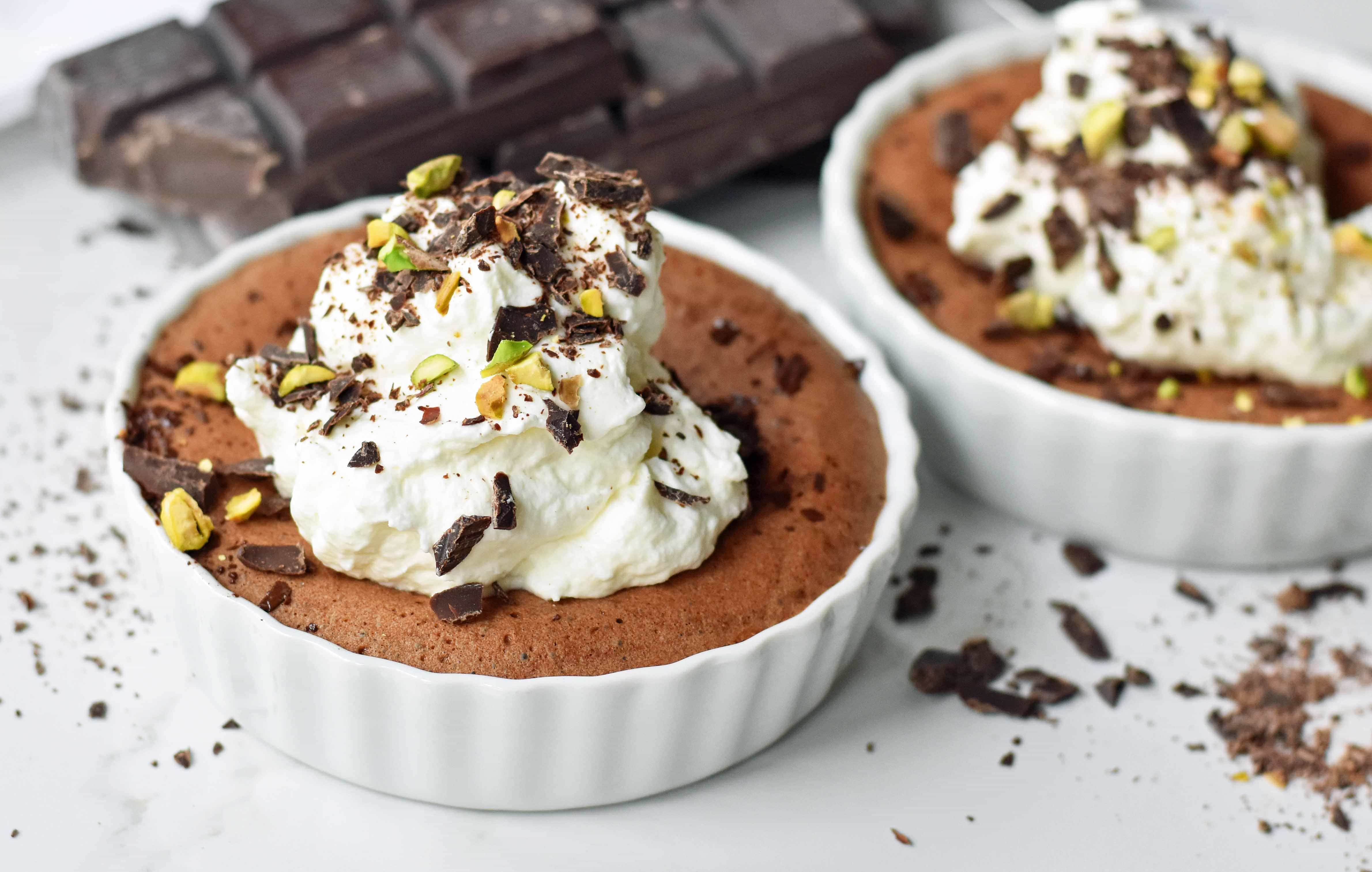 Pin this now to find it later
Pin It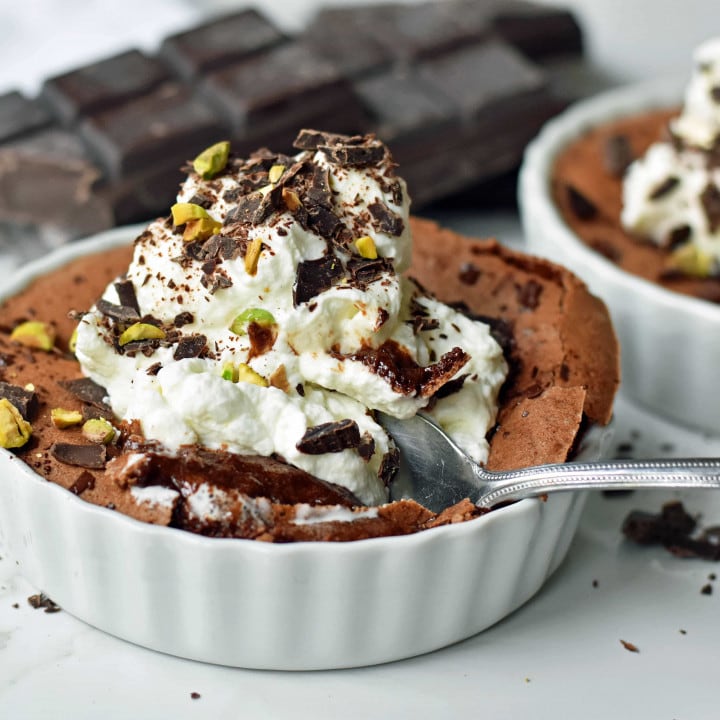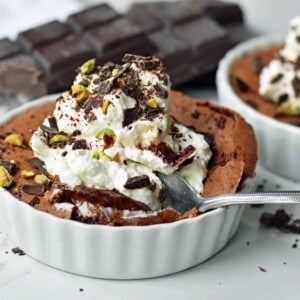 Flourless Chocolate Molten Lava Cake
A popular decadent chocolate dessert made with only 5 ingredients -- chocolate, butter, sugar, eggs, and sea salt. Topped with homemade whipped cream or vanilla ice cream.
Ingredients
Chocolate Molten Lava Cakes:

3/4

cup

Butter

1 1/2 sticks or 12 Tablespoons, melted (plus more for pan)

6 1/2

ounces

Chocolate Bar

heaping 1 cup, chopped (semi-sweet, dark, or bittersweet)

4

Eggs

2/3

cup

Sugar

1/4

teaspoon

Sea Salt

2

Tablespoons

Almond Meal

optional



Homemade Whipped Cream:

1

cup

Heavy Cream

1/4

cup

Powdered Sugar

1

teaspoon

Vanilla Extract

optional



Garnish:

Chocolate Shavings

Chopped Pistachios

Fresh Raspberries

Fresh Strawberries

Vanilla Ice Cream
Instructions
Preheat oven to 375 degrees.

Butter six 4-ounce or 6-ounce ramekins. Place ramekins on baking sheet.

In a small pot, melt butter over medium heat.

Remove from heat and add chocolate. Stir until melted. Once chocolate is melted, set aside to cool.

In a large mixing bowl, beat the eggs and sugar for 4 minutes, or until light and fluffy.

Fold the melted chocolate in three increments into the egg-sugar mixture, folding well after each addition. This helps to create an aerated batter.

Fold in the almond meal, if using. Add sea salt.

Pour batter into prepared ramekins.

Bake for 12 - 16 minutes or until the top is set and dry. The center will still be gooey.

Let set and cool in pan for at least 30 minutes before serving to allow the cakes to set up.

To make whipped cream: beat heavy cream in mixing bowl until soft peaks form. Stir in powdered sugar and whip for 30 seconds longer. Add vanilla, if so desired.

Top chocolate cakes with whipped cream or vanilla ice cream.

Garnish with chocolate shavings, pistachios, raspberries, or strawberries.
Nutrition information is automatically calculated, so should only be used as an approximation.
Pin on PINTEREST: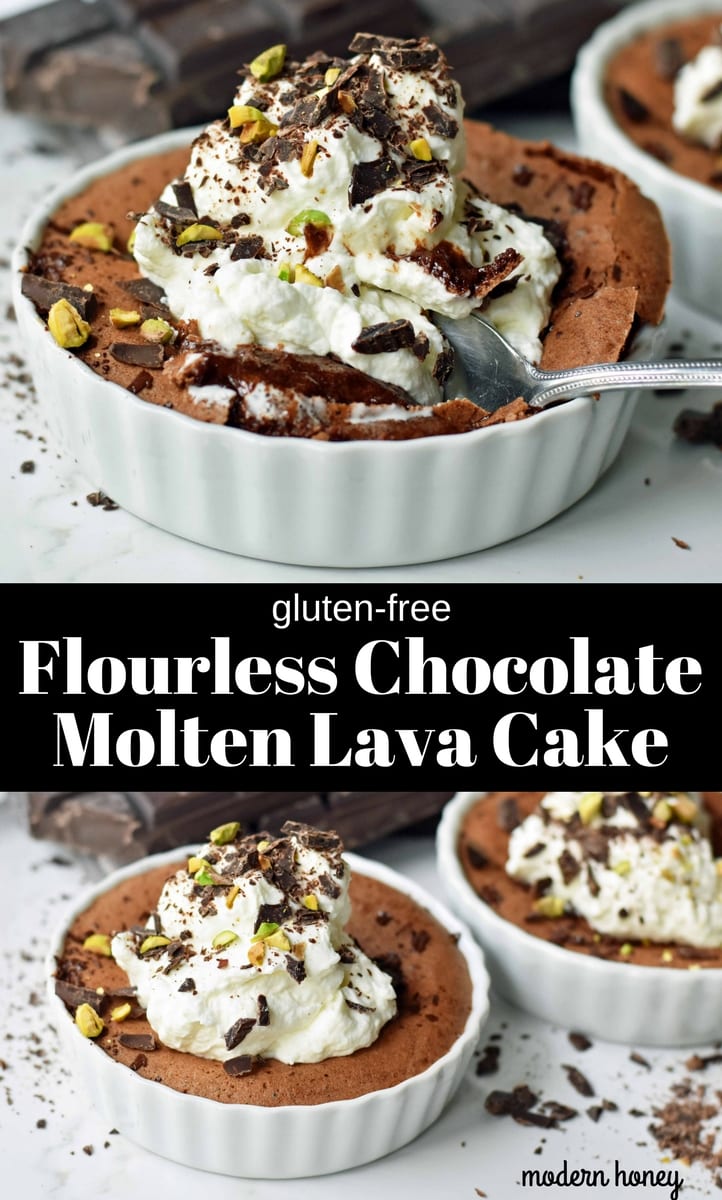 Happy Baking, my friends!