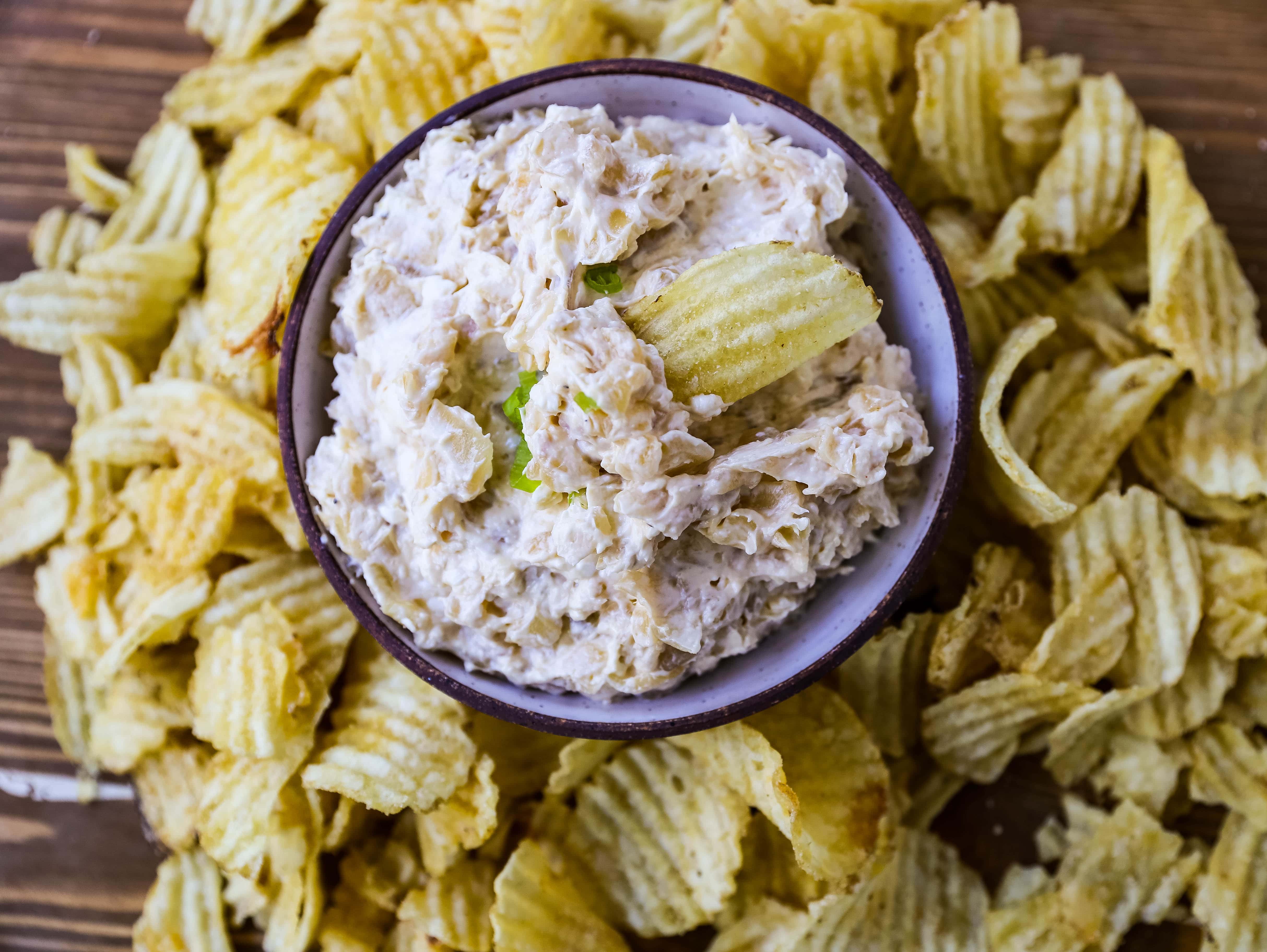 French Onion Dip Recipe
The best homemade French onion dip made with caramelized onions, sour cream, mayo, and cream cheese. The perfect French onion dip recipe!
My husband has always been obsessed with French onion dip and potato chips. I can't even count the many times he has snuck into the convenience store on a road trip to pick up his onion dip and chips. But when I looked at the ingredients, I knew there had to be a better way! I wanted to make a homemade French onion dip that would put his store-bought dip to shame.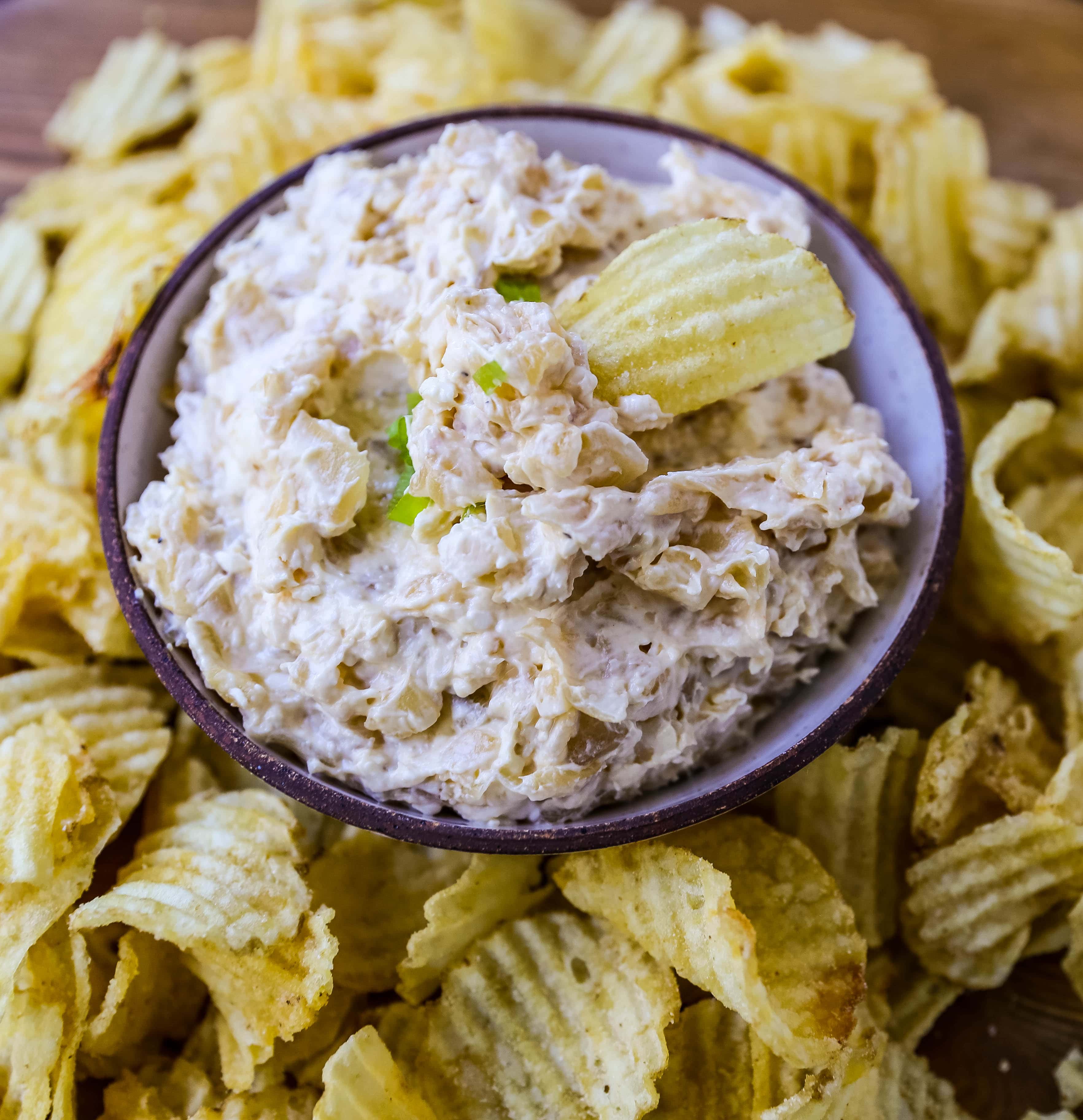 I received a phone call from my husband while perusing the aisles at Home Goods. He became so passionate and animated as he exclaimed he had just tried this homemade French onion dip for the first time. He declared that he was never buying the jarred version again! He was hooked. I came home to find that he had devoured almost the entire bowl of dip! I would say that is success!
This Homemade Onion Dip is straight up addicting. Once you pair it with crinkle potato chips, you may just be a goner. You might as well grab the bowl of onion dip, a bag of chips, a great drink, and sit down in front of the TV for the night. You won't be able to eat just one bite...I can guarantee that.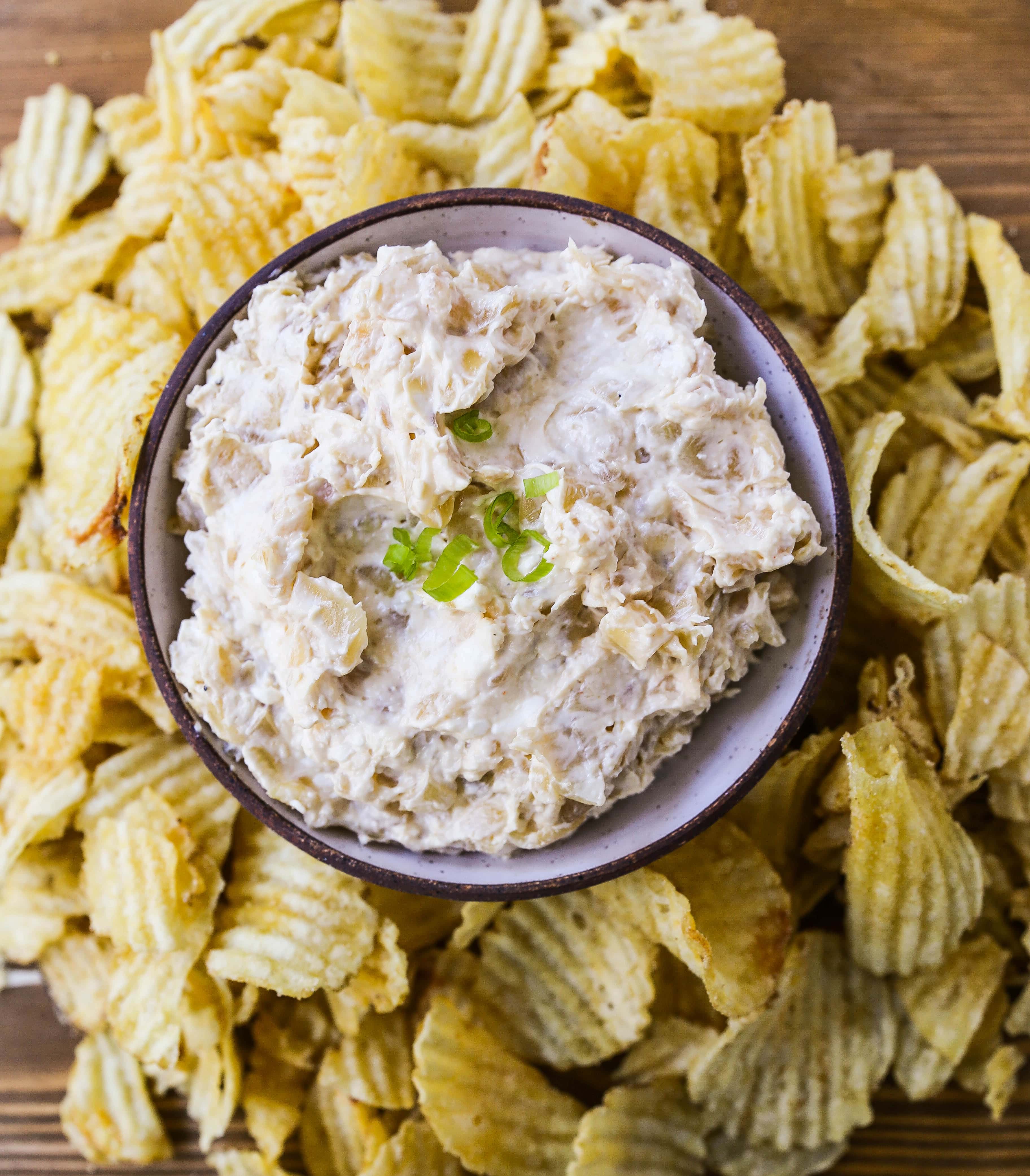 The French Onion Dip Recipe starts with the star ingredient -- the onion. I love to use sweet onions in this recipe but any variety of yellow onion will do.  The key is to take time to caramelize the onions in butter. This is what brings out their sweet flavor and helps to mellow them out. Then you sprinkle on some seasonings to bring out the flavor and let it cook low and slow for about 20 minutes. This is when the magic happens!
I first found this recipe in one of Ina Garten's cookbooks. I tried the recipe and loved it; however, I wanted to tweak it a little bit. I decided to use only butter instead of a combination of butter and oil. The oil isn't even needed in this onion dip.  What I love about this dip is the combination of cream cheese, sour cream, and mayonnaise.  Nothing is too overpowering! It just creates the perfect trifecta of creaminess.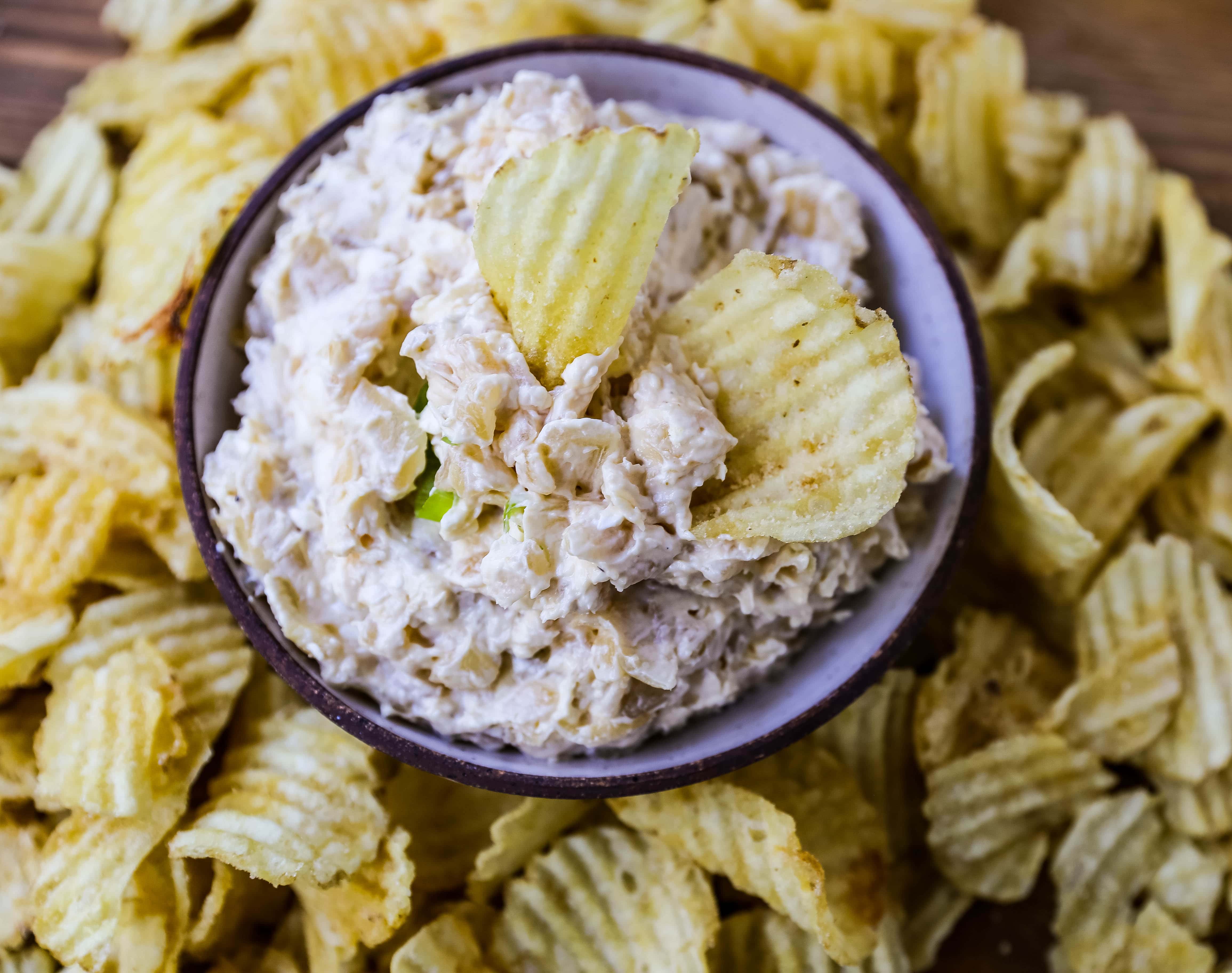 This Homemade French Onion Dip is made with caramelized onions sautéed in butter, and seasoned with a touch of onion salt, cayenne pepper, salt, and pepper and then folded into cream cheese, sour cream, and mayonnaise. It is rich, creamy, and the caramelized ones really shine in this dip.
How to make the BEST FRENCH ONION DIP RECIPE:
Start by slowly caramelizing the onions. I reach for a sweet yellow onion and chop it up. Sauté the onions in butter over medium heat for about 5 minutes. Reduce the heat to medium-low. Watch carefully as you may want to lower it to low heat. We want to cook the onions low and slow! Stir often as the onions begin to soften and become a rich golden color.  This will take about 15-20 more minutes.  Remove from heat and let cool.
In a microwave safe bowl, add cream cheese. Bring to room temperature or place in the microwave and cook at 50% power for 10-15 seconds. You just want it to be soft enough to combine with the other ingredients but you don't want the cream cheese to be hot.
Stir in sour cream and mayonnaise. Fold in caramelized onions and check for seasoning. Add more salt, onion powder, or cayenne pepper as needed. This onion dip will become stronger in time so allow time to chill in the refrigerator to allow the flavors to full develop.
Serve with crinkle potato chips, slices of French bread, veggies, or crostini.