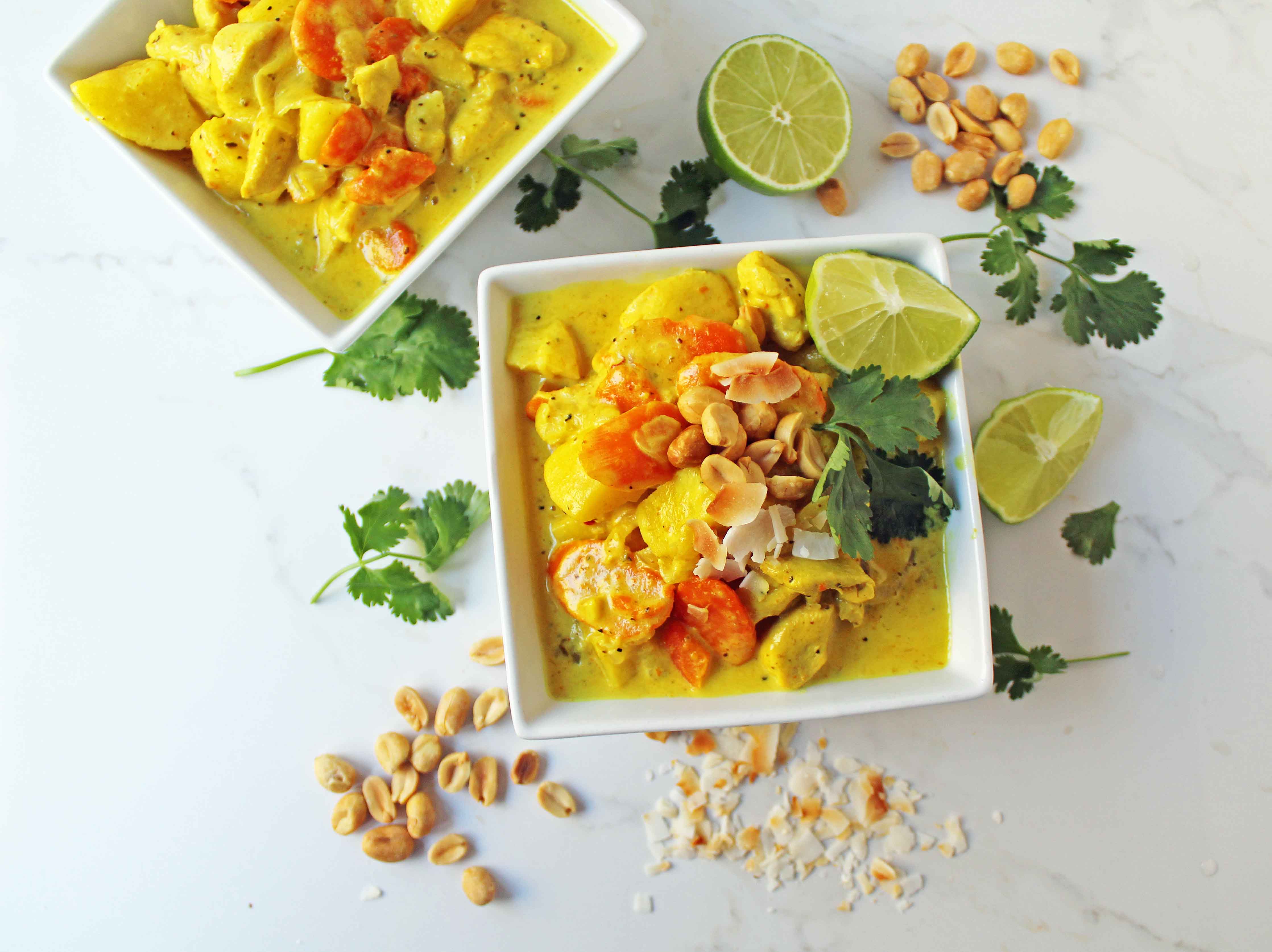 Bring on the soup season!
It's starting to get cold (who am I kidding? It's 95 degrees today in Arizona!). Well, for my friends in other states that aren't surrounded by cactus, it might be getting a little nippy. Soups are the perfect Fall dinner and they make the perfect leftovers. When I am lazy and don't want to even think about making myself something for lunch, I go for soup. It's full of lean protein, vegetables, and satisfies my hungry tummy.
Months ago, I shared my Chicken Sweet Potato Curry Recipe and it has become one of my most popular dinner recipes. https://www.modernhoney.com/chicken-sweet-potato-curry/  Since the Chicken Sweet Potato Curry uses a red curry paste, one of my best friends begged me to make a Green Curry recipe as well. I played in the kitchen for a few hours and came up with these Green Monster Chicken Curry Bowls.  My kids literally licked their bowls clean.  My husband complained (in the nicest way possible) that there weren't seconds for him to eat.  We definitely had a winner on our hands!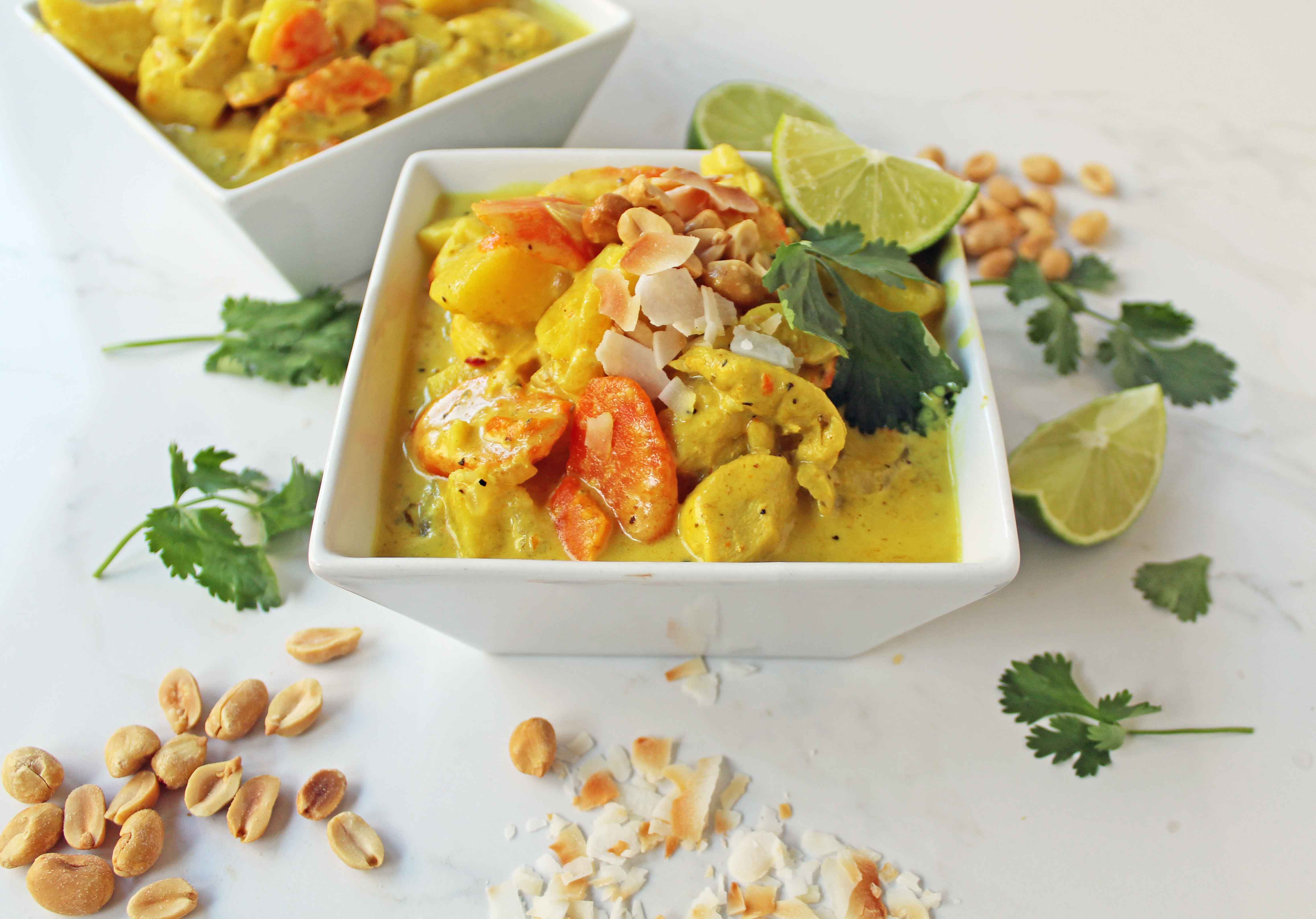 These Thai Green Chicken Curry Bowls are perfect for weeknight. It can be made in less than 30 minutes! It's also completely gluten-free and dairy-free for all of my celiac friends.
Here's a breakdown of the Thai Green Curry Bowl ingredients:
Coconut Oil – healthy fat source
Onion – balances blood sugar levels + immunity fighter
Tumeric – has incredible anti-inflammatory benefits
Yukon Gold Potatoes – healthy carb source, high in Vitamin C
Chicken Breast – a healthy lean protein
Carrots – amazing Vitamin A source
Garlic – boosts immune system
Green Curry Paste — a mix of chilies and spices that boost your metabolism
Red Chilies – inflammation fighter
Coconut Milk – dairy free alternative that is rich in vitamins and minerals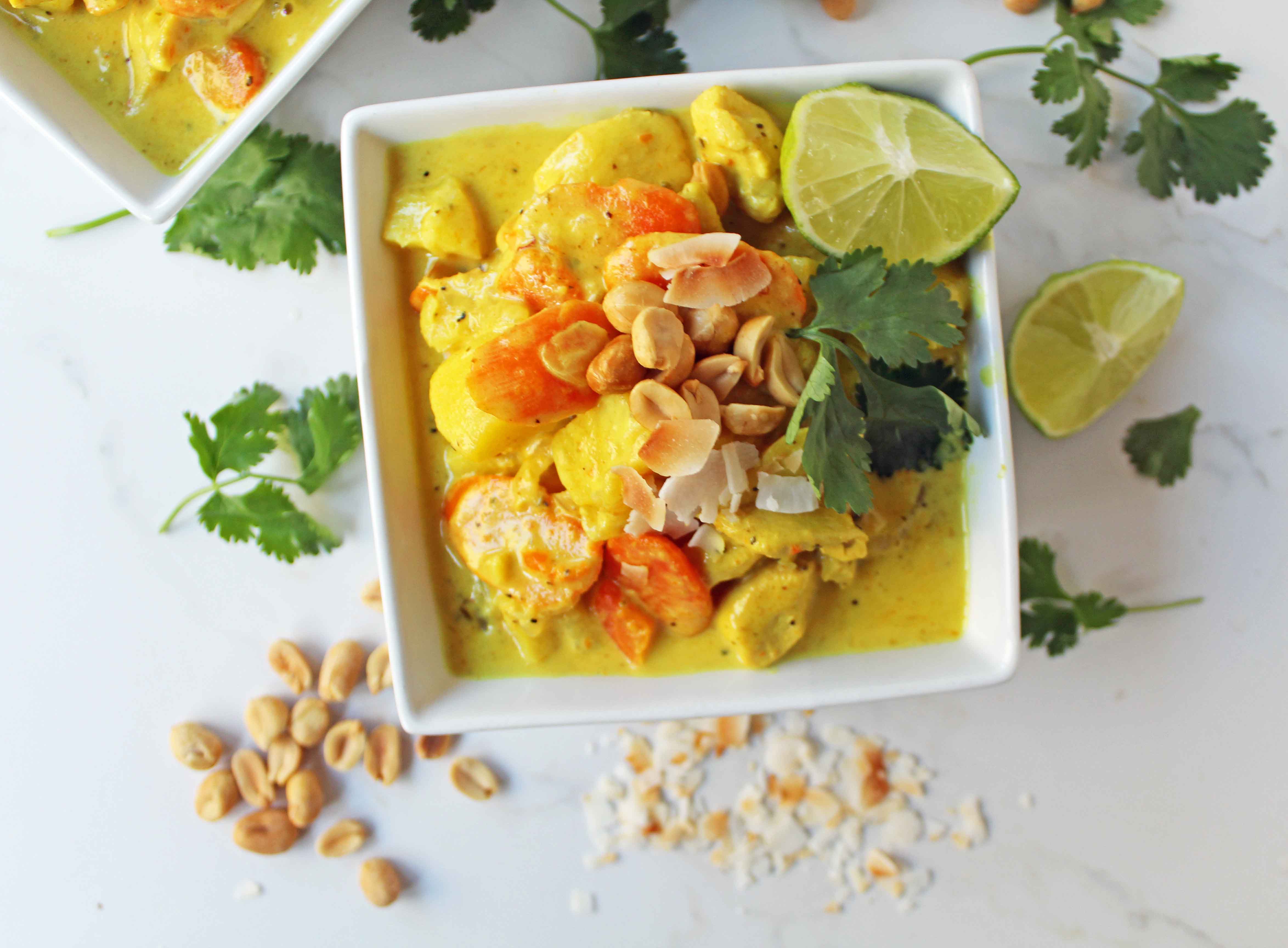 I receive many phone calls, text messages, Instagram and Facebook messages from my readers, who are running around a grocery store in a panic, trying to find the unique ingredients from recipes on Modern Honey. I thought I would help you out by providing a visual, so you know what you are looking for once you hit the store. I am always happy to help, so if you are running through the grocery store, message me and I will be your personal grocery assistant. 🙂
The chili garlic sauce can be readily found in most grocery stores.  Red and Green Curry Paste are the most popular curry pastes found at the store. I found this particular one at Whole Foods and Sprouts.  Thai Green Curry Bowls call for canned coconut milk.  You can also use unsweetened Coconut Cream which is thicker and richer.  It's amazing! I found this one at Trader Joe's for $1.49.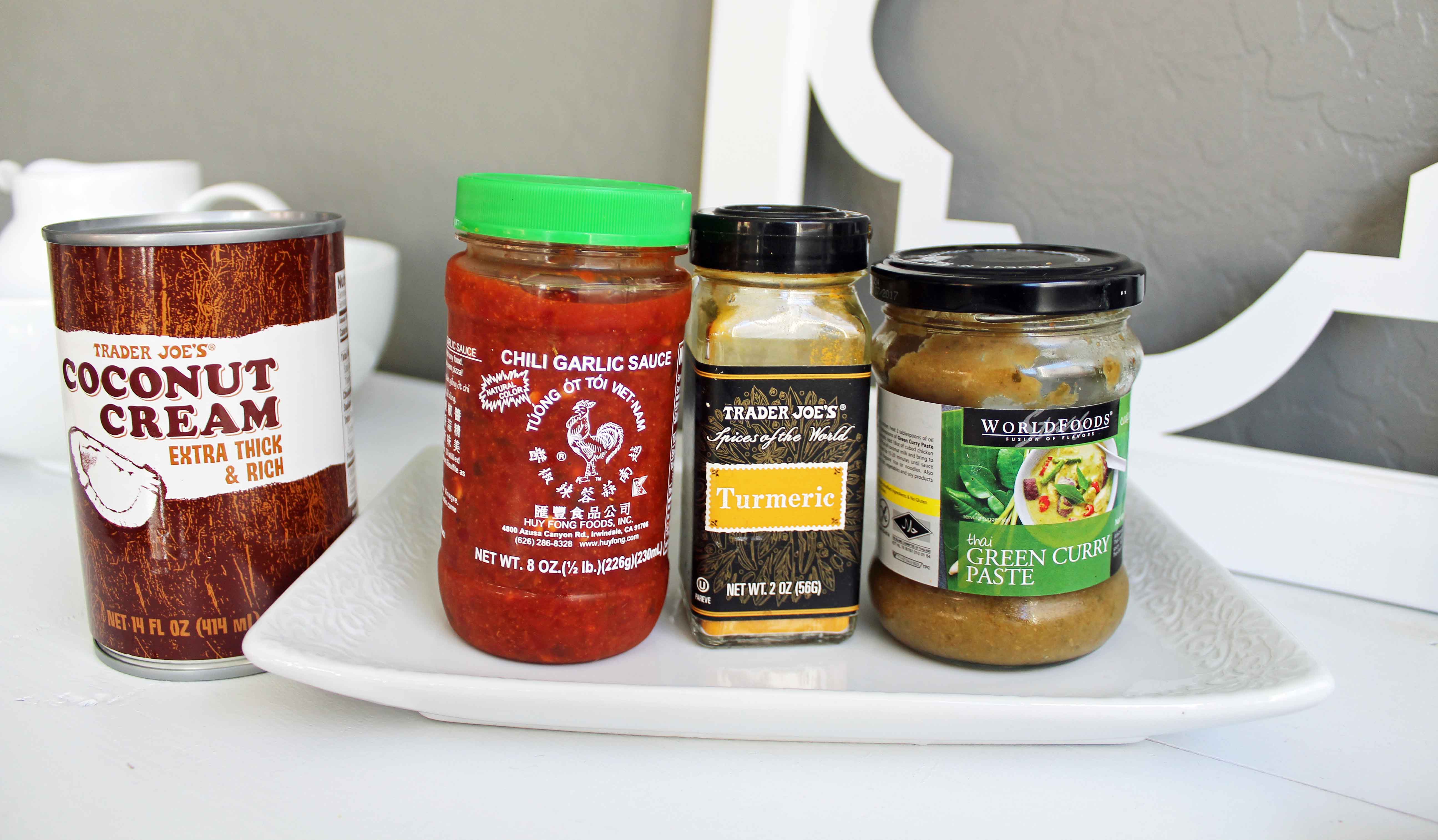 Green Monster Chicken Curry Bowls
Popular Green Curry Chicken Bowls are full of chicken, vegetables, green curry, and coconut milk. A gluten-free dinner that everyone will love.
Author:
Melissa Stadler, Modern Honey
Ingredients
2 Tablespoons Coconut or Canola Oil
1 Onion, cut lengthwise in strips
2-3 Carrots, peeled and sliced
1 Red Pepper, sliced lengthwise *(optional)*
1 lb. Chicken Breast, cubed
2 teaspoons Salt
1 teaspoon Pepper
1 teaspoon Tumeric
3 Yukon Gold Potatoes, peeled and cubed
1½ cups Water
1 teaspoon Chili Garlic Sauce
¼ cup Green Curry Paste
1 - 14 ounce can Coconut Milk or Coconut Cream (no sugar)
Optional Garnish:
Cilantro
Toasted Coconut Flakes
Peanuts
Fresh Lime
Instructions
Heat skillet over medium high heat. Add oil. Add onions and let saute for 3-4 minutes. Add carrots and let saute for 2 more minutes. If using red pepper slices, add them now. Add chicken breast, salt, and pepper and saute for 8 minutes.
Add potatoes and water and cover. Let simmer, covered, for 6 minutes.
Remove lid and add tumeric, chili garlic sauce, green curry paste, and canned coconut milk. Stir together. Let simmer for 5-6 minutes, or until potatoes are tender.
Season to taste.
Can be served as is or with rice.
Top with optional cilantro, lime, toasted coconut, and peanuts.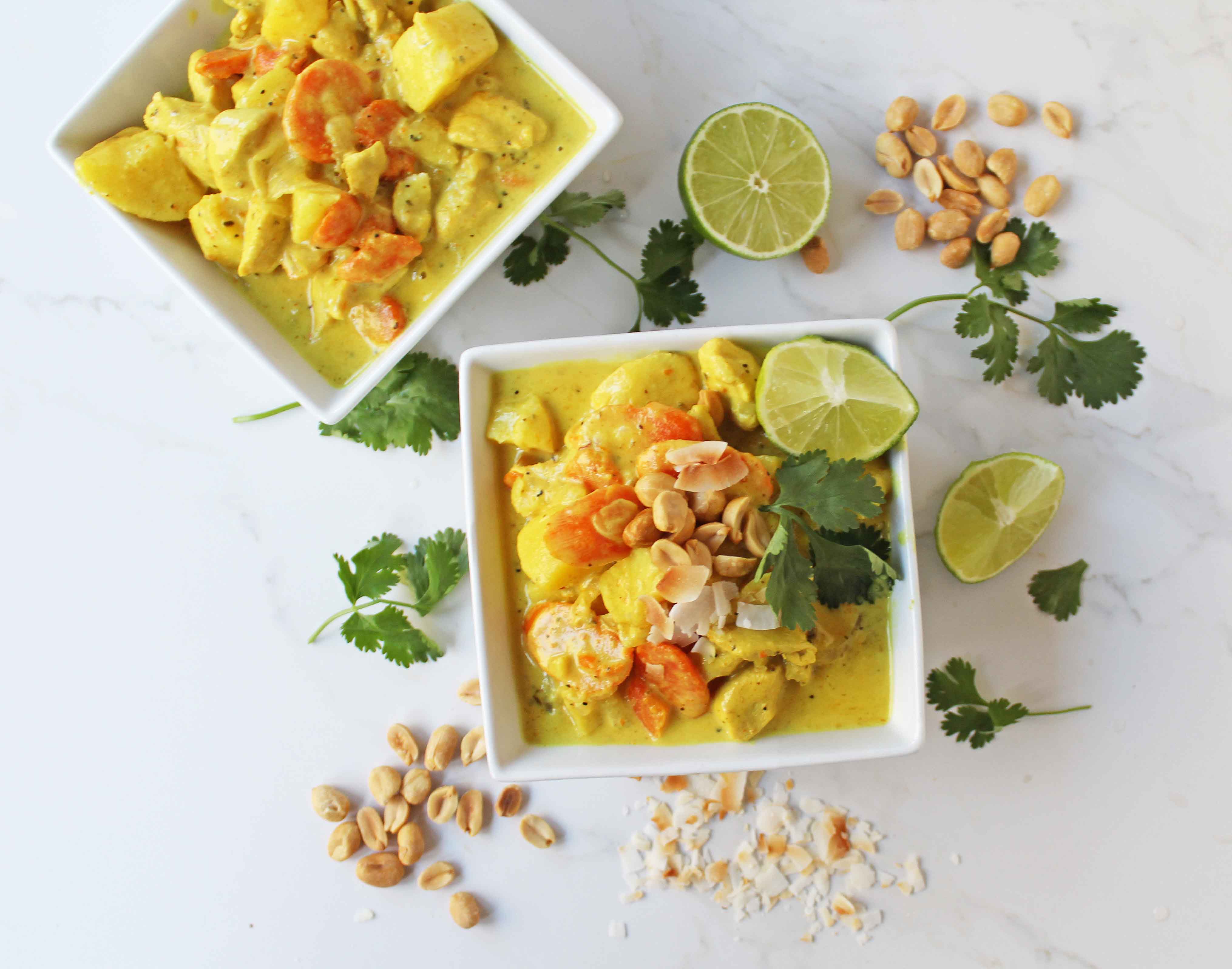 These Thai Green Curry Bowls are so not only healthy but super easy as well. I can't wait for you to try them out and tell me what you think. Have a great day, my friends!
Happy Cooking! xo