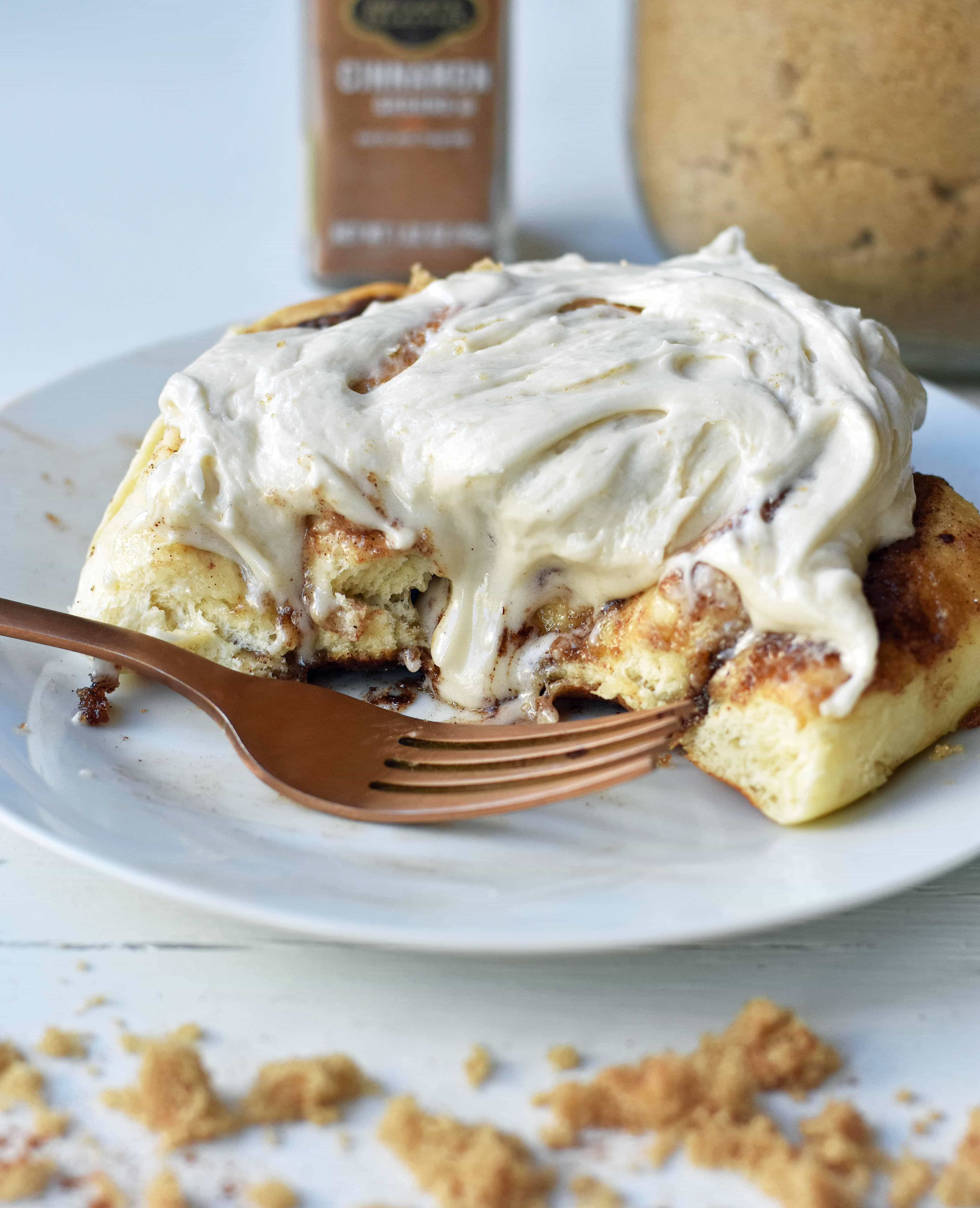 Hayley's Famous Cinnamon Rolls are famous for good reason. These warm, ooey, gooey, buttery brown sugar cinnamon rolls with cream cheese icing are literally the perfect cinnamon rolls.
We love the Foster Family. They are one of those families who are always out serving and doing things for others. I love how Stephanie has her kids raise their own money for whatever camps or activities they want to participate in. I have seen their son mow many lawns, sell homemade bread, and Hayley is definitely known for her famous cinnamon rolls around these parts. Everyone clamors to buy these coveted cinnamon rolls.
They are always examples to us of teaching kids how to work while learning a new skill. I am also grateful for Hayley sharing this perfect cinnamon roll recipe with us.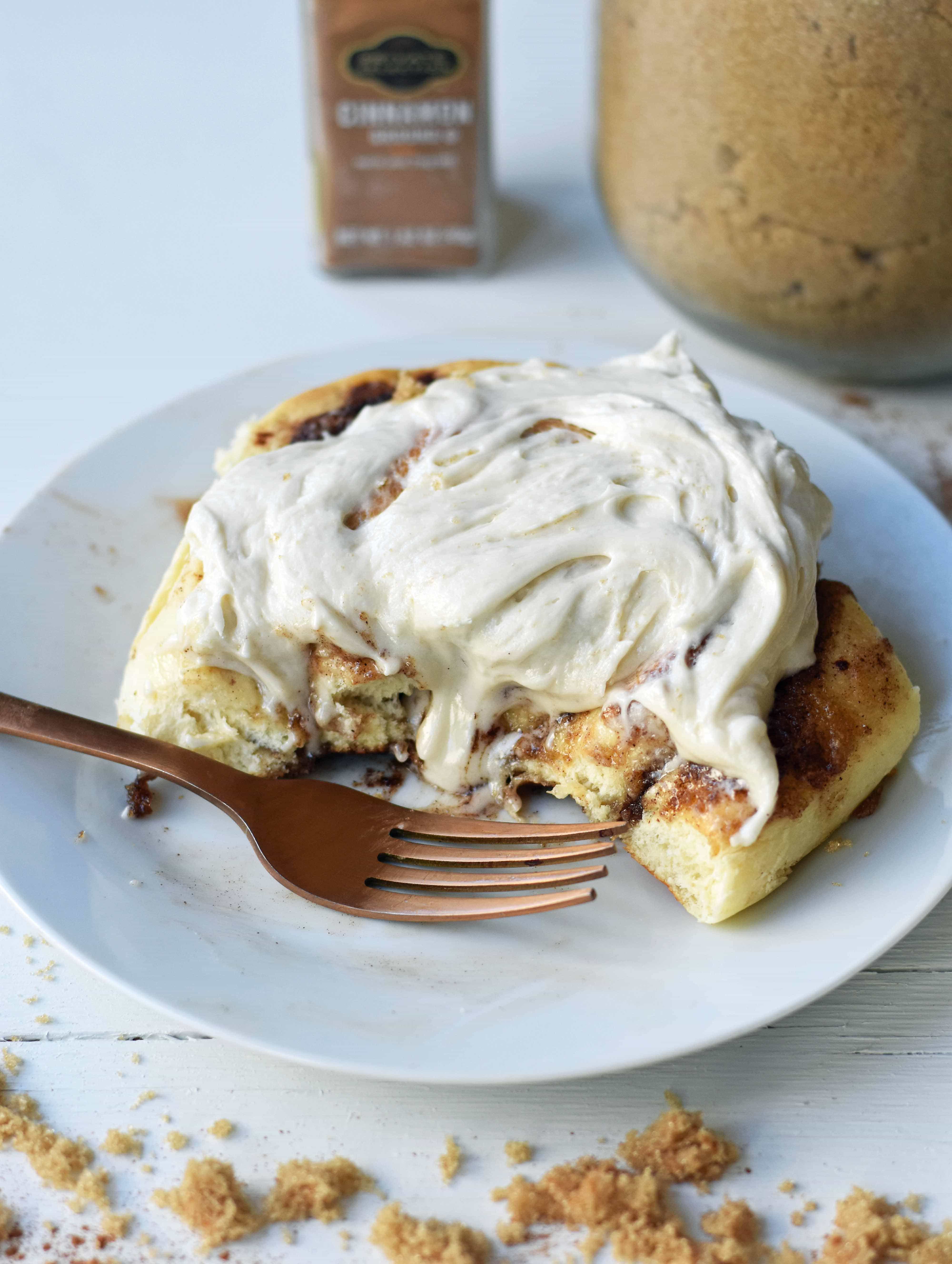 Cinnamon rolls are my Mom's love language. Every single birthday, all she wants is a big 'ol cinnamon roll all to herself. I consider her a cinnamon roll connoisseur and when she used the words — phenomenal and out-of-this-world to describe Hayley's Famous Cinnamon Rolls, I knew we had a winner. These are seriously the BEST cinnamon rolls ever. I have tested and tested and tested again a lot of recipes and these famous cinnamon rolls take the top prize.
This makes a LARGE batch of cinnamon rolls. Feel free to half the recipe if you want to make only 7-8 cinnamon rolls.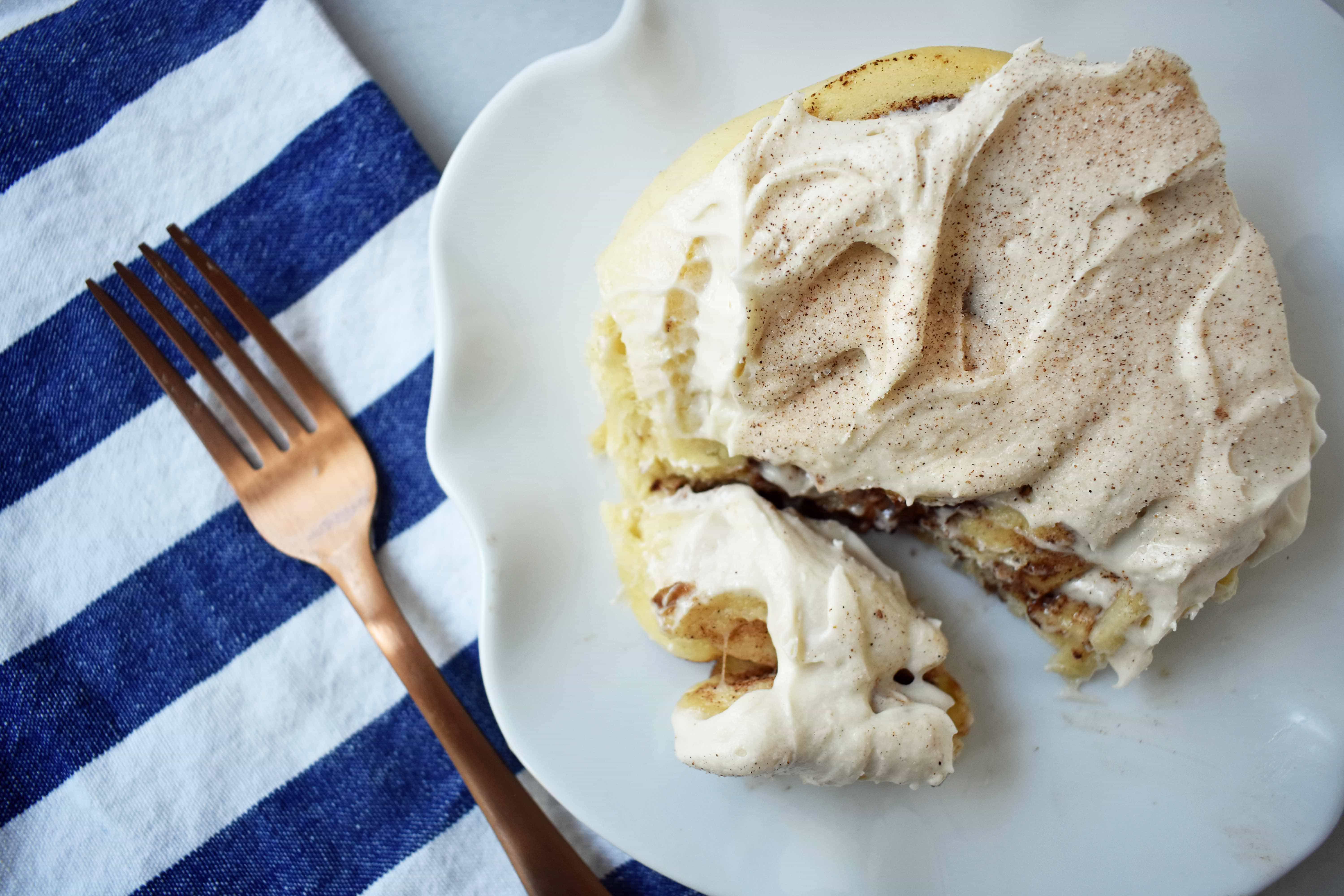 What are the tips for making perfect homemade cinnamon rolls every single time?
Make sure your yeast is good and fresh. I store my bag of yeast, which I buy at Costco in bulk, in the freezer in a freezer bag. This ensures that it is always fresh and ready for baked goods. I have many stories of bad yeast that never activates even with warm water or milk and sugar.  You can tell if your yeast is fresh by watching it start to activate and foam.  You start to see bubbles and movement.  Sugar is a big contributor to activating the yeast. I always throw some sugar into the yeast mixture as it proofs to help expedite the process.
2. Let it rise in a warm oven, turned off.  This is a key trick to getting your yeast bread or rolls to rise.  Weather can be tricky when getting your bread or rolls to rise.  You can be in not ideal conditions.  The trick is to let your oven do the work. It expedites the process because a warm oven creates an environment conducive for yeast rolls. Turn your oven to 200 degrees and let it heat up.  Once it reaches 200 degrees, turn it off. Place your cinnamon roll dough in an oven-safe bowl and place in the oven for 1 hour.  It should rise to at least double the size. It saves you at least an hour of rising time!
3. Watch for the flour to come off the sides of the mixing bowl. When you are making any type of yeast bread, I always add flour in increments and not the entire amount at once. I wait for it to start to come off the sides of the bowl and form in the center. That is a big clue that it is ready.  In this particular recipe, I add 3 cups of flour at a time and mix it for 30 seconds in between. I usually end up with 8 1/2 – 9 cups of flour every single time.
4. Make sure you have enough filling. The brown sugar, cinnamon, butter filling is where all of the warm, spiced flavors come from so you want to be generous.  Feel free to add a little more brown sugar or butter if you want a little extra filling. Spread to evenly coat the entire rectangle.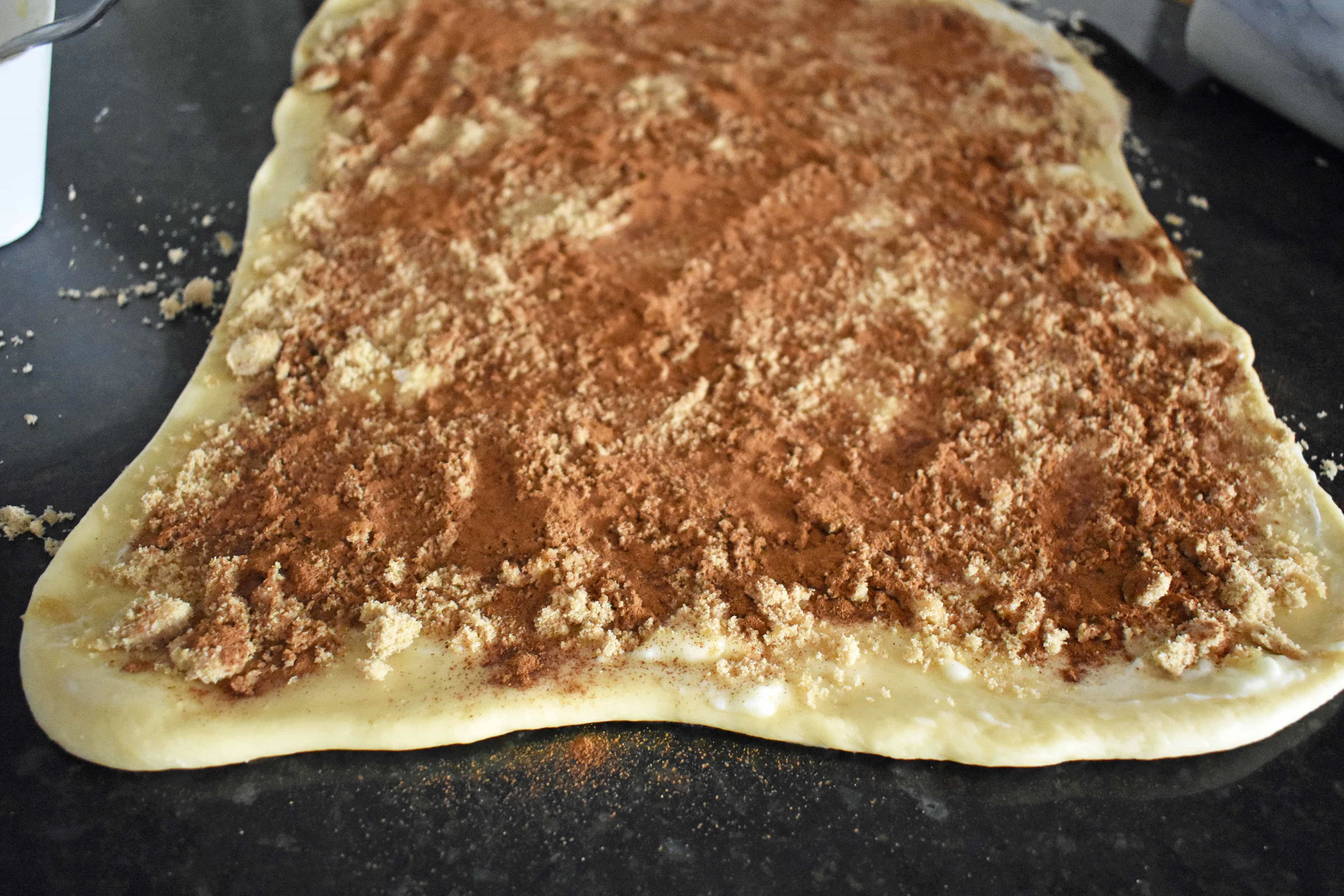 5. After you have rolled out the dough and cut into slices, let the cinnamon rolls rise for the 2nd time. This is when it gets fun as you start to see the cinnamon rolls become large and amazing. Let the cinnamon rolls rise for one hour on a baking pan.
6. Bake until lightly golden brown and cooked through. This can be tricky. If your oven tends to heat up hotter in the back, then turn the baking sheet halfway through the baking time. Watch for your rolls to get a nice light golden color and remove from oven. Let cool slightly before adding frosting.
7. Spread with a good amount of cream cheese and butter frosting. This quite possibly could be the BEST part of the cinnamon roll. Don't skimp on the frosting. Cover these babies with a generous coat of cream cheese frosting.  The combination of butter, cream cheese, powdered sugar, and vanilla makes a phenomenal, creamy frosting.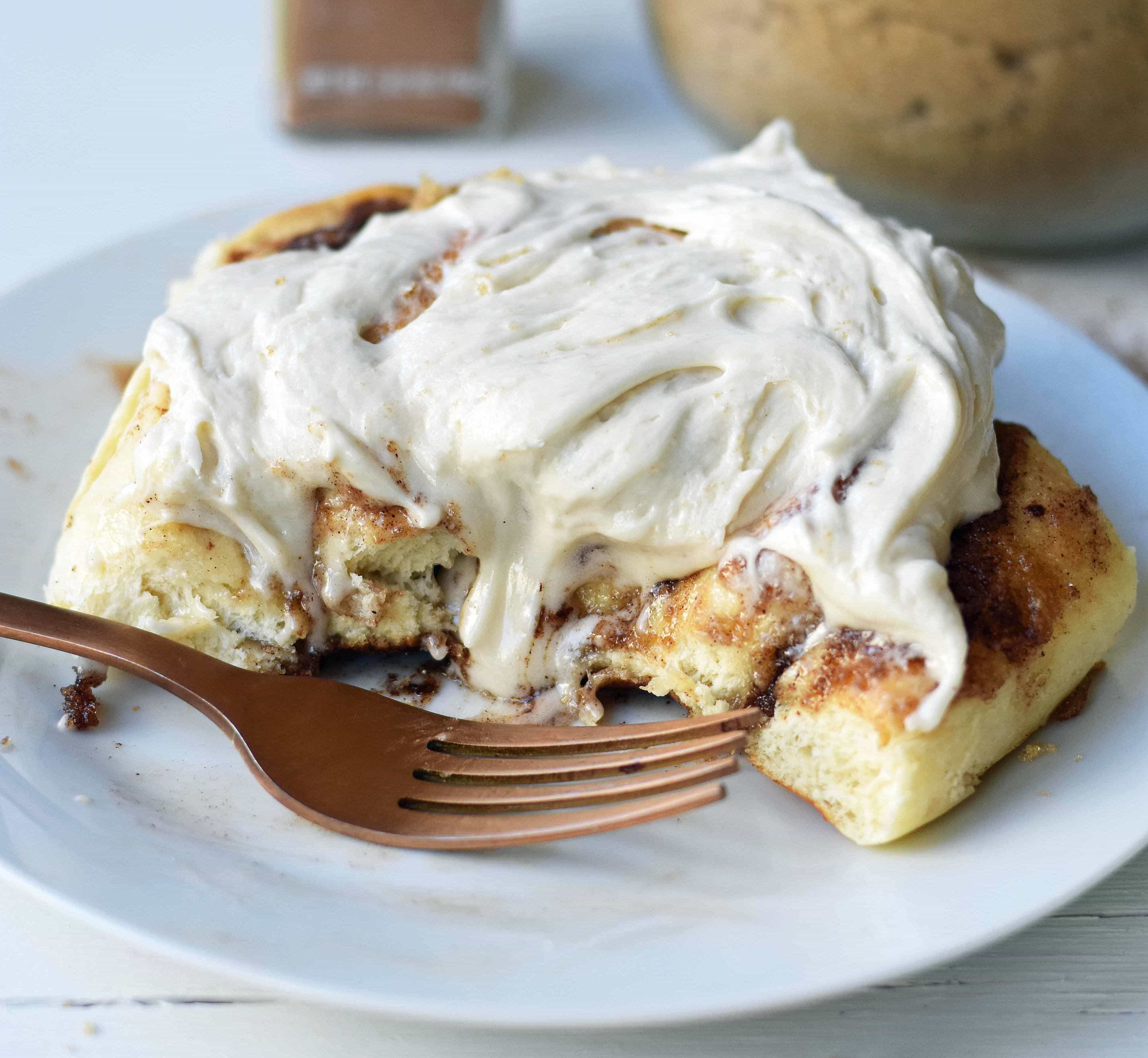 Hayley's Famous Cinnamon Rolls
How to make the perfect homemade cinnamon rolls every single time.
Ingredients
2

cups

Warm Milk

microwave for 90 seconds, then test

2 1/2

Tablespoons

Yeast

1

cup

Sugar

divided

4

Eggs

3/4

cup

Butter

melted

2

teaspoons

Salt

8 1/2 - 9

cups

Flour
Brown Sugar Filling:
1/2

cup

Butter

softened

2 3/4

cup

Brown Sugar

4-5

Tablespoons

Cinnamon
Cream Cheese Frosting:
1

cup

Butter

softened

1 - 8-

ounce

pkg. Cream Cheese

softened

5 1/2

cups

Powdered Sugar

1

teaspoon

Vanilla
Instructions
Preheat oven to 200 degrees.

Place milk in microwave-safe bowl. Microwave for about 90 seconds or until the milk is warmed.

Add yeast and stir.

Place 1 cup of sugar in measuring cup. Scoop out 2 Tablespoons of sugar from measuring cup and place in a bowl. Stir. Let yeast proof for 5-10 minutes.

Meanwhile, add remaining sugar, eggs, melted butter, and salt in large mixing bowl. Once yeast is activated, add mixture to a bowl. Stir in flour, 3 cups at a time. Watch for the dough to start coming off the sides of the bowl.

Once the oven is preheated to 200 degrees, turn OFF oven.

Place dough in an oven-safe bowl. Cover bowl with a moist towel. Put in oven to rise for 1 hour to double in size.

Once the dough has doubled in size, roll out on a floured surface into a large rectangle.

Spread softened butter all over the dough. Place brown sugar and cinnamon in a bowl. Sprinkle over dough.

Tightly roll up dough and slice into rolls.

Place on greased baking sheets and cover loosely with towel or saran wrap.

Let rise for at least 1 hour.

Bake at 400 degrees for 9-12 minutes.

To make frosting: Cream together butter and cream cheese for 2 minutes. Stir in powdered sugar and vanilla.

Spread over slightly cooled cinnamon rolls.

Serve warm.
Recipe Notes
*This makes a large batch of cinnamon rolls. If you want to make a smaller batch of cinnamon rolls, feel free to cut the recipe in half.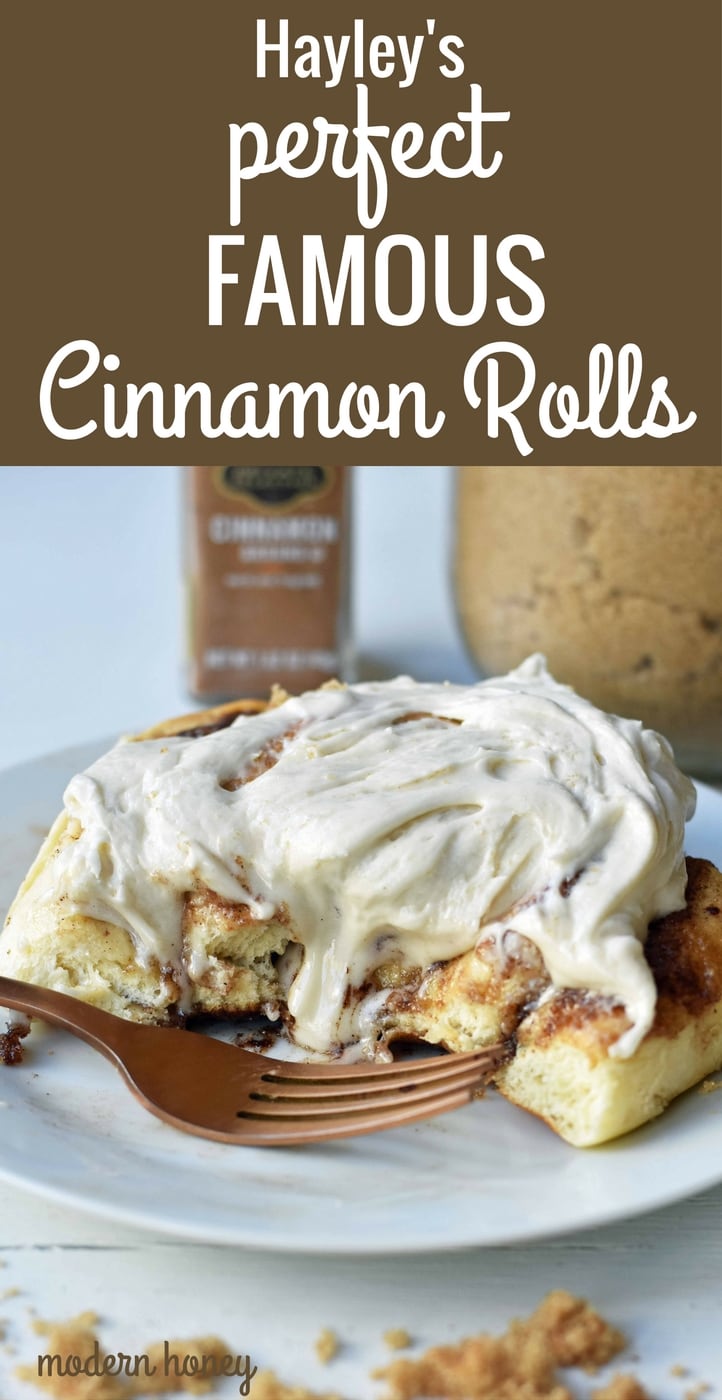 I can't wait to hear what you think about these famous cinnamon rolls. Forget Cinnabon….these are even better! HappyBaking, my friends! xo