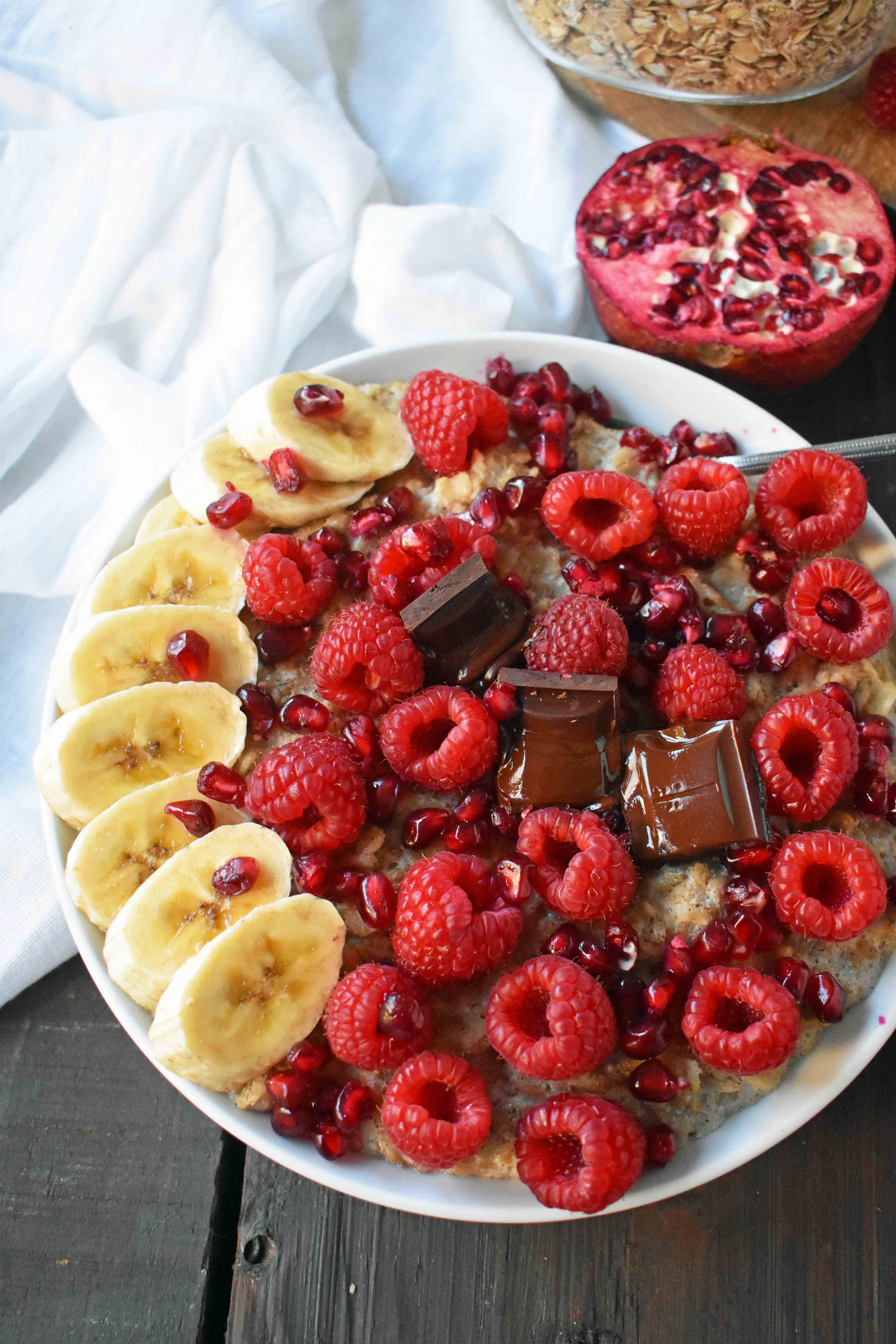 High-Protein Oatmeal
A protein-packed breakfast made with homemade oatmeal, whey protein powder, and fresh fruit to give the ultimate energy boost.
I am a huge oatmeal lover. It is hearty. It is filling. It gives me great energy. It is full of healthy carbs. It's way better for me than a doughnut in the morning. Am I right? A doughnut may taste good in the beginning, but a minute after eating it, you don't feel so hot. I always have to say to myself, "PUT DOWN THE DOUGHNUT." Oatmeal just makes me feel energized and ready to start the day.
A few years ago, my oldest brothers started working with a professional trainer who offered them comprehensive meal plans. Since I soak up all types of learning about health and nutrition and am always trying to figure out how to better my own health, I studied all of the healthy food information.
One thing that stood out to me is that my brothers started out their morning with oatmeal — but not just plain oatmeal. They made high-protein oatmeal! It was so simple. It is as easy as whipping up a bowl of oatmeal and stirring in whey protein powder once it is done. Now you have a balanced breakfast with protein and carbs.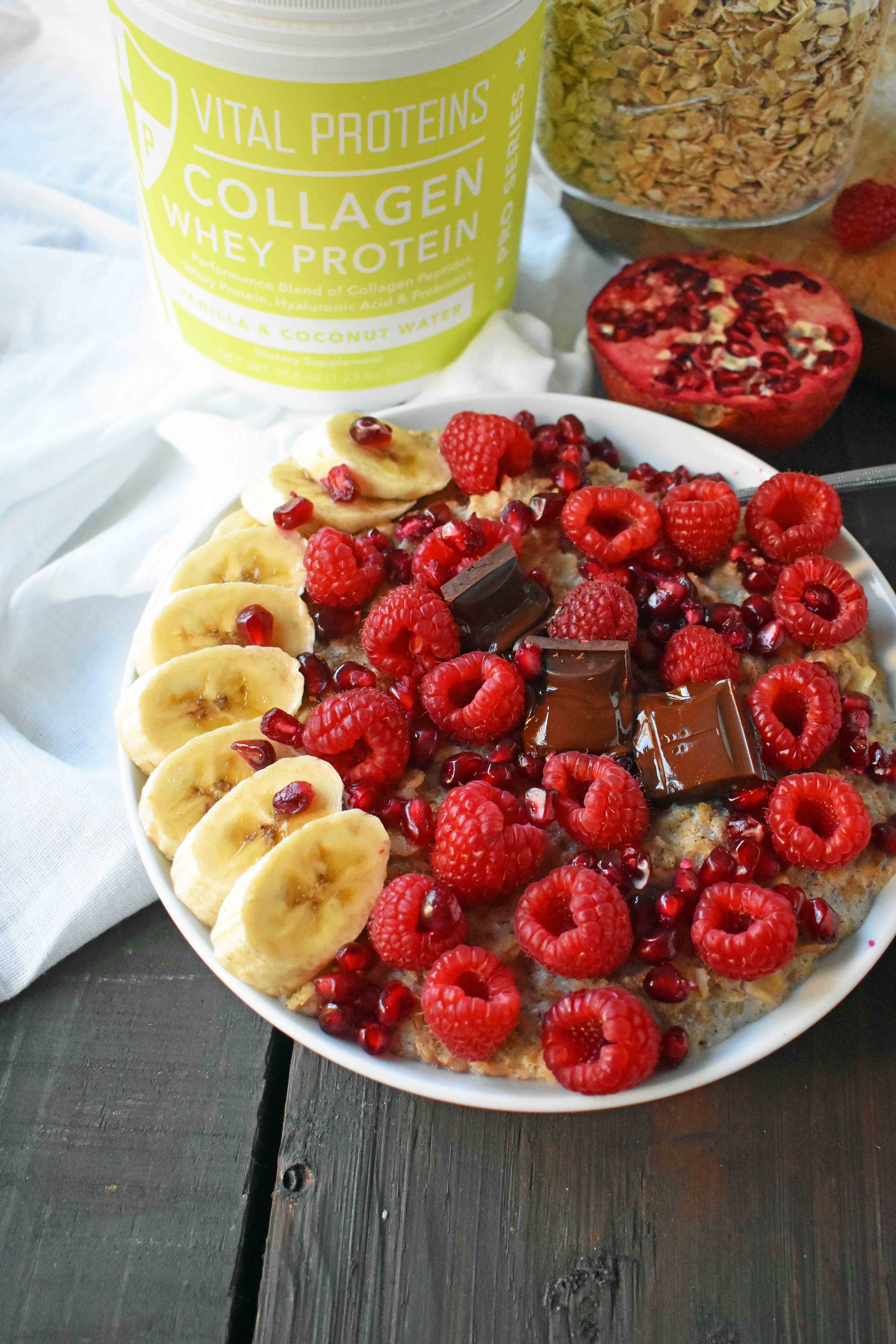 How to make Protein Oatmeal?
Start with your favorite type of oatmeal. It may be rolled oats, 1-minute oatmeal, gluten-free oats, steel cut oats. The sky is the limit! Cook the oatmeal according to the package instructions. You can cook the oatmeal with milk, water, almond milk, coconut milk, or anything else you can dream up. Always add a pinch of salt to your oatmeal. It is what brings out the flavor. Trust me on this one!
Once the oatmeal is cooked and is still hot, add the protein powder. Adding protein powder to oatmeal while it is still hot, helps it to dissolve quickly.  You may want to add a splash of almond milk or regular milk, depending on how thick you prefer your oatmeal to be. I love to use the Vital Proteins Collagen Whey Protein in Banana, Cinnamon, and Vanilla or Collagen Whey Protein Vanilla and Coconut Water. You can find out more about why I love it down below. It's amazing how much flavor whey protein powders give to oatmeal.
Top protein powder oatmeal with fresh fruit. This is the fun part! You can add your favorite fresh fruits — strawberries, raspberries, blueberries, bananas, blackberries, etc. You can also top with almond butter, pecans, walnuts, almonds, and even dried fruits.  I even topped mine with a dark chocolate raspberry bar to make raspberry chocolate oatmeal. Don't mind if I do. You can find more toppings ideas in my post about Oatmeal Bar Toppings Ideas.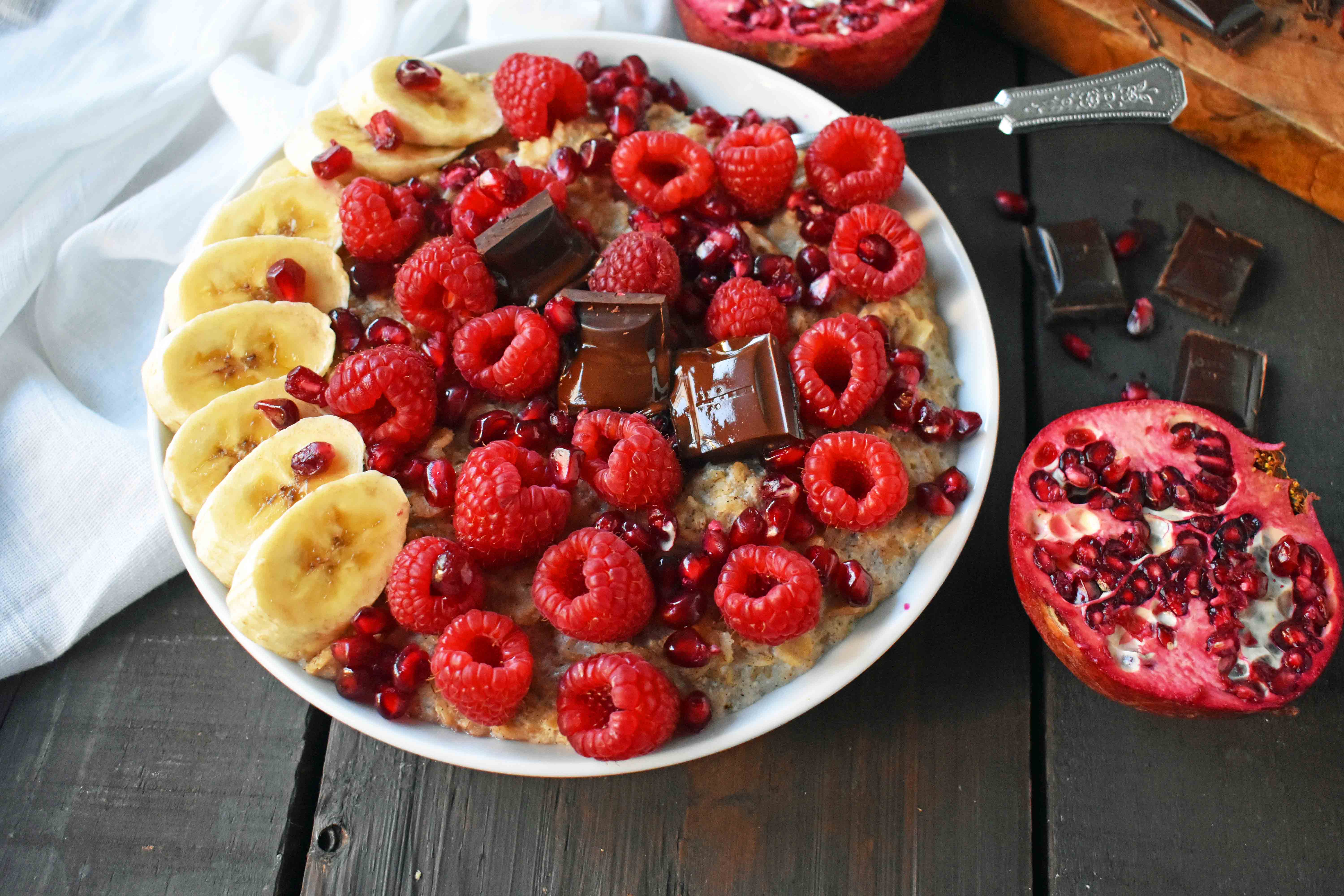 Can you add protein powder into the oatmeal before cooking it?
The short answer — NO.  This can create clumpy oatmeal and who wants to eat clumpy oatmeal? Add the protein powder immediately after the oatmeal is done cooking. You can cook oatmeal in the microwave or on the stovetop and while it is still hot, stir in the protein powder.
What type of protein powder should I use?
Not all protein powders are created equal. I have shared some of my story with joint issues and autoimmune disease.  It is integral to my health to protect my joints so I drink collagen daily.  It is not only great for my joints but for my hair and nails too. The beauty of Vital Proteins Whey is that it has the collagen, probiotics, and protein I am looking for without all of the artificial ingredients. They only use grass-fed, pasture-raised collagen peptides, which is incredibly important.  Plus there's even hyaluronic acid to achieve a premium protein blend for improved athletic performance.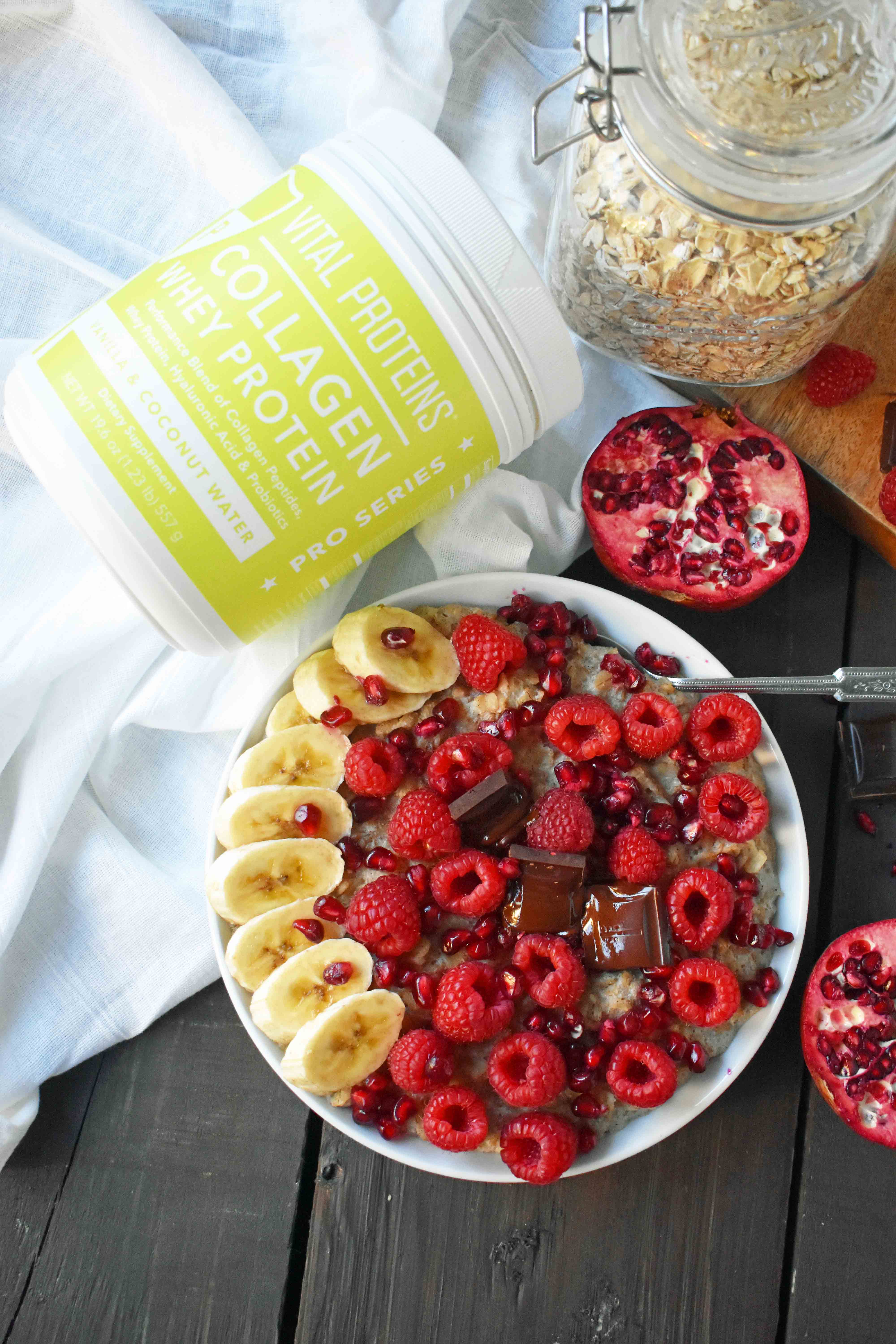 Why is it important to start off your day with protein?
Protein is a building block for bones, muscles, skin and your body uses it to build and repair tissues. It takes longer for the digestive system to break it down so it keeps you full longer. If you need to lose weight, consider replacing some of the foods high in carbohydrates and fats with protein.
Pin this now to find it later
Pin It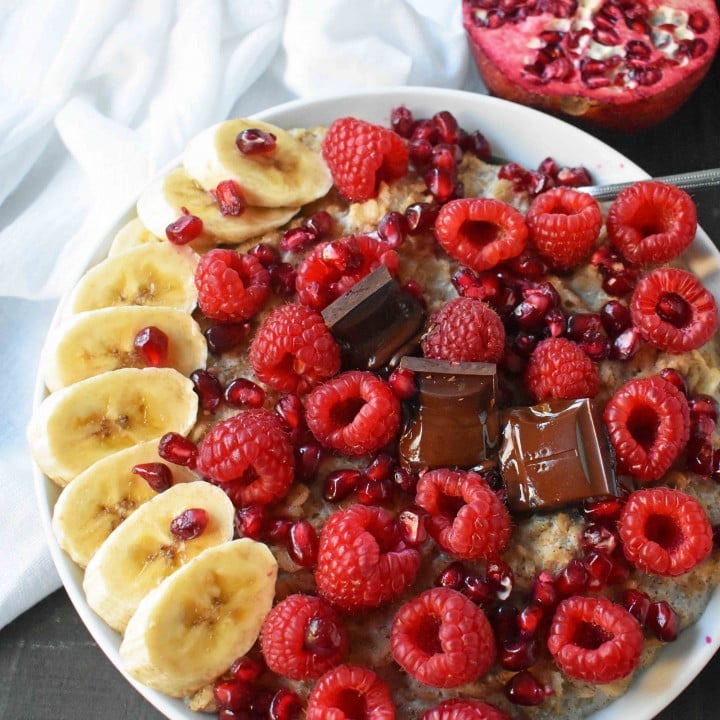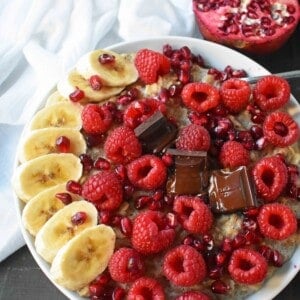 High-Protein Oatmeal
A protein-packed breakfast with oatmeal mixed with whey protein powder and topped with fresh fruits.
Ingredients
Protein Oatmeal:

4

cups

Milk

Almond Milk, Coconut Milk, or Water (I prefer unsweetened almond milk)

2

cups

Rolled Oats

or steel-cut, gluten-free, quick-cooking

4 - 6

Tablespoons

Vanilla Whey Protein Powder

such as Vital Proteins Collagen Whey Protein Powder

Pinch

of Salt



Smaller Batch:

2

cups

Milk

Almond, Milk, Coconut Milk, or Water (I prefer unsweetened almond milk)

1

cup

Rolled Oats

or steel-cut, gluten-free, quick-cooking

2 - 3

Tablespoons

Vanilla Whey Protein Powder

such as Vital Proteins Collagen Whey Protein Powder



Topping Ideas:

Strawberries

Raspberries

Blueberries

Blackberries

Peaches

Bananas

Pomegranates

Almonds

Pecans

Walnuts

Almond Butter

Cinnamon

Brown Sugar
Instructions
Cook oatmeal according to the package instructions (in the microwave or on a stovetop). Sprinkle with salt.

As soon as oatmeal has finished cooking, stir in protein powder.

Add sweeteners if needed.

Top with fresh fruit, nuts, or nut butter.
Nutrition
Calories:
188
kcal
,
Carbohydrates:
27
g
,
Protein:
12
g
,
Fat:
3
g
,
Sodium:
112
mg
,
Potassium:
146
mg
,
Fiber:
4
g
,
Calcium:
34
mg
,
Iron:
3.6
mg
Nutrition information is automatically calculated, so should only be used as an approximation.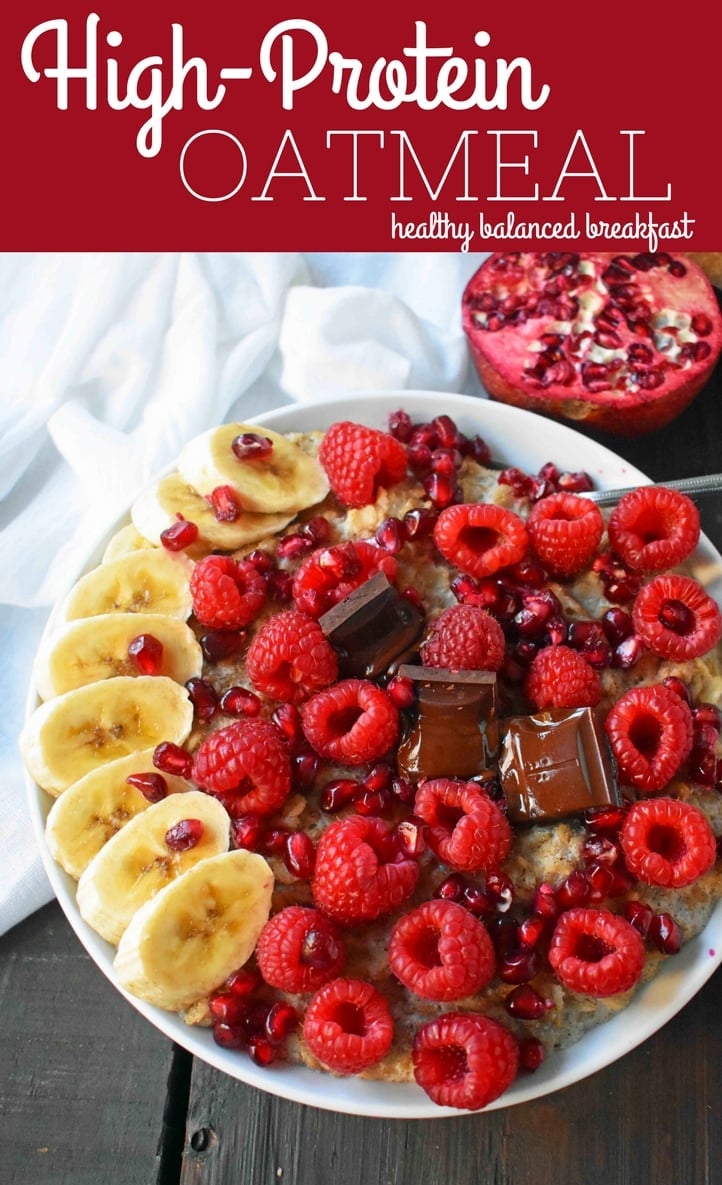 I hope you love this energy boosting High-Protein Oatmeal Breakfast.  I would love to see your oatmeal combinations. Use hashtag #modernhoney and find me on instagram @modern_honey.