How to make creamy oatmeal with your favorite toppings combinations. I am sharing a list of all of the popular oatmeal toppings ideas to serve on a cold winter day and how to make the best bowl of oatmeal!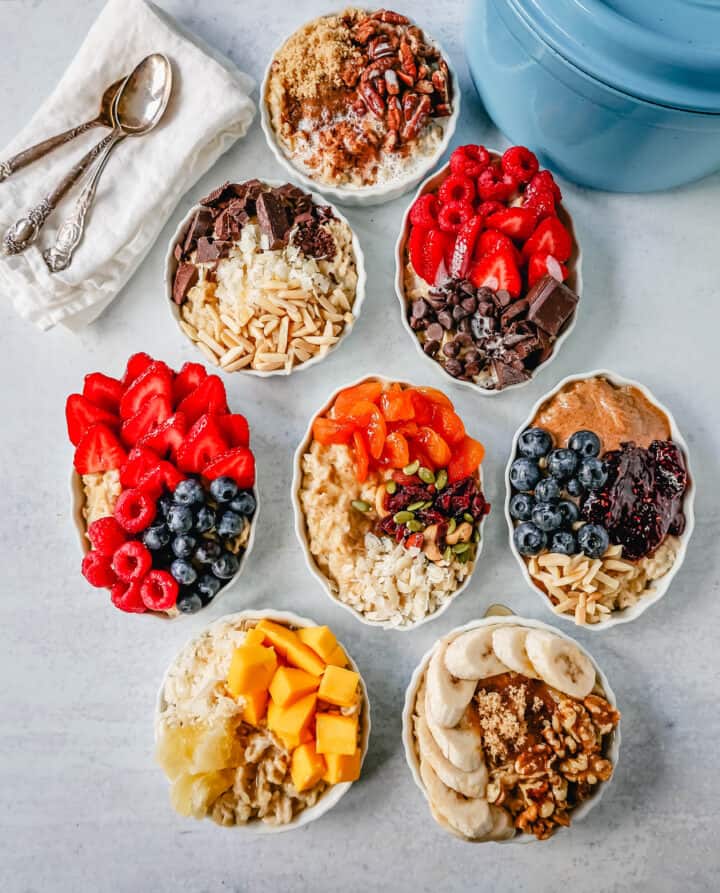 Hello, fancy oatmeal. Goodbye, bland, boring oatmeal.
I'm taking oatmeal up a notch, making it the star ingredient. Poor little oatmeal....born to be a star but many times neglected.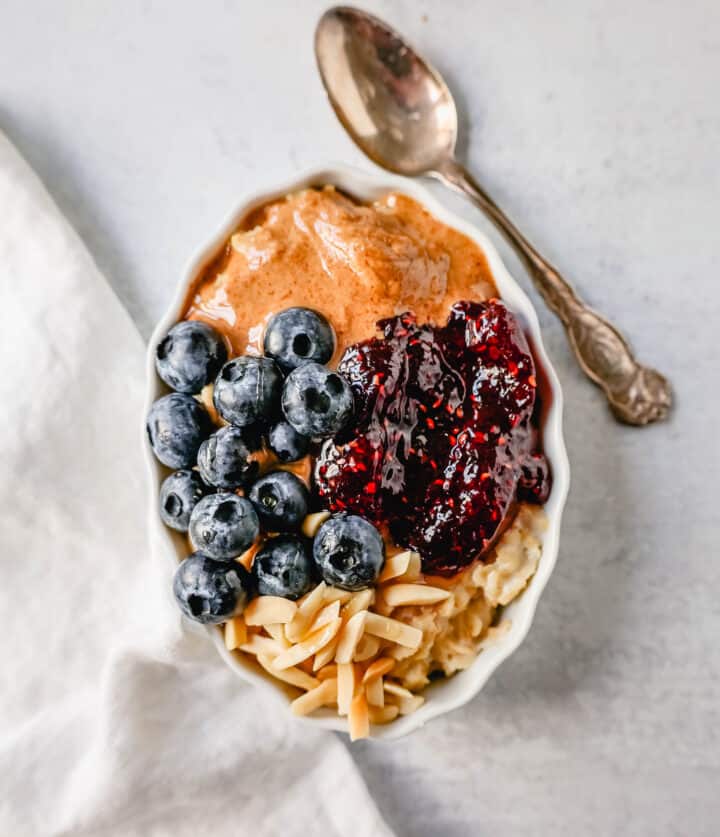 Oatmeal is full of positives. It is loaded with fiber and minerals and is a healthy carbohydrate...keeping you full and satisfied longer. Oatmeal is also known to reduce inflammation and lower cholesterol levels.
A big bowl of oatmeal is so comforting in the wintertime. Sometimes when my kids and hubby are in a hurry to get out the door, I put it in a big red plastic cup, fill it with all these nutritious goodies and they are on their way to school and work.
My kids think I am "Mrs. Fancy Pants" when I whip up this oatmeal.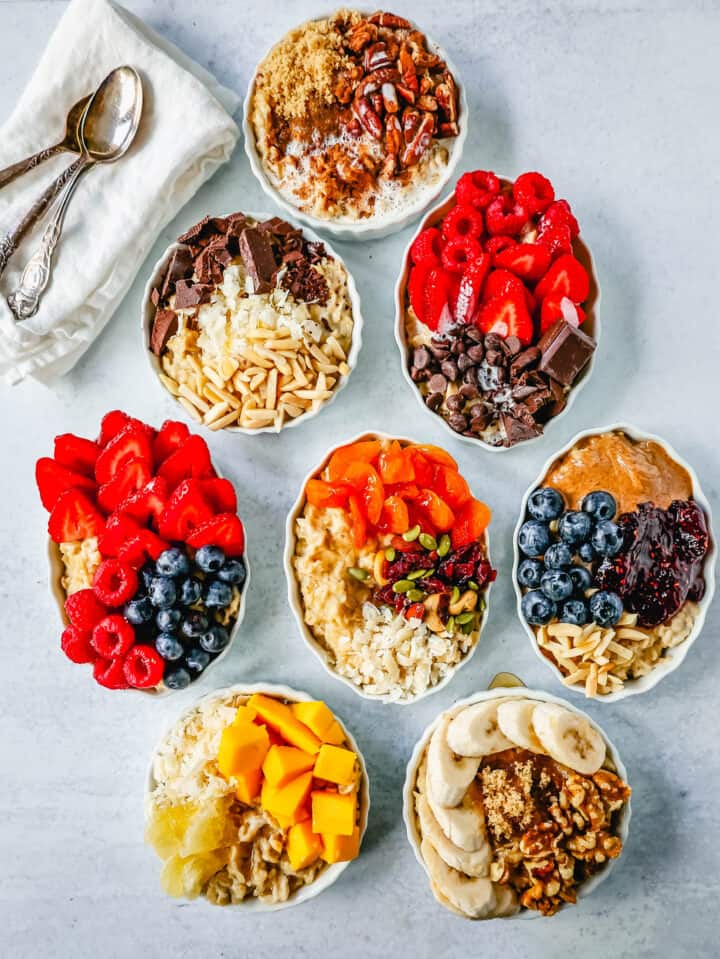 Let's make this ultimate Oatmeal Toppings Bar together. First off, you start with a big pot of hot, homemade oatmeal made with rolled oats. No quick oats here. Old-fashioned oats, or rolled oats, provide a soft, creamy oatmeal without turning mushy. I prefer to use old-fashioned oats rather than quick oats for the texture.
If you want heartier oatmeal, I suggest using steel-cut oats. This has a chewier texture and is absolutely delicious with brown sugar, heavy cream, and bananas. Steel cut oats does take longer to cook but it is well worth it!
You can add milk or almond milk for richer and creamier oatmeal, or you can use water if you are watching the calories. I found that by using half milk and half water, you get the best of both worlds. The benefit of using unsweetened almond milk is that it is only 30 calories per cup.
One important tip when making homemade oatmeal is to don't forget the salt! Salt in oatmeal is such an integral ingredient. Salt takes oatmeal from flavorless and bland to bringing out the flavor of the oats.
How to make the Best Oatmeal:
The ratio of oatmeal to liquid is always 1 cup of liquid to ½ cup of oats. So basically just remember to double the milk or water to your oatmeal amount, and you are good to go.
To cook your oatmeal, bring the milk or water and salt to a boil.
Add the rolled oats and stir the milk and oats together.
Reduce the heat and continue to stir until the oatmeal has reached your desired consistency. This can take anywhere from 6-12 minutes, depending on the type of oats you are using. Check the recipe on the box for the cooking time for the particular brand of rolled oats you use.
Top with your favorite toppings below and serve warm.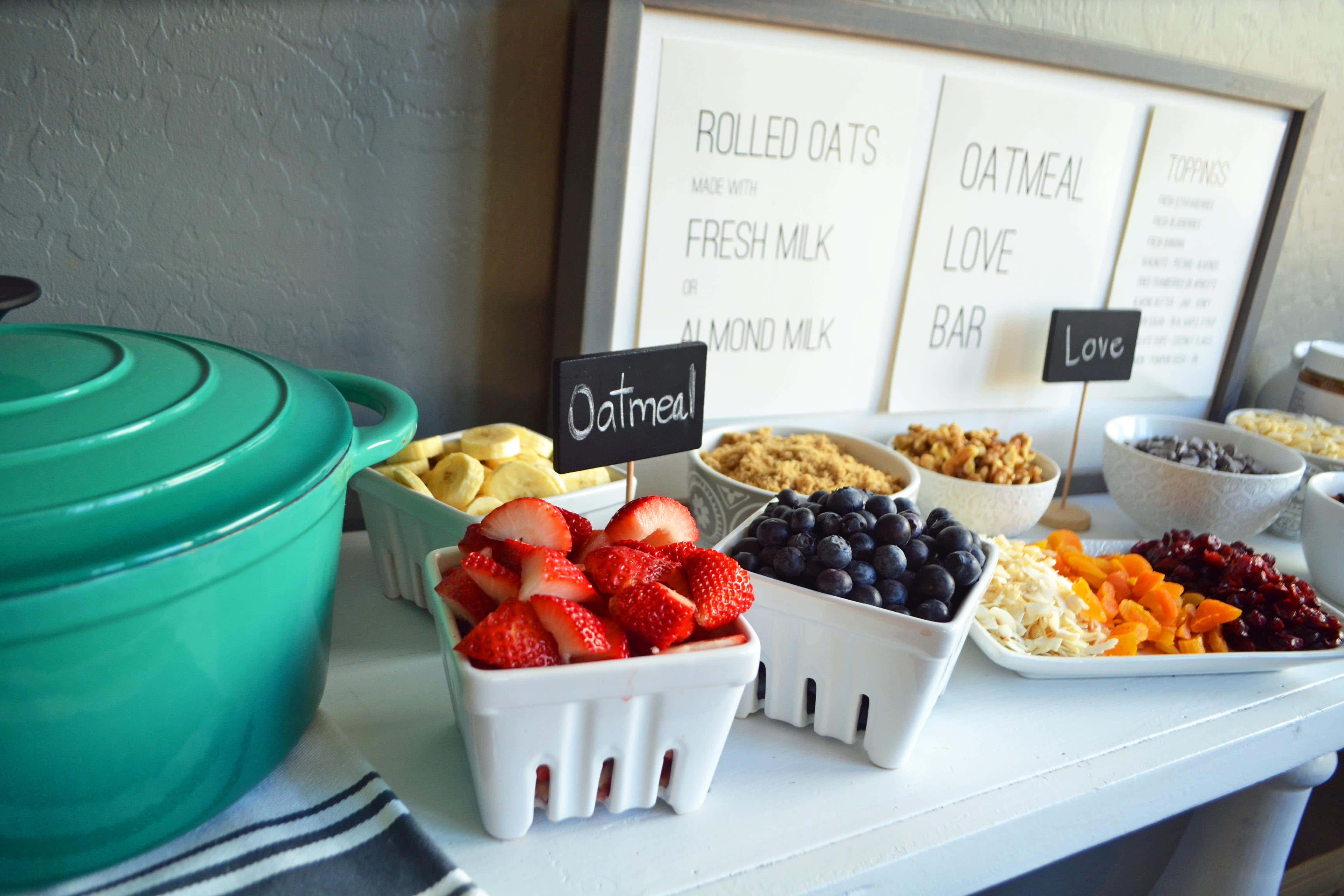 This Oatmeal Toppings Bar is fantastic for entertaining as it will definitely impress your guests. When setting up your Oatmeal Bar with Toppings, everything doesn't have to look the same. You can use unique bowls and platters of all shapes, sizes, and colors to make it look unique.
These white baskets are from Sur La Table and are used often in our home for fresh berries. Many of my favorite bowls and entertaining pieces are from World Market and Home Goods.
Use small chalkboard signs or printed signs and list your topping choices - this gives it a whimsical feel.
Even if you don't want to make an entire Oatmeal Toppings Bar, here are some great ideas to spruce up your ho-hum oatmeal.
The OATMEAL LOVE BAR Toppings:
Fresh Fruit:
Strawberries
Bananas
Raspberries
Blackberries
Blueberries
Nuts + Seeds:
Almonds
Pecans
Walnuts
Pumpkin Seeds
Chia Seeds
Almond Butter
Peanut Butter
Dried Fruits:
Dried Apricots
Cranberries or Craisins
Raisins
Coconut Flakes
Dried Cherries
Sweet Things:
Chocolate Chips
Caramel
Berry Jam
Brown Sugar
Real Maple Syrup
Honey
Stevia
Agave Nectar
Spices:
Cinnamon
Pumpkin Pie Spice
Nutmeg
Vanilla
Creamy Goodness:
Milk
Almond Milk
Cream
Half n Half

The Ultimate OATMEAL Bowls with Toppings Ideas:
The A B + J Oatmeal = Oats + Almond Butter + Berry Jam + Almonds + Blueberries
Almond Joy Oatmeal = Oats + Chocolate Chips + Coconut Flakes + Almonds
Berry Trifecta Oatmeal = Oats + Brown Sugar or Honey+ Strawberries + Blueberries + Raspberries
ChocoBerry Oatmeal = Oats + Strawberries + Banana + Brown Sugar + Walnuts + Chocolate Chips
Chock Full of Goodness Oatmeal = Oats + Cranberries + Apricots + Coconut + Almonds + Pumpkin Seeds + Honey
Pumpkin Pie Oatmeal = Oats + Brown Sugar + Pecans + Pumpkin Pie Spice + Vanilla + Cream
Brown Sugar Banana Walnut Oatmeal = Oats + Brown Sugar + Fresh Banana + Walnuts
Chocolate Love Oatmeal = Oats + Chocolate Chips + Raspberries + Cream
Tropical Oatmeal = Fresh Mango + Coconut Flakes + Dried Pineapple + Brown Sugar
The Elvis Oatmeal = Oats + Almond or Peanut Butter + Bananas + Brown Sugar
Pumpkin Spice Oatmeal made with Brown Sugar, Pumpkin Spice, and Pecans. The perfect oatmeal for that crisp, cool Fall weather.
Fresh Berry Oatmeal made with Raspberries, Blueberries, and Strawberries and drizzled with Honey
Tropical Oatmeal made with Fresh Mango, Coconut Flakes, and Dried Pineapple with a sprinkle of Brown Sugar
A popular favorite oatmeal combination -- the Banana Walnut Oatmeal with Brown Sugar has the perfect amount of crunchy sweetness paired with creamy oatmeal
The Almond Joy Oatmeal Bowl made with Coconut Flakes, Chocolate Chunks, and Slivered Almonds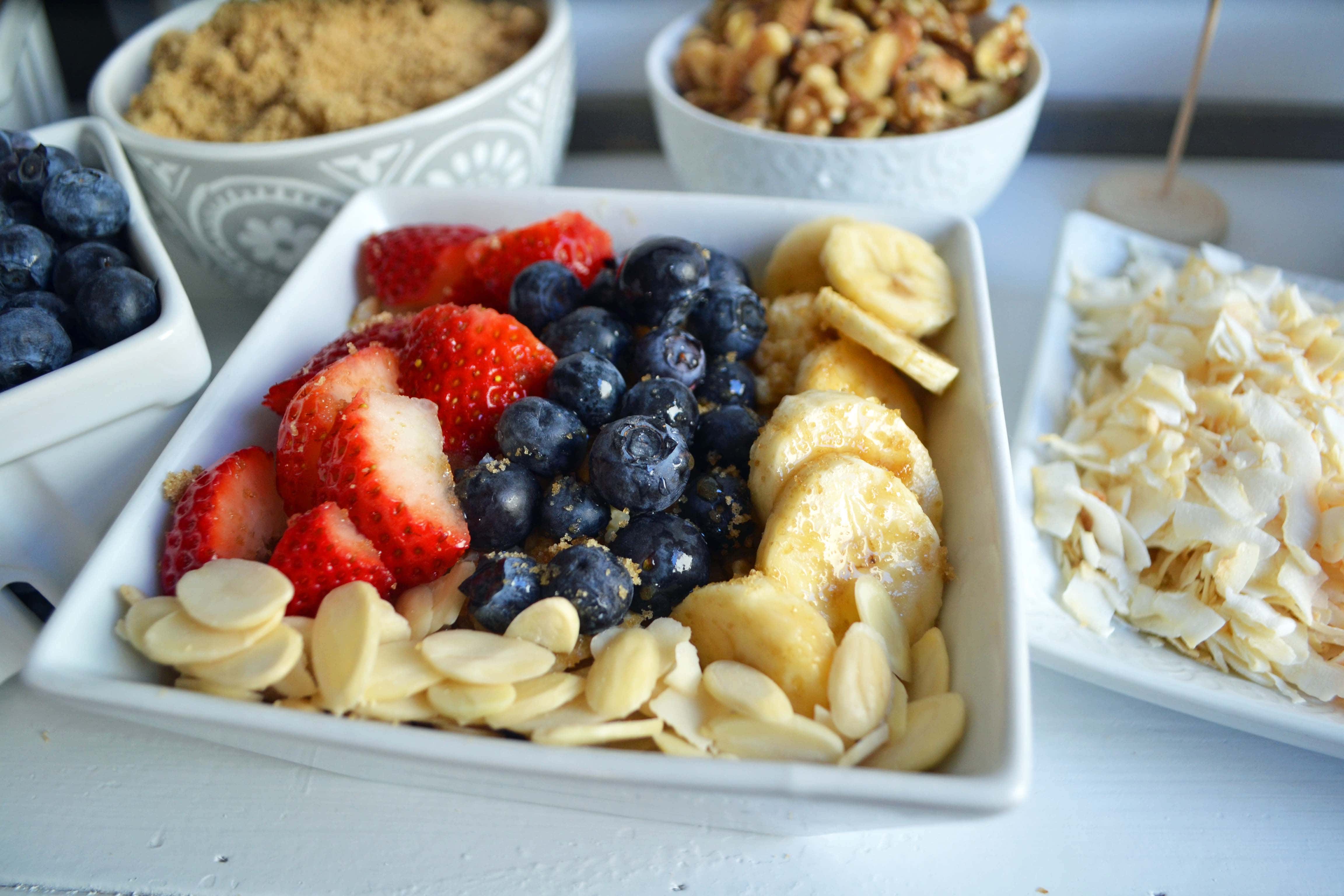 Happy Oatmeal Lovin'!