Homemade Fruit Popsicles
Homemade Fruit Popsicles made with fresh and frozen fruit and no-sugar added juices. A coconut milk cream swirl may be added for fruit and cream popsicles.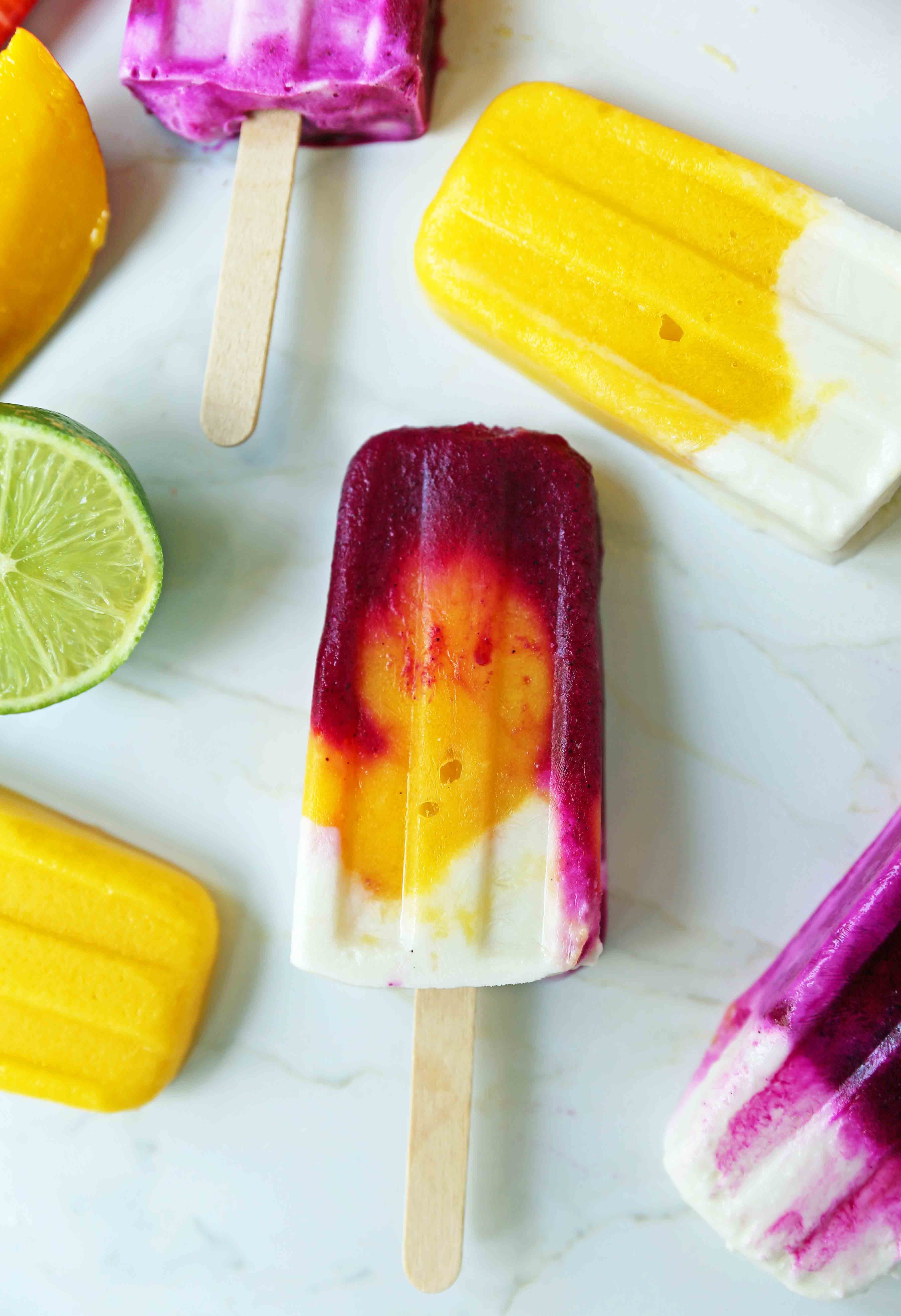 Growing up, we lived on a diet of popsicles and more popsicles during the summer. I have so many memories of sitting by the pool with my legs dangling in the water and a brightly colored popsicle in my hand. My Dad wouldn't even bother buying the 10-pack. He went straight for the 50-pack of popsicles and we ate them like they were going out of style.
If you've ever sneaked a peek at the label on the box of popsicles, you will see that they are full of high-fructose corn syrup and sugar. Fruit is a distant ingredient. There has to be a better way!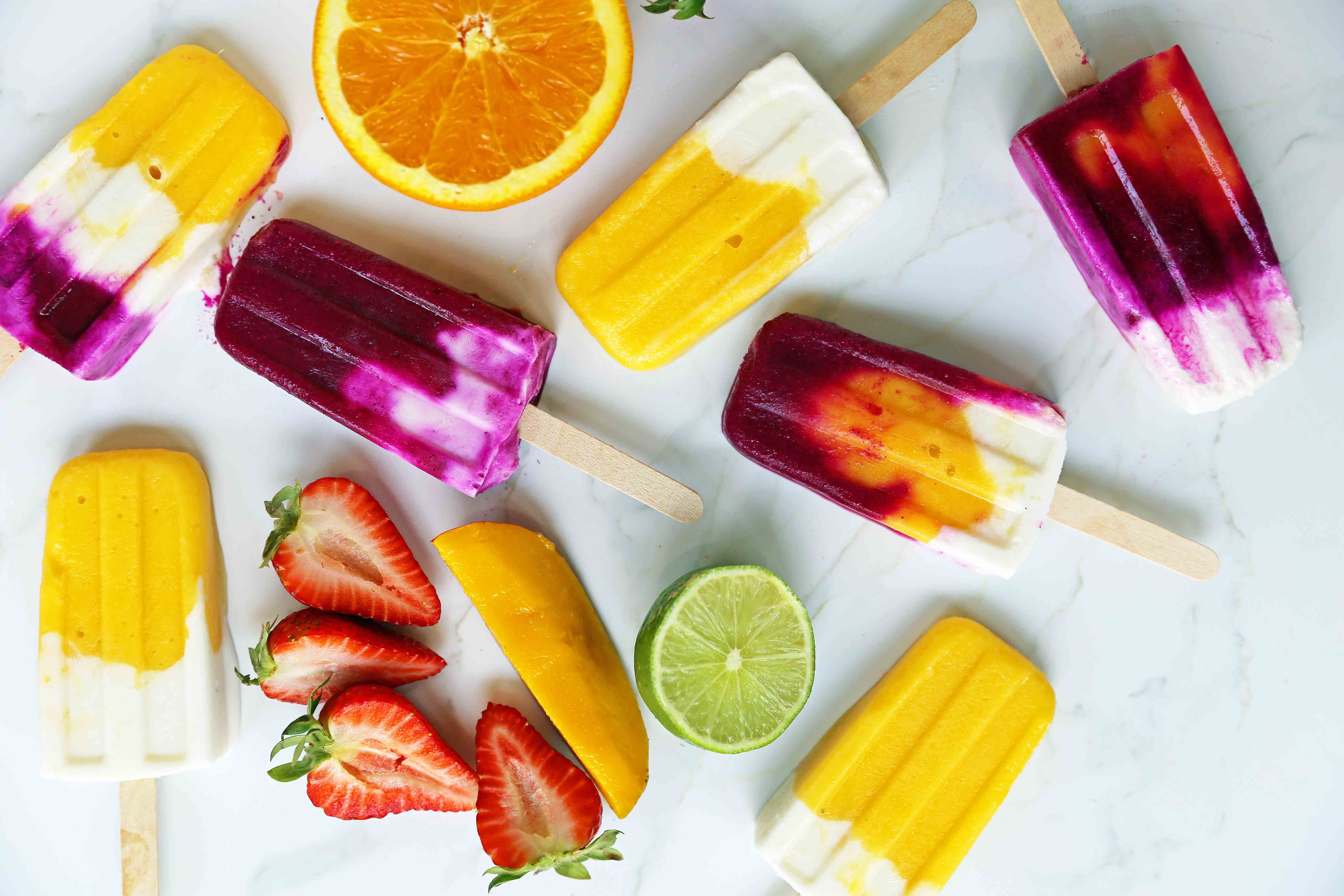 Enter homemade sugar-free, all-natural fruit popsicles. These homemade fruit popsicles are made with an assortment of fruits -- mango, pitaya (dragonfruit), peaches, strawberries, and so many more! You can mix and match and use different juices to change up the flavor. Apple juice is a nice addition as it adds a natural sweetness. Orange juice also adds a touch of sweetness and acidity to the fruit.
To sweeten the homemade popsicles, I reach for honey.  Since these popsicles are sugar-free, honey adds sweetness and helps to keep the popsicles from becoming icy.  Use runny honey and add more depending on sweetness preference.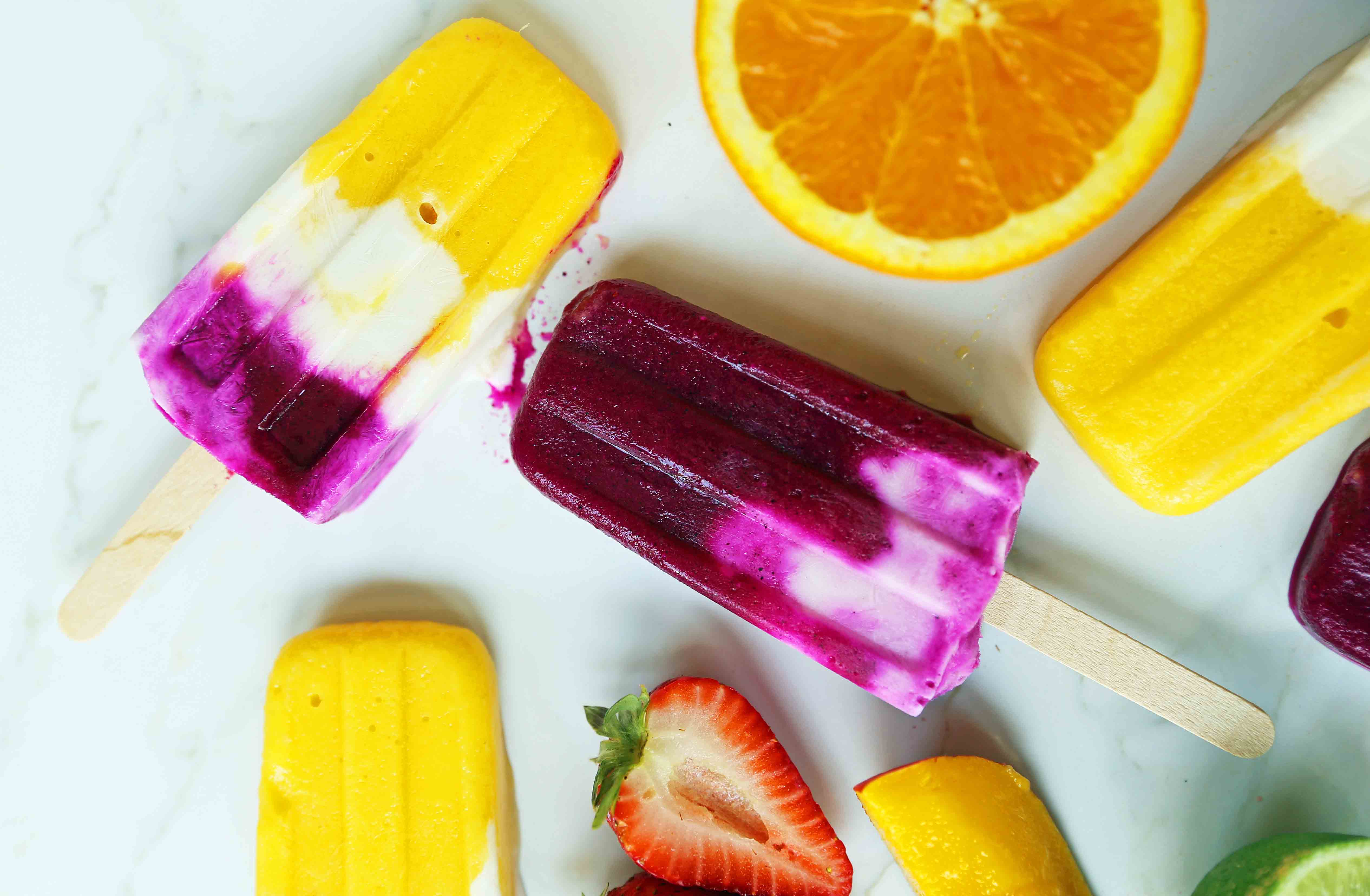 I wanted to up the nutrition factor.  We have been traveling and I am always anxious to get home to eat better and cleanse my body from all of my vacation indulgences! I combined frozen fruit swirled together with a coconut milk, greek yogurt, honey, and Vital Proteins collagen peptides mixture. It was perfectly creamy while adding some nutrition benefits! My skin and hair always look better when I consistently take my collagen peptides. It also helps with my joint issues and it works wonders for my gut too! You can use unflavored Vital Proteins collagen or even their strawberry lemonade. You can find their products HERE.
The creamy part of this homemade popsicle is made with a canned coconut milk, greek yogurt, and honey.  Collagen is added for extra protein. You can use an unsweetened whole greek yogurt or flavored greek yogurt. I used Chobani Coconut and Mango greek yogurt to make these popsicles. They do add some sugar to their yogurts so if you want to keep these sugar-free, look for unsweetened. If you want dairy-free fruit and cream popsicles, you can use a coconut milk-based yogurt.
To make these fruit and cream popsicles, use fresh or frozen fruit. I tend to reach for frozen fruit as it is picked right at its peak of freshness so it is usually ripe and sweet.  Add your favorite natural juice -- apple or orange juice. You can even use lemon juice if you want some extra acidity. You will just need to add more honey to offset the acidity.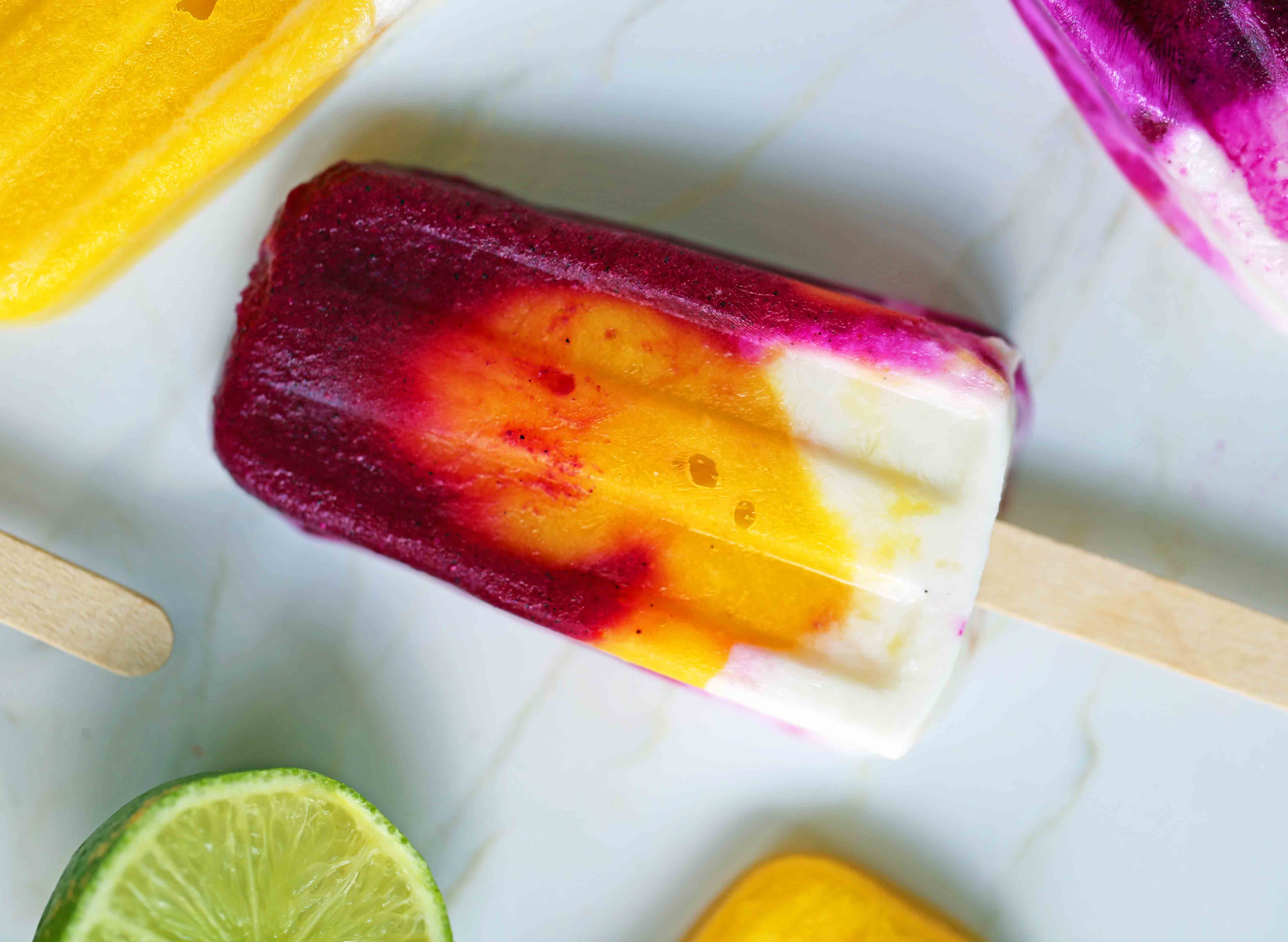 I am sharing how to make Pitaya Popsicles, Mango Popsicles, Mango and Cream Popsicles, Peaches and Cream Popsicles, Collagen Popsicles, Orange and Cream Popsicles, and more!
My daughter works at a smoothie and juice bar, which specializes in acai and pitaya bowls. We always have frozen pitaya and acai packets in our freezer at all times because I love to make them at home too.  If you haven't tried pitaya (dragonfruit), you are missing out! It is such a vibrant pink fruit and makes such a beautiful popsicle. You can also use frozen acai packets to make acai popsicles.
To make frozen homemade popsicles, you can use your favorite popsicle mold. These are a few of my favorite popsicle molds --- Zoku Classic Molds and Norpro Frozen Ice Pop Maker. I even lightly sprayed the popsicle mold with coconut non-stick cooking spray.