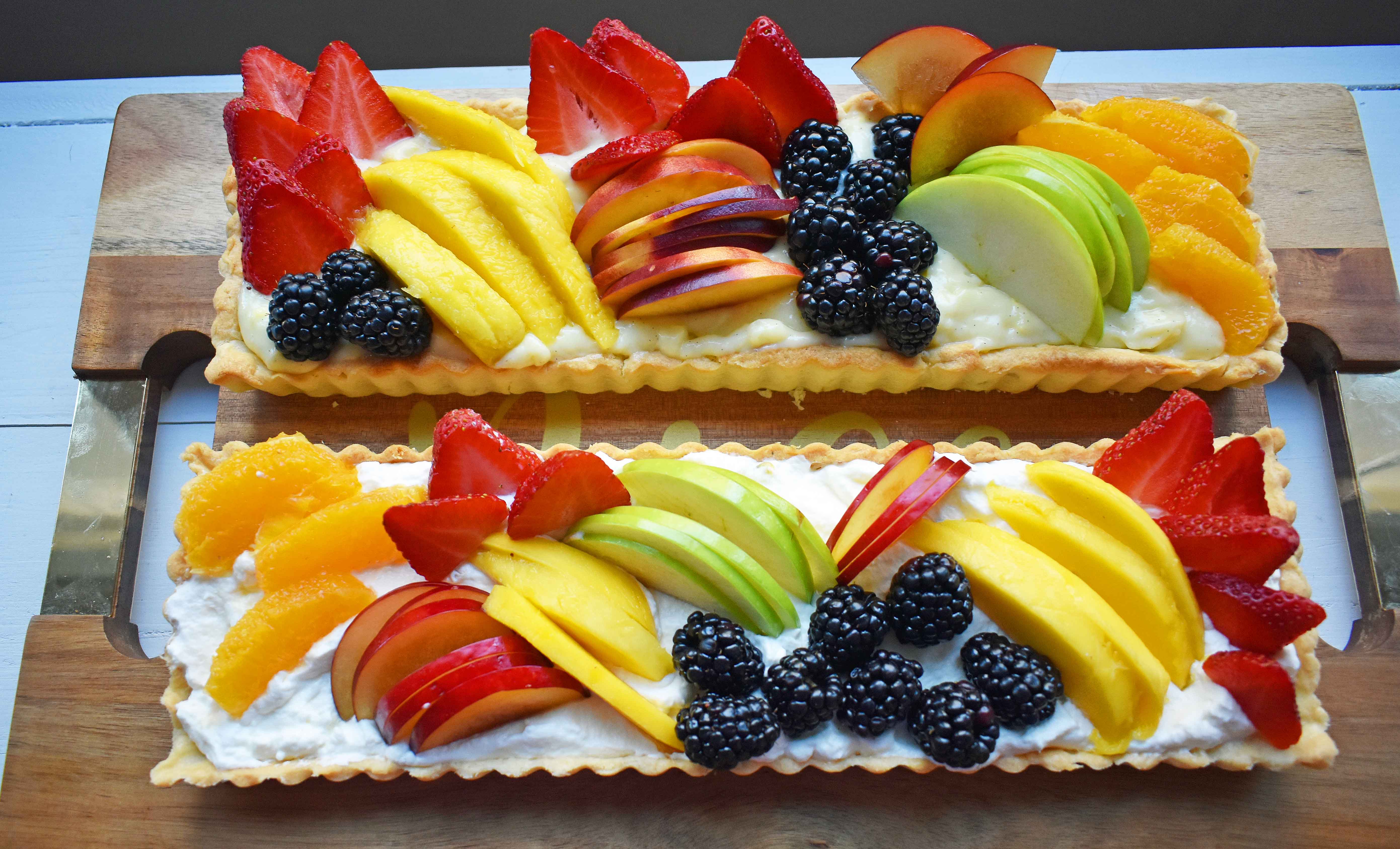 Sometimes as a food blogger, it is hard to make decisions. There are so many foods to make and not enough time in the day! If I could have my way, I would be cooking most of the day.
My daughter, Sierra, was born with a taste for all things healthy. She is the one who was eating green peppers like they were apples by the time she was 3 years old. I would actually bring carrots and green peppers to church as her snack because she loved them so much. I don't know where she came from! 🙂 If she is going to eat dessert, nothing makes her swoon more than a fresh fruit tart. It is literally what stops her dead in her tracks every single time we visit the Whole Foods Bakery.
For her birthday, I wanted to create the ultimate fruit tart.  The problem was trying to figure out what to fill it with. So many decisions! When there are so many choices out there, I want to try them all. Then the fun part is inviting a lot of people over to be my taste testers.  It is such a fun job! We narrowed it down to the top two favorites — a vanilla bean pastry cream (custard) filled tart and a lemon cream filled fruit tart. They were universally loved so I have to share both recipes with you, my friends.
We even tried a passion fruit cream which had a mild tropical flavor but found that you need a lot of fresh passion fruit to truly taste it. But if you are a passion fruit lover, fold it into the whipped cream for a passion fruit mousse.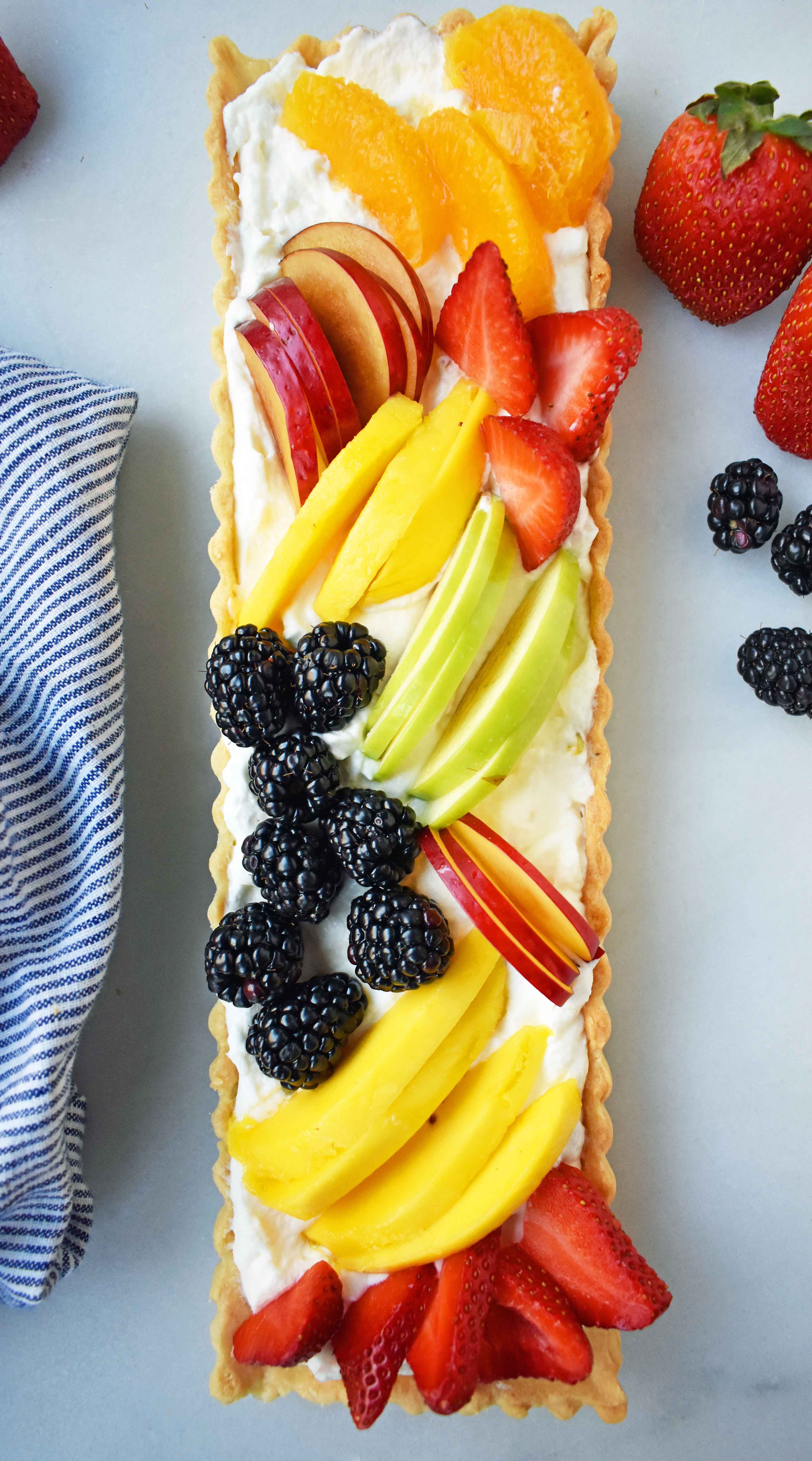 This Lemon Cream Filled Fruit Tart is made with a homemade all butter pie crust, a lemon cream made with softened cream cheese, powdered sugar, heavy whipping cream, lemon juice, and lemon zest and topped with all kinds of fresh fruits.
When making a fruit tart, I love to use a large assortment of fresh fruits — strawberries, mangoes, pineapple, peaches, nectarines, oranges, grapefruit, red plums, green apples, blackberries, blueberries, raspberries, and kiwi.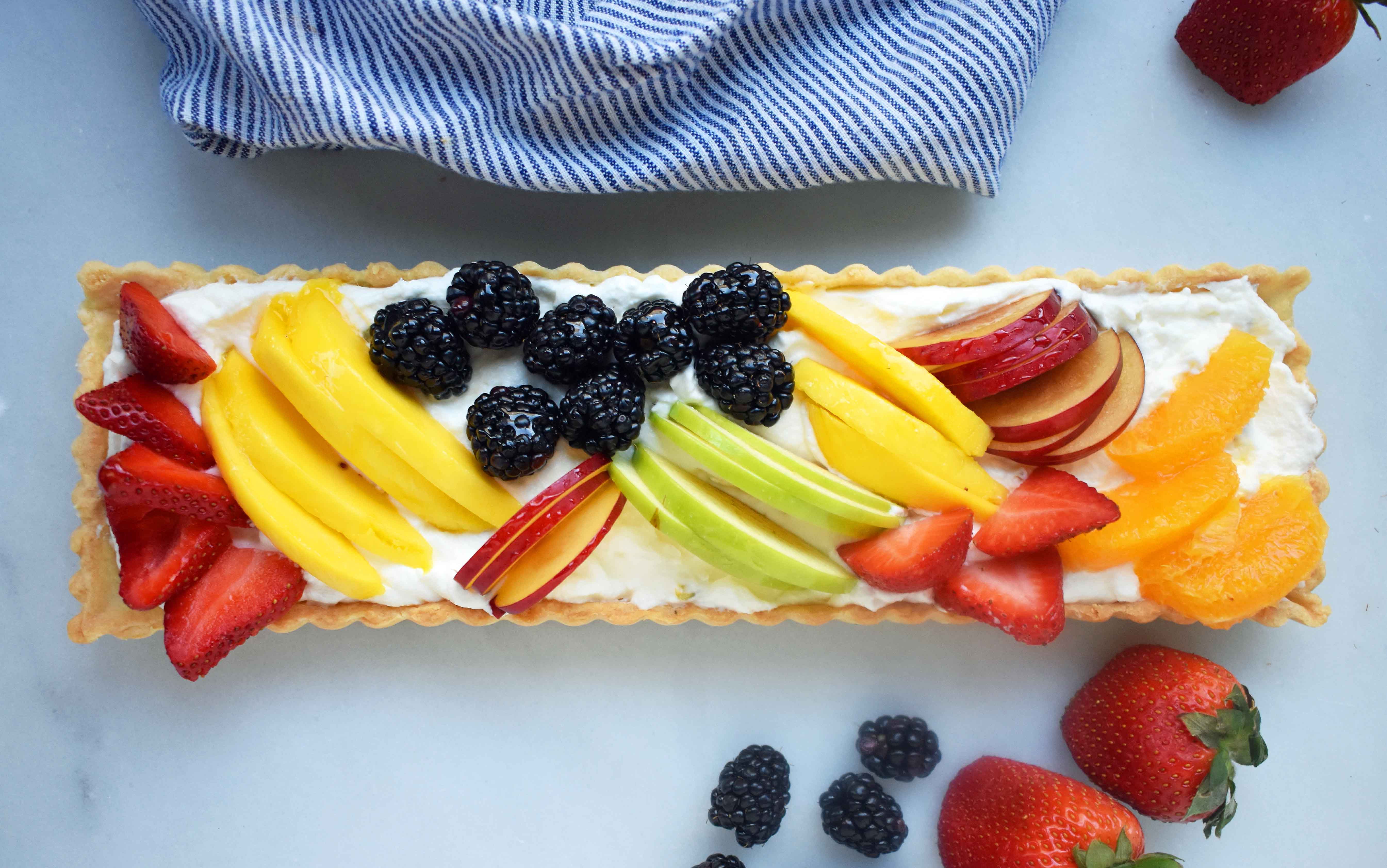 Here are a few of my essentials tools to making a fresh fruit tart:
Rectangular Tart Pan
Round Tart Pan
Marble Rolling Pin
Pie Crust Weights
Pin this now to find it later
Pin It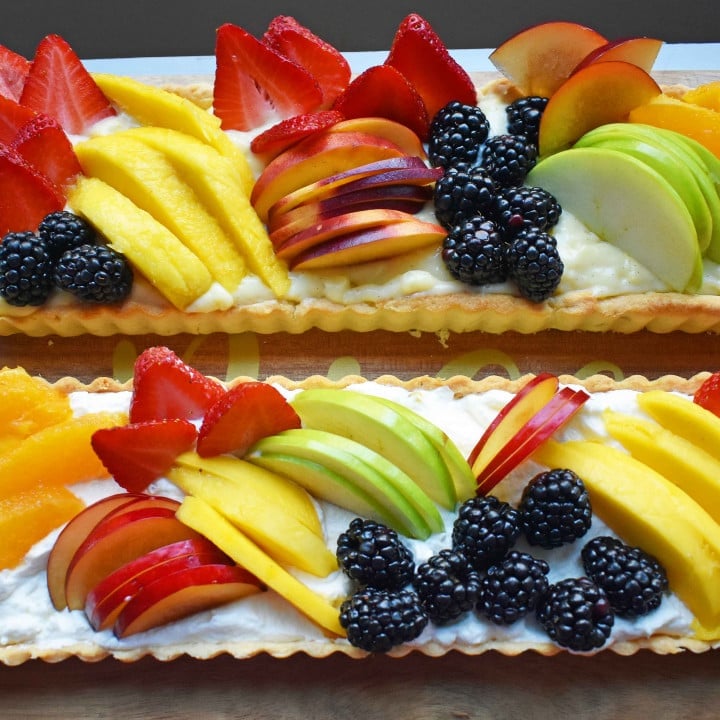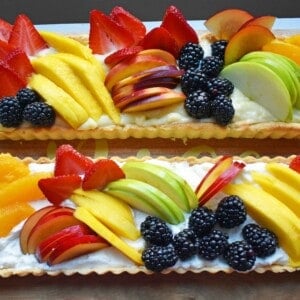 Lemon Cream Filled Fruit Tart
A homemade flaky, buttery pie crust baked in tart pan and filled with sweet lemon cream and topped with fresh fruit. A beautiful Springtime dessert!
Ingredients
Tart Dough:

1/2

cup

Cold Butter

1 stick, sliced into small pieces

1 1/3

cups

Flour

1/2

teaspoon

Salt

1/4

cup

Ice Cold Water

1/2

teaspoon

Vinegar

Lemon Cream:

2

cups

Heavy Whipping Cream

1 - 8

ounce

package Cream Cheese

softened

1

cup

Powdered Sugar

2

Tablespoons

Lemon Juice

2

teaspoons

Lemon Zest

add more depending on taste

Fresh Fruits:

Mangoes

Red Plums

Peaches or Nectarines

Blackberries

Green Apple

Strawberries

Blueberries

Raspberries

Oranges

Grapefruit

Kiwi

Fruit Glaze:

optional

Strawberry or Apricot Jelly
Instructions
Stir together flour and salt. Slice cold butter into tiny shreds and add to bowl or food processor. Pulse until coarse meal or small peas form.

Slowly add ice cold water, 1-2 tablespoons at a time to butter flour mixture. Add vinegar and pulse until it starts to form together.

Press dough into a ball. Pat each ball into a disk, tightly wrap in Saran Wrap, and let it chill in refrigerator for at least 30 minutes. 2 hours is preferred.

Unwrap the dough, turn the dough onto a lightly floured work surface and roll it out, using a rolling pin. Don't overwork the dough. The key is to work quickly to keep the dough as cold as possible. Keep the tart pan nearby so you can check the size.

Fold the dough in half and gently lift and position it over the tart pan. Unfold.

Press the dough against the sides and bottom of pan.

Line the crust with foil or parchment paper. Fill it with pie weights, rice, or beans and press against the sides of the crust.

You can double line the crust with parchment paper to ensure that the rice doesn't get stuck into the dough.

Bake at 400 degrees for 10-12 minutes. Remove parchment paper and pie weights and return to oven and cook for an additional 6-8 minutes (for a total of 16-20 minutes cooking time). Let cool.

To make lemon cream: In large bowl, whip cream until soft peaks form. Set aside.

In another bowl, whip cream cheese for 3-4 minutes until light and fluffy. Stir in powdered sugar, lemon juice, and lemon zest. Fold in whipped cream. Let chill.

Fill baked tart shell with lemon cream. Top with thinly sliced fruit.

To make fruit glaze, heat jelly in microwave-safe bowl for 20-30 seconds, or until melted. Brush over fresh fruit to make it shine.
Nutrition information is automatically calculated, so should only be used as an approximation.
Happy Baking, my friends! xo