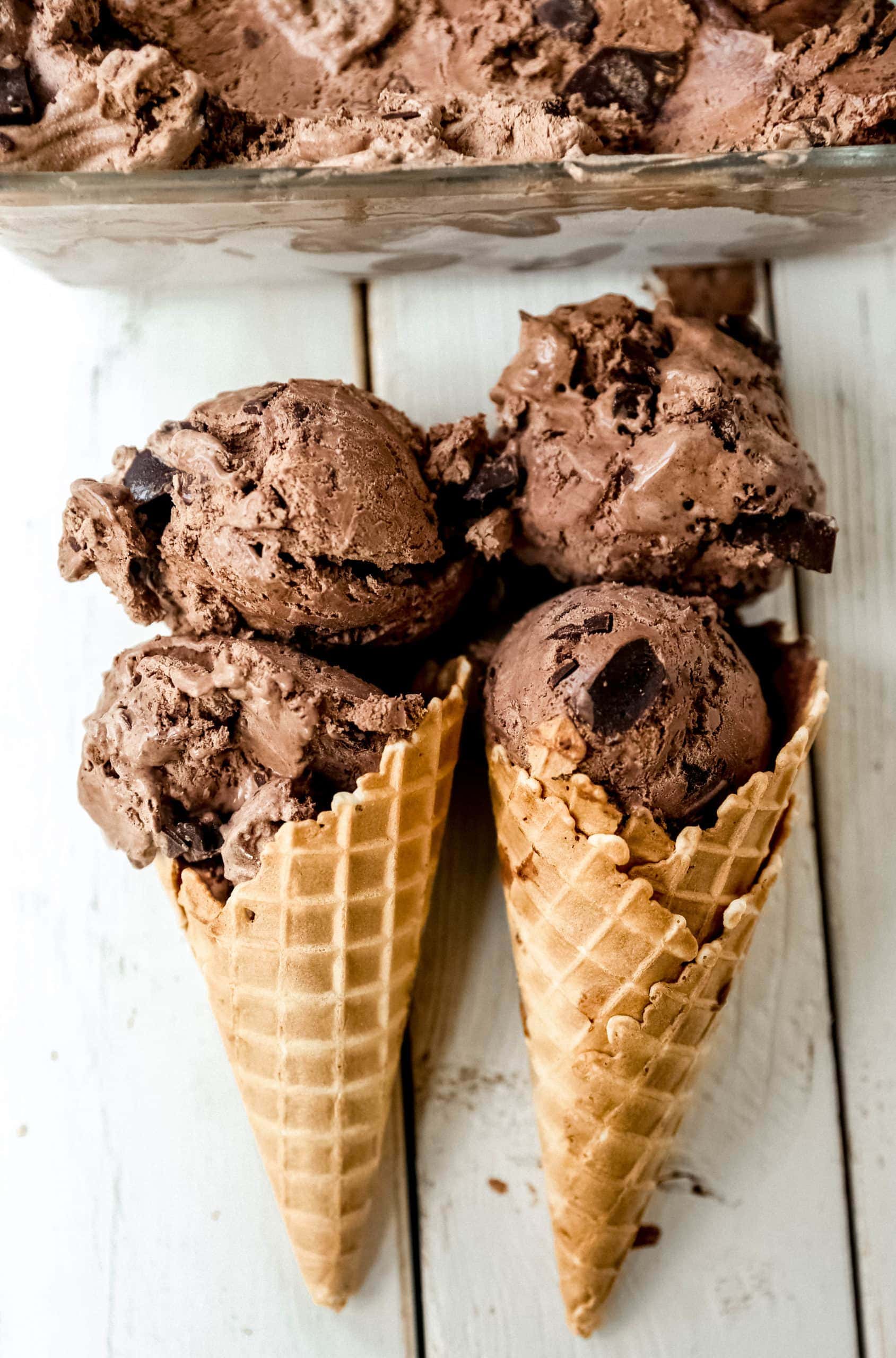 No-Churn Chocolate Chunk Ice Cream
How to make rich, creamy chocolate chunk ice cream at home without an ice cream maker! Homemade ice cream has never been easier!
It is still 105 degrees in Arizona and it is the end of September. True story. So we are still eating ice cream way into October as a way to cool off. If you live in the Western United States, you may understand this situation. We always hope to celebrate crisp, cool Fall weather but usually, our Fall comes in December.
So we are going to keep on keeping on eating ice cream and I am not sad about that part of it. I discovered a way to make homemade ice cream without an ice cream maker and it is a game-changer. It takes less than 5 minutes to whip this up and then you just have to exercise some serious patience and let it freeze and become hard in the freezer.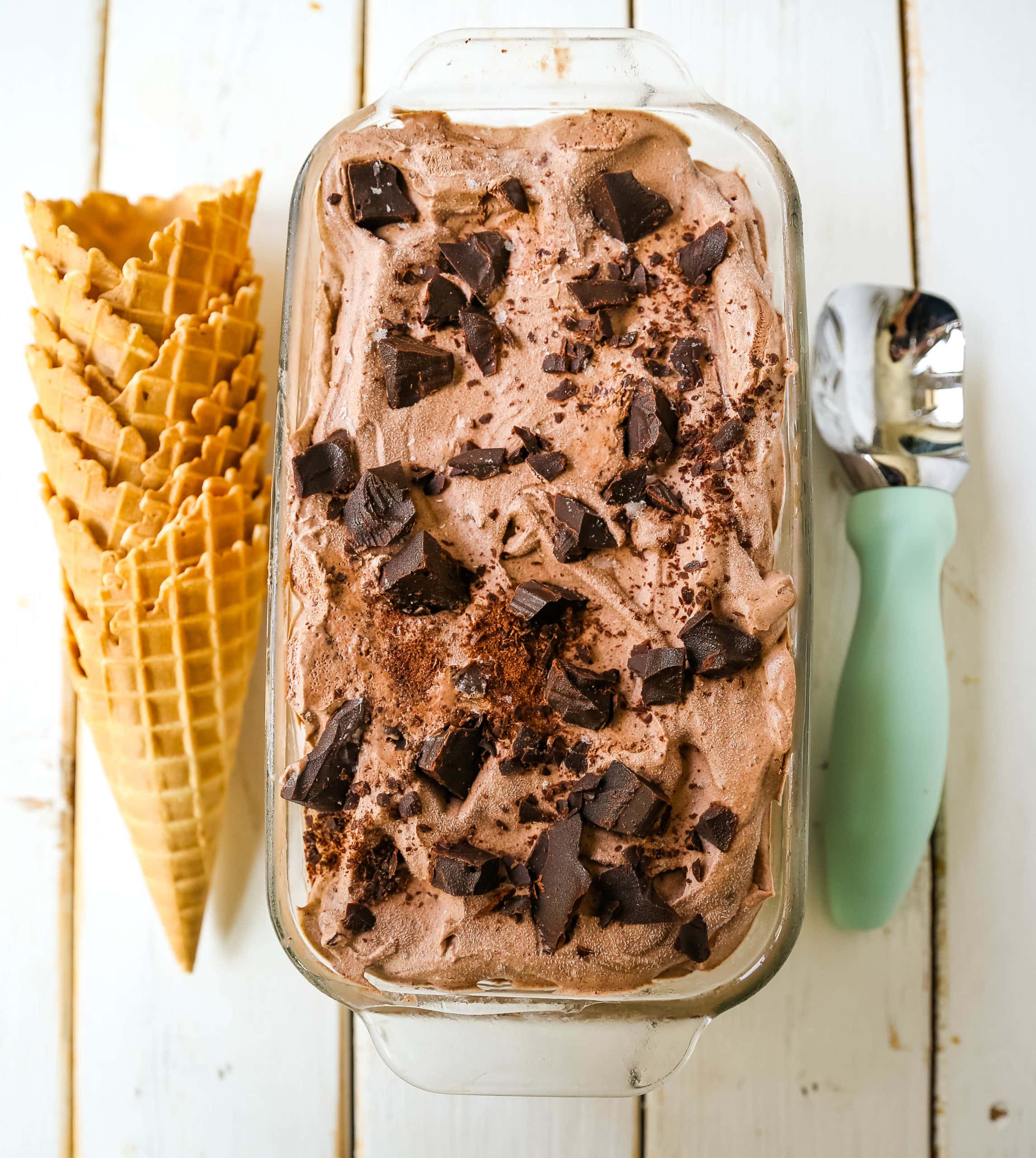 This No-Churn Chocolate Chunk Ice Cream is made with five simple ingredients. Grab a carton of ice cream at the store and count how many ingredients are listed. You will be hard-pressed to find any ice cream from the grocery store with only 5 ingredients! Plus this homemade chocolate ice cream tastes so much better!
One of the reasons you make ice cream in an ice cream maker is to whip air into the ice cream mixture. I found a way to get around that issue and it is definitely a plot twist in the ice cream making department. Are you ready for it? You actually WHIP the heavy whipping cream ahead of time. Yes! This gets you around the aerating part and gives the ice cream that perfect light and creamy texture.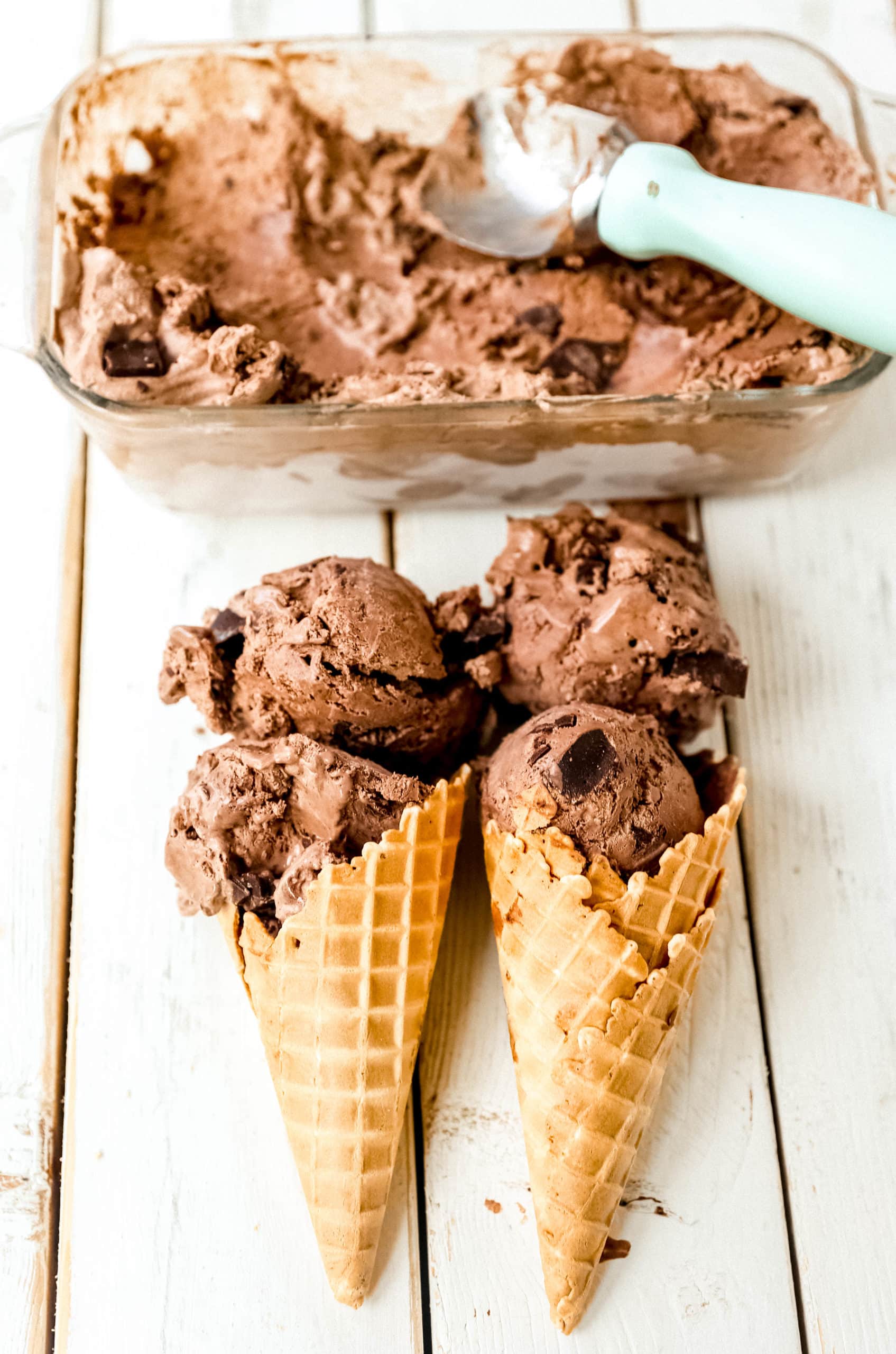 What ingredients are in No-Churn Chocolate Chunk Ice Cream?
This homemade chocolate chunk ice cream is made with heavy whipping cream, unsweetened cocoa powder, sweetened condensed milk, vanilla, and chocolate chunks.
This recipe doesn't call for sugar, which can end up grainy if you don't heat it and melt it down or eggs that needs to be cooked in order to be safe. The sweetened condensed milk adds sweetness and creaminess to the chocolate ice cream.
The rich chocolate flavor comes from unsweetened cocoa powder. Then when you add chunks of semi-sweet or dark chocolate, you get double the chocolate. I love to chop up high-quality chocolate bars and throw it in the chocolate ice cream mixture. You can also use chocolate chips.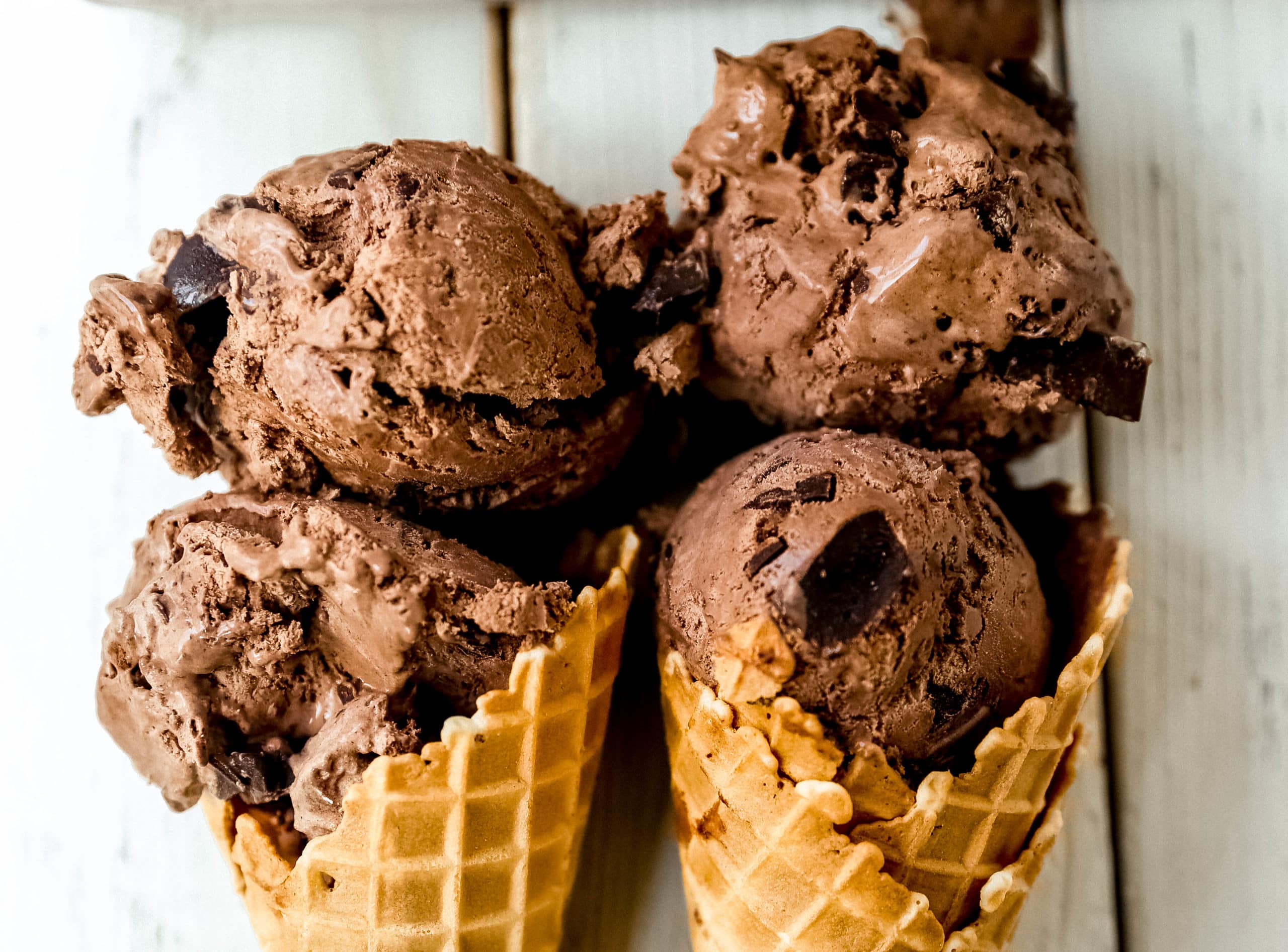 How to make Homemade No-Churn Chocolate Chunk Ice Cream:
Start by whipping the heavy whipping cream for 3-4 minutes or until stiff peaks form. This whips air into the cream and makes the perfect base for the ice cream.
In another bowl, stir together unsweetened cocoa powder, sweetened condensed milk, vanilla, and chocolate chunks. I like to add some extra chocolate chunks to the top of the ice cream so make sure and chop some extra chocolate. This is chocolate ice cream so we want it extra chocolatey!
Carefully fold in the whipped cream until no streaks appear. You want to delicately fold it together because you want to keep the loft in the whipped cream.
Pour into a loaf pan and top with extra chocolate chunks. Cover with plastic wrap and freeze for 18-24 hours. 24 hours is ideal to get hard packed chocolate ice cream.
Here are some tools I used to make this No-Churn Chocolate Ice Cream:
Glass Loaf Pan or Aluminum Loaf Pan
Retro Ice Cream Scooper
KitchenAid Mixer