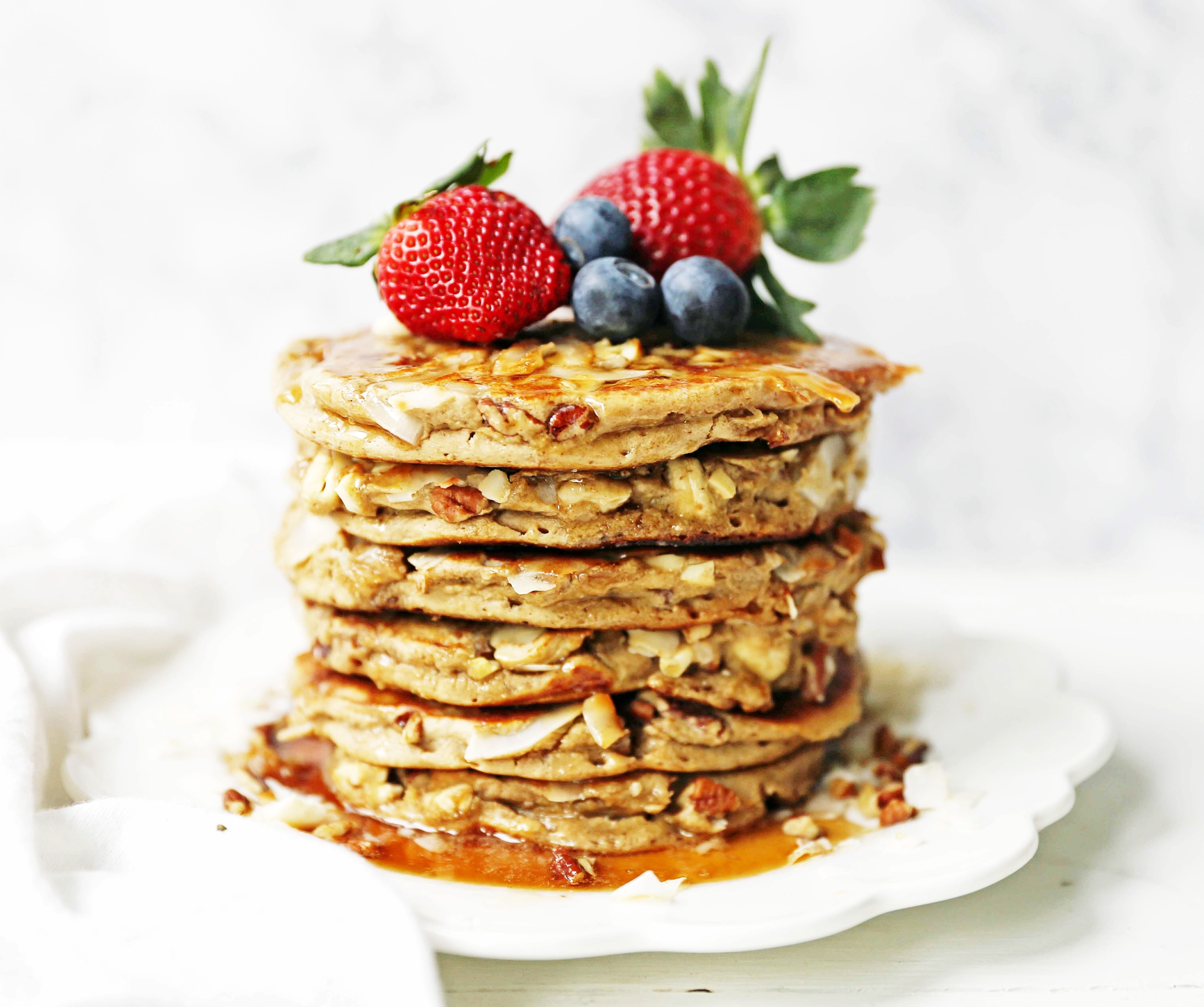 Nutty Granola Pancakes
Gluten-Free, Dairy-Free, No Added Sugar, Healthy Pancakes filled with oats, nuts, and coconut flakes. A hearty, filling breakfast!
If you've been following along on Modern Honey, you know that I have spent some time on a gluten-free and dairy-free diet in order to help with some of my health issues. I was amazed at the healing power of food! Since we are pancake fanatics in our home, I worked to create a healthier pancake free of gluten, dairy, and no added sugar. The key was it had to taste good so my kids would eat it!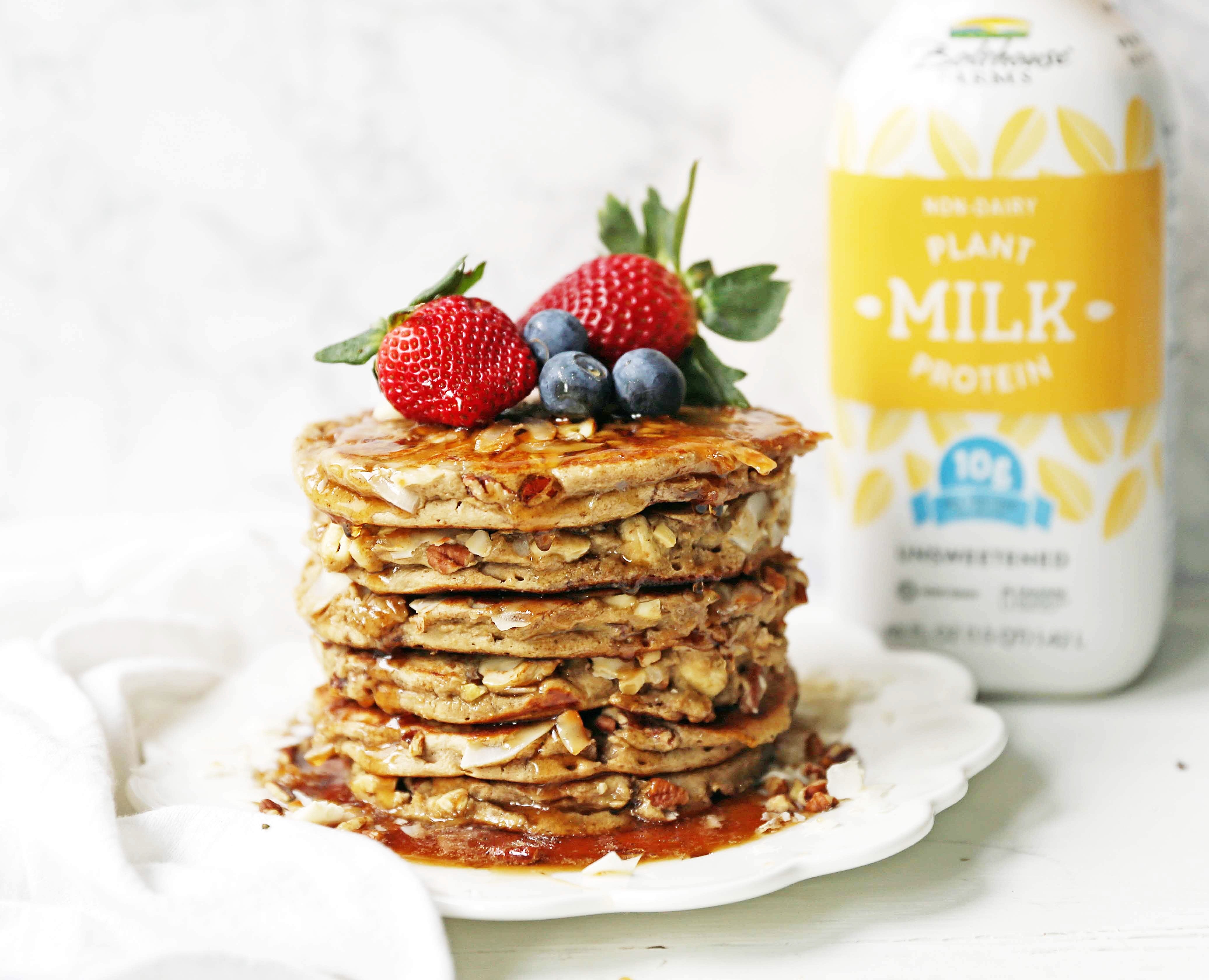 After much experimentation, my healthy banana oatmeal pancakes were born and they became a hit in our family.  My oldest daughter at college makes them all of the time and she prefers them over the traditional buttermilk pancakes. You would never guess they are full of healthy ingredients!
These Nutty Granola Pancakes are made with rolled oats, Bolthouse Farms® Plant Protein Milk, eggs, egg white, banana, baking powder, salt, vanilla, nuts, and coconut chips. If you want a touch more sweetness, add 100% real maple syrup.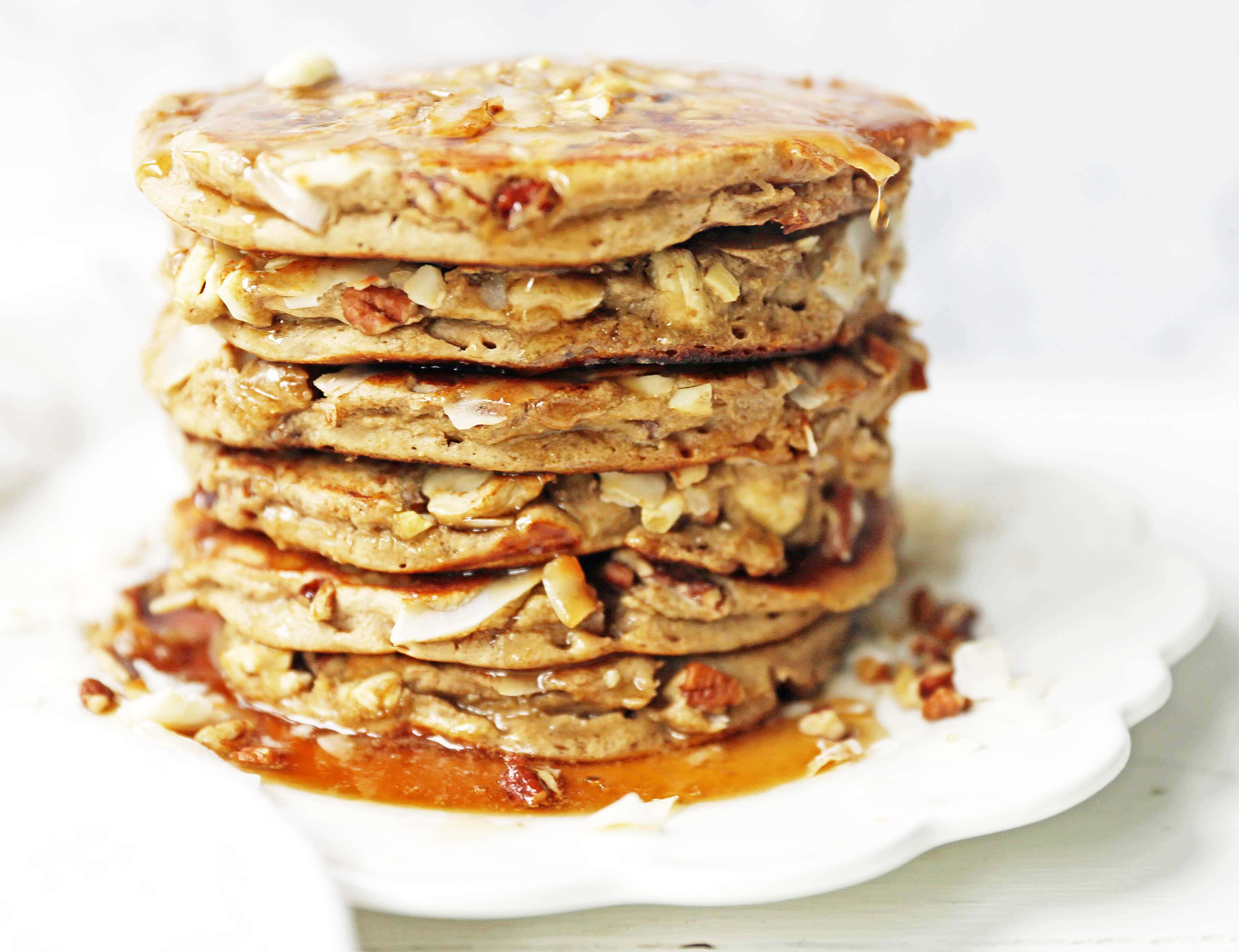 I wanted to add in some filling ingredients to keep my kids full and happy. My Mom's favorite pancakes on the menu of a local breakfast spot are full of ingredients you would find in granola — oats, nuts, dried fruit, and coconut flakes.  Since the main ingredient in these nutty granola pancakes is rolled oats, it is easy to transform them into granola pancakes.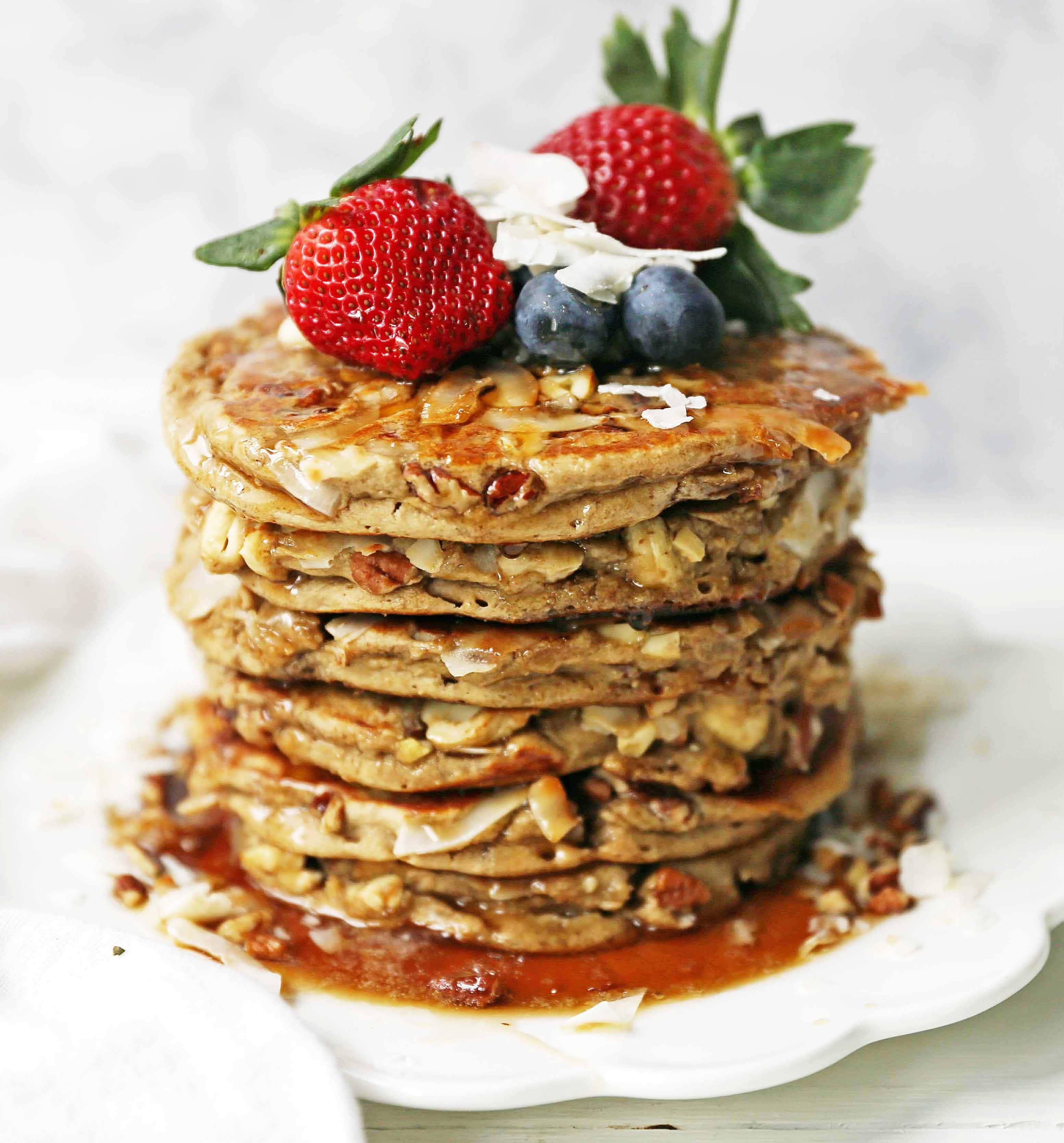 I love using Bolthouse Farms Plant Protein Milk because it is non-dairy, plant-based milk that contains 10 grams of pea protein per serving. To put this in perspective, almond milk only has 1 gram of protein per serving! I love that I am giving my kids a good source of protein and healthy carbs to start their day.  Bolthouse Farms Plant Protein Milk is non-GMO, soy free and has 50% more calcium than dairy milk.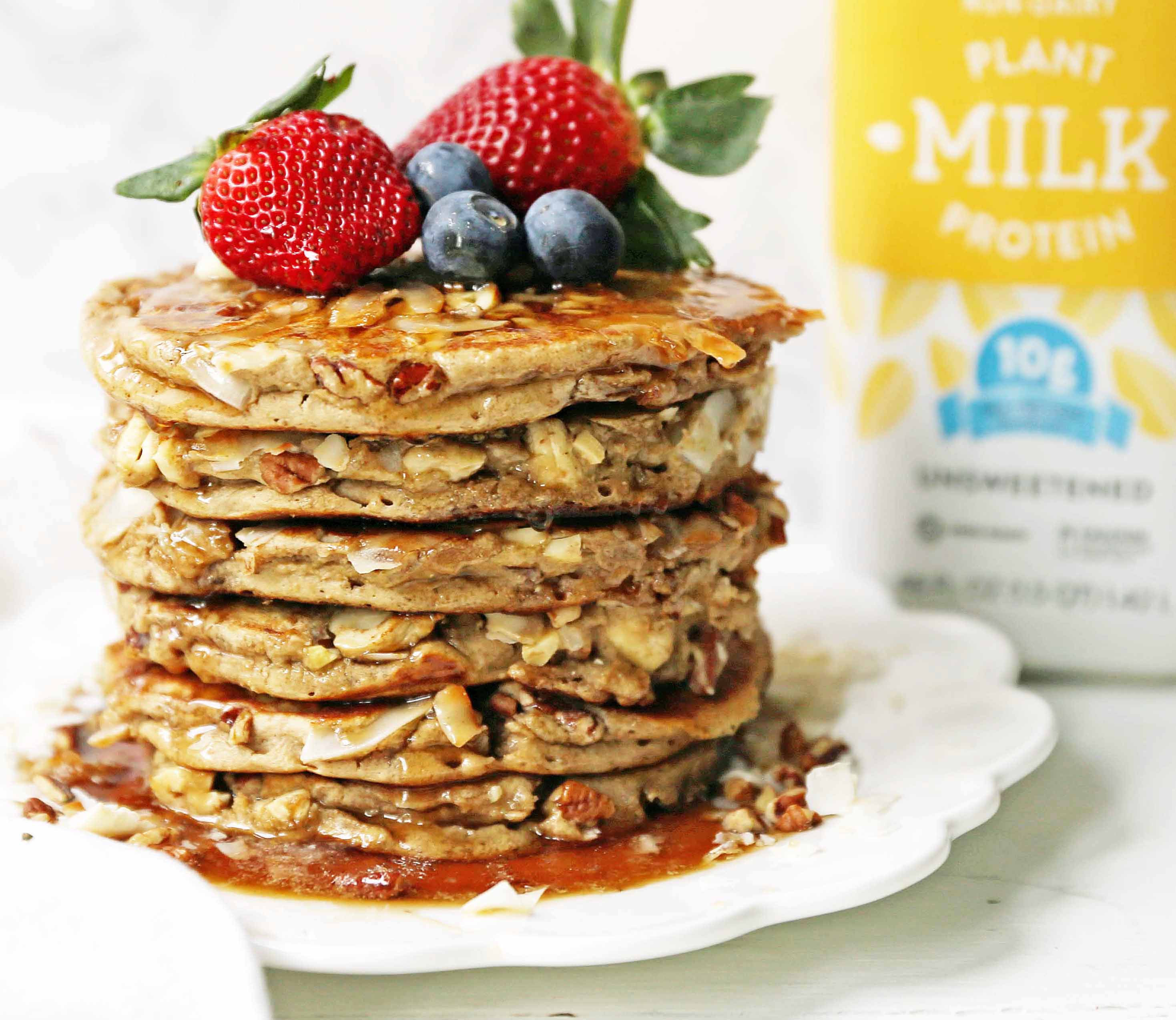 These Healthier for You Granola Pancakes can be made in a blender in less than 30 seconds! It makes them a quick and easy breakfast and cleanup is a breeze.
How to make Nutty Granola Trail Mix Pancakes:
Add all ingredients except nuts, dried fruits, and coconut chips into the blender. Puree until completely smooth.
Heat a large skillet or an electric skillet over medium or medium-low heat. I like to cook my pancakes on a lower heat in order to make sure they are completely cooked in the center.  You may use a non-stick cooking spray or butter in the pan before adding the butter. I love to use butter because it gives the pancakes such a great flavor!
Pour pancake batter onto heated skillet. Have the cashews, pecans, coconut chips, and anything else you would like to add ready to go.  As soon as you add the batter to the skillet, start to sprinkle on the nuts and coconut all over the pancake. Flip when bubbles start to form and one side of the pancake is a light golden brown color.
Flip and cook the other side. Top with butter, 100% real maple syrup, and fresh berries.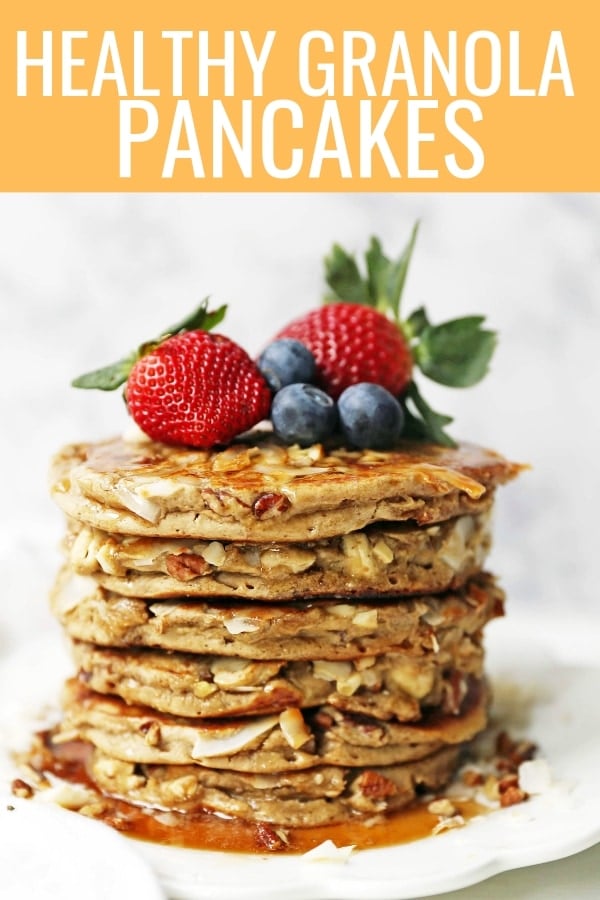 I love to hear from you! If you make this recipe, please be sure to leave a comment and give this recipe a rating. Sign up for my newsletter below so you never miss a recipe. Thank you for following along! I truly do have the greatest readers. FOLLOW ME ON:   INSTAGRAM — FACEBOOK — PINTEREST
Pin this now to find it later
Pin It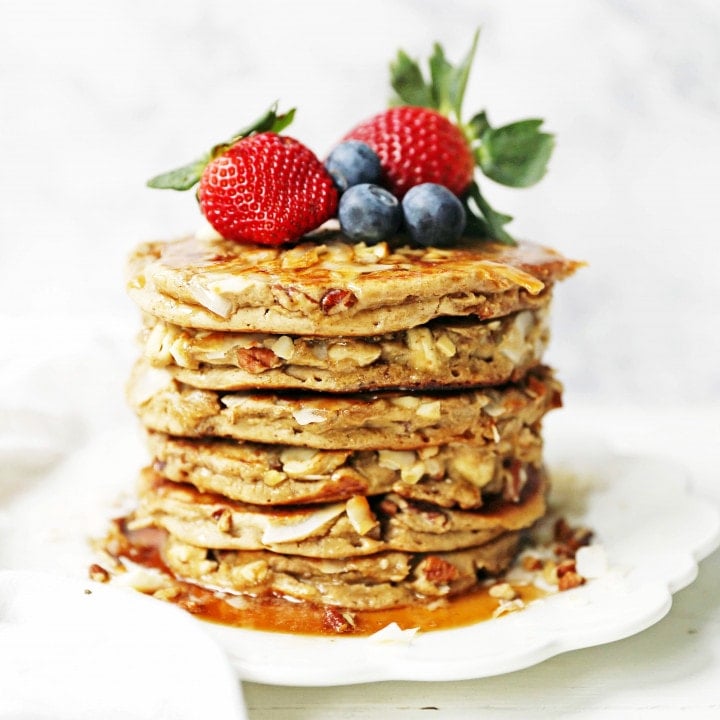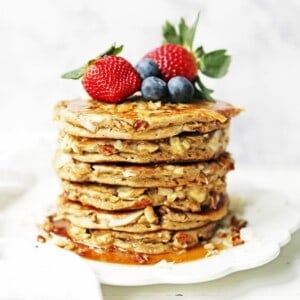 Nutty Granola Pancakes
Nutty Granola Pancakes. Gluten-Free, Dairy-Free, No Added Sugar, Healthy Pancakes filled with oats, nuts, and coconut flakes. A hearty, filling breakfast!
Ingredients
1/2

cup

Bolthouse Farms Unsweetened Vanilla Plant Protein Milk

2

large

Eggs

1

large

Egg White

1

large

Banana

(the riper the banana, the sweeter the pancake)

2

Tablespoons

100% Real Maple Syrup

(optional)

1 1/2

cups

Rolled Oats

(I use GF)

2

teaspoons

Baking Powder

1/2

teaspoon

Salt

1

teaspoon

Vanilla

3/4

cup

Cashews

(chopped)

3/4

cup

Pecans

(chopped)

3/4

cup

Unsweetened Coconut Flakes

Butter

(optional)
Instructions
In a blender, pour in Bolthouse Farms Milk, eggs, egg white, banana, maple syrup, vanilla (optional), rolled oats, baking powder and salt. Blend until smooth.

Heat skillet over medium heat. Once warmed, spray with non-stick cooking spray or place coconut oil or butter in skillet. Pour pancake batter into skillet in round circles.

Sprinkle the top side with cashews, pecans, and coconut. Cook for 2-3 minutes on one side. Turn over and cook for another 1-2 minutes

Drizzle with real maple syrup and toppings of choice.
Nutrition information is automatically calculated, so should only be used as an approximation.
You can find more information about Bolthouse Farms plant protein milk by clicking HERE. You can also find out Bolthouse Farms® store availability by clicking here. This post was is in sponsorship with Kroger and Bolthouse Farms. All opinions expressed on my site are my own.