Creamy Passion Fruit Pie topped with fresh whipped cream is the perfect tropical cream pie recipe that will make you feel like you are in Hawaii! This Lilikoi Pie is similar to a key lime pie but made with passion fruit. This Passionfruit pie is made with a graham cracker crust, creamy passion fruit custard filling, and topped with billowy sweet whipped cream.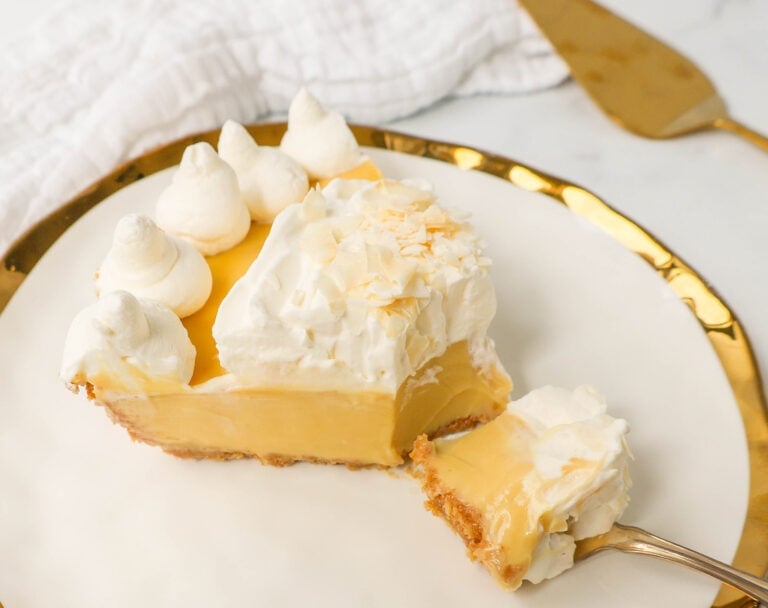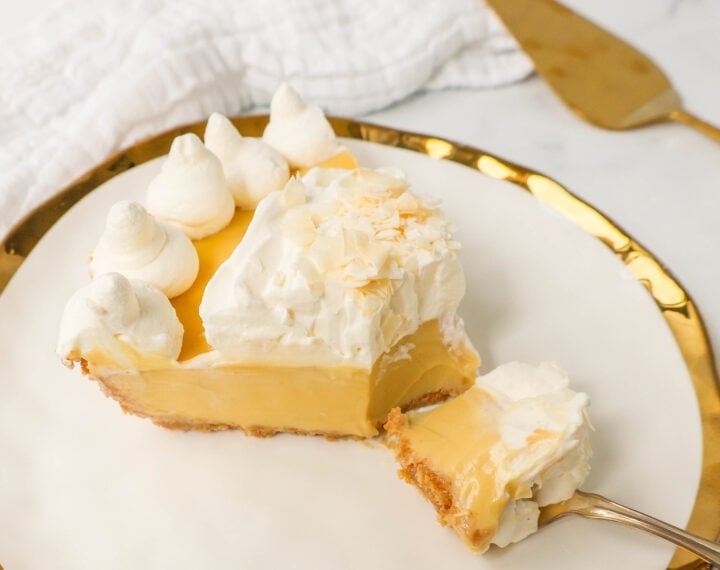 I was recently in Miami and one of the first things I do when traveling is to check out the best food places. I found this popular bakery and they are known for its creamy passion fruit pie. It was similar to a key lime pie in creaminess and texture but made with tart and sweet passion fruit. I knew I had to create this recipe at home!
I started experimenting and using my key lime pie recipe as a guide. I bought frozen all-natural passion fruit pulp at my local Fry's store for the passion fruit flavor. I knew I had a winner when I tasted the creamy passion fruit filling. It was beyond delicious!
It was hard to wait until it was chilled and set up but it was worth the wait! This Passionfruit Pie blew our minds!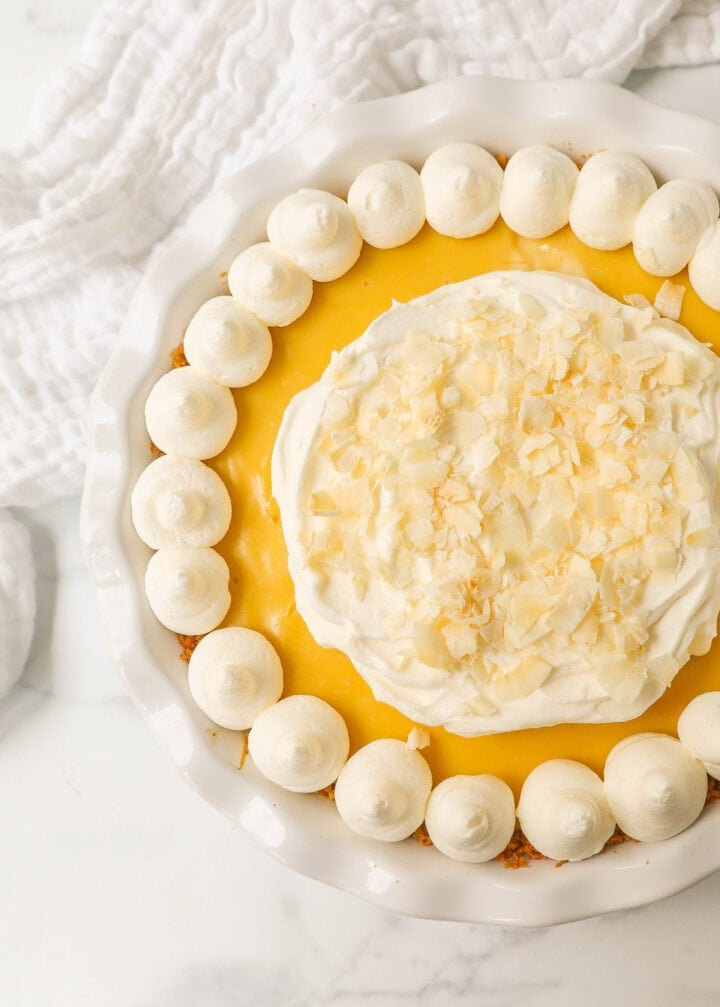 When my husband and visited Hawaii years ago, we found lilikoi (also known as passion fruit) growing wild. Of course, we had to try! It varied from very tart to sweet. We couldn't get enough of all of the passion fruit drinks, desserts, and foods in Hawaii. It is one of my favorite flavors.
Passion Fruit can be quite tart and tangy depending on how ripe it is or the season. That's why I love using frozen passion fruit pulp in this recipe because it is picked at peaked ripeness so you get a lot more sweet, tropical flavor coming through.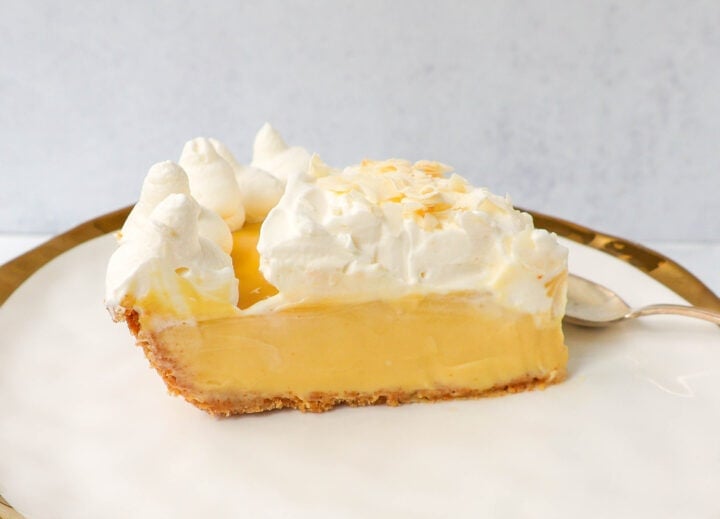 Passion Fruit Pie Ingredients:
This passionfruit cream pie with sweetened condensed milk and a graham cracker crust only calls for 8 ingredients and is super simple!
Passion Fruit Pulp -- this can be found in the frozen section. I use the Goya brand passion fruit pulp which has no sugar added.
Sweetened Condensed Milk -- this is what adds the sweet, creamy texture.
Egg Yolks -- creates the perfect custard-like filling and balances out the sweetness from the sweetened condensed milk.
Sour Cream -- I suggest using only full-fat, regular sour cream which adds a rich creaminess and tartness to balance out the passion fruit and sweetened condensed milk.
Heavy Cream -- this is to be whipped to pipe on the top of the pie or to spread on the top.
Powdered Sugar -- add powdered sugar to the heavy cream when whipping it to add sweetness. I like sweet whipped cream but you can add more or less depending on taste preference.
Graham Crackers -- this is to make an easy graham cracker crust. It is easiest to throw the graham crackers and butter into a food processor and pulse it until fine crumbs.
Butter -- use salted butter to make it the perfect salty-sweet combination.
Optional Toppings: Coconut Flakes, Toasted Coconut, Fresh Lime Zest
See the recipe card below at the bottom of the page for ingredients and instructions.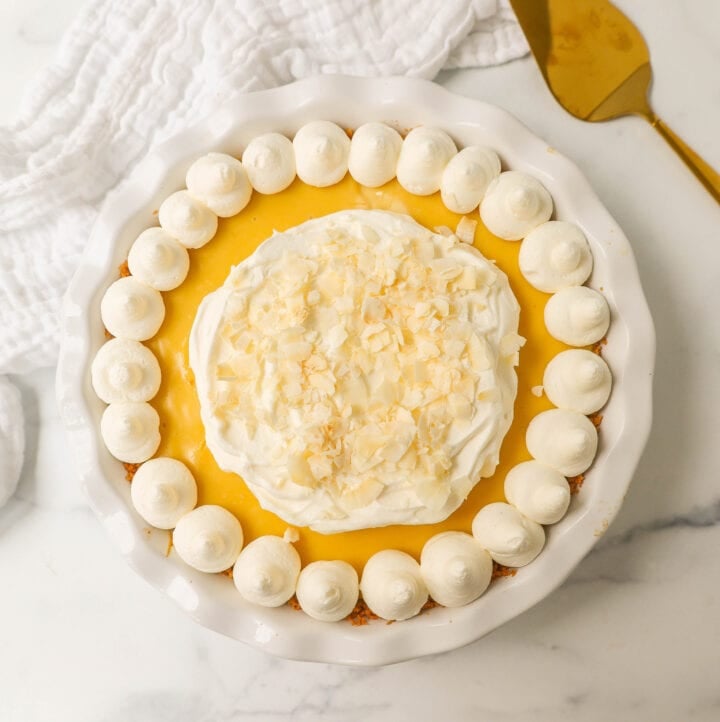 How to make Creamy Passionfruit Pie:
This Lilikoi pie is so easy to put together and only needs a quick baking time and to chill until set-up.
Start by defrosting the frozen passion fruit pulp. I do this by running it under warm water or letting it defrost naturally at room temperature. Once it is completely defrosted, measure out ¾ cup of the pulp mixture, which will be the texture of a thin smoothie.
Make the graham cracker crust and bake for 8 minutes to set up the crust.
Make the passionfruit filling by whisking together the passion fruit, sweetened condensed milk, egg yolks, and sour cream until smooth and creamy. Pour into the baked graham cracker crust.
Return to the oven and bake for 10 minutes.
Remove from the oven. Let chill in the refrigerator for at least 4 hours to allow it to set up.
When ready to serve, whip the heavy cream and powdered sugar until soft peaks form. If you are piping the whipped cream, whip a little longer for stiffer peaks.
Pipe or spread on the pie. Refrigerate until ready to serve. May top with coconut flakes or fresh lime zest for more tang.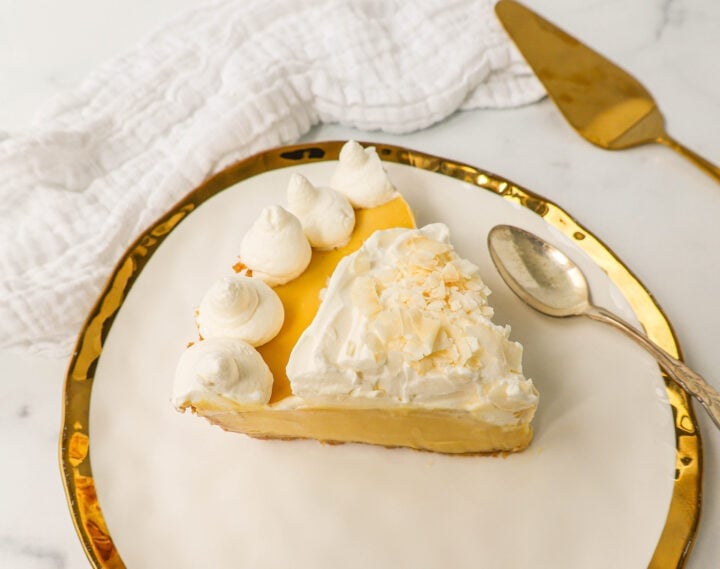 Storage:
FAQ about Creamy Lilikoi Pie:
How long does it take to make this pie start to finish?
This passion fruit cream pie is actually super easy but you do need to prepare ahead of time. Since it needs to chill for at least 4-5 hours, you want to start in plenty of time. You can make this cream pie days in advance. I suggest adding the whipped cream before serving.
Can I use frozen Passion Fruit chunks?
You can find passionfruit chunks in grocery stores everywhere in the frozen section. I didn't recipe test this pie recipe using the frozen chunks (I used Goya Passion Fruit Pulp) but I can imagine that it coudl work in this pie. I would suggest quickly pureeing the chunks until liquidy. Again, I haven't tested it yet but will try it in the future so stay tuned. But I do suggest using the Goya Frozen Passion Fruit pulp.
Can I use a Ready to Eat Graham Cracker Pie Crust from the grocery store?
Absolutely! You can use a pre-baked graham cracker crust in this recipe. You may end up with a little more passionfruit custard filling because the graham cracker crusts are smaller but it is delicious to eat by the spoonful.
How long do I need to chill the passionfruit cream pie?
It needs to chill for at least 4 hours, but I think it is better to chill for at least 6-8 hours. The flavors further develop as it chills.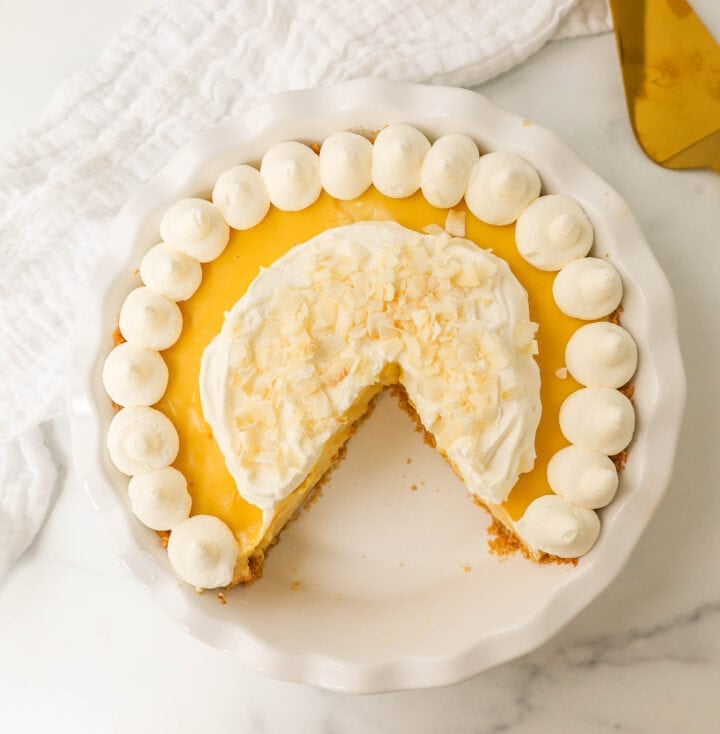 Pie Baking Tools:
More PIE RECIPES: