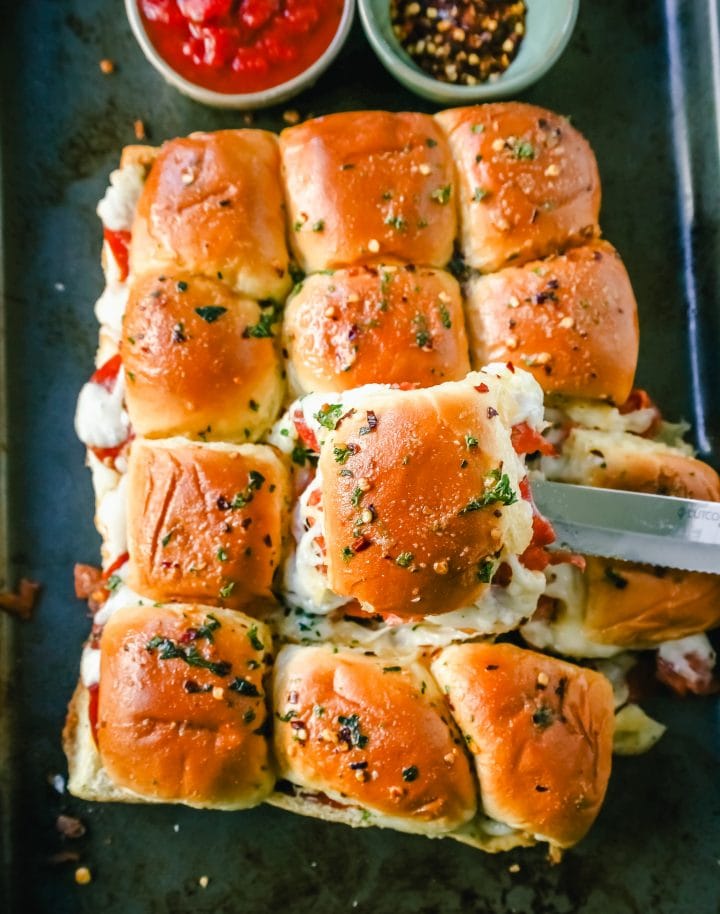 Pizza Sliders
Hawaiian Rolls Pizza Sliders made with Pepperoni, Mozzarella Cheese, and Provolone Cheese baked inside of soft, sweet rolls topped with warmed garlic butter and dipped in marinara sauce. The perfect party food!
We are obsessed with this Pepperoni Pizza Sliders Recipe! I have been recipe testing these pizza sliders for weeks now and every time I make them, they disappear within minutes. Next time I have a bunch of teenage boys in our home, I know what I am making them!
The Pizza Sliders on Hawaiian Rolls are made with two kinds of cheese -- mozzarella and provolone, pepperoni, and baked until the cheese is melted. The rolls are brushed with garlic butter so the butter flavor is infused throughout the roll. Then you dip it in marinara sauce to bring it all together! These are the best game day appetizer!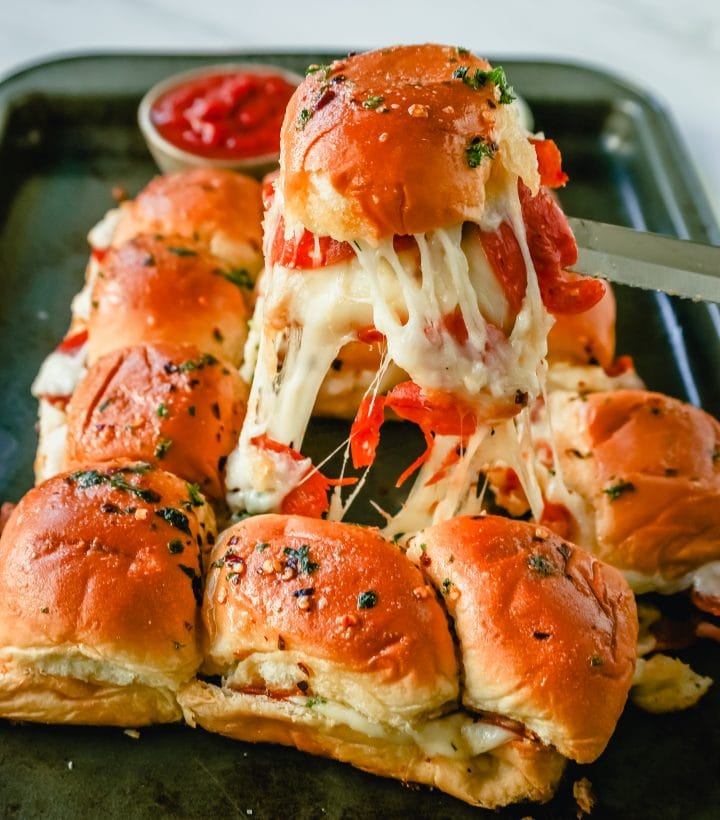 So since I did a lot of recipe testing before sharing this recipe, I have concluded that this is the best pizza sliders recipe! I found that if you spread the marinara sauce on the bottom of the rolls, you end up with a soggy slider. Who wants that? Instead of lightly brush the garlic butter onto the bottom bun then also brush the tops of the slider to make sure the garlic butter can't be missed. It makes the most flavorful, crave-worthy rolls and you will go back for seconds, guaranteed!
What type of bread should I use in the Pizza Sliders?
I suggest using some type of soft roll like Hawaiian sweet rolls. You need to look for a Hawaiian Rolls 12-count package. There are other brands that offer pull-apart rolls like Sara Lee that you can find at your grocery store. I have also used the sweet rolls from Trader Joe's. I suggest using the pull-apart rolls because you want to keep them together while baking.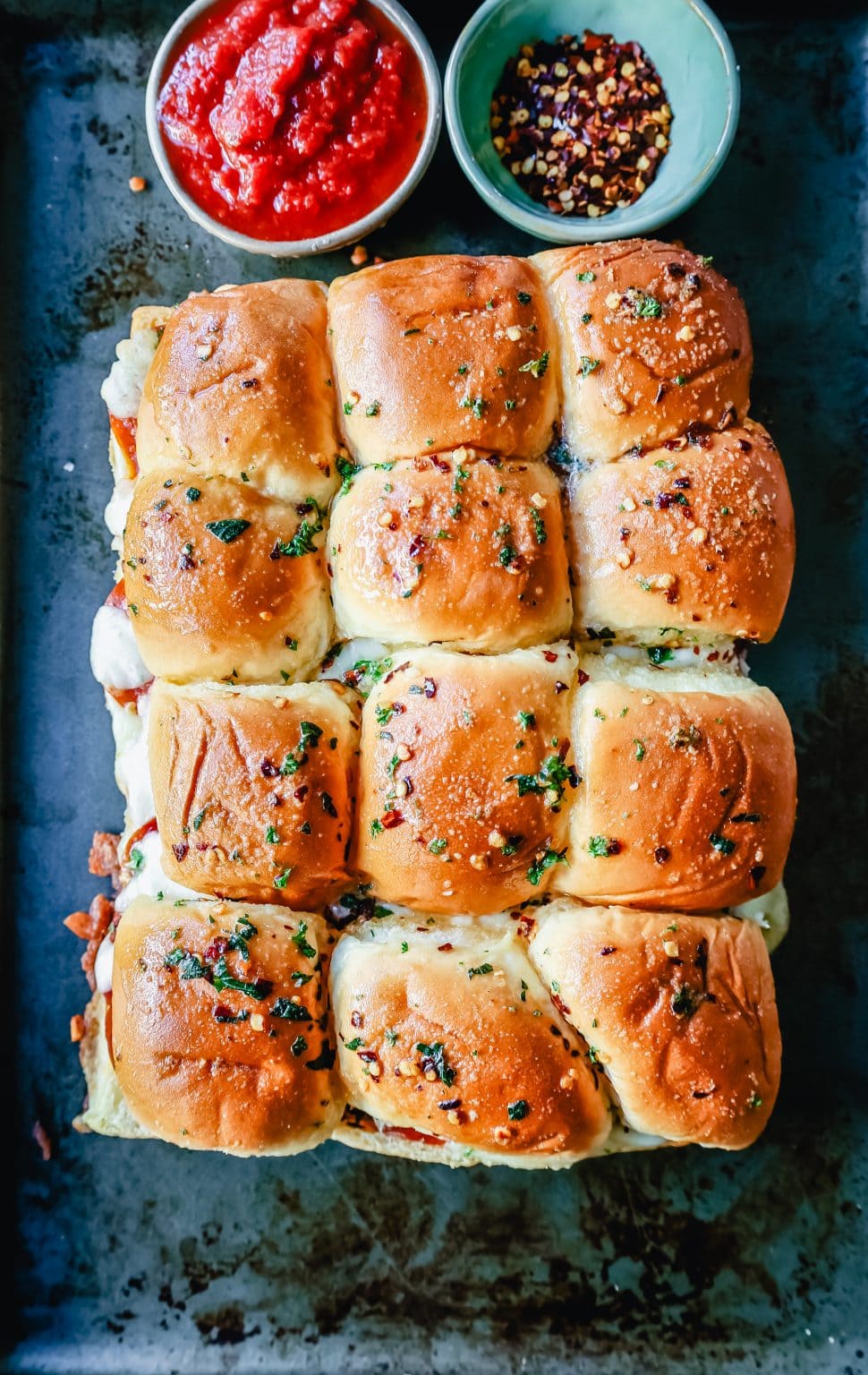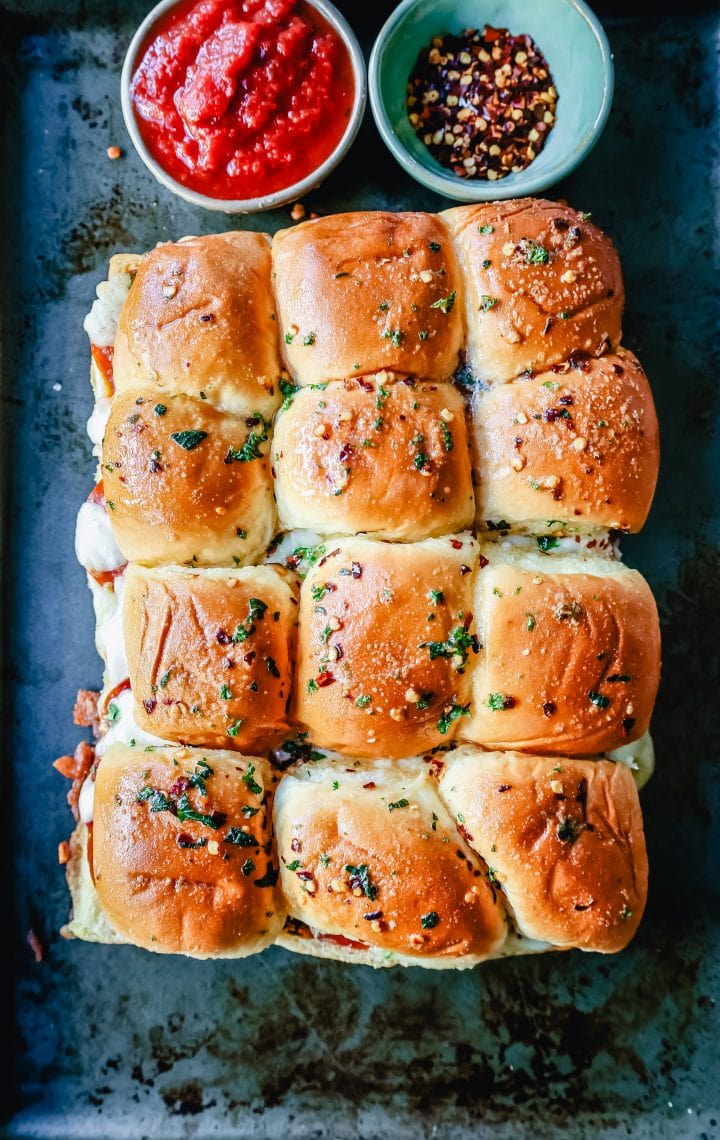 What type of cheese should I use in this Pizza Sliders Recipe?
When making these Pepperoni Pull-Apart Rolls, I suggest using mozzarella cheese, since it melts so well. I like to use provolone cheese slices as well for its nutty, buttery flavor. You can sprinkle finely grated parmesan cheese on the top of the rolls after baking for an extra burst of flavor.
Should I cover the Pizza sliders with foil while baking?
Yes, absolutely! You want to allow the cheese to melt before the top of the rolls becomes too brown so I suggest covering it with foil. You can remove the foil for the last 3-5 minutes of baking time to allow the tops to become a light golden brown color.
What should I serve with these Pepperoni and Cheese Sliders?
This pizza sliders recipe can be served as an appetizer or as a meal. Since we aren't putting marinara sauce on the rolls (to prevent soggy buns), I suggest having a bowl of warmed marinara sauce on the side for dipping. You can serve it with alfredo sauce as well. You can also serve it with a Caesar, Italian, or Pasta salad.
If you love these Pizza Sliders, check out my other Hawaiian Roll Slider Recipes: